The Waitomo Caves of New Zealand
Located two and a half hours away from Auckland, the Waitomo Caves are famous for being filled with glowworms. While the main glowworm cave is an unusual attraction, most people don't realize that the other Waitomo Caves are impressive! Visiting the Waitomo Caves is a full day out, and there is plenty to see and do once you are there.
The Waitomo Caves are in Waitomo on the West Coast of New Zealand's North Island. You can either book a tour to include the cave tours or buy your tickets and self-drive to Waitomo.
This post may contain affiliate links. Please read our disclosure and privacy policy for more information.
Waitomo Caves Tickets
You can buy single tickets for any of the caves, or you can buy a bundle. I strongly recommend you buy a package and see them all. Not only is this a more economical option, but all of the caves are worth seeing.
It costs ~ 97ND to tour all three caves. All tickets include tours of the caves. You cannot self navigate the tours. Reservations are required, and numbers on each tour are restricted.
Tip: Lots of attractions state that reservations are required. Much like Hobbiton, it's accurate for this attraction. I had to re-arrange all of our plans based on ticket availability for The Waitomo Caves.
Besides traditional tours of the caves, if you are an adrenaline junkie, get a fix by black water rafting, abseiling, cave tubing, or canyoning through the caves. Find the right cave experience for you here.
Ruakuri Cave
Ruakuri Cave is the longest cave in the area. And, I found it to be the most stunning. It starts with a tour down a massive multi-story circular ramp that is the reminiscence of a scene from Game of Thrones. It's beyond impressive, and if you did not know better, you would assume that you have landed in the middle of a medieval chamber.
When you enter, it's pitch black, and then they turn on the lights. I can't begin to describe the feeling. A pale glow allows you to see the spiral staircase's height, and you can hear the water dripping. Your imagination will run, and visions of ceremony or sacrifice will likely come to mind. Unbeknownst to most, this cave also hosts the famous glowworms, and you will get plenty of up-close opportunities to photograph them.
Ruakuri is the only wheelchair-accessible cave in the Southern Hemisphere.
If you only have time to visit one cave, this is the one I would pick. It was the last cave we visited and by far the best. The tour of Ruakuri takes approximately 2 hours.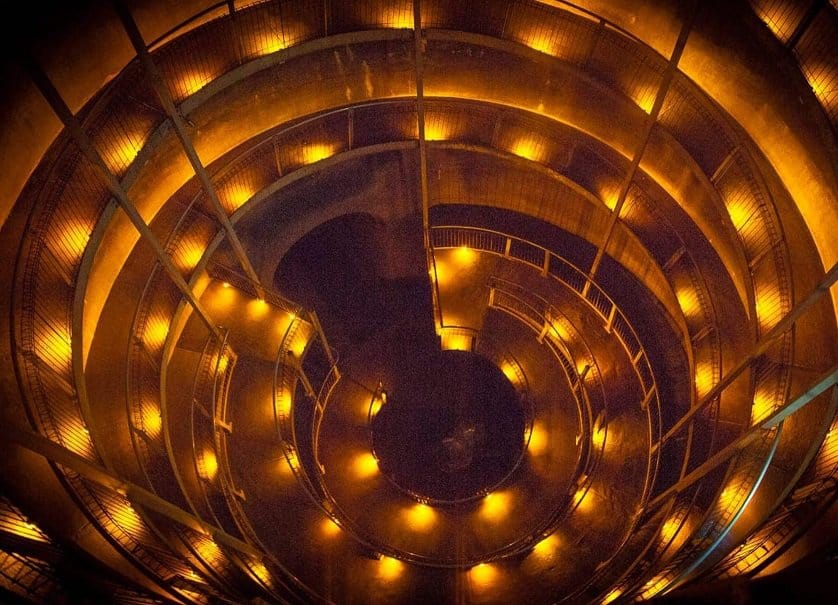 Waitomo Glowworm Cave
The Waitomo Glowworm Cave is the star attraction, and this cave is world-famous. I enjoyed this cave for a couple of reasons. It has glowworms, and it hosts the Cathedral Cave. So what's fascinating about glow worms or the cathedral cave?
You can practice your pitch and range in the cathedral cave – the caves will echo back to you. The tour guide will encourage you to sing, and many do. The sheer size and height of this cave are overwhelming. It is remarkable. If you happen to be here over the holidays, check out Carols in the Caves.
The glowworm! A larvae stage in the lifecycle of a two-winged insect, looking just like a slimy maggot! When they are not glowing, they look like snot. These tiny little worms glow to attract food. They glow due to bioluminescence, which attracts insects that they catch to eat—gross and exciting. Your guide will turn the lights out throughout the tour sections and use a flashlight to give you an up-close view.
At the end of the walking tour, you will take a gondola ride through a cave river — the anticipation of the third ride out weights the experience. While you will get to see a whole cave ceiling of glowworms glowing, the ride lasts about two minutes. Well worth seeing if you are visiting, but not my favorite of the three.
​​​​Aranui Cave
Aranui Caves is the smallest of the main caves. It's about a 5-minute drive from the Waitomo Glowworm Caves. This cave was discovered by a local Maori man in 1910 who followed his hunting dog into the cave only to find this marvel.
The entrance to this cave is deceiving. It's a tiny hole, and even as you climb in and catch the first glimpse, you can't imagine what follows. As you navigate further into the cave, you will be impressed by a display of stalactites, stalagmites, flowstones, and beautiful formations. It takes about an hour to tour Aranui Cave. I liked this cave. It has the three most impressive stalagmites, but it was my least favorite of the three.
What You Need to Know:
You cannot access the caves without purchasing a guided tour.
All tours run on a schedule, with no exceptions.
There are restrooms, a café and restaurant, and free Wi-Fi.
The caves may be cold, and they are wet and slippery, so dress appropriately.
You can not take cameras or GoPros inside the caves.
The only cave that is wheelchair accessible is Ruakuri Cave.
The Waitomo Caves are open year-round except for Christmas Day.
Closing Thoughts
You can't visit the Northern Island of New Zealand and skip The Waitomo Caves. Well, you could, but you would be missing out on one of the most unusual and visually stimulating experiences in the area. Each cave is dramatically different, each has its own story, and Ruakuri Cave will leave you speechless.
Looking for more posts to inspire you? Start here:
We are a participant in the Amazon Services LLC Associates Program, an affiliate advertising program designed to provide a means for us to earn fees by linking to Amazon.com and affiliated sites.
Subscribe to our newsletter and get the best travel tips and inspirational stories delivered monthly. No spam, no sales pitches – TRAVEL!
Brit On The Move™ Travel Resources
Ready to book your next trip? Use these resources that work:
Need more help planning your trip? Check out our Resources Page, highlighting the great companies we trust when traveling.