Chances are, if you visit the northern island of New Zealand, you will visit Rotorua, New Zealand. Known as the region's geothermal area, it attracts tourists in droves. As a fan of geothermal activity, this appealed to me, and we combined this with our trip to Hobbiton. Rotorua is an hour south of Hobbiton, so it made sense to combine the two. Under 80,000 people live in the small city, surrounded by 18 lakes and three major rivers. You'll explore the arid and lush landscapes without admiring the local food scene.
This area has several hot springs, geysers, mud pools, and waterfalls. Who would not want to check this out? I imagined a place as beautiful as Yellowstone; unfortunately, while there are some gems to see, it pails in comparison.
The area is chopped up and divided into commercial and non-commercial sites. Some areas are free; others are not. In context, it's not the same as an American National Park, where you pay one fee to enter, then drive through and check out each region. Instead, you can check out the free spots and later pay to see the rest a la carte style. I'm not opposed to paying, but navigating is a pain, forcing you to choose elements. Most importantly, compare facilities as they have different attractions.
This post may contain affiliate links. Please read our disclosure and privacy policy for more information.
Stay Or Vist A Thermal Resorts in Rotorua, New Zealand
There are several thermal resorts in Rotorua, New Zealand. Some of the most popular ones are:
Kuirau Park
Orakei Korako Geothermal Park and Cave
Tikitere – Hell's Valley Hot Springs
Note: Kuirau Park and Tikitere are not resorts but public parks with thermal features.
Kuira Park Rotorua, New Zealand
When you start researching the area, you'll read about Kuira Park. Kuirau Park is a public park located in Rotorua, New Zealand. It is known for its geothermal features, including hot springs, mud pools, and geysers. The park is a popular destination for tourists and locals alike, who come to explore the area's natural wonders.
One of the most famous geothermal features in Kuirau Park is the hot foot pool, which allows visitors to soak their feet in the warm water. There is also a large mud pool, which bubbles and churns with mud and steam. Other attractions in the park include a children's playground, picnic areas, and a walking track.
Kuirau Park is free to enter and is open year-round. Visitors are advised to exercise caution around the geothermal features, as the water can be boiling, and the ground can be unstable in some areas.
I had high hopes for this park because the photos are stunning. All I can tell is this if you've never seen a geothermal pool. If you have seen one, save yourself some time and skip this. It's not only dull, but nothing is scenic about it.
Waimangu Volcanic Valley
Waimangu Volcanic Valley is a popular tourist attraction near Rotorua, New Zealand. It is a geothermal area that was created by the eruption of the Mount Tarawera volcano in 1886. The valley has various geothermal features, including geysers, hot springs, and fumaroles.
Waimangu is unique because it is a relatively young geothermal area formed less than 150 years ago. This means the area is still evolving and changing, with new features appearing over time.
Visitors to Waimangu can explore the valley on foot along a series of well-maintained walking tracks. The main walking path is around 4.5km long and takes 2-3 hours to complete. Along the way, visitors can see various geothermal features, including the Frying Pan Lake (the world's largest hot spring), the Inferno Crater, and the Soda Fountain, which emits water and gas and is rich in carbon dioxide.
Waimangu Volcanic Valley is also home to various plant and animal life, including native birds and ferns. Visitors can learn more about the area's ecology and geology at the Waimangu Visitor Centre, which features displays and exhibits about the history and science of the valley.
This place gets excellent reviews, and many say this has more of a National Park feel than Rotorua. The self-guided walking tour costs $30, also you can take a guided tour or a boat ride.
Waiotapu Rotorua, New Zealand
Wai-O-Tapu is a geothermal area located in Rotorua, New Zealand. It is known for its colorful hot springs, geysers, mud pools, and geothermal features. "Wai-O-Tapu" means "sacred waters" in the Māori language.
One of the most famous attractions in Wai-O-Tapu is the Champagne Pool, a hot spring with a unique orange and yellow coloration due to the presence of minerals such as arsenic and antimony. The Pool is surrounded by a silica terrace and is known for its bubbling activity, which gives it its name.
Another popular attraction is the Lady Knox Geyser, which erupts daily at 10:15 am with a spectacular display of water and steam reaching up to 20 meters. The eruption is triggered by adding soap to the geyser's vent, a practice that dates back to the early 1900s when prisoners discovered the geyser's natural eruption pattern and used it to do their laundry.
Wai-O-Tapu also has several other hot springs and geothermal features, including the Devil's Bath, a bright green hot spring that gets its color from sulfur deposits.
Visitors to Wai-O-Tapu can explore the park on a series of walking trails, with well-marked paths leading to each of the main attractions. There is also an information center, a gift shop on-site, and guided tours for those wanting to learn more about the park's geology and history.
Waiotapu is one of the area's biggest and most famous facilities. A private facility will cost you ~$58 to enter; as mentioned, this is not the only one!
Get Hobbiton & Wai-O-Tapu guided tour here
Hells Gate Rotorua, New Zealand
Hell's Gate is a geothermal attraction located in Rotorua, New Zealand. It is named after the Maori translation of its original name Tikitere, which means "The Place of Fiery Waters." It is known for its unique geothermal features, such as bubbling mud pools, steaming fumaroles, and hot springs.
Visitors to Hell's Gate can take guided tours to explore the attraction and learn about the geothermal activity in the area. The tours include a walk through the park, where visitors can see the geothermal features up close, and a visit to the mud baths and sulfur spas, which are said to have therapeutic benefits for the skin and body.
Hell's Gate also offers cultural experiences showcasing the traditional Maori way of life, including a cultural performance and a hangi feast, a traditional Maori meal cooked in an underground oven.
Hells Gate is a famous private park, most notably for mud baths and Sulphur baths, and Kakahi Falls, the largest hot waterfall in the Southern Hemisphere. The entry here starts at about $30 to do the thermal walk and goes up as you add experiences.
Learn About Maori History At Tamaki Maori Village
Tamaki Maori Village is an award-winning cultural phenomenon just minutes from downtown Rotorua, New Zealand. Discover Maori history and legends as you wander through the village surrounded by ancient forests. Before exploring the authentic village as it would have been before colonization, you'll receive a traditional Maori welcome ceremony.
It's impossible not to feel the village's immense spirit as you wander through the dense green canopy of the Tawa Forest. The tribal members are dressed in traditional garments, ready to share their cultural heritage with you as if nothing has changed. Learn the haka and poi in Tamaki Village, or hear captivating Maori legends at each section.
Genuineness is one of the things that make the experience so unique. In a living village, the tribe demonstrates their way of life, not someone else's. The tour will end with a cultural show and a delicious communal dinner before learning about the hangi (food cooked underground).
Visit Te Puia Cultural Center
Te Puia is a geothermal attraction and cultural center in Rotorua, New Zealand. It is a must-visit destination for tourists and travelers who want to experience the unique geothermal features of New Zealand and learn about the Maori culture.
Te Puia is home to several natural wonders, such as the famous Pohutu Geyser, which erupts up to 30 meters high. There are also Papakura, Te Tohu, and Te Horu geysers, which are all dormant, as well as hot springs, mud pools, and boiling water pools. Visitors can take guided tours to explore these natural features and learn about their geological and cultural significance.
This attraction also offers visitors a chance to learn about Maori culture through various cultural experiences. These experiences include watching traditional Maori performances, learning about Maori carving and weaving techniques, and visiting a Maori village to see how the indigenous people of New Zealand live.
In addition to viewing the geothermal attractions can see live kiwi close up! The kiwi is a nocturnal flightless bird and New Zealand's national icon. Or visit traditional Maori buildings to get a taste of the architecture. The entrance is around $50.
Huka Falls
Huka Falls is a natural waterfall in the Waikato region of New Zealand's North Island, near Taupo. The waterfall is formed where the Waikato River narrows and then plunges over steep drops, creating a stunning display of white water and mist.
The name "Huka" is derived from the Maori word for foam, an apt description of the waterfall's frothy cascades. The falls are one of the most popular tourist attractions in the area, drawing visitors from all over the world who come to see the powerful display of water and enjoy the natural beauty of the surroundings.
Several viewing platforms and walking trails allow visitors to experience the falls up close. Boat tours are also available, offering a unique perspective of the falls from the water. The falls are awe-inspiring during periods of high water flow, typically in winter and spring.
Huka Falls ended up saving the day for me. Well worth visiting. I'm obsessed with waterfalls, so I always look for one. Oddly, I did not know these falls existed – we stumbled on them. What's fascinating about these falls is the color of the water. It's a stunning bright turquoise blue. The color is so deep that it looks as if the water is dyed. There is a bridge for you to walk over the actual falls, which allows you to feel the falls' power. Visiting Huka Falls is free, but they do ask for donations.
Polynesian Spa Rotorua, New Zealand
Polynesian Spa is a popular tourist attraction located in Rotorua, New Zealand. It is a geothermal spa that offers a variety of relaxing and therapeutic experiences. The Polynesian Spa is named – a spa. However, the bathing pool's water is supplied by two natural springs, fed into 28 hot mineral pools, and overlooks Lake Rotorua.
The spa is on Lake Rotorua's shores, known for its natural hot springs. The water in the pools is heated by geothermal activity underground and contains minerals such as sulfur, silica, and calcium, which are believed to have therapeutic properties.
Polynesian Spa offers a range of bathing experiences, from hot mineral pools to private spas and thermal mud pools. Visitors can also enjoy a range of spa treatments, including massages, facials, and body wraps.
One of the most popular experiences at Polynesian Spa is the "world-famous" Polynesian Spa Retreat, which includes a mud polish, thermal mud bath, and a private soak in a hot mineral pool. The spa also offers a range of packages and treatments tailored to couples, families, and groups. In addition to bathing, you can indulge in various traditional spa treatments. You can rent private pools here for less than $20!
Polynesian Spa is also home to a café, gift shop, and beauty products store. The spa is open year-round and is a popular destination for both locals and visitors to Rotorua.
White-Water Raft The Kaituna
Take a 3-hour rafting adventure down the Kaituna River from Rotorua. A deep canyon is lined with a subtropical rainforest surrounded by white water rapids. Take part in exhilarating cliff diving and raft over stunning waterfalls. The tour operates both in the winter and in the summer. You will receive a wetsuit, booties, and helmet. You don't need any experience!
Waikite Valley Thermal Pools
Much like the Polynesian Spa, Waikite Valley Thermal Pools offer mineral baths. Waikite Valley Thermal Pools is a natural geothermal hot spring in the Waikite Valley in the Bay of Plenty region of New Zealand. The hot spring is about 30 minutes south of Rotorua, allowing visitors to relax and soak in natural mineral-rich water.
The thermal pools at Waikite Valley get their natural heat from geothermal activity and have a range of temperatures to suit everyone. Four public pools, a private pool, and a children's pool enjoy native bushes and beautiful scenery.
In addition to the pools, Waikite Valley has a campground and several self-contained units for accommodation. There is also a cafe on site serving food and drinks.
Also, stroll on the Te Manaroa Spring Walkway and Eco-Trail to the largest single boiling water source in New Zealand. Prices start at $18.
Blue Baths Rotorua, New Zealand
The Blue Baths is an iconic historical landmark in Rotorua, New Zealand. The building was first opened in 1933 as a luxurious spa and entertainment complex, and it quickly became a popular destination for locals and tourists alike. The Blue Baths are geothermally heated non-mineral water baths in the Government Gardens. The first Juvenile Pool is usually around 30°C, while the two hot soak pools vary between 37°C and 42°C.
The Blue Baths feature an art deco-style building with a large outdoor swimming pool, spa pools, and various rooms and facilities for visitors to enjoy. The building also includes a dance hall and concert stage, hosting many famous performers.
Today, the Blue Baths is still a popular attraction in Rotorua and offer a range of experiences for visitors. The outdoor Pool and spa pools are still available for guests to use, and guided tours provide insights into the history and architecture of the building.
In addition, Blue Baths host a range of events throughout the year, including music concerts, comedy shows, and special holiday events. The Blue Baths is a unique and memorable attraction that offers a glimpse into New Zealand's rich history and culture.
If you plan to visit here, it's a mere $11, but you must call ahead. While the baths are open to the public, the Blue Baths serve more like a wedding location. Therefore, if an event occurs, you can not visit.
Whangapipiro Rachel's Pool
Whangapipiro Rachel's Pool, also known as Rachel's Pool, is a natural pool Located in the Government Gardens; this is a historical alkaline hot spring that's free to view about one block away from the Polynesian Spa.
The Pool is formed by a small waterfall flowing into a deep, narrow gorge. The water is crystal clear and has a distinctive blue-green hue due to the minerals present in the surrounding rocks. The Pool is surrounded by lush vegetation and is a popular spot for hiking and picnicking.
In addition to its natural beauty, Rachel's Pool is steeped in Maori legend. According to legend, the Pool was created by the goddess Hinemoa, who struck the ground with her staff to create a pool for her lover Tutanekai. The Pool is said to have healing powers and is a sacred site for local Maori.
Visitors to Rachel's Pool are advised to exercise caution as the area can be slippery and dangerous, particularly after heavy rain. Swimming is not recommended due to the depth and strong currents of the Pool.
There is very little to see here other than the Pool itself. While free, not sure that this one is worth a particular stop. If you are visiting the Blue Baths are the Gardens, it's worth a peek.
Tongariro Alpine Crossing Hike
It is arguably New Zealand's most famous hiking trail in a central yet remote part of the country's North Island. Outside of the winter months, it is an accessible over-mountain adventure.
Located two hours south of Rotorua, the lakeside town is a great starting point for the hike. It would be best to have transportation on the other side of the trail since it is not a loop. You can also return from Tongariro by a shuttle bus that departs Rotorua.
With the shuttles leaving, you can start your 12-mile (19.4km) hike as early as 4.30 am. Alpine crossings feature martian-like landscapes that combine soaring mountains on the South Island with volcanic terrain. You'll encounter Mt Doom from Lord of the Rings during your journey. It is not possible to trek to the top of the mountain.
You'll need plenty of water for the 6 to 8-hour hike to Tongariro since it's a remote summit. As you approach the arid alpine area, you'll see expansive views around you, the brown rock surface contrasting (hopefully) with the blue sky above.
Waitangi Soda Springs
Waitangi Soda Springs is a natural hot spring on the North Island of New Zealand, near Taupo. The springs were named after the Treaty of Waitangi, a historic agreement signed between the British Crown and Maori chiefs in 1840. Famous for its mineral-rich water, which is said to have therapeutic properties. The water is heated by geothermal activity and contains various minerals, including sodium, potassium, magnesium, and calcium.
It's a scenic area full of native bush, and visitors can explore several walking tracks. The springs are open to the public and can be accessed a short walk from the car park. Be careful; the temperature can be pretty hot in some areas.
Waitangi Soda Springs is a good-sized pool that drains into a lower, deeper pool. The water has a very high iron content and will stain after multiple visits, so don't wear anything expensive. A cheap Rotorua New Zealand activity with a low cost of only $10!
Rotorua New Zealand Hotels
Almost all of the hotels in Rotorua offer geothermal baths. So one way to take advantage of the area is to spend the night. Here are some choices:
Visit Hobbiton
Not technically in Rotorua, New Zealand, but close! Yes! You can easily combine Hobbiton with Rotorua, which is only 47 miles away.
Every fan of Lord of The Rings wants to visit the lush pastures of The Shire at The Hobbiton Movie Set. Even if you are not a fan, this should be on your list of things to see if you are in Auckland. And, if you've not seen the trilogy watch it on your flight over. If you don't, well, you were warned. The guide will tease and jest, and everyone will look at you like you have three heads!
Sir Peter Jackson, the New Zealand film director, screenwriter, and film producer of the Lord of the Rings trilogy sent a team to find the ideal location for Hobbiton. They conducted an aerial search and saw what a farm was. Initially, the set was built to be temporary, but fate had other plans. That's all I am going to tell you. If you want to hear the whole story, you must visit.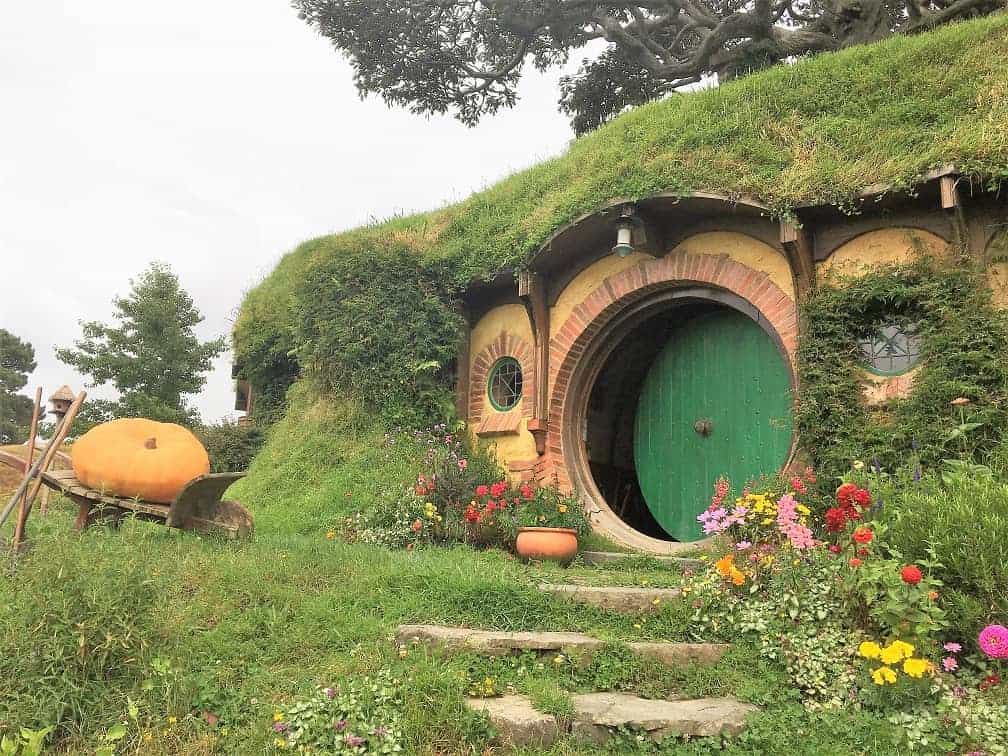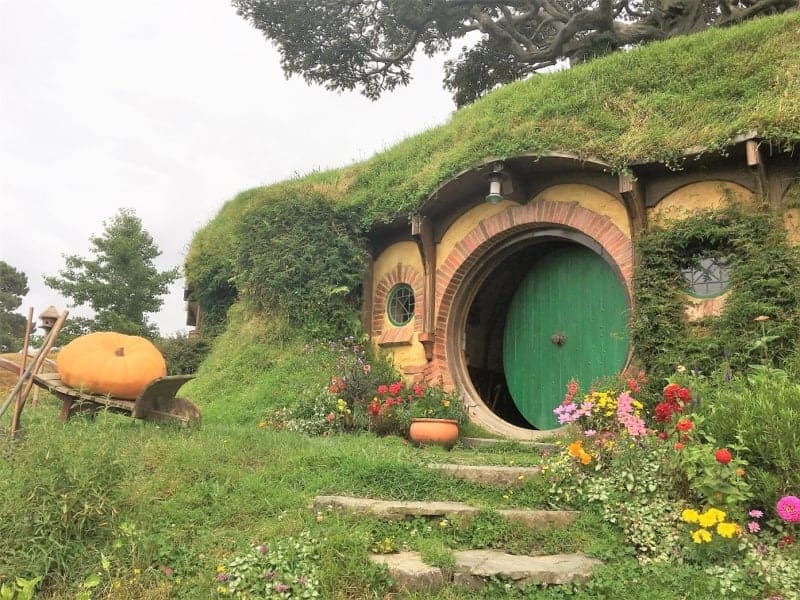 Explore The Waitomo Caves
Again, not precisely in Rotura but only 52 miles away. The Waitomo Caves are famous for being home to glowworms. While the main glowworm cave is an unusual attraction, most people don't realize that the other Waitomo Caves are impressive! Visiting the Waitomo Caves is a full day out, and there is plenty to see and do once you are there.
The Waitomo Caves are in Waitomo on the West Coast of New Zealand's North Island. You can either book a tour to include the cave tours or buy your tickets and self-drive to Waitomo.
Closing Thoughts
You should check this area out if you are visiting northern New Zealand. Don't expect a National Park experience, and don't expect to be blown away by the drive.
Plan your route around what you want to see or experience. The parks, complexes, and springs are not equal. All offer up different activities and none offer everything. For example, if geysers are your thing, you must hit Waiotapu or Tepuia. If you want to experience Maori Culture, then pick Tepuia.
Some people spend a few days in the area and do all the attractions. For me, it was not that compelling. I mainly did not care for how commercialized most of it was. And, when I think of geothermal areas, the best is in our backyard – Yellowstone!
Looking for more posts to inspire you? Start here:
We participate in the Amazon Services LLC Associates Program, an affiliate advertising program designed to provide a means for us to earn fees by linking to Amazon.com and affiliated sites.
Brit On The Move™ Travel Resources
Ready to book your next trip? Use these resources that work:
Need more help planning your trip? Check out our Resources Page, highlighting the great companies we trust when traveling.