Have you ever heard the term "one man's trash is another man's treasure"? Well, that couldn't be more true with Solomon's Castle. A Castle nestled in the Floridian wilderness is truly a "one of a kind" place to visit. Those who see or hear about this "castle" for the first time tend to have a lot of questions about it, and in this article, we will cover most of them!
I recently stumbled on Solomon's Castle while planning a "staycation" in Sarasota. I often look at the map and zoom in and out to see what's around. Low and behold, Solomon's Castle popped up. When I peeked at the exterior, I knew I had to see this myself. Little did I know that this castle is the structure that houses years and years of Howard Solomon's artwork. Nor did I know that this was his home and workshop.
Part art gallery, part home, and part workshop, a castle nonetheless. Most impressively, it's the materialization of one man's lifelong love affair with art. The art is created from any discarded item that came his way and all by hand.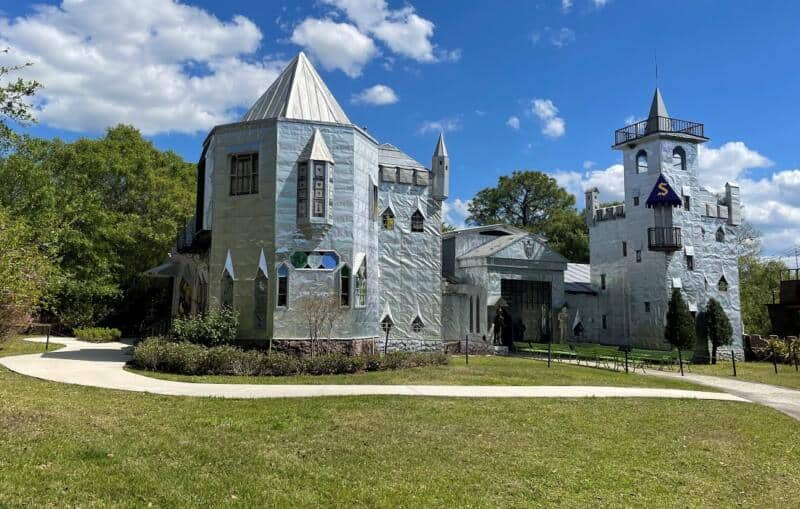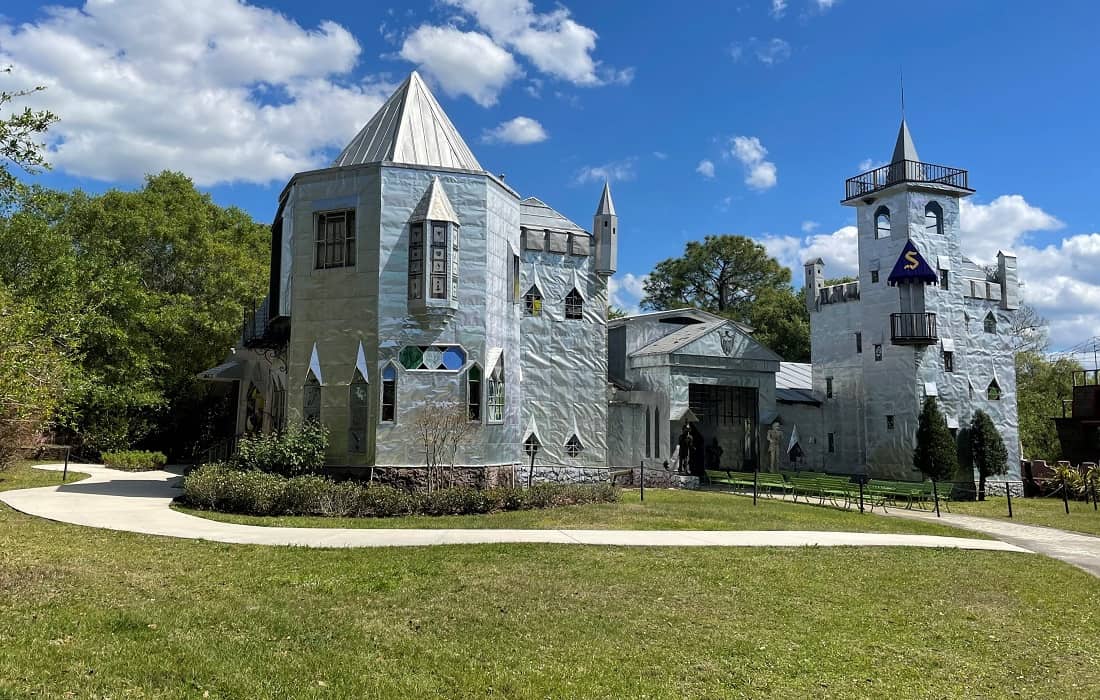 This post may contain affiliate links. Please read our disclosure and privacy policy for more information.
Solomon's Castle History
Solomon's "Castle" is no ordinary castle. It doesn't have hundreds of years of history behind it, nor was it made for a king. Howard Solomon, an artist, built this castle. He was so good at sculpturing that he could build an entire castle.
Howard had bought 40 acres of swampland in Florida in the 1970s and decided to build his castle. However, he didn't go the traditional route. Instead of using conventional building materials, he began building it using aluminum printing plates on sale because a newspaper company was going out of business. They were selling them very cheap, and the ad Howard saw said that people could use them to make chicken coops, so he thought it wouldn't hurt to give it a shot and began building his castle from the ground up! If you peel off the plates, you can still see the newspaper printings from decades ago!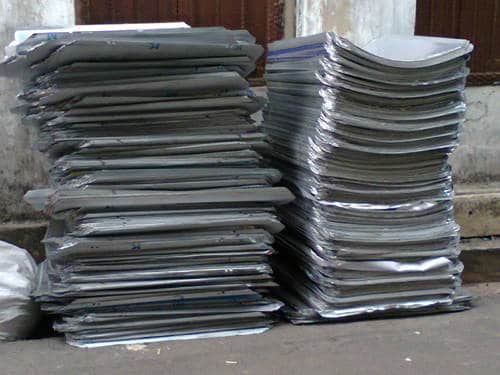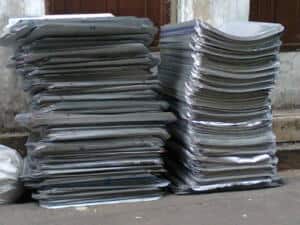 Over the next fifteen years, he spent every day working on the castle, despite everyone thinking there was no way he'll be able to do it. However, he did.
Once the castle was complete, his family moved out of the trailer they had been living in and into their castle.
Howard continued with the "reclaimed" theme, creating art using reclaimed materials. He found most of the material in the surrounding area, and locals would drop off their unwanted items.
The Solomon family moved into the castle right after Howard finished building it, and he lived in it until he passed away in 2016. So far, four generations of the Solomons have lived in this legendary castle. Although, most of the grounds are open for public viewing and tours to celebrate Howard's creation. Part of the Castle is still out of bounds off as the Solomon family lives on the main grounds.
About The Artist
Some call him "The Rembrandt of Reclamation" and the "The Wizzard of Odds and Ends," both fitting. I will call him "The Peter Pan of Perspective" – a man who lived as he wanted with a vivid ageless imagination.
Howard Solomon was a man with an overactive imagination and the willpower to bring any idea to life. Even though the castle looks like it was someone's entire life's work, it was simply his retirement project for Howard. He wanted to be peaceful where he could create art and relax. He wasn't anticipating that he'd make something he'd end up living in, which adds to the uniqueness and spontaneity of the castle overall.
His art collection is as impressive as the castle itself. You'll see everything from giraffes created out of coat hangers, elephants and lions made out of oil drums, and a cast collection of what I call steampunk figurines. I am sure Howard would correct me, but these designs remind me of steampunk.
The Location Of Solomon's Castle
Solomon's castle is located at 4533 Solomon Rd, Ona, FL 33865
Inside Solomon's Castle
Solomon's castle is massive, with around 12000 square feet of covered space. It's even more surprising considering Howard built the entire thing himself. He only needed any help when he had to lay down the castle's electrical work to ensure that he did everything safely. Other than that, it's entirely his handiwork.
As he was gathering the materials, he told the farmers in the area that he would be willing to take their junk and trash off of their hands, and they just began throwing a bin full of it over Howard's gate. He'd collect all the "donations" and use them in the castle's main building or the sculptures or art inside Solomon's Castle in Florida.
Note: Photography is phohibited inside the Castle.
The Art Work
The art inside isn't ordinary. It is a testament to how creative Howard was throughout his life. There's a chair that he built entirely out of beer cans; you can even sit on it! Also, several sculptures he created out of coat hangers and lots of pieces that are "witty" versions of "serious" art that we've seen around the world. One is "Cleopatra's Gondola," half of a gondola that looks like it could be from centuries ago.
Image Credit: Solomon's Castle
There's also an extensive collection of 3D paintings. And, if you tour the car collection, you'll also get to see his collection of bar cars that are hysterical. The bar cars are "alcohol" carrying cars. The art is hysterical because they are all named with some wit or quirky punch line that reveals his personality and humor.
One of the castle's main attractions is the stained glass windows. The whole building is full of them! Howard found painting glass very therapeutic and installed 90 different windows throughout the castle. Each is different from the last and creates a stunning look overall. Taking a walk through this castle is like walking through Solomon's mind, seeing his creativity come to life, making the experience special.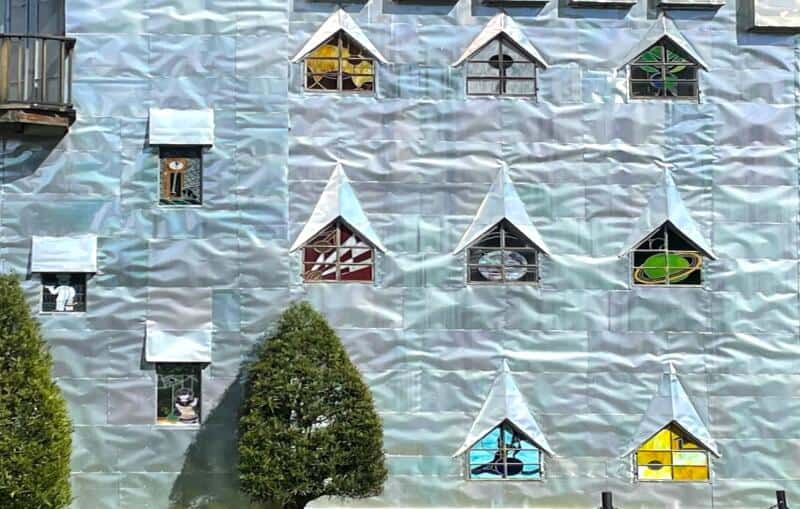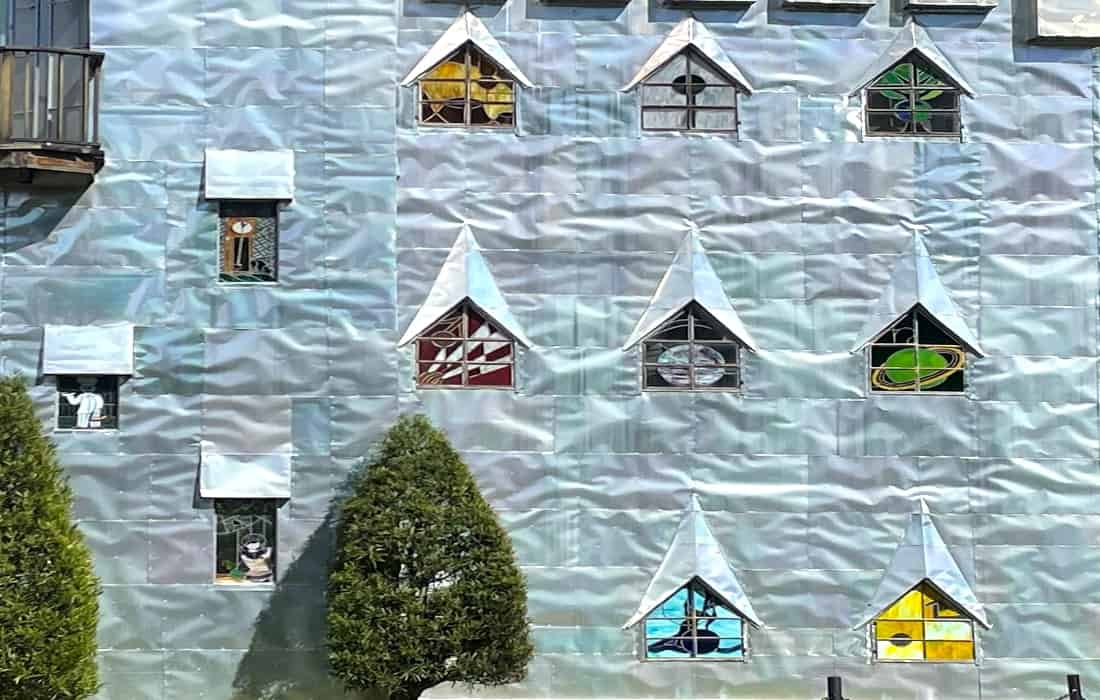 Gardens Of Solomon's Castle
The grounds span 90-acre of land. There are gardens dedicated to flowers and foliage and several walking trails accompanied by a quaint bridge over a stream.
The most impressive garden exhibition can only be seen from the sky. In 2009, Howard Solomon's daughter Alane planted 1400 Live Oak trees to guarantee "Peace On Earth."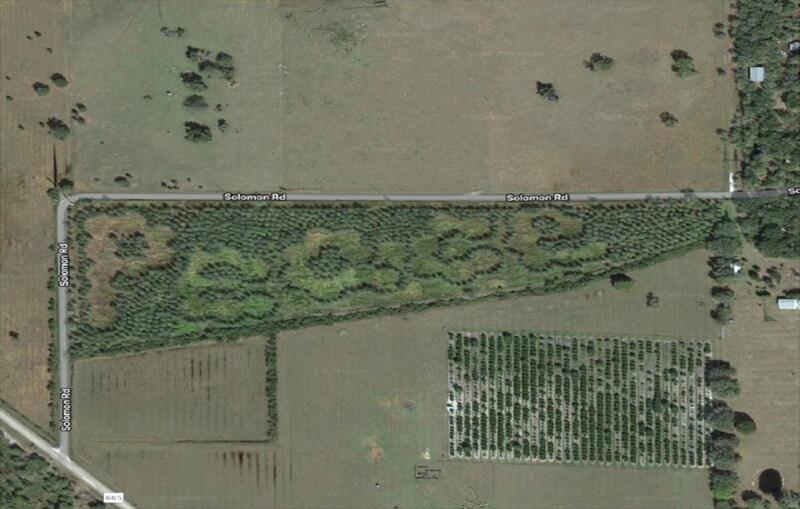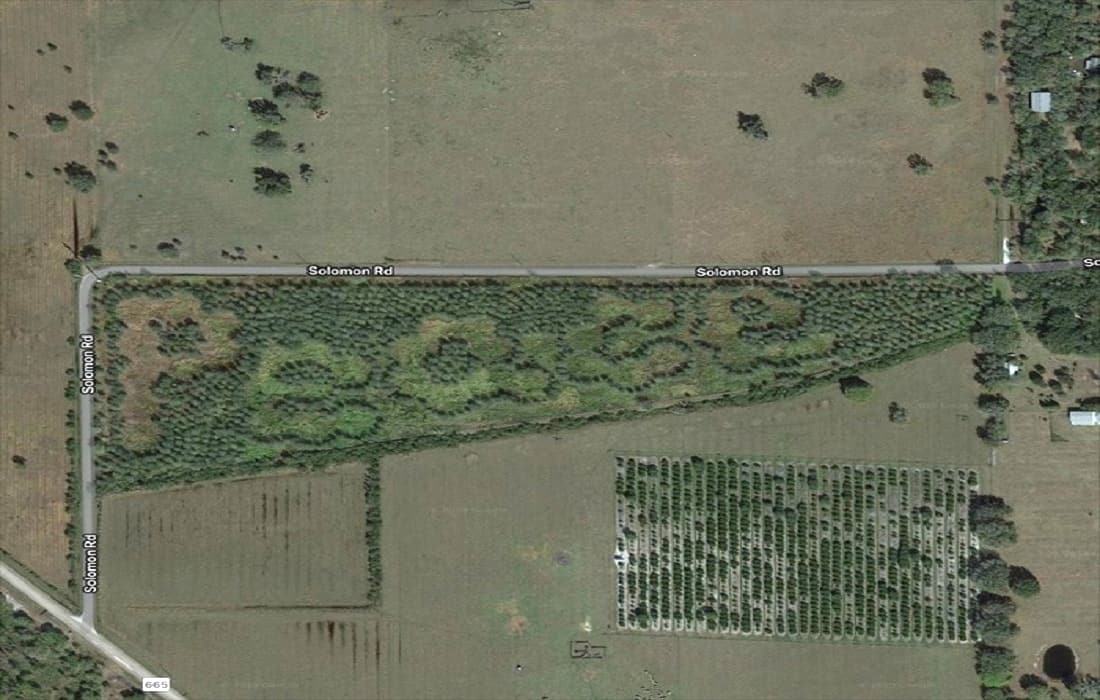 Things To Do At Solomon's Castle
Of course, the main attraction at Solomon's Castle is the castle itself. You can take tours throughout the entire castle and the gardens. One of the best things about the tours is that the guides use an "official script" that Howard wrote. There are lots of little puns and jokes that make the museum that much more enjoyable!
Visit the several exhibit halls, walk through the entire castle, and study all the different types of art he created throughout his life.
You can also tour Howard's collection of classic cars. This exhibit also displays the bar cars that I strongly recommend you see.
Stay At Solomon's Castle – The Blue Moon Room
Occasionally, when not in use by the family, you can stay in The Blue Moon Room at Solomon's Castle. The bed and breakfast room is a fully equipped, efficient apartment on the castle's top floor. It is available for overnight or weekend stays if not in use.
Restaurant – The Boat In The Moat
After Howard had finished building the castle, he took on another project. He was making a boat in a moat that runs around the castle itself. The boat isn't tiny. It's a replica of a Portuguese ship, standing at 60 feet tall!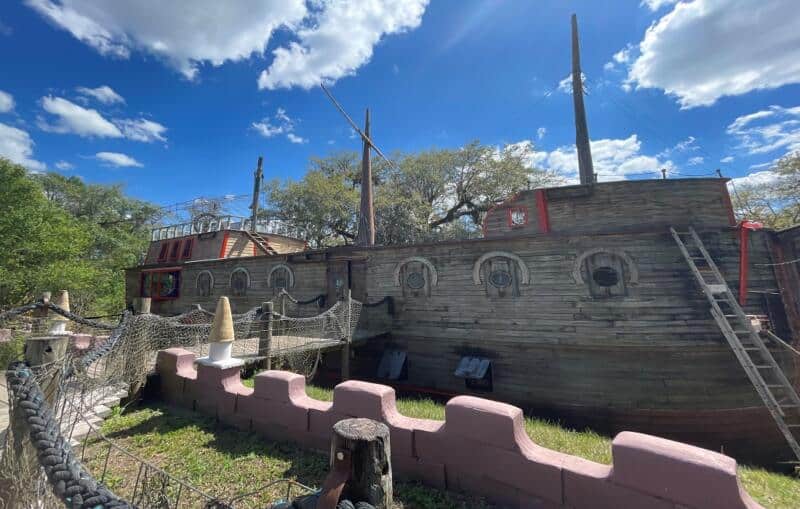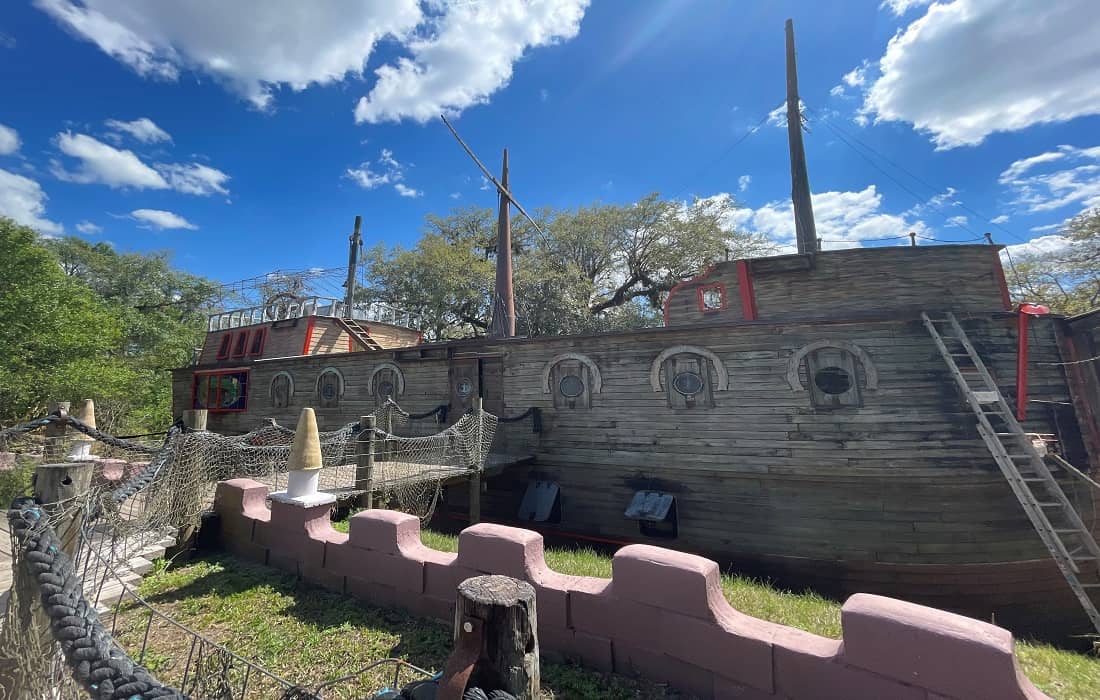 Today, that boat is a restaurant still run by Howard's family, mainly his daughter. They wanted to keep everything running as Howard wanted it to. So there are still options on the Solomon's Castle menu that he was obsessed with. Howard's daughter and her children are usually onsite. They'll be able to tell you all the inside details on everything that came to be, their lives living in the castle growing up, and all the other details you might want to know. All that while enjoying some delicious food!
All the food is handmade, even the pies, so plan to eat lunch while you visit.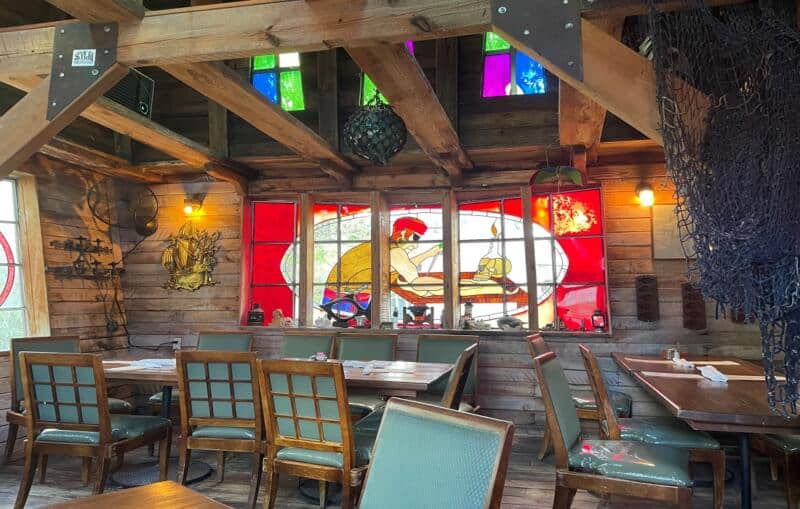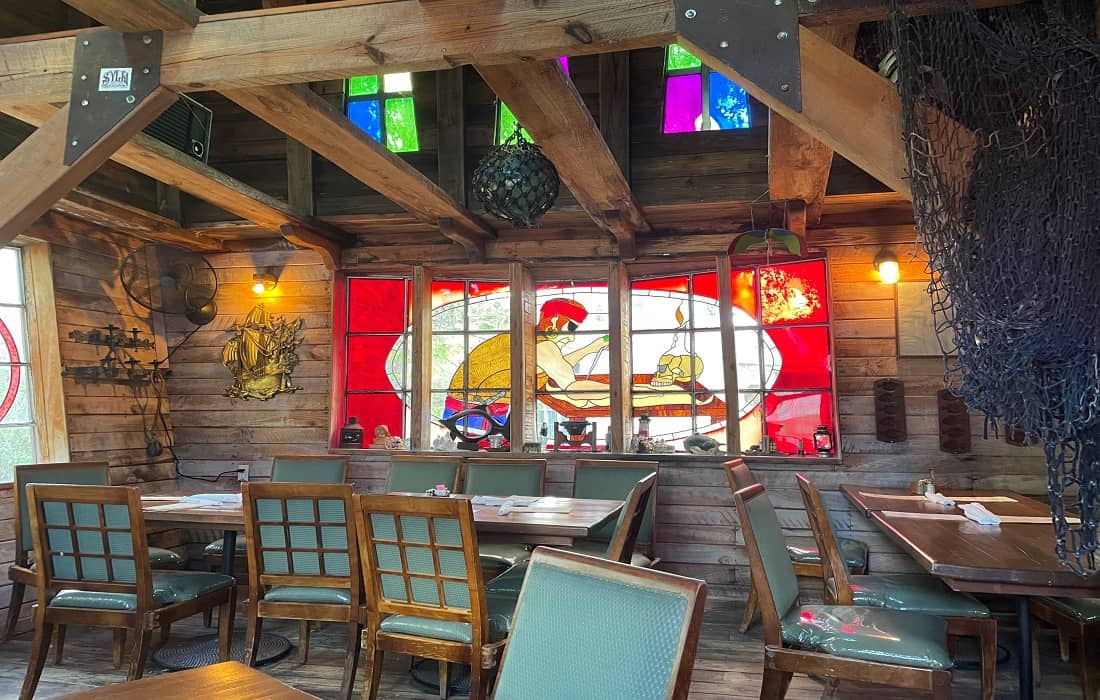 The Gift Shop
A lovely gift shop on site sells a great selection of art, candles, signs, and ecliptic must-haves.
Frequently Asked Questions About Solomon's Castle
How much does it cost to get into Solomon's Castle?
Admission to the Grounds is FREE, and Parking is FREE! Tour prices are sales tax inclusive.
| | | | |
| --- | --- | --- | --- |
| | Traditional Castle Tour | Howard's Encore Tour | Package Tour |
| Adults | | | |
| Seniors 62+ with ID | $23 | $12 | $29 |
| Veterans with ID | $23 | $12 | $29 |
| Ages 18 – 62 | $25 | $12 | $31 |
| | | | |
| Children | | | |
| Students 13 -17 | $12 | $6 | $16 |
| Children 4 – 12 | $8 | $6 | $12 |
| Children 3 & Younger | Free | Again Free | Free |
What is Solomon's Castle made of?
Solomon's castle is built almost entirely out of reclaimed materials. The primary material Howard Solomon used throughout the building was aluminum newspaper printing, which gives it that "tin exterior."
Who built Solomon's Castle?
Solomon Howard, the man the castle is named after, started building this castle using reclaimed materials. At the time, he had no idea that it would spiral into becoming this massive deal today.
How did Howard Solomon make his money?
By the time Howard bought the land to build his castle, he had already lived an entire life. The project was his retirement project, so he saved money to invest in the castle. After the castle was built, he realized he could give people tours for a fee. That's precisely why he started giving tours to the place, and there are still tours there today!
Closing Thoughts
Solomon's castle is one of the only places in the world that are so unique that they leave you speechless. While there are tons of videos and pictures about this castle, there's nothing quite like visiting this castle in person!
Looking for more posts on things to do in Florida? Start here:
We participate in the Amazon Services LLC Associates Program, an affiliate advertising program designed to provide a means for us to earn fees by linking to Amazon.com and affiliated sites.
Brit On The Move™ Travel Resources
Ready to book your next trip? Use these resources that work:
Need more help planning your trip? Check out our Resources Page, highlighting the great companies we trust when traveling.