Live Oak, Florida, is a lesser-known part of the Sunshine State, yet it's home to some of the best springs in Florida. For those in the know, you can make a whole weekend exploring the Suwannee River's springs. The question is, where do you stay? Undoubtedly, Kokomo Farms is one of the most inimitable stays in the area. Whether you are looking to experience a tiny home, a container home, or a tree house Kokomo Farms has them along with yurts.
Live Oak, Florida's Kokomo Farms, offers so many things to visitors. It's much more than just a place to lay your head. This farm is experienced based, offering farm animal interactions, a zen garden, painting, and an enchanted forest.
So let's check out what Live Oak's Kokomo Farma offers you and why you should make a point to stay here!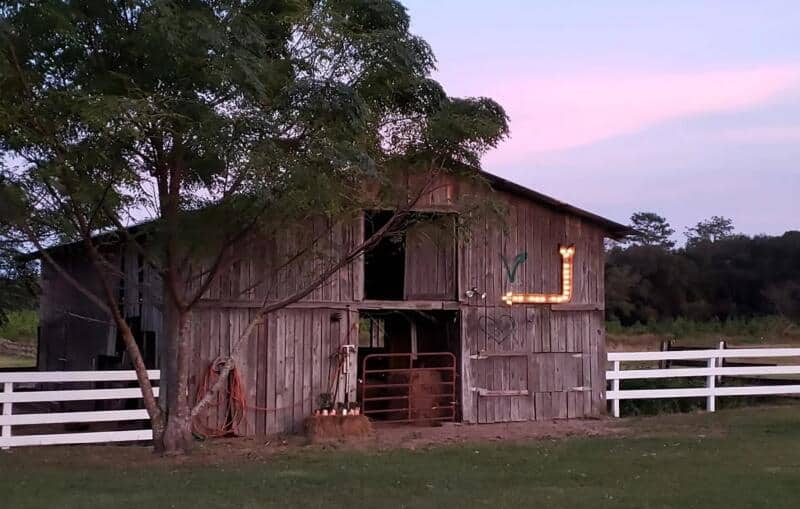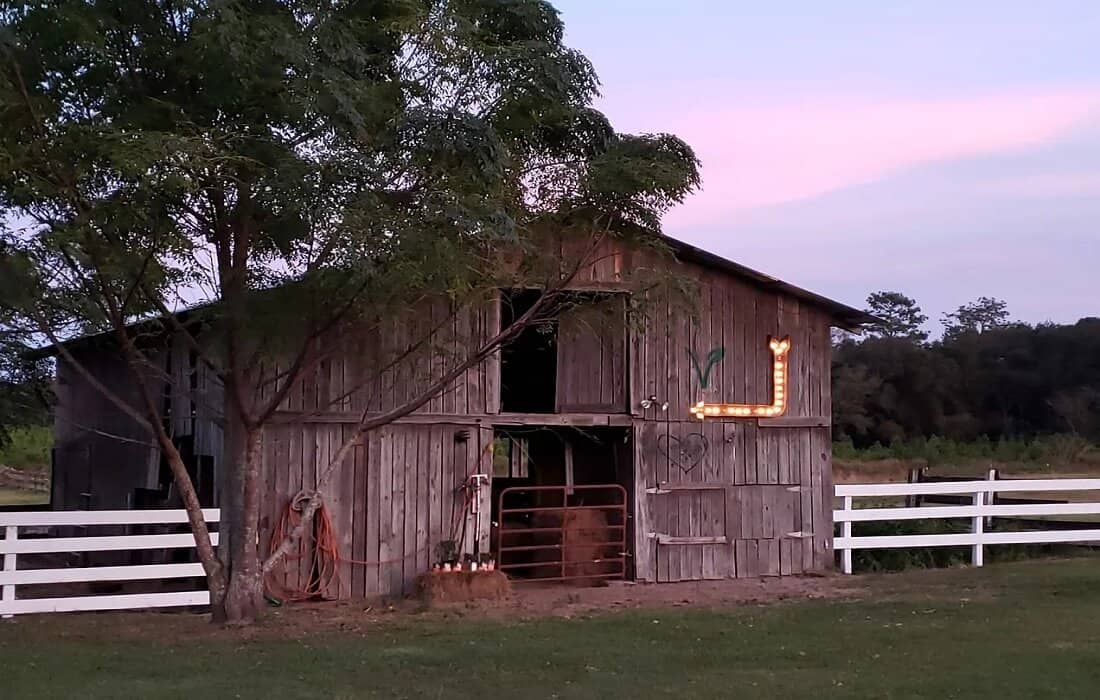 This post may contain affiliate links. Please read our disclosure and privacy policy for more information.
About Live Oak Florida's Kokomo Farms
Kokomo Farms is 20 acres of serenity that offers you and your family an opportunity to stay on a working farm with unusual accommodations. It is a priority for Kokomo to create and maintain a sustainable and green environment where guests can interact with the animals and the natural surroundings. The accommodations are all eco-friendly, using solar power and generated electricity.
Kokomo Farms is a vegan farm where rescued animals get the chance to live out their lives in peace. A unique aspect of Kokomo Farms is that it offers a variety of types of accommodation for guests to choose from. All of the accommodations are versatile and come with different amenities. We will discuss this in more detail on the accommodations later in the article.
Why Visit Kokomo Farms?
Kokomo Farms is a member of the Florida Agritourism Association. The concept of agritourism combines Florida's two largest industries, tourism, and agriculture. This combination allows farmers to offer educational and entertainment activities on their agricultural land. Kokomo Farms in Live Oak, Florida, immerses you in a natural farm environment. Chickens and ducks roam freely, fireflies are abundant, and there's no sign of city life here. The closest store is about four miles away, so you are removed from anything other than the sounds of the farm.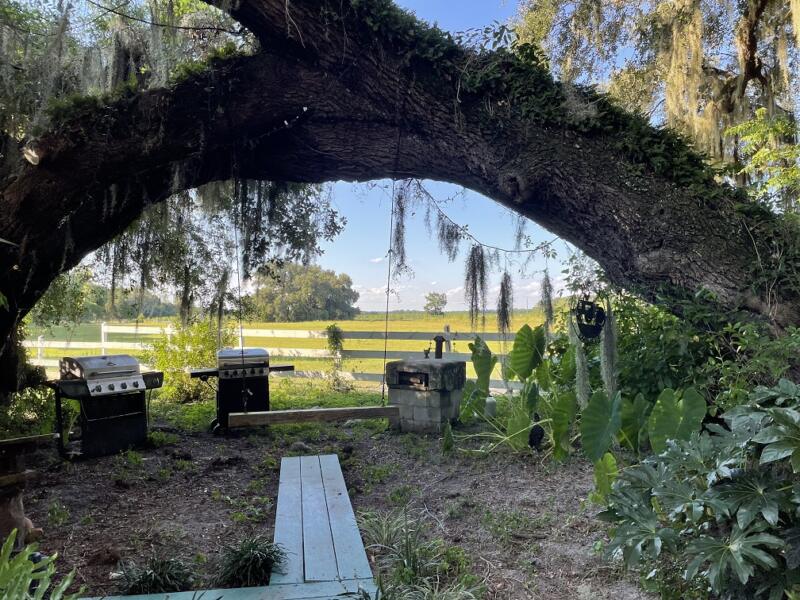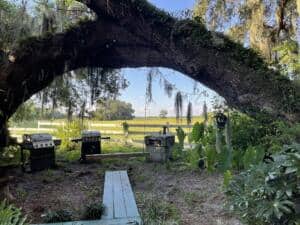 You can sit on the wraparound porch of the main farmhouse and listen to the birds chirping or relax in style on your patio. Explore the enchanting forest of 100+-year-old Live Oak trees. Or, enjoy the serenity of the zen garden and soak in the hot tub. Under the moonlight, you can relax on the trampoline and gaze at the stars. Get the chance to interact with rescued farm animals and more.
We were here en route to New Orleans. To break up a long road trip, we decided to spend a night in Live Oaks, Florida, to see Royal Springs and Suwanee Springs. I love glamping, unforgettable stays as such, Kokomo Farms was an easy choice. There's nothing better than a stay that offers you the chance to try things you have not before. For me, staying on a farm and having the opportunity to stay in a container house was a no-brainer. And there are no regrets.
The Location Of Kokomo Farms in Live Oaks, Florida
Kokomo Farms is located in a beautiful rural area of North Florida between Tallahassee and Jacksonville. The famous Suwannee River and abundant naturally cold water springs surround Live Oak, Florida, along with some of the state's most impressive natural features. Most of the area is agricultural, and the beauty of the countryside is everywhere you look.
Address: 19378 NW County Rd 250, Live Oak, Florida.
Things To Do Onsite at Kokomo Farms
In an age where the world is changing rapidly, Kokomo Farms looks for ways to establish symbiotic relationships between animals and the natural environment. As a result, they ensure that the animals, the farm, and the environment can live in harmony with each other. Guests can interact first-hand with the animals. The hosts provide 5-star hospitality and accommodations, enhancing the grand vision. Wildlife, agriculture, and architecture come together in a collaborative environment in Kokomo Farms. There's plenty to do on the farm; let's explore!
Enjoy Wide Life
Kokomo Farms has resident animals, and they receive plenty of wild guests. You might wake up to the sounds of nearby donkeys and a rooster calling for breakfast if you're lucky. Observe the wildlife, such as frogs, owls, wild turkeys, and coyotes, when you are out there.
Zen Garden and Hot Tub
The zen garden is a beautiful part of Kokomo Farms. It's romantic and relaxing. Perfect for a couple or, if like us, the ideal place for a girl's road trip. Catch sight of Buddha, as still as the rock he's been sitting on since he found his way into the farm's zen garden. If you wish, you may rake the sand around him. Enhance your focus, reduce stress, and develop a sense of well-being. People who appreciate carefully controlled settings of raked sand, rocks, and clipped shrubs will understand. You will find serenity in this woodland setting surrounded by wildflowers.
Relax in a Hammock
Discover the hammocks and sway in them as you contemplate the charming oak trees.
Animal Feeding at Kokomo Farms
Kokomo Farms provides you with the opportunity to feed all the animals. Carrots are on hand to feed the horses. Grain is not only available for the chickens, but it's provided in your accommodations. We got to hand feed chickens many times as they came to our container home.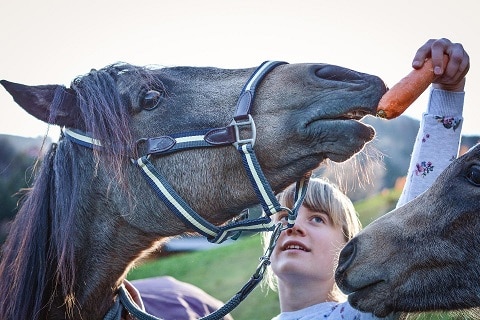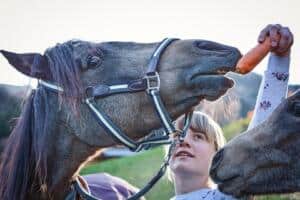 Horse Grooming
If you want more time with the horses, the hosts will teach you how to groom one of the rescue horses.
Horse Riding
If you want to explore the area on horseback, just let the hosts know, and they will arrange it for you.
Roast Mash Mellows By The Fire
There's a large fireplace located next to the zen garden. The hosts provide everything you need to make smores or simply roast marshmallows. Even hot in Florida, chatting around a fire is romantic and social. Sitting around the fireplace also allows you to meet the other guests.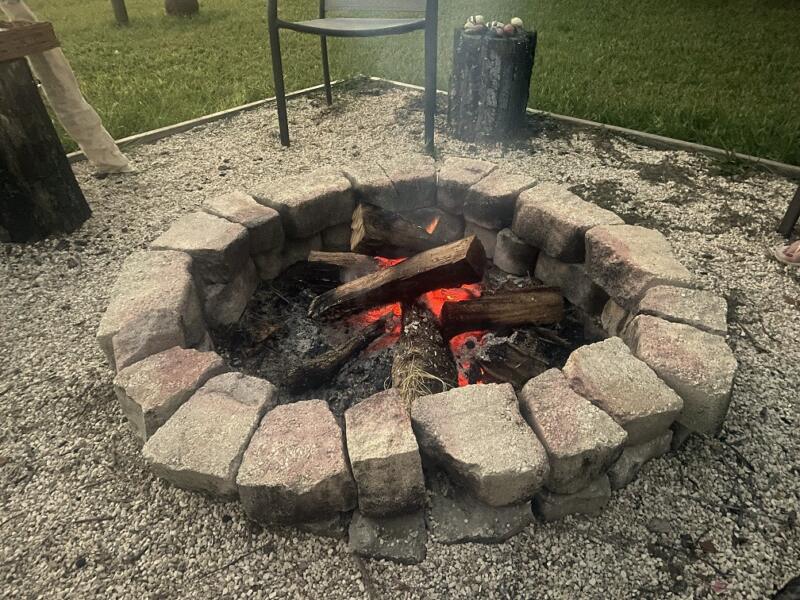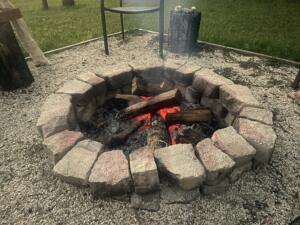 Dine with Horses
Imagine sitting in the rustic barn beside the beautiful horses, enjoying a meal. You can find it here!
Eat Dinner Under The Stars
If you want to dine onsite, you can opt for a brick oven pizza meal. You'll eat in the zen garden. Remember, this is a vegan farm, so you must choose between vegan and vegetarian options.
Painting
At the back of the zen garden is an artist's mecca. Here you'll find paint and brushes ready for you to add your spark to this fence. Not only is it cool to paint on here, but it's fascinating to read all the prior guests' comments and take in their artistic additions.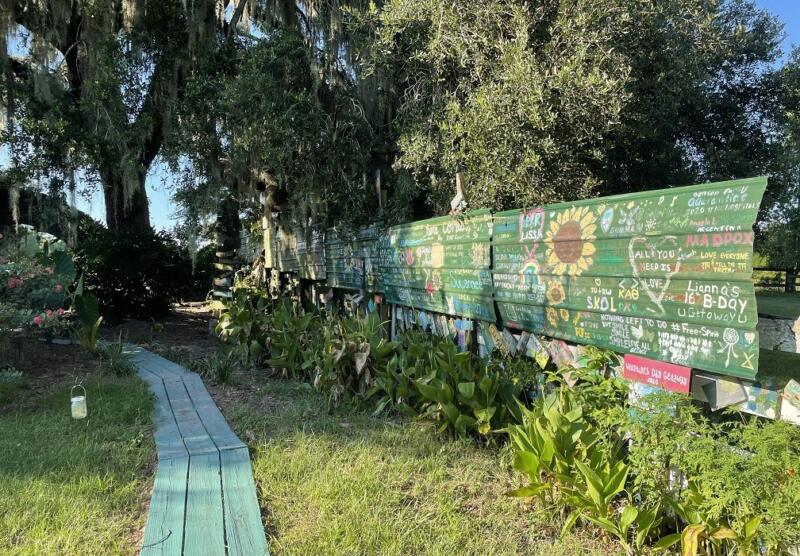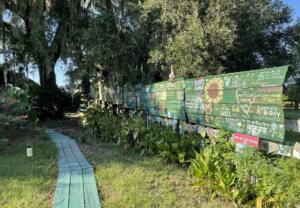 Kayak
Kayaks are available for rent at Kokomo Farms for $25 per day.
Rent Bikes
Rent bikes or take a bike tour to the Hal Adams suspension bridge.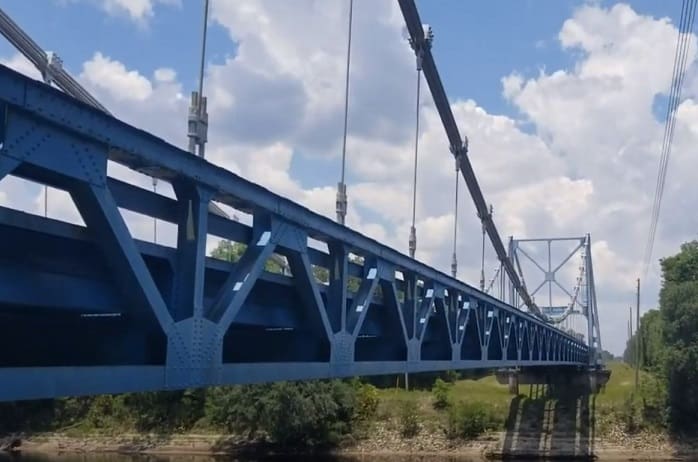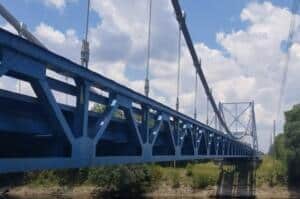 Other Things To Near Near Live Oaks, Florida
While in Live Oak, there are other attractions to check out, and a short drive will lead you to local springs.
Wes Skiles Peacock Springs State Park
There are two major springs, a spring run, and six sinkholes at Peacock Springs, named after the late world-class explorer, diver, cinematographer, and photographer Wes Skiles. Divers travel from all over the world to explore nearly 33,000 feet of underwater passages at Peacock Springs. A long underwater cave system can be found in the park. Underwater caverns can only be explored by divers who have scuba certifications.
During the summer, swimming at Peacock Springs and Orange Grove Sink is a popular activity. Picnic areas are equipped with grills and pavilions.
Suwannee Springs
This spring is not your typical spring. It's not a tropical blue oasis. This is a historic mineral spring managed by the Suwannee River Water Management District. Once upon a time, this spring was a booming tourist attraction. You can swim and jump this spring despite the water's color, but it smells. Due to the sulfur, Suwannee Springs was once referred to as Suwannee Sulphur Springs.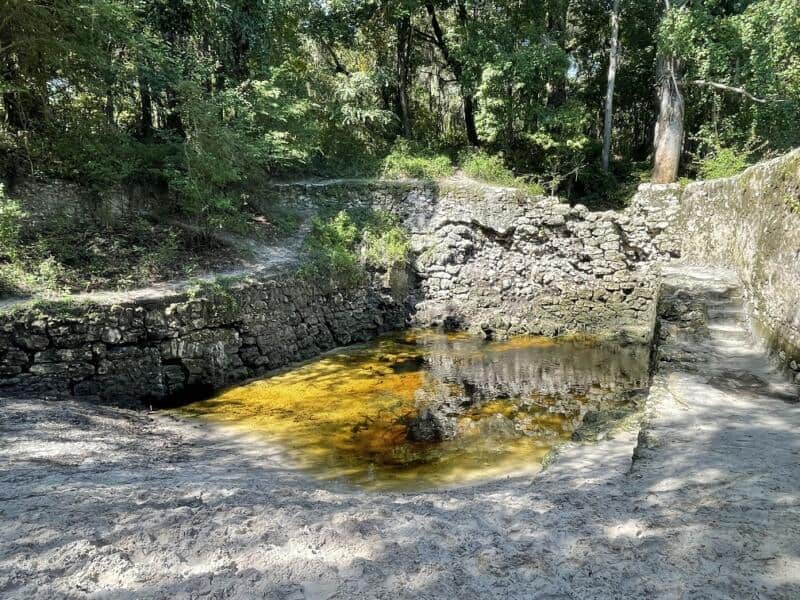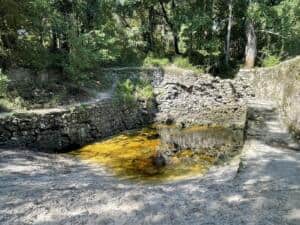 Royal Springs
A reason alone to visit Live Oak, Florida, Royal Springs is spectacular. This off-the-beaten track oasis is an unusual spring. It has a diving platform, a swimming area, swing ropes, and lots of rocks to bask on. It also connects directly to the Suwannee River, and there's a great water trail to the river. The best part? This spring is free!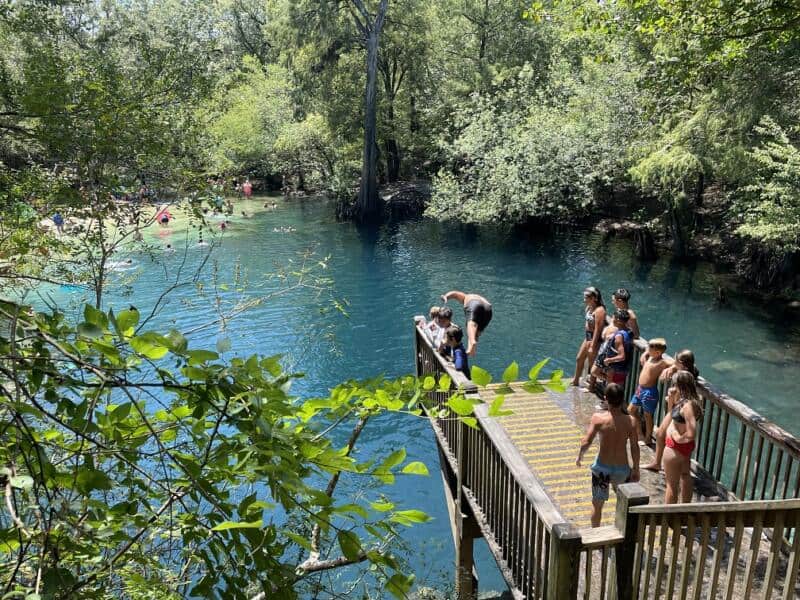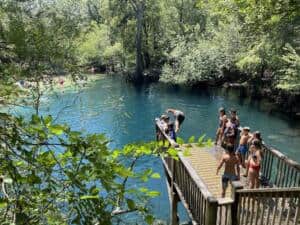 The Bridge To Nowhere – Aka The Grafitti Bridge
Officially called "Suwannee Springs Bridge," this might seem odd to explore, but do not skip it. If for no other reason than it's picturesque, this bridge is worth checking out. You can walk on the bridge but can't drive on it. All signs tell you it's closed to traffic, but you can walk on it. You can see Suwannee Springs from the bridge, and you will probably see kayakers on the river.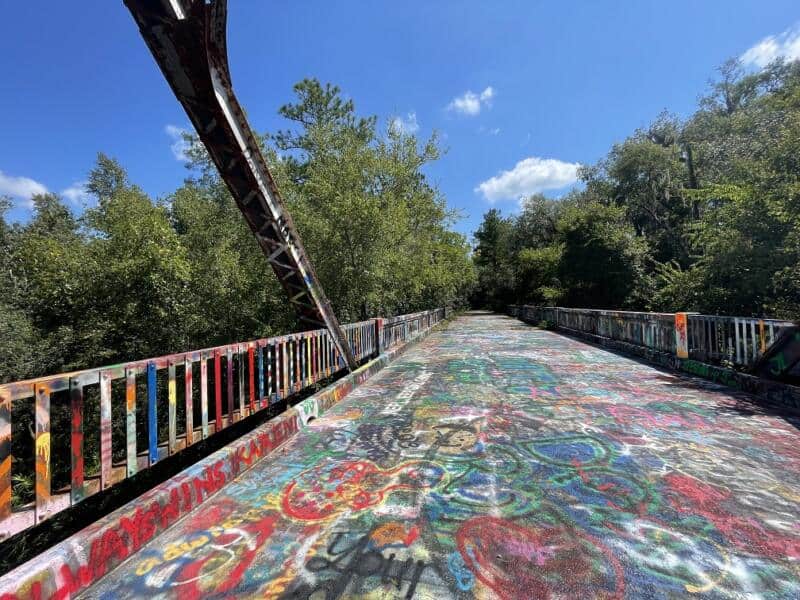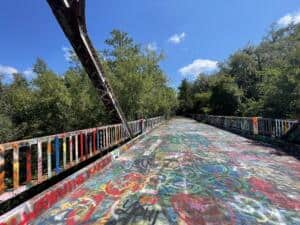 Mystic Jungle Educational Facility Inc.
Mystic Jungle Educational Facility Inc. is a 501(c)3 facility. The focus of Mystic Jungle is on conserving and preserving all species but the Asian Leopard and educating the public on exotic animals.
Types of Stays at Kokomo Farms
You will find a variety of unique and affordable accommodations at Florida Kokomo Farms, such as a treehouse, an eco cabin/container home, and an outdoor netted hanging bed with an intimate theatre for two and more. There is a perfect balance between indoor and outdoor living. The living spaces ensure complete comfort and security. The versatile accommodations of Live Oak, Florida's Kokomo Farms, are exceptional. Let's have a look.
This treehouse is secluded and hidden in one of the most unusual accommodations. When you find it, you will be transported to your childhood!
The treehouse has a very comfy full-size bed with memory foam, thoroughly screened in with privacy curtains, a transparent roof, and enchanting night lights to find your way home and a lot of trees! Games and robes for hot tub. There is a small balcony off the treehouse to sit and gaze at the stars. Keep in mind this is an experience with nature and a real tree, so guests should be comfortable with an authentic camping experience in their hearts (which may include bugs :) The bed is netted, so don't sweat the bugs.
These rooms offer comfortable luxurious 20 ft yurts/tents under the stars for an authentic glamping experience. The spaces are furnished with an outdoor eating area table and chairs set inside a little oak hammock, a secret bamboo garden, a queen memory foam bed, a sitting area inside to play games or read solar lighting, and other comforts like a TV.
This room is inside the main farmhouse. Combined with the Koi pond's waterfall, the room's setting will make you feel like you're in Fiji. Experience the romance of a tropical hanging bed accommodation room and escape city life. You can close all the curtains to have privacy or open them to watch the farm from this room. Take a dip in the hot tub or enjoy the fire pit.
This room is inside the main farmhouse. It features a huge netted hanging round king-size bed, a Netflix-enabled movie screen, and a fire pit adjacent to the zen garden and the hot tub. You can watch the stars at night from the covered outdoor back porch room and watch the chickens roam the pasture while you wake up.
This tiny house comes with a queen memory foam bed, kitchenette, love seat, and ensuite full bath. This adorable guest house is located in a small corner of the farm and is the perfect place to stay with your loved ones. The tiny house community is excellent for meeting new people and getting to know others.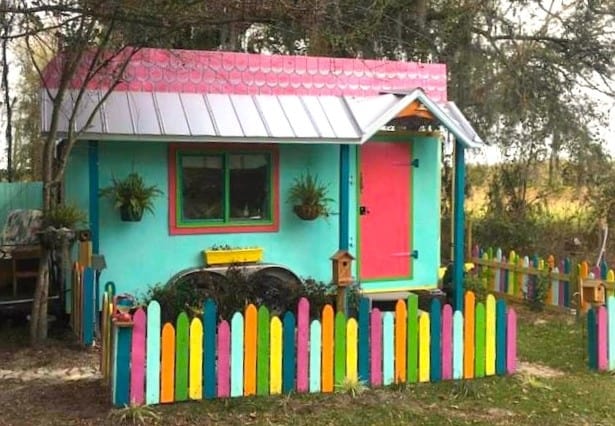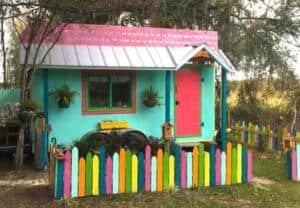 You won't want to miss this adorable RV. There is a queen-sized bed, a full kitchen (fridge, freezer, microwave), and a large bathroom/shower.
Get away from the city and enjoy the great outdoors at the Cabin in the Woods. This semi-off-grid tiny home features a studio layout with a full bed, bathroom, a mini fridge, a TV, and an outdoor gas barbeque grill.
This is where we stayed, and all I can say is wow! The creativity that went into creating this space is outstanding. This is also the only property on the farm that can accommodate more than two people. It's decorated in style with lush amenities and is secluded at the back of the farm. Kokomo Farms' Eco Cabin/container home is a magical retreat in the farm's enchanted forest. In terms of comfort and off-grid vacationing, eco-cabins are arguably the best way to get away from everything and relax in the middle of the countryside.
FAQs About Kokomo Farms in Live Oak, Florida
Where is Kokomo Farms?
Kokomo Farms is situated in a beautiful rural area of North Florida, about halfway between Tallahassee and Jacksonville.
Where is The Kokomo Farms Treehouse?
The Kokomo's tree house is located inside the enchanted forest at the back of the farm. It provides complete comfort, a transparent roof, and enchanting night lights and is nestled quite close to the forest area.
Closing Thoughts
The animals on Kokomo's farm are all rescue animals, and you'll enjoy spending time with them. There is a wide range of activities available on the farm that ensure you will never get bored. In addition to the zen gardens, hot tubs, and hammocks surrounded by over 100-year-old oak trees, you can play lawn games, star gaze, and relax.
This is one of the few places in Florida that offer you the opportunity to try alternative eco-friendly accommodations on a working farm dedicated to the environment. I'll also add that I've stayed at countless properties worldwide, and this one is different. The mission is clear and intentional; the accommodations are high-end, with no expense spared. It's affordable, charming, and relaxing. Most importantly, it exceeded all my expectations.
Make your next trip to Live Oak Kokomo Farms to experience real peace and tranquillity.
Looking For More Unusual Stays, Start Here?
We participate in the Amazon Services LLC Associates Program, an affiliate advertising program designed to provide a means for us to earn fees by linking to Amazon.com and affiliated sites.
Brit On The Move™ Travel Resources
Ready to book your next trip? Use these resources that work:
Need more help planning your trip? Check out our Resources Page, highlighting the great companies we trust when traveling.