Carson Springs Wildlife Conservation Foundation
Carson Springs Wildlife Conservation Foundation is a 501(c) 3 not-for-profit organization conservation and educational facility that rescues exotic animals in need. Located near Gainesville, this facility is licensed by Alachua County, Florida, The U.S. Fish and Wildlife, and The United States Department of Agriculture. Additionally, they are an accredited facility of The Zoological Association of America and The Feline Conservation Federation.
Inspected no less than twice a year, they have never been cited. And this is because the owners have stringent protocols for safety, optimal animal care, and the enclosures far exceed the minimum standard.
Located in Alachua County and close to Gainesville, Carson Springs Wildlife Conservation Foundation is not only a great day out but an educational one that allows you to contribute directly to the welfare of the animals that have been rescued. If this doesn't convince you, check out the reviews on TripAdvisor, five stars across the board. This is a pristine sanctuary that is 100% dedicated to the animals.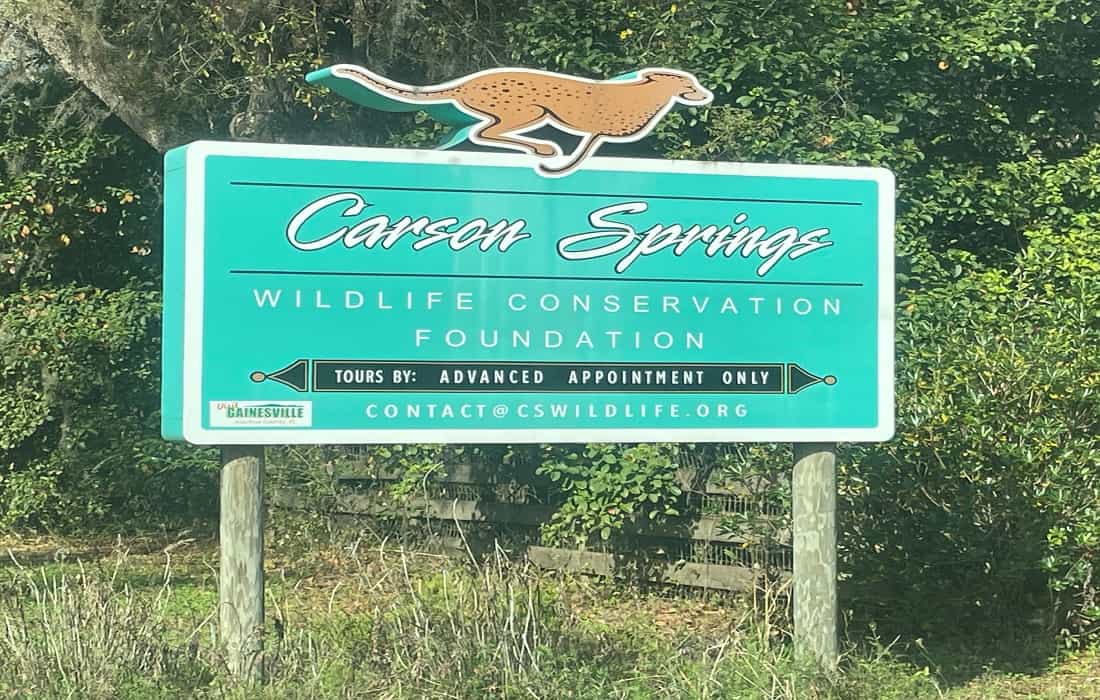 This post may contain affiliate links. Please read our disclosure and privacy policy for more information.
Why Visit Carson Springs Wildlife Conservation Foundation?
Carson Springs Wildlife Conservation Foundation facility sits on more than 275 acres of forest and farmland. In addition, this sanctuary is dedicated to caring for more than 100 animals in danger of extinction. Above all, the foundation educates people about protecting wildlife.
Who would not like to spend a weekend seeing exotic animals? Here are some reasons why you should visit:
Take a private or group tour and walk the facilities.
You can see and interact with the animals found in this sanctuary.
This organization allows you to feed some of the animals.
It is a non-profit foundation. All the money they collect is to care for the animals, and they count on your visit to help the animals in danger of extinction.
You can adopt an animal and donate money to keep it healthy.
Carson Springs Wildlife Conservation Foundation animals are dependent on donations. There is no State or Federal funding. 100% of donations go directly to animal care such as food and vet. All donations are tax-deductible.
So, if you love animals and want to support the welfare and conservation of animals in danger of extinction, you should visit Carson Springs Wildlife Conservation Foundation.
About The Owners
The Carson Springs Wildlife Conservation Foundation owners are Christine and Barry Janks. Before opening the foundation, this couple was dedicated to horse racing and training thoroughbred horses for most of their lives.
Once they retired from the horse racing industry, they decided to dedicate themselves full time to caring for the animals that needed it most. They also realized that Florida needed an animal sanctuary to care for exotic specifics and then decided to.
The History Of Carson Springs Wildlife Conservation Foundation
Carson Springs Wildlife Conservation Foundation begins with Christine and Barry's 2001 trip to South Africa. They wanted to meet the cheetahs in their natural environment and contribute to the conservation of the species.
DeWildt Cheetah Trust
After a meeting with the founder of the Wildt Cheetah Trust, Ann VanDyk. Christine and Barry bought the farm and relocated problem cheetahs and leopards that were preying on livestock and would have been shot by farmers. They came back to the U.S. to raise funds and be the representatives of this campaign in North America.
When Christine and Barry returned to the U.S., they launched the Carson Springs Wildlife Conservation Foundation and raised funds. Later in 2002, they bought a farm in Bela Bela with Ann Van Dyk and used it as a temporary home for cheetahs and leopards that had trouble fitting in with other cheetahs and leopards. They acquired all the special equipment to protect these big cats on the farm adequately.
Christine and Barry were finally retired from their horse business in 2007 and realized there was an opportunity to help animals near Gainesville, FL. They used their farms for horses, adapted them to take care of some animals, and then their population expanded exponentially.
The Location Of Carson Springs Wildlife Conservation Foundation
Carson Springs Wildlife Sanctuary is located north of Gainesville and southwest Jacksonville. Exactly on E County Rd 225.
Address: 8528 E, County Rd 225, Gainesville, FL 32609,
Getting to Carson Springs Wildlife Conservation Foundation
The closest airports are Gainesville or Jacksonville if you are not in Florida. After being in one of these cities, you can call an uber and get there quickly.
If you are in Florida, you can drive using one of these routes:
Gainesville: N.E. State Rd 24 and then N County Road 225.
Jacksonville: I-10 W, then US-301 S, and get to E County Road 225.
Lake City: FL-100 E and quickly get to E County Road 225.
Tours At Carson Springs Wildlife Conservation Foundation
The walking tour lasts 2 hours and costs:

$10 for children ages 2-11
$35 for adults over 12 years old

Family or corporate events are possible with a reservation.
Ride tours are available. Interesting, the vehicles are some form of mobility scooters dressed as animals.
Reservations are required for all tours except Saturday where you can simply show up for the 10 am tour.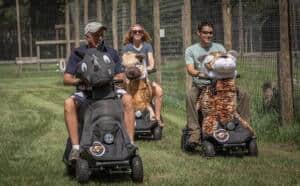 Image Credit: Carson Springs Wildlife Conservation Foundation
The Animals At Carson Springs Wildlife Conservation Foundation
Each of the animals in this sanctuary is recovered from bankrupt facilities, zoos, or individuals that could not take care of them anymore. Most specimens are part of a reproductive program aimed at stopping extinction. Here are the animals you'll get to see at the sanctuary:
Tigers
Amur Leopard
Bobcat
Caracal
Serval
Siberian Lynx
Puma
Spotted Hyena
Spotted Genet
Striped Hyena
Kunekune Pig
Clouded Leopard
Geoffroy's Cat
Bat Eared Fox
Red Ruffed Lemur
Ring-Tailed Lemur
Tayras
Asian Fishing Cat
Jungle Cat
Cheetah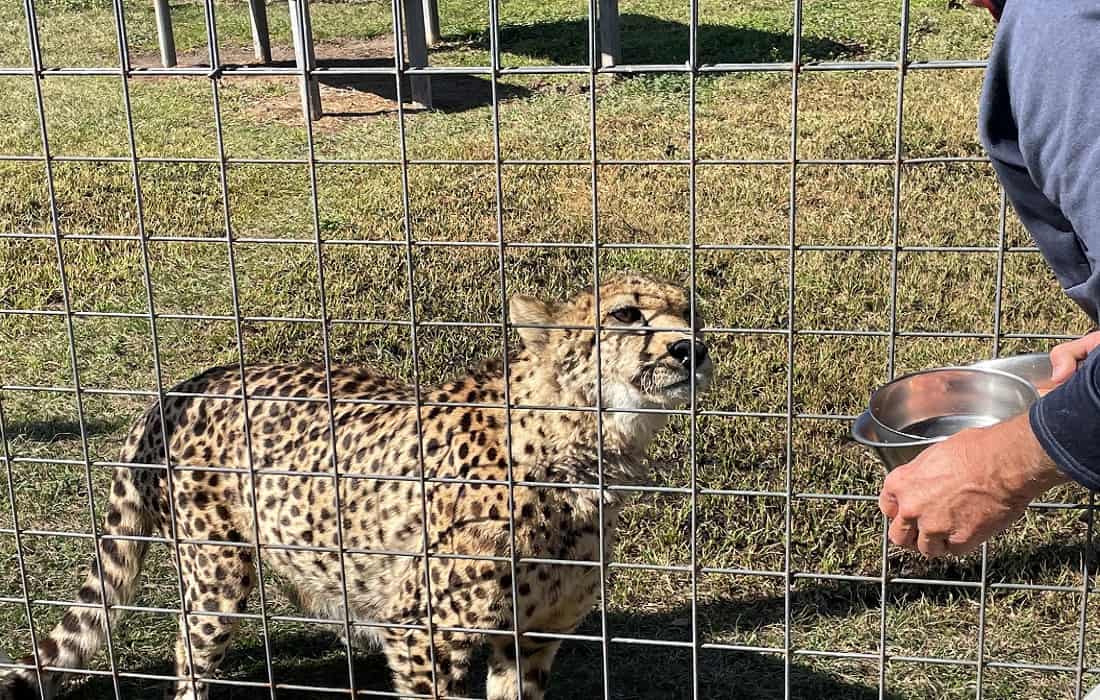 Eagle Owl
Warthog
Rusty Spotted Cat
Siberian Lynx
Tortoise
Jaguar
Black & White Lemur
Henry The Rhino
Henry, an Indian rhino is famous! At age 40 and soon to be 41 he's the oldest male Indian rhino in the world. He's in captivity for his own safety, his parents were at risk of poaching. Henry has fathered over 30 babies and dozens of grandchildren throughout his lifetime. You pay a little addition to feed him come carrots: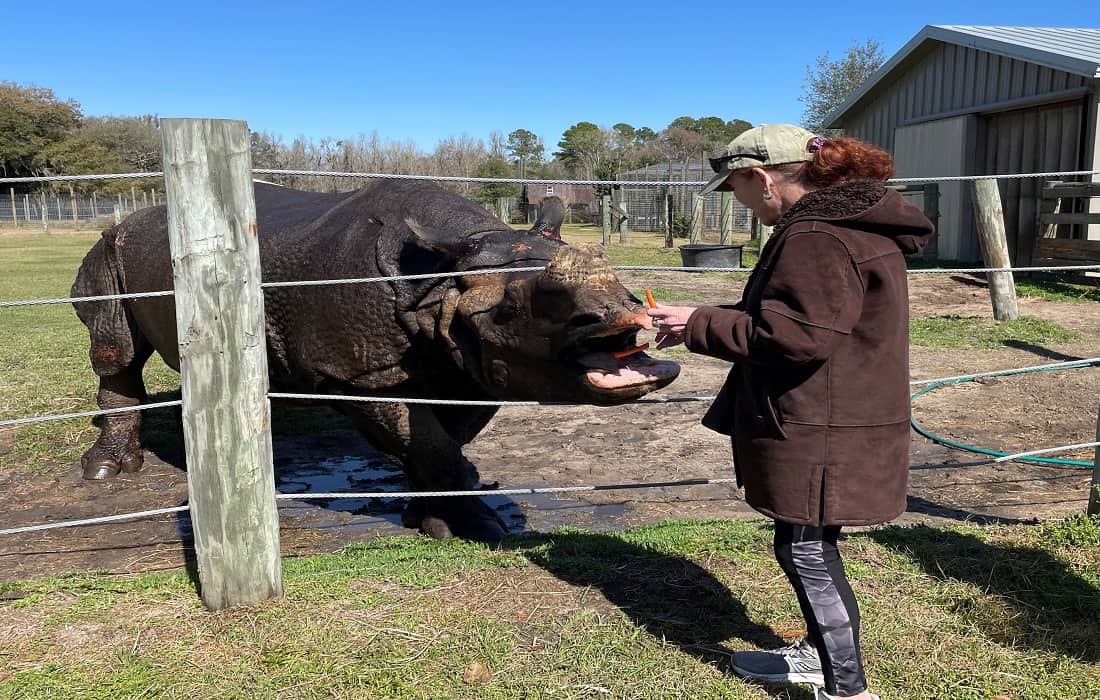 What It's Like To Tour Carson Springs Wildlife Conservation Foundation
I came across this sanctuary because we were glamping in Florida in a covered wagon close by. We stumbled on this place. Immediately impressed, I knew I would enjoy the tour. The accreditations alone impressed me, the tour fascinated me. Firstly, the place is immaculate – spotless, secondly, Barry is onsite for most tours and shares a wealth of knowledge. Most importantly these animals are well cared for.
You can tell from Barry's interactions with the animals that this is a love affair. As mentioned above, Barry and his wife use their own personal funds to supplement what they receive in donations.
During the tour, you'll get to hear each animal's story. In addition, they will receive food. As a result, you have the chance to see just how big cats are!
Events At Carson Springs Wildlife Conservation Foundation
This foundation survives on donations, money generated from tours, and from Christine and Barry's personal funds. To increase donations, Carson Springs Wildlife offers seasonal events. For example, they offer Easter and Halloween Drive Throughs.
It's also possible to host your own event here. The facility is perfect for corporate events, picnics, and large groups. And, remember if you host your event here it's a donation.
FAQs About Carson Springs Wildlife Conservation Foundation
This place is fascinating to learn more about endangered species, their care, and what it takes to run a place like this. Here are the frequently asked questions about Carson Springs Wildlife Conservation Foundation:
Closing Thoughts
Conservation requires that we all do out bit. By supporting organizations like Carson Springs Wildlife, you are doing just that. To sum it up, this sanctuary is much better than a Zoo. It's a place where the animals are at peace, they are not conditioned to do tricks and you will not find animals in small cages. If you are looking for something different to do and want to support a great cause then Carson Springs Wildlife Conservation Foundation should be on your list!
Looking for more posts on things to do in Florida? Start here:
We are a participant in the Amazon Services LLC Associates Program, an affiliate advertising program designed to provide a means for us to earn fees by linking to Amazon.com and affiliated sites.
Subscribe to our newsletter and get the best travel tips and inspirational stories delivered monthly. No spam, no sales pitches – TRAVEL!
Brit On The Move™ Travel Resources
Ready to book your next trip? Use these resources that work:
Need more help planning your trip? Check out our Resources Page, highlighting the great companies we trust when traveling.