Peppa Pig Theme Park – A Certified Autism Center
A British animated series "Peppa Pig" hit kids worldwide in 2004. Soon after the launch of the series, it became famous worldwide. This humanlike pig and her family have been experiencing adventures with her friends for over 300 episodes, all the while teaching crucial social and emotional skills. And now, there's a Peppa Pig Theme Park for you to immerse yourself and sprogs in all things Peppa Pig! The first Peppa Pig Theme Park in the world!
This post may contain affiliate links. Please read our disclosure and privacy policy for more information.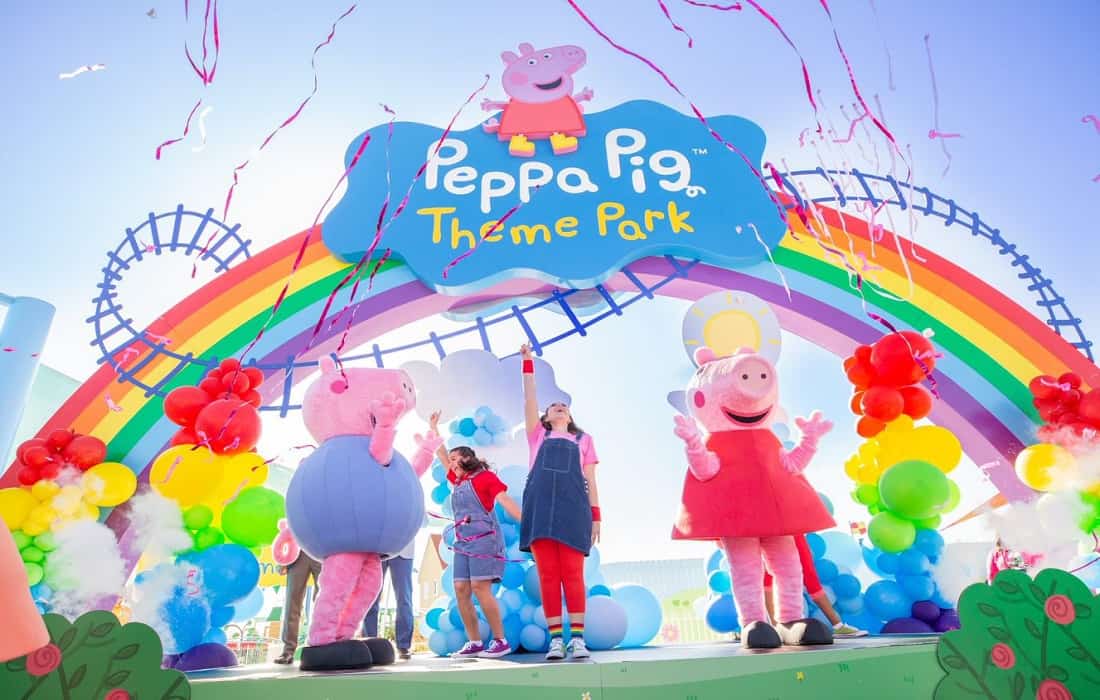 Image Credit: ABD Ltd/Ent. One UK Ltd/Hasbro Ltd
Peppa Pig Characters
Before we even jump to the park, let's recap who the characters and family members are.
Peppa Pig – Peppa Pig is a cute little pig with a touch of pushy. Mummy Pig, Daddy Pig, and her younger brother George live with her at the age of four.
George Pig –Peppa's younger brother is George. George is eighteen months old & enjoys playing with his older sister, Peppa, even when demanding.
Mummy Pig – Mummy Pig enjoys splashing in muddy puddles about as much as Peppa Pig.
Daddy Pig – Daddy Pig always smiles and laughs, especially when playing with Peppa and George.
Granny Pig – Granny Pig loves to feed her chicks along with Peppa and George and makes a delicious handmade chocolate cake.
Grandpa Pig – Grandpa Pig is an expert gardener who enjoys taking Peppa and George on vacations in his sailing yacht and miniature train.
Other Characters – Zoë Zebra, Suzy Sheep, Rebecca Rabbit, Pedro Pony, Gerald Giraffe, Freddie Fox, Emily Elephant, Danny Dog, Candy Cat, Mandy Mouse, Molly Mole.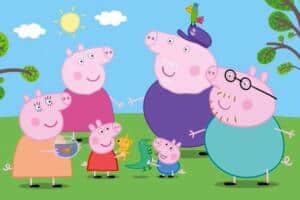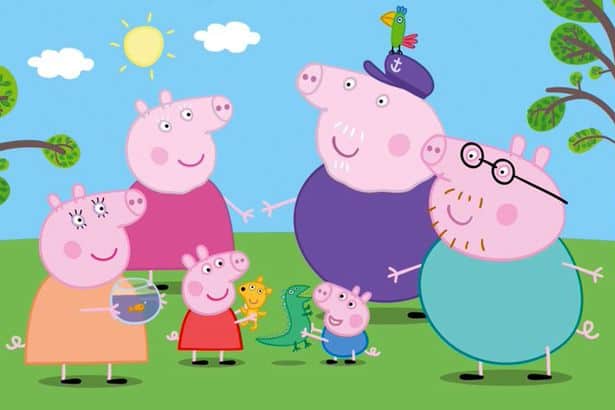 About Peppa Pig Theme Park
Merlin Entertainments and Hasbro started work on the 4.5-acre Peppa Pigg Theme Park in August 2021. It's located next door to LEGOLAND® Florida Resort in Winter Haven, part of Polk Counties' growing attractions.
The grand opening date was February 24th, 2022. And, this is the only Peppa Pig Theme Park on the planet!
Peppa Pig Theme Park features various rides and attractions for preschoolers and their parents. There is no minimum height restriction, and parents can enjoy all rides with their sprogs.
A Certified Autism Center Theme Park
Did you know that in America alone, between 1 in 44 children suffer from autism? Autistic people have social skills, repetitive behaviors, speech, and nonverbal communication challenges. People with autism might have sensitivities to:
Sights
Sounds
Smells
Tastes
Touch
Balance – Vestibular
Awareness of body position and movement – Proprioception
Understanding of internal body cues and sensations – Interoception
Source: Autism Speaks
Peppa Pig Theme Park partnered with The International Board of Credentialing and Continuing Education Standards (IBCCES) to earn its accreditation as a Certified Autism Center (CAC). All staff is trained to meet IBCCES standards, and sensory guidelines meet the standards.
The sensory guides provide information on how a child with sensory processing issues may be affected by the five senses. The guides use a scale is 1 – 5, with one being the lowest in terms of impact to a sense.
I have to tell you this caught my attention. It made me stop and think for a while about what it must be like to have autism and not get to experience theme parks. I bet you that other parks will soon follow suit.
Attractions At Peppa Pig Theme Park
Campervan
While you wait for Mr. Bull to save Peppa's Family Campervan from the enormous muddy puddle, you can love playing in Peppa's Family Campervan!
Cinema
Outdoor activities can sometimes be tiring. No worries, Peppa Pig theme park has a cinema where children can watch movies with their parents. You can manage your favorite Peppa pig cartoon episodes. This is also a great place to escape the heat!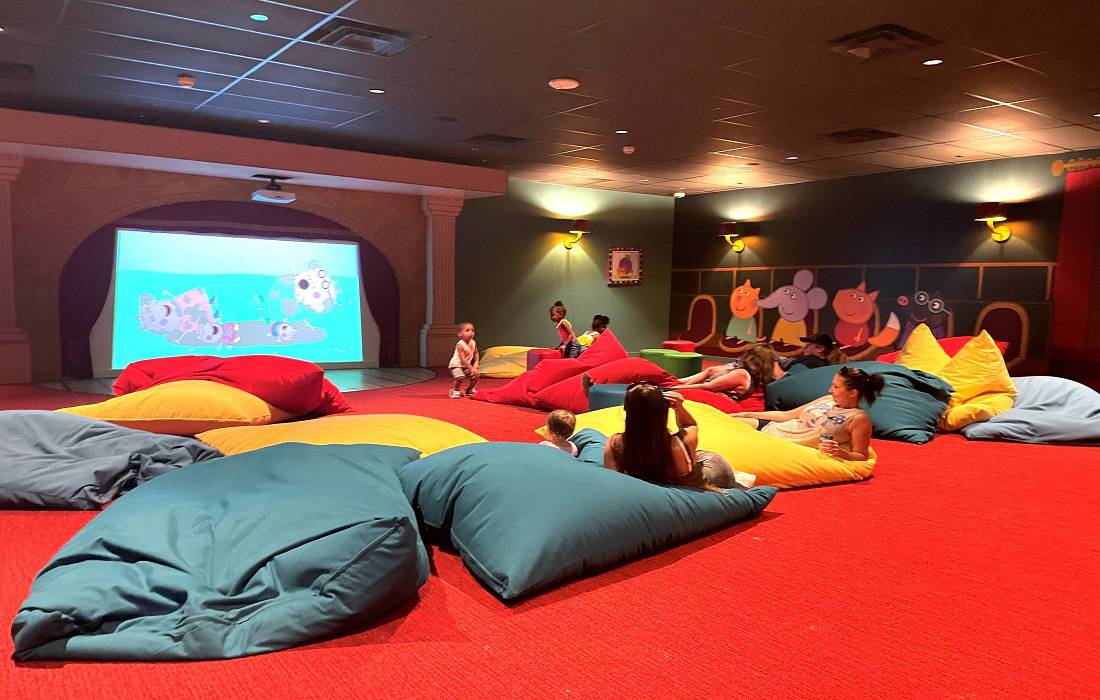 Fun Fair
Meet Peppa, her family, and friends at the funfair. It is an excellent adventure with plenty of free games to play with your friends and family. Miss Rabbit's amusing wobbling mirrors will make you laugh out loud as they make you appear ridiculous, all squishy, in a variety of sizes and shapes! Alternatively, you can try your luck at hooking a duck as they swim around the pond, or test your abilities at Hoopla Ring Toss, Tin Can Tumbler, and Bean Bag Toss – all of the games at this fair are free!
George's Fort
Explore Granny Pig's Garden's maze as you try and figure out what's generating that strange sounds. It's just a frog croaking, so don't be alarmed. Do you suppose he entered George's Fort by chance? Don't forget to have a peek around!
Grandpa Pig's Greenhouse
Grandpa Pig is an expert gardener who particularly enjoys cultivating tomatoes in his greenhouse. Allow your children to climb, crawl, and slide their way around Grandpa Pig's Greenhouse, an interactive outdoor playground.
Meet Peppa Pig
Perhaps the star attraction for some fans is the ability to meet Peppa Pig. I'll be candid here; it never dawned on me that there would be characters on site. It never crossed my mind that there'd be a long line of fans wanting to take their picture with Peppa Pig. Consider me educated!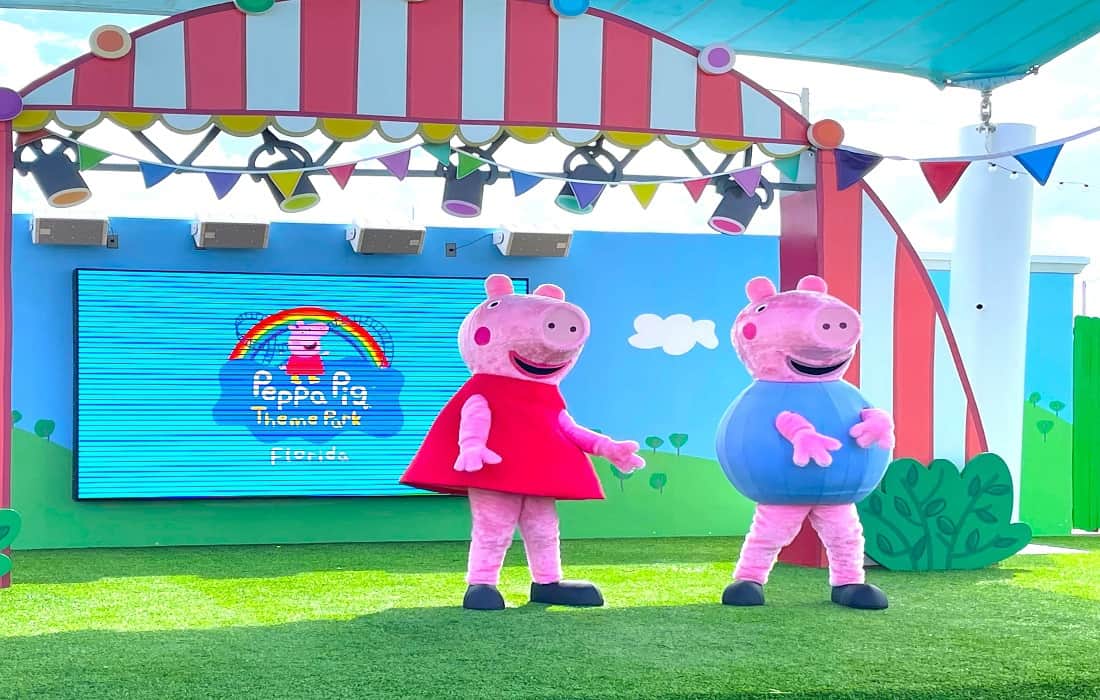 What touched me was how much joy this brought kids of all ages. You can pose with the characters and get a photo. It reminded me of how The Monkey used to react to characters at Disney. I also watched older autistic children pose and meet their favorite pig. It was evident how excited they were, crystal clear that this was something they had always dreamed of doing.
Note: I did not take a photo of any of the kids posing with Peppa Pig. This was a deliberate choice to respect the kids and families. Many of the kids in line were autistic. This is a commercial monetized site. It did not feel right to me to capture these moments.
If you visit the Peppa Park Theme Park, please educate your children on autism in advance so that all the children here can enjoy the park equally.
Madame Gazelle' s Nature Trail
All will enjoy this enjoyable nature route! Join Madame Gazelle on this family-friendly adventure as she searches for clues to figure out who left the small footprints. Remember to take a look via the binoculars. What do you think you see?
Peppa Pig Fan Must Haves
Muddy Puddles Splash Pad
Enjoy a unique and wonderful time with Peppa and George doing what they love most: bouncing in "Muddy Puddles"! Spouting fountains, slides, and other aquatic surprises keep the play incredibly splashy and enjoyable in this colorful play area! (Don't worry, these "Muddy Puddles" aren't as filthy as those on television.) Who said getting wet is not fun?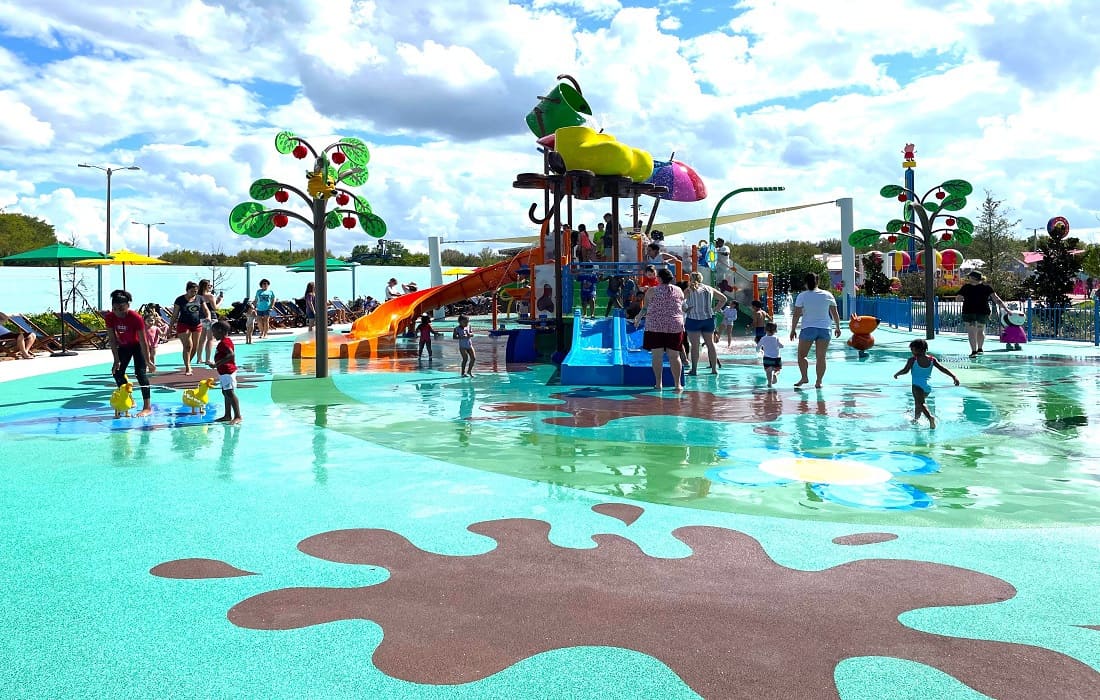 Pirate Island Sand Play
Love building sand buildings and designs? This is the perfect place for you. Enjoy with your parents and spend quality time with your favorite characters.
Rebecca Rabbit's Playground
Rebecca Rabbit's Playground is a great place to jump, hop, crawl, and climb. There is much for kids to do in this outdoor energetic play area and see as they dig the rabbit burrow and uncover the carrots.
Rides At Peppa Pig Theme Park:
Daddy Pig's Roller Coaster
Join Daddy Pig on an unexpected adventure journey in his freshly cleaned red automobile to take your family's fun day to the next level.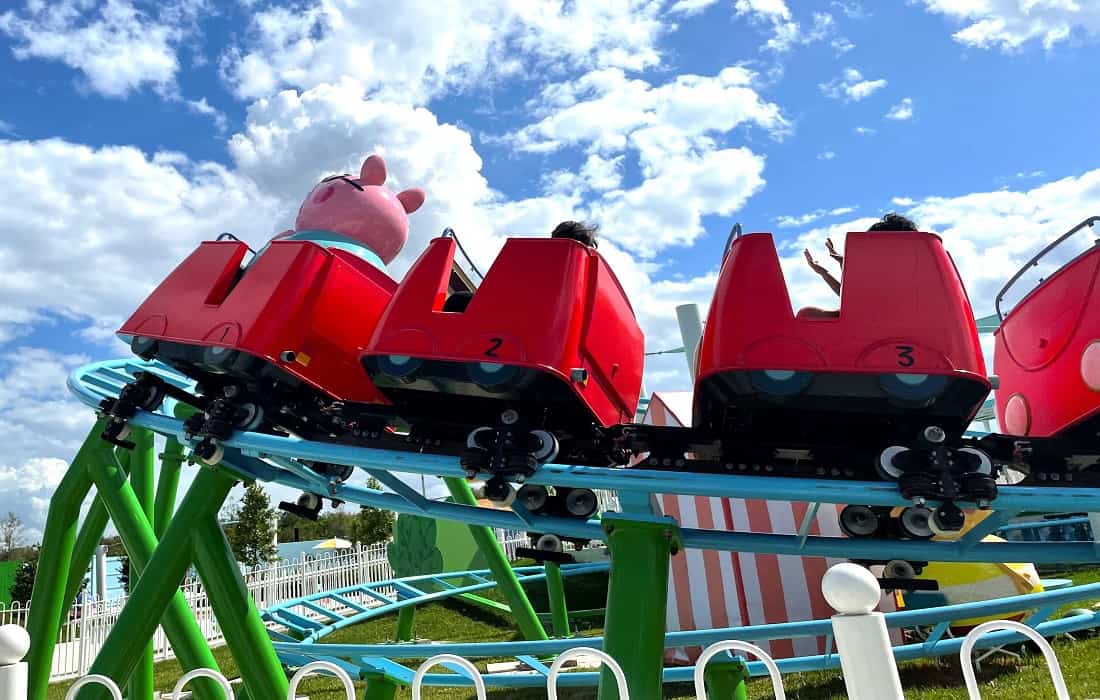 Grampy Rabbit's Dinosaur Adventure
Grampy Rabbit's Dinosaur Park welcomes you! Parents can join their children on this epic dinosaur adventure, which will take them past raging volcanoes and into prehistoric mountains.
Grandad Dog's Pirate Boat Ride
You and your children can take a boat voyage with Grandad Dog to Pirate Island, where you can dig for buried riches and create sandcastles on the sandy beaches!
Mr. Bull's High Striker
Mr. Bull's hammer and bell ride will put your strength to the test! Mr. Bull's High Striker will lift you and your family straight to the sky as the hammer strikes the bell. Prepare for a surprise because, after all, on this family-friendly drop ride, what goes up must come down! Everyone, take a step back!
Peppa's Pedal Bike Tour
Little ones will bike their way through one camping excursion in the forests, over cold mountains, and into the big outdoors to see the views, scents, and sounds! Smaller bikers can experience George's shorter pedal path trip on specially designed tricycles!

Peppa Pig's Balloon Ride
Now you and your family can soar above clouds alongside Peppa Pig in Miss Rabbit's hot air balloon, 'flying high, in the sky! On this family-friendly aerial carousel ride, hold on tight and take in the spectacular scenery of Peppa Pig Theme Park from the very top!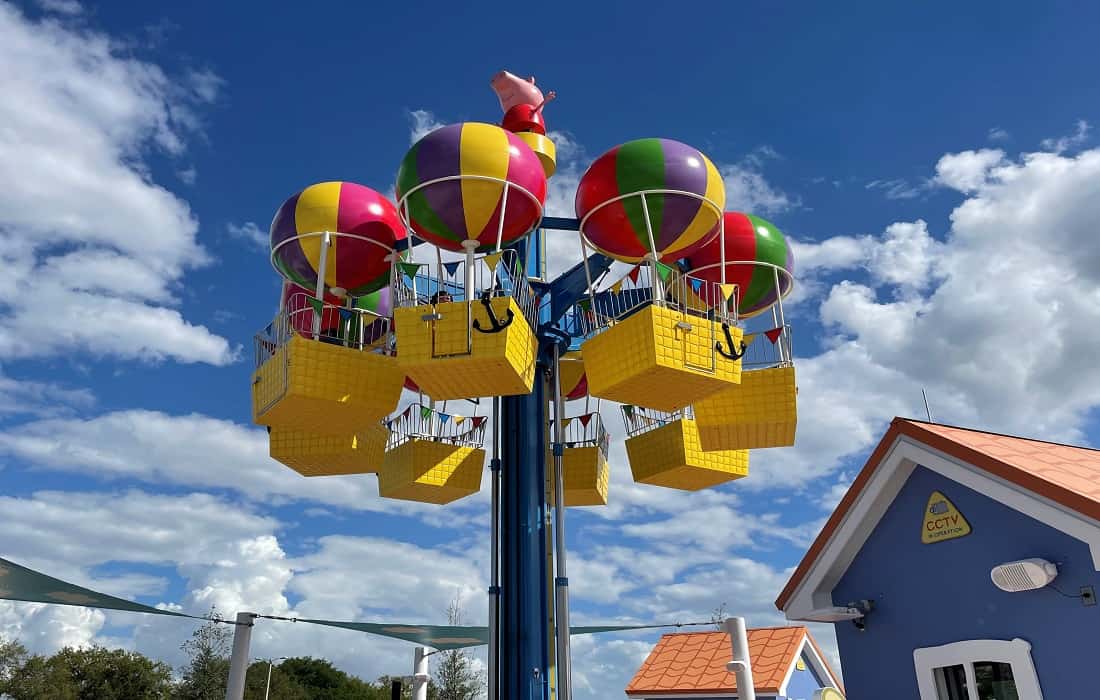 This ride is also wheel chair friendly so no child is left out!
Peppa Pig Theme Park Map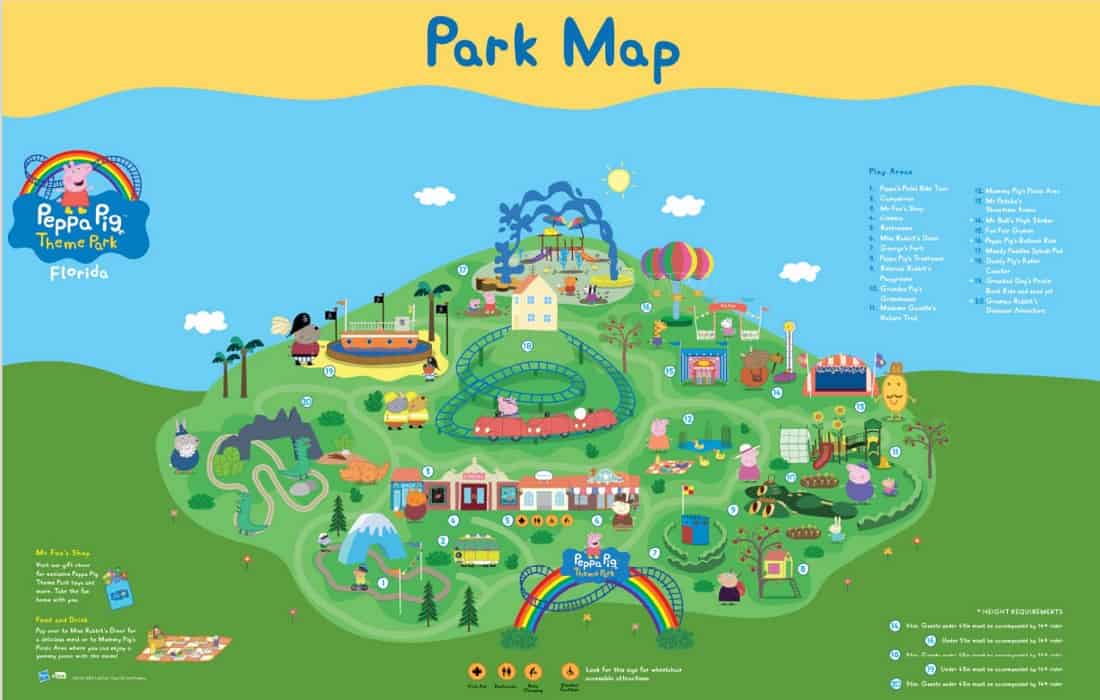 Image Credit: ABD Ltd/Ent. One UK Ltd/Hasbro Ltd
Tickets Prices
You can buy single-day passes online or at the park. Peppa Pig Theme Park can be combined with admission to LEGOLAND® Florida Theme Park as a Two-Park, Two-Day Ticket. And, you can buy annual passes, however, a limited number of Peppa Pig Theme Park Annual Passes are available. A yearly pass includes free parking and discounts.
Location
Address: Legoland Way, Winter Haven, FL 33884
FAQs About Peppa Pig Theme Park
Closing Thoughts
Peppa Pig Theme Park is a must-visit place for kids, especially those with autism. It's a relatively small park but appropriately sized for the age group and audience. In fact, for parents trolling small sprogs, it's a blessing. We've all got the t-shirt from walking miles and miles in the blazing heat across other parks. Or should I say, we've all had the feet blisters and chaffed legs! You don't have to worry about that here.
My monkey is too old for Peppa Pig, so it's not a place that we will frequent. However, I was impressed with this park. It's affordable, spotless, it's a perfect size, it's a happy chilled out place, and it's a ton of fun for kids.
Most importantly, I was blown away by the intentional provisions for autism. This is the first time I've ever seen this in a theme park, and I firmly believe we will see more of this shortly.
Looking to explore more theme parks? Start here:
We participate in the Amazon Services LLC Associates Program, an affiliate advertising program designed to provide a means for us to earn fees by linking to Amazon.com and affiliated sites.
Subscribe to our newsletter and get the best travel tips and inspirational stories delivered monthly. No spam, no sales pitches – TRAVEL!
Brit On The Move™ Travel Resources
Ready to book your next trip? Use these resources that work:
Need more help planning your trip? Check out our Resources Page, highlighting the great companies we trust when traveling.