Who is not waiting for the next season of Yellowstone, the cowboy version of Soprano's set at the Yellowstone Ranch? We all are. However, most of us do not know that we can stay at the Yellowstone Ranch. The ranch where the show is filmed! The Paramount series starring Kevin Costner is filmed at a real ranch called "The Chief Joseph Ranch." This is the perfect opportunity for you to visit one of my all-time favorite states and combine it with the love of the show!
As well as being a historic landmark, working ranch, and family homestead, the 2,500-acre Chief Joseph Ranch in Darby, Montana, is also a guest ranch with cabins for rent when the show is not filming.
Come on, let's all be honest. Which Yellowstone fan does not want to stay at the Yellowstone Ranch in Rip or Lee's Cabin?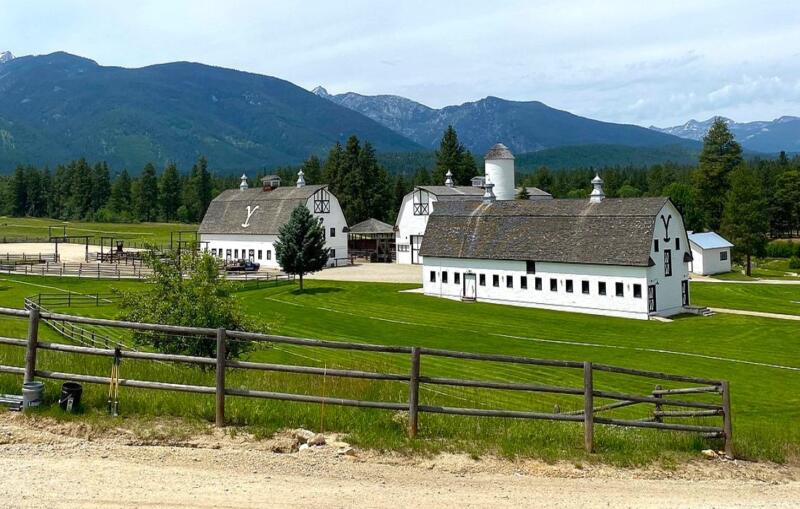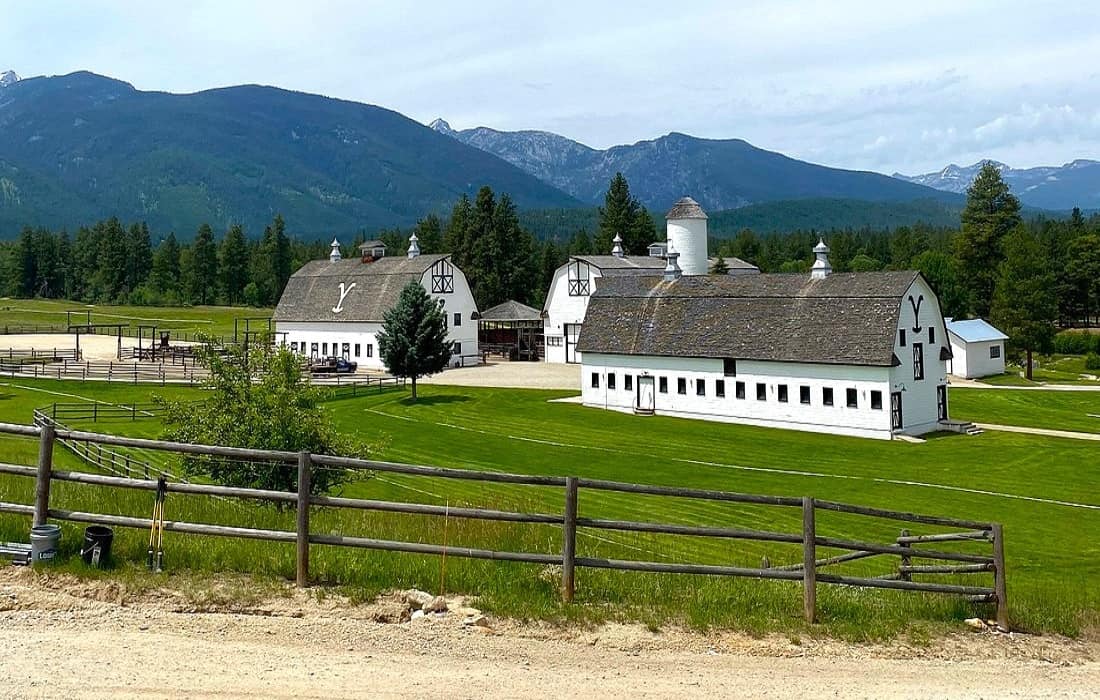 This post may contain affiliate links. Please read our disclosure and privacy policy for more information.
Filming Location Of Yellowstone
The vistas and landscapes behind Yellowstone's heart-stopping action are so breathtaking you might wonder if it is filmed in a studio or if it exists. It exists. It is a real working ranch that the show leases to produce the show.
No surprise to me that the scenery is breathtaking. I would expect this. I have been to Montanna several times, and it never disappoints.
The ranch that we all know and love to be Yellowstone Ranch is, in real life, the Chief Joseph Ranch located in Darby, Montana.
Location Of Yellowstone Ranch
Address: 125 Appaloosa Trail, Darby, MT 59829
History Of Yellowstone Ranch
First Years – The Shelton Ranch
The original 2,500-acre ranch property, "The Shelton Ranch," was homesteaded by early settlers around 1880.
The land was occupied by the Salish tribe of Native Americans. Lewis and Clark entered the northern Bitterroot Valley in September 1805 following a trail used by Native American tribes during their expedition. They occupied the lands of the ranch in September 1805.
Lewis and Clark Expedition (1804–06) was a U.S. military expedition.
Meriwether Lewis (August 18, 1774 – October 11, 1809) was an American explorer, soldier, politician, and public administrator, best known for his role as the leader of the Lewis and Clark Expedition.
William Clark, (born August 1, 1770 – September 1, 1838,) was an American frontiersman famous for his joint leadership of theLewis and Clark Expedition.
Nez Perce tribes traveled the route south annually to hunt bison in the Big Hole Valley, often forming alliances with the Salish to protect themselves against other tribes, notably the Blackfoot.
Chief Joseph led his people across the ranch in their flight from the U.S. armed forces during the Nez Perce War in the summer of 1877.
Early Years – The Ford-Hollister Ranch
Henry Ford and Howard Clark Hollister, a federal judge, purchased the 2,500-acre ranch in 1914. It was a thriving apple orchard at the time of purchase. Ford spent three years building the Ford-Hollister Lodge, considered one of the most significant log structures in American Western history.
A 6,000 square foot lodge designed by Bates & Gamble has been featured in publications such as Architectural Digest and American Log Homes. The 1920s and 'thirties would see the addition of three enormous barns for dairy cows and the cabins that now function as guest houses.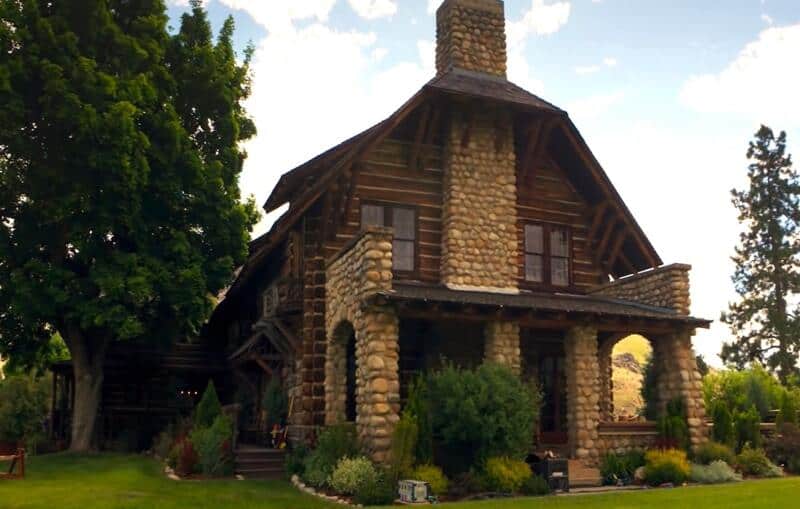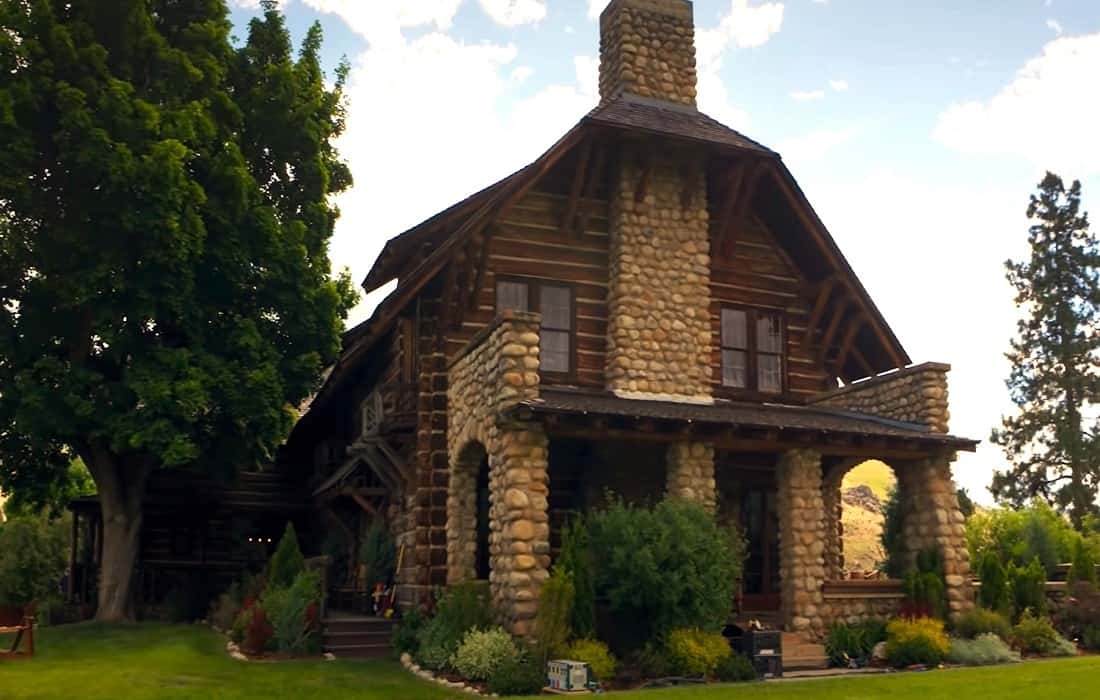 Along with the Lodge, Ford constructed three massive barns as the centerpiece of his model dairy. The dairy operation gave way to Hereford cattle in the early 1920s. After William Ford died in 1935, his wife, May Ford, and her daughters, Phyllis and Billie Ann led one of the first guest ranches in the West. Thanks to their ranch manager, Ben Cook, the Ford family could accomplish this task. As a result of William Ford's death, May Ford opened one of the first guest ranches in the West with her daughters Phyllis and Billie Ann.
Later Years – The Chief Joseph Ranch
In the early 1950s, the Ford and Hollister Ranch was sold and renamed the Chief Joseph Ranch in honor of the great Nez Perce chief who traversed the property during his lifetime. Chief Joseph was a well-known Native American orator and leader of the Wallowa tribe of the Nez Perce tribe. In the summer of 1877, he led his people across the ranch in their escape from the U.S. armed forces during the Nez Perce War.
Current Years – The Dutton Family Ranch and The Chief Joseph Ranch
The Chief Joseph Ranch now serves two purposes. It's a working ranch with cabin rentals. And is the setting of the Yellowstone television show. In addition to being watched by millions of people, the Lodge serves as a guest ranch and a family home between filming.
Why Film Yellowstone At Chief Joseph Ranch?
Lots of buildings and homes list themselves as filing locations. A similar concept as Airbnb, only the houses or estates rent for filming.
The Chief Joseph Ranch was not on any filming lists. The ranch location manager handpicked the location for the show Yellowstone. He reached out to the current owners to see if they would consider using the property for filming.
Many scenes have been filmed at Chief Joseph Ranch. It's the show's main staple for filming. Some of the scenes filmed here are:
The great lodge room, kitchen, back porch, front porch, helipad, and yard, as well as the following locations:
Armory
Rip's Cabin
Lee's Cabin
Trapper cabin
Barns, including the corrals, arena, round pen, bunkhouse, and fields
Woods, cemetery, and entrance
Rip's boyhood home
Several locations on the Bitterroot River property of the ranch
Cabins Rentals At Chief Joseph Ranch
John Duttons Lodge – The Main House
You can't rent the main Lodge. The current owners live in the Lodge.
Lee Dutton's Cabin – The Fisherman's Cabin
About fifty feet away from the Lodge and overlooking the Bitterroot River, Lee's Cabin features a master bedroom with a king-size bed, a full bathroom, a living room, a kitchen, and a screened porch. There are two queen beds in the upstairs bedroom and two twin beds in a loft. It costs $1,200 per night for four guests. Additional guests are $50 per person per night up to a maximum of eight people.
For eight, the total cost per night is $1,400 or $175 per person per night.
Those familiar with the show will recognize these two standalone guest houses as Lee Dutton's Cabin and the cabins occupied by Rip in season one and Kayce in season two.
Rip's Cabin In Season 1 and Kaycee's Cabin In Season 2 – Ben Cook Cabin
Ladies, can we all agree that this has to be the cabin of choice! Like, is there a woman who does not want to sleep where he's slept? I mean, ideally, we all want to sleep in the bed with him, but that's not going to happen. So, renting his cabin is the next best thing,
Rip's Cabin is a bit bigger than Lee's. It has three queen-size beds, two twin beds, two full bathrooms, a kitchen, a living room, and two porches. It costs $1,500 per night for four guests. Additional guests are $50 per person per night up to a maximum of eight people.
For eight, the total cost per night is $1,700 or $212.50 per person per night.
It's safe to assume that Rip's worth the $212.50 per night. The real question is, how do you decide who gets to sleep in his bed?
What's Included If You Stay At Chief Joseph Ranch
Every reservation includes a tour of the ranch, the show's sets, filming locations, and access to the more significant part of the property, including fishing spots, corrals, and pastures to accommodate guests' horses.
The luxurious amenities are a full kitchen, Weber grill, washing machine, and wireless internet. Each Cabin is equipped with a new washer and dryer. Dry cleaning and professional laundry are available in Hamilton, Montana.
Two miles from the ranch is the People's Market in Darby. Hamilton, which is about 25 minutes away, offers several grocery stores. We recommend The Good Food Store in Missoula if you have gluten restrictions or other dietary needs.
Darby offers three restaurants, and Hamilton offers several. Please feel free to ask us for dining recommendations. Local caterers can also prepare meals for you at the Cabin.
Availability At The Yellowstone Ranch
I hate to break to you all, but 2022 is already booked so your only chance is 2023. Guest cabins can only be booked between March and January but the cabins fill up quickly.
You're Not A Yellowstone Fan Unless You Have One Of These!
Frequently Asked Questions About Yellowstone And The Chief Joseph Ranch
Who owns Yellowstone ranch?
Shane Libel currently owns Yellowstone ranch – aka The Chief Joseph Ranch.
Is the ranch a real working ranch?
Yes, it is! A real working cattle ranch and a family home.
How much does it cost to stay at the Chief Joseph Ranch?
Between $1,400 to $1,500 per night for four guests. Additional guests are $50 per person per night up to a maximum of eight people.
Is There Food Service On-Site?
No, there is no food service on-site at Chief Joseph Ranch. Cabin rentals have fully equipped kitchens, and there are restaurants in Darby and Hamilton.
What does the minimum stay at the Chief Joseph Ranch?
There is a 2-4-night minimum stay.
Can I bring my horses to the Chief Joseph Ranch?
You can bring your horses. The minimum cost is $25 per day for two horses.
Is it possible to tour the ranch without making a reservation?
No, Chief Joseph Ranch does not offer tours without a cabin reservation.
Can I take a photo outside the gate of Chief Joseph Ranch?
Ah, who doesn't want the photo? If you can not afford to rent a cabin a photograph might be the best-case scenario. You can stop and take a picture but avoid blocking the driveway. And, be aware that a security guard will be at the gates during filming and will not allow photos at that time.
Also, if you rent a cabin, you can tour Chief Joseph Ranch.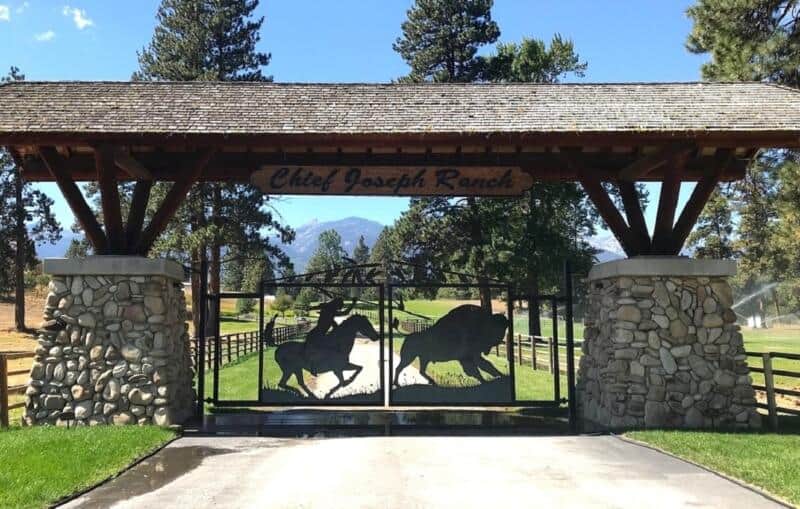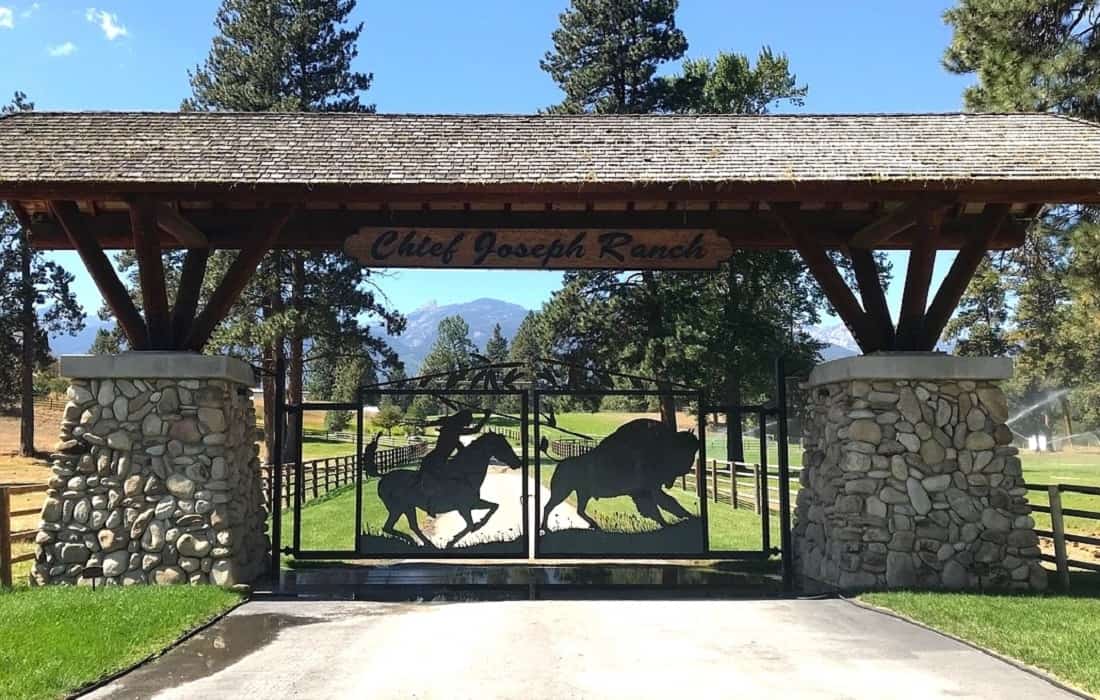 Can I rent the ranch for weddings?
Unfortunately, you can't hold your wedding at Yellowstone. Yes, yes – I know! This is a total bummer.
Closing Thoughts
A little pricy, perhaps, but this is a once-in-a-lifetime opportunity for fans of the show. Get a group of eight together to minimize the cost or go all out and rent a cabin for two or four!
What I would love to hear from anyone who's been! Share your experience below:)
Looking For Other Unusual Stays? Start Here:
We are a participant in the Amazon Services LLC Associates Program, an affiliate advertising program designed to provide a means for us to earn fees by linking to Amazon.com and affiliated sites.
Brit On The Move™ Travel Resources
Ready to book your next trip? Use these resources that work:
Need more help planning your trip? Check out our Resources Page, highlighting the great companies we trust when traveling.