Big Cedar Lodge in Missouri, also known as "America's Premier Wilderness Resort," is a Bass Pro Shop-owned resort. Yes, Bass Pro Shop owns resorts, which is the holy grail of those resorts. Earning its title as America's Premier Wilderness Resort, Big Cedar over-delivers and will blow your mind. Big Cedar is the first of the Bass Pro Shop resorts, and the bar is set high.
If you read this article, you have visited a Bass Pro Shop and understand that Bass Pro Shops are an immersive shopping experience. You only need to mention the store to someone, and everyone who has experienced it joins in the conversation. All are sharing how exciting their experiences at the store are. All are divulging their favorite sections. Most salivating merely discussing spending hours at a store. Imagine that this experience comes to life as a resort, and you understand where I am going with this!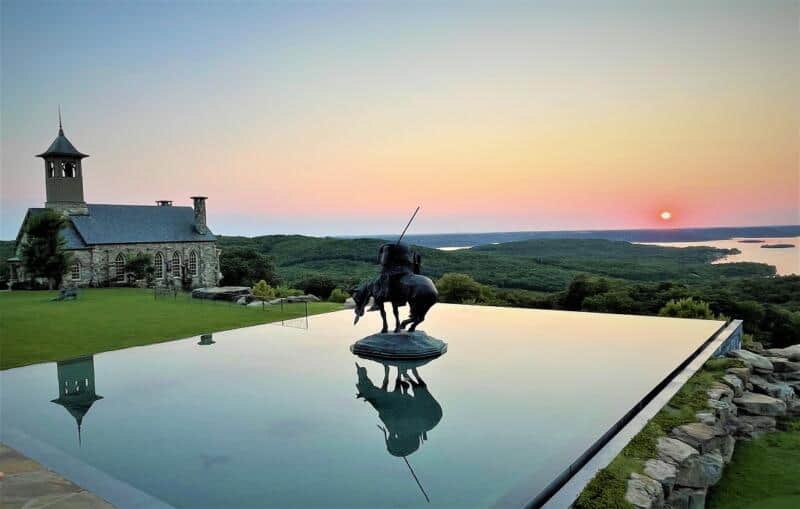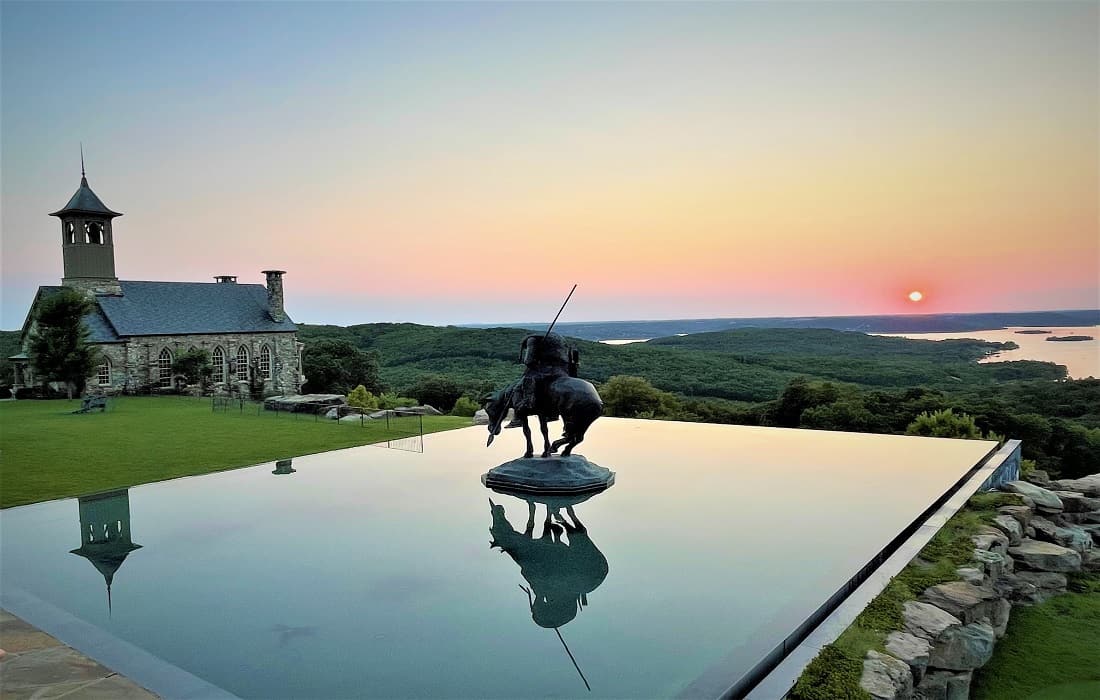 This post may contain affiliate links. Please read our disclosure and privacy policy for more information.
This is not a sponsored post. We used our timeshare to stay at Big Cedar Lodge, and all the opinions are those of Brit on the Move™. And, you know the deal – sponsored or not. I will tell you the good, the bad, and the ugly.
How Did I End Up at Big Cedar Lodge in Missouri?
It all started when my friend kept bugging me to stay at the Big Cypress Lodge in Memphis. I could not understand why she wanted us to stay there for the life of me. That is until I saw the rooms.
You can read all about Big Cypress Lodge in Memphis here.
In short, I was so impressed that when the same friend suggested Big Cedar Lodge, it required no persuasion whatsoever.
Big Cedar Lodge History
At the turn of the century, two wealthy Missourians Harry Worman and Julian Simmons, purchased three hundred acres of oak forest around the famous Devil's Pool.
They intended to create a luxury escape in the wilderness. They succeeded in creating a resort called Devil's Pool Dude Ranch in the 1940s. The ranch enjoyed success through the 1960s. However, it eventually ended.
After exchanging hands several times, at one point became a timeshare but did not survive. The property became abandoned.
The former ranch was bought in 1987 by Bass Pro Shops entrepreneur Johnny Morris.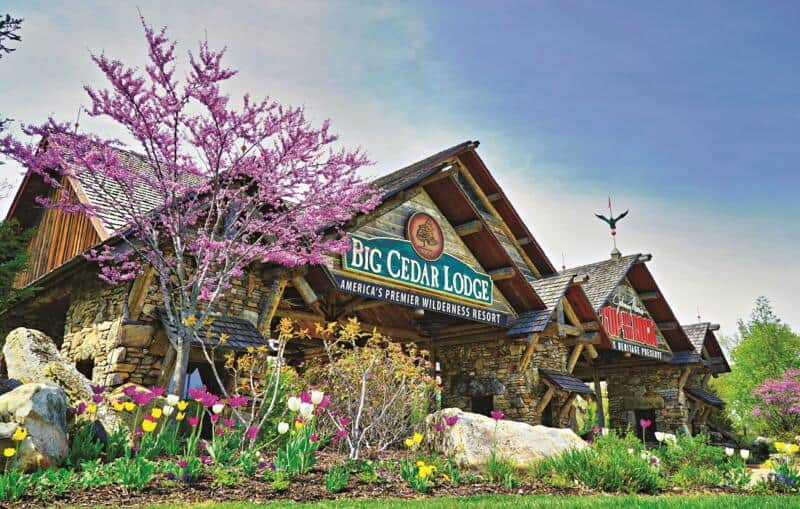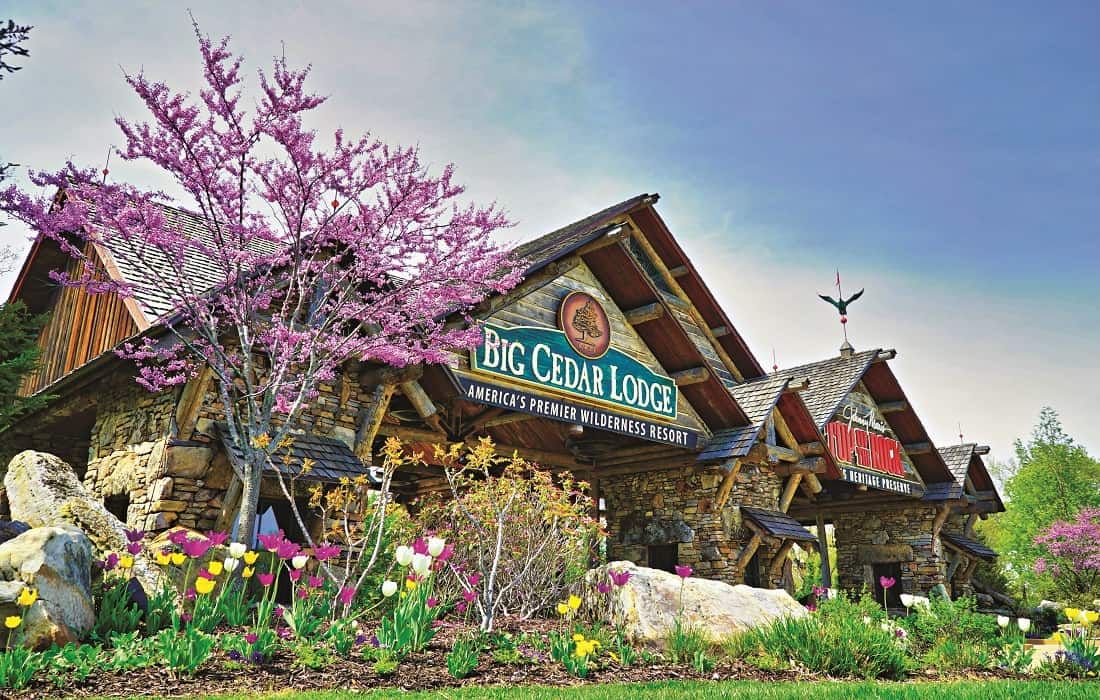 Photo By: Big Cedar Lodge in Missouri
About Johnny Morris
I would be negligent if I did not give you a short bio on Morris.
Johnny Morris is the creator of Bass Pro Shops, a brand that includes many household names like RedHead, White River Fly Shop, and Ascends, to name a few.
Johnny is a native of Springfield, Missouri. He started his career with humble beginnings. He opened his first bait shop in 1972 in the back of his dad's liquor store.
Morris branched out into resorts when he decided to offer his customers a place to put their boats on the water to fish. This yearning took him to Table Rock Lake, where he then decided that boat launches are not enough – he could offer more. What more is now Big Cedar Lodge.
Big Cedar Lodge Location
Located 55 miles south of Springfield:
Physical Address: 190 Top of the Rock Road Ridgedale, MO 65739.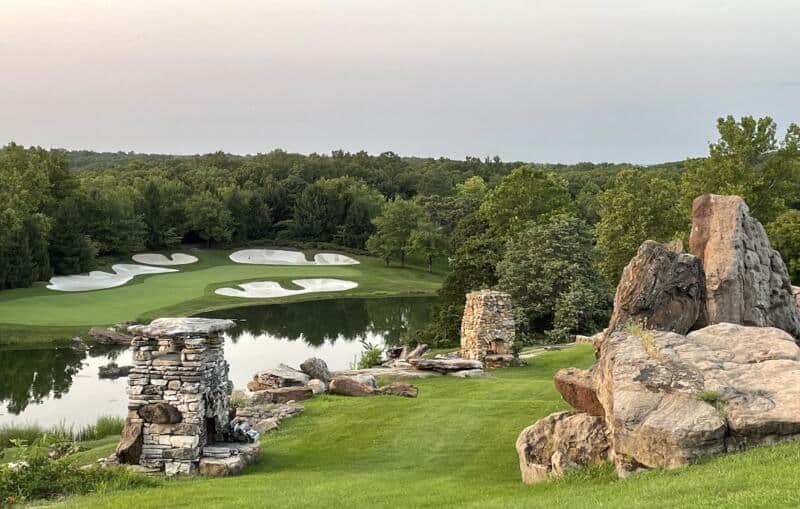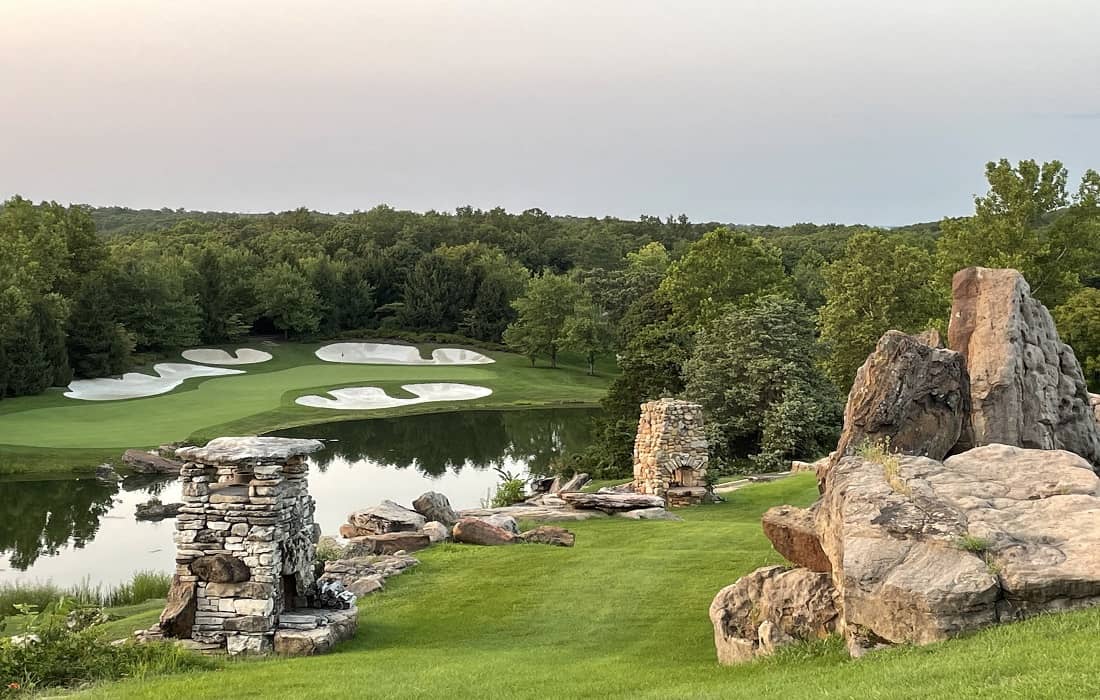 Getting To Big Cedar Lodge
The resort neighbors Iowa, Kansas, Oklahoma, Arkansas, Tennessee, Kentucky, Nebraska, and Illinois. It is drivable to most that live in these states.
If you do not live close, you can fly into Branson's regional airport. The drive to the resort is only about forty minutes.
Big Cedar Lodge Rooms and Suites
There are so many options at Big Cedar Lodge.
Lodge Rooms (Spring View Lodge, Falls Lodge, Wilderness Club, and Valley View Lodge)
Cottages
Private Log Cabins
Exclusive Accommodations
Glamping & Camp Cabins
We stayed in a two-bedroom, two-bathroom lodge with two balconies at Wilderness Club. It cost us nothing because we used our timeshare!
If you are a paying customer, be prepared to pay a premium to experience this resort. Lodging starts around $179 per night for a standard room and goes up the more exclusive you want to go.
Room Amenities
As with my prior experience at Bass Pro Shop resorts, absolutely no detail is left to chance. Everything you need is here; everything is meticulous and high-end. All rooms are consistently updated with modern amenities and are immaculate.
No surprise for me, I expected it. This resort has won numerous awards.
Things To Do at Big Cedar Lodge
Where to start?
We stayed for a whole week and did not get to see and do everything. It would be impossible to fit it all into a week.
I will share all that is on offer, but I will elaborate on the activities we participated in.
Top Of The Rock
The crown jewel of the resort. A reason alone to visit. No where else in the Ozarks will you get these views.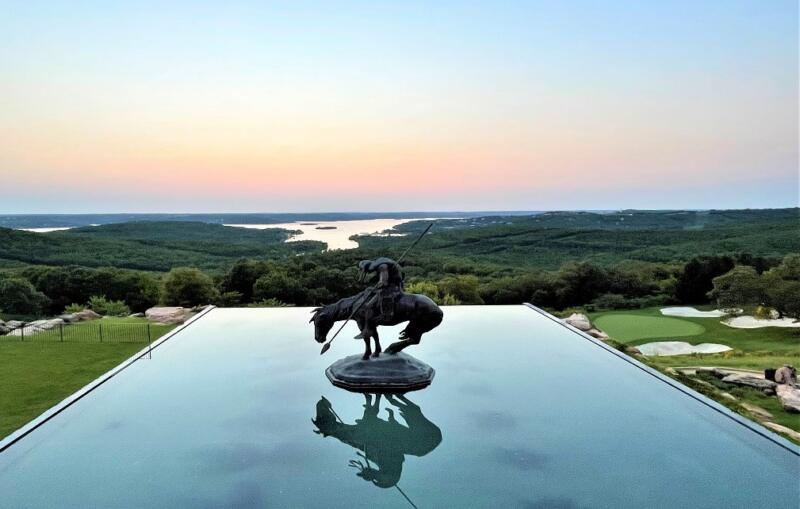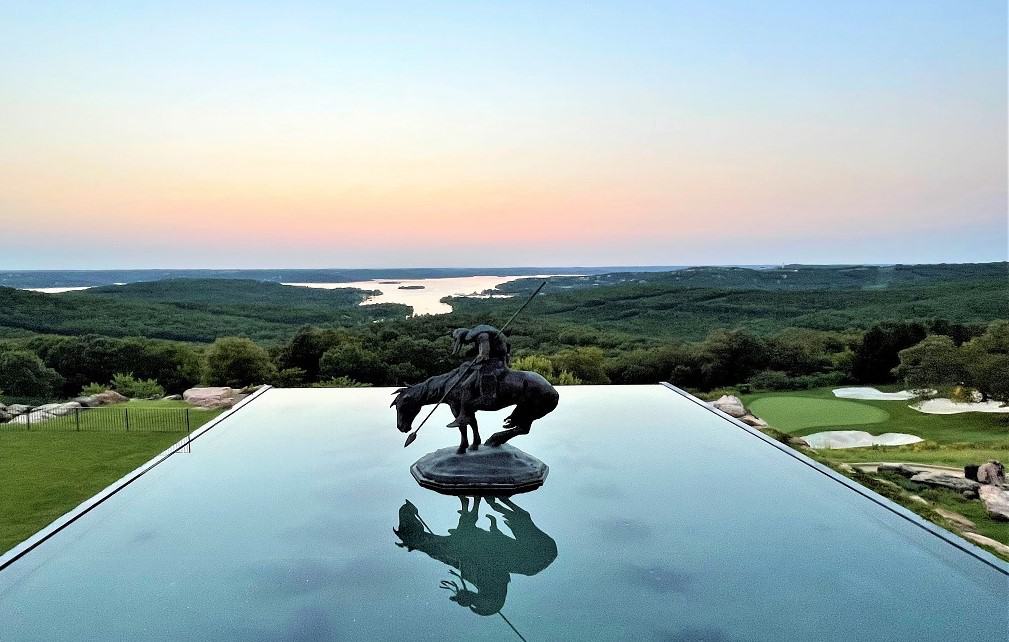 Five minutes up from Big Cedar Lodge, this is where you will experience some of the most breathtaking views of the Ozark Mountains.
There are four restaurants to experience up here:
Arnie's Barn
Buffalo Barn
Osage Restaurant
Trail Wine Cellar
Or you can simply have a glass of wine.
Sunset Ceremony
Every night, there is a signature Sunset Ceremony that includes bagpipes and a civil war cannon eruption.
Note: A $10 entry fee per vehicle and complimentary parking is available at the Top of the Rock. Or valet parking can be purchased for $15 per vehicle.
Johnny Morris's Top of the Rock Ozarks Heritage Preserve
A must-see of America's heartland. You will see the beautiful chapel and the giant sinkhole. The sinkhole is new; it happened on May 22, 2016.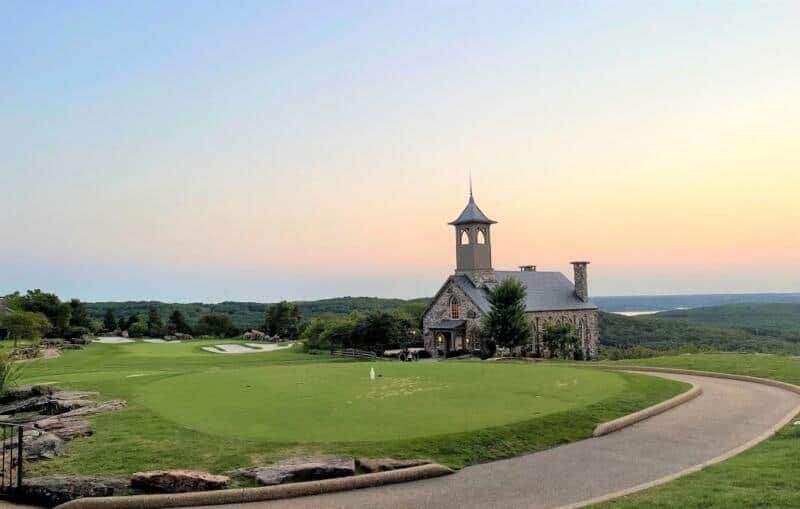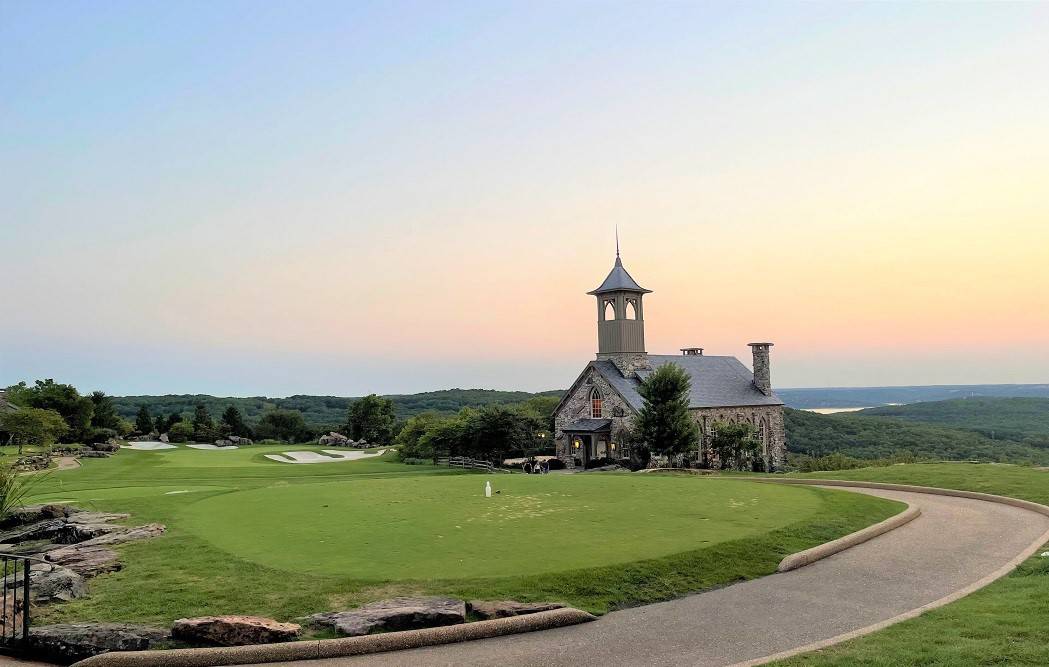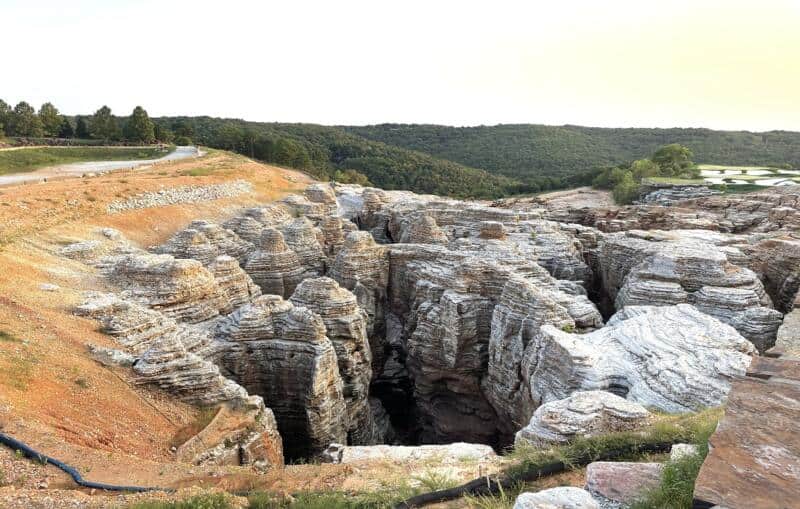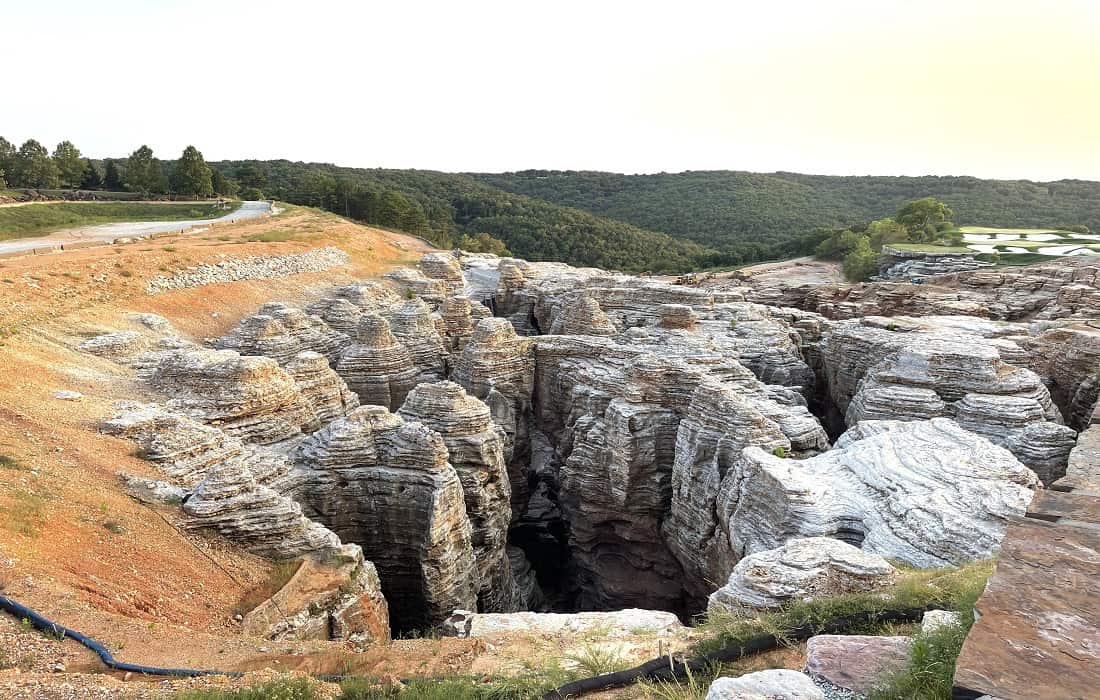 Top of The Rock Museum
This museum houses one of the largest Native American arrowheads and art collections. I am not a museum person, but I found this collection impressive.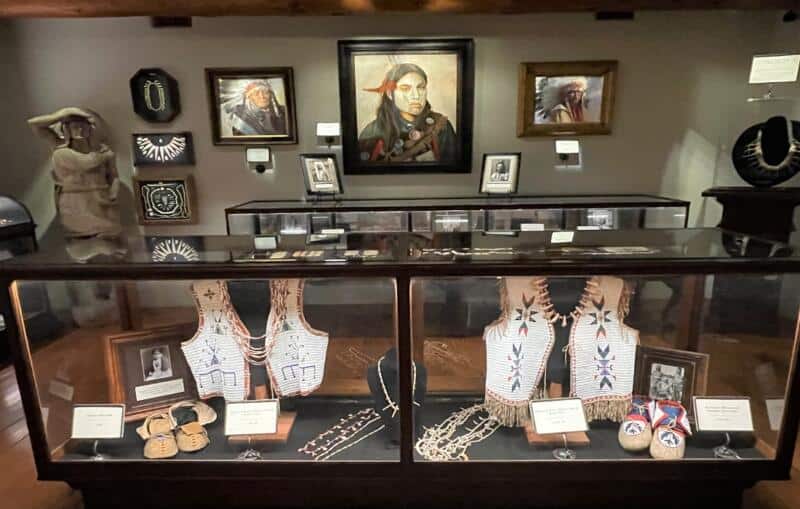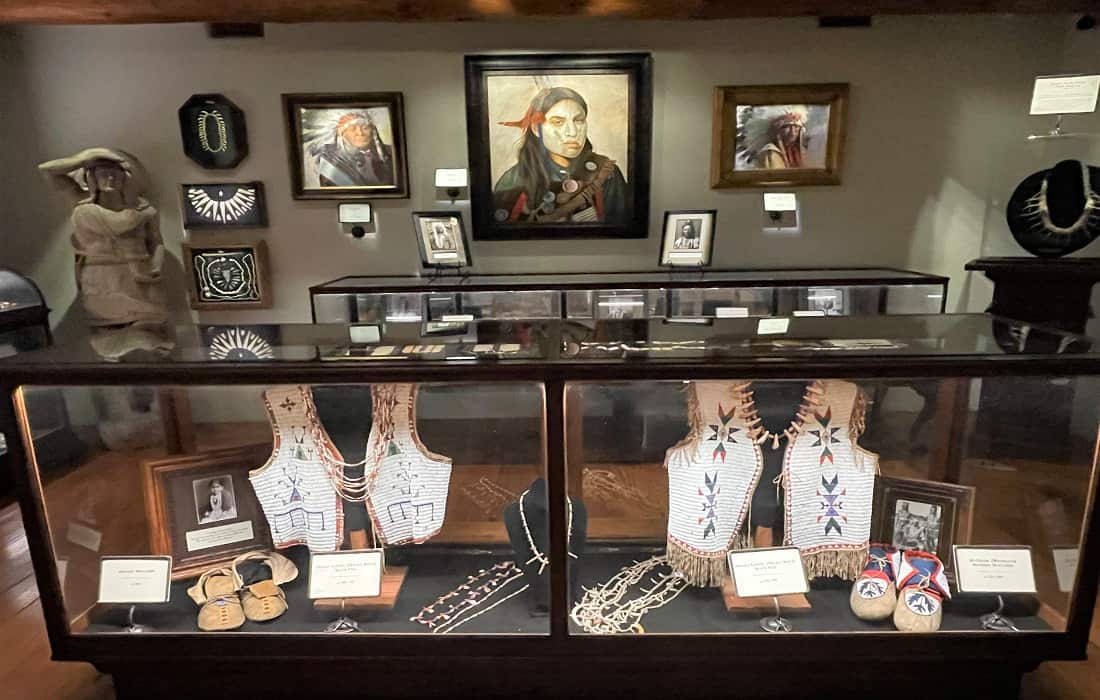 Lost Canyon Cave and Nature Trail
Located at Top of the Rock Lost Canyon Cave. This is another attraction that should not be missed. At first blush, this looks like a simple golf cart ride, but it is a lot more than this!
Drive your golf cart through an unforgettable two-and-a-half-mile journey exploring the Lost Canyon and Nature Trail.
You will drive yourself through canyons and waterfalls. Drive over stunning bridges, encounter plenty of groundhogs, and be mesmerized by the scenery.
Now, if that is not enough. How about this…
As you descend through the caves, you will get the chance to stop for a cocktail at The Bat Bar.
Skeet Shooting
Recall that I said there's way too much to see and do in one week? We chose specific activities, and skeet shooting was one of them.
As with all things Bass Pro, this experience was excellent.
We spent almost three hours with our guide Dakota, firing rifles at clay pigeons. This experience was educational; we were all taught different shooting techniques from different angles and distances.
I highly recommend you give this a try. You can choose to shoot with a guide, or you can bring your equipment if you prefer.
Cedar Creek Spa
The highlight of my trip by a long shot. I am not a spa expert or concierge, but I have been to my fair share over the years. Cedar Creek Spa is by far my favorite to date.
Luxury does not even begin to describe it. I would say opulent, extravagant, and pure pleasure.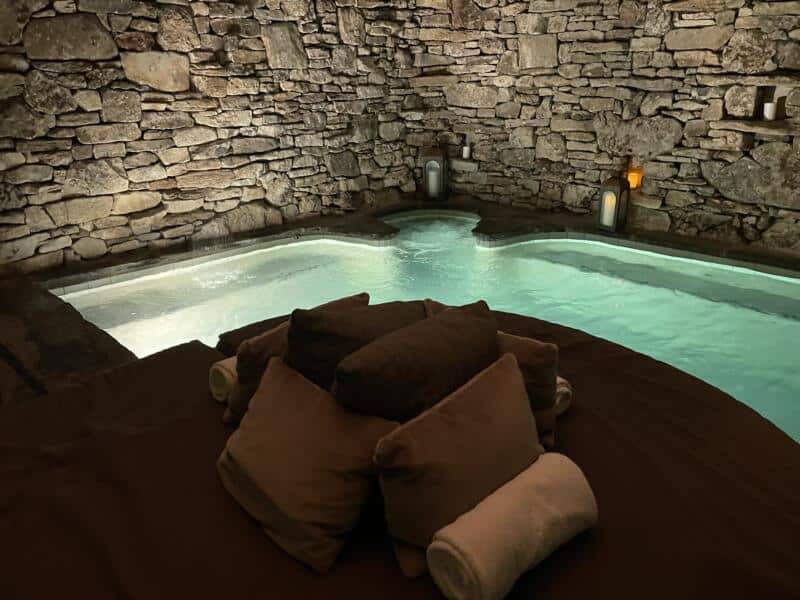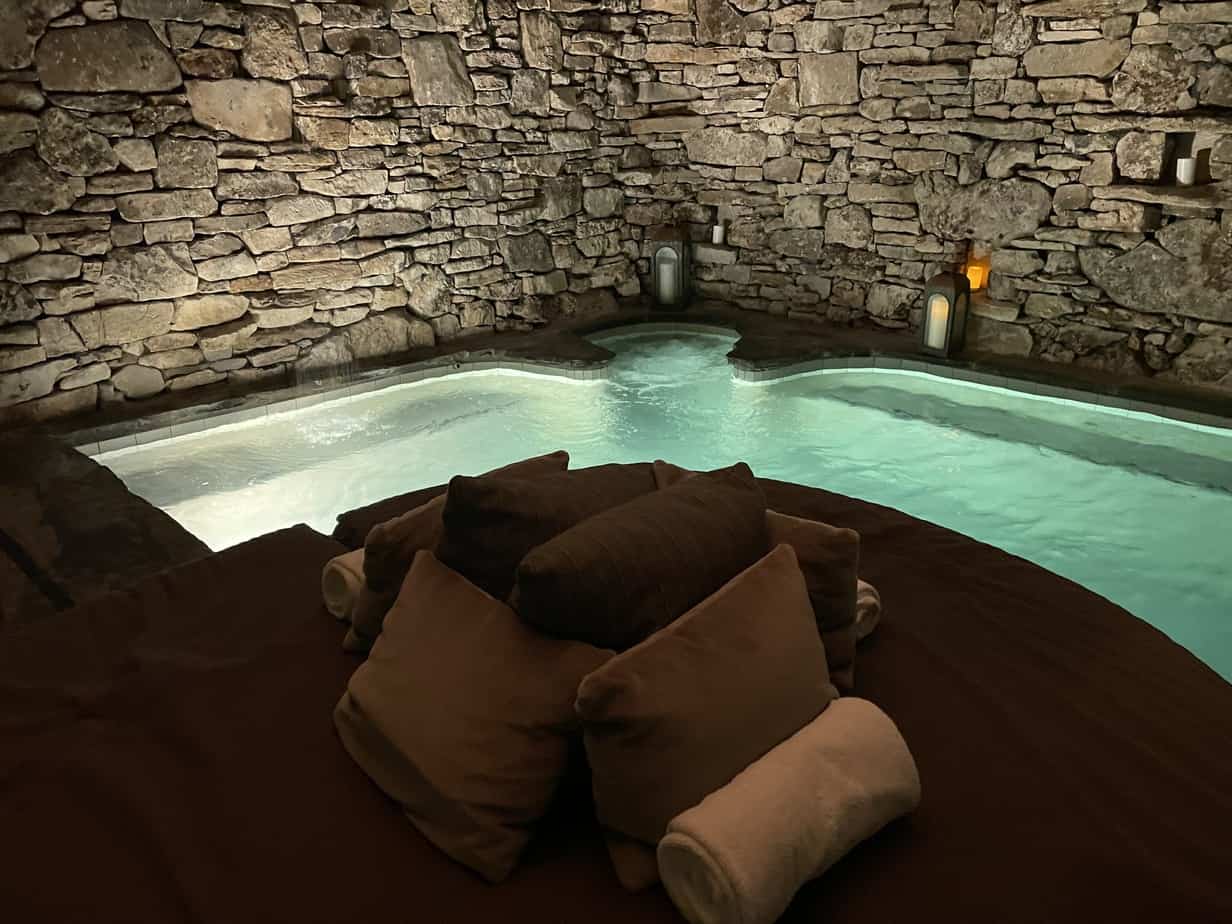 The spa has every amenity possible from a grotto, an ice room, steam room, oversized jacuzzi, and outdoor showers—all decorated in the most decadent taste, modern yet warm.
Leah and I opted for fabulous massages, but spending the day in the spa was an experience of its own.
*Note, you must schedule a service to take advantage of the spa's amenities.
Cedar Creek Spa's Bridal Suite
We ordered food while at the spa. Somehow, our food got delivered to the Bridal Suite in the spa. We thought this was a mistake, but no! We got the Bridal Suite for the rest of the afternoon.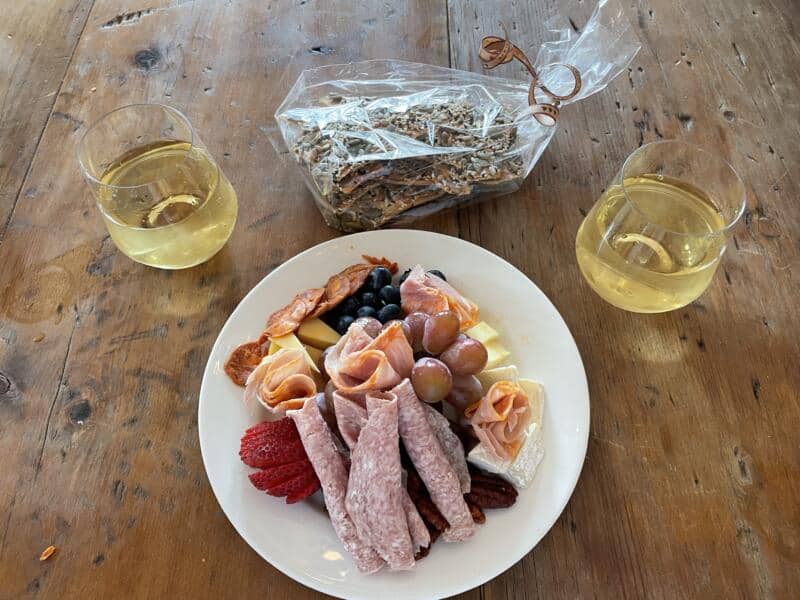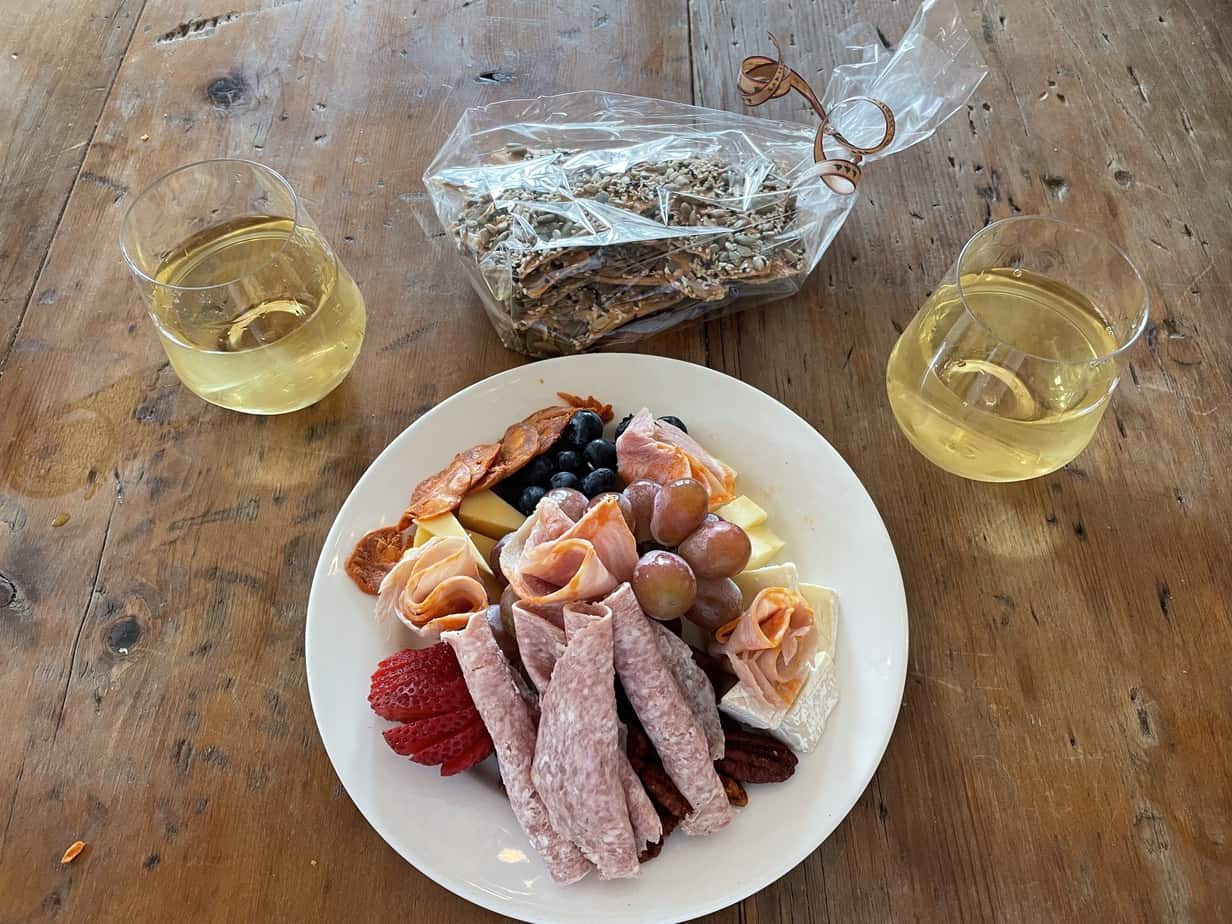 And NO – they did not know who we were. Impossible…. Well maybe not. The only member of staff that knew who we were was Dakota, our skeet shooting guide. I doubt he called around and said give these ladies the royal treatment. We just got lucky – fortunate.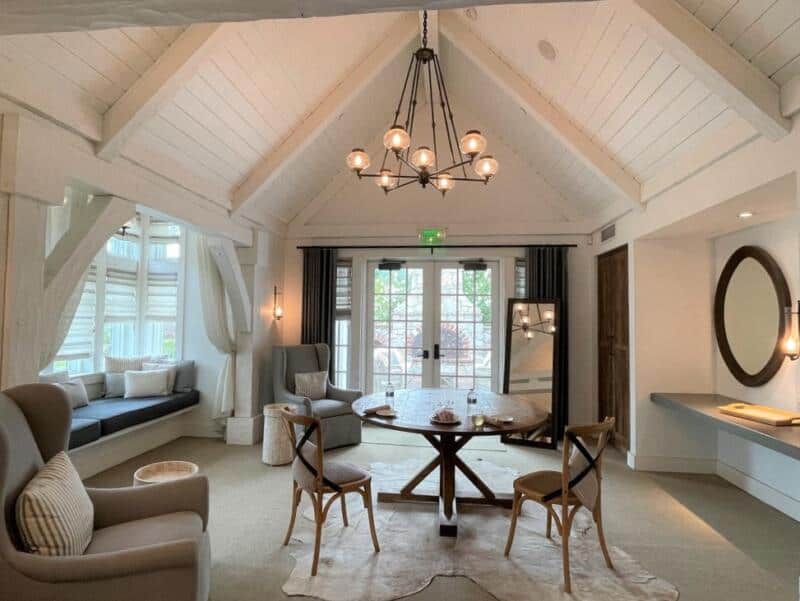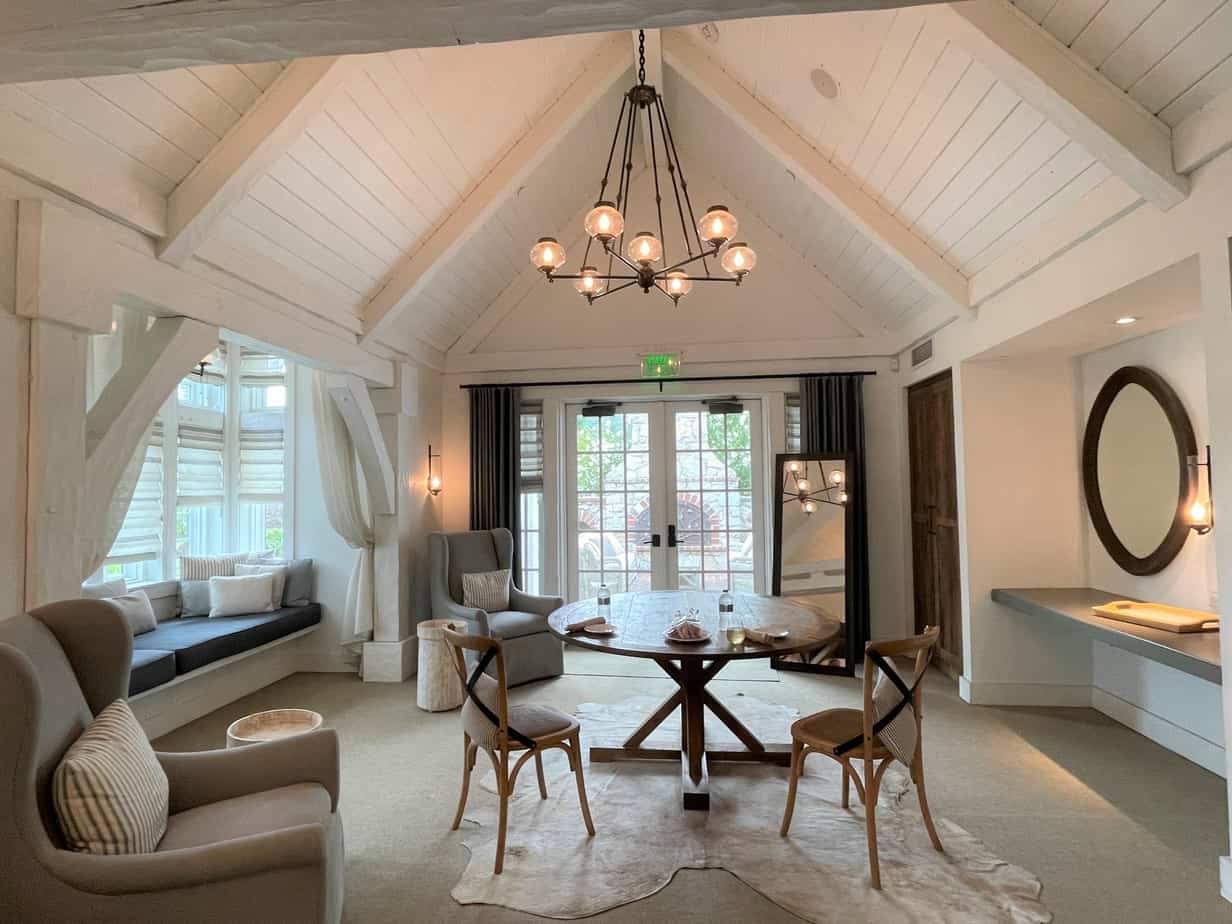 Golf
Golfers are in for a royal treat! Big Cedar Lodge is home to five epic courses designed by the best. Before we even get to what is offered, you need to book a year in advance for all courses!
We could not secure a tee time. A huge regret and lesson learned for our next visit.
Buffalo Ridge
Considered one of the best courses in the Ozarks, Buffalo Ridge was designed by golf course architect Tom Fazio with Johnny Morris.
Free-ranging North American bison are a common sight.
This is an 18-hole championship course that is packed full of breathtaking rocks, caves, and water features.
Ozarks National
This is the first and only golf course designed by architect duo Bill Coore and Ben Crenshaw.
Another 18-hole course that embodies the natural beauty of the Ozarks. Packed with scenery that can only be found here, like the 400-foot wooden beam and plank bridge!
Paynes Valley Golf Course™
This course has nineteen holes…. The 19th is a tribute to the Ozarks only native World Golf Hall of Fame member, Payne Stewart.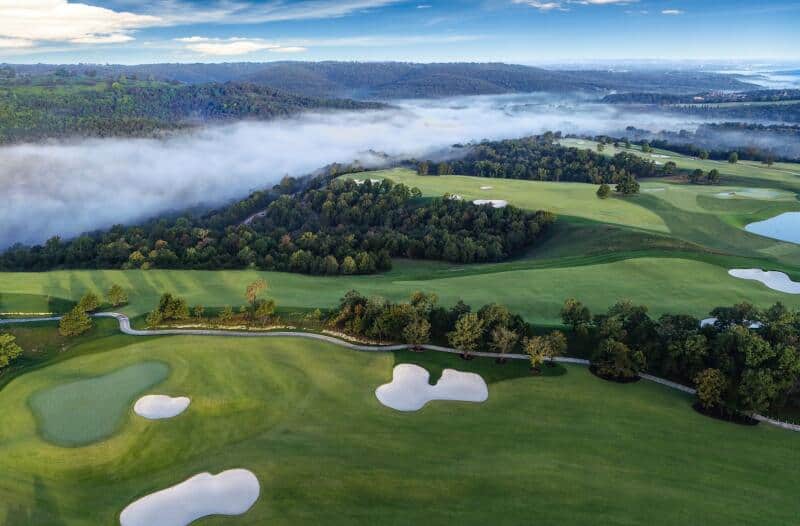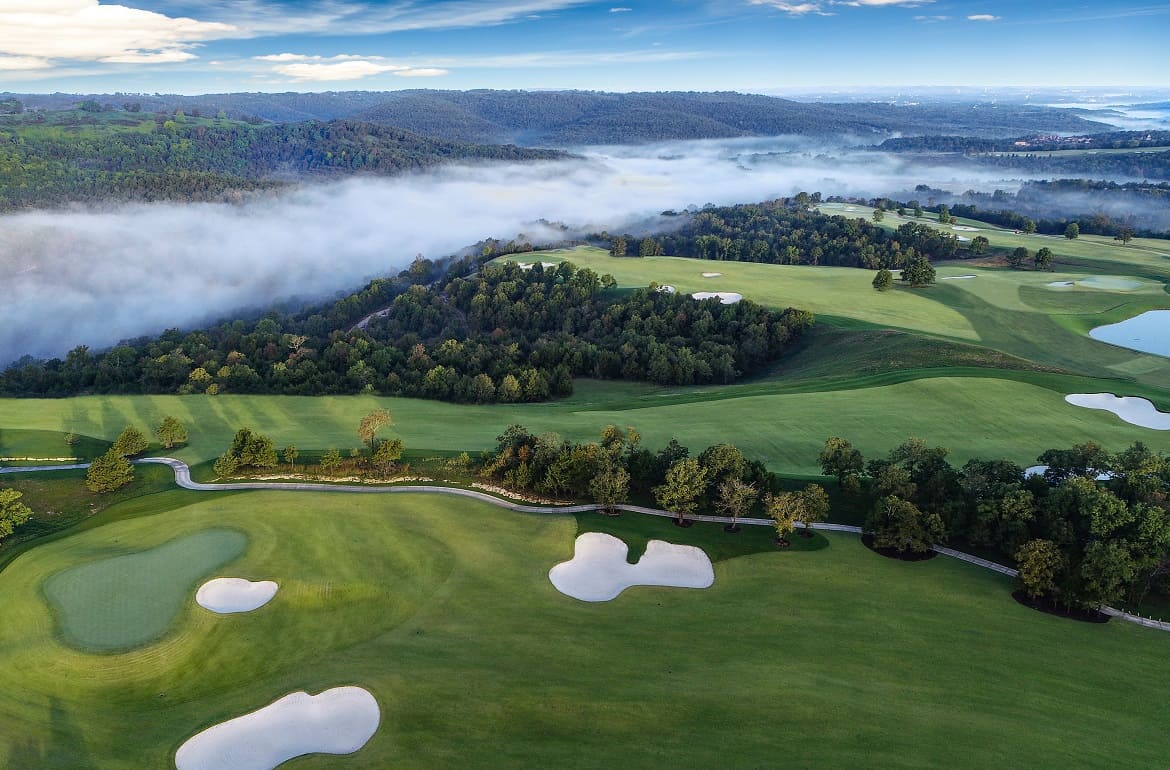 Photo By: Big Cedar Lodge in Missouri
This one is the valley's first public-access golf course, designed by Tiger Woods. Yes, you read that right – designed by Tiger Woods.
Suppose you are not familiar with the who of golf design or golfers. This is Wood's first-course design.
Top of the Rock Golf Course
This is the Jack Nicklaus Signature Course at the resort. The first-ever par-3 and the first course to be included in a professional championship.
Mountain Top
World Golf Hall of Fame legend Gary Player helped Jimmy Morris create this world-class 13-hole short course designed for all skill levels.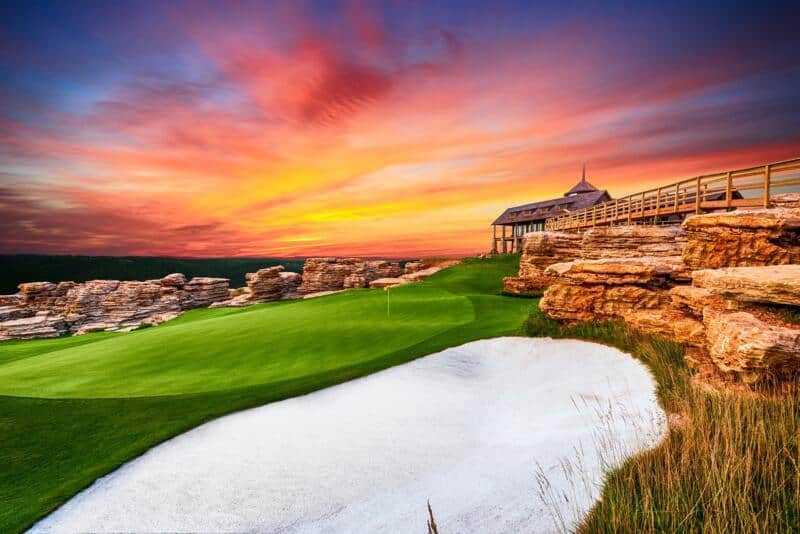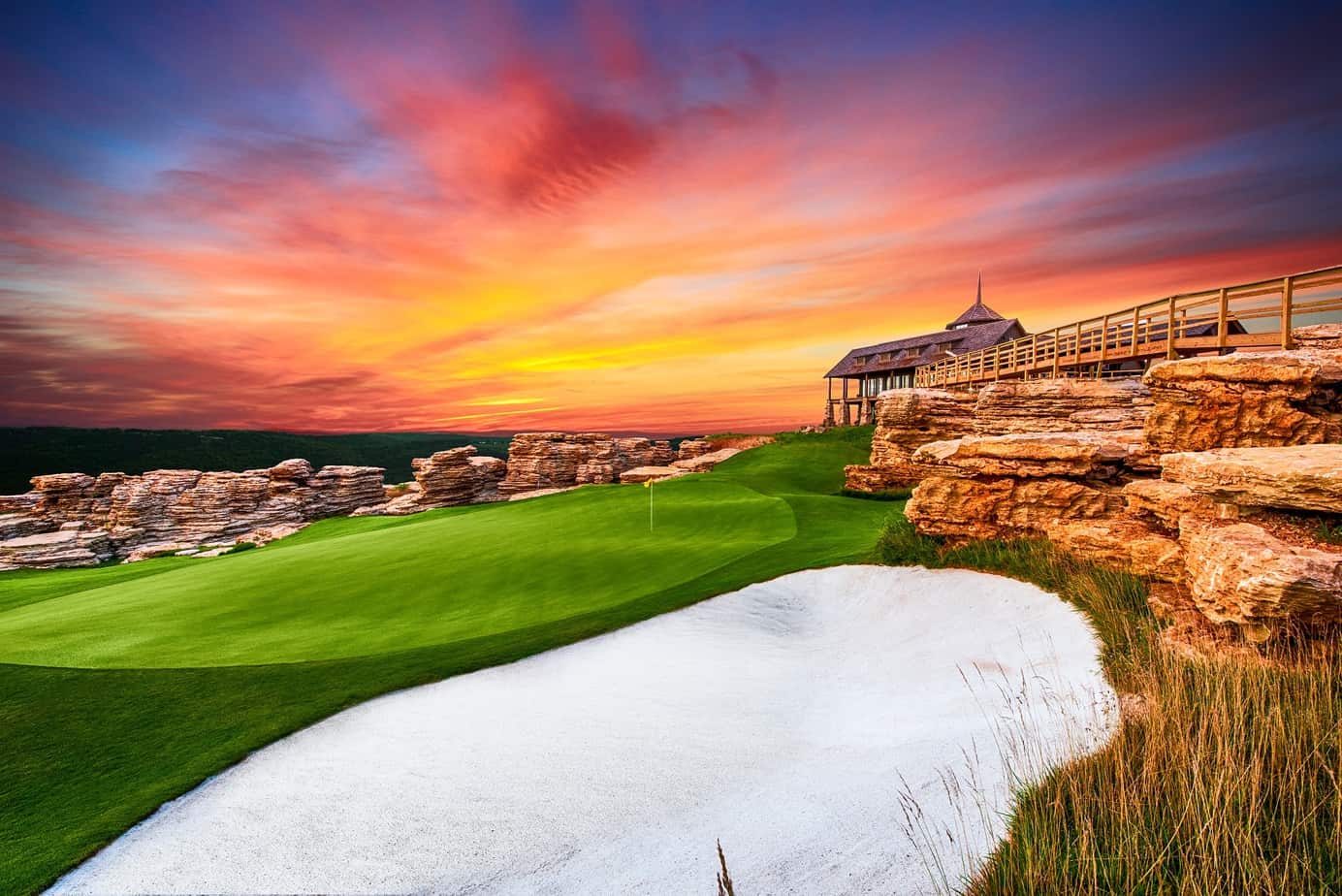 Photo By: Big Cedar Lodge in Missouri
Swimming Pools at Big Cedar Lodge
All resorts have pools; we expect it. However, Big Cedar Lodge has several!
Devil's Pool, the Swimmin' Hole with amazing hot tubs
Wilderness Falls
Lazy River at Brushey Creek
Brushey Creek Clubhouse's indoor and outdoor pools and hot tubs are open year-round.
Or go for a swim in the lake at the beach near the Bent Hook Marina. And you can take the accessible resort shuttle from pool to pool.
Table Rock Lake
Table Rock Lake is an artificial man-made lake in the Ozarks.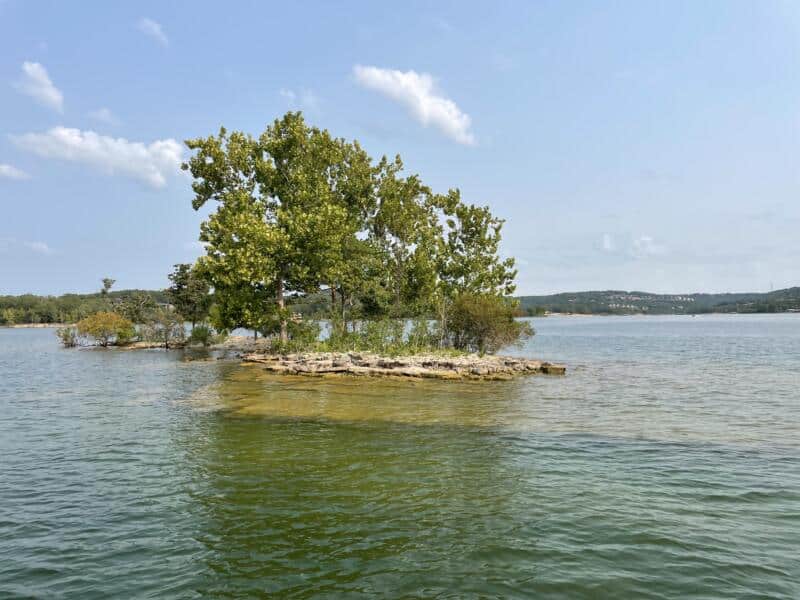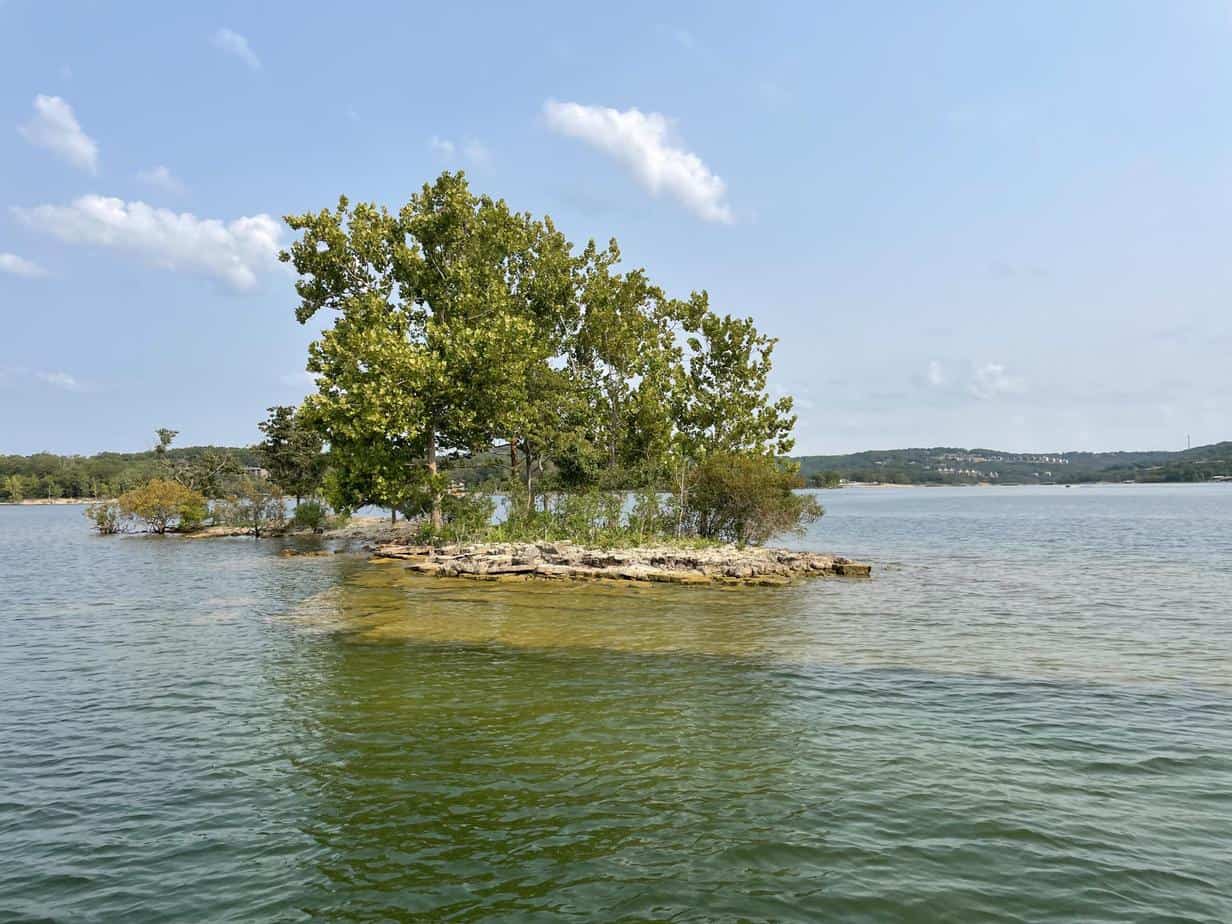 The U.S. Army Corps of Engineers impounded the Table Rock Dam constructed from 1954 to 1958 on the White River.
Now known as Table Rock State Park, this man-made dam creates a trout fishing environment in the lake. Lastly, Table Rock is considered one of the top ten lakes globally for largemouth bass fishing.
Do not be dissuaded by the man-made element. The water here is clear. The views are postcard-worthy. The waters are warm, and the entire lake is something you should experience for yourself.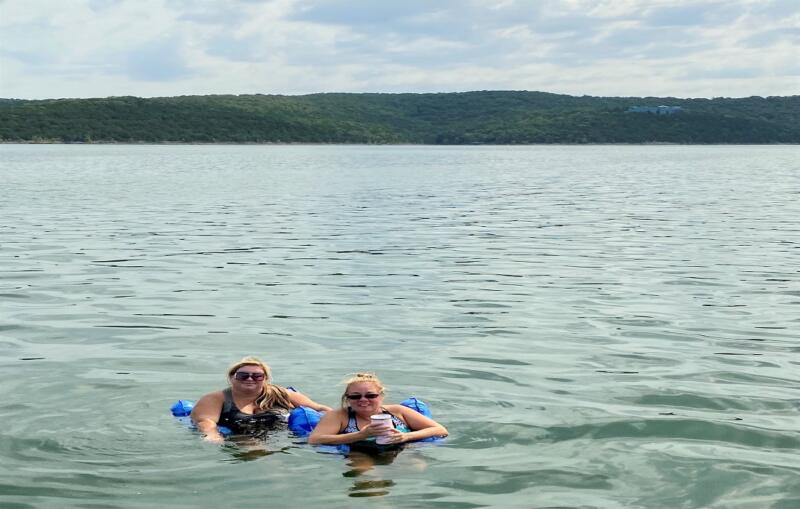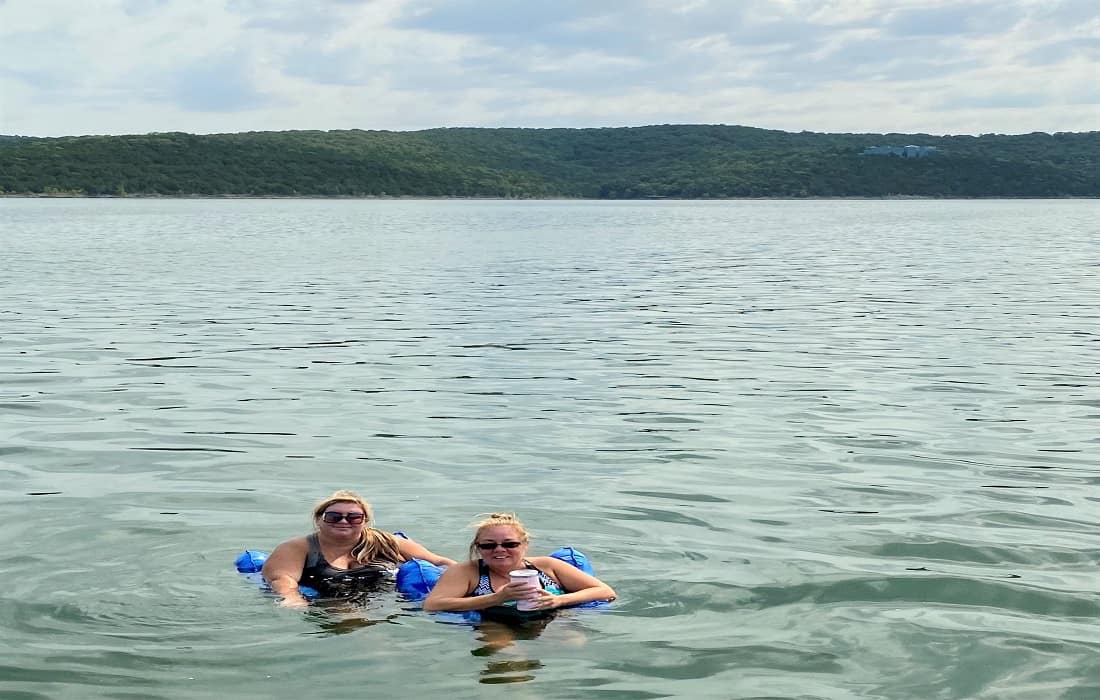 Bent Hook Marina
Typically, a marina for me is meh. But then there is one created by the "God of All Things Outdoors."
Breath – breathe. Boating will never be the same again.
We rented a pontoon for half a day to explore Table Rock Lake. We rented boats for years before owning one and are well versed in boats.
Then you rent a Regency Tritoon boat with a 225 hp mercury made and manufactured by Johnny Morris's White River Marine Group. And, boating will never be the same again.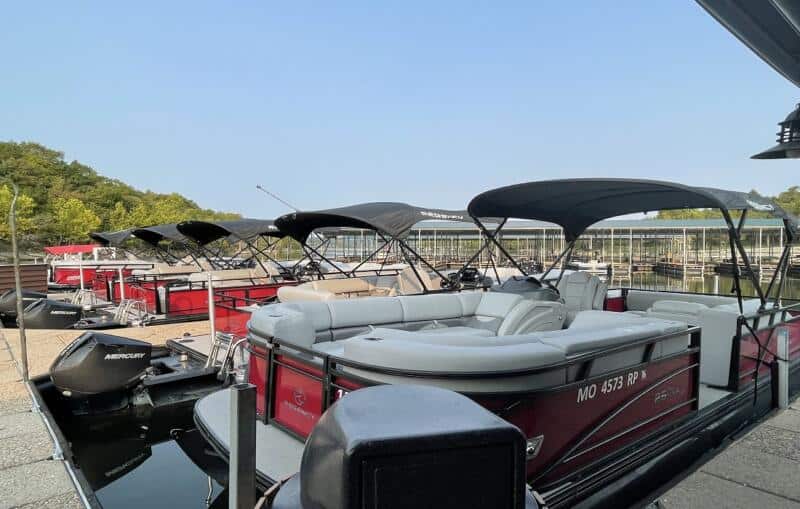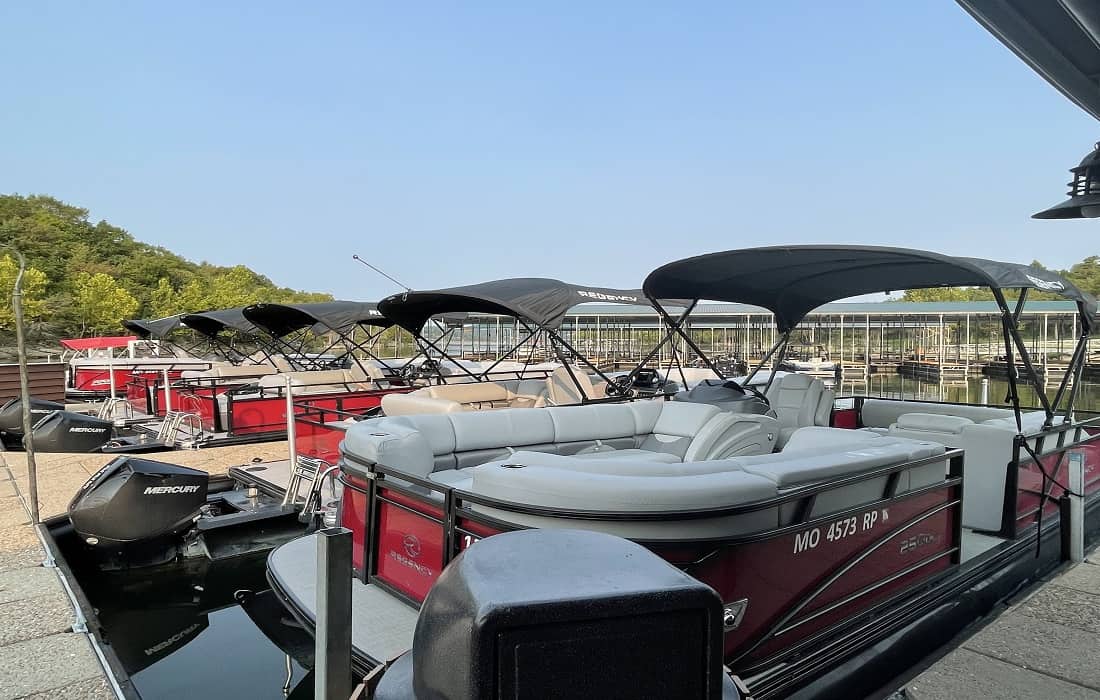 Let us just say my current boat will never live up to this.
Speed, elegance, amenities, and that lounger at the back. I must be honest here. I drove first and hit full throttle and almost wet my pants and not from pee. This boat cuts the water like a butter knife and it hauls ass.
I will never recover. Boating will never be the same for me. Having experienced the best of the best I am forever ruined. Now saving to spend more on a boat than is realistic. Ugh – we all need goals. One day, I will have her!
Rentals are not cheap here. However, they are not your typical non-feature boat embroiled in promotional emblems. I suspect this is by design. If you rent here, you will want to buy one! And, all rental boats are less than a year old. They are replaced with new models every year.
You can also rent WaveRunners at the marina if that is your thing.
Current Specials
None at the moment, check back for updates!
Additional Activities
Here's a list of some of the other activities we did not participate in. And, this is not all that's on offer! There are hundreds of activities that vary by season. For example, if you visit in the winter, there's an ice rink and a Grinch party!
Guided Fishing Tours
Lady Liberty Cruise
Goin' Jessi Private Cruise
Water Skiing Lessons
Trap Shooting
Wobble Shooting
Guided Walk at the top of the Rock
Horse Back Riding
Fitness Classes
Nature Excursions
And plenty more!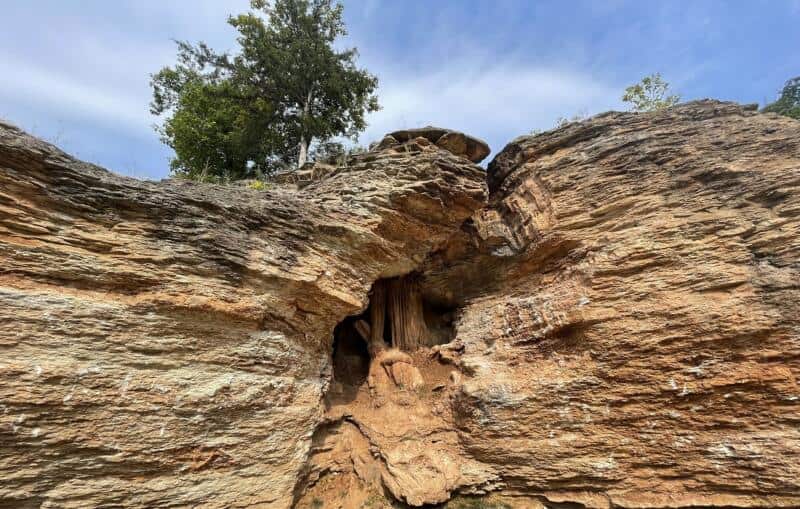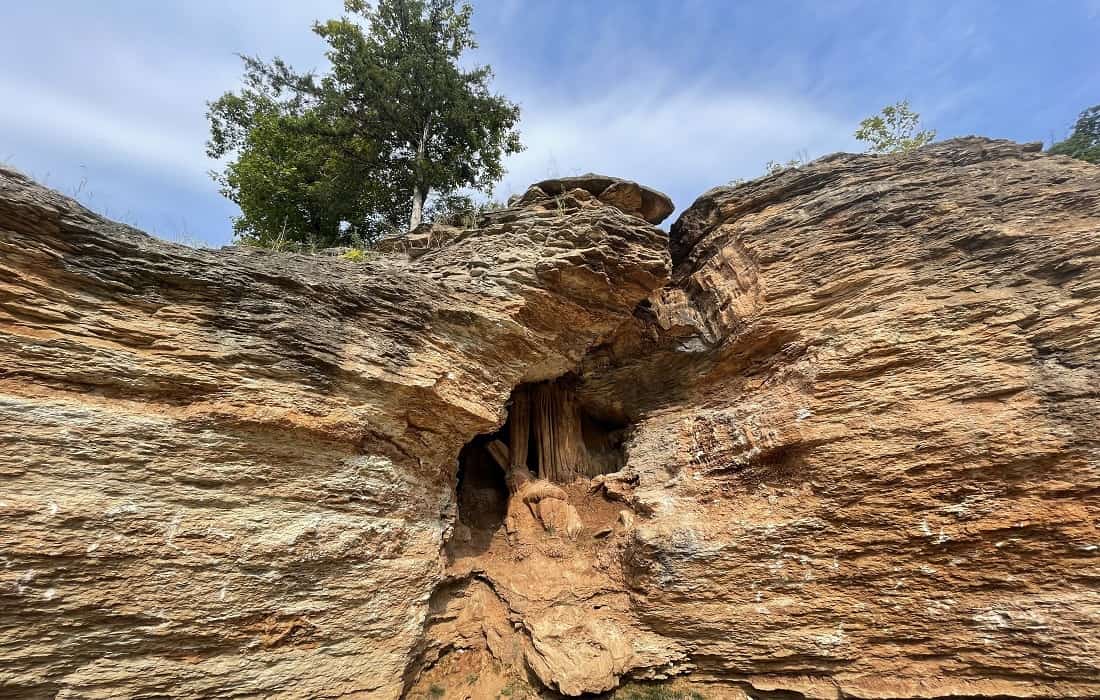 Activities Included with Your Stay
The free stuff!
Big Cedar Shuttle Service
Miniature Golf
Ridge Top Pickleball
Internet Access
Board Games
Paddle Boats
Canoes and Kayaks
Big Cedar Beach
Swimming Pools
Hot Tubs
Kiddie Pools
Lazy River
Fitness Center
Paved Jogging/Walking Trails
Bonfires
Bingo
Horseshoes
Sand Volleyball
Shuffleboard
Playground
DVD Checkout
Camp Long Creek Beach
Fun Mountain – Kids Zone
This is the place you want to hit if you have sprogs with it. Here is what is on offer for the kids: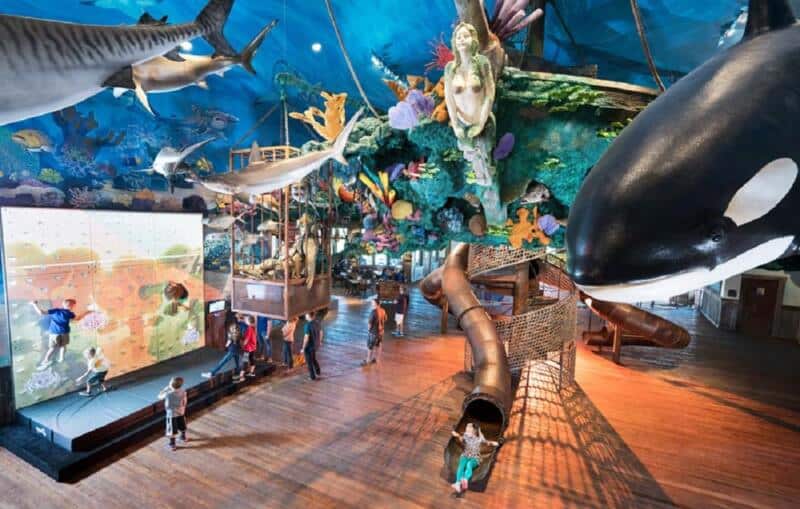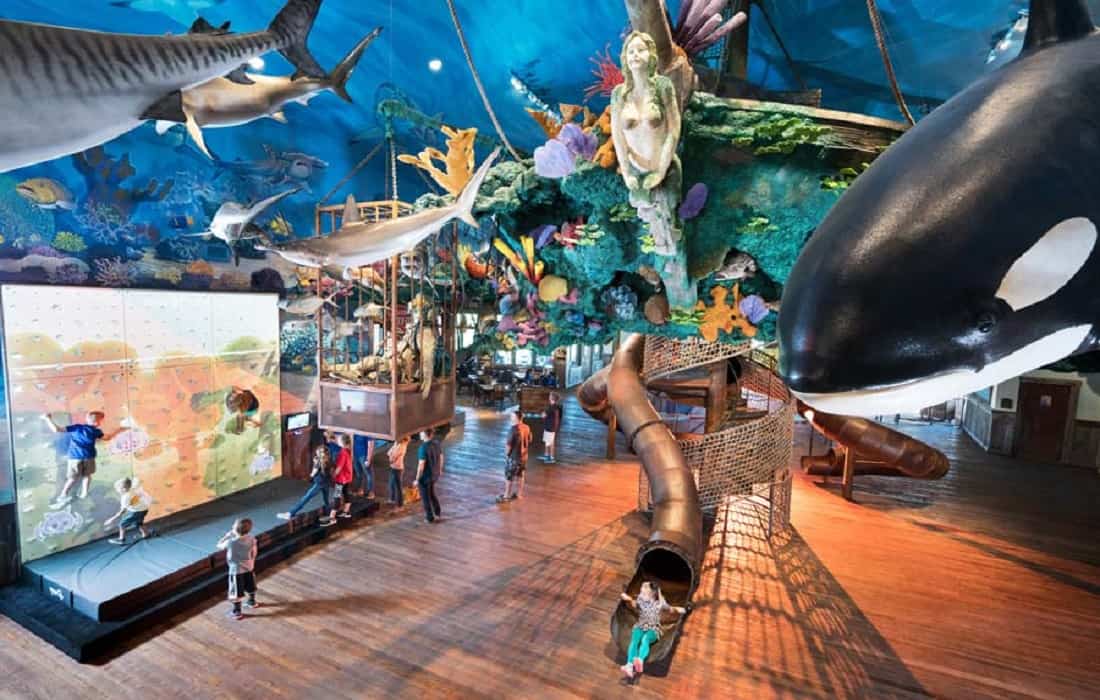 Photo By: Big Cedar Lodge in Missouri
Bowling Alley
Laser Tag
Outdoor Ropes Course
Outdoor Go-carts
Flip Zone – The 360-degree Rotating Bumper Car Ride
Indoor Climbing Wall
Nature Discovery Center
Billiards
If you are a Kids' Adventure Club member, you can drop the kids off for four hours!
Big Cedar Lodge Property Map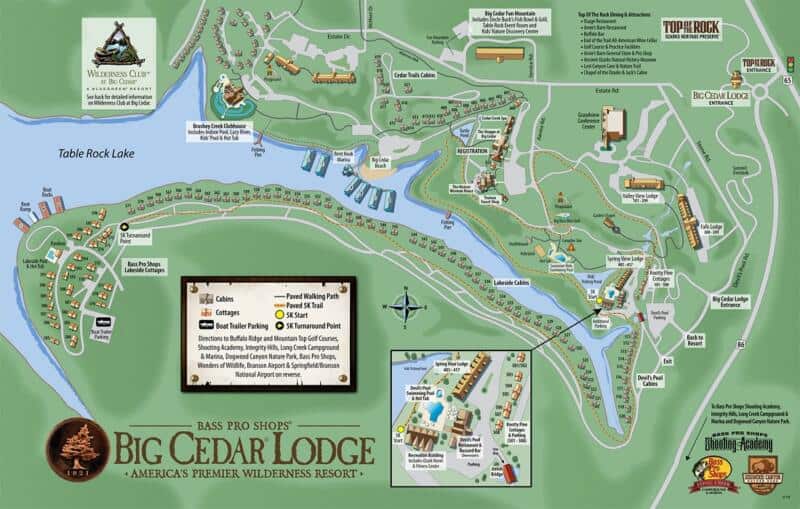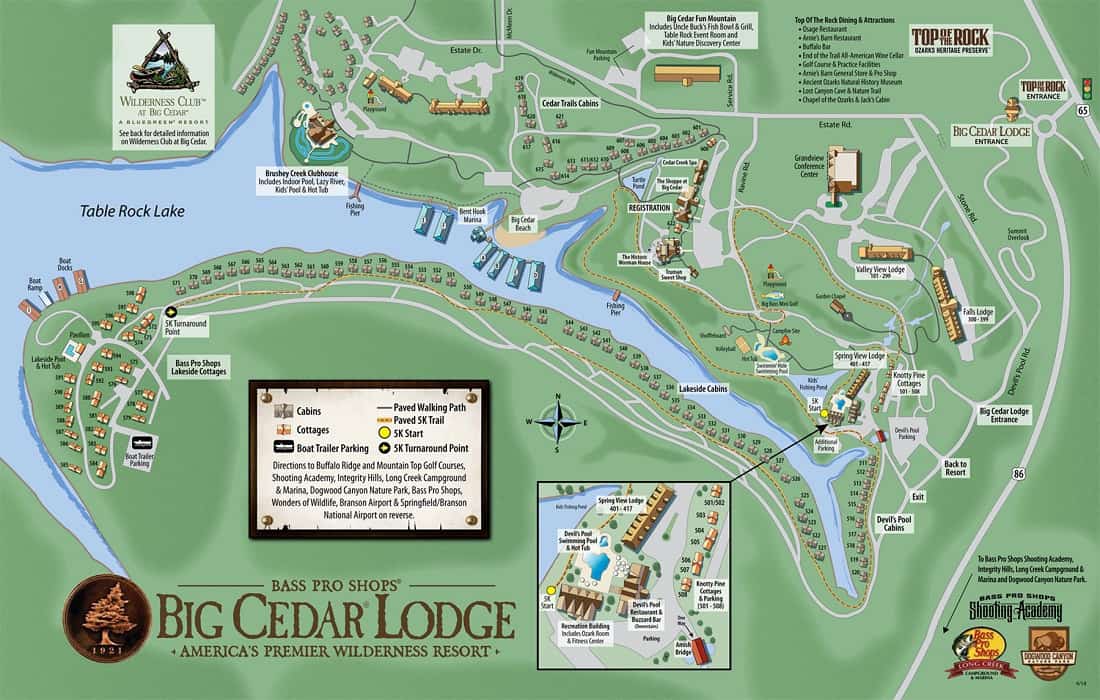 Photo By: Big Cedar Lodge in Missouri
Restaurants At Big Cedar Lodge
Fine Dining
The Worman House Bistro
Osage Restaurant
Wine Cellar – End of the Trail
Lady Liberty Brunch & Dinner Cruise
Casual Dining
Buffalo Bar
Arnie's Barn
Devil's Pool
Buzzard Bar
Tall Tales Bar & Grill (Off-site at Anglers Lodge)
Mountain Top Grill
Uncle Buck's Fish Bowl & Grill
Truman Cafe & Custard
Mill & Canyon Grill Restaurant (Off-site at Dogwood Canyon Nature Park)
Canteen at Long Creek (Off-site at Camp Long Creek)
Room Service – if you want to dine in your suite
Attractions Near Big Cedar Lodge
Dixie Stampede Dinner Show – Branson Missouri
We did this, and it is well worth the money.
Branson, Missouri
There is a ton to see and do here. Whether participating in attractions like the Titanic or seeing a Branson show, you can make an entire day out of this.
Golfing
There are tons of golf courses in the area – our husbands played three times!
Old Downtown Branson
This is the place to hit for shopping. It is a lovely little area with vintage stores selling many unique items or handmade garments.
Branson Landing, Missouri
A hipper downtown area on the water. Here you will find high-end stores, celebrity restaurants, and much more. And, this is the only other place in the world other than Disney Springs where you can ride in Amphicar! If you are not familiar with Amphicars, they are automobiles that operate on water:
Closing Thoughts
I am in Maui – Hawaii writing this. As much as I adore Hawaii and all it has to offer, I am in total awe of the Johhny Morris experience.
Big Cedar Lodge is by far my favorite destination this year. It's definitely now my favorite American resort.
If you enjoy luxury combined with the great outdoors Big Cedar Lodge should be on your bucket list. It's worth every penny – you won't regret it.
Lastly, while Johnny Morris might be best known for Bass Pro Shops he has the Midas touch. Everything he does is pure perfection that overshadows Disney's standards!
Looking for more posts on great resorts, check these out:
We are a participant in the Amazon Services LLC Associates Program, an affiliate advertising program designed to provide a means for us to earn fees by linking to Amazon.com and affiliated sites.
Brit On The Move™ Travel Resources
Ready to book your next trip? Use these resources that work:
Need more help planning your trip? Check out our Resources Page, highlighting the great companies we trust when traveling.