Glamping In Florida has become a trend, and many of us want the outdoors feel of camping with some modern-day amenities. Those who like glamping are always looking for new and unusual accommodations. I have recently stayed at some unique places, including a covered wagon! A traditional replica of the wagons that carried pioneers 2,000 miles across the Western wagon trek.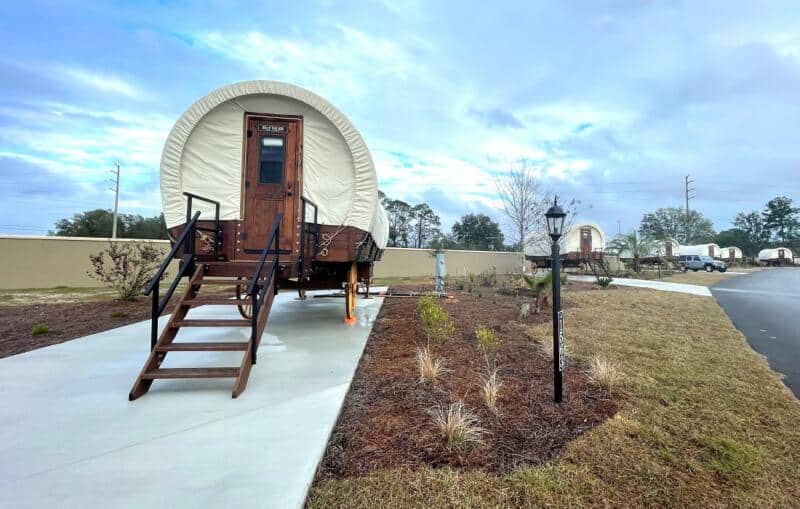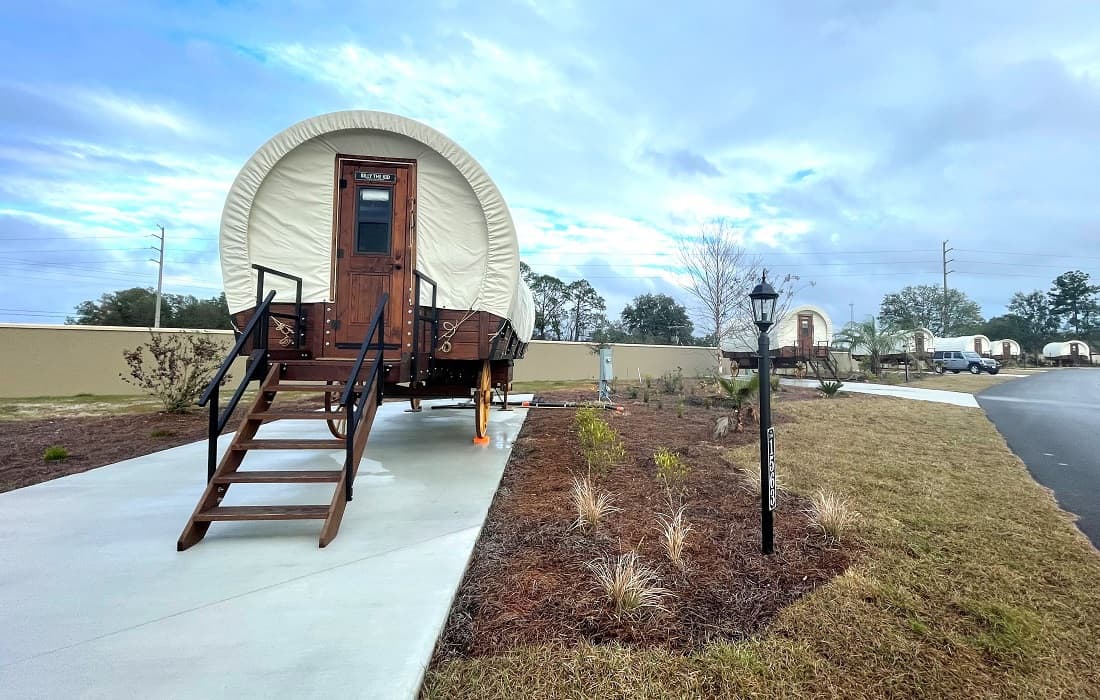 This post may contain affiliate links. Please read our disclosure and privacy policy for more information.
History Of The Covered Wagon
America's Great Westward Migration is a unique period of history. In the 1840s through 1860, hundreds of thousands of settlers and entrepreneurs moved west, searching for a new homestead in Oregon and California. The settlers migrated because of the lure of farming opportunities and gold mining. Over 30 million people across the continent voluntarily migrated west.
The pioneers traveled on the Sante Fe Trail, the California Trail, and the Oregon Trail. Besides all the necessities for survival on the months-long, 2,000-mile journey, these wagons also carried everything they needed to set up their new home. Thus, they needed food, clothing, tools and cookware, bedding, weapons, spare canvas, and wheels for the inevitable breakdowns.
Original Covered Wagons
People and supplies needed to be transported by wagons that could endure a five-month journey. Hardwood was necessary for the wagon to withstand the rugged trail and months of use. Farmers typically used this type of a wagon with a canvas cover stretched over hooped frames. One wagon would be sufficient for a family of four. Due to the supplies taking up almost the entirety of the wagon, there would not be much room. Most emigrant families took more than one wagon.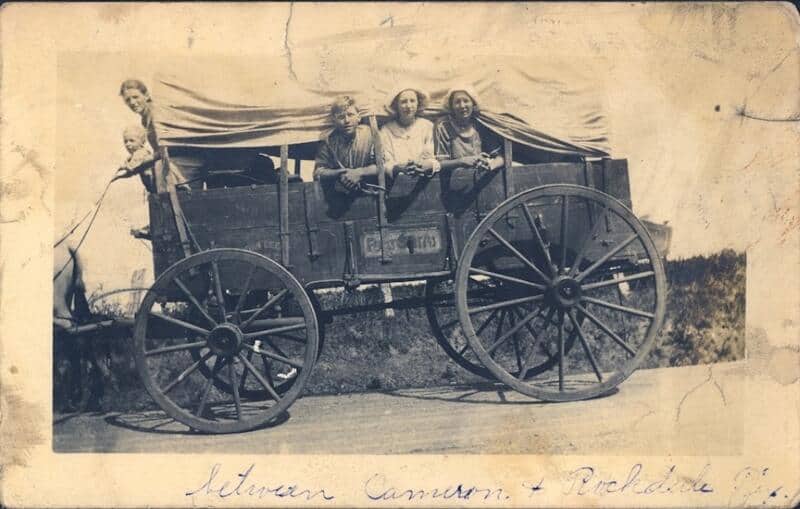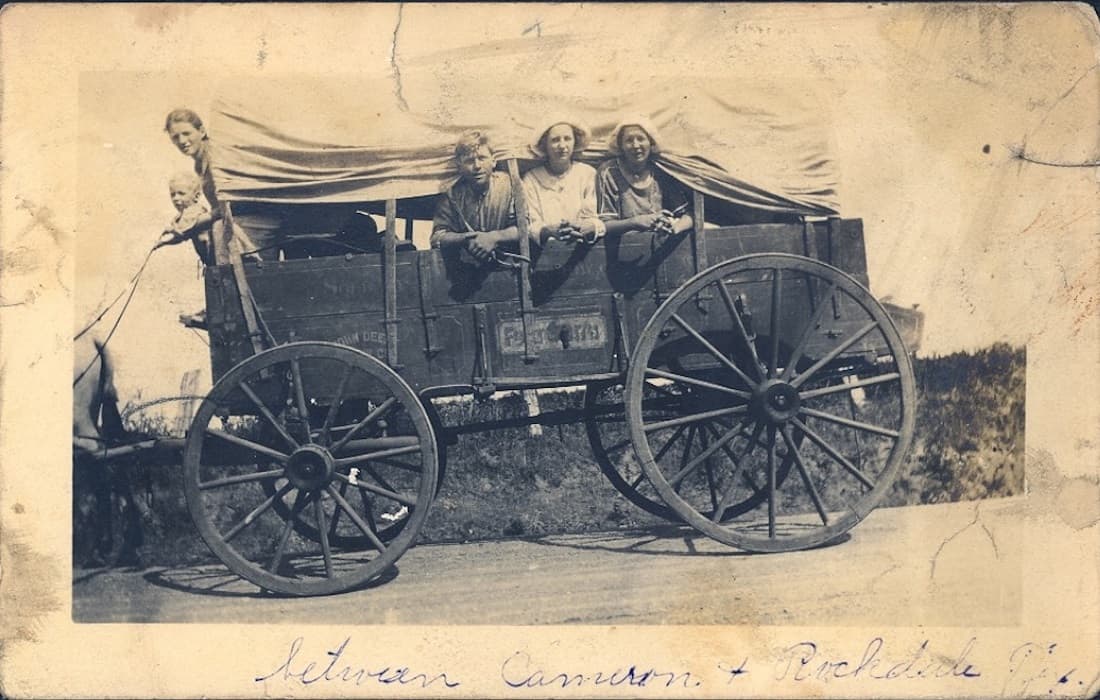 Wagons had to be lightweight yet robust enough to carry a 2,500-pound load. For this reason, wagons were made from hardwoods like maple, hickory, and oak. The iron was only used to reinforce parts exposed to the most punishment, like tires, axles, and hounds. Since emigrant wagons lacked springs and most spaces were taken up by cargo, emigrant wagons were not comfortable to ride in.
Keystone Heights RV Resort Location
Address: 1177 SE Keystone Ave, Keystone Heights, FL 32656
Keystone Heights RV Resort
In the winter, people from the north travel to Florida, and in the summer, it is the place of choice for many vacationers. As such, Florida is consistently expanding to accommodate newcomers. Keystone Heights, located in Clay County about thirty minutes northeast of Gainsville, is increasing to do just this!
Keystone Heights RV Resort opened its doors in November 2020. Once fully complete, it will have 400 RV spots.
Inside Keystone Heights RV Resort
First, the lobby is fantastic, and you'll be greeted by Frankie, Andrea, or Michele. Three ladies who live onsite have a great sense of humor. All three know the area and can give you many recommendations for restaurants and local attractions. I immediately felt welcome and at home.
The lobby is not your average RV or Campsite lobby. Not even close. It's pretty sleek and very contemporary.
Keystone Heights RV Resort Covered Wagons
I have been dying to stay in a covered wagon. Most people will think this is nuts – so be it. I am obsessed with new experiences, and if it contains an element of history, then I am all in! I discovered the covered wagons in Keystone Heights from a magazine while staying in a treehouse at Treehouse Point in Clay County. The minute I laid eyes on these wagons, I knew I would be booking to stay.
There are six covered wagons. You can book a covered wagon with two queens or one with a king. Regardless of what you book, the wagons are identical in size.
Each covered wagon costs $149 per night.
However, you can save 10% on fees when you become a Good Sam member Today!
Inside The Covered Wagons
When you walk into the cabin, expect to take them back to years gone by. This is about as traditional as it gets, although this is luxurious compared to what you would have back in the 1800s. Every detail has been covered inside the wagons. I don't think there's a single missing detail.
The covered wagons are spotless and artistic, the craftsmanship divine. No expense has been spared. The bed is fantastic—solid wood frame with a firm memory foam mattress, no cutting corners here. The floor is covered with authentic cowhide. The lamps are trendy and classy and mimic old lights made from cowhide. Even the tablemats in this place are made out of cowhides.
You also have high-end appliances like the refrigerator. The Frigidaire safe-like model is the Cadillac of all small fridges. Add the K Cup coffee maker in teal green, a TV, and small details like a tiny typewriter alarm clock for nostalgia, and you float back in time.
In addition to having electricity, heat, and air conditioning, there are USB plugs. You can leave all those charging ports at home.
Size Of The Covered Wagons
Some people will enter and say that the covered wagons are a tad small. I disagree; there's plenty of room. I can see myself living in one of these in the middle of nowhere in one of my favorite states, Montana. Others may frown on the lack of a traditional desk. Get creative! There is a fantastic wagon wheel table and a plush chair – put the two together, and voilà – the perfect working spot.
On second thought, not sure I could live in one. There's no kitchen. This does not take away from the charm, beauty, or ambiance. It just got me thinking about where you would cook and the apparent fire hazards that come with cooking – gas or electric. As I sit imagining how my conclusion is this, you would have to set up a makeshift kitchen outside if you were going to live in one.
The Bathroom
The bathroom is completely loaded and propper stylish, in my opinion. It has the same lights I have in one of my homes and is very elegant. Tons of towels, and not cheap towels either. These are fancy plush towels that are better quality than most Hiltons. The hand soap is a lemon viburnum that Farmstead makes. Not cheap and is appreciated. There's even a glade plug-in air freshener.
The walk-in shower is immaculate. Big enough for two, and it has a curved shower rail. The entire shower unit is curbed, which is fascinating. I think that's a unique touch. I've never seen one of these before.
The bathroom is a tad small, but it's more than work than you might think. It's done with elegance.
The Bed
As I mentioned, the bed is plush. Ironically the bedding here is similar to the bedding I have in the beach house; only mine is gray. I like that the designer chose cream; it bounces off the wagon's canvas color and wooden structure.
The cabins rattle – I'll explain this later. Once you realize this, my head went straight into the gutter if you are like me. My thinking was this is not a good setup for bow chicka wow wow type stays. Well, the beds are solid! Once you sit on or lay in them, you will immediately notice they do not move. I can't imagine what the bed weighs as you can't even nudge it an inch. My guess is the builders had the same thought as me and made wickedly heavy beds to offset the rocking that the wagons do.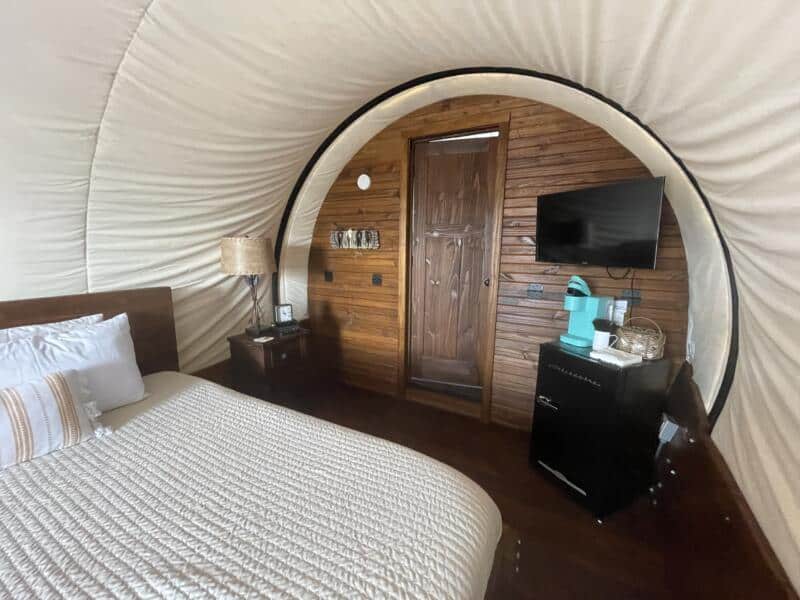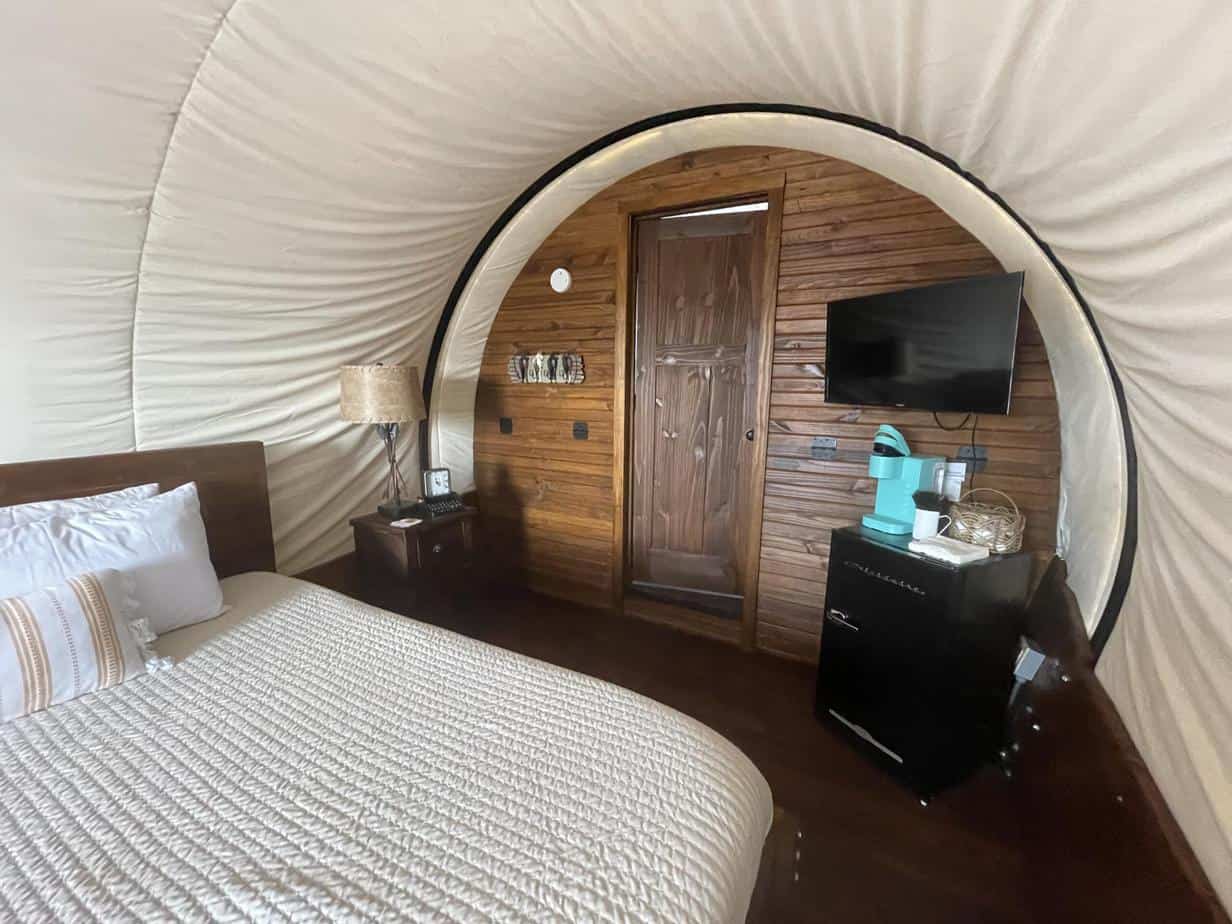 As plush and comfy as the beds are, I don't think the kings are king-size. My point of comparison is my king bed. I don't have a California; I have a regular king. I can tell you from experience that in my king, two people can lay on two sides of the bed and never cross paths at night. The bed in the wagon feels more like a queen. I don't know for sure, and I didn't measure. It may be a king, and maybe the mattress is smaller.
I'm not particularly a massive fan of memory foam. I've owned two; they are not my thing. I'm a fan of eco-friendly combo mattresses that combine traditional spring technology with memory, cooling, and toppers.
Whether you like a firm mattress, a soft mattress, a combination mattress, or an adjustable sleep number, this is still an extremely comfortable bed. And, as far as memory foam goes, I can say this is the comfiest one I have slept on to date!
Amenities At Keystone Heights RV Resort
Things To Do At Keystone Heights RV Resort
In addition to the amenities I've listed above, there is a calendar of events that lists many things. There is a dedicated activities director onsite to plan resort-wide events.
On offer are line dancing lessons, coffee socials, donuts, bible study, cards, billiards tournaments, miniature golf, karaoke nights, poker tournaments, and much more.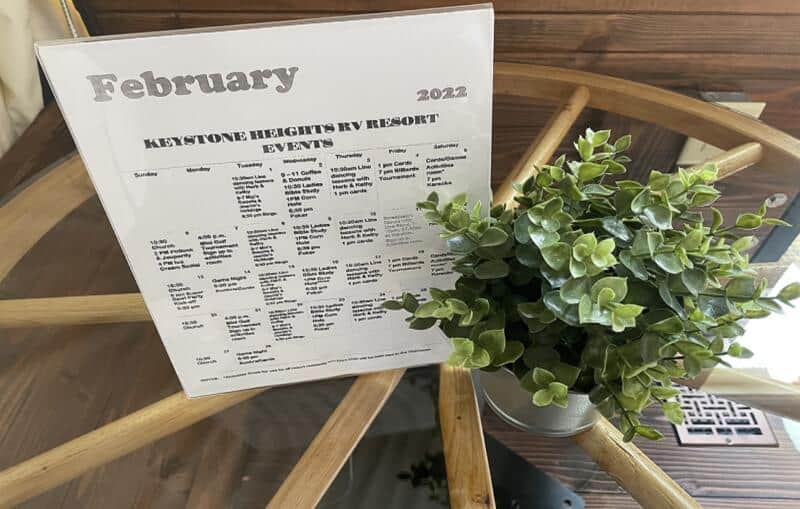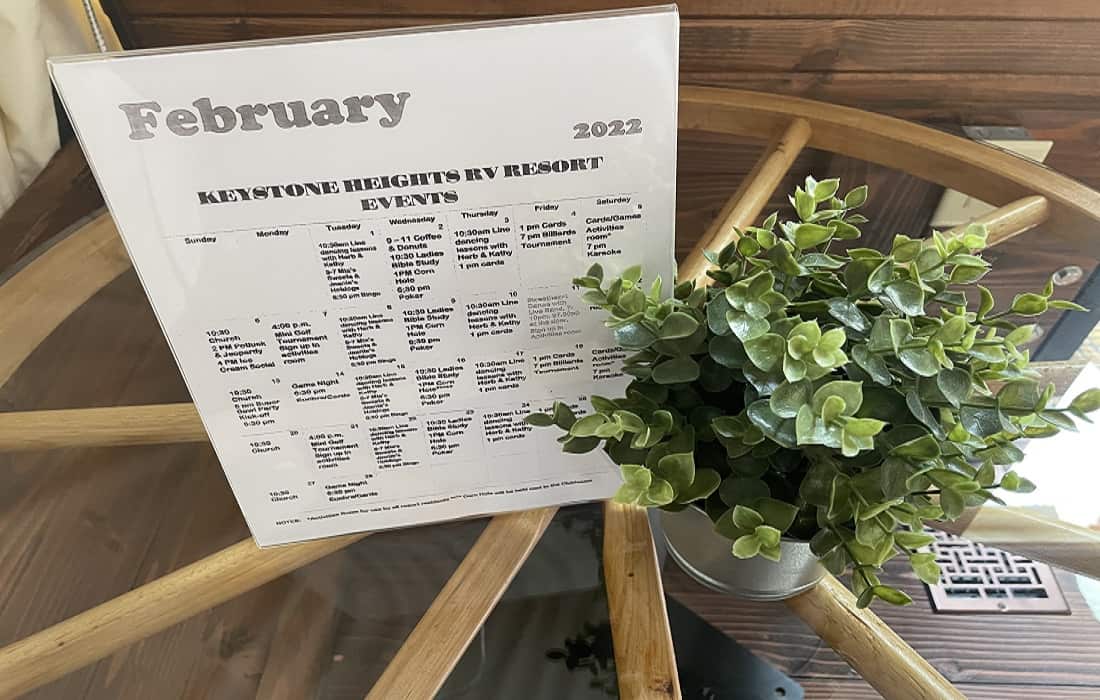 What's Like To Stay In A Real Covered Wagon
Even though there are modern features, the feel is strikingly historic—the covered wagons rock when you climb the stairs. The wind rustles around the cloth canvas cover, and you can see the cover move with the wind.
The wagons rock. If you're on the inside and somebody walks up, you can feel them climb the stairs, and then the wagon will start to rock. As you move around inside the wagon, they rock. And the floors squeak as you move from side to side. You eventually get used to it. However, it's comical at first. Put it this way: There's no sneaking to the restroom without everyone hearing you maneuver there.
What You Need To Know About Covered Wagon Glamping In Florida
The steps leading up to the covered wagon are steep and rattle as you climb them.
There is no closet in the wagon. It's not a problem; there are plenty of hooks and things to hang your clothes on.
You can not have a fire pit when glamping in Florida in a covered wagon. This makes sense. The structure is wood and canvas. One ember and the covered wagon would go up in flames.
Keystone Heights RV Resort is adjacent to a two-lane highway with traffic.
The covered cabins are located at the front of the resort next to the Highway. You will hear some traffic.
There is both heat and air conditioning inside the covered wagon.
You must bring your chairs if you plan to sit outside your wagon.
Check-In is at 3:00 pm for covered wagons, and Check-Out is at 11:00 am.
Online reservations are charged a $4 processing fee.
There is a cleaning fee for all stays.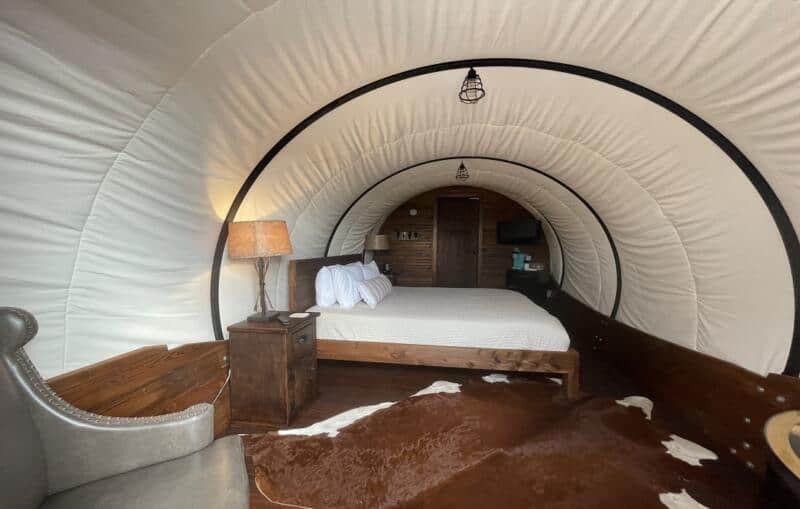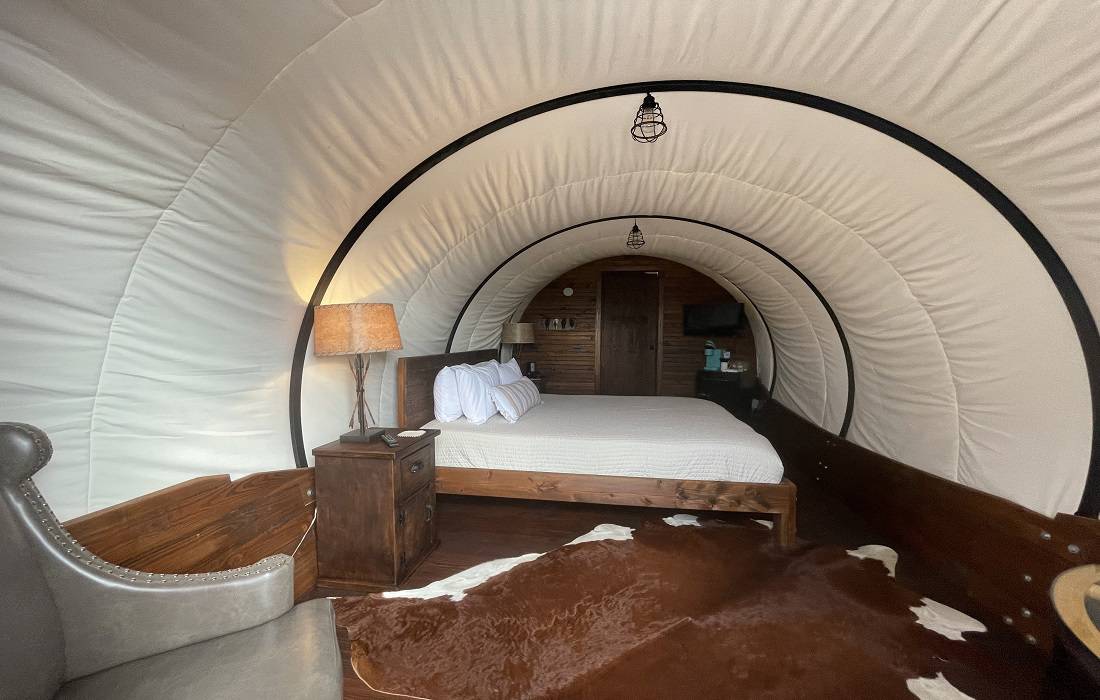 Constructive Critisism
In the spirit of full transparency, I have to ask if I would have done anything differently. For Keystone Heights RV Resort's covered wagons, I have three recommendations:
Move the covered wagons to the back of the site. We drove the entire area, and you can't hear any traffic at the back of the resort. It will significantly impact guests' experience when they rent the covered wagons.
Add a thicker comforter – just in case. This seems daft, but we assumed the only heat was the little fireplace. We didn't figure out that we had central heat until after. A heavier comforter would have been an excellent addition.
Consider adding a small microwave so that people can heat things.
None of these recommendations are deal breakers for us, we loved our stay, but these elements would have been the icing on the cake.
Closing Thoughts
If, like me, you are always looking to experience something unusual and in a new place, Keystone Heights RV Resort's covered wagons will delight you. You get to experience what it would have been like to live this way. This is your chance, and for $150 a night, I don't think you can beat the value. Wholly unique and radically different from a tent or treehouse.
So is it worth $150 a night? Absolutely! I don't think you'll find anything as unusual and luxurious as this for $150 per night in Florida.
Handcrafted in the US by the makers at Plainscraft, I now want one!
Looking For Other Unusual Stays? Start Here:
We participate in the Amazon Services LLC Associates Program, an affiliate advertising program designed to provide a means for us to earn fees by linking to Amazon.com and affiliated sites.
Brit On The Move™ Travel Resources
Ready to book your next trip? Use these resources that work:
Need more help planning your trip? Check out our Resources Page, highlighting the great companies we trust when traveling.