Florida's Best Treehouse Rental
If you are looking for a treehouse rental, look no further! Your childhood dream can come true as you can sleep suspended high in the treehouses at Treehouse Point in Clay County.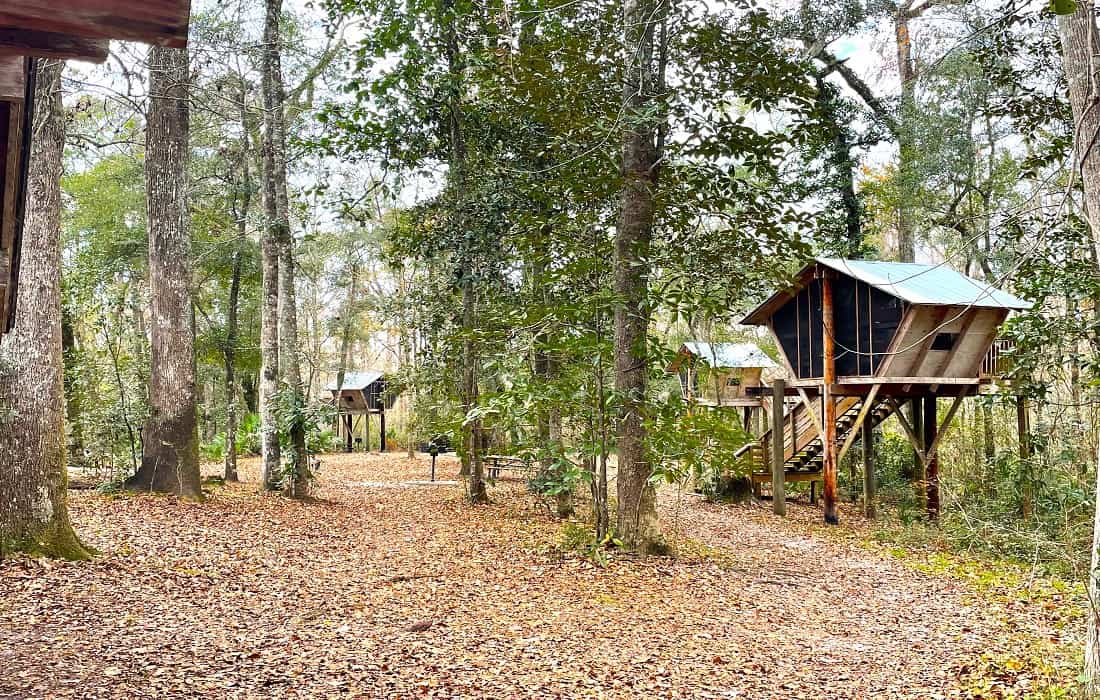 The treehouses at Camp Chowenwaw Park are the best ones money can rent in Florida. Forget paying a couple of hundred dollars per night. You can rent the entire site and all cabins for $310 a night. Or, rent a single treehouse for a mere $35.
This post may contain affiliate links. Please read our disclosure and privacy policy for more information.
History Of Camp Chowenwaw Park
Initially, Camp Chowenwaw (Chowenwaw meaning "sister" in Creek) was Florida's first Girl Scout camp. It was established in 1932. Clay County purchased the camp from the Girl Scouts for $5.8 million in 2006. Following renovations, it was opened as a county park.
Getting To Treehouse Point at Camp Chowenwaw Park
Address: 1517 Ball Rd, Green Cove Springs, FL 32043
About Treehouse Point Treehouse Rentals
The hike up the falls is three-quarters of a mile. The elevation is low, in many places flat. You start the trek by walking through the woods on a lovely gravel-paved walkway.
You'll pass a cute pond that will tempt you to bathe, but it's not for swimming. Alligators live here, so they admire it visually. Once you stroll through the trail, you reach the treehouses and the secluded site.
The Climb Up To The Treehouse
You have to climb about twenty stairs to get to the treehouse. The stairs are not steep but treacherously slippery when it rains.
Most of you know I have zero balance on flat ground sober. It will be no surprise that I busted my butt and slipped down these stairs. Fortunately, I only bounced down about five of them. And, having experienced it, I held onto the railings for dear life.
So while not steep, they are slippery when wet. And, if you partake in adult beverages, you need to pay attention.
Inside The Treehouse
The treehouses are screened in a-frame huts. There are two sets of bunk beds inside, each with covered mattresses.
They are not huge and are designed specifically for sleep. Surprisingly, they are comfortable. Even with the wind blowing through, they are comfortable if you have a decent sleeping bag.
Amenities On-Site
While the treehouses are rustic, there are plenty of traditional camping amenities and lots to do!
Swimming pool
Volleyball courts
Fire pits
Charcoal grills
Kayak, canoe, and paddleboard launch
Hiking trails
Children's playground
Event halls
Inside The Bathrooms
There are three toilets and three showers. All are spotless! I've been to plenty of campsites over the years, and these were by far the cleanest I've ever encountered. They are co-ed, and unless you rent the entire sire, you share the bathrooms with other guests.
Inside The Kitchen
The kitchen of these treehouse rentals is unique. There is a traditional old-school fireplace that you can use to heat the hall or cook on. The kitchen has electricity, a full working kitchen with everything you need including a full-size refrigerator. Imagine you are hosting an event here, where you would gather. One thing worth mentioning is the kitchen hall does not have chairs. If you plan to sit and eat here, you'll need to bring chairs.
How We Spent Our Time
We did the classic camping traditions. We scoured for wood to build a fire. Made the fire, cooked hot dogs, roasted marshmallows, and chilled out. It was nothing more or less than this, and it was divine. The kids stayed up all night which was no surprise.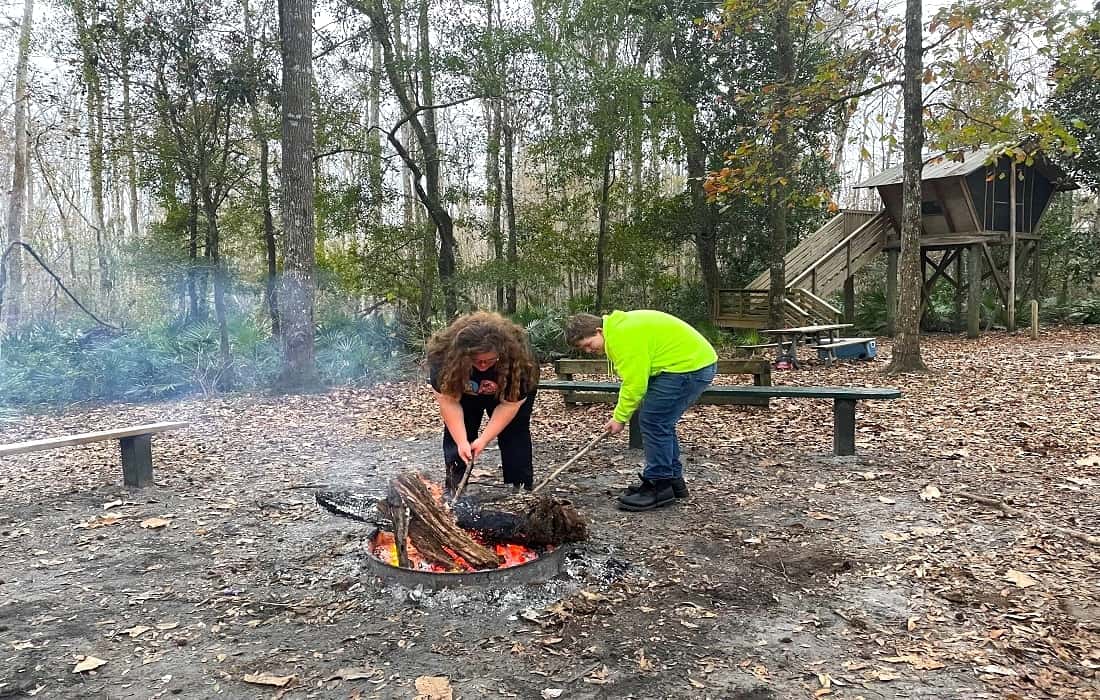 10 Reasons To Book A Treehouse Rental At Treehouse Point
Staying in a treehouse is on everyone's bucket list – adults included.
Treehouse rentals are ridiculously affordable.
The child within you will resurface.
The views from the top are priceless.
You can see wildlife spot from your treehouse.
Total privacy from all if you book the entire site.
Disconnect from the outside world.
Be at one with nature, literally in the elements.
Get your "steps" in – pun intended.
You will enjoy it!
Essentials You Must Bring – Stress MUST Bring Because None Of This is Provided
We used the battery-operated lights to light up the stairs so we could see them on the way up. They have a clip so that you can hang them on the rails. They are also great for lighting up the treehouse inside. Also, if you are staying through the summer, it goes without saying that you will need bug spray and lots of it!
iframe style="width:120px;height:240px;" marginwidth="0″ marginheight="0″ scrolling="no" frameborder="0″ src="//ws-na.amazon-adsystem.com/widgets/q?ServiceVersion=20070822&OneJS=1&Operation=GetAdHtml&MarketPlace=US&source=ac&ref=tf_til&ad_type=product_link&tracking_id=britonthemo09-20&marketplace=amazon&region=US&placement=B08BQXM2RT&asins=B08BQXM2RT&linkId=7991bede6722a68c422059b03aa434aa&show_border=true&link_opens_in_new_window=true&price_color=333333&title_color=0066c0&bg_color=ffffff">
Things To Do While At Camp Chowenwaw Park
Aside from the ordinary things we all do when camping or enjoying the treehouse rentals, here are some other things to do that are on-site or close by:
Pawpaw Nature Center
The new Pawpaw Nature Center is now open at Camp Chowenwaw Park from 10 am – 3 pm. Every day, the park is open. Stop by to learn about habitats and animals found in Clay County.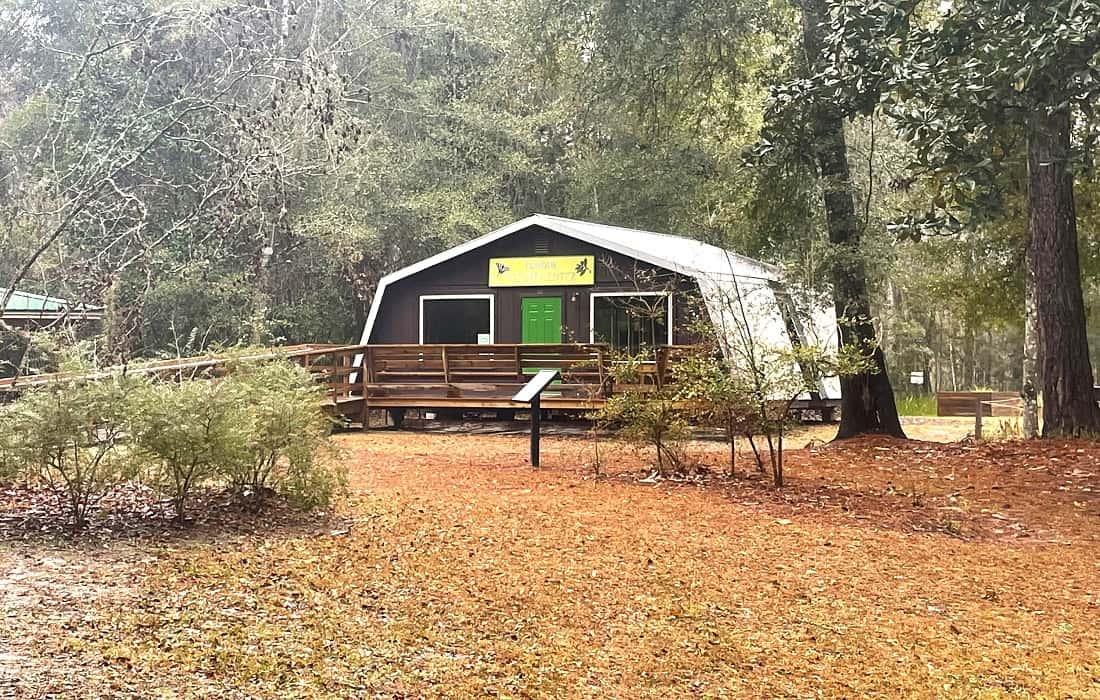 Historic Girl Scout Museum
The Museum includes a synopsis of the founder of the Girl Scouts, Juliette Low, the history of Girl Scouting in Northeast Florida, and the history of the park when it was a Girl Scout Camp from 1933 to 2005. Special Tours are available on other dates and times by appointment.
Open 9–11 am every third Saturday.
Pollinator Garden
Visit the pollinator garden at the park entrance to learn how to attract and support butterflies and other pollinators at your own home.
The What If Pig Story Walk
Follow along with the book and read it as you navigate the park.
*Book pages are located on the signs near Big Cabin
Visit the Military Museum of North Florida
This is a must for any military enthusiasts. Reynolds Industrial Park is the former Naval Air Station, Green Cove Springs, Benjamin Lee Field. The main training base for the F6F Hellcat fighter, which had over 5000 shoot-downs in WWII.
Visitors can walk in the shadows of WWII fighter pilots and heroes, including General Roy Geiger, the father of Marine Corps aviation, the Black Sheep Squadron pilots, Joe Kennedy (JFK's Brother), Ed McMahon (Johnny Carson's sidekick), and many more.
Big Cabin
Big Cabin has been restored to be an event venue. It has electricity, restrooms, three fireplaces, a kitchen, and tables and chairs.
Perfect for a big bash – it can hold 150 people. And it's ADA/Special Needs Accessible.
There's also an outdoor stage with amphitheater seating reservable for no additional charge.
No air conditioning or heat.
5 Ideas For Events You Can Host At Treehouse Point
Birthday Party
Find me a child that does not want to stay in a treehouse, and I'll find you a living, breathing pink unicorn—every kid on the planet dreams of staying in a treehouse. Rent the entire site, and you'll have all nine treehouse rentals.
Superbowl Party
Imagine how cool you will be if you rent the place and host the Superbowl. Everyone will be talking about it for years to come. And, given that Superbowl is in February, it's perfect weather!
*Note, you will need to bring your TV. And, if you want to go all out, get a projector screen.
Halloween Party
Any event for Halloween is a hit with the kids. However, you could stage this place and quickly make it spooky for the kids. You could create all kinds of activities in the woods. It's pitch black minus the lighting from the restrooms and kitchen. If you turn those lights out, you have the perfect setting for Halloween.
Easter Egg Hunt
Imagine hiding easter eggs across the treehouse camp area and letting the kids run wild. You could keep them entertained for hours collecting easter eggs! And, if you are not into easter egg hunts, do a scavenger hunt. This area is perfect for both.
Host A Wedding
Now, spending the night in a treehouse will not be the right setting for the bride and groom. But the location is a spot for a wedding. And a treehouse for guests will make it one of the most unusual weddings ever!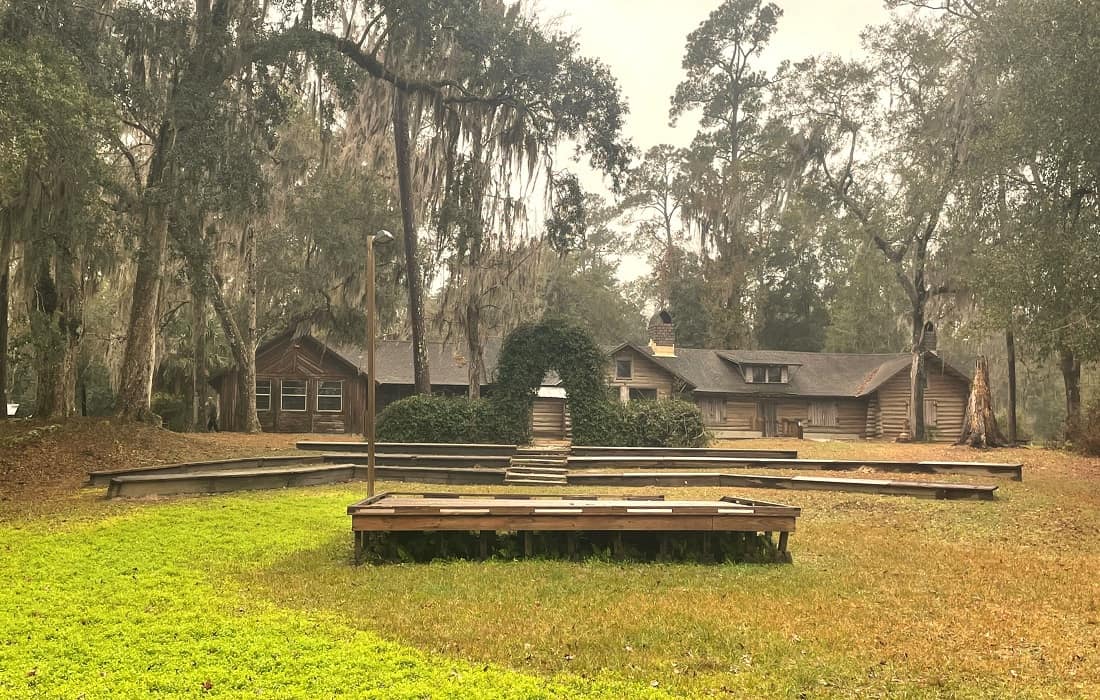 Rent Big Cabin for the event. The scenery is stunning and worthy of a wedding. The bride and groom can rent one fully equipped cabin for their consummation night! Glamping, if you will!
FYI – Even cabins with full amenities are rustic, but you can make these a love shack with some imagination.
What You Need to Know:
The site is not accessible by car. You park in the parking lot, then walk to the site. It's 1,600 feet or five and a half football fields to get to the treehouses.
It's an easy, no-elevation walk that anyone can do. Even wet, it's an easy hike and surprisingly not overly mushy.
You must pull all your belongings in a cart to the site.
Bedding is not provided. You need to bring your own.
The treehouses are screened in but are open to the elements.
There is electricity in the bathroom and the main kitchen hall.
There is no electricity in the actual treehouses.
The grills are charcoal grills, and you can not buy charcoal on-site. Don't forget a fire lighter!
There is no firewood for sale. You must bring it or be prepared to hunt for your own.
You need to book way ahead. While not commonly known, all the treehouses do book up quickly. You must get on it now if you want to score the perfect date.
There's no Wi-Fi, but it's not needed as the reception was excellent.
Bathrooms and showers are shared and co-ed. There is a sign to flip to show if occupied by ladies or gentlemen, but they are shared.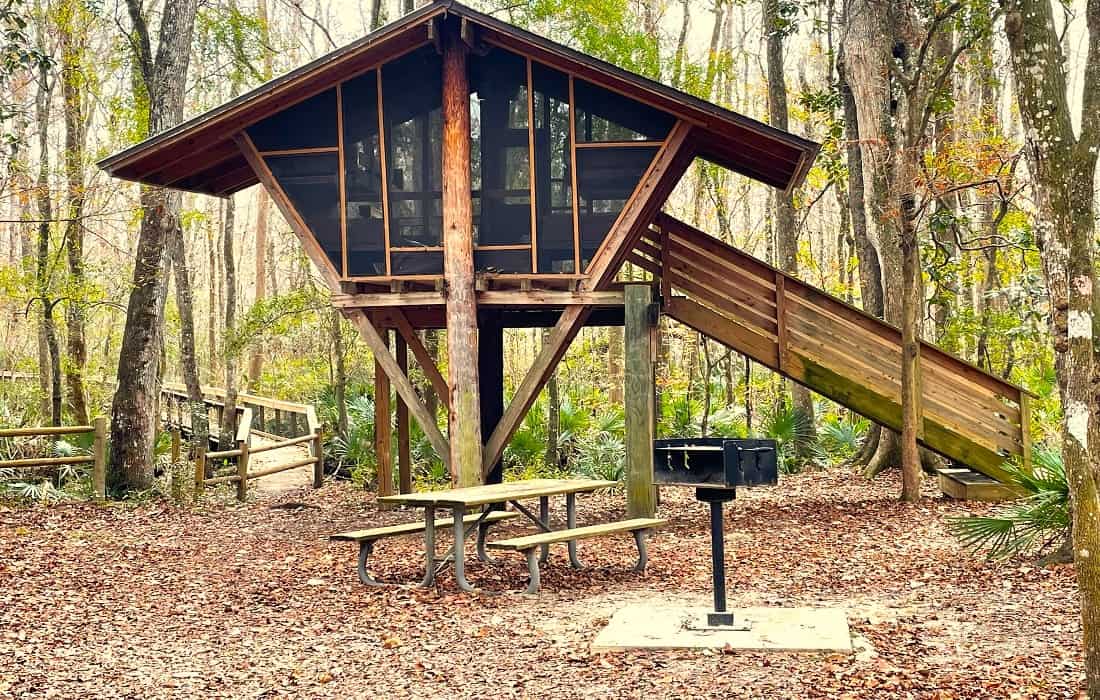 FAQs
Closing Thoughts
Few places left in this world do not tax your wallet; this is one of those rare finds. Affordable, unusual, dreamy, and loaded with amenities, this place is beyond worth its cost. This is why these are Florida's best treehouse rentals!
Think about this. Where can you take kids for $35 a night? You can't even rent a KOA rustic cabin for that, so these are a steal. I rented out the whole site because I did not know what to expect, but the treehouse rentals are well-placed and spread apart. We would have been perfectly comfortable in two treehouses.
Lastly, kids or no kids, we have all dreamed of staying in a treehouse at some point – here's your chance!
Looking for more posts on things to do in Florida? Start here:
We participate in the Amazon Services LLC Associates Program, an affiliate advertising program designed to provide a means for us to earn fees by linking to Amazon.com and affiliated sites.
Subscribe to our newsletter and get the best travel tips and inspirational stories delivered monthly. No spam, no sales pitches – TRAVEL!
Brit On The Move™ Travel Resources
Ready to book your next trip? Use these resources that work:
Need more help planning your trip? Check out our Resources Page, highlighting the great companies we trust when traveling.