Dixie Stampede – now called "Dolly Parton's Stampede Dinner Attraction " is a tourist attraction, a dinner show enjoyed by thousands of people every year. Think about it – what's the one thing everyone remembers about their childhood? The meals. No matter the culture or history, everyone has that one meal they always remember with their family. Dixie Stampede is an experience that creates these memories with an unforgettable show. This is one of the best shows in Branson! This dinner show is extensive, the food is way better than expected, and your kids will talk about it for years.
This post may contain affiliate links. Please read our disclosure and privacy policy for more information.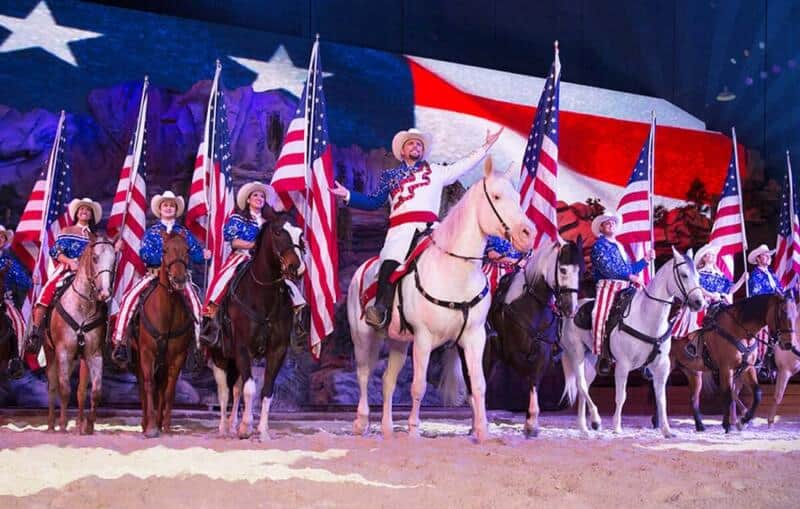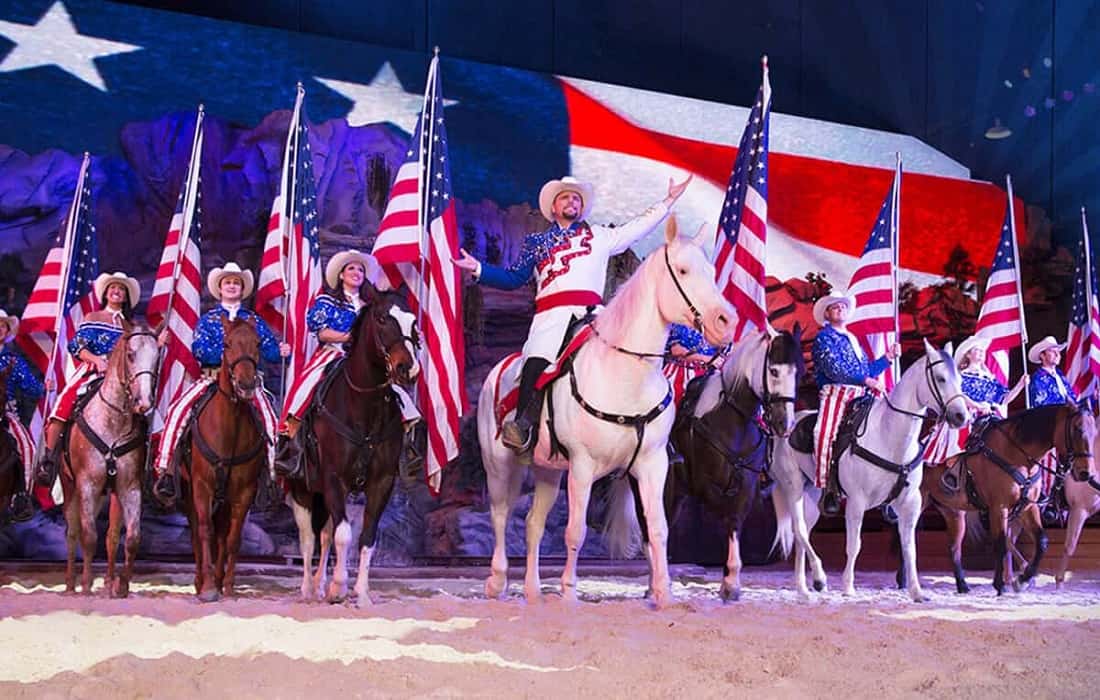 Image Credit: World Choice Investments, LLC dba Dolly Parton's Stampede.
Dixie Stampede History
In 1987, Dolly Parton decided to venture out of her usual career and entertain differently. With that thought, Dixie Stampede was born as it was called back then. It was her dream to do something that no one ever did before and make it something where people would come, enjoy a fantastic meal, and have an experience they would never forget. So came Dixie Stampede!
The Herschend family and Dolly Parton's Productions co-own the Stampede. They've been working together on the project since it began and still own it today.
Dixie Stampede – Now Called "Dolly Parton's Stampede Dinner Attraction"
Dixie Stampede has always been one of a kind. It's a popular attraction with a Civil War theme running through and through. Performers represent soldiers from the North or the South, they stay in character throughout the show, and the audience gets a very over-the-top, comedic view of the civil war. However, the civil war has always been a sensitive topic. It was a risky move from the get-go. In the 2010s, more and more people started talking about how there were ignorant undertones in the show, starting with "Dixie" in the show's name.
"Dixie" was a derogatory term used to describe "southern" states during the Civil War. These states with plantation agriculture were offensive towards people with an African American heritage or black people.
I am deliberately including this distinction because while some black Americans accept the term "African" – many do not.
So, in light of making sure they were doing all they could not offend anyone, they dropped "Dixie" from the name. Today, they call the show Dolly Parton's Stampede Dinner Attraction.
If you are interested in reading more about this, read Dolly's interview with Billboard:
"There's such a thing as innocent ignorance, and so many of us are guilty of that," she observes. "When they said 'Dixie' was an offensive word, I thought, 'Well, I don't want to offend anybody. This is a business. We'll just call it the Stampede.'"

"As soon as you realize that [something] is a problem, you should fix it," Parton adds. "Don't be a dumbass. That's where my heart is. I would never dream of hurting anybody on purpose."
I've always loved Dolly Parton. Not just because of her music but her genuine love of people and desire to help the less fortunate. I could write a thesis on all of the things Dolly Parton has done to make this world a better place. This is just one example – but a great one!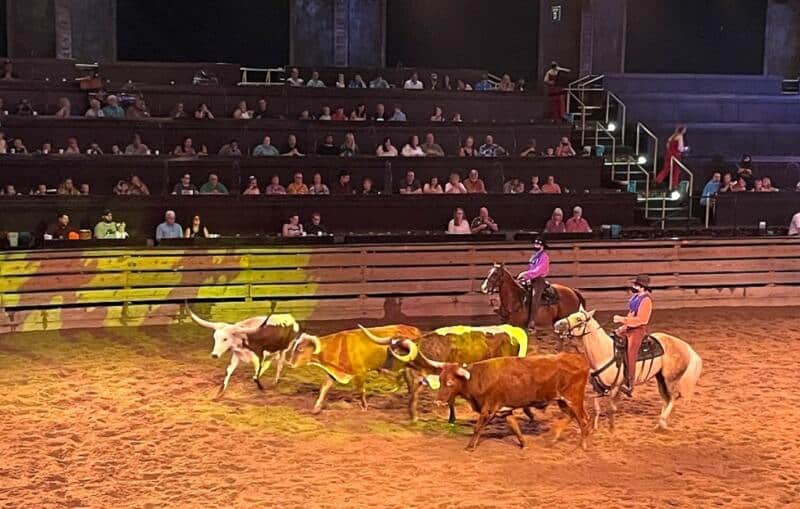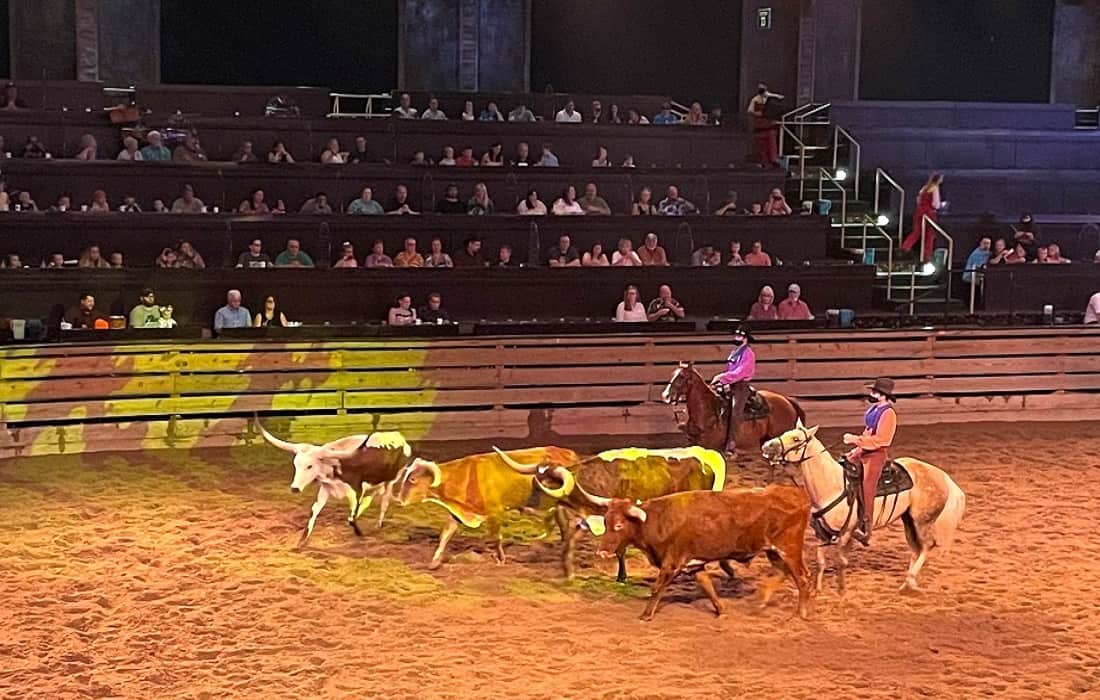 Why Visit Dixie Stampede – Dolly Parton's Stampede
In a dinner show, you pay one price for a ticket, including a show and a great meal! Dolly Parton's Stampede is a fully immersive show, and the interaction starts as soon as you sit down!
The pre-show is a saloon-style performance by bluegrass and country performers. This pre-show performance gets everyone in the mood for the main show.
You will be pre-assigned seats in one of two sections, the "North" or the "South." The wait staff at the front are in soldier gear, which adds to the whole experience. Throughout the show, there are trained animals, horses, pigs, and more that perform in a way that mesmerizes the entire audience. The show does a great job of making everyone feel included. The crowd cheers for the side they are sitting in. Considering the show entertains over 1000 people every time, this is quite an accomplishment!
The meals are hearty and well worth the money. The food might even distract you from the horses jumping around!
The experience is unlike any other, so everyone should visit the show at least once.
The Locations Of Dixie Stampede – Dixie Stampede – Dolly Parton's Stampede
Dixie Stampedes is an all-year attraction in two locations. Currently, both sites have the same shows.
Pigeon Forge Tennessee – This was the first location where the show started in 1987.
Branson, Missouri – This location was added on later in 1995.
The Show At Dixie Stampede
The show at Dixie Stampede is 1.5 hours of pure entertainment. Guests get seated slightly earlier than their dinner window to enjoy the pre-show and prepare for the main show.
The main arena stretches over 35,000 square feet. The stage is right in the middle of everyone, giving each guest a great view of the entire show. There is seating for 1100 people each night, yet, the wait staff has incredible attention to detail. They will make sure to get everyone's order right each time!
Thirty-two horses have gone through years of training. They're inarguably are the main attraction of the stage show. With them, truck drivers are doing amazing stunts, pig races, carriage races, and even lumberjack relays, among other shows. The entire exhibit comes together to transport the guest back to the era of the Civil War, but in a glamourous way, kind of like Dolly Parton herself!
The show is over the top, way more entertaining than you might think.
Dixie Stampede Menu
Even though Dixie Stampede is usually known for the insane stunts at the show itself, that's not the only attraction. The food is worth the visit as well. The four-course meal is cooked to perfection and tasty – something I did not expect.
Things like rotisserie chicken, smoked barbecue pork loin, homemade biscuits, and other food that will make anyone's taste buds dance!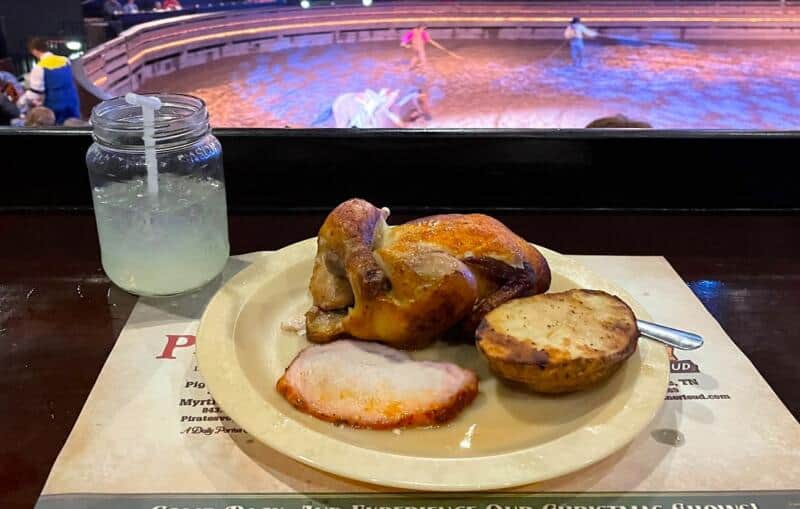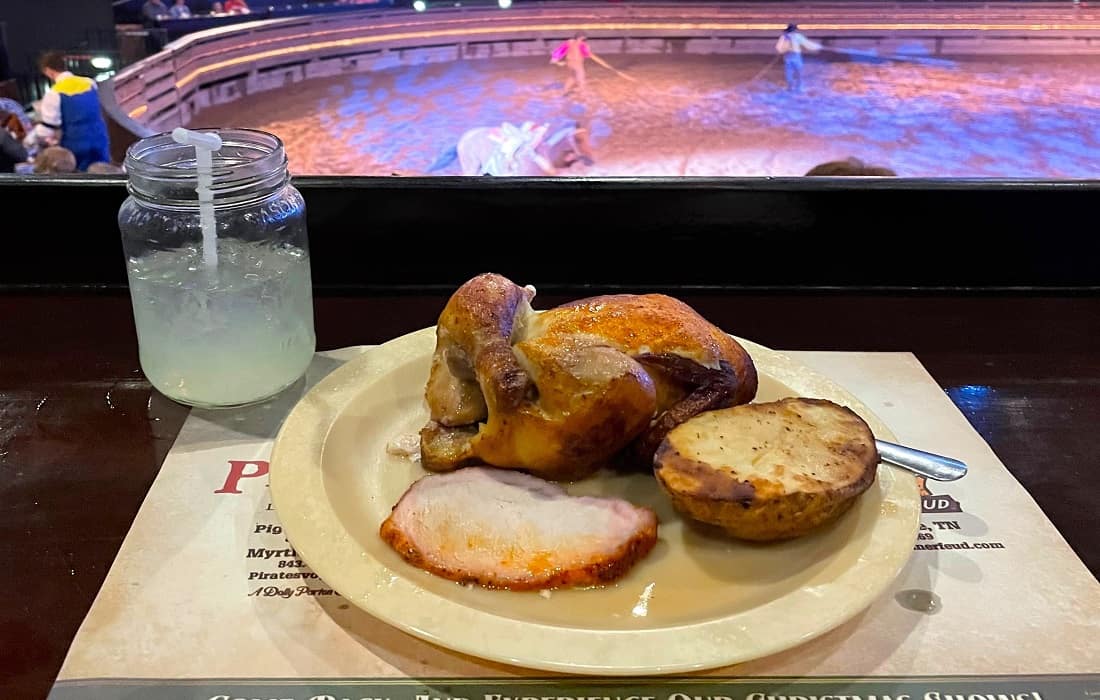 If vegan or gluten-free, let the organizers know about your food preferences when booking tickets. Your meals will be made according to your dietary needs.
Tickets for Dixie Stampede
Dixie Stampede is a one-of-a-kind experience, and the price reflects this. Adult tickets are $59.99 and$29.99 for children. If you're a group of 20, you can even get a special discount, so make sure to make a group reservation.
Also, note that you'll have to pay a $3.50 convenience fee if you get your tickets online. There is a way to bypass this fee by booking your tickets over the phone. The staff will hold the tickets for you, and you can pay at the window when you arrive. However, it is essential to note that there is no guarantee that the tickets will still be there if you are late, even by one or two minutes. They will only hold them till your booking time, down to the last minute. So if you're sure you can get there on time, booking over the phone would be best!
Frequently Asked Questions About Dixie Stampede
How much is a ticket to the Dixie Stampede?
The tickets to the Dixie Stampede are $59.99 for adults and $29.99 for children. Groups of 20 and above also get a special discount if they book as a group.
What is the difference between Dixie Stampede and Dolly Parton Stampede?
Dixie Stampede and the Dolly Parton Stampede are the same show under a different name. The name was changed in 2018.
Does theDixie Stampede still exist?
Yes, Dixie Stampede still exists, but it's no longer called the Dixie Stampede. It's now called the Dolly Parton Stampede.
Is Dixie Stampede closing in Pigeon Forge?
Dixie Stampede had to close down during the Covid pandemic's rise temporarily. However, since March 2021, the show is back on! Guests are requested to call the reservation number beforehand to ensure the show will go on, on the day they plan to attend.
Does Dolly Parton own Silver Dollar City in Branson, Missouri?
Dolly Parton doesn't own the entire Silver Dollar City amusement park. Herschend Family Entertainment owns the park, and Dolly Parton only owns a part of Silver Dollar City.
Closing Thoughts
Dolly Parton Stampede is the perfect mix of food and entertainment. There is comedy, music, history, animals, and great food. No matter your entertainment preferences, there's a part of the show that you would fall in love with. This excellent entertainment show paired with the fantastic four-course meal makes for an experience that everyone will remember. Most importantly, your kids will enjoy the show!
Lastly, some people snub shows dubbed "tourist attractions," often viewing them as sub-par. For the life of me, I don't understand why. If you want to be entertained, have a great night out, eat good food, this is a no-brainer!
Looking for more posts to inspire you? Start here:
We are a participant in the Amazon Services LLC Associates Program, an affiliate advertising program designed to provide a means for us to earn fees by linking to Amazon.com and affiliated sites.
Brit On The Move™ Travel Resources
Ready to book your next trip? Use these resources that work:
Need more help planning your trip? Check out our Resources Page, highlighting the great companies we trust when traveling.