Big Cypress Lodge – The Bass Pro Shop Resort – Memphis
Big Cypress Lodge in Memphis is a Bass Pro Shop resort. Yes, Bass Pro Shop owns resorts! Big Cypress Lodge, formerly known as the Great American Pyramid, The Pyramid, The Memphis Pyramid, Pyramid Arena, and the Tomb of Doom, is a must-see experience for families, couples, and outdoor enthusiasts.
If you are reading this article, you have likely visited a Bass Pro Shop and know that the shopping experience is unlike any other. You can spend hours gazing at the displays, the enormous aquariums, and weaving through the waterways.
Bass Pro Shops are an immersive shopping experience. They are designed to make you feel like you are in the wilderness – only you are inside. And the Bass Pro Shop in Memphis clocks in at 535,000-square-feet. Designed after a cypress swamp, it is hard to comprehend that you are in a store!
If you have any interest in outdoor activities, themed resorts, luxury hotels, or if you have a taste for unusual experiences, a stay at Big Cypress Lodge is something you will appreciate on many levels.
Ladies, if you want to impress your man and plan the perfect weekend, you really need to consider Big Cypress Lodge. Gentlemen, if you think that this resort is just for men, think again. It has been created for all and exquisitely.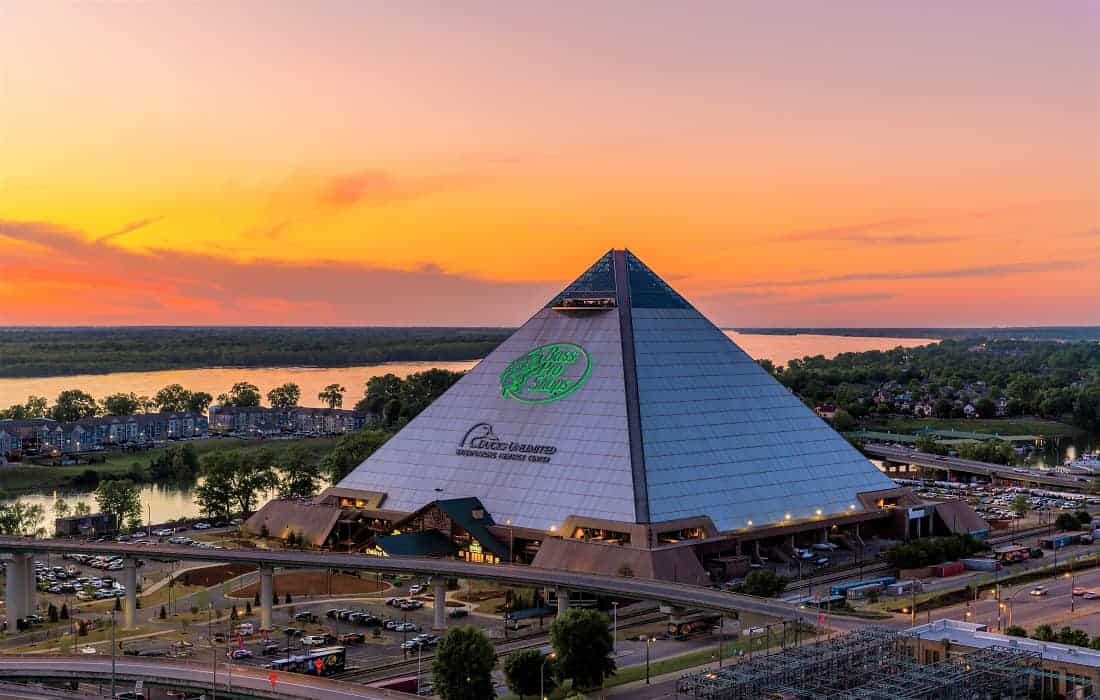 Big Cypress Lodge, Courtesy Photo
This is not a sponsored post. We paid to stay at Big Cypress Lodge, and all the opinions are those of Brit on the Move™. And, you know the deal – sponsored or not. I will tell you the good, the bad, and the ugly. This post may contain affiliate links. Please read our disclosure and privacy policy for more information.
History of The Memphis Pyramid
Constructed in 1991, The Pyramid was originally owned and operated jointly by Memphis and Shelby County. It was originally built as an arena to accommodate 20,142 fans for various events such as sporting events, conferences, and entertainment. For a period, The Pyramid was the home court for the University of Memphis men's basketball program and later for the National Basketball Association's Memphis Grizzlies.
The Pyramid hosted a couple of notable events that some of you may be familiar with:
Mary J. Blige – Share My World Tour – 1997
Lennox Lewis and Mike Tyson – Boxing Championship – 2002
Bob Seger & The Silver Bullet Band – 2007 – the last performance at The Pyramid
The Pyramid closed its doors in 2004 and remained empty for a decade.
Big Cypress Lodge History
The city of Memphis approached Bass Pro founder Johnny Morris to build a store. Apparently, the city of Memphis knew that a retailer would bring in revenue and jobs. Morris was originally not convinced. A friend and Memphis native Bill Dance persuaded him. Morris and Dance fished together. Legend states that Morris said, "If we catch a 30 pound or heavier catfish today – I'll put a Bass Pro inside the pyramid."
They caught a 34-pound catfish and so began the Bass Pro Shop and Big Cypress Lodge journey inside The Pyramid. Bass Pro Shops "megastore" opened in 2015.
Big Cypress Lodge Architecture
When you walk through the main doors and enter the lobby before the actual store, you will be blown away. Big Cypress Lodge is stunning. The design architects were O.T. Marshall and Insight Design Architects, and the Construction was W.G. Yates & Sons Construction Company.
The imagination that went into this marvel is impressive, to say the least.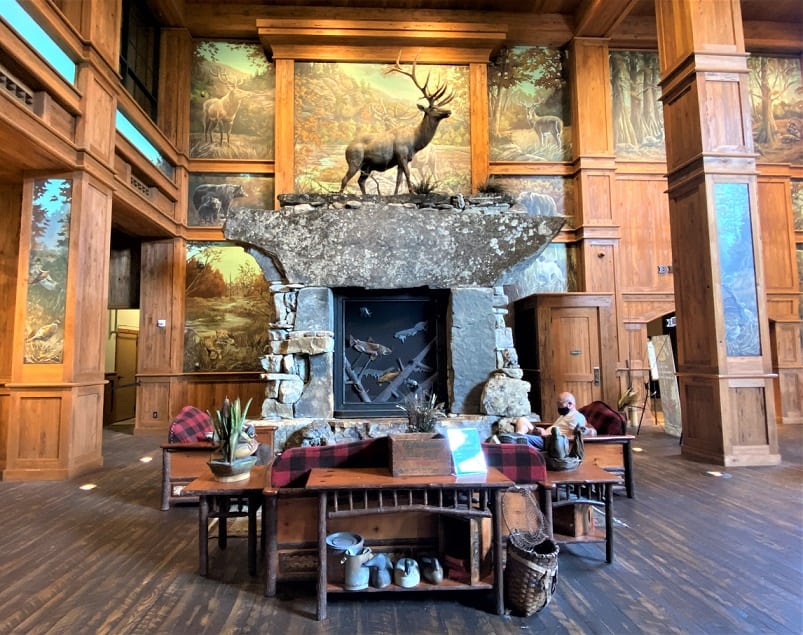 Big Cypress Lodge Arrival and Check-In
The check area is to the right of the main entrance. It is understated. However, I suspect this is by design. There are two elevator banks in the check-in area that take you up to the resort.
Big Cypress Lodge Rooms
If you are not instantly impressed upon check-in and walking through the exceptionally long and decadent hallways, you will be once you get into your room or suite. When you first enter your room hallway, there is a welcome basket waiting for you full of snacks.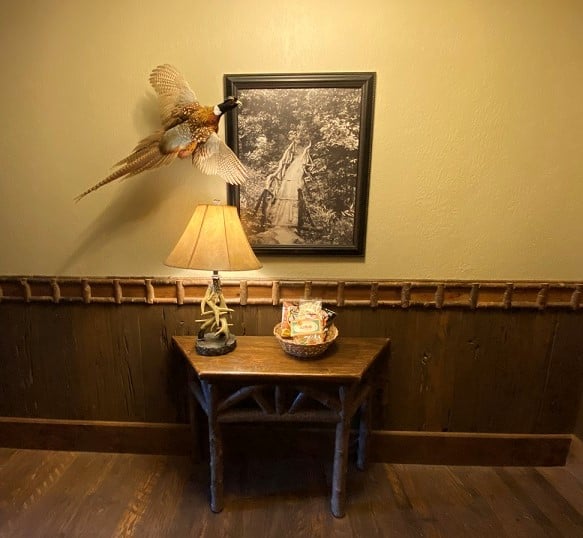 The rooms are huge, but the size is not what matters. It is the details.
How do I describe this to you all? What comes to me is this is probably the most detail-oriented room I've ever stayed in, and it is not kitschy – not even close. The theme is somewhat cabin with all the ornate woodwork, but the amenities are nothing cabin-like at all – we are talking luxury!
The Bathroom
The bathroom has some well-thought-out details. There is the soaking tub that has a lighted hologram of antlers. When you first come across this detail, you may think it is the actual tub. It is not, and it is a clever technique. And the soaking tub is air-jetted!
The shower. A major stand-out feature of the shower is that it is at least seven feet tall (maybe more), and the showerhead is positioned high. This shower would accommodate any male. A feature that you do not see in many hotels or resorts. A feature that will impress any man of height. Everything is "oversized" in these rooms. And oversized is a theme throughout Big Cypress Lodge.
The Beds
The beds! Carved out of wood with metal finals, the beds are huge. And by huge, I do not just mean wide. Just like the shower, they are longer than most beds. Most importantly, the beds are comfortable. You almost float into them, but you can feel the support. The bedding is luxurious, soft, and inviting. The pillows are fit for a king or queen. The beds at Big Cypress Lodge Resort will not disappoint you. In fact, you do not want to get out of bed the next morning.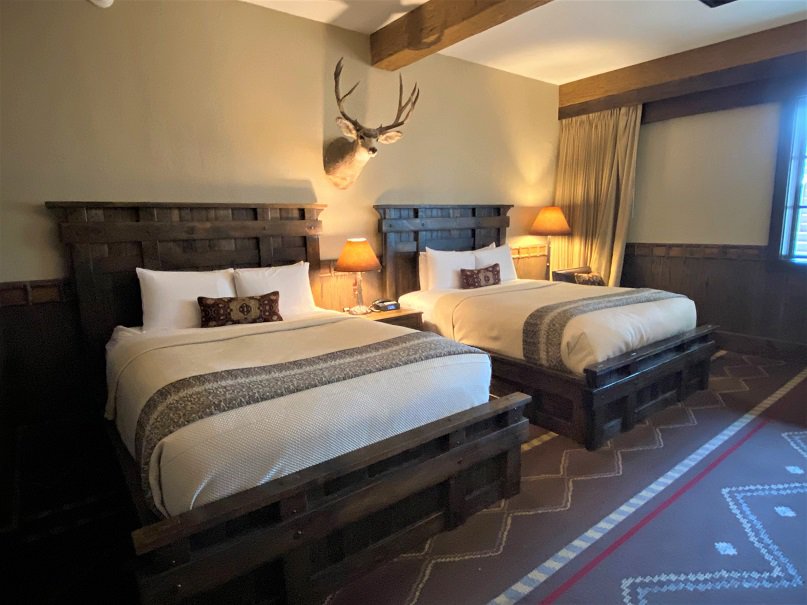 The rooms also have a fireplace, which is built into a console. But again, not an ordinary one. There are stained glass windows, the bass fish head finial, and an innovative hidden charging station.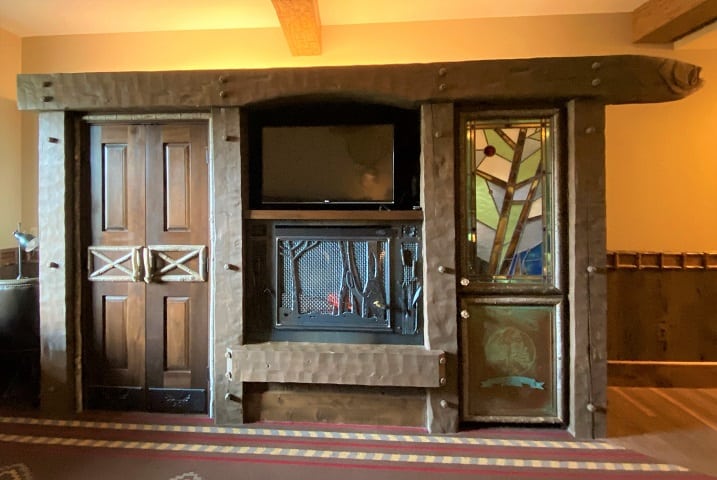 The ambiance of the room is romantic. If your aim is romance, take your loved one up to the room before exploring the store. Once they see the room, they will understand your rationale for deciding to stay at a Bass Pro Shop.
Room Pricing
Luxury resorts are not budget-friendly. However, you get what you pay for. We spent a Sunday night here because it was the most economical night of the week. It cost us $179 plus tax. And we had to pay a mandatory valet parking fee of $20.
At the time, this felt like a lot for Memphis, but once we got there, I really wish we would have stayed longer. I was traveling with my friend, and we split the tab. In hindsight, we should have stayed for two or more nights. Neither of us wanted to leave.
Do I think it is worth it? Absolutely! Would we pay to stay again? Yes, without question. In fact, I know we will go again. You can imagine how our husbands felt when they saw the pictures – they want to go. We will inevitably return.
For comparison, we paid $415 to spend the night at The Marina Bay Sands in Singapore. Now, the Marina Bay Sands is a bigger, more famous resort. However, the quality at Big Cypress Lodge Resort is the same.
Type of Rooms
Premier Rooms – These have a view over the store.
Deluxe Rooms – These have a view of Memphis.
Governor's Suite – 1,995 SQ. FT. –
Treehouse – 1,032 SQ. FT.
Fly Fishing Lodge – 1,318 SQ. FT.
Duck Cabin – 530 SQ. FT.
Junior Suite – 1,261 SQ. FT.
We did not realize that it did not have a balcony over the store when choosing the deluxe room. It is not a deal-breaker because you can view the store from spots, including the third-floor bar. Also, not all the suites look over the store; some have a view of Memphis, so make sure you read the details of which room you book. When we return, we will make a point to book a room or suite with a balcony overlooking the store.
Big Cypress Lodge Included Amenities
Complimentary Hotel Vehicle
Internet Access
24-Hour Fitness Center
24-Hour Business Center
Tickets to the Sky High Ride
Welcome Basket
And, there is no scrimping on the toiletries! Large-sized plus bathroom products are provided!
Bass Pro Shopping at Big Cypress Lodge Resort
This entire hotel is built around the outdoor shopping mecca of them all – Bass Pro Shops. So, shopping comes with experience. But it is unique. Where else in the world can you shop through a store on this scale in a pyramid that contains an artificial swamp full of gigantic fish!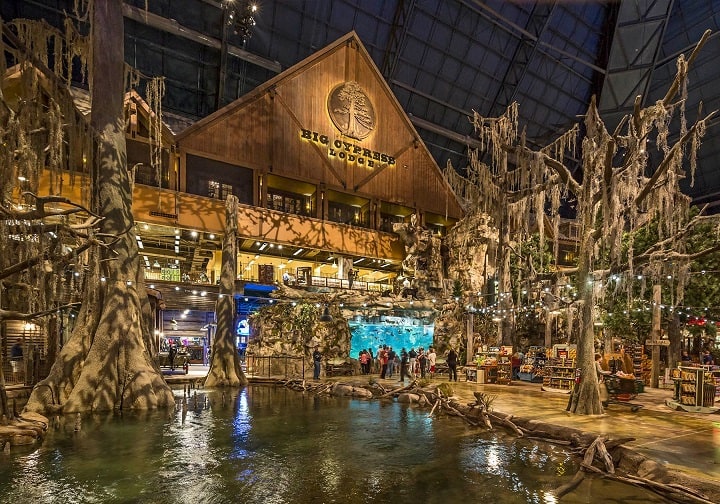 Big Cypress Lodge, Courtesy Photo
The store also has the Dee-Licious Fudge & Nut Stand and Beretta Fine Gun Center.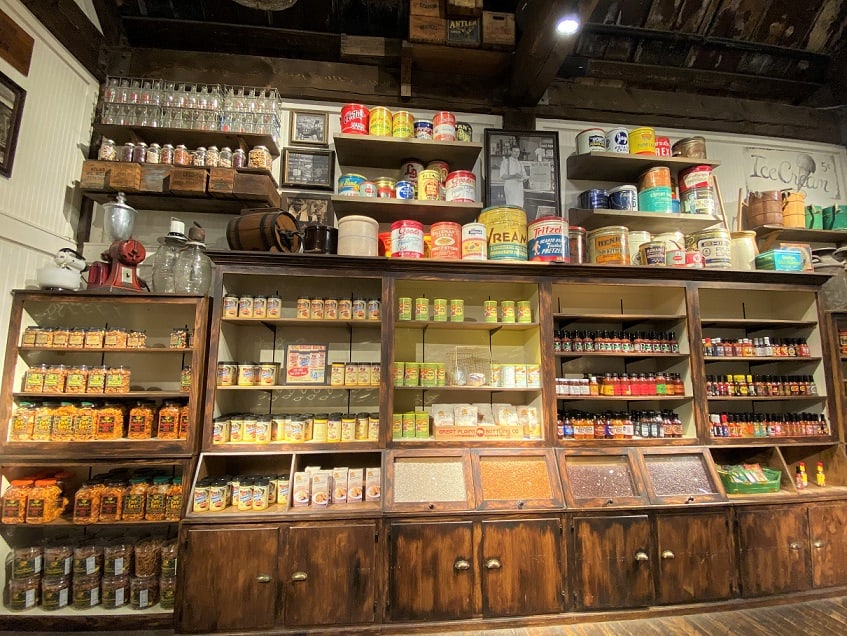 Something else that is worth noting. Even if you are not an outdoor enthusiast, this store has something for everyone. For example, there is a ton of home decoration, lots of kitchen accessories, sauces, spices, and so on. If you cannot find something you love – well – then you do not have shopping in you!
Things to Do at Big Cypress Lodge Resort
There is plenty to see and do. I have already shared with you the shopping, so let us get to the other attractions.
Sky High Ride
This is the tallest free-standing elevator in the United States. Included in your stay, this elevator climbs 300 feet up to the observation deck. This elevator is glass. So, if you have a fear of heights, this might not be for you. I do, but I went up. I was nauseous halfway up.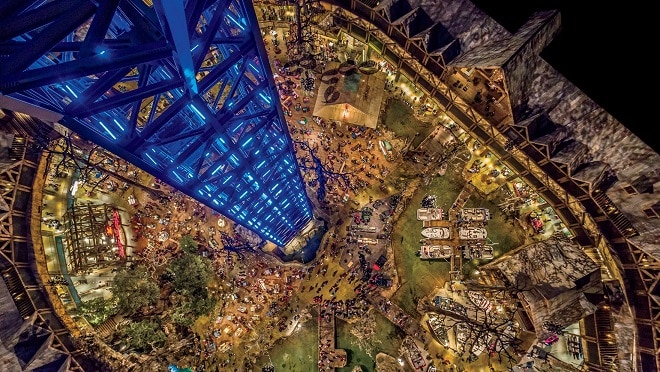 Big Cypress Lodge, Courtesy Photo
Glass Observation Deck
There are two glass step-out points where you can take in Memphis's views from 28 stories high. I did not step out, way too high for me, but it is a brilliant concept if you have the stomach for it.

Big Cypress Lodge, Courtesy Photo
Fishbowl Bowling
If you ever wanted to go bowling under the sea, here is your chance! 13 full lanes surrounded by underwater sea critters. And, once again, no expense is spared in creating a realistic underwater feel.
Fishbowl Billiards
Experience a one-of-a-kind billiards experience. Known as the trophy room, this space features a fireplace, luxurious dark wood paneling, and a tournament pool table for an evening of entertainment.
Archery Range
A 25-yard archery range on the second floor of the Bass Pro Shops store.
Note: You must bring your own archery equipment
Pistol Range
25-yard pistol range on the second floor of the Bass Pro Shops store.
Note: You must bring your own archery equipment
Big Cypress Spa by Gould's
We did not get to experience the spa. Judging by all the other amenities, I am sure it will be world-class.
Big Cypress Lodge Resort Restaurants
The Big Cypress Lodge Resort is home to three restaurants. We stayed during COVID, so, unfortunately, the only one we experienced was Fishbowl at the Pyramid. It's also important to note that as of 2020, none of the restaurants at Big Cypress Lodge are operated by Bass Pro Shop. What this means is don't expect the over-the-top service or finesse that you experience with all things Bass Pro.
The Lookout at The Pyramid
Even if you do not enjoy a drink here, you must check it out. There is a collection of steampunk-themed fish and frogs that dress the bar.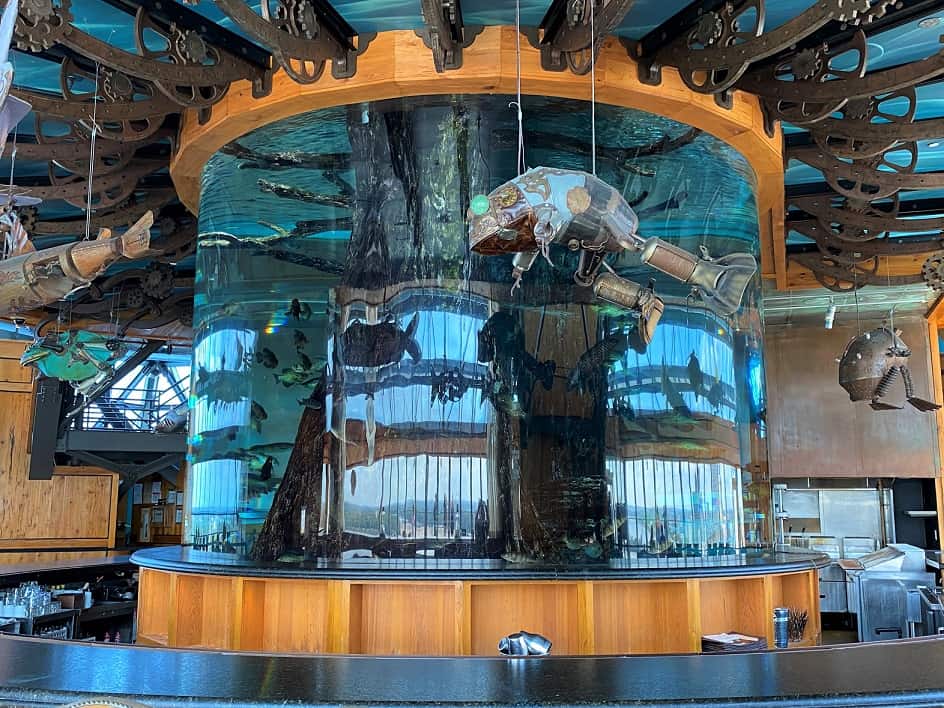 Note: You must take the glass elevator to get up to the Lookout at The Pyramid.
Mississippi Terrace at The Pyramid
The terrace features two fire pits, oversized furniture, a full bar, high-top tables, and a stage for live music. The menu includes small plate appetizers and hand-crafted cocktails.
Fishbowl at The Pyramid
We ate at the Fishbowl; it is right next door to the Fishbowl Bowling. You can either order in the restaurant or at the bar in the bowling area.
This place is casual, and it offers classics like pizza, burgers, and fish and chips.
One challenge is it is not full service. Meaning you order and pre-pay for food. You must go to the bar to get your own drinks.
Third-Floor Lobby and Bar Area
The third-floor lobby bar is only available to guests that are staying. This is where you will get the best view of the store below you. And this is where you will feel like you have been transported to a grand lodge in Montana!
The picture says it all: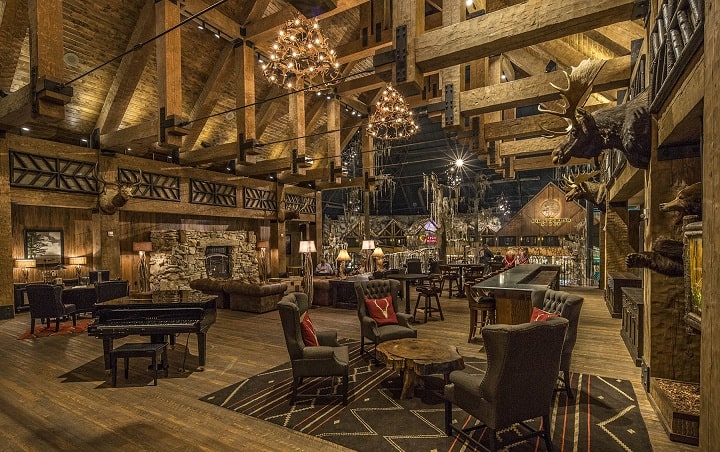 It might sound cheesy, but peek over the balcony and see the store from up above is thrilling. It is almost as if you are in a scene of "A Night at The Museum." As you gaze at the artificial swamp below, you cannot help but imagine the display animals coming to life!
Big Cypress Lodge Resort Room Service
We had an early morning flight, so we did not have enough time to relax and order breakfast—another regret of not spending more than one night.
Big Cypress Lodge Is Perfection
I have stayed at my fair share of luxury hotels; few, if any, will get this endorsement from me as few things are perfect.
Yet, I cannot think of one single thing that was not thought out or deliberate. Not one expense was spared. Comparatively speaking, I also think this is the best bang for the buck in terms of luxury.
Big Cypress Lodge – Big Bass Pro Location
Big Cypress Lodge is located at 1 Bass Pro Drive, Memphis, TN 38105. It is on the banks of the Mississippi River.
Additional Bass Pro Shop Resorts
Big Cypress Lodge is not the only resort that Bass Pro Shop owns; there are two more.
Big Cedar
Looking for an excuse to visit the Ozarks? Here you have it. Big Cedar Lodge is tucked into the Missouri Ozark Mountains, overlooking Table Rock Lake. This resort has two full-service marinas and five golf courses! And, you, they have glamping!
I've yet to show Brian this resort. He is an avid golfer, and he is obsessed with the show Ozarks. He has the Ozarks on his list. This would be his reason for us to visit.
Location: 190 Top of the Rock Road Ridgedale, Missouri 65739
Angler's Lodge
Located in Springfield, Missouri, home of the original Bass Pro Shops Outdoor World.
At this resort, you can explore Johnny Morris' Wonders of Wildlife National Museum and Aquarium.
Location: 621 W. Sunshine, Springfield, MO
In 2021, Bass Pro Shops will open its fourth resort, "Angler's Lodge in Hollister," at 291 Financial Dr, Hollister, MO 65672.
Closing Thoughts
Welcome to Paradise; the sign reads as you enter, and they are not lying! I almost missed this paradise.
My friend had mentioned Bass Pro Shop to me a few times when we made our reservations for Memphis. I could not understand why anyone would want to stay at a Bass Pro Shop. Then she showed the pictures. Seeing the pictures alone made me want to experience this resort.
What shocked me is how outstanding it is. Impeccable, exquisite, flawless, and well worth anyone checking out, even for just one night.
I will leave you with this. Most of us, myself included, flock to Memphis for its musical history and barbecue. Big Cypress Lodge is reason alone enough to visit Memphis.
Looking for more posts on Memphis? Start here:
We are a participant in the Amazon Services LLC Associates Program, an affiliate advertising program designed to provide a means for us to earn fees by linking to Amazon.com and affiliated sites.
Subscribe to our newsletter and get the best travel tips and inspirational stories delivered monthly. No spam, no sales pitches – TRAVEL!
Brit On The Move™ Travel Resources
Ready to book your next trip? Use these resources that work:
Need more help planning your trip? Check out our Resources Page, highlighting the great companies we trust when traveling.