There are probably many reasons why travel in Australia is on everybody's bucket list or why everyone has an Australia bucket list. Maybe it's the quest to conquer the continents, the distance to get there, or the sheer glamour of traveling somewhere so exotic. No matter the reason, it's on almost everyone's bucket list.
I'll speak for myself as to why it was for me. I grew up in England and have always daydreamed about traveling to Australia. At one point, I considered immigrating to Oz but ultimately chose the US. The images of the bright orange outback and kangaroos always captivated me. Over the years, I've also heard from all that Australia does not disappoint. I think it's impossible not to enjoy Australia, and it is the ultimate bucket list trip.
Whether you live in England or America, this is probably as far as you can travel. Most importantly, other than Antarctica, this will be the most expensive trip you will ever take. The flights alone or going to set you back a small fortune. This will be a costly trip unless you can score a fantastic deal.
The challenge with many deals is typical. You have to travel at a minute's notice. Therefore, this is hard for most of us. I booked the entire trip myself. I'll share all the costs, which I offset with some points. Lastly, I've reviewed a few deals lately, and all said and done, it might be more advantageous to book a tour. I'll share some with you at the end that I think are reliable options.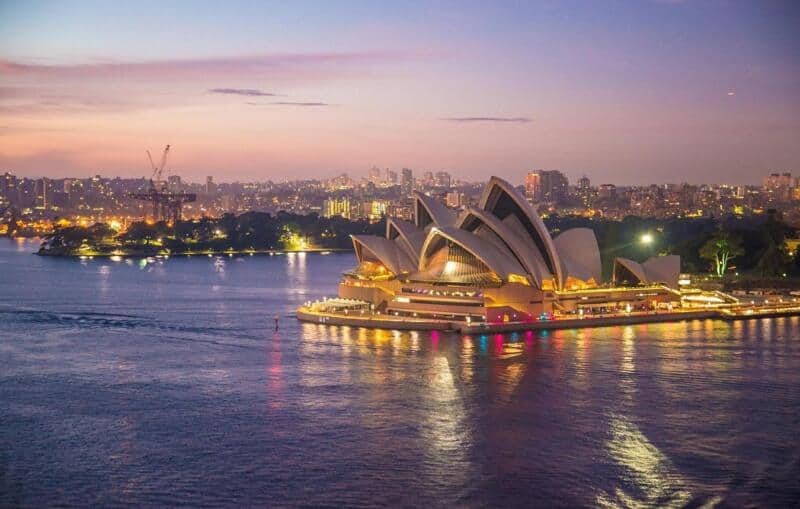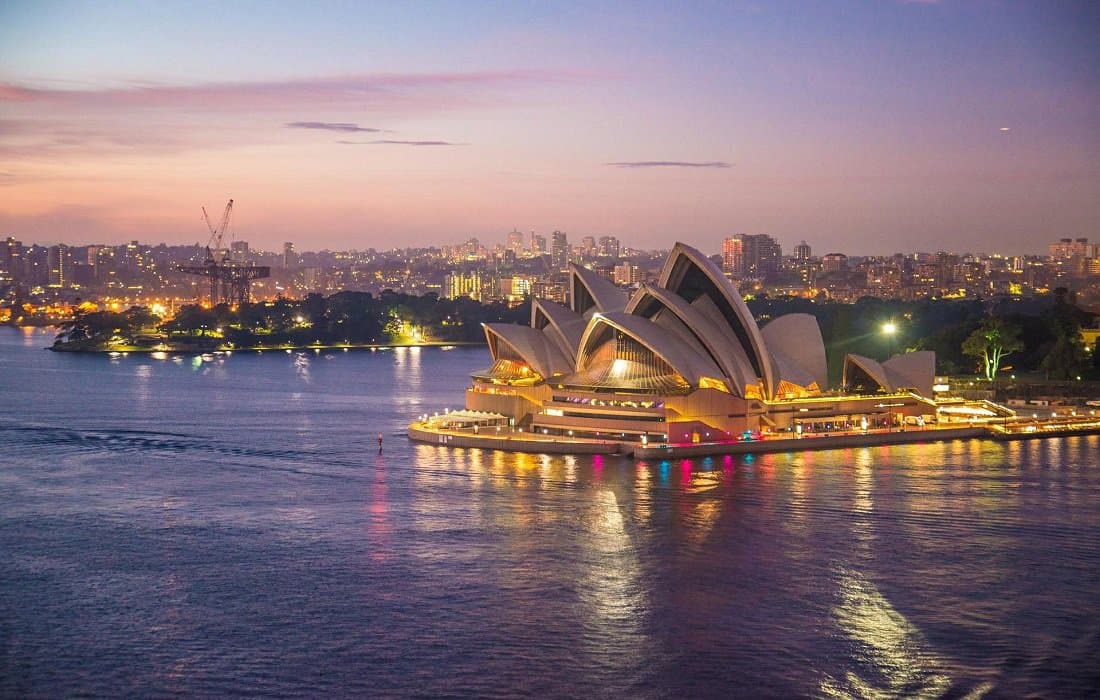 This post may contain affiliate links. Please read our disclosure and privacy policy for more information.
Entry And COVID-19 Requirments
Australia's border is open. Find out about travel to Australia and overseas.
You do not need to provide proof of a negative
COVID
-19 test to meet Australian inbound travel requirements. Some
countries
, airlines, and vessel operators may require a pre-departure test result at check-in before you can board your flight or ship. Check the entry requirements of the country you are traveling or transiting through, and your airline or vessel operator's requirements.
Visa Requirements Travel in Australia
You must have a valid U.S. passport and a visa or approved Electronic Travel Authority (ETA) to enter Australia. Most U.S. passport holders traveling to Australia for tourism or business purposes for less than 90 days can obtain an (ETA).
It's a really simple process to get the ETA, simply fill in the form online, and then it's sent to you via email and it is registered in the Australian system.
Vacinations
No vaccinations are required for entry to Australia.
Our Itinerary for Travel in Australia
We traveled over Christmas and celebrated New Year in New Zealand. Before we get into the itinerary and costs, let me be transparent. This is not the best time to travel down-under. Its peak season, and its summer, which means high prices. Given our professional commitments, this was the only way for us to escape for three weeks. If you can travel during the non-peak season, you'll do much better with prices than we did. We spent two weeks in Australia and hit three destinations. We then spent a week in New Zealand.
Flight Route: Orlando – Los Angeles – Sydney – Uluru – Cairns – Auckland – Los Angeles – Orlando
Orlando to Sydney – One-way tickets for two for $2,757
Sydney to Uluru – One-way tickets for two for $354
Uluru to Cairns – One-way tickets for two for $898
Cairns to Auckland – One-way tickets for two for $605
Auckland to Orlando – One-way tickets for two for $1,356
Pro Tip: We did not want to do roundtrips to Sydney. The idea being we would save precious time. It would have been a whole lot cheaper to start and end in the same location. However, we ended up doing so due to canceled flights. Oh, the irony. I'll save all of the flight drama for a separate article.
Insurance For Travel in Australia
It would be best if you bought travel insurance for travel in Australia. It's not mandated, but this will be one of your most expensive trips. When you are spending this kind of money on flights, it's imperative. It costs pennies in comparison to what you could lose. Trust me, and we used our insurance twice on this trip! This tool will guide you through how to pick travel insurance. Click on the image below, enter your dates and compare!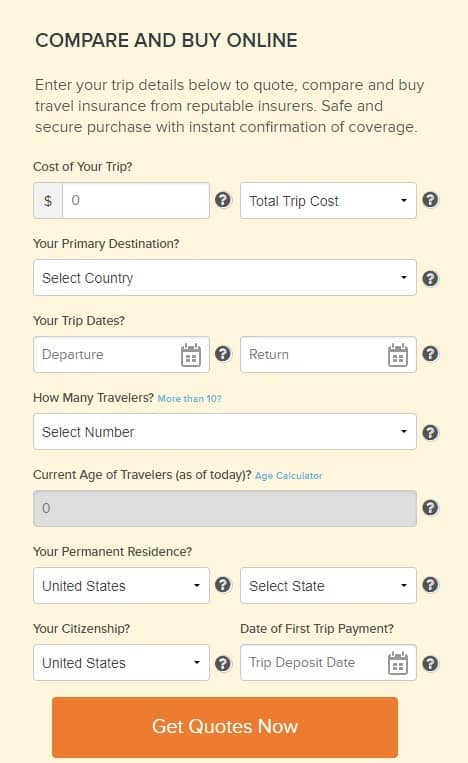 Stop One – Sydney Australia
Sydney is the cleanest city I have ever visited. I've heard from all that Singapore is the most hygienic place in the world. We've traveled to Singapore. It's clean, but Australia still takes first place. Additionally, Sydney is, by far, the most organized city I've ever visited. Sydney's infrastructure shames that of many cities across the world. Everyone speaks English. It's tremendously safe and has plenty to see and do.
We spent eight nights at the Holiday Inn Potts Point. No cost at all. I used credit card points for the room. The location is excellent! Centrally located, right opposite Kings Cross Station. The hotel has a supermarket across the street—easy access to all public transportation, and many restaurants. I will mention that if you venture too far south, you will run into the back-packing capital of Sydney – aka hostel after hostel. A location shared with the red-light district. Not that this area is unsafe, it's safe, just shabby. I'm not sure if I would have spent an entire week in Sydney if we were doing it over. I think 5-6 nights would be ample to see the highlights. The extra nights afforded us some much-needed downtime, which is worth considering, given that you will deal with jet lag.
Additional Hotels In Sydney Australia
Things To See In Sydney Australia
There's so much to see in Sydney, yet fortunately, the most famous spots everyone wants to see are in the city, so you can easily fit most of it in a week.
Sydney Opera House
Opera House is an easy one, and it's a must! You don't have to attend an event to experience the architecture. You can simply visit and admire it from the outside. Or, you can walk around Darling Harbour or take the ferry to the zoo for amazing views.
Sydney Bridge
This bridge is located in Darling Harbor and is as famous as the Opera House. It's now even more famous as a climbing attraction. Many people choose to climb this bridge. Brian and I did not climb the Sydney Bridge because we were both scared of heights.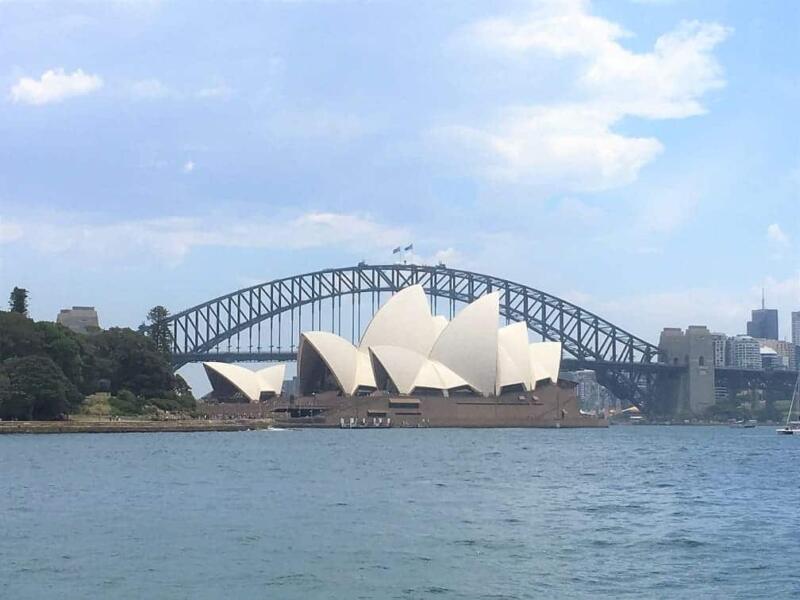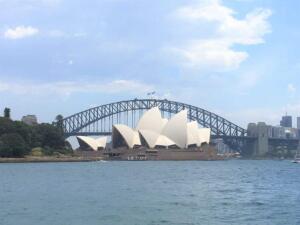 Bondi Beach
No trip to Sydney is complete without a trip to Bondi Beach, Sydney's most famous beach. You can take a public bus or the Bondi Explorer from Circular Quay.
There's quite a bit to see here; if you are into surfing, this beach will be heaven. If you want to experience some traditional fish and chips, there are a few spots to try. Or simply stroll the promenade. The trash cans are comical enough to keep you entertained!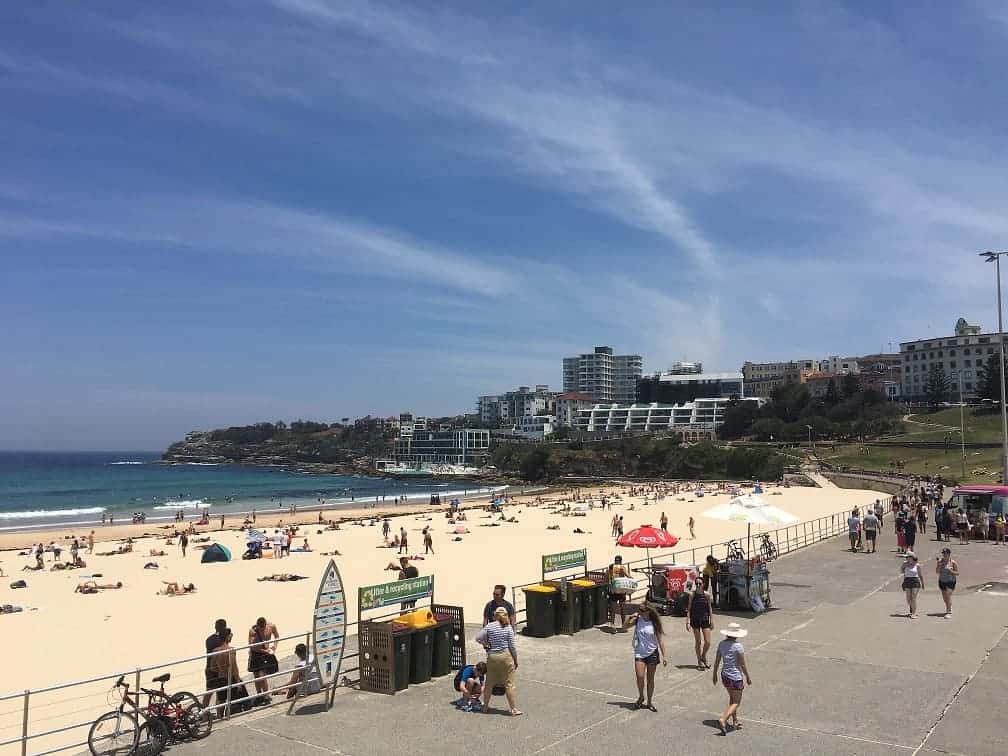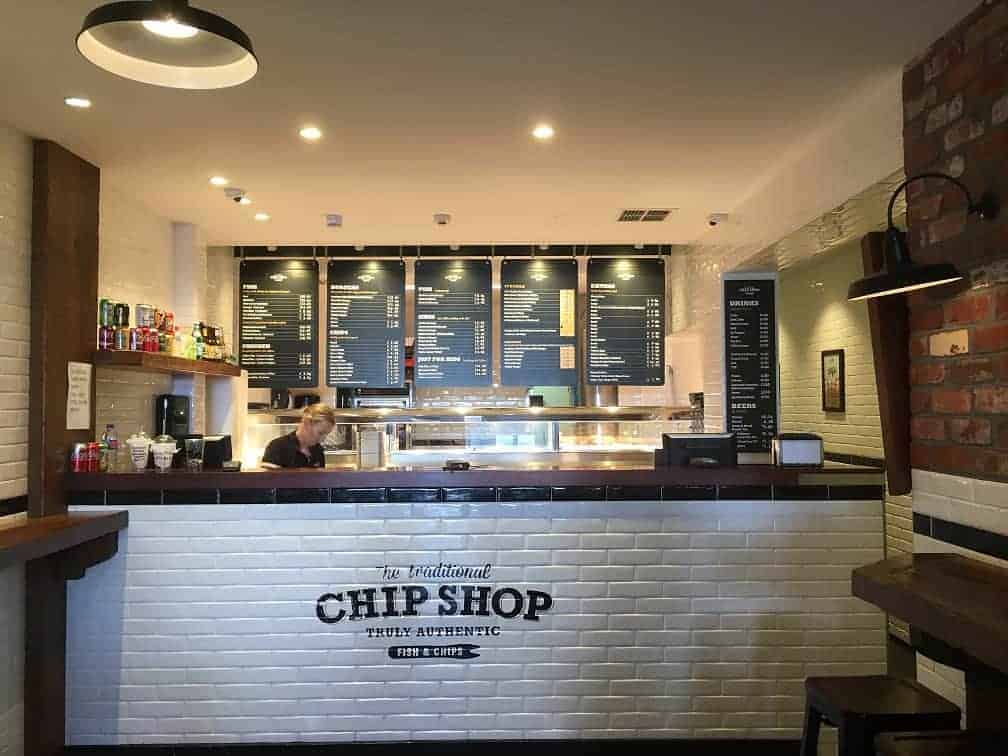 Featherdale Wildlife Park
Featherdale provides a home to over 1,700 Australian native animals from more than 250 different species and serves as Australia's most extensive native collection.
One of the highlights of Sydney for me. I got to feed wallabies! I'm a huge animal lover, and getting to hand feed these little guys was a treat for me!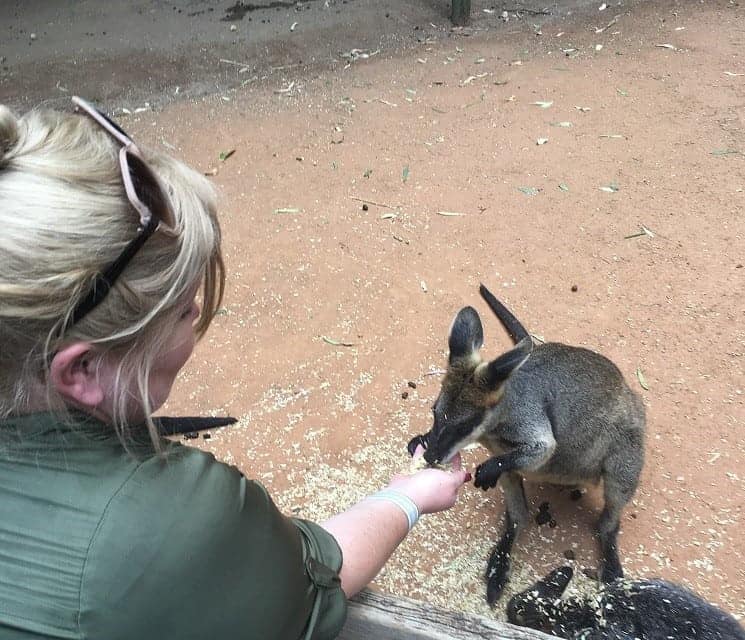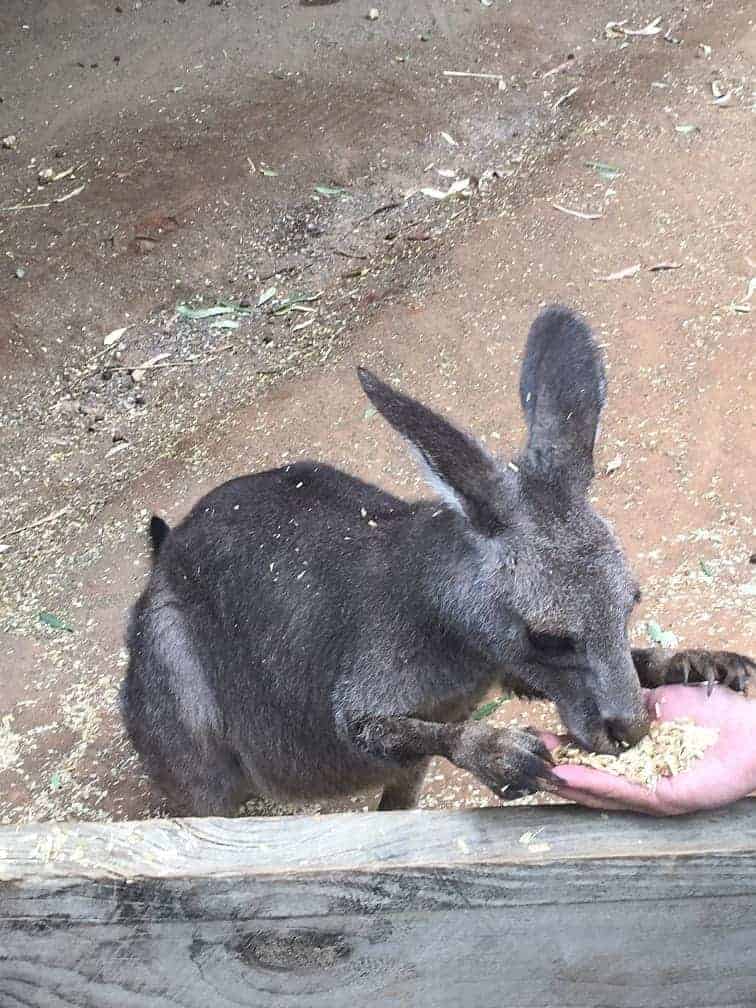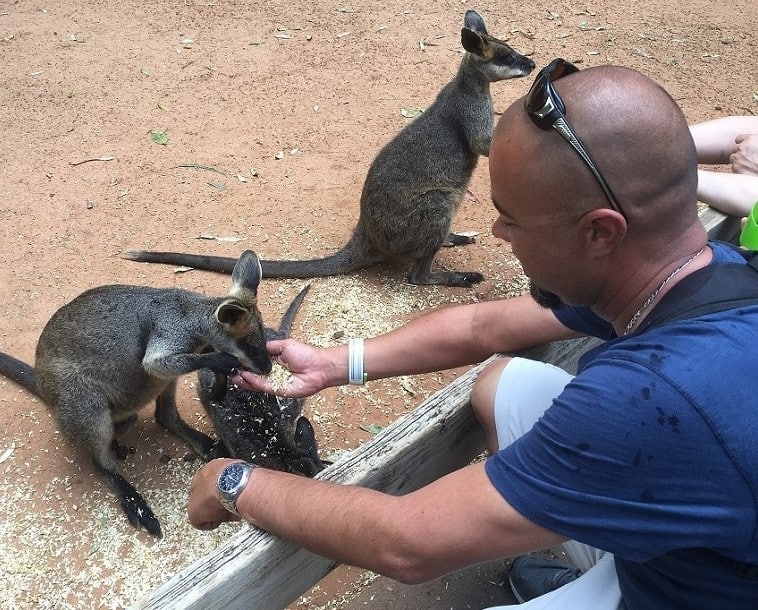 Here, you can get a classic photograph of yourself with a koala. I skipped this! First, the koalas were half asleep, so it did not seem right. Secondly, there was a massive line, and I did not want to stand in the heat for an hour.
Sydney Fish Market in Pyrmont
This might not be a "must-see" for all. After all, it's a traditional fish market. I guarantee you'll never see crab the size of the ones at the Sydney Fish Market. Nor will you see the variety of fresh fish on offer here.
In addition to browsing the stalls, you can buy and eat prepared fish, and they offer cooking classes. For me, it was worth checking out.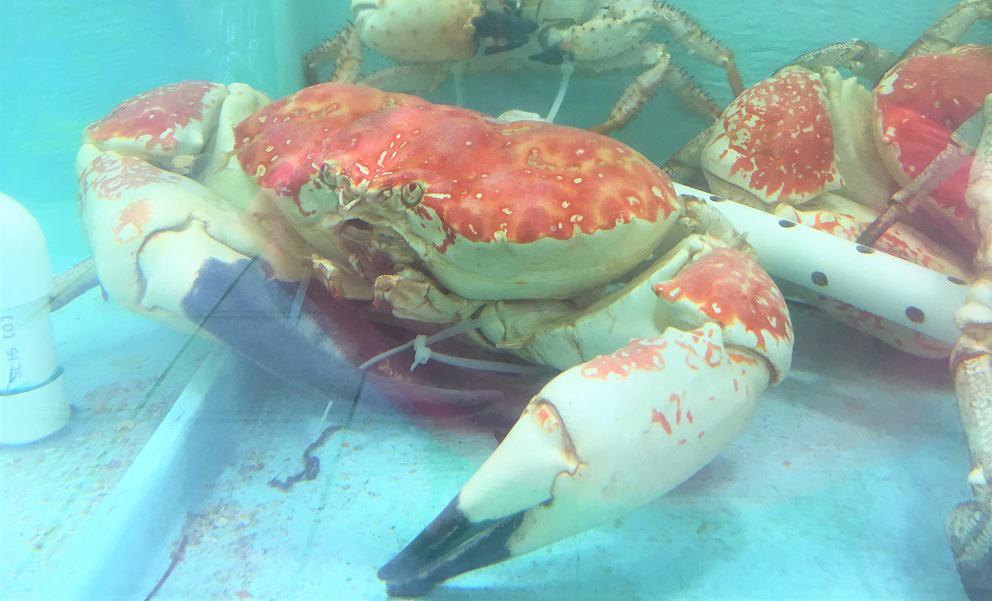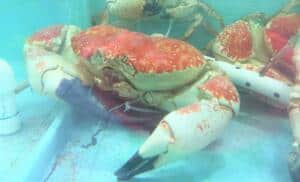 Sydney Botanical Gardens
This freebie is worth at least an hour, if not an afternoon.
It is on the eastern edge of the Sydney central business district, directly on the hill behind the Opera House. It is a heritage-listed significant 74-acre botanical garden, event venue, and public recreation facility.
The Royal Botanic Gardens and Domain Trust administers the garden on behalf of the Government of New South Wales. It was added to the State Heritage Register on 2 April 1999, along with the adjacent Domain.
Chinatown
Asian food is my all-time favorite, so a trip to China Town is a must for me whenever one exists. Sydney's Chinatown is the same as most, except the food is more like English Chinese vs. American. There are tons of Australian options like the famous Mud Crab!
One thing you must experience is the Cream Puffs at Emperor's Garden Chinatown. A hidden gem that causes quite a stir! There's a constant line for these delicacies that are made right in front of you.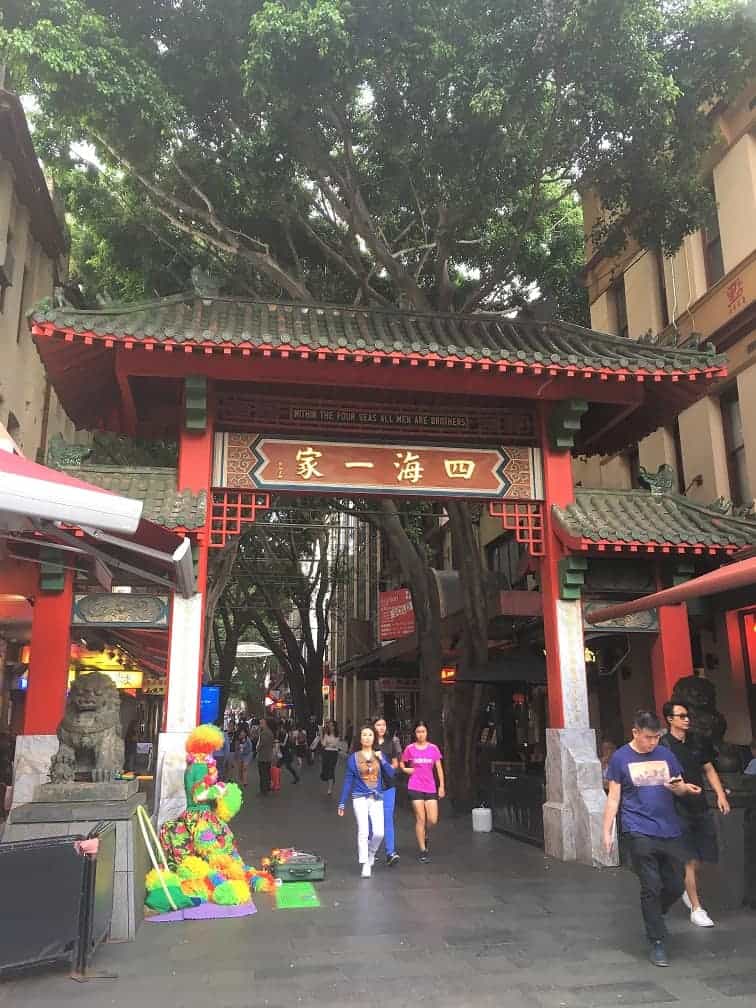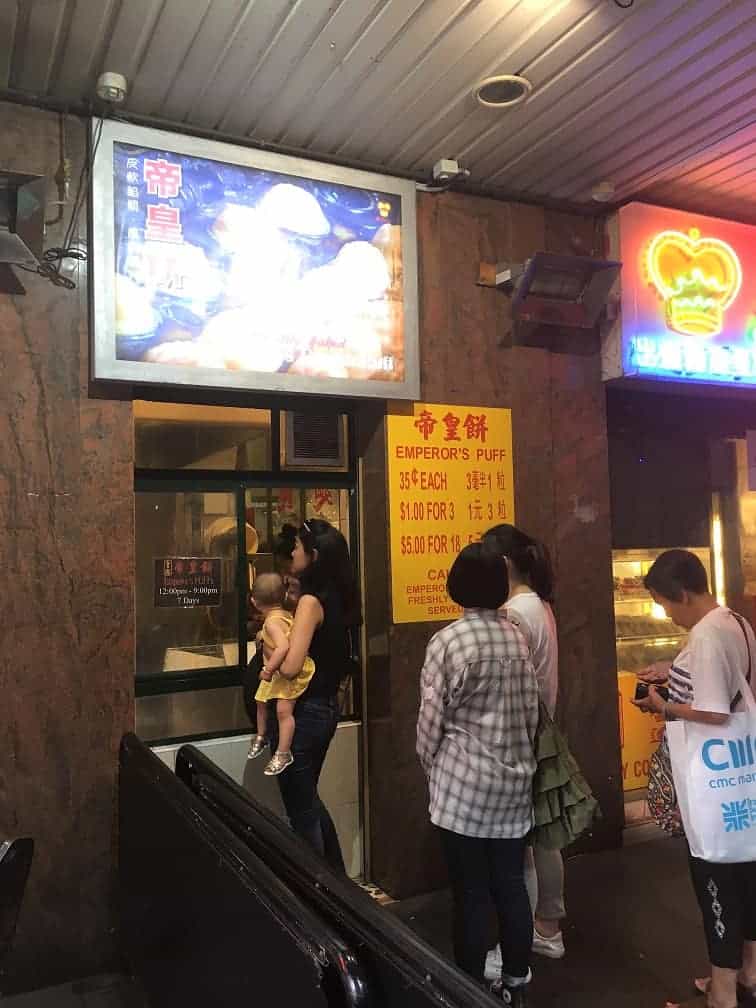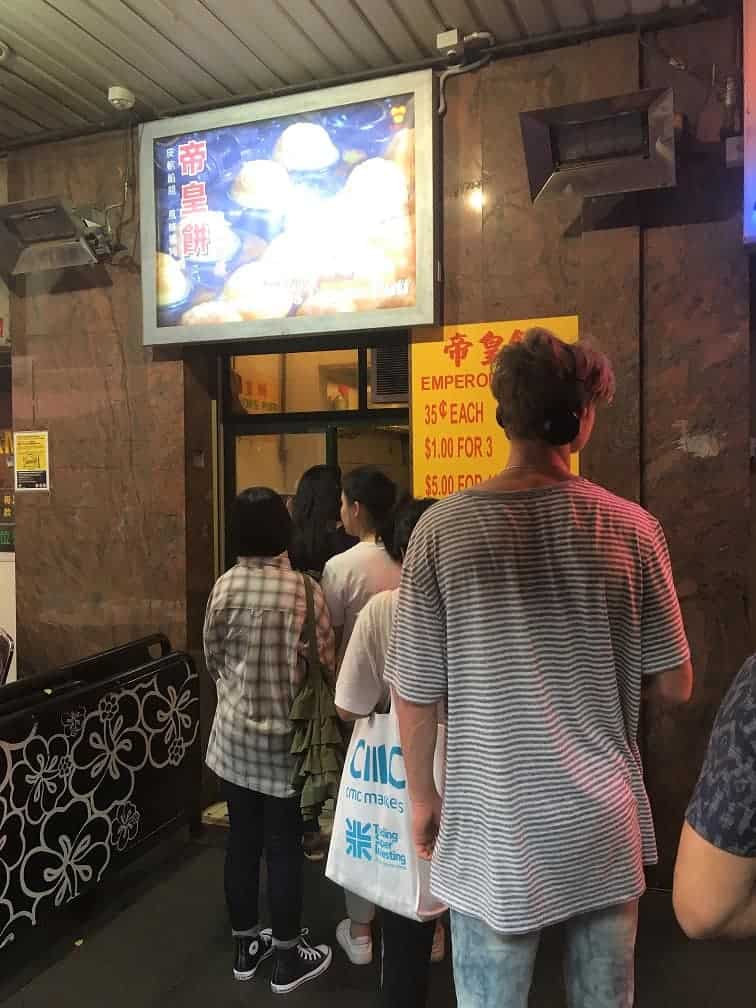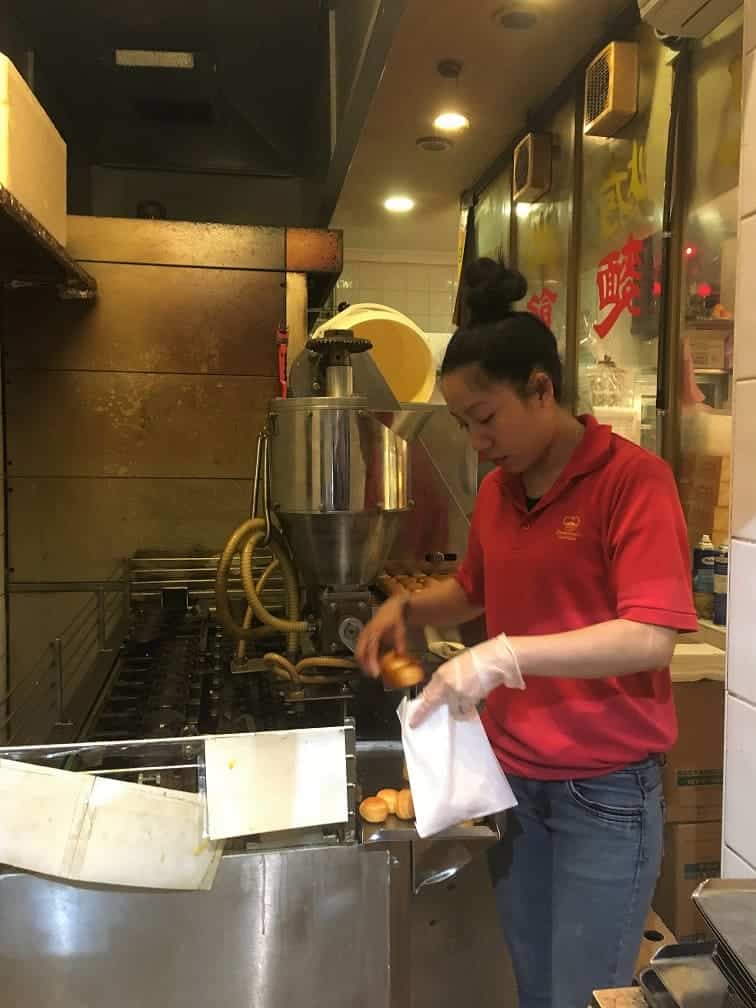 Sydney Tower
Experience Sydney's highest open-air attraction, Skywalk, at 853 ft. above the ground on a ride up the Sydney Tower. From a moving, glass-floored viewing platform at the top of the tower, you can view everything from Sydney's landmarks to the Blue Mountains.
Blue Mountain And Three Sisters Rocks
Not precisely in the city but close enough for a day out. Don't miss the Blue Mountains! Several tour operators will take you on this trip, and most offer combinations.
We did the tour that included The Blue Mountains, Three Sisters, Featherdale Wildlife Park, Waradah Australian Centre, and the Scenic World. The ticket for Scenic World consists of a ride on the Scenic Railway, the world's steepest passenger railway. It also includes a glide between cliff tops and gaze at the rainforest canopy through the glass floor of the Scenic Skyway!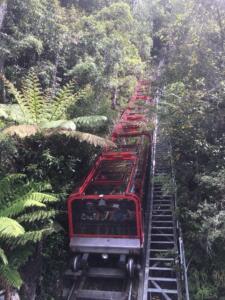 There was a cruise by boat back to Sydney Harbour on the Parramatta River, but we had already cruised the harbor, so we skipped this.
Whether you take a tour or drive there, don't miss the spectacular Three Sister rock formations, best viewed from Echo Point Road at Katoomba.
Museums in Sydney
As with any city, there are tons of museums in Australia. Here are some of the best:
Australian National Maritime Museum
Chau Chak Wing Museum
Darling Harbour
Elizabeth Farm
Hyde Park Barracks Museum
Justice & Police Museum
Millers Point
Museum of Sydney
Old Government House
Parramatta
Powerhouse Museum
Rosehill
Susannah Place Museum
Sydney Jewish Museum
Sydney Observatory
The Rocks
Ultimo
SEA LIFE Sydney Aquarium (formerly Sydney Aquarium)
SEA LIFE Sydney Aquarium has the world's most extensive collection of aquatic life from Australia. Discover 14 themed areas at SEA LIFE Sydney Aquarium, home to sharks, dugongs, stingrays, and seahorses. There is even the possibility of snorkeling with sharks.
One dugong "Pig" is on display at SEA LIFE Sydney Aquarium.
Dugongs
Dugongs are marine mammals. This species is one of four in the order Sirenia, which includes three manatee species. In the once-diverse family Dugongidae, only this species remains.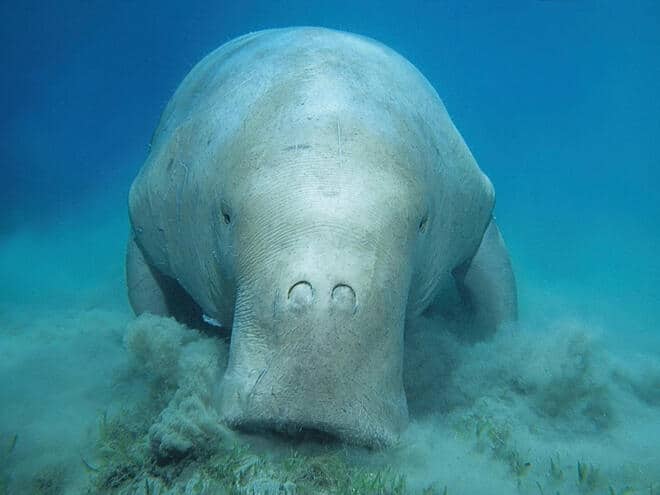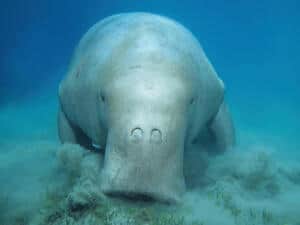 Image Credit: World Wildlife Fund
There is a Tropical Bay of Rays where you can see sting rays. Some themed areas include the ocean tunnel walk, Shark Valley, and Shark Walk. Explore thousands of tropical fish, turtles, jellyfish, platypus, and penguins.
There are tours available behind-the-scenes, including a glass-bottom boat tour.
Sydney Zoo – Taronga Zoo
I think the zoo should be on anybody's list. The layout alone is so unusual it commands attention.
Taronga Zoo Sydney is located on Bradleys Head Road in Mosman, right on Sydney Harbour, and easily accessible from the Sydney CBD.
Most people take the ferry across because you can capture shots of the Opera House. Here, you will get the epic picture of the giraffes with the harbor and the Opera House!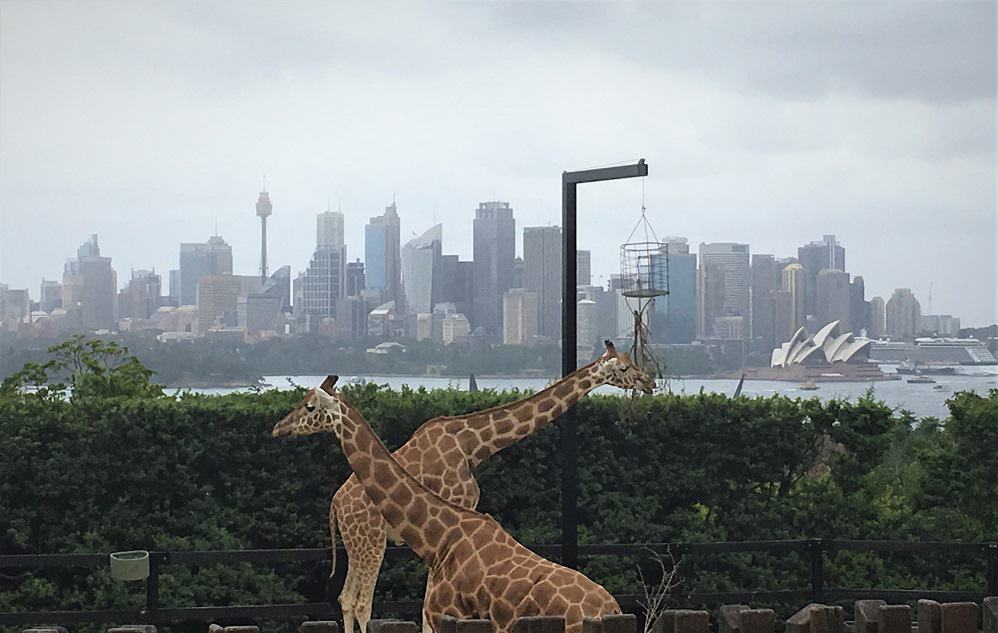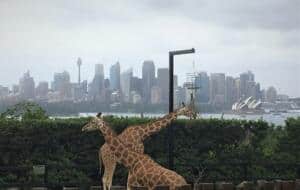 Stop Two – Uluru
Uluru Australia, previously known as "Ayers Rock," is a gigantic red rock formation within Uluru-Kata Tjuta National Park. It's located 450km from Alice Springs, in the middle of the Northern Australian Outback. Should Uluru be a part of your Itinerary? It depends on who you ask. For me, 100% yes!
The best way to get to Uluru is to fly in. We bought one-way tickets for two $354 and flew out of Sydney.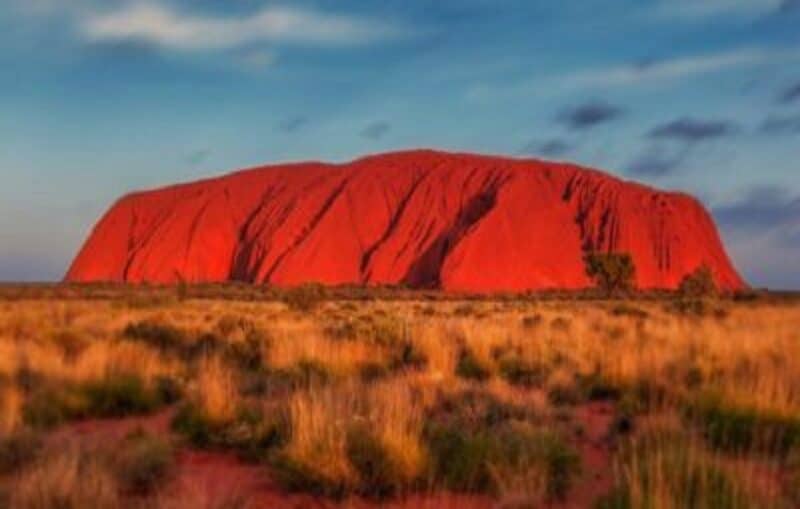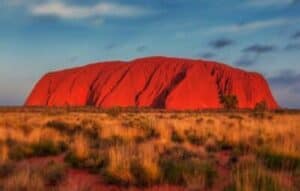 Things to Do At Uluru Australia
There's plenty to see and do, and two to three nights is enough to see it all. That is unless you love the outback and want just to chill.
Explore the base of Uluru
Explore by Air
Learn to Play the Didgeridoo
Take a Camel Ride or Visit The Camels
Sunset View of Uluru
Explore Kata Tjuta
To learn more about visiting Uluru Australia, read this: The Ultimate Guide to Uluru Australia
Stop Three – Cairns & The Great Barrier Reef
We flew from Uluru to Cairns, costing us $898 for two one-way tickets. Now, flying from a major city like Sydney will be a lot less expensive. You need at least three nights in Cairns to explore it all, longer if possible.
Cairns is the gateway to Australia's Great Barrier Reef, the world's most extensive coral reef system. The city of Cairns is the fourth-most-popular destination for international tourists in Australia for a good reason. While this is a small sleepy town, it hosts many attractions that are worth the journey. Most flock here to see the reef, but other attractions are just as impressive.
The main attraction here is the Great Barrier Reef. However, there is a lot more to see and do. And many will tell you that no trip to Australia is complete without experiencing the Great Barrier Reef.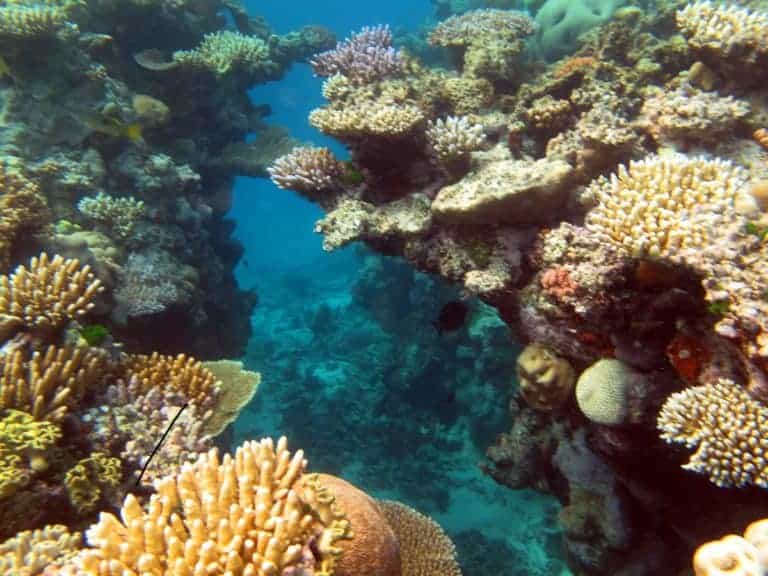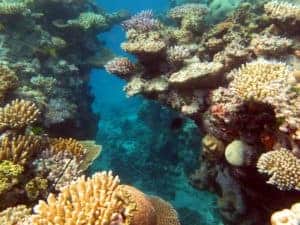 Things to Do In Cairns
Great Barrier Reef
Cairns Botanical Gardens
Kuranda Scenic Railway
Palm Cove
Crystal Cascades
Daintree Rainforest
Tjapukai Aboriginal Cultural Park
Dolphin and whale-watching
Visit the Tablelands
Green Island
Rusty's Market
Visit the rainforest in style with the Skyrail Rainforest Cableway
See lava up close and personal
To learn more about visiting Cairns Australia, read this: Cairns, Queensland – Australia
Australia Fact File
What Is Australia Known For?
Some of the most famous things that almost all people associate Australia with area:
Sydney Opera House.
Bondi Beach.
The Great Barrier Reef.
Sydney Harbour Bridge.
Uluru-Kata Tjuta National Park.
The Aboriginal Culture.
Australia Dollar
The Australian dollar is a typically higher value than the US dollar. It tends to fluctuate around 0.6o to 0.80 USD.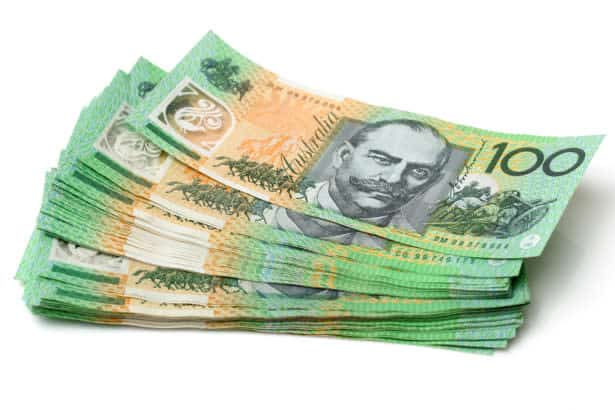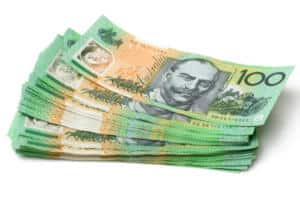 Australia Time
Australia is divided into three separate time zones: Australian Eastern Standard Time (AEST), Australian Central Standard Time (ACST), and. Australian Western Standard Time (AWST).
Eastern Standard Time is 15 hours behind Australian Eastern Standard Time.
Australian Weather
There are four seasons in most of Australia's eight states and territories and a wet and dry season in the tropical north.
Unlike the northern hemisphere, Australia's seasons are opposite. June to August is winter; September to November is spring, and December to February is summer.
Australia Flag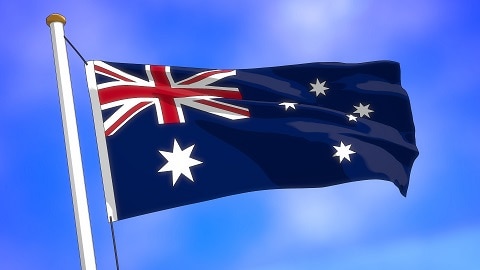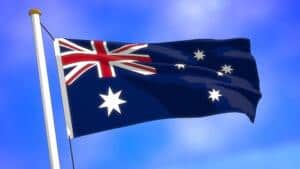 Australia Map
Closing Thoughts
Our final stop was Auckland, New Zealand, and we flew from Cairns to Auckland. Given the travel time to Australia and the time difference, it made more sense to combine the two. Add to this. You'll save a lot of money on fights if you combine the two.
Two weeks' travel in Australia is enough time to see the significant highlights everyone considers "must see's" – you just need to plan carefully. Australia travel in Australia is not only bucket list-worthy, but it's also fabulous! Everything from the food to the experiences was terrific, and I plan to return!
Lastly, while it is not a cheap destination, it can be done with careful planning and credit card points!
Looking for more posts in Australia? Start here:
We are a participant in the Amazon Services LLC Associates Program, an affiliate advertising program designed to provide a means for us to earn fees by linking to Amazon.com and affiliated sites.
Brit On The Move™ Travel Resources
Ready to book your next trip? Use these resources that work:
Need more help planning your trip? Check out our Resources Page, highlighting the great companies we trust when traveling.