While there are many reasons to visit Giraffe Ranch Florida, the show's stars are the giraffe! If you have a longing to feed these gentle giants, or if you want to smell their grassy breath up close and personal, look no further! At Giraffe Ranch Florida, you can feed the giraffes and meet them face to face. Face to face. They get so close to you that you might experience the dribbling or snorting of grassy saliva from one of them! Just think, you don't have to travel to Africa or spend thousands of dollars at Giraffe Manor for the same experience. You can do it right here in Florida!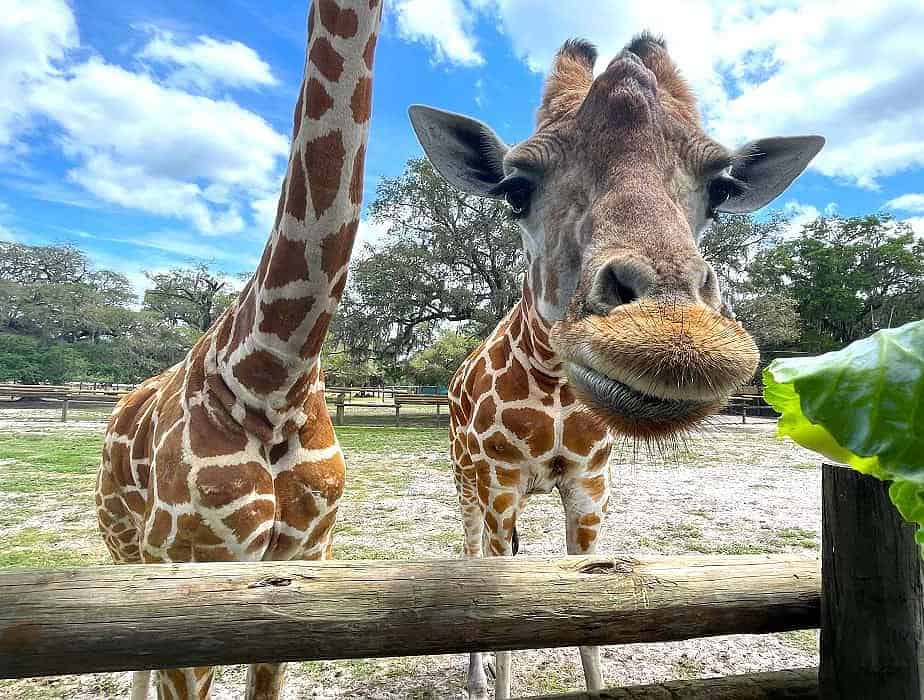 This post may contain affiliate links. Please read our disclosure and privacy policy for more information.
About Giraffe Ranch
This is an animal lovers' haven home to exotic animals and a working ranch. It's the first of two safari wildlife experiences Lex Salisbury has created. Giraffe Ranch is designed to give you both a safari experience and up-close personal encounters with exotic animals.
About Lex
Lex Salisbury has over 35 years of experience with exotic animals. Having worked in zoos worldwide and the former President and CEO of Tampa's Lowry Park Zoo. Lex has traveled the world and taken many trips to Africa. He's no stranger to safaris or exotic animals.
Lex and his wife Elena have created two magical safari parks in the heart of Florida. Giraffe Ranch was the first that they launched over twenty years ago. Then in 2011, they started Safari Wilderness. And you can stay onsite in a glamping tent at Safari Wilderness!
The Location
Located 45 minutes north of Tampa and 90 minutes east of Orlando in Dade City, you'll find Giraffe Ranch. Believe it or not, it's in an actual neighborhood. Now, for context and visualization, it's rural. But plenty of homes (or ranches) are on the way in. It is located in beautiful east Pasco County on 47 acres of rolling countryside adjoining Florida's second-largest wilderness area, the Green Swamp.
Address: 38650 Mickler Road, Dade City, FL 33523
The Animals of Giraffe Ranch Florida
Despite the name, Giraffe Ranch is home to more than just giraffes. While on safari here, you'll encounter hundreds of animals representing 70+ species. Examples are the giraffes, zebra, bongo antelope, otters, lemurs, hippos, pigmy hippos, emus, cheetahs, warthogs, monkeys, and more!
Safari Types
There are five unique safaris available at Giraffe Ranch, Florida. Experienced driver-guides lead all safaris. All safaris are close-up, hands-on interactive experiences. All safari types include giraffe feeding, except for the drive-thru safari.
Drive-thru Safari
This is a new offering for both Giraffe Ranch and Safari Wilderness. Now, you can stay in your vehicle and follow a guide in a lead vehicle that will provide real-time commentary through an FM transmitter that you can hear on your FM car radio.
Customized Vehicle Safari
This safari takes place on a custom converted 4x bus. You will be safe and comfortable and get a terrific view as each vehicle has shade canopies and stadium seating.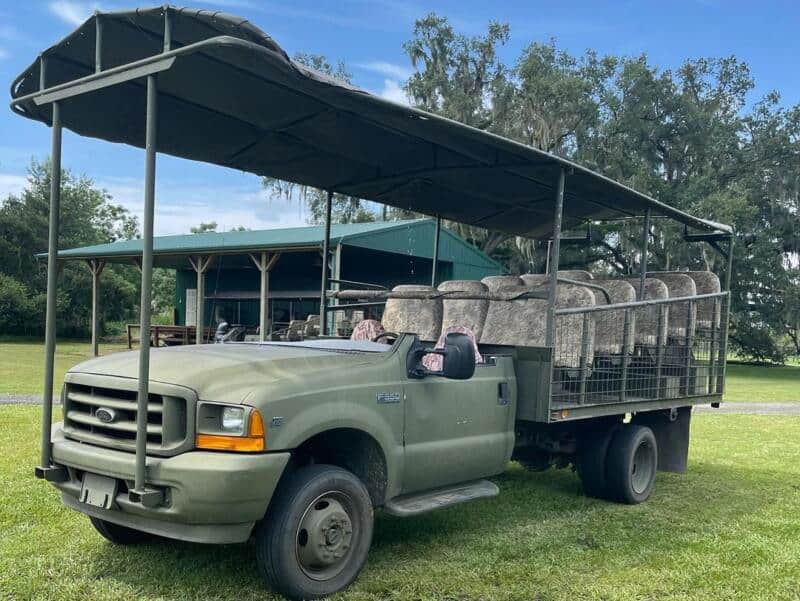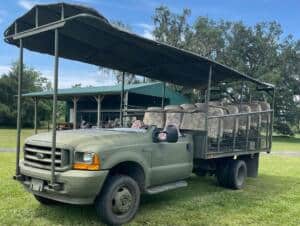 Camel Safari
Opt for the camel safari if you want to try something wild. Giraffe Ranch and Safari Wilderness developed the only full-on camel-backed game-viewing safari outside Africa.
Llama Walk Safari
Maybe you want your tour guide to be the fluffy type? If so, tour the ranch by foot with a human and llama guide. *Currently, this tour is not available due to COVID.
Segway X2s Safari
This was how I chose to go on safari. I've ridden Segways before, and they are fun. Given that Segways are no longer manufactured, this is a reason to choose this safari. Plus, these safaris are smaller groups.
Almost all visitors come back and experience a different type of safari! Each safari is unique and dynamic, with no two being the same.
My Experience at Giraffe Ranch, Florida
As mentioned above, I chose to do the Segway Safari. I can't say enough good things about it. It was fantastic! I was fortunate, too, to go out with Lex's wife Elena, and one other couple, so it was intimate. There's nothing like getting out on the vista where the animals run past you wild. It's exhilarating.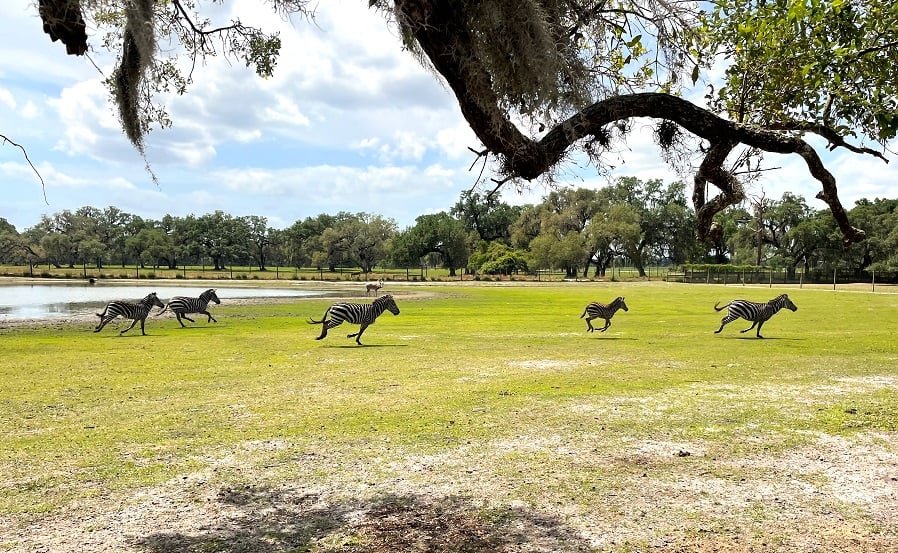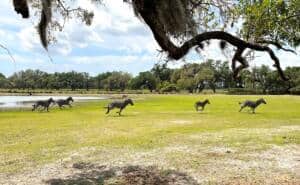 The Giraffe's
Once you've completed the safari through the ranch, you'll leave the Segways behind and hop on the custom safari vehicle to feed the giraffes.
Before I got up close and personal with the giraffes, I imagined kissing them on the nose. A ridiculous thought indeed. As beautiful and sweet as they are, they smell funky and ooze globs of slob. One of the giraffes has no table manners, hence the green mess!
Regardless, it's a once-in-a-lifetime experience to interact with them so closely—something I'll treasure forever.
Interest Facts About Giraffes
Giraffes are the tallest land animals in the world. They can grow up to 18 feet (5.5 meters) tall, with their legs alone taller than many humans.
They have very long necks but have the same number of neck vertebrae as humans – seven. Each vertebrae can be over 10 inches (25 centimeters) long!
Giraffes have long, black tongues up to 18 inches (45 centimeters) long. This helps them reach leaves and twigs that are high up in trees.
They are social animals and often live in groups called towers. These groups can have up to 15 giraffes, with both males and females.
Giraffes have perfect eyesight and can see up to a distance of two miles (3.2 kilometers). Their eyes are also huge, which helps them see predators from far away.
They have a unique walking style called "pacing," where they simultaneously move both legs on one side of their body. This helps them keep their balance and conserve energy while walking.
Giraffes are herbivores and primarily eat leaves, flowers, and fruits. They can consume up to 75 pounds (34 kilograms) of food a day.
Their spots are like fingerprints – no two giraffes have the same pattern of dots.
Giraffes have mighty kicks and can defend themselves against predators like lions.
Despite their large size, giraffes are very graceful and can run up to speeds of 35 miles per hour (56 kilometers per hour).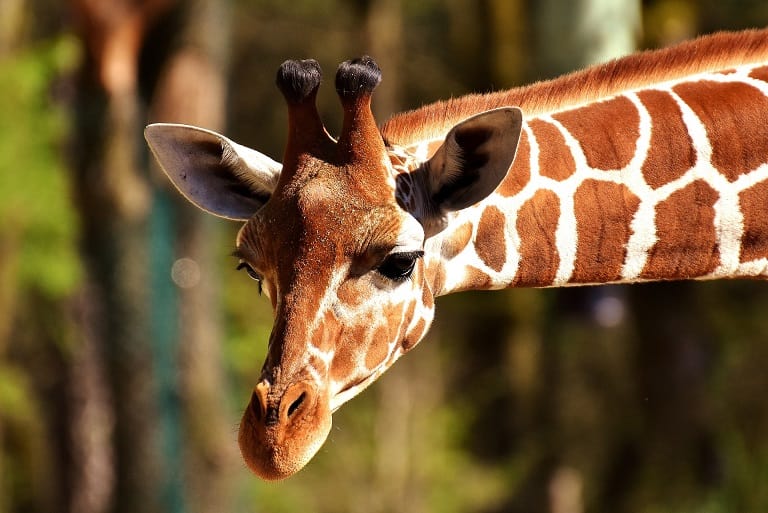 Ostrich Eggs
Ostriches can lay eggs until 40 years of age and lay the largest of all bird eggs, weighing 3-5 pounds each. One ostrich egg can take a weight of about 485 pounds vertically and 264 pounds horizontally. This means you can stand on ostrich eggs, and they will not break. The eggshell is 2mm thick, and the ostrich egg is the most robust shell of any egg.
One of the highlights for me was standing on the ostrich egg! And, before anyone gets upset, these are not fertile eggs; they are eggs that never hatched. Or, in layman's terms, dead eggs.
Here I pose on one foot!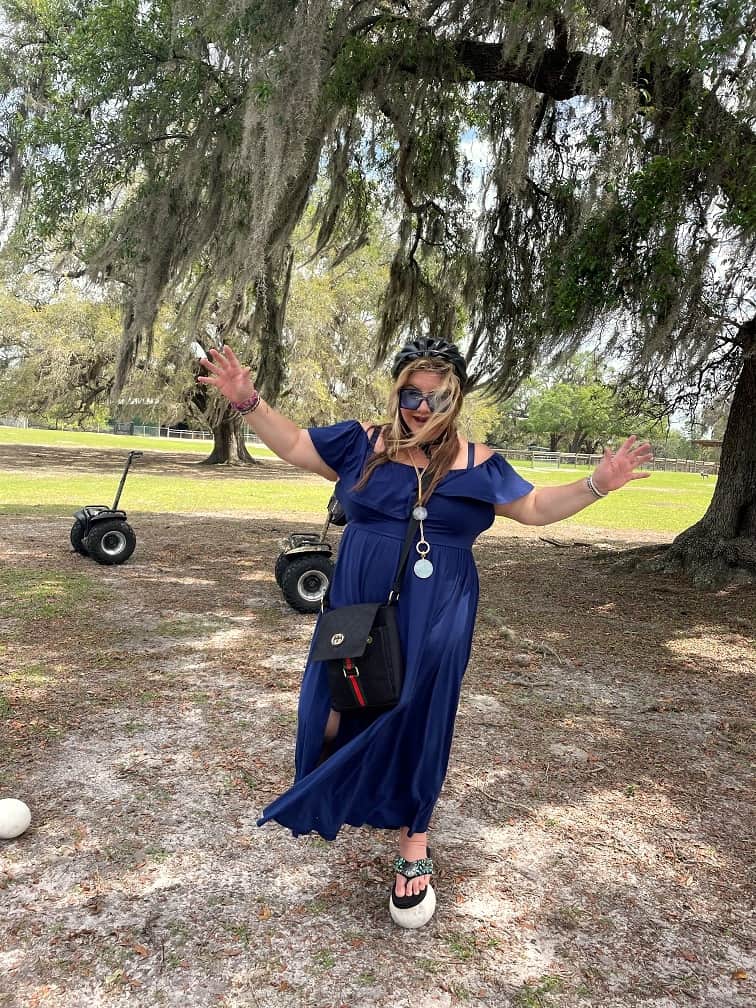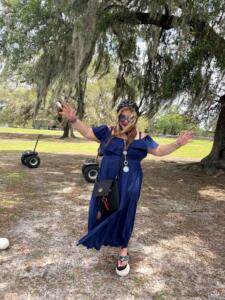 I'll add that when I arrived, Lex said I was the most "fashionable" person to visit the park. A compliment I'll gladly accept😊 And, in proper Nikki form. Despite being way overdressed, which is a norm. I also busted my butt and flew off the Segway. Those who know me well know that I have little balance.
Technically, it wasn't my fault (joke…). While driving, Elena pointed something out to us, and I looked away vs. forward. I crashed into the other lady on tour and wound up on the floor. Hey, ho, it's not my first drop tuck and roll, and it won't be my last.
This is not a typical guest experience. Segways are very safe to navigate and drive. I happen to be "that" one person.
The Lemurs
These guys are not the main attraction, but they are, hands down, my favorite. Feeding the lemurs is an optional add-on. Do not skip this! There is nothing more enjoyable than feeding these little cuties. These guys were all over me, and not just for food. They looked at themselves on my cell phone, which was funny. One cheeky chap was so fascinated with my phone that he attempted to snag it. Fortunately, they have tiny soft little hands, so I could avert losing my cell phone to a lemur.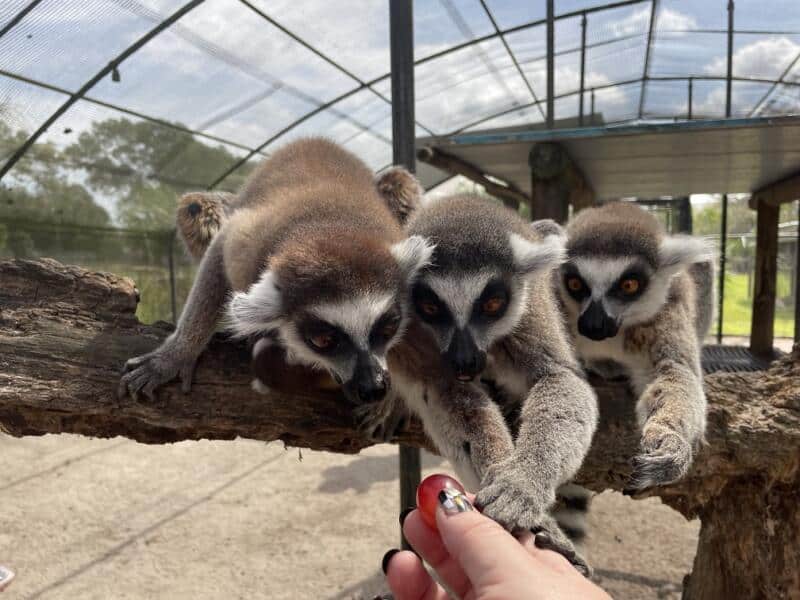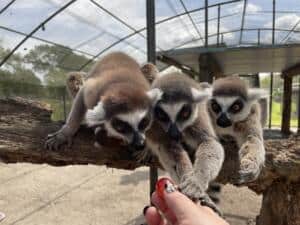 Add On Experiences
Otter Feeding – these little guys love being fed and coming out to greet you.
Lemur Feeding – seriously, do not skip this!
Mini-Camel Safari – is an excellent option to experience a brief camel ride vs. a couple of hours.
Rhino Encounter – Feed the rhinos and interact with them.
Premium Giraffe Encounter – Spend more time with the giraffes and get to know them!
Important Information About Giraffe Ranch Florida
Giraffe Ranch Florida is private property, and all tours require a reservation – no exceptions. Do not show up without one; do not make your way onto the property unless you have a reservation.
All reservations are final and non-refundable.
This is a family-run business that operates based on supply and demand. They don't have the luxury of accommodating the millions of things that change plans. This said they will work with you to try to re-schedule you if it's possible.
Tour times are subject to availability.
Reservations can be made online and are held with a credit card.
You must arrive ten minutes in advance of your tour. The gate is locked until tour time.
No parking outside of the facility.
Tours go out, rain or shine. If a trip is available and you book it, you're going out no matter what. Well, except for a hurricane!
No outside food or drink is permitted.
It would be best if you used the restroom before starting a safari.
If you choose the drive-through, it's a maximum of seven people per vehicle. And commercial vehicles are not allowed.
No animals in cars. Cars will be turned away if they contain an animal.
Drive-thru safaris occur hourly from 9–4 pm, and you need a confirmed reservation before arrival.
All other tour times are 11 am and 2 pm daily.
Prices do not include sales tax.
The staff loves and cares for these animals; how they treat them is apparent. No animals were cohered into interacting with visitors. Likewise, the animals are not relying on a tour for food.
Frequently Asked Questions About Giraffe Ranch Florida
Who owns Giraffe Ranch Florida?
Lex and Elena Salisbury own Giraffe Ranch.
How much does Giraffe Ranch Florida cost?
It depends on the safari you choose.
Drive-thru Safaris – $150 per vehicle *Note that this option does not include feeding the giraffes.
Customized Vehicle Safari – $119 per person
Camel Safari – $239 per person
Llama Walk Safari – Currently not available.
Segway Safari – $239 per person
There is no special pricing for children, infants, seniors, or group rates.
Can I visit and pay to feed the animals?
No. The optional add-ons are only available after purchasing one of our safaris.
Which tour time is best to view the animals?
There is no "bad time." All the ranch's animals were specifically chosen because they do well in central Florida's climate.
Where do the animals come from?
Most of the animals are born onsite. However, Giraffe Ranch buys, sells, and trades with other licensed facilities.
What should I wear?
It depends on who you ask! I wore a dress and flip-flops. This said, Giraffe Ranch recommends close-toed shoes.
Can I bring my pet?
No, no animals are permitted on site unless pre-authorized.
Will you see every animal during the tour?
Most likely, you will, but it can't be guaranteed. Wildlife is wildlife, and they sometimes hide away from sight.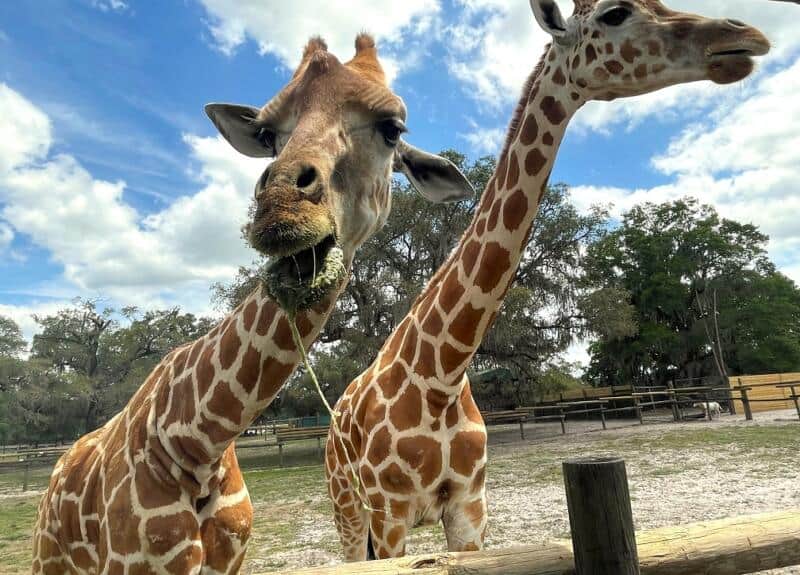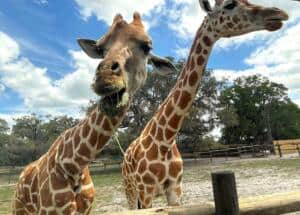 Closing Thoughts
This is not a zoo or theme park. It is a hands-on real, working game farm. A trip to Giraffe Ranch is part eco-adventure and part educational. It's one of the few places in America where you can experience an authentic safari and get close to exotic species without visiting a zoo.
The animals run freely. They are well taken care of, are loved, and are healthy. And the animals are not "trained" to come to you. For example, only two of the giraffes ventured over for a snack. The other did not. And that's how it should be.
Take your family to a place where they can learn about animals, interact with them, and have an absolute blast.
Safari Wilderness is a Florida Agri-tourism project accredited by the Zoological Association of America (ZAA) and licensed by the USDA.
Last and not least. Thank you to Lex and Elena for having me!
Looking for more posts on Florida? Start here:
We participate in the Amazon Services LLC Associates Program, an affiliate advertising program designed to provide a means for us to earn fees by linking to Amazon.com and affiliated sites.
Brit On The Move™ Travel Resources
Ready to book your next trip? Use these resources that work:
Need more help planning your trip? Check out our Resources Page, highlighting the great companies we trust when traveling.