If you've been dreaming of a luxurious, exotic getaway, this is the perfect time to travel to Bali's most magnificent resorts. This is the island where I witnessed some of the most mesmerizing sunsets in my life, and I would be happy to visit over and over again.
Known for its unmatched hospitality, stunning nature, and world-class resorts, Bali is an it-spot for travelers. In this guide, you'll find some of the most opulent resorts on the island, tips for luxurious travel to Bali, and information on their current travel restrictions.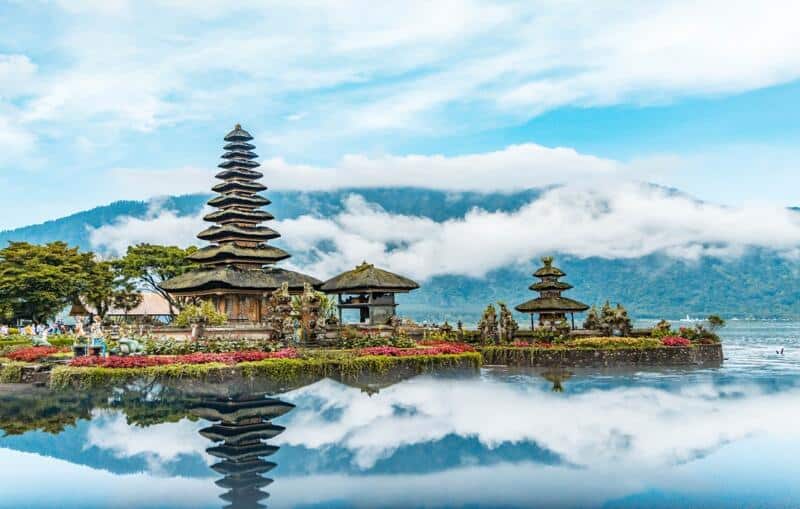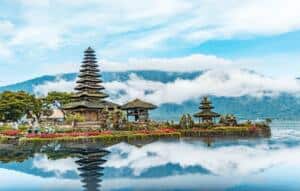 This post may contain affiliate links. Please read our disclosure and privacy policy for more information.
Bali's Most Magnificent Resorts
If you're preparing to cross another item off your bucket list, these resorts will make your stay in Bali even more magical. Although the Indonesian island has many attractions to offer, and you won't be stuck in your room the entire stay, the hotel you choose can either make or break the deal.
But, what is the best time to travel to Bali? April, May, June, July, August, and September are the dry months in Bali; therefore, it's the ideal weather for a luxurious beach vacation and different activities. In other words, if you start planning your trip now, you can get to this paradise island in August or September and have the most unforgettable vacation.
Before you decide on the dates, how to fly, and what to visit, you have to take a look at these mesmerizing resorts and what they have to offer.
Picking the most luxurious spots on the island is not an easy task since Bali has a lot of splendor to offer. When I first started putting together this list, I immediately knew which resort I had to include.
Often voted as one of the best resorts in the world, the Four Seasons in Sayan is literally heaven on earth! Aside from being high-end, the resort's service is impeccable, and it offers the full experience. There are 60 luxury villas and suites to choose from, and it's only a short car ride away from Ubud.
One of the best things about the Four Seasons resort is that it has a wide variety of unique activities its guests can pick from. Imagine exploring the traditional Balinese food and learning how to cook from skilled locals. If you're not much into cooking, you can also get together with local farmers and learn how to plant rice or visit the most jaw-dropping local villages.
Another distinctive experience is entering the Sacred River Spa, that's a part of the resort. Aside from the regular pampering sessions like a massage or a facial, you can also schedule a session with a local spiritual healer.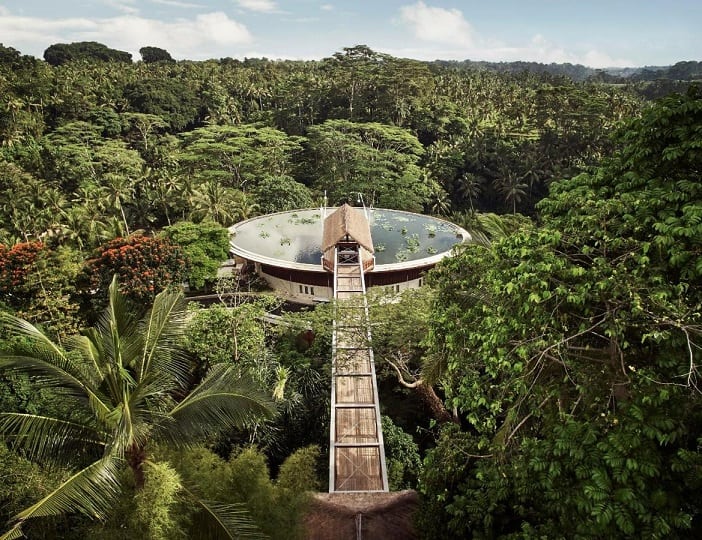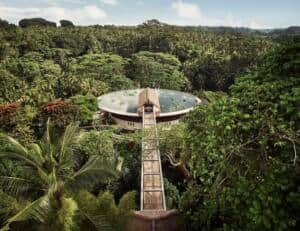 When thinking about luxury, Alila should be among your top contenders. Aside from being one of the most popular Bali resorts, it's also a costly splurge worth every dollar. People rave about the Alila Resort due to the spot's uninterrupted view of the ocean. The first thing that came to mind when I saw this resort was how stunning and spacious the rooms are.
I had to include Alila in this list because of one particular reason. The resort pays much attention to sustainability and employs numerous eco-friendly practices. It's an environmentally conscious location that supports the locals and has a garden where they harvest most of the ingredients you'll see on your table.
Each time you want to take five and just stare at the ocean, you can head to the amazing beachside restaurant and bar. The resort is located in a buzzy neighborhood, so you can go shopping, swimming, clubbing, and all the other must-do things in Bali on your list.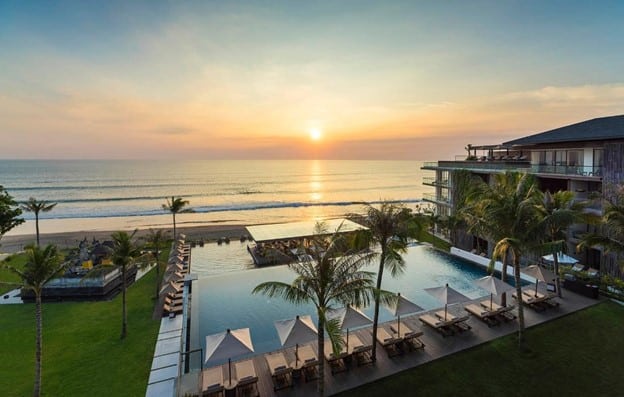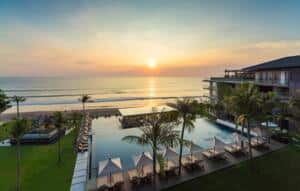 I simply can't talk about luxurious places in Bali without mentioning the astonishing Bvlgari Resort. Located on a 150m high cliff, the resort provides one of the most incredible views you'll ever see.
The resort has 59 villas you can choose from and three different dining locations. Some of the villas have a private pool with breathtaking perspectives and private meditation gardens. In addition, you can enjoy the Bvlgari private beach and sip on your favorite cocktails.
The luxurious interiors are made of Indonesian wood, jaw-dropping glass walls, and unique Balinese fabrics. In other words, you'll fully emerge in the Balinese tradition and feel like you're one of the locals.
Some unique experiences to try here include going to local shops with a personal shopper, booking a helicopter flight over a volcano, short trips to other islands, and more. The best news is that you'll have a leisure concierge assigned to you when you arrive, so you can work with them to organize all your activities.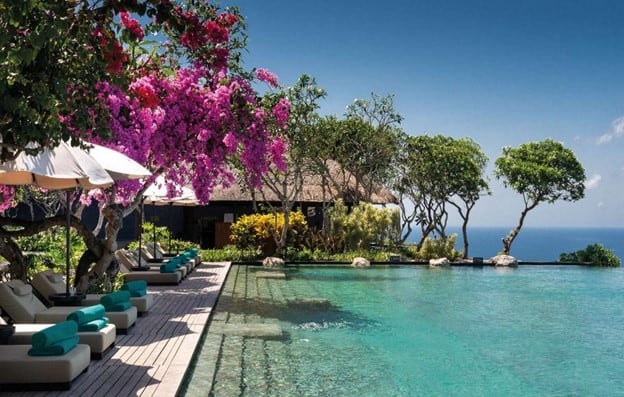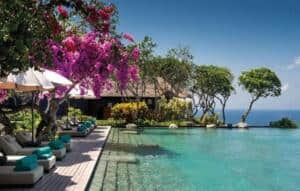 Located on top of a hill, the magnificent five-star resort comes with a private beach and all the luxury you can think of. Guests can reach the beach via cable car, and it's listed as one of the best beaches on the island.
The resort is popular for its Karma Beach Club, the guests can access via a private inclinator. When you're not sipping on a cocktail on the beach, you can head to the award-winning cliff-hanging spa and enjoy a massage while looking at the Indian Ocean.
Each villa comes with a concierge that will help during your stay. If you are a foodie, the first thing you need to do is go to the Mediterranean-inspired restaurant Di Mare and the Temple Bar.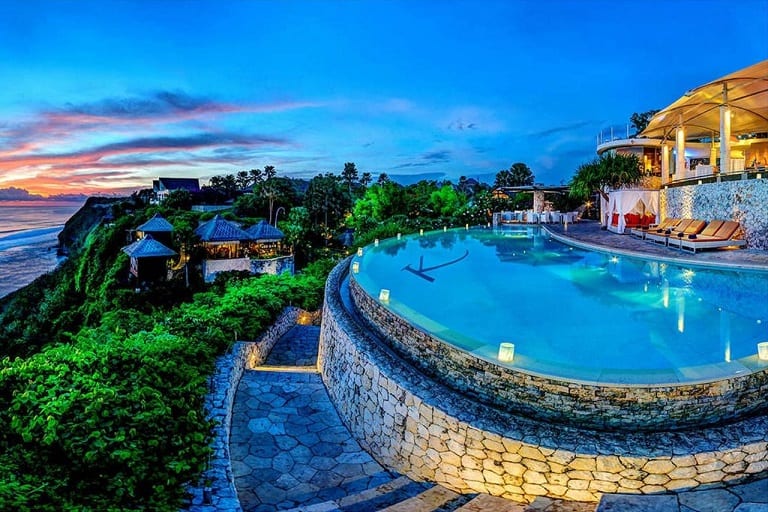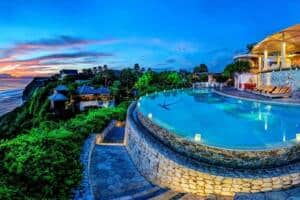 Dubbed as one of the most opulent spots on the island, the St. Regis Resort offers a unique beachfront experience. A butler at your service 24/7 will make your stay even more enjoyable and smooth.
The resort has over 120 suites and villas to choose from, with private swimming pools. In other words, there's no need to share your privacy with anyone, and you can have the peaceful vacation you've dreamed of.
In addition, this posh spot has a spa, fitness center, bars, and some of the best dining areas in the region. St. Regis is a luxurious chain of resorts and hotels worldwide, so if you're also looking to travel to Maldives, Bora Bora, or Mauritius, you should keep it in mind.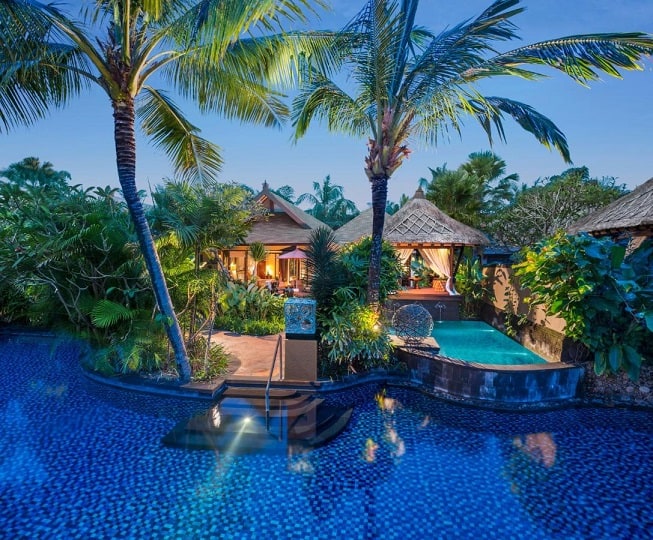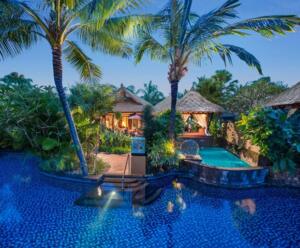 The Amandari Resort in Ubud overlooks the Ayung River and features the most serene and jaw-dropping surroundings. The resort was inspired by the looks of a traditional Balinese village, so if you want to experience tradition, this is the best place to go.
Aside from the stunning views, you'll also enjoy a panoramic pool, outdoor dining areas, gym, spa, etc. You can book one of the resort's many adventures, such as visiting tourist attractions, local villages, trekking, and more.
Located in Ubud, the resort is a huge facility equipped with a tennis court, meaning you'll never be bored. The infinity pool is one of its major attractions, and once you finish taking a dip, you can head to one of the several dining locations.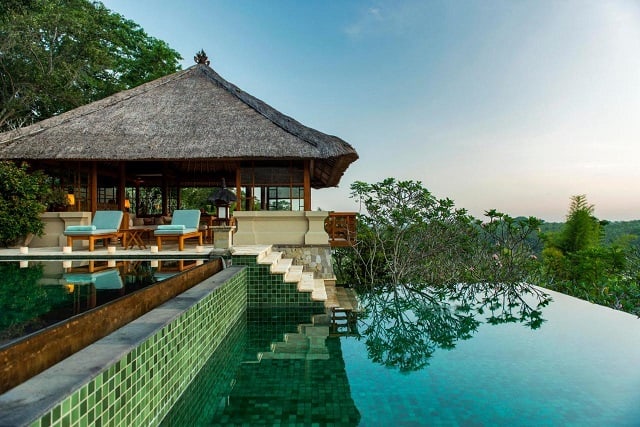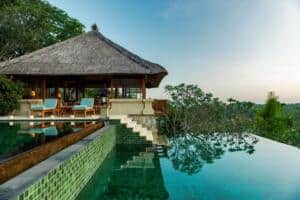 This gorgeous tropical hideaway is perfect for everyone who wants a few days away from all the buzz. The resort is so luxurious that you can arrive with a helicopter on its helipad and enjoy the stunning Valley of the Kings right in front of you.
Viceroy has 40 opulent villas and is located only a five-minute drive from Ubud. In other words, you can have a peaceful day, then head to Ubud and experience the buzzier side of Bali.
The rooms are decorated in a traditional Balinese style with private pools. When you step out of the room, you'll either see an infinity or a plunge pool, a spacious garden and a view of the valley. Each room is highly equipped with everything you can think of, including coffee machines, air purifiers, TVs, etc.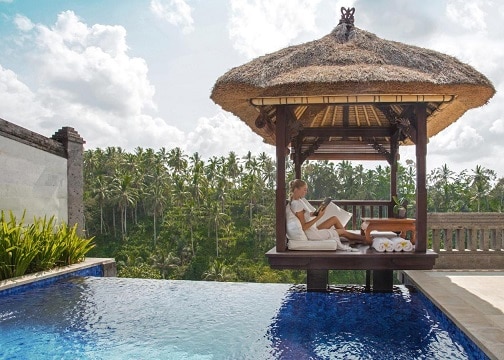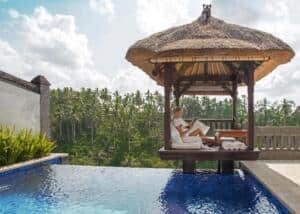 Extra Tips For A More Luxurious Travel To Bali
As you can see, these resorts are the epitome of opulence. Since many people want to avoid the inconvenience of canceled flights, arriving for hours beforehand, and waiting in line, they decide to fly private and emerge into a luxurious experience right from the start.
Getting a private jet is a reliable way to reach the Ngurah Rai Denpasar International Airport, the only airport in Bali. You can hire an entire jet, book a single or several seats, choose the onboard amenities and enjoy the benefits of flying private. Most private jet companies have calculators on their sites so you can check the private jet charter cost and get a quote for your trip.
Another excellent way to make your trip more exclusive is by booking a yacht tour and exploring the Balinese coastline. You'll be amazed by the jaw-dropping nature and enjoy a five-star service on the yacht.
When you want to take the opulence to a new level and have the best time on the island, you should book a private helicopter tour to see the entire landscape. Don't forget to enjoy the luxury spa treatments in your hotel, and book a seat at the many unique restaurants on the island.
Bali Travel Restrictions
In 2021 Bali only welcomed 51 international tourists due to the pandemic. The Denpasar airport was closed for almost a year, but now most restrictions are gone, and the island is ready to greet all travelers. Since the Bali travel restrictions are generally lifted, you can already start planning your trip. All visitors must show proof of vaccination with two doses, except for travelers with a medical statement letter saying they can't be vaccinated.
International travelers can visit Bali; however, many might need a visa. Before even booking a hotel or a flight, you should check the requirements for your country and see whether you should acquire a visa and how to get one. The good news is that this Indonesian island doesn't require a PCR test for entry. As you can see, there aren't any significant restrictions, so you can start planning your trip. As I already mentioned, May through September is the best time to travel to Bali, so all you need is to choose a date.
Closing Thoughts
Travel to Bali is something almost all those who travel dream of. These seven resorts are the cream of the cream because of all the benefits and activities you can enjoy while staying there. If you're ready to dig deep in your pockets and splurge on a unique experience, I wouldn't even think twice before booking my next stay.
When you fully want to emerge in the opulent world, there are a few other ways to upgrade your trip. Many enjoy organizing private parties in villas, booking private boats with a full service on board, attending the luxurious beach clubs around the island, and booking high-end wellness retreats.
Bali is one of the most unique and diverse vacation destinations, so while you're there, ensure to make the best of your stay. Aside from tourist attractions like taking pictures on the Bali swings and nests or pictures with the monkeys, you should also get to know the Balinese culture.
Looking for more posts on Bali? Start here:
We are a participant in the Amazon Services LLC Associates Program, an affiliate advertising program designed to provide a means for us to earn fees by linking to Amazon.com and affiliated sites.
Brit On The Move™ Travel Resources
Ready to book your next trip? Use these resources that work:
Need more help planning your trip? Check out our Resources Page, highlighting the great companies we trust when traveling.