The 10 Best Airboat Rides Near Orlando
Almost everyone who visits Florida asks what Orlando offers other than the theme parks. People are in search of cultural or Floridian things to do. There are hundreds of options, from springs to historical forts and back! But my all-time favorite crowd-pleaser is an airboat ride! And contrary to popular belief, you do not need to go to the Everglades to enjoy this Floridan experience. I would even go as far as to say the airboat rides here in Central Florida are better than those in the Everglades, and I am speaking from experience. We take an airboat ride at least once a year, and it's a must when people visit! Step out of the tourist crowds and enjoy what Central Florida offers by taking an exciting and educational airboat ride and enjoying one of the five best airboat rides near Orlando.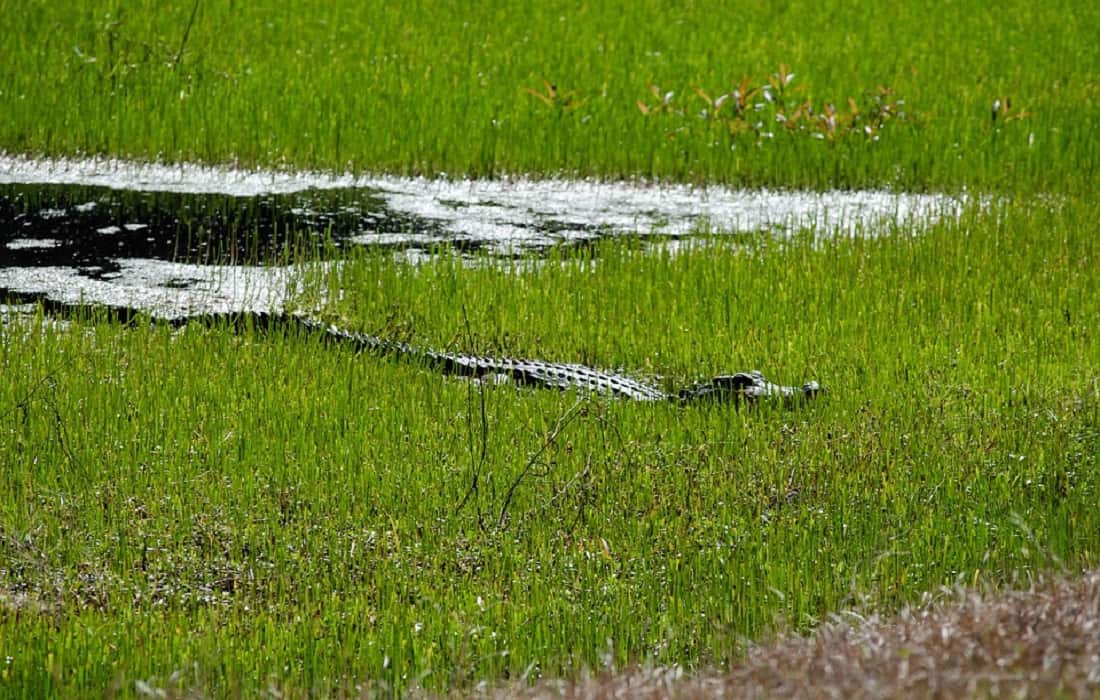 This post may contain affiliate links. Please read our disclosure and privacy policy for more information.
Before we dive in, let's learn a little about these prehistoric creatures that capture the imagination of locals and visitors alike!
Interesting facts about American alligators:
American alligators are native to the southeastern United States, primarily in Florida and Louisiana.
They are the largest reptile in North America and can grow up to 14 feet long and weigh up to 1,000 pounds.
Alligators are cold-blooded, which means that their body temperature depends on the environment around them.
They have a powerful bite force of up to 2,000 pounds per square inch, which is strong enough to crush a turtle's shell or the bones of a prey animal.
Alligators are apex predators, meaning that they are at the top of their food chain and eat a variety of prey, including fish, turtles, birds, and mammals.
They have a unique vocalization called a "bellow," which can be heard up to half a mile away and is used to attract mates and establish territory.
Female alligators lay an average of 35-50 eggs in a nest made of vegetation and mud, and they guard the nest until the eggs hatch.
Alligators have a remarkable ability to survive in cold temperatures and can even withstand freezing water by sticking their snouts out of the ice to breathe.
They play an important role in their ecosystems by creating habitats for other animals and controlling the populations of prey species.
American alligators were once endangered due to hunting and habitat loss, but conservation efforts have helped to stabilize their populations.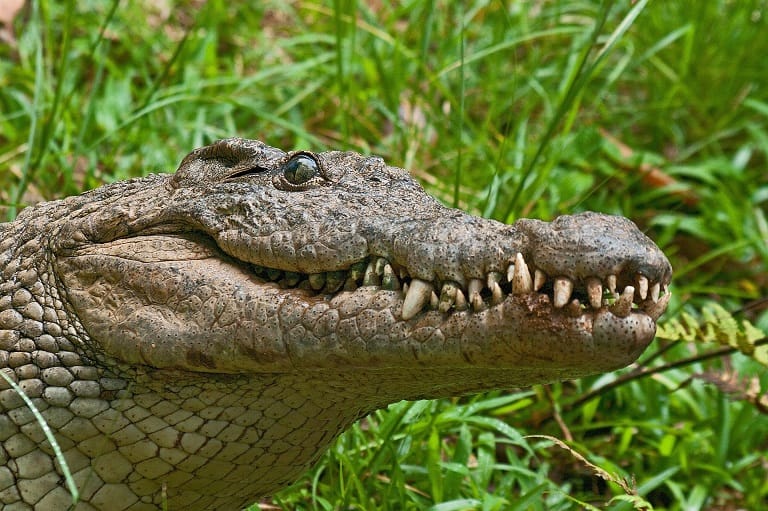 Best Airboat Rides Near Orlando
1. Airboat Rides at Midway
About thirty minutes away from Orlando. We've been going to Airboat Rides at Midway for years. This place is number one for us, the actual ride and the guides. It's a very rustic non-commercialized tour that takes you deep into the St John's River's backwoods. We have never been on this tour and not seen alligators; we have often come close to some big boys! The guides grew up on the water and are knowledgeable! We were lucky enough to have the guide show us snakes on one trip! And, on every trip here, we have seen numerous bald eagles. At Airboat Rides at Midway, you can sip on a beer while waiting for your ride. Check out their enormous snake collection, handle a small gator, or hang out with Porkchop the Pig.
The only drawback is there is no restaurant on site. We typically go here, have a couple of beers, ride the airboat, and then head out to Cocoa Beach for a bite to eat. You can easily combine all the fun on this trip into a full day by mixing the airboat ride with the beach.
They are slightly more expensive than some, but I think they are well worth it.
Address: 28501 E Colonial Dr, Christmas, FL 32709
2. Switchgrass Outfitters & Airboat Tours
En route to Cocoa before you hit Jungle Adventures, A Real Florida Animal Park approximately twenty minutes from Orlando. If you pass the gigantic green alligator entrance, you have passed Switchgrass Outfitters & Airboat Tours. This company stands out for a few reasons:
They only run small six-passenger airboats, almost guaranteeing a private tour.
The smaller the airboat, the easier it is to navigate otherwise unreachable backwoods areas, where you will get up close and personal with gators.
If hunting is your thing, you can hunt the gator here!
Their ninety-minute tour is one of the most affordable ones on this list.
The drawback is the lack of facilities – no restaurant or anything else on site, although they are more than happy to take you to a local joint via airboat!
The guides here are locals; they know the area inside and out. They are incredibly knowledgeable about wildlife!
Address: 1320 Cupid Ave, Christmas, FL 32709, USA
3. Lone Cabbage Twister Airboat Rides
Another favorite is also roughly thirty minutes away from Orlando. Twister Airboat Rides operate from the Lone Cabbage. A lesser-known spot that many of us locals frequent with guests. It's west of Cocoa Village on Hwy 520. The airboat rides here are just as thrilling as others, but the body of water, the Indian River, is much denser. So once you are on the water, it does not feel quite as remote as Midway. You can dine here and watch the alligators from the deck. Yes, often, they are right there waiting. If you are feeling adventurous, try eating some fried gator here.
The Lone Cabbage features live entertainment every Sunday from 1 pm until 5 pm, be sure and check out the entertainment schedule!
Twister Airboat rides can be more affordable if you only opt for a 30-minute ride.
Address: 8199 State Road 520 Cocoa, FL 32926
4. Central Florida Airboat Rides and Tours
Central Florida Airboat Rides and Tours is a great option to take in some nature if you are heading to Cocoa. Tours are currently operating from the Lake Florence Boat Ramp in Cocoa, Florida, just off Interstate 95, exit 201, at the end of Tucker Lane. Like Switchgrass, Central Florida Airboat Rides and Tours uses smaller boats that only accommodate six.
Reasonably priced, their hour tour is very inexpensive.
Address: Lake Florence Boat Ramp, Tucker Ln, Cocoa, FL 32926
5. Black Hammock Airboat Rides
This might be less than ten minutes away, depending on where you are. Black Hammock Airboat Rides are in Oviedo on Lake Jesup at The Black Hammock. This one is interesting for a few reasons! Lake Jesup is home to over 10,000 alligators and supports one of the state's densest populations of alligators. Legend says Lake Jesup's gator population is so significant because, years ago, wildlife officers would capture nuisance gators and release them in Jesup – disputed by many as it's believed they would have thrived here no matter what.
I take the bridge over this lake on my way to work. You can see gators everywhere on a calm day with no wind. You might think your odds are better here – not necessarily so. Lake Jesup is shallow and has a thick layer of sediment mud. The alligators often retreat down below if they hear the boats. It does not mean you won't see one; you probably will. But I have experienced not seeing one here.
Once you have done the airboat ride, head to the restaurant, you can taste a sampler platter of gator-cooked four ways!
They have free live alligator and bird exhibits. And, on Saturdays, you can watch trainers feed the 12-foot resident gator Hammy on Sunday afternoons.
Black Hammock Airboat Rides are a little more expensive than some, but they offer coupons and always have specials.
Address: 2316 Black Hammock Fish Camp Road Oviedo, FL 32765
Where To Stay In Orlando
What You Need To Enjoy An Airboat Ride
6. Gray Line Orlando Tours
Technically, Gray Line Orlando Tours is a broker that offers airboat rides near Orlando in many facilities in Florida, including the Everglades. However, these will come up if you are searching on the internet.
They mainly partner with Wild Florida, which has airboats rides near Orlando. They guarantee departures to their facility.
I am not listing an address here because while they will appear in any search result, they are not an actual provider, and you can contact the airboat companies directly. See below for Wild Florida.
7. Backwoods Airboat Adventures
Again, a broker or agent. They will refer you to one of the operators listed here.
8. Marsh Landing Adventures, Orlando Airboat Tours
Technically not located in Orlando, but rather in Kissimmee. Marsh Landing Adventures is a good choice for those staying in the Disney area or visiting the Parks.
Tours they offer:
1 Hour
90 Minute
2 Hour
4-Hour Wilderness Excursion (4-Person Minimum)
Private Tour
This operator uses smaller airboats for 6 to 10-passenger airboats which offer fantastic views of the wildlife from all seats without the crowded nature of the larger passenger "barge" type airboats. The smaller boats are also considered faster.
Address: 2830 Neptune Rd, Kissimmee, FL 34744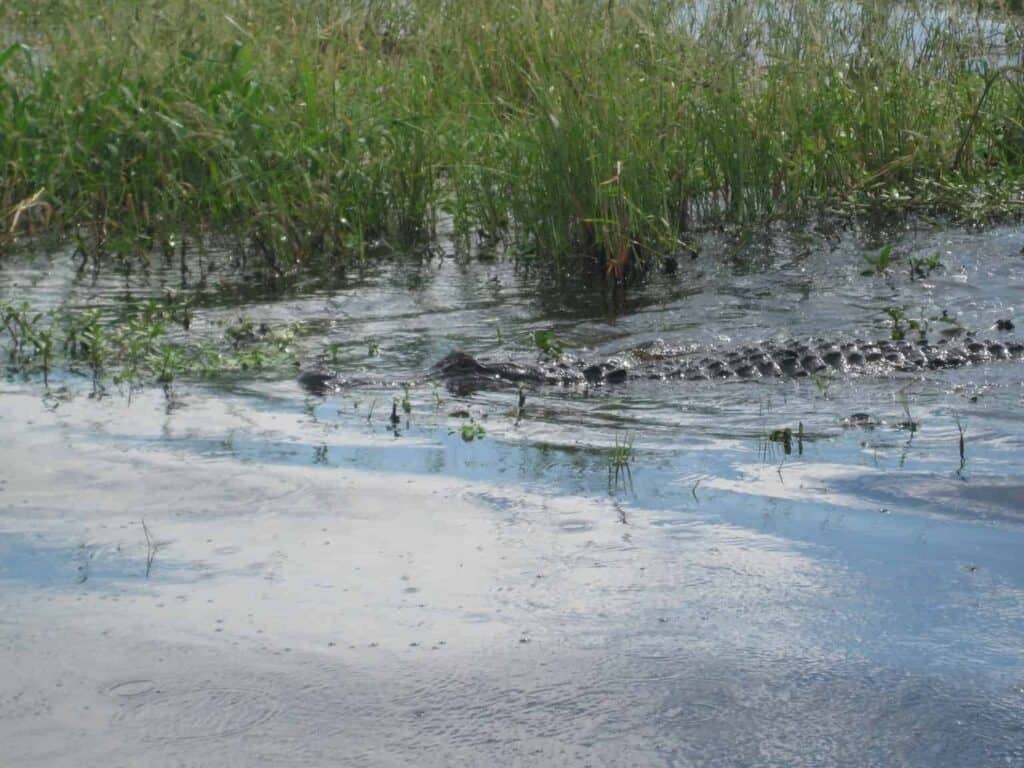 9. Boggy Creek Airboat Adventures
This place offers various tours and is consistently voted one of the best in Central Florida.
Tours they offer:
1/2 hour group tour
1-hour group tour
Private tour
Sunset tour
Nighttime tour
Another unique attraction here is the authentic Native American village replica featuring the rooms of each member of a traditional Native family and how they survived in the swamps. There's also an onsite Boggy Bottom BBQ restaurant and a gem and fossil mine.
Address: 2001 E. Southport Rd. Kissimmee, FL 34746
This is also one of the closest airboat rides near Disney World.
10. Wild Florida
Wild Florida is located in Kenansville, about an hour south of Orlando. This one is unique in that while they offer airboat rides, they also have a safari park you can drive through.
Wild Florida offers a variety of animal interactions, and they have an alligator farm!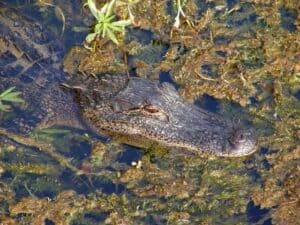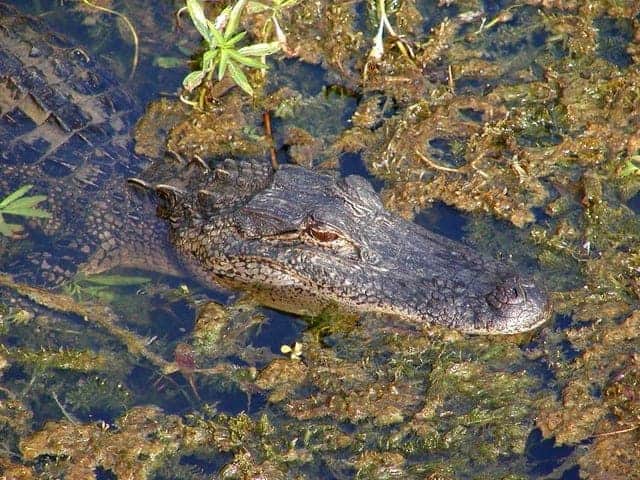 Address: 3301 Lake Cypress Rd Kenansville, FL 34739
FAQs About Airboat Rides Near Orlando
Closing Thoughts:
Forget zoos, farms, and parks! Forget the Florida Everglades airboat tours. There is no need to travel to the Everglades!
The best alligator experiences you can enjoy in or close to Orlando are listed above. I look forward to hearing about your wild Florida experiences. How many airboat rides near Orlando have you taken, and which is your favorite?
Looking for more posts on Florida? Start here:
We participate in the Amazon Services LLC Associates Program, an affiliate advertising program designed to provide a means for us to earn fees by linking to Amazon.com and affiliated sites.
Subscribe to our newsletter and get the best travel tips and inspirational stories delivered monthly. No spam, no sales pitches – TRAVEL!
Brit On The Move™ Travel Resources
Ready to book your next trip? Use these resources that work:
Need more help planning your trip? Check out our Resources Page, highlighting the great companies we trust when traveling.