Bayport Florida: Why Should You Visit?
Bayport, Florida, is a tiny little coastal town in western Hernando County. It is parallel to the Gulf of Mexico and at the estuary of the Weeki Wachee River. The city served as a supplier of cotton for Hernando County. It provided a port for transportation in the early 1850s until railroad service was added in 1885 to Brooksville. It rose to popularity during the civil war as the major ports along Mexico Gulf were blocked, and small rivers like Weeki Wachee seemed a good alternative.
During the civil war, it served as an important trade route, and afterward, it became a significant outlet for agricultural and lumber products for Hernando County. Since then, it has been a retreat town for anglers and nearby families. Many surrounding families own fishing camps, cabins, or weekend homes in Bayport.
Authorities did some rebuilding in 2008 and improved conditions of Bayport's Marina and Park area, which is probably the central attraction. The star attraction here is the manatees that frequent the waters under the pier!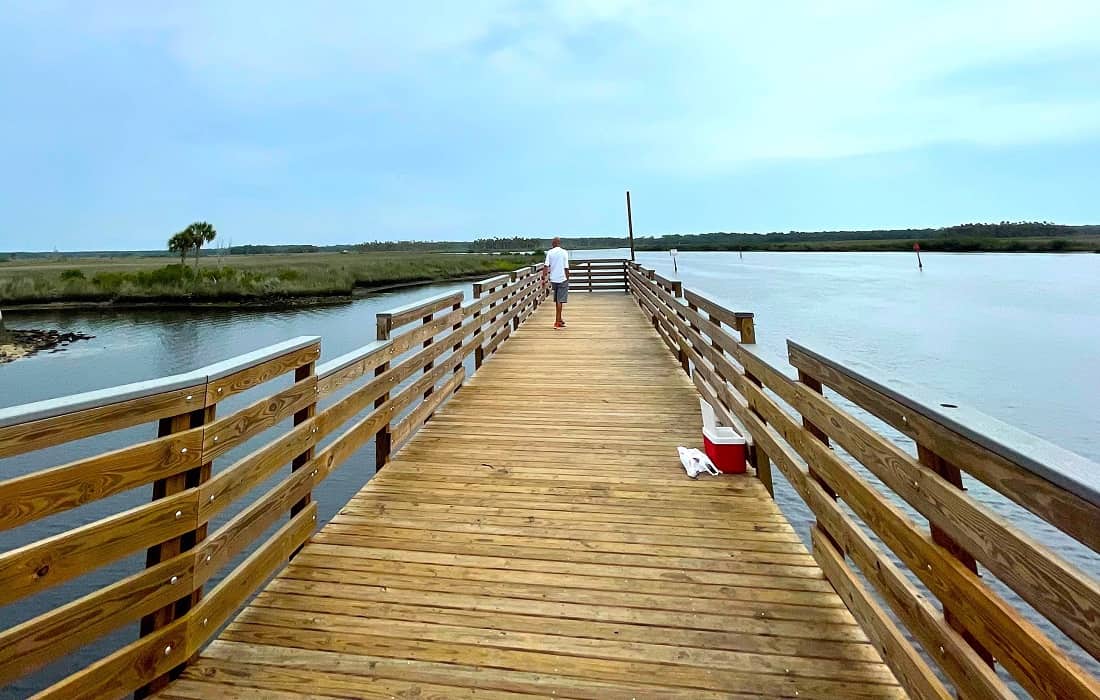 This post may contain affiliate links. Please read our disclosure and privacy policy for more information.
So Why Visit Bayport, Florida?
For me, it's my fascination with all things Floridan. And the fact that this town is north of my beloved home in Hernando Beach. I often cross the Bayport Chanel when I am on the water, and there's no shortage of boats using the Bayport channel. I figured there must be an attraction or a lure that draws the crowds in. As such, it was a must for me to check it out.
The drive into Bayport is not unusual- what you expect from a coastal town. However, you do dead-end at Bayport Park, where the pier and boat ramp live. The park is relatively small but has covered pavilions, barbecues, bathrooms, and fantastic views of the gulf and the River.
*Note, there is a fee to park on Bayport Park
What's unique about this location is that it is undeveloped like many coastal towns. Time stands still here, and you feel it as you gaze at the water views. It's quaint, quiet, undisturbed, and packed with native wildlife. The only thing that connects this town to modern-day life is the updates made to Bayport Park, including the pier.
Were these not updated, it would be easy to photograph this location as it was back in 1908.
A 1908 postcard showing the Weeki Wachee River in Bayport: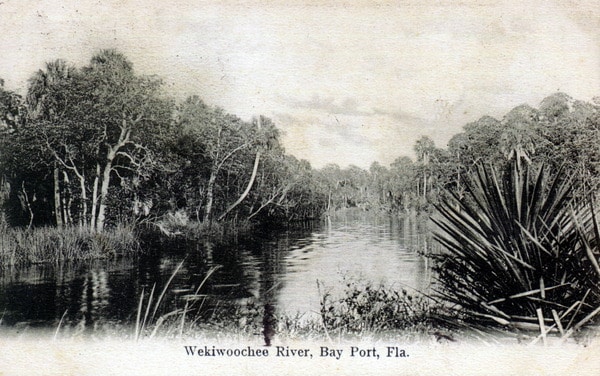 Image courtesy of FloridaMemory
Random Facts About Bayport Florida
Bayport is a total area of 0.7 square miles (1.8 km2).
According to the 2020 census, Bayport has a population of just 58.
The entire population is 100% white.
Bayport Manatees
I have lived in Florida for over twenty-five years now. I'm still head over heels in love with the state. Say what you will about the state's faults or miss-givings. It's still the most beautiful state in America. And it's home to the gentle manatees, the sea cows.
No matter how often I see manatees, I never tire of watching them. While I see them all over, I did not expect to see them at Bayport. I certainly did not expect to see as many as there were. There had to be at least forty, and they were mating. If you've never seen manatee mating, it's like watching a ton of blobs smash into each other in a circle. It's comical and looks like an awkward attempt at a water orgy.
The waters are shallow in Bayport, and the bottom is treacherous due to the rocks. There are "no wake" signs posted all over due to this. And, unless you just arrived in Florida for the first time, you know full well that manatees are in the water. There's no "new" to Florida people leaving out of Bayport. Yet, I witnessed many assholes drive right through the manatee mating ring. Add insult to injury; this was after everyone on the pier ran over to advise them that manatees were there.
Take a look at the backs of the manatees. While those injuries were not caused by the group I witnessed, they were caused by the same reckless behavior.
Do me a favor, people:
Respect our wildlife
Follow the no-wake signs – they are there for a reason
Take note when people are yelling at you
Report people who don't follow the law of the water or respect our wildlife
All that said, if you want to spend an hour or two manatee watching, then head to Bayport, Florida. You will see tons of them!
Boat Launch And Fishing At Bayport, Florida
Perhaps the biggest lure (pun intended) is fishing. Bayport's very popular boat launch gives you access to the Weeki Wakee River and the Gulf of Mexico. Bayport Park has two boat launches and tons of parking space for trailers.
Anglers come for trout, redfish, snook, tarpon, and cobia. However, you'll have to navigate to the gulf to catch some of these species. The pier will serve you well if you want to try trout and redfish. Bring your chair and set up a station for the day.
If you are not up for fishing, throw in a crab trap or two. The area is prime time for blue crabs. Don't like crab traps? Go old school and tie chicken to a sting and gently pull them out.
You can launch kayaks, jet skis, and other watercraft from the boat ramp.
Something worth pointing out again is that the water here is shallow. Getting to the gulf from the boat ramp will require some skill. This is not a "new to boating" boat ramp by any stretch.
Additional Things To Do in Bayport, Florida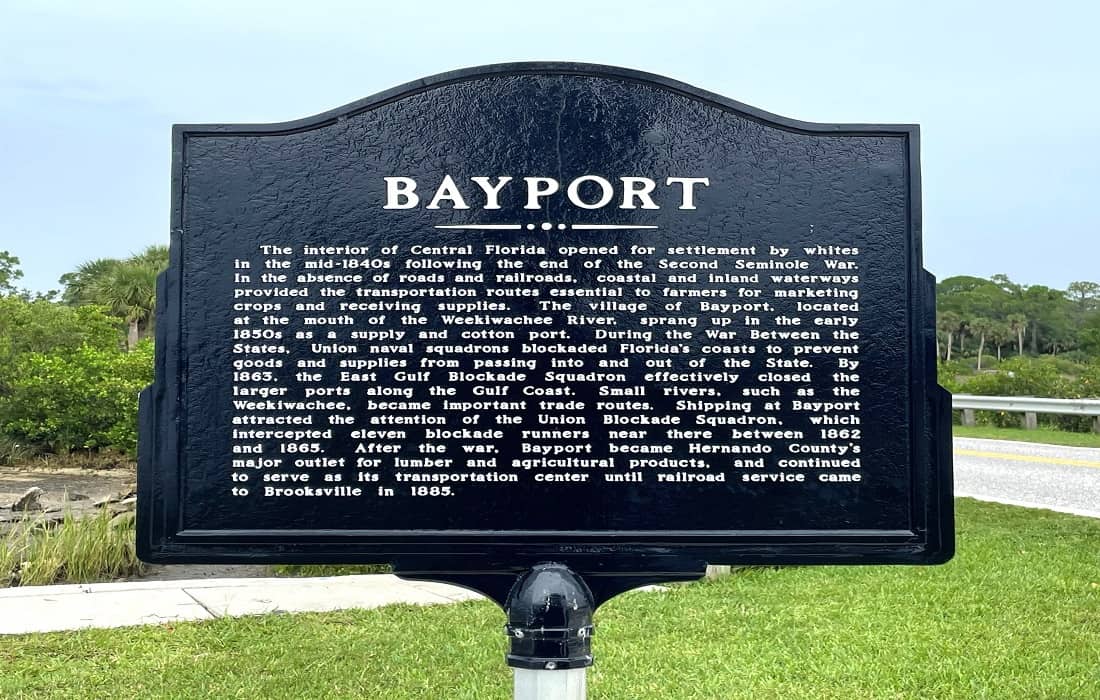 We already covered fishing, the park, and the pier. Here are some other activities to consider:
Bayport River Safari
This company offers fun and educational rive cruises up the Mud and Weeki Wachee River. They also offer sunset trips on the weekends, and private charters are available.
If you want to explore the area by water and don't have your vessel or enough experience, this is a great way to see it all. This team will make a point of showing you the local manatees and dolphins!
Most importantly, they get rave reviews! Rumor has it that the crew is a hoot.
Kayak or Paddleboard Down The Weeki Wachee River
You can launch onto the Weeki Wachee River from lots of different places – it's a long river! If you plan to launch from Bayport, you must bring your equipment. There are no kayak or paddleboard rentals here.
BirdWatch
Florida is home to hundreds of different species of birds. You can sit on the pier and watch birds flock to Bayport's islands.
Bayport Cemetery
I've not yet explored this historical place, but all will tell you that this cemetery is worth looking at. Accessible by foot, yet drowned by the landscape, you can still glimpse old graves.
Tides of Bayport Florida
The tide map of Bayport fluctuates based on the moon. Given the shallow and rock-laden conditions of creeks, you must check the forecast and tides before hitting the waters in Bayport.
Fish remain abundant throughout the year, so you do not have to pick the date and time based on tides. Just be careful about the weather and pay attention to the waves.
You can check the tides here: Bayport Florida Tide Map
Places To Stay And Eat at Bayport Florida
Mary's Fish Camp
Established in 1946, Mary's Fish Camp is located on the Banks of the Mud River in Bayport, Florida. Mary's Fish Camp closed in 2010 and was vacant until Sept 2015. A group of local businessmen and sportsmen brought the fish camp back to life.
They have 17 RV sites and five cabins you can rent, and a bait store on site. Mary's Fish camp has a private boat ramp; you can rent kayaks here.
You can reach Mary's Fish Camp here via Facebook.
Bayport Inn Florida
Don't let the title elude you. This is not an actual "inn"; instead, it's a restaurant. You'll see what was once a motel strip to the left of the entryway. While the units are still in use, they are just for staff. Bayport Inn no longer rents the units to the public; Bayport Inn is the only restaurant in Bayport that offers a variety of fresh seafood and live entertainment.
Check out the amazing view from the back: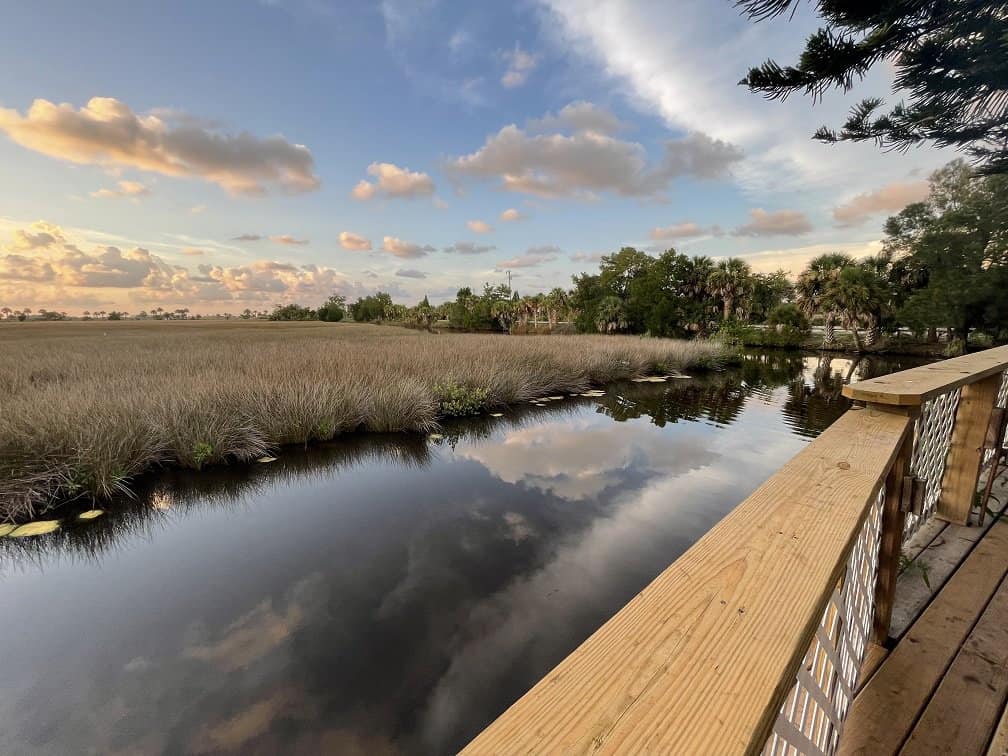 It's worth visiting, and they have two for one margarita for $7 daily. A great menu includes specials like "all-you-can-eat shrimp" and soft-shell crab. They also have oysters! .
Closing Thoughts
Bayport, Florida, is everything you imagine when you think about simplicity. There are no bright lights, no crowds, and no tack.
This is a genuine slice of Floridian history that you should check out.
Have you been to Bayport? If so, what did you experience that I did not? Drop the comments below!
Looking for more posts on Florida? Start here:
We participate in the Amazon Services LLC Associates Program, an affiliate advertising program designed to provide a means for us to earn fees by linking to Amazon.com and affiliated sites.
Subscribe to our newsletter and get the best travel tips and inspirational stories delivered monthly. No spam, no sales pitches – TRAVEL!
Brit On The Move™ Travel Resources
Ready to book your next trip? Use these resources that work:
Need more help planning your trip? Check out our Resources Page, highlighting the great companies we trust when traveling.