Homosassa Springs is very well known by mot in Florida. The town of Homosassa is considered by many to be the scalloping capital of Florida. And, many folks will tell you it's the manatee capital of Florida. Homosassa is indeed famous for both, but the neighboring town Crystal River people also claim these accolades. Regardless, one thing that's unique to Homosassa is Homosassa Springs.
This is not a peekaboo spring where you go and observe the water residents. It's not a traditional cool-off in the water or tube spring. Homosassa Springs is a wildlife conservation area with a lot to see and do. And, one of its most unusual residents "Lu" is a hippo who turned sixty in 2020.
Are you interested in knowing everything you can do in Homosassa Springs? Then you just came to the right place. Here we'll talk about everything you need to know about Homosassa Springs. Also, we will answer some frequently asked questions that can help you on your journey to this beautiful place in Florida.
This post may contain affiliate links. Please read our disclosure and privacy policy for more information.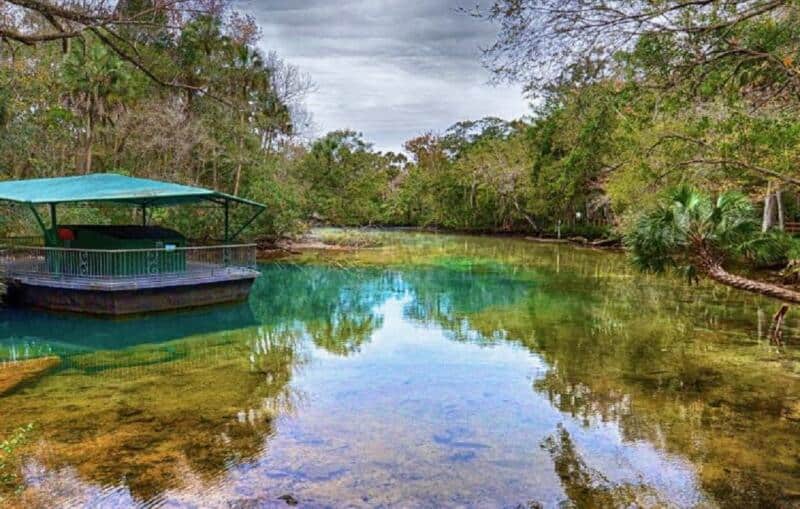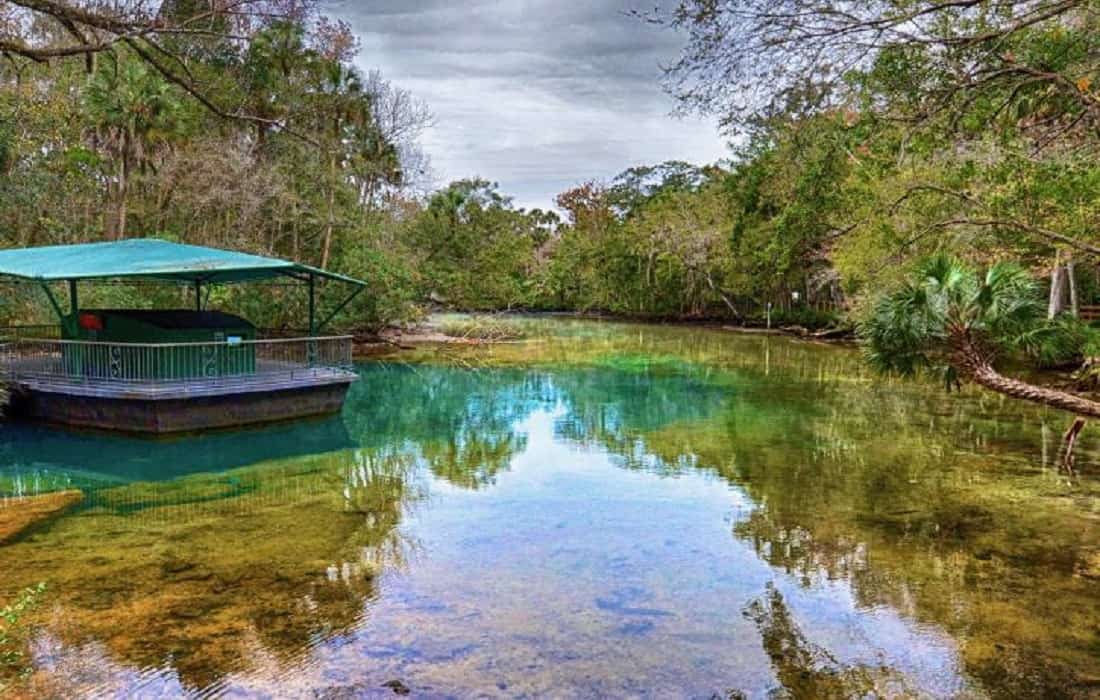 Image Credit: Ellie Schiller Homosassa Springs Wildlife State Park
Why Visit Homosassa Springs?
It is typical to think Florida only has beaches, palm trees, sand, and theme parks. Although this may be somewhat true, Homosassa is home to Homosassa Springs, and there's plenty to see and do. If you are still not sure why you should visit Homosassa Springs at least once in your life, here are some reasons you should consider it:
This is traditional untouched, uncommercialized Florida at its best.
It's almost guaranteed you'll see manatees. Wild manatees are here all winter long. And, there are some resident manatees in rehabilitation.
This state park is perfect if you love manatees because you can see them get fed.
You will learn about native (and some non-native) Floridian animals that live here.
Homosassa is an escape from the daily grind. In other words, it is an oasis full of nature to escape everyday stress.
You can walk the park, boat or kayak the spring. However, you cannot enter the spring head within the park on the water. It's roped off for the safety of the animals.
The History Of Homosassa Springs
Homosassa Springs is a location and now state park that has always hosted humans. Native Americans were known to live here on the grounds way back when.
In 1851 David Yulee bought land from William Cooley and started development and built a sugar plantation to attract more people to the area. After the civil war, investors acquired the land left by Yulee and made it the special place it is to attract tourists. During Yulee's era, tourists could access Homosassa Springs by train.
Remnants of the sugar plantation still stand outside the park. They are called Yulee Sugar Mill Ruins Historic State Park.
Yulee Sugar Mill Ruins Historic State Park
At Yulee Sugar Mill Ruins Historic State Park, you can explore the remnants of the 5,100-acre sugar plantation. This is not a full day out, it's more of an hour or two, but it is worth looking at. You'll find a 40-foot limestone masonry chimney, iron gears, and a cane press.
The steam-driven mill operated from 1851 to 1864 and served as a supplier of sugar products for Southern troops during the Civil War.
The park contains remnants of the once-thriving, 5,100-acre sugar plantation, including a 40-foot limestone masonry chimney, iron gears, and a cane press. The steam-driven mill operated from 1851 to 1864 and served as a supplier of sugar products for Southern troops during the Civil War.
During the mid-20th century, the Norris Development Company purchased all the lands. And expanded the entire park as we know it today. On the other hand, the Felburn Foundation was one of the financial bases for the Homosassa Springs area to have all the basic educational needs covered.
Location Of Homosassa Springs
Homosassa Springs is in Florida, precisely in Citrus County and in the Gulf of Mexico. This county is north of Tampa, west of Orlando, and south of Gainesville. In case you do not know the references that we are giving you, then here is the exact address:
4150 S. Suncoast Boulevard, Homosassa FL 34446
Getting to Homosassa Springs
There are many ways to get to Homosassa Springs, but it depends on where you are in Florida and how you want to get there. By car:
South of Homosassa Springs (Tampa), we recommend taking I-275 and reaching the park via FL-589 Toll S.
The best option is North of Homosassa Springs (Gainesville) to take FL-121, then US-41 S, and finally US-98 S/N.
If you are flying, the closest airport is Tampa airport.
Where To Stay Near Homosassa Springs
If you love nature and like to live in camps, you will be happy to know that you can camp in Homosassa Springs if you make a reservation in advance. In case you want to see nature, but sleep with the comforts of civilization, then you can stay at the following places that are close to Homosassa Springs:
Brooksville
Citrus Hills
Crystal River
Tampa
Spring Hill
Homosassa Springs Hotels
Lu The Hippo
A hippo in Florida? Yes, I know that this may sound strange because it is an exotic animal and not native to the area, but there is a fascinating story behind it.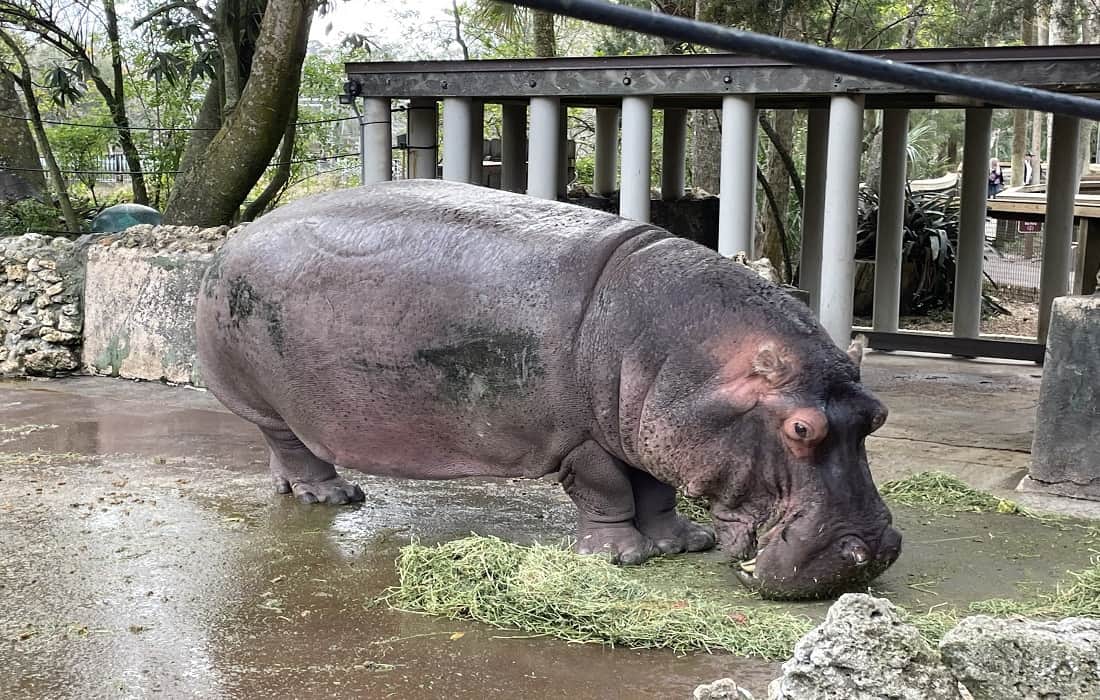 The hippo Lucifer aka "Lu," was born in 1960 and was brought to Homosassa to participate in different movies and television series. However, Lu had to leave his home for more than 20 years because all the animals of Ivan Tors Animal Actors had to vacate the park.
People loved Lu as a member of Homosassa. They petitioned Governor Lawton Chiles in 1989 to relocate Lu to Homosassa. After a few days, Lawton Chiles allowed Lu to stay in Homosassa Springs and made him an honorary citizen of Florida.
Impressive, right? There are many more stories in this beautiful natural park.
Homosassa Springs Manatees
At Homosassa Springs, manatees are the star attraction. Wild manatees flock to Homosassa Springs as winter approaches and seek out warmer springs for the cold season. Also, this migration of manatees makes it possible to find injured manatees that need specialized veterinary treatment.
Homosassa Springs is a rehabilitation center for injured manatees. The rehabilitated ones are sectioned off in a separate area from the wild ones. Homosassa Springs is one of the few authorized manatee rescue centers in Florida. They have had this manatee rescue program for over 30 years. Part of their rehabilitation is food. There's a separate area of the mainspring where the manatees are fed daily. Once they have eaten as much as they want they return to their sectioned-off part of the spring.
Feeding Rehabilitated Manatees At Homosassa Springs
We said that Homosassa Springs wildlife state park is a sanctuary for injured and migrating manatees. It's possible to see the manatees being fed and interact with them from the central platform.
Things To Do At Homosassa Springs
Homosassa Springs is a great place for all travelers looking to explore nature and see native Floridian wildlife. This park is an engaging state park with several activities other than the spring.
Fish Bowl Underwater Observatory
If you have never experienced an underwater observatory before, here is your chance. This is a unique experience to see the manatees in their natural habitat under the water. The Fish Bowl observatory is a 55-foot-deep glass ball that has been in operation for more than 50 years and allows you to see all the marine species living in this natural park.
It is being refurbished to include facilities for disabled people.
BirdWatch
There are so many birds at Homosassa Springs that you can spend at least an hour or two watching them. You name the bird, and it's here, including ones that do not live here.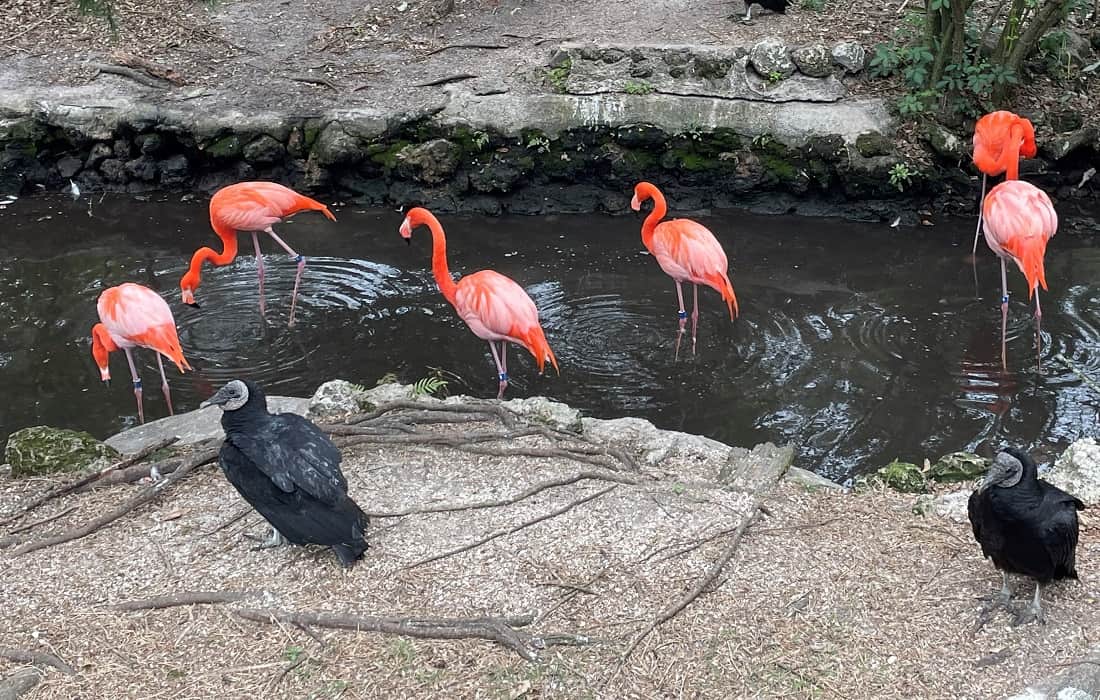 Nature Trails
There are several nature trails that Homosassa Springs has to offer. Here are the different trails you can choose from:
Rooks Trail West
Wes Burnt Bridge Road
Pepper Creek Trail
Oak Park North Trail
Hog Pond Trail
The Reptile House
It is common to see fish, manatees, and birds in Homosassa Springs, but reptiles are also essential to this park and Florida. In addition to being a sanctuary for manatees, the reptile house is home to an excellent section of the most exotic and common animals that you can find in the area.
The reptile house is not for the faint of heart, many of the snakes follow you and as you can see from this picture if you place your hand near the windows the snakes will rise! I got chills watching this, but I am scared of snakes!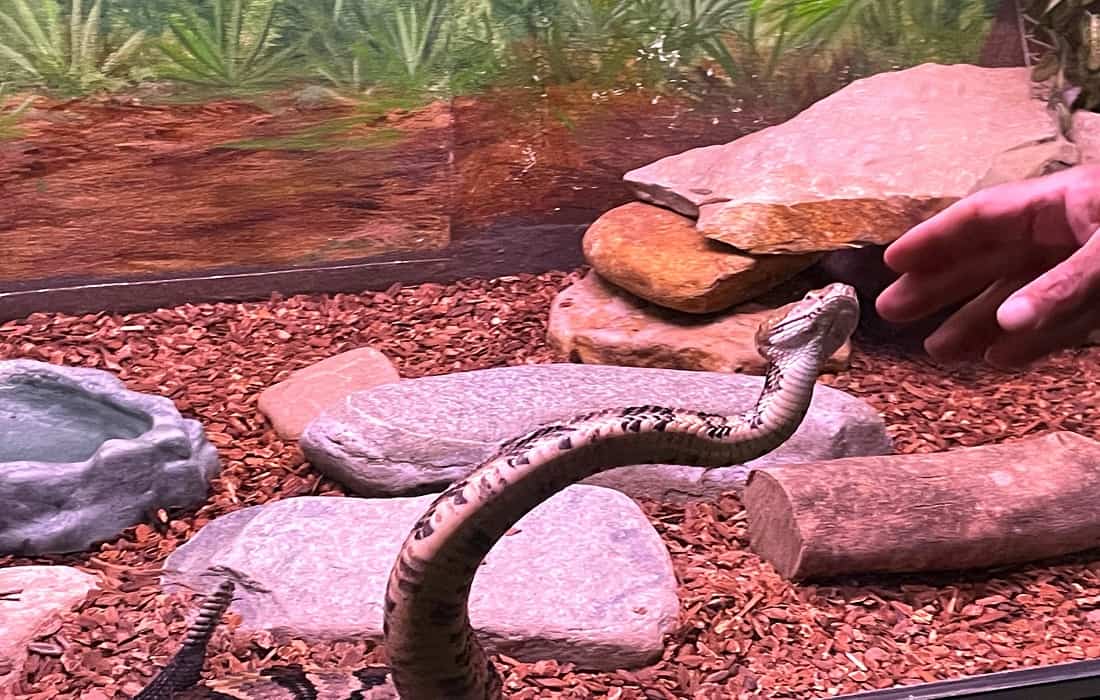 If you really love springs, then you need this book! Florida is home to over 1000 natural springs between the sun-soaked beaches of the Gulf of Mexico and the Atlantic Ocean, which have drawn people to the state for thousands of years. Long before theme parks came to town, the freshwater springs were the top tourist attraction in the state. Join us across the state to explore 40 of the best springs in Florida that you can still visit today. Filled with vivid photos from the past and present, this guide will show you a side of the Sunshine State you won't see in commercials. Complete with information on conservation and a key for activities offered, this book is a must-have for locals and tourists alike.
Frequently Asked Questions About Homosassa Springs
Why is it called Ellie Schiller Homosassa Springs Wildlife State Park?
Elmyra Felburn Schiller was responsible for convincing her father's foundation to help educational institutions in Homosassa. That is why the park has her name.
What is special about Homosassa Springs?
It is a sanctuary for species in danger of extinction, like the manatee. It is a place where you can relax with mother nature and learn much more about the history of Florida.
How much does it cost to get into Homosassa Springs?
Adults over 13 years old must pay $13
Children from 6 years to 12 years must pay $5
Children under five years old have a free rate
Are there alligators in Homosassa Springs?
Yes, there are alligators in Homosassa Springs. However, there are also crocodiles, snakes, bears, and bobcats.
How far is Homosassa Springs from the beach?
The best beach near Homosassa Springs is in Tampa, called St. Pete Beach. Also, it is 93 miles away or a 1-hour and 30-minute drive.
Is Homosassa Springs freshwater?
The Homosassa River is a mix of fresh water from nearby springs and saltwater from the Gulf of Mexico.
Are there alligators in the Homosassa River?
Yes, the Homosassa River is home to dolphins, manatees, alligators, and many other species.
When can you see manatees in Homosassa?
Yes, they are here all year. However, you are guaranteed to see them in their migration season from November to April.
Closing Thoughts
Florida has many historical and natural sites to see, but Homosassa Springs is one of the stops that you cannot miss. Homosassa Springs Wildlife State Park is family-friendly, and walking there can become a family routine to create family memories.
Here are some of the most popular springs in Florida:
We participate in the Amazon Services LLC Associates Program, an affiliate advertising program designed to provide a means for us to earn fees by linking to Amazon.com and affiliated sites.
Brit On The Move™ Travel Resources
Ready to book your next trip? Use these resources that work:
Need more help planning your trip? Check out our Resources Page, highlighting the great companies we trust when traveling.