Why should you visit Hocking Hills State Park, Ohio? Because the towering cliffs, waterfalls, and deep gorges this park offers will captivate anyone who enjoys the outdoors. And it's an affordable option for families. The park itself is free.
When most people think of Ohio Cincinnati, Cleveland or Columbus likely come to mind.  I didn't fancy any of the cities.  I wanted to do something off the beaten track that Ohio is not well-known for. When I started to research Ohio, I stumbled across cabins and treehouses near or within Hocking Hills State Park. I'm a massive fan of cabins (aka glamping), so I was intrigued.
This post may contain affiliate links. Please read our disclosure and privacy policy for more information.

Let me acquaint you with Hocking Hills State Park, Ohio.
Logistics:
We flew into Columbus, Ohio, on Southwest Airlines. I paid for these tickets, but they were inexpensive—$ 200 per person round trip from Orlando. We stayed at Cassady's Hill Top Cabins in the Trail Cabin. It was $110 per night. I can't say enough good things about this place.
First, all the cabins are secluded. They are not on top of each other, so you have total privacy. Our cabin was more significant than we needed, heck it sleeps 8! A fire pit stocked with wood, a hot tub on the balcony, and deer roaming the area, and we were all set. Now, if you read some of the reviews online, you might think otherwise. I honestly think people have exaggerated, and in one case, dramatically. I'm not going to quote them because we had an enjoyable experience, but I will say this. These are not luxury cabins; they are rustic and charming. Most importantly, they are clean and have all the amenities you need. We will return for sure.
If you want to stay in a treehouse, check out these options—treehouses designed by Kevin Mooney and Pete Nelson. Animal Planet and The Discovery Channel filmed the building of one of the treehouses, and it was on a show called Tree House Masters. If you need luxury, it's available; just be prepared to spend a whole lot more.
Where to Stay at Hocking Hills State Park, Ohio:
Things to Do:
Like many parks, Hocking Hills State Park offers fishing, boating, canoeing, kayaking, and tubing on The Hocking River. Coming from Florida, we skipped these activities because we get to do this all the time year-round.  There are many companies to choose from, just Google Hocking Hills River, and many options will come up.
Trails:
Old Man's Cave
One of six major hiking trails, Old Man's Cave is a must. Old Man's Cave features many unique bridges and scenic views. Old Man's Cave is considered the heart of Hocking Hills State Park.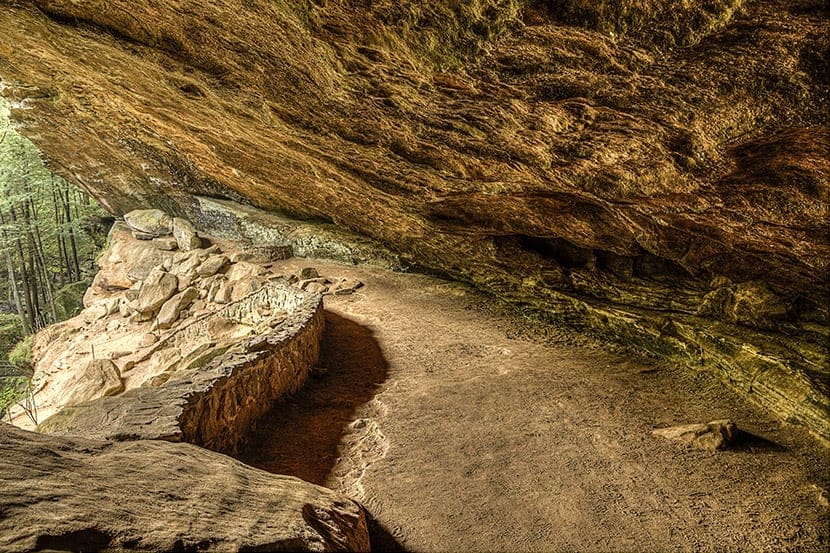 Upper Falls
Located at the east end of the Old Man's Cave trail. It's a quick walk to the Upper Falls, and accessing the base is easy. Just like all the bodies of water in this area, the waterfall in the summer can be thin. Don't expect the gushing falls you may see in some of the iconic photos. You can also get married at the base of the Upper Falls!
Cedar Falls
One more major hiking trail in Hocking Hills State Park.  Easy to hike to and worth the effort. I would describe this fall as a good old-fashioned watering hole. While all signs say not to take a dip, everyone does, and everyone goes under the waterfall.
Other Trails
Visit Rock House, Conkle's Hollow, and Cantwell Cliffs or the Lower Falls of Old Man's Cave.  All offer a different visual experience that will enthrall you.  All trails are open dawn to dusk all year long. But here is the best part. All the trails are free, as is the parking!
Relax:

This trip was sorely needed for us. We are always on the run. By far, one of the most relaxing vacations we have had in a while. We walked a couple of hours a day checking out the park making various trails. Then, we headed back to the cabin to take advantage of the hot tub, followed by a fire.  I know some of you might think heck, you can do this anywhere. True, but who knew it would be so picturesque in Ohio?
Shopping:
There is a Flea Market that is open Friday through Sunday year-round—located in Rockbridge. It's worth checking out if you are looking for hand-made local goods or produce. Or, if you are looking for a gun, this is your place.
There is also a commercial shopping center located about 10 minutes out of the park that hosts the usual suspects like Wally World. You can buy anything and everything here.
What you need to know:
If you are in the Mid-West drive to Hocking Hills!
If you are not in the Mid-West, fly into Columbus airport and rent a car.
This whole area is low-key and laid back; you don't need fancy clothes.
You will need bug spray, especially at night.
There are not many restaurants, consider taking advantage of the grill – we did!
Cell service is hard to come by, which has pros and cons.  Good from the standpoint that you will be off the grid. Bad in the sense that you must find a spot if you must connect.
This is the Mid-West folks. Don't expect city slicker amenities, enjoy the charm.
Closing Thoughts:
I had low expectations for Ohio, and it superseded my expectations. We may repeat this trip in the winter with snow. Or, we make another trip with friends and the sprogs. Much like Tennessee, there is so much to see and do here. It's all good old-fashioned outdoor activity. I suspect most people don't realize Hocking Hills State Park offers up as much as it does, and that's a shame.
Without a shadow of a doubt, this park is as beautiful as many of the more well-known ones. If you need a chilling weekend, or a place to explore with sprogs, Hocking Hills State Park Ohio should be on your radar.
Lastly, everything in the area is priced moderately, making it an excellent choice for families. Rent a cabin, pack up the car, and go. You will not regret it.
Looking for more posts on America? Start here:
We are a participant in the Amazon Services LLC Associates Program, an affiliate advertising program designed to provide a means for us to earn fees by linking to Amazon.com and affiliated sites.