Loews Portofino Bay Hotel is an entire resort located at Universal Boulevard in Orlando, Florida. If you stay at the Portofino Bay Hotel Orlando, you will gain exclusive benefits of the Universal Orlando Resort, such as Universal Express Unlimited, which lets you skip the lines at Universal Studios rides. And early entry into the parks! You will love relaxing by the Loews Portofino Bay Hotel pools and enjoy the feeling of being in Italy.
Universal Orlando resorts have eight official on-site hotels with approximately 9,000 rooms. Included in your stay are water taxis or shuttle bus services to the Universal Studios theme parks from any of these hotels.
Keep reading to find out why you should stay at the Loews Portofino Bay Hotel the next time you visit Universal Orlando.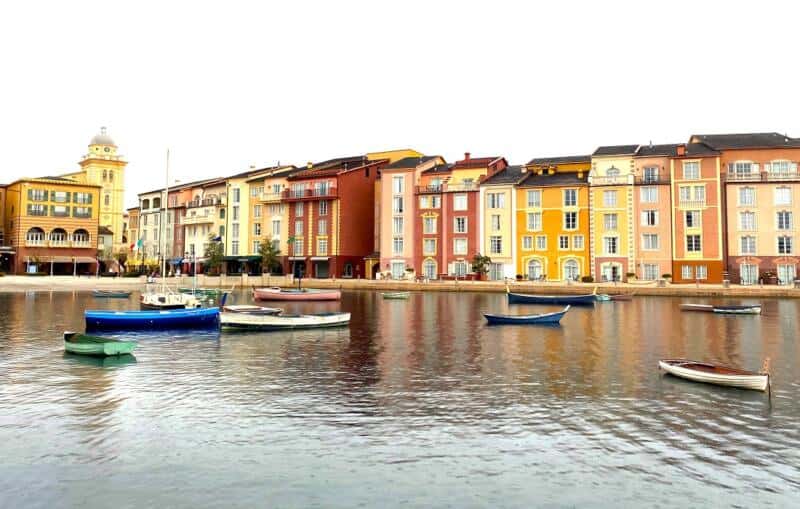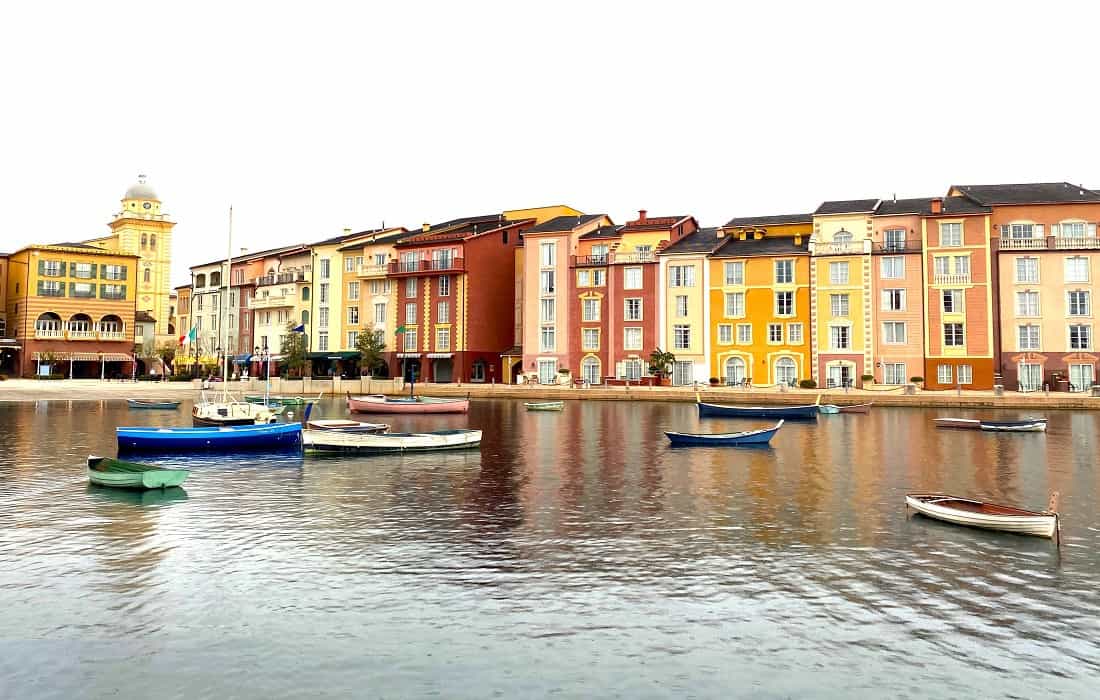 This post may contain affiliate links. Please read our disclosure and privacy policy for more information.
Why Stay at Portofino Bay Hotel?
First of all, the Portofino Bay Hotel is beautiful. It's designed to mimic the fishing village and harbor of Portofino in Italy. The entire resort is themed around this iconic village, right down to the color schemes of the buildings. The hotel sits right in front of a beautiful harbor and includes picturesque architecture and landscaping that will transport you straight to Italy.
If you stay onsite at Universal Orlando Resorts you will have access to different amenities. However, each resort is in a category and included amenities vary by category.
Premier Resorts
There are eight Universal Orlando Resorts. However, only three of them are Premier:
Loews Portofino Bay Hotel
Loews Royal Pacific Resort
Hard Rock Hotel®
Benefits of Premier Resorts
Staying onsite at one of Premier Resorts gives you:
Unlimited Universal Express to skip the lines at Universal Studios theme parks. Each person in a room has a key and the key is your Unlimited Universal Express. This is worth $100-$170 per person per day! The rates of Unlimited Universal Express vary daily based on the volume of visitors. This is a major benefit, it's worth at least $400 a day for a family of four. This is by far my favorite reason to stay at one of Universal Orlando Resorts Premier Resorts.
A shuttle service that takes you to the theme parks. This is another cool benefit, you can enjoy a drink if you choose to and not worry about driving. Not to mention, it's super convenient to not have to park!
Earlier entry to Universal Studios parks. This might not seem like a big deal but it is. Universal is home to the Wizarding World of Harry Potter™. There are two words: Diagon Alley™ in Universal Studios Florida™ and Hogsmeade™ in Universal's Islands of Adventure™. Both get packed so getting into the park before the general public is a way to make sure you see it all.
Priority Seating at restaurants throughout Universal Orlando Resort™.
Resort-wide charging privileges using your room key card.
The History Of Portofino Bay Hotel
The development of the Portofino Bay Hotel Universal was first announced in 1996. The hotel was finally opened in 1999. The hotel was built to become part of the world-class resorts and a luxurious vacation destination for those looking to visit Universal Studios theme parks.
Out of all the luxurious venues, Portofino Bay Hotel is considered one of the best. I don't disagree, it's up there. However, my personal favorite of the Premier Resorts is Loews Royal Pacific Resort. Purely because I like the restaurants over there more and I prefer the rooms.
About Loews
Loews is a luxury-based hotel chain with hotels in multiple destinations. While large in scale, Lowes is boutique-like in design, offerings, and service. Not a household name for the average traveler, probably due to the price point. These are not budget-friendly hotels or resorts. Yet, the ones at Univeral offer benefits that outweigh the cost.
Some of the locations where you can stay at a Loews hotel include:
Boston, Massachusetts
New York City, New York
Miami Beach, Florida
Orlando, Florida
Arlington, Texas
Tuscon, Arizona
Santa Monica, California
The hospitality services you will experience at Lowes hotel or resort are impeccable. And, the beds are heavenly!
Rooms At Portofino Bay Hotel
The guest rooms you can stay at here vary. There are rooms with or without views of the harbor. You can choose bed sizes, the number of beds, and the size of the actual room.
Some of the options you can choose include garden view rooms, bay view rooms, deluxe rooms, and club rooms. I stayed in a bay view room with the Monkey. To be honest, there wasn't really that much of a difference in price so we took the view.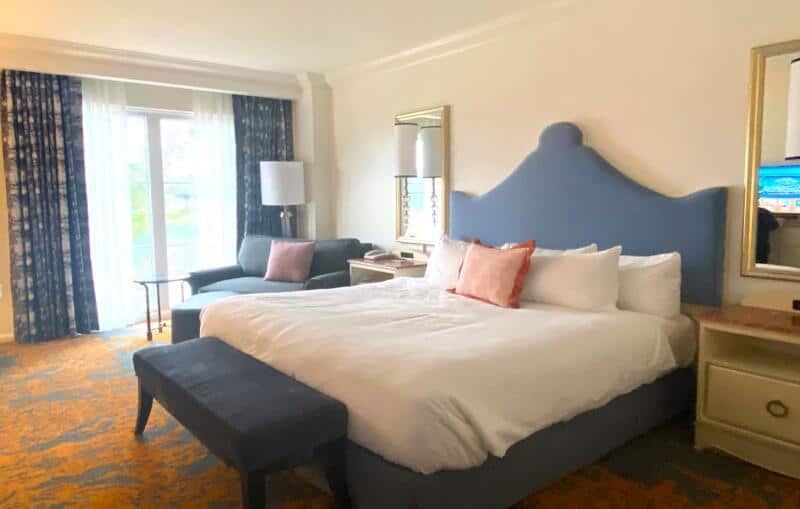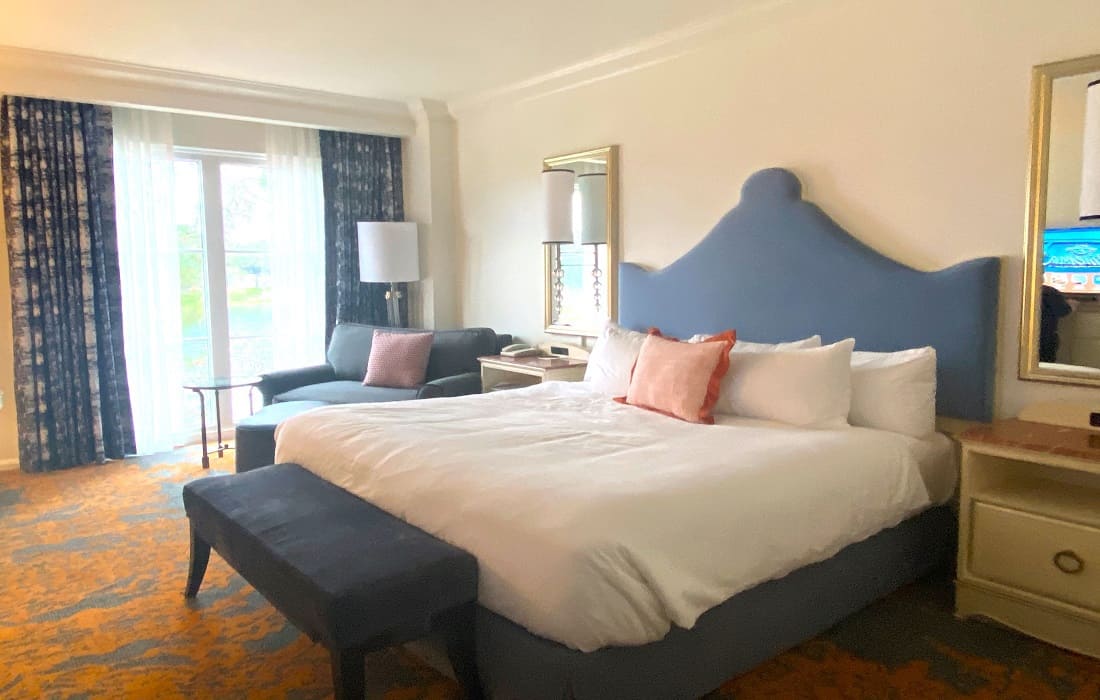 Usually, you can choose either two Queen beds or one King bed but Club rooms come with only two Queen beds. All rooms come with flat-screen television and a coffee maker, slippers, and a fancy bathrobe.
The costs typically range from $564 per night to $634 per night. Now, before you pass out. I did not pay that much, it was $374 a night. And, remember I told you it includes Unlimited Universal Express? Well, on a cheap day (park empty) this will cost you $100 per person. So, when you take this into consideration the actual price I paid is $174 a night. And, yes, I would have purchased the Unlimited Universal Express if not staying onsite. My days of standing in the heat waiting in hour-long lines for a ride are done.
Bathroom
On first look, I thought the bathroom was dated for the price point but it's deliberate to follow the theme, aka Italian. It had all of the amenities I would expect. In terms of style, not for me. I am not a fan of terracotta anything, for sure not a fan of terracotta tiles. And, the bathtub is a standard tub which is disappointing. I've stayed at many Lowes, while these bathrooms are big they are not as plush as other hotels and resorts.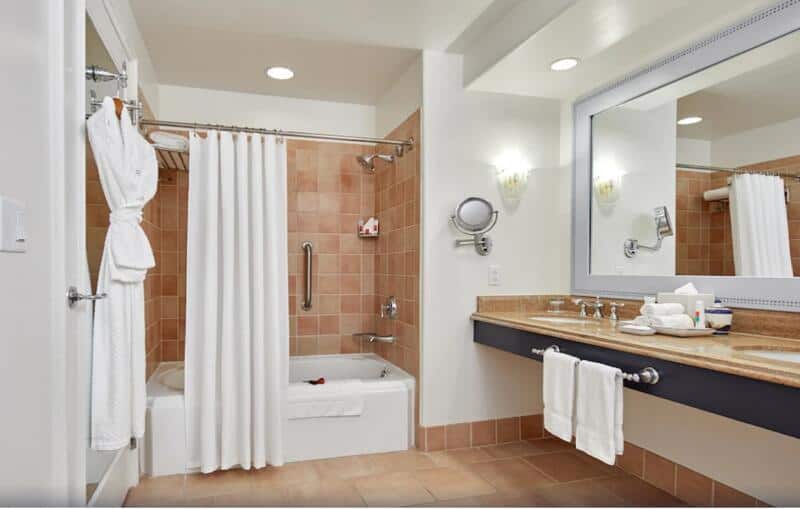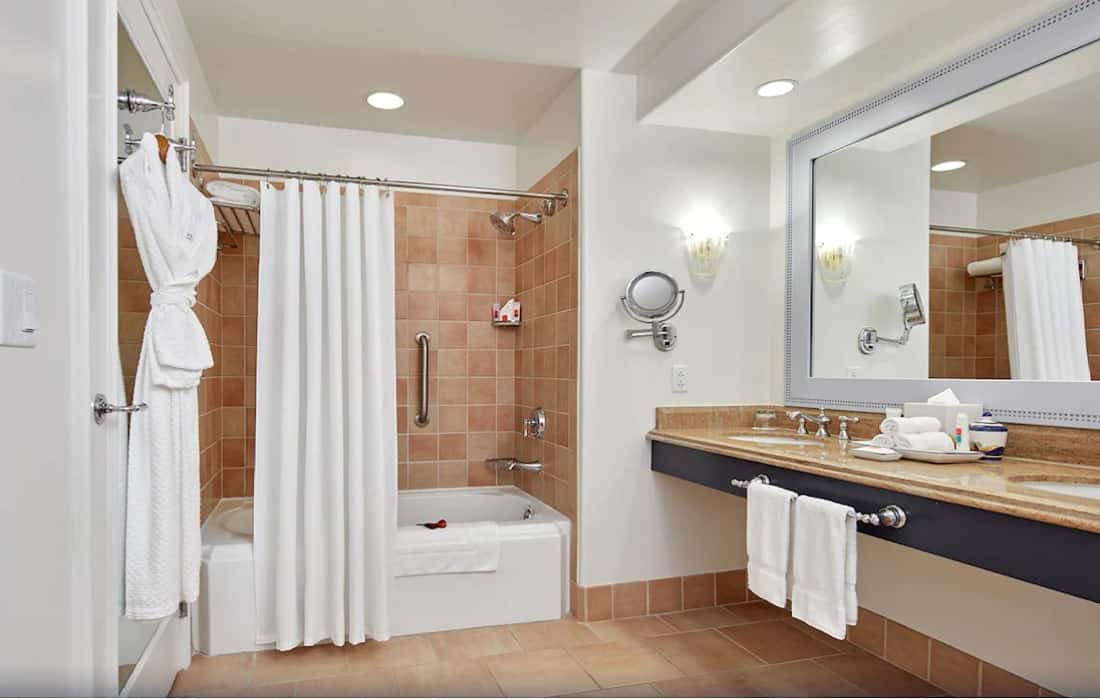 Room Service
If you've decided to treat yourself and stay at a Lowes hotel or resort you must do room service! There's nothing more luxurious than room service. It's up there with spa treatments! And, if you are staying at Portofino Bay Hotel because you are off to the parks, what better way to end the day?
Here's the Monkey in his bathrobe ordering room service!
I can tell you from experience that the food at a Loews hotel or resort will not disappoint.
Restaurants Portofino Bay Hotel
You can use a Loews Portofino Bay Hotel map to find one of the multitudes of restaurants available at this hotel. Some of the restaurant options include:
Mama Della's Ristorante
Splendido Bar & Grill
BiCE Ristorante Orlando
The Thirsty Fish
Sal's Market Deli
If you like fine dining restaurants at Portofino Bay Hotel, then try Mama Della's Ristorante. Here, you can enjoy Italian meals like Pollo Alla Carbonara or spaghetti and meatballs.
For a more casual atmosphere when searching through Loews Portofino Bay Hotel restaurants, try Splendido Bar & Grill, which has outdoor seating and serves burgers, sandwiches, salads, cocktails, and more.
Lastly, if you are visiting Universal Studios you'll want to try The Toothsome Chocolate Emporium at Universal Studio's Orlando!
Map of Loews Portofino Bay Hotel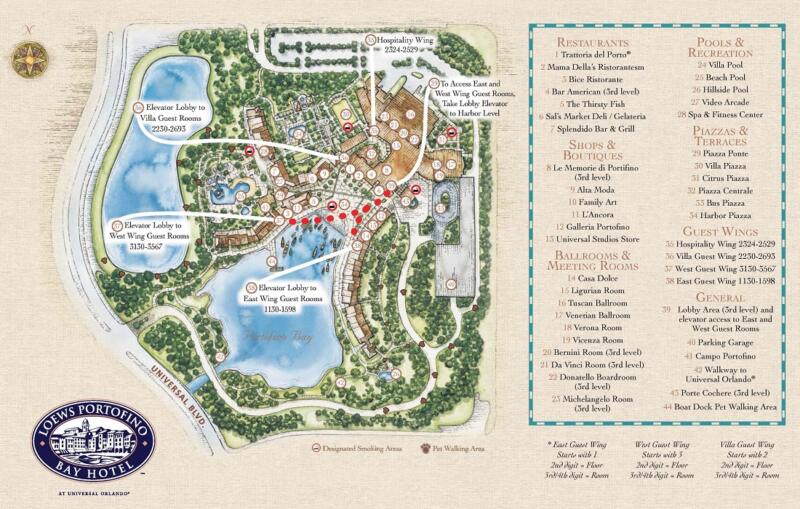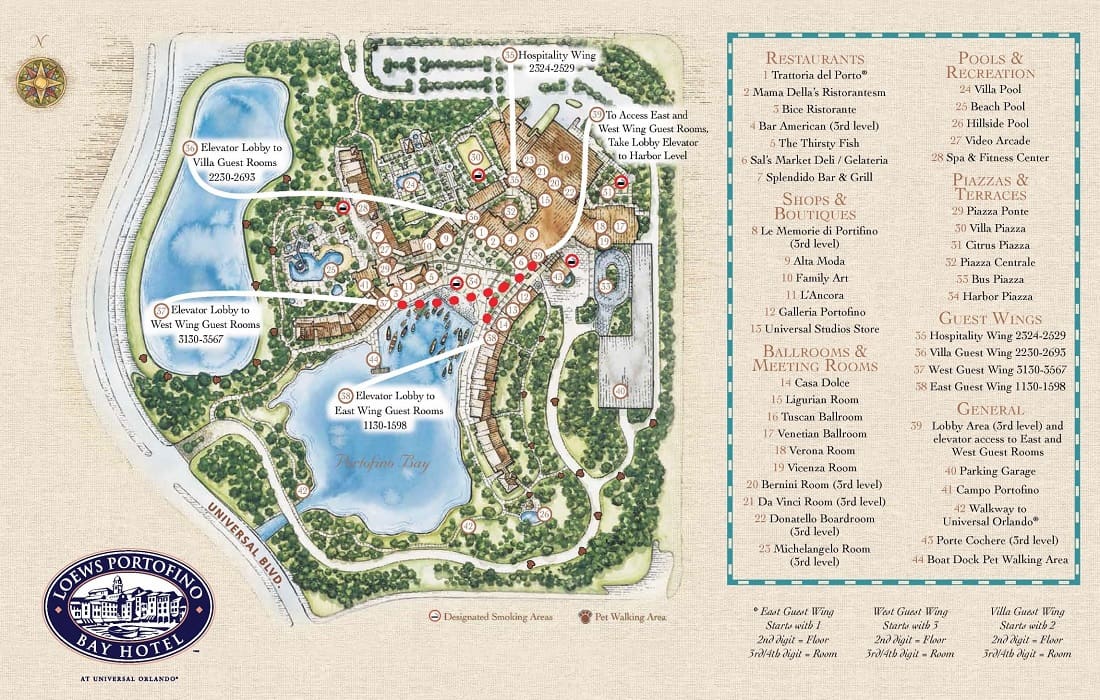 Amenities of Portofino Bay Hotel
The amenities of Portofino Bay Hotel include:
Three Swimming pools
Hot tubs
Sandy beach
Poolside cabanas
Arts and crafts, ping pong tournaments, and pool basketball
Live music shows every night
Wine tasting and jazz event
On-site shopping
Pet-friendly accommodations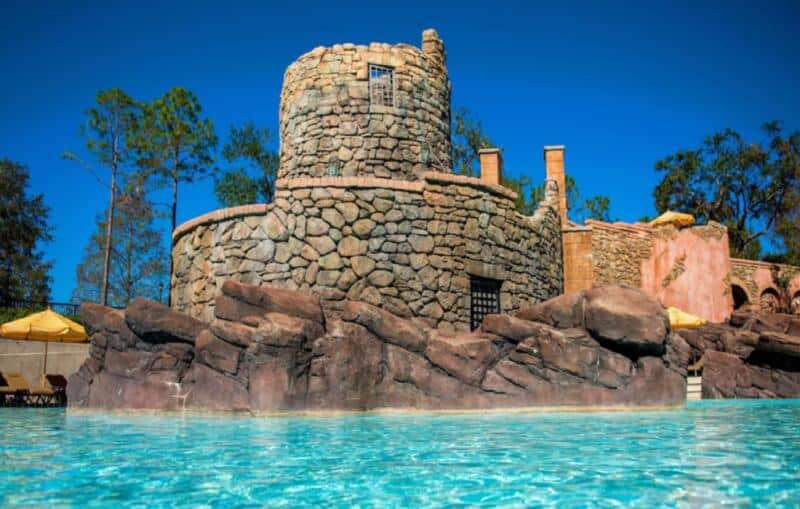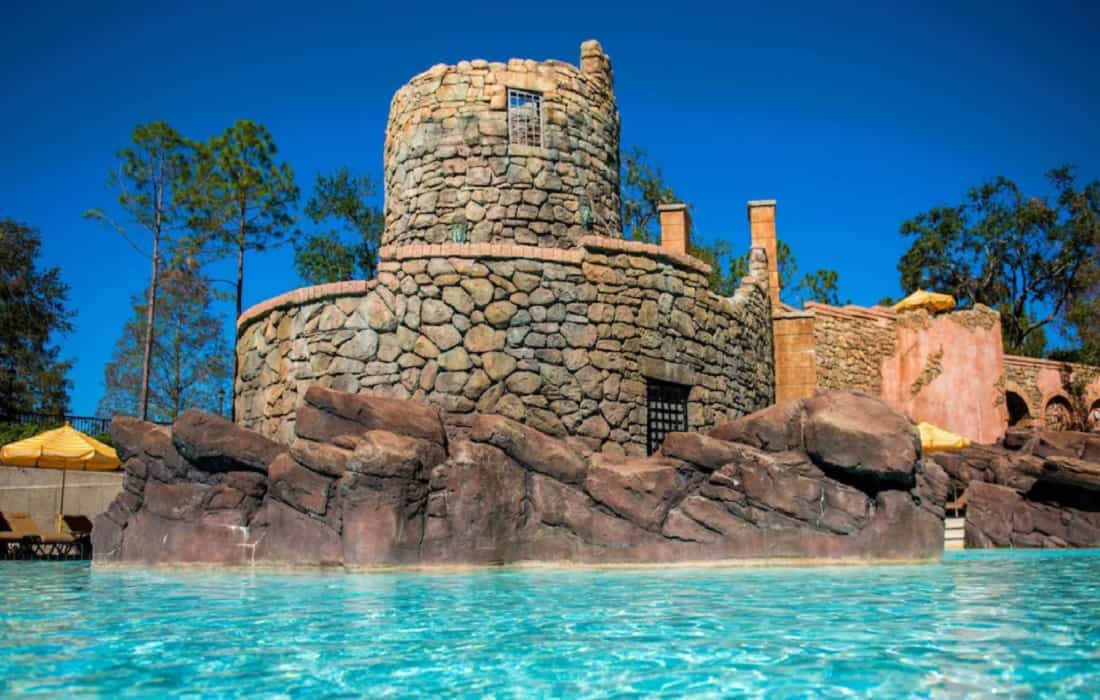 Spa Services
Loews is known for its luxury spas. Portofino Bay Hotel has the luxurious Mandara Spa® that uses ELEMIS products – another luxury brand.
Mandara Spa at Loews Portofino Bay Hotel facilities include:
14 private treatment rooms
Two couples' rooms
Relaxation lounges
Co-ed lounge
Co-ed hydro-therapy pool
Separate men's and women's sauna and steam rooms
Full-service hair and nail salon
Full-service Fitness Center
Retail boutique
If you are looking for more advanced treatments, see our recommendations for sciatica relief & smile makeovers
Opera Singers at Portofino Bay Hotel – Musica della Notte
You'll love the opera and festive music played every night. The music starts at sunset in front of the Harbor Piazza. The opera singers provide a celebration of charm, beauty, and romance commonly found in Italy. This is the perfect way to be together with your family.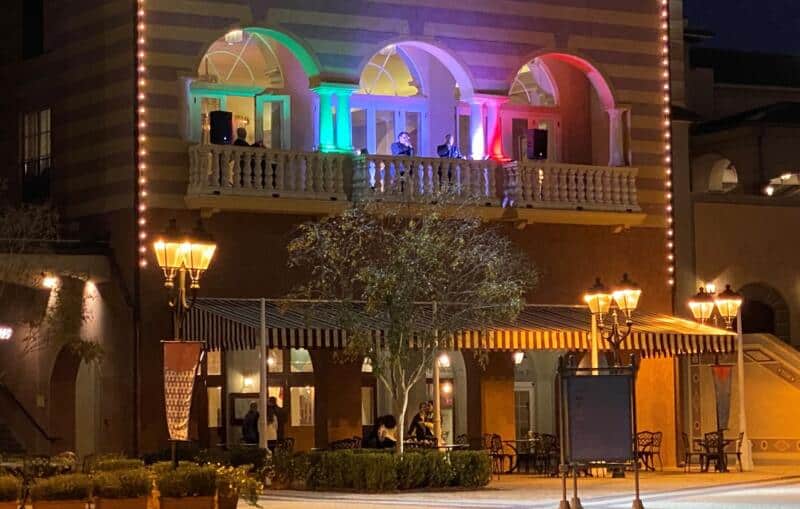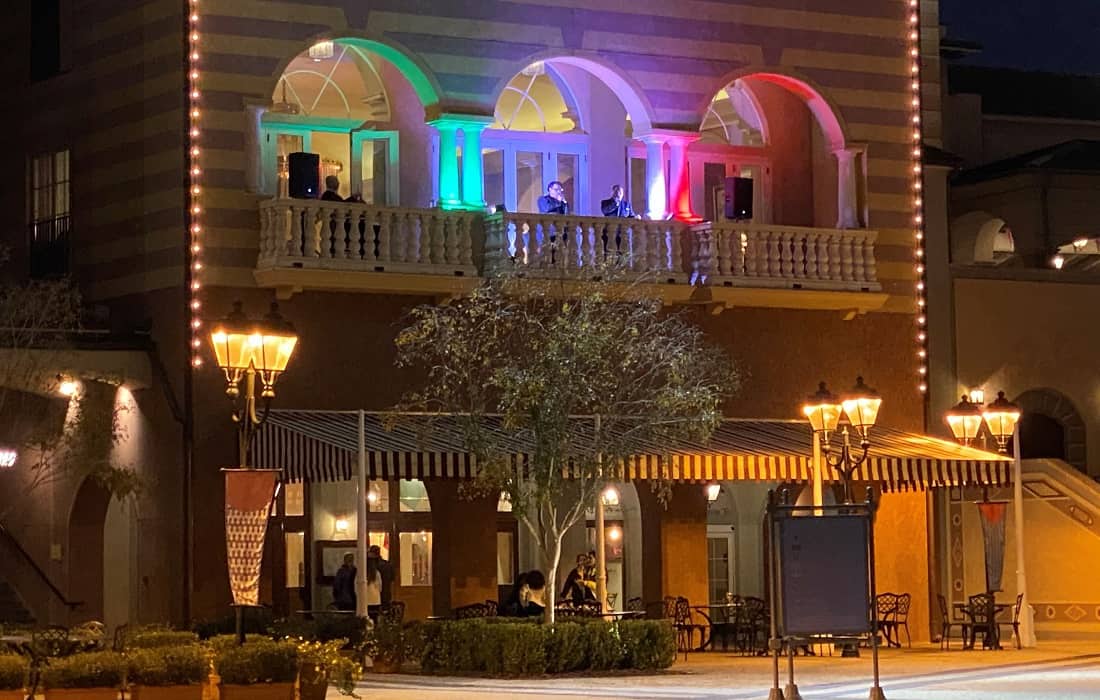 Don't forget to check out the performance times when you stay at the Portofino Bay Hotel.
Reviews of Loews Portofino Bay Hotel
The Loews Portofino Bay Hotel reviews are 4.5 stars on TripAdvisor. Most guests enjoy staying here and mentioned how beautiful the hotel is, the delicious food at Portofino Bay Hotel restaurants, and the great pools.
Guests also mentioned how comfortable the rooms are and the benefits of the Unlimited Universal Express.
Frequently Asked Questions About Loews Portofino Bay Hotel
Is Loews Portofino Bay Hotel Open?
After the COVID-19 pandemic hit, many businesses including hotels had to close. However, the Loews Portofino Bay Hotel has reopened at Universal Orlando Resort. The hotel began taking reservations for guests coming to stay as early as December 1, 2020.
The hotel does follow COVID-19 guidelines, which means you can stay safe on your holiday. Hand sanitizer stations are available and the hotel meets the best cleanliness and sanitization standards.
How Much Does It Cost to Park at Portofino Bay Hotel?
Parking at the Loews Portofino Bay Hotel Orlando costs ~ $28 plus tax per car per night. This is the standard rate for hotel guests.
Visitors that come for the day also have to pay parking fees. Five-minute parking or less is free while 30 minutes of parking costs $10 and full-day parking costs $45.
How Long Is the Boat Ride From Portofino Bay to Universal?
The boat ride ferry from Portofino Bay resort to Universal Studios should take you only about five minutes. As such, the ferry is usually a quick trip. However, sometimes, the boats get crowded and you may need to wait for the next ferry.
They may also get delayed at a launch at Universal Studios. Ferries also do not operate if storms and weather make it dangerous to ride one.
When Was Loews Portofino Bay Hotel Built?
Loews Portofino Bay Hotel came on the scene in September 1999. It was first announced to become a hotel as part of the Universal Studios resort three years prior in 1996.
Loews Hotels partially owned Portofino Bay Hotel. Universal and The Blackstone Group also had partial ownership. This was the first hotel that opened as part of the Universal Orlando Resort. Other hotels opened as part of the resort over the next several years.
Can You Walk Around Portofino Bay Hotel?
Yes, you can. You can use a map of the Portofino Bay Hotel to find walkways and trails to walk around the lodging place. Portofino Bay is also pet-friendly, which means you can take your dog on plenty of walks and areas meant specifically for your pup.
You'll find expansive walkways throughout this resort with waste pick-up stations located throughout. The amount of space where you can take a stroll is truly impressive.
Can Cabana Bay Guests Use the Water Taxi?
Hotel guests at Universal Orlando Resort including those at Cabana Bay Hotel have plenty of free and simple transportation to the theme parks. You'll find free water taxis and ferries available to take you to the Universal Studios theme parks.
You'll also have access to a walking path and a complimentary water taxi transport to Volcano Bay.
How Many Rooms Does Portofino Bay Have?
The Portofino Bay Hotel has a total of 750 guest rooms for you to choose from. Some rooms have garden views while others have views of the bay. Deluxe rooms provide a larger amount of space for guests at 490 square feet along with a modernized bathroom with a separate bathtub and shower.
Each room has several telephones to use, on-demand movies to watch, cotton signature bathrobes, coffee maker with coffee, DVD players, in-room safe, and more.
Do Portofino Bay Rooms Have Refrigerators?
Portofino Bay rooms have a stocked and fee-based minibar. You will receive a key at check-in to get access to this minibar. If you need microwaves or larger refrigerators, you can request them for $15 per day plus sales tax.
For those who need refrigerators to store medicine, complimentary mini-fridges are available upon request.
Who Designed Portofino Bay?
If you're wondering who is behind the design of the Portofino Bay Hotel, you'll be surprised to learn that the inspiration for this lodging came from the famous filmmaker Steven Spielberg.
Spielberg was a consultant of Universal Orlando Resort starting in 1987. Since Portofino, Italy was one of his favorite vacation destinations, Spielberg gave the idea of making the hotel appear like this Italian fishing village.
Who Owns Portofino Bay?
Loews Hotels is the owner and operator of the Portofino Bay Hotel at Universal Orlando Resort in Florida. MCA and Loews first announced the plans of building this hotel on May 3, 1996, and the 750-room resort opened three years later with a seaside village resemblance to a Meditteranean region.
Loews Hotels provide plenty of dining and shopping options along with three different swimming pools at the Portofino Bay Hotel.
What Does Portofino Mean in Italian?
Portofino means village. This word also means a large body of water or sea that many dolphins swim in.
Closing Thoughts
When you're planning a vacation to Florida and want to take your family to Universal Studios theme parks, consider staying at the Loews Portofino Bay Hotel. This resort will provide you with plenty of swimming pools, hot tubs, spas, fine-dining restaurants, and more.
Best of all, you'll get an Unlimited Universal Express to skip the lines at theme parks when you stay at Universal Orlando Resort. What are you waiting for? Book a stay at the Portofino Bay Hotel today!
Looking to explore more theme parks? Start here:
We participate in the Amazon Services LLC Associates Program, an affiliate advertising program designed to provide a means for us to earn fees by linking to Amazon.com and affiliated sites.
Brit On The Move™ Travel Resources
Ready to book your next trip? Use these resources that work:
Need more help planning your trip? Check out our Resources Page, highlighting the great companies we trust when traveling.