The Best Floating Water Mats and Floating Foam Mats Compared
The latest trend in boating is floating water mats, floating foam mats, and floating inflatable mats. If you don't already own one, you've seen them on the water and undoubtedly want one. When you go to buy one, you'll find thousands of options. But then, those pesky Facebook ads offer you the ultimate floating water mat for a fraction of the cost. The research alone is overwhelming, and given that all quality floating platforms are pricy, you need to know what you are buying. After all, the average spend on floating water mats and floating foam mats is $250, and some top $1,500.
Want to know the best floating water mats, floating foam mats, or inflatable mat, but you don't know your needs? Then, use this guide to determine which is best for you based on your needs.
What to Consider When Buying a Floating Water Mat or Floating Water Inflatable Mat
Size
We've all heard the expression, "Go big or go home." This may be true for most things, but it's not necessarily true for floating water mats and foam mats. There is such a thing as too big for floating platforms. And, the bigger they are, the bulkier they are to lug around. The size you need depends on how many people you expect it to hold and where you plan on using it. For example, if you will only use your pool, you need to look at smaller options. Likewise, if you have a smaller boat that only accommodates four or five people, you must consider a smaller option. Those who want to go big need to understand the floating water mat's dry weight and look at how easy it is to roll up. Finally, if you choose an inflatable floating water mat, you must understand what setup entails.
Don't panic; we've done all the work for you and compared the best-selling models side by side.
Weight Capacity
Think of weight capacity as cargo load or the maximum weight your boat can carry. The same concept applies here. A rule of thumb for boaters is that your water mat capacity should be within the range of your boat's capacity. And, when you evaluate capacity, understand that manufacturers base the maximum weight based on even distribution.
The last thing that you want is to sink your floating mat. If you exceed your mat's weight capacity or do not distribute the weight evenly, it will sink! Naturally, it will rise, but whoever is on the platform will end up in the water.
Quality
This is probably the most essential criteria given the price of floating water mats and floating foam mats. If you spend $300 – $500 on a water toy, you should expect to get more than one season of use out of it. So essentially, you are looking for a floating water mat or inflatable floating mat that won't rip, tear, or puncture.
Note: You also need to consider dogs! Many people want their dogs to experience the joy of bouncing off a water mat, but dogs have nails! So if you plan to include Fido, you need to ensure that the water mat you choose will hold up against fur ball nails. Most important, if you are looking for a dog friendly float you should look at Inflatable Floating Water Mats – most are dog friendly.
Firmness
Consider the strength of the best water floating mats to support various activities. You can swim, lie down, and even sit without the risk of falling. Some floating foam mats are suitable for playing, running, walking, and other water sports. Others only support single activities, such as lying down.
Maintenance
Most floating water mats require little maintenance. However, that doesn't mean you don't have to clean it regularly after use. The longer you leave dust, saltwater, or mud on the mat, the faster it will disintegrate. All floats require cleaning. Clean it with a sponge and mild soap to remove debris, dirt, and grime. Then rinse with clean water and let it air dry.
Safety Tips
Even the best-designed Floating Water Mats and Floating Foam Mats can be dangerous if not used consciously. Here are some essential tips to remember:
Make sure kids don't play on water mats without supervision.
Check your connection security regularly.
Do not use the water mat on uneven water.
Remove all dirt from the mat to prevent rot.
Secure the water mat to the dock or boat or secure it in place.
Refer to the mat's instruction manual for specific safety instructions.
Limit alcohol intake while using a water mat.
Foam vs. Inflatable Floating Water Mats
Perhaps the most significant debate in boating and lake groups is which is best – foam or inflatable? Unfortunately, the answer is not simple. It depends on how you plan to use it, the portability, price, and quality.
Inflatable mats tend to be less expensive, but they require inflating and deflating. Inflatables are also easier to transport once deflated. On the other hand, foam mats do not need inflating and are more durable but bulky to transport.
Note: Some of the best selling premium inflatable mats are anything but inexpensive – some are a lot more expensive than foam pads.
Lastly, before we dive into a review of many mats on the market, it's worth mentioning that many people rave about the Floating Oasis Water Pad ($249) and the Ultimate Floating Oasis ($449) foam mats from Sams Club. Floatation IQ makes both, and both are available on Amazon.
This post may contain affiliate links. Please read our disclosure and privacy policy for more information.
Floating Water Mats Table Comparison
Floating Water Foam Mats
The Airhead Water Mat prides itself on its portability, which works as indicated in the ratings. However, if you want water to float and avoid tiring inflation, an Airhead floating foam mat is your best choice. Just roll it and take it to the nearest lake or water park, take it out, and you're ready to enjoy the water activities with your family.
Slightly smaller than a standard floating foam mat, the airhead water mat is ~11 × 5 feet, lighter and more portable than most. It can be rolled up tightly without any problems and weighs only about 19 pounds compared to other brands that weigh around 35 to 40 pounds. Its overall thickness is about 1.2 inches.
Despite its size and weight, it is only suitable for two adults or 4 to 5 children. Still, don't be discouraged. It can be used as a platform for kids to walk, run, or jump into a lake or pool. It is sturdy, lightweight, and works well.
Aqua Lily Pad is a well-known brand known for maintaining the highest quality. Aqua Lily Pad is an American company based in Willoughby. It's an ideal opportunity to soak in water in the summer, and this is what the Aqua Lily Pad floating mats do best. It gives your family, friends, and even your pet a chance to get wet and cool off. The Aqua Lily Pad offers one of the biggest dimensions of 6 x 20 feet. The Aqua Lily Pad is one of the most popular floating foam mats on the market.
Aqua Lily Pads are build of "cross-connect" marine grade materials explicitly designed for marine use. Pay attention to the variety of items that are made only with "closed cell" foam. This type of foam is less intense compared to whole noodles. Crossed linked materials contain additional carbon bonds between the polymer chains that limit moisture absorption and sun damage. The Further grounds the Aqua Lily Pads make with a more prominent life for your enjoyment.
Aqua Lily Pad products provide enough space for the whole family (including pets) to get wet and cold in a comfortable environment. This floating foam mat can accommodate nine adults (1,600 pounds divided by weight) and build a double-layer UV-safe foam incorporating Aqua Lily's "Flex-Core technology" to be the water mat rolled up. Out quickly. UV treatment combined with "Flex-Core technology" provides years of pleasure.
It's also worth mentioning that Aqua Lily Pads are a popular choice with dog owners!
The Big Joe Water pad brings fun to kids on the water. With this mat, you will float on the water—Big Joe on our list of the best floating water mats.
It is not too big or too small. This floating foam mat is enough for most and you, and it's unique in that it includes four grommets for towing and tie-up. The gromets also double up as cupholders.
It is made of modern materials that increase the durability of the floating mat. You can have four kids on it, and it won't sink. Due to the grommets on the edges, you can fix the Big Joe onto a pier or boat. This is a reasonably cheap option for kids but not the best choice for adults or dogs.
All Big Joe products are designed and filled in the USA in a Zero Landfill Certified Facility. And, we donate a percentage of all profits to helping those in need.
Enjoy a luxurious beach or lake experience with this reliable floating foam mat in beautiful, bright colors. The Floating Oasis Lake Pad Premium Floating Water Mat is one of the most attractive and most popular floating mats on the market. In addition to its design, it is made to accommodate many friends and family.
The stainless steel D-Ring mounted tie-up grommet is worth a special call out. I have homes on the lake and coastline and boat weekly. I know hundreds of boaters – many own a floating mat of some variation. Outside of weight capacity and durability the #1 feature that people tell me they wished they had researched is a steel grommet connection.
And, this one comes in a stunning patriotic version:
Along with many other jazzy designs like palm trees and pink flamingos.
The 6 x 15-foot floating mat has been created for multiple users and can hold more than 1,500 pounds. This means no one will be left behind when you use this mat.
Because the material used is high-quality polyethylene (PE) foam and has a multi-layer structure, it provides excellent safety and protection for everyone who rides it.
In addition, manufacturers have confirmed that their products are both leak and tear-resistant. Also, this product has undergone a patented laminating process, which further enhances its durability.
Note: Mossy Oak is one of the brands that Sams Club sells.
This water floating foam mat is 6′ feet wide by 15′ long, making it a perfect choice for your lake or ocean. The maximum capacity is 1500lb, so you can safely use it even with family and friends. It is made of non-toxic polyethylene foam and is safe to use.
This mat is easy to launch and use without delay. It was sturdy and could easily handle the combined weight. It is resistant to tearing as well as a puncture. Lastly, it's not difficult to maintain.
The stainless steel D-Ring mounted tie-up grommet is worth a special call out. I have homes on the lake and coastline and boat weekly. I know hundreds of boaters – many own a floating mat of some variation. Outside of weight capacity and durability the #1 feature that people tell me they wished they had researched is a steel grommet connection.
If you are looking for a water floating foam mat that is good quality and affordable, you will enjoy the GoPlus Floating Water Mat. It is one of the popular floating water mats on the market due to its low entry price and design. It features high-density 1.3-inch cell foam and uses an unrivaled strong center material for added durability. It also has a unique roll-up pillow for extra comfort.
This floating mat has a non-tear mesh layer sandwiched between the foam layers, effectively preventing tearing. In addition to durability, this mat is easy to roll up and comes with a sturdy storage strap for easy storage and hassle-free transportation.
This product can seat 8 to 10 people and can hold 1232 pounds of evenly distributed weight. The floating foam mat is also easy to clean (soap and water only) and can be secured to another floating pod or docked using a 12.5 bungee tether.
Floating on water is so much more fun with iFloats Water Pad Party Float. This mat is made of durable materials and is known to last long on water. Pink and blue are a combination of this floating mat which makes it stand out on the water.
The iFloats Water Pad Party Float has D rings on both sides and a tether system that can extend up to 18 feet. It easily attaches to the dock and keeps it in place.
SOWKT offers one more channel suitable for use in the water of your choices, such as swimming pools or lakeshores. It is large in size and stretches 18 x 6 feet. It can support a weight of up to 1,320 pounds. Of course, it's on the bigger side, but the included mounting straps help with storage.
SOWKT also includes the equipment you need to attach the mat to the boat so that you can enjoy hassle-free and comfortable. This floating foam mat is available in four color combinations, all of which stand out for added water safety. SOWKT also offers a one-year manufacturer's warranty, replacement in case of damage, and customer service responds quickly.
At higher weight levels, some water gets on the pad. Of course, it's not enough to sink, but if you want to stay dry while relaxing, this mat may not be your first choice.
Perhaps the most inexpensive model in the lineup, yet one of the highest-rated on Amazon. Maui mats are known for quality – they last. However, it comes with one grommet, and customers complain that there should be more especially considering the high price point.
This floating foam mat is long enough for several people and is buoyant. Maui floating water mats are light, but the material is durable, and they are easy to roll up for storage.
The Rubber Dockie floating foam mat is more than the name implies. Contrary to the name, it is a high-quality, closed-cell foam that is not rubber. It consists of one 3/8-inch foam housed in a two-ply high-performance closed-cell. It is protected by an inner matrix made of the brand's Tear-Stop nylon. Thus, it prevents accidental slips and breakages. But, on the other hand, the outer surface does protect by a Tuff-Hide cover.
Our Top 2 Floating Water Mats
1st Place
We purchased the Floating Oasis Lake Pad, and here is why:
Lightweight
Steel grommet
3 levels UV resistant foam
1,500 lbs capacity
Price point
Warranty
We are thrilled with our choice. Here is a video of us testing it out:
Here are pictures of us basking in the sun on the Pink Flamingo version!
And, it's dog-proof – here are the photos to prove it – it survived Daisey:
2022 Update On The Floating Water Mat We Chose!
So we've had our Floating Oasis Lake Pad for over a year and a half now, and zero regrets – we made the right choice. It really meets all expectations! We've used it at least 50 times, and she holds up. Not a single stretch or give on the steel grommet! We have learned that you have to flip the mat just as you would a mattress to keep the overall integrity straight. Otherwise, it starts to curve on the ends. Also, we do not leave ours on the boat unless in use. We store it in our garage.
Have we experienced any nicks? Of course, we have, but they are minor – stress minor in comparison to what I see on the water, and they are not holes, just little nicks here and there. I am also impressed with how the color has held up in the sun. Little to no fading, which is great.
Lastly, everyone comments on our design. I get asked all the time where you find one in a design. Still happy, still the right choice!
2nd Place
It was a tough decision not to opt for the Aqua Lily Pad Original Floating Water Mat. This is definitely the floating water mat to pick if you have a dog. It's also the largest one. For us, it did not seem worth another $250 for an extra five feet of length.
Floating Water Inflatable Mats
Before we cover inflatable mats, let's be clear on a few things.
They are not as popular as floating foam mats because they require more setup and are more expensive.
Hands down, if taken care of, they last longer than floating foam mats.
Most are dog friendly and will accommodate large dogs, and will not rip and tear from nails.
I don't own a dog and consciously decided that I wanted a foam mat. I will tell you which inflatable mat I would purchase and why, but I am not investing in one.
Floating Water Inflatable Mats Table Comparison
The Aquaglide Sundeck features a stiff, durable drop-stitch construction that resists UV rays. The Sundeck's low-profile design makes it easy to climb aboard from the water and is perfect for warming up in the sun or just hanging out with friends. Includes 2 heavy-duty anchor rings for attaching to your dock or other lounges. Eight deck-mounted rings let you attach a soft pack for extra comfort, plus you can tie off your kayak, paddleboard, and more so that your gear stays safe while you're taking a break.
The Sundeck Softpack is a must-have accessory for anyone serious about lounging. The Softpack connects to the Sundeck through our D-ring Interloc system using a simple strap.
An ideal addition to yachts and junks.
The 7 x 7 BOTE Dock is an excellent floating inflatable docking and swimming platform. It is incredibly stable and durable, making it BOTE's most versatile product. It works well as a platform on the lake; you can use it for yoga on the beach. In addition, you can link several together to create more space. It includes a hand pump and sling cover for easy transport and upgrades with recommended accessories such as a cool box, electric pump, or inflatable seat. It comes with a repair kit.
With 49 square feet of deck space, there's plenty of room for a party. In addition, the depth of 20 cm allows you and your belongings to float.
The BOTE Dock is sturdy enough for a small grill, a chair to relax on, do yoga or lie on for sunbathing. It's very similar to a paddleboard in design.
With 49 square feet of deck space, there's plenty of room for a party. In addition, the depth of 20 cm allows you and your belongings to float.
The BOTE Dock is sturdy enough for a small grill, a chair to relax on, do yoga or lie on for sunbathing. It's very similar to a paddleboard in design.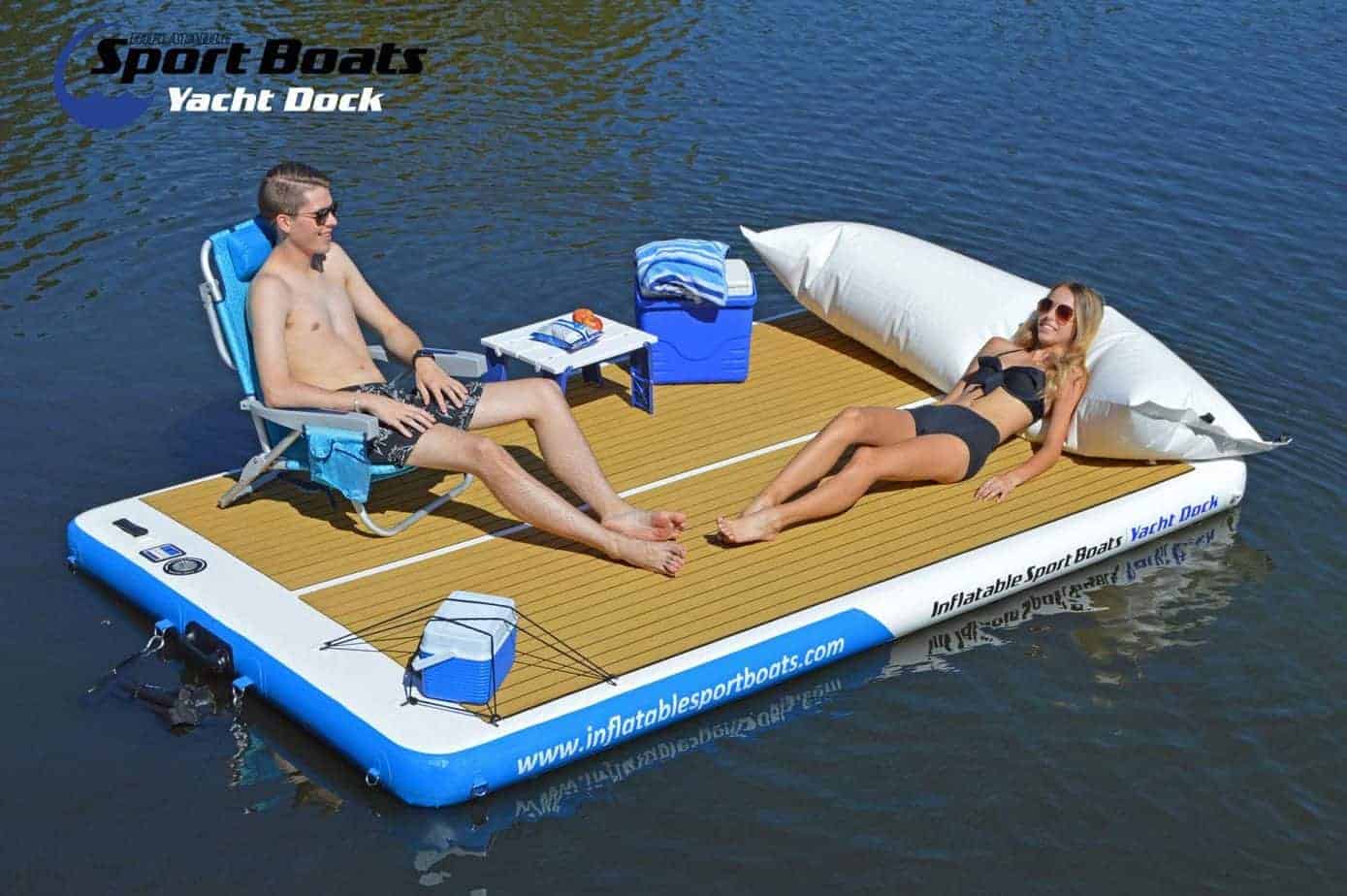 The Sport Boats floating platform is 10 feet x 6 feet wide. It is often used as an extension for boats, kind of like an additional deck. It is easy to carry when deflated and does not take time to inflate.
You could accommodate a dog, two adults, an ice cooler with a drink, and a chair. The strength of this floating water mat is fantastic. It is stiff and does not absorb water. It takes about 5 minutes to let the air out and folds it easily. It comes with a 30-day money-back guarantee and a 2-year manufacturer's warranty.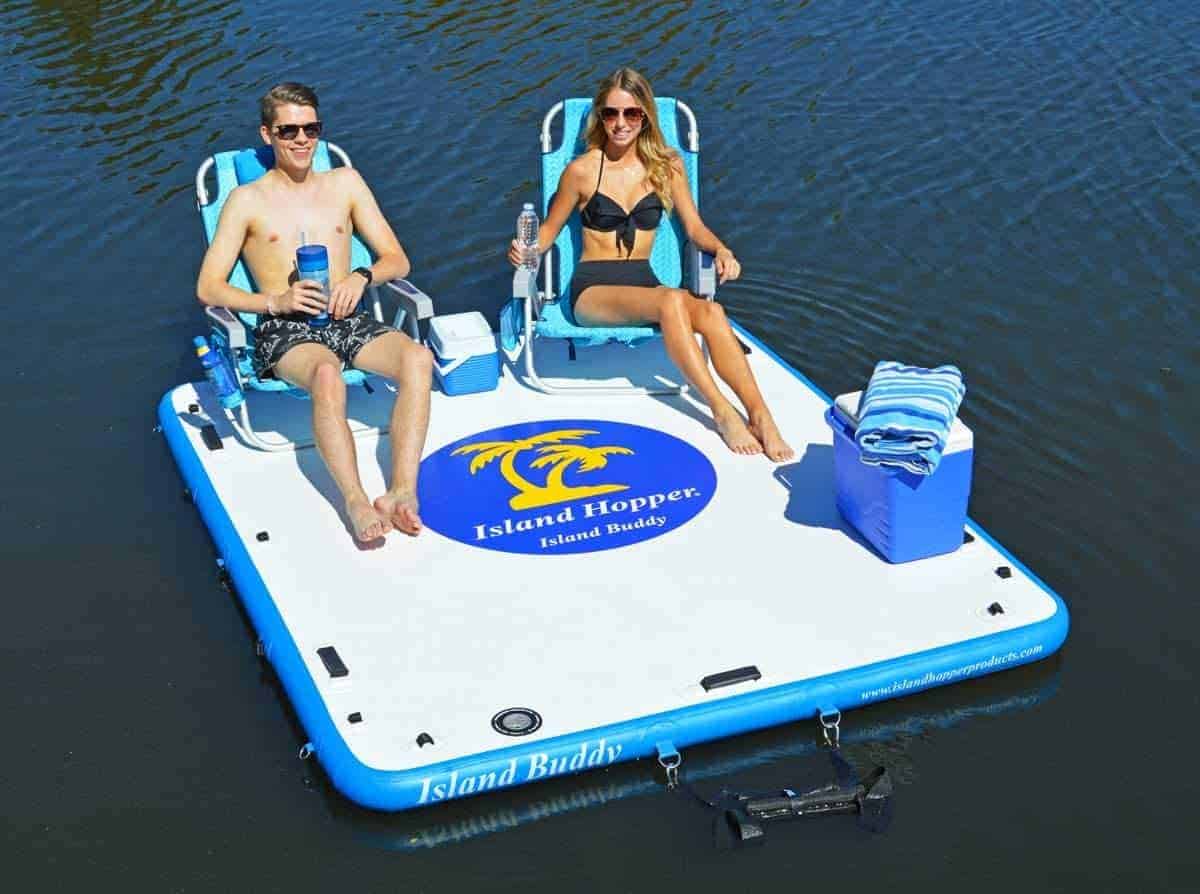 Make the water your very own private residence for fun and relaxation with a futuristic inflatable floating island platform for everyone to enjoy. So whether swimming, playing, diving, sunbathing, or just relaxing, you have space and freedom you need to enjoy a truly wonderful day under the sun. The Island Hopper Inflatable Platform will add to the fun on the water.
The 8ft x 6ft Island Hopper Island Buddy Inflatable Floating Swim Platform has a durable design. This inflatable floating water mat is very sturdy and buoyant, making it comfortable and safe to have fun. With vast stability, while floating on the lake, it can easily support 4-6 people and over 1000 pounds.
An excellent choice for floating freely in water or dropping anchors without being attached or used next to a boat. The 11 side-mounted D-rings make it quick and easy to hold the floating swimming platform in place. There are also eight web loops for fixing chairs, coolers, towels, and other items.
With the included portable bag and pump, you can quickly inflate anywhere, so you're always ready for a satisfying lake trip. Repair kits also ensure you get the tools you need for fast and efficient recovery no matter what happens.
It weighs just 30 pounds and can be stored in 36 inches of space when empty, so you won't mind the premium inflatable floating swimming platform's size. Get one for yourself, family, and friends today and expertise the freedom to enjoy the water the way you want.
You can easily combine the platforms to create a larger, wider area enjoyed by multiple people or host your events. The only limit is the imagination when combining the inflatable design's versatility with the functionality of genuinely reliable performance.
Diligent attention to design and manufacturing details provides an incredibly buoyant swimming platform that is stable, comfortable, easy to store, set up, and enjoyable.

Considered one of the best brands for water toys, Whoosh comes to you from the manufacturers of the first commercial-grade high-quality inflatable water trampoline that sparked the entire inflatable water trampoline industry. You know – the floating water parks you've seen all over the world.
The Whoosh 15 measures 15″ x 5″ x 4″ when inflated. It takes at least 8 minutes to inflate and holds up to maximum load capacity. Suitable for a maximum of 1600 lbs. The 48-pound floating water pad has a sturdy construction and comes with a stainless steel anchor ring and a double-acting hand pump for your convenience.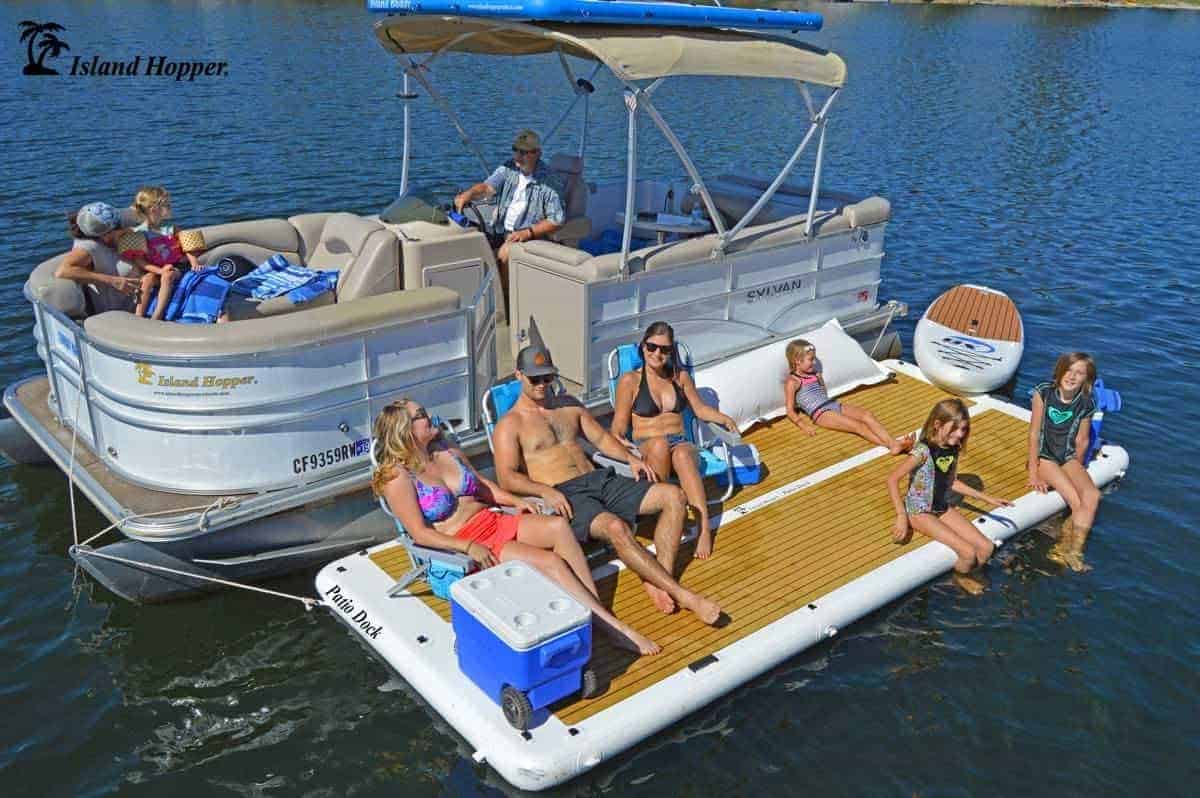 If you enjoy boating and other water activities, you should check out the inflatable floating foam mat at Island Hopper Patio Dock. This inflatable swimming platform is considered the best inflatable dock in terms of performance and fun. The 15ft x 6ft x 6 floating swimming platform has excellent stiffness and buoyancy to accommodate over 2000lbs and at least ten people comfortably!
It is a convenient inflatable dock that most attach to their boat. Attaching chairs and coolers so that you can sit comfortably in the sun on a deck above the water. The soft non-slip EVA foam surface makes it easy to enter and exit the water and is very comfortable sitting or lying down.
Built for fun and built with the ultimate inflatable dock, the 15ft Island Hopper water Floating mat is also made to last. This floating swimming platform surpasses the best boat industry standards, constructed from heavy-duty 1500 denier drop stitch material and electronically heat welded. So, how confident are Island Hopper and Splashy McFun in this inflatable dock?
It has a 5-year warranty without seam rash, the best inflatable pier warranty. Six carrying straps make it easy to carry, even when fully inflated. The Island Hopper Inflatable Floating Dock can be stored on the side of the dock, deck, patio, or pontoon while inflated and can also be retracted, rolled up, secured with the supplied straps, and compactly stored.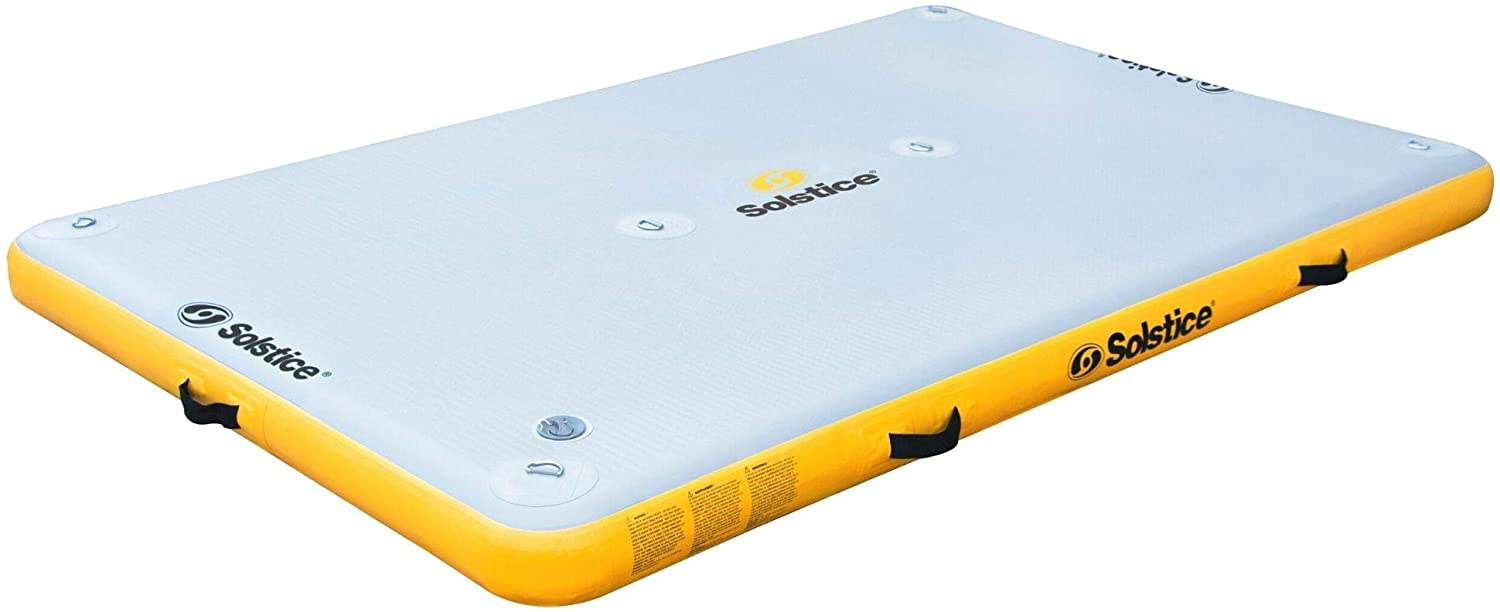 The Solstice Floating Mat has a drop-stitch structure, which makes it sturdy and resistant to long-term use. This floating mat can accommodate 4 to 6 people and can comfortably support a standing adult. The D-ring attachment point holds the port in a floating position. The strap is made of stainless steel, so it won't rust or stain even when used in water. The material is also sturdy and does not wear out quickly, keeping the mat in good condition for a long time.
The Solstice Floating Mat also has a sturdy handle that can easily transport from one place to another. It can expand and contract quickly using an H3 high-pressure valve. Depending on the number of people you want to board, you can inflate the mat to 7-10 psi. The greater the weight you are carrying, the more air you need to pump to the mat. When you deflate the floating mat, it becomes a compact size that can be easily carried and takes up a little storage space.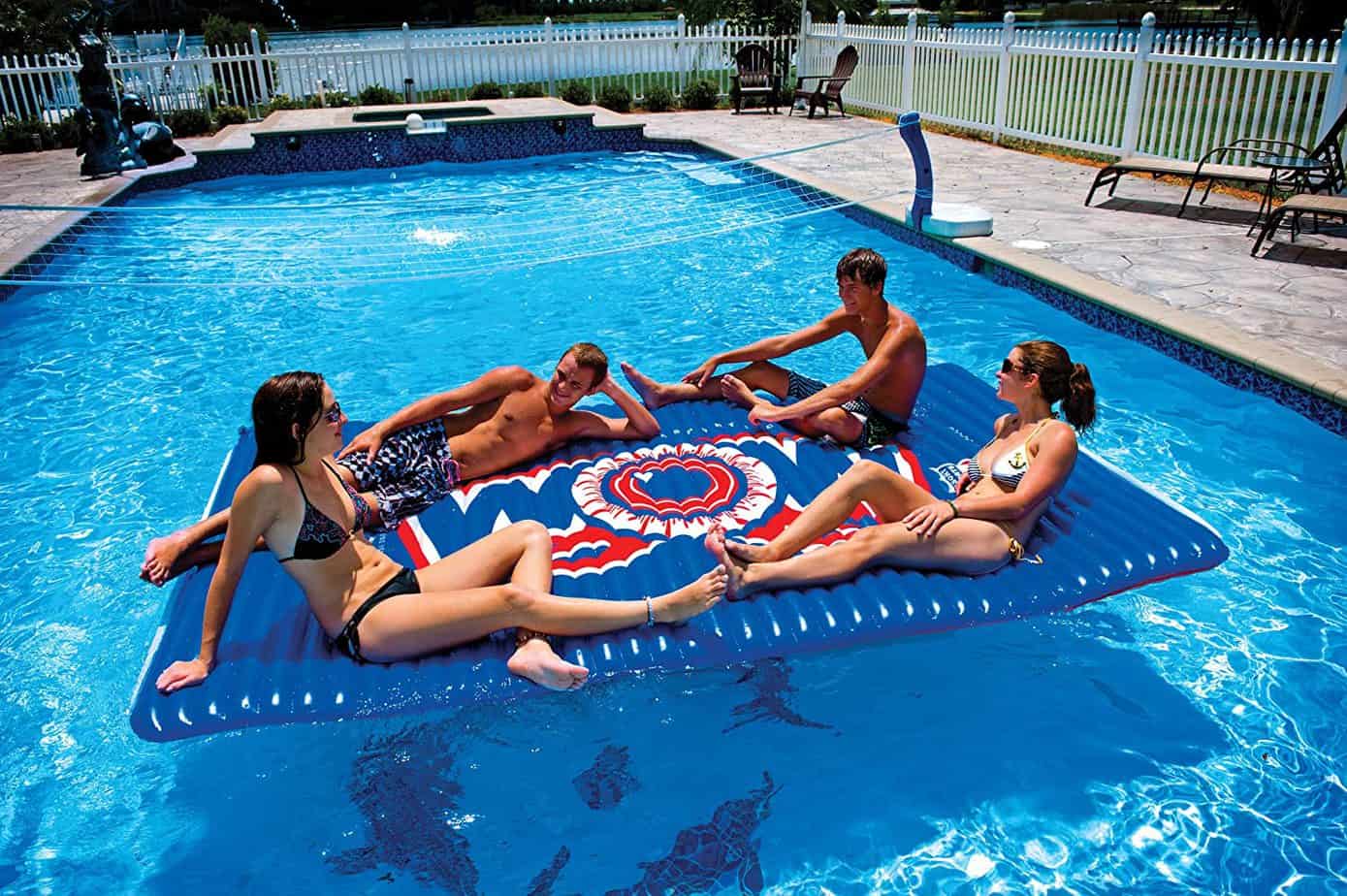 With the WOW World of Watersports, Inflatable Water Walkway, you can float on the water and create endless arrangements of walkways and platforms. Each platform can carry 1-6 people.
The WOW float has grommets on each end to tie off to a boat, includes 2 pieces of 6-foot rope to tie each end. Connecting zipper system allows you to connect as many WOW Walkways as you want, make a 6 x 10 ft., 6 x 30 ft., 6 x 50 ft. floating island on water. And, given the affordability, you go crazy creating.
Note: It must be tightly inflated.
When not in use, it can be easily deflated and stored. Children and adults will love the floating mat. It is built with durable and high-quality materials.
Our Top 2 Floating Water Inflatable Mats
1st Place
There's no denying that the Wow, World of Watersports Inflatable Floating Water Walkway is great value for money. With its ability to connect to other platforms at its price point, you can create your own custom floating oasis. It also does the same job as all the other floating water inflatable mats. The only real difference is it does not inflate as a solid platform. So if you are looking for an additional deck, see our second pick.
2nd Place
The RAVE Sports 02828 Whoosh 15′ Water Mat-White gives you the best of both words – a solid deck and a water mat all in one. And, this one is huge, in the mid-price region, and has flawless reviews.
Closing Thoughts
Not all products are made equal, so you need to think about your own needs and weigh them against your budget. It's also wise to read the reviews and feedback written by people who have used them before.
Last and not least, what did you buy and why?
Looking For Places To Take Your Floating Water Mat or Floating Water Inflatable Mat? Check Out These Posts:
We are a participant in the Amazon Services LLC Associates Program, an affiliate advertising program designed to provide a means for us to earn fees by linking to Amazon.com and affiliated sites.