I've previously written about scalloping at the Crystal River, but people always want to know if we have scalloped out of Homosassa. In 2018 we started scalloping out of Homosassa, which is considered the mecca of scalloping. For many Floridians, scalloping out of Homosassa is an annual event, a tradition, and many swear by Homosassa over the Crystal River.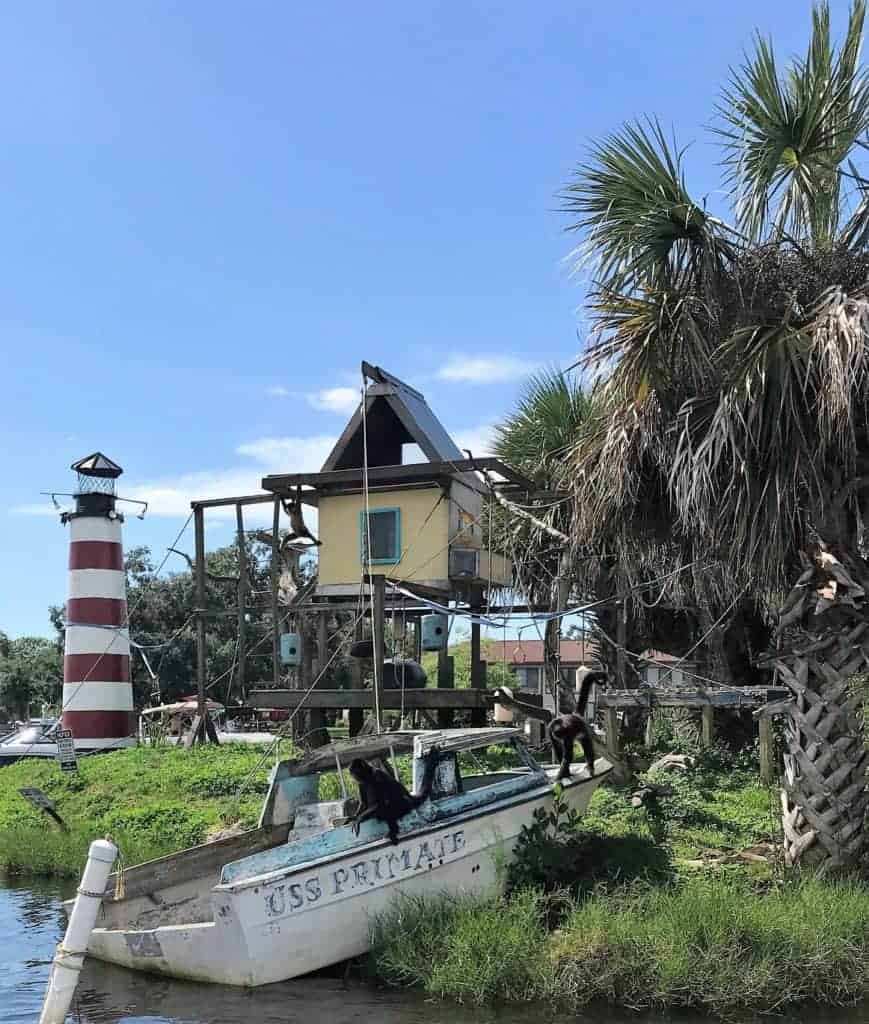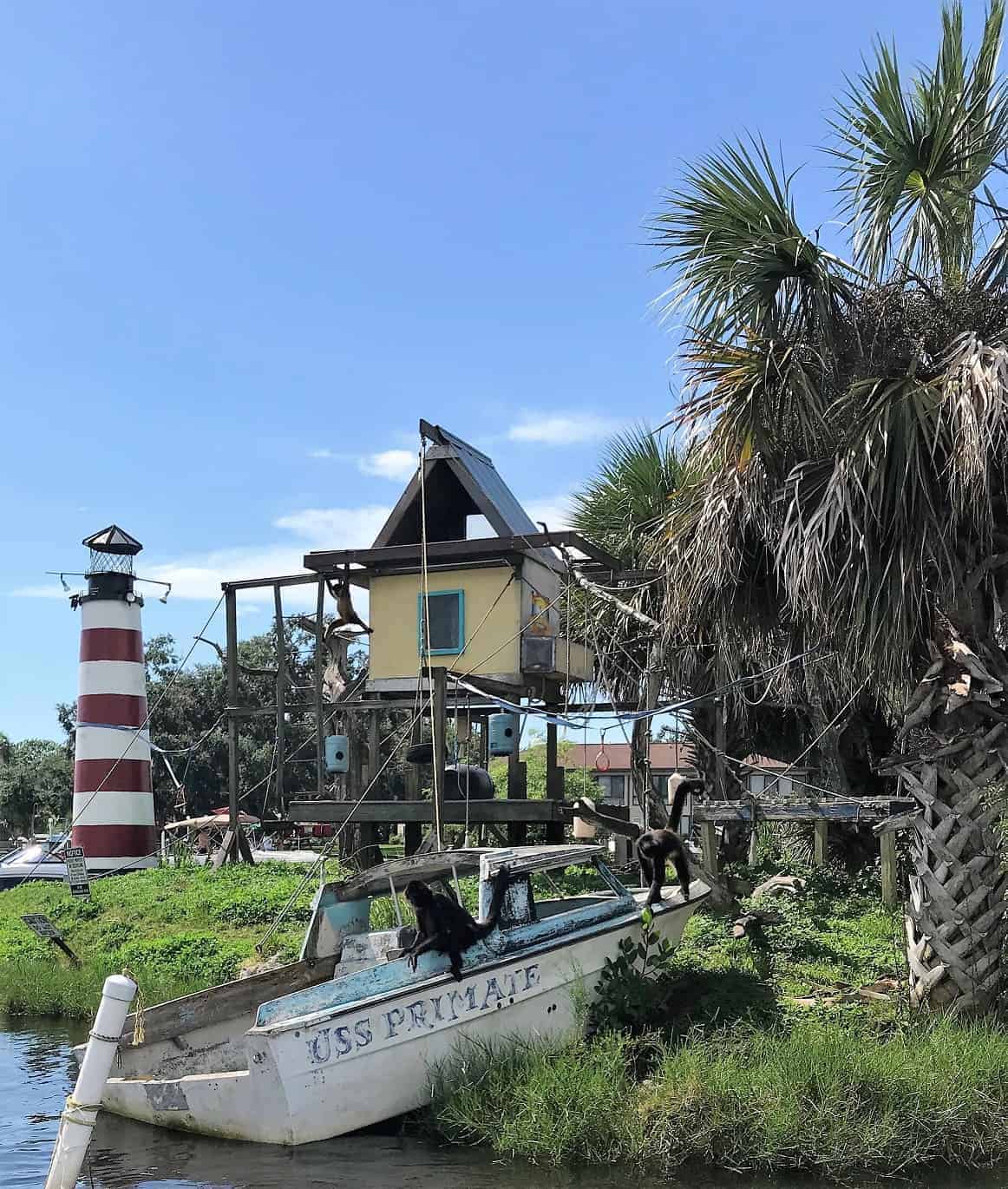 Since 2018, we've scalloped and launched from Homosassa several times. For some of our friends that join us, it's become the location of choice. Others still prefer the Crystal River.
Is Homosassa better than The Crystal River? For some things, yes. For others, no. Both offer treasures, and both have their advantages. And everyone has their take on it.
This post may contain affiliate links. Please read our disclosure and privacy policy for more information.
About Homosassa
Homosassa is best known for two things – scalloping and the springs. Like many towns on the west coast of Florida, it's a throwback to simpler times. Less known is that it is home to Yule Sugar Mill Ruins Historic State Park. You can check out this historical mill on your way into town.
Yulee Sugar Mill Ruins Historic State Park
Our first journey to Homosassa, Florida, was on July 7th, 2018, the first Saturday of the season for 2018. A catastrophic mistake unless you dock the night before. If you skip this step like us, you will be in line for a couple of hours to use one of the public boat ramps. This is, of course, assuming you are planning to hit the waterways. If you are. My advice here is simple. If you plan to go out on the opening weekend of scalloping, you need to head back up to the Crystal River.
Scalloping From Homosassa
First and foremost, regardless of where you start, you will end up at the same scalloping patch – period. So, realistically, there is zero difference relative to the hunting ground in terms of scalloping. The two locations are different, but you will end up in the same place no matter where you start from.
Read this for detailed coverage on scalloping: Scalloping in Florida – A Helpful Illustrated Guide: Where and How to Catch Scallops
Map of Homosassa Scallop Beds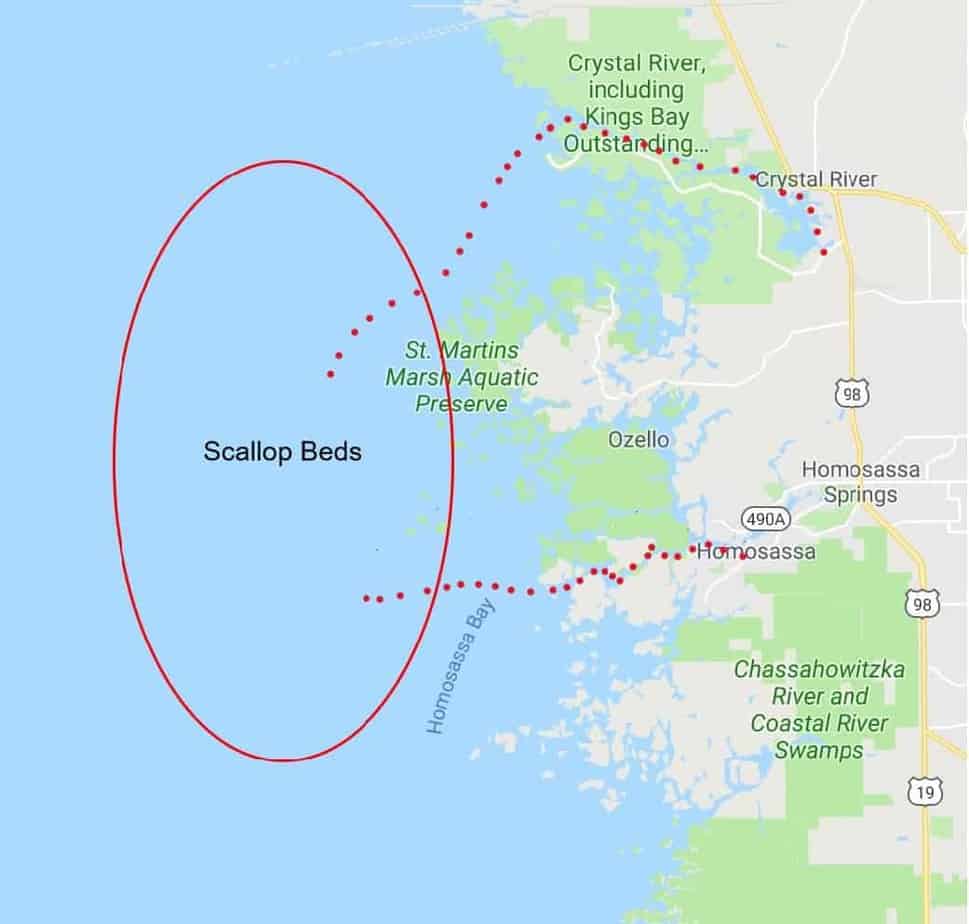 Homosassa Springs
Once upon a time, Homosassa Springs was a popular train stop in the early 1900s. People would take a much-needed rest while the trains reloaded. Passengers would swim and fish. By all accounts, Homosassa was considered one of the most beautiful spots to take a break at. I am not surprised by this, and once you experience a Florida spring, there is no going back. And Homosassa, Florida, is one of the most special.
Also known as Ellie Schiller Homosassa Springs Wildlife State Park. Homosassa springs also feature various captive animals such as alligators, black bears, red wolves, key deer, flamingoes, whooping cranes, and the Lu, the oldest hippopotamus in captivity.
Location: 4150 S. Suncoast Blvd. Homosassa FL 34446
Homosassa Accommodations
Like The Rainbow River and The Crystal River, it's slim pickings. I would venture to say it's even harder to get a place in Homosassa because it's so popular during scallop season.
Homosassa Accommodations We Have Stayed At:
Homosassa Riverside Resort – Now Called "Florida Cracker Riverside Resort"
The hot spot in town. You must book directly through their website, and if you are scalloping, you had better book way in advance — reservations for scalloping season open in December. This place has it all! It's on the water, with a private boat ramp and boat slips to rent. It's also home to Monkey Island. Most importantly, it has a boat ramp, and you can rent boat slips.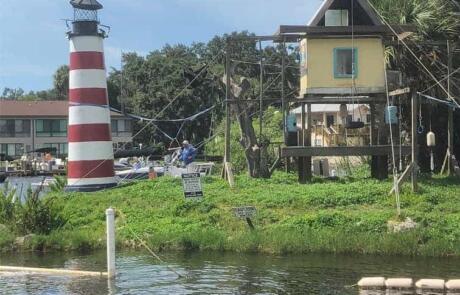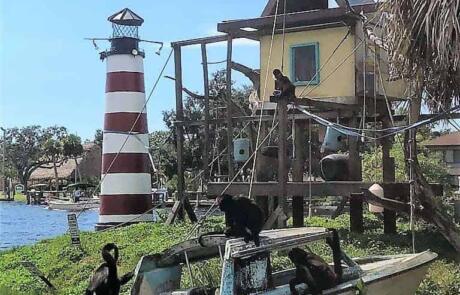 The Chassahowitzka Hotel
More beds and breakfast than in a hotel, and most rooms share a bathroom. I did not realize this when I booked it, which was my fault. It is clearly stated on any site you use to reserve. Sharing and crapping does not go over well for us. Getting naked, sure but crapping – let's pass on that one.
Let's start with the locals! They are so friendly and helpful. They introduced us to Pecks, one of Florida's new all-time favorite restaurants.
The Chassahowitzka Hotel hosts a ton of regulars, and the hotel is quite intimate in this sense. Think of sitting on a porch chatting to guests who return as you inhale the distinctive smell of weed. I have nothing against pot at all. It made me laugh because this honestly reminded me of many nights out in the UK where people go for it without inhibition.
This place is spotless and homely. You will have a shared run of the house. Just be sure to book a room that meets your needs. We would consider staying here again. But we will reserve a place that has a private bathroom.
Lastly, breakfast is included and not missed; it's where you will meet the residents if you missed them the night before.
Homosassa Accommodations We Have Not Stayed At:
Bella Oasis Hotel
We have not tried this one yet and don't plan to in the short term. The photos make the place look dated and grubby. You can book this one on any travel website or directly via theirs.
Homosassa River Retreat
They are conveniently located on the Homosassa River in Citrus County. One of the oldest landmarks in the historic town of Homosassa, Homosassa River Retreat riverside cabins are in direct view of the Homosassa River flowing out to the Gulf of Mexico and within a mile from the cold springs of the Homosassa River. Newly renovated, all nine riverside cabins offer a kitchen, an AC, and a Cable TV with freshly made beds in the beautiful surroundings.
According to Craig Allmann, this is the place to stay. He told me that people are amiable and the cabins are lovely. It's on the water, so I might have to try this place!
Mac Raes of Homosassa
Like the Bella, this does not look overly appealing in the photographs. You must book directly over the phone. Mac Raes is the home of the famous Shed. A tiki bar where you can experience a taste of old Florida. This place also offers boat rentals and a bait and snack shop. Next to the main boat ramp – Duncan J. MacRae and next door to Homosassa Riverside Resort.
Seagrass Resort
This option won't fit all, and we have not tried it, so I can't vouch for it, but the photos look decent. You must call to reserve.
The Last Resort
Interestingly, this place looks like a combination of river and island rentals. I just heard about this one recently. It's another you need to call directly to reserve.
Book Hotels In Homosassa Here:
Public Boat Ramps In Homosassa
There are four public boat ramps:
| | | |
| --- | --- | --- |
| Facility ID | Ramp Name | County |
| CI00053QZ | Chassahowitzka River County Park | Citrus |
| CI30003RG | Homosassa (Duncan J. MacRae) Public Boat Ramp | Citrus |
| CI00048DO | Mason Creek Road Public Boat Ramp | Citrus |
| CI00033WC | Riverhaven Marina | Citrus |
| | | |
Two are the most popular:
Old Homosassa (Duncan J. MacRae) Public Boat Ramp
This is by far the most popular launching spot. The famous Monkey Island is immediate to the right. Be prepared for long lines if you go at the beginning of the season. Even the state's website states this. There is limited parking, so limited that locals offer you a ride via golf carts to park. It's $10 per person, a total rip-off.
Something else that you need to know. This ramp is right next door to The Shed. When you return, be prepared for a cast of drunken judges who will boo and antagonize you if you can't land your boat on your trailer in one shot. This is common at boat ramps, but it was brutal here. If you are new to boating or can't perform this in one go, steer clear of this ramp.
We launched from Homosassa Riverside Resort. I would not consider launching from Duncan J. MacRae. The lines are horrendous, and the heckling was above and beyond what to expect at a boat ramp.
Address: 5300 South Cherokee Way 34448
Mason Creek Road Public Boat Ramp
We have not tried this one, but it's further south than Duncan J. MacRae. I can only imagine that this is just as busy. Looking at the map. I would suspect it's harder to get as you would still need to bypass the traffic heading to Duncan J. MacRae.
Address: 6891 South Mason Creek Road 34448
Essentials You Will Need To Enjoy Homosassa
Scalloping Out of Homosassa
I coved scalloping in a previous article, so I will not rehash it. It's verbatim the same and, like I mentioned above same hunting ground. One different thing is there are more scallop cleaners on the way back in. There are hysterical jokesters on the river that will heckle you in a friendly manner. I also found the cleaning services slightly less expensive in Homosassa.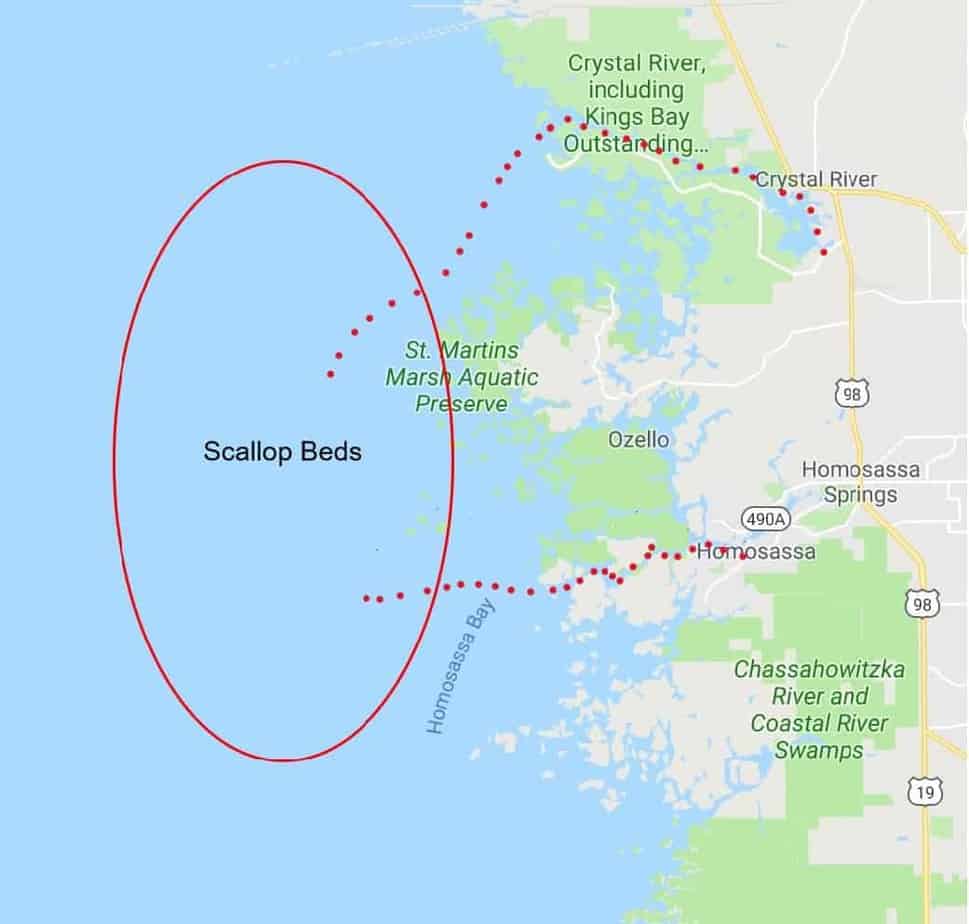 Homosassa Restaurants
The Freezer: Casual, open-air tiki bar. They say they have the best stone crab claws when in season.
The Shed: This is a hot spot with live music. Read the reviews. I don't think they are known for fantastic food as much as they are known for their atmosphere and Tiki Bar,
Seagrass Waterfront & Tiki Bar: I'm not sure about this place. The cocktails look amazing, so it could be worth stopping in for a drink. The menu seems confusing or lacks identity. The menu features food from around the world. Maybe this is their way of differentiating from the norm.
Pecks: Not actually in Homosassa, it's in Ozello, but it should be on your list of must-dos. They sell fresh local blue crab that is to die for. You can order it steamed Maryland Style (old bay) or garlic. This place is on the water in the middle of nowhere, but it is beyond worth the drive. This is my favorite restaurant in this region.
Something To Consider:
Everyone knows everyone; this place is clicky. Ask a simple question like is the route to the channel marked? And you may be met with a couple of things. The "are your local" question is followed by a char of slaver liken to that of the Bayous of New Orleans, or simply stated completely non-understandable verbiage. It's the deep south, folks. Most of the locals were fabulous and helpful. Some seemed annoyed that we dared to take on this lovely location. This does not phase us we've been back many times!
If you really love springs, then you need this book! Florida is home to over 1000 natural springs between the sun-soaked beaches of the Gulf of Mexico and the Atlantic Ocean, which have drawn people to the state for thousands of years. Long before theme parks came to town, the freshwater springs were the top tourist attraction in the state. Join us across the state to explore 40 of the best springs in Florida that you can still visit today. Filled with vivid photos from the past and present, this guide will show you a side of the Sunshine State you won't see in commercials. Complete with information on conservation and a key for activities offered, this book is a must-have for locals and tourists alike.
Closing Thoughts
The drive to the scalloping grounds is shorter and more scenic. It's remote in some spots conjuring up the idea that you might have got lost in what might be an otherwise beautiful swamp. And tons of tiny islands, many with homes on them.

There is more action on the river, especially in the Homosassa River section. Several restaurants, a marina, bars, etc.

You can walk to all the hot spots. Everything is centrally located, whereas you must drive over the water or by land at the Crystal River.
The rental boats are far superior to the Crystal River. All were modern and well-kept, and some appeared to have faster motors. Most of the rental boats going out of Crystal River are old and decrepit.
Homosassa is lovely, and everyone should experience it. My only caution is to consider your boating experience level before taking it on. It's not for beginners.
Looking for more posts on Florida? Start here:
We participate in the Amazon Services LLC Associates Program, an affiliate advertising program designed to provide a means for us to earn fees by linking to Amazon.com and affiliated sites.
Brit On The Move™ Travel Resources
Ready to book your next trip? Use these resources that work:
Need more help planning your trip? Check out our Resources Page, highlighting the great companies we trust when traveling.