Paddleboarding – Here's Why You Should Try It!
If you love paddle boarding or want to try it, you will surely enjoy these different activities. Let's start with the basics. First, stand-up paddleboarding (SUP) is a fantastic way to explore other areas while gaining a full-body workout. Whether paddling in a lake or ocean, you can enjoy the peacefulness of nature and get your dose of physical activity simultaneously.
SUP activities can range from mellow, leisurely paddles to more thrilling adventures. If you want a challenge, why not try paddle boarding games like racing or SUP polo? But if you prefer something calmer, flatwater touring or fishing on your SUP might be just the thing for you.
Here are lots of different ways to explore the waterways on a paddleboard!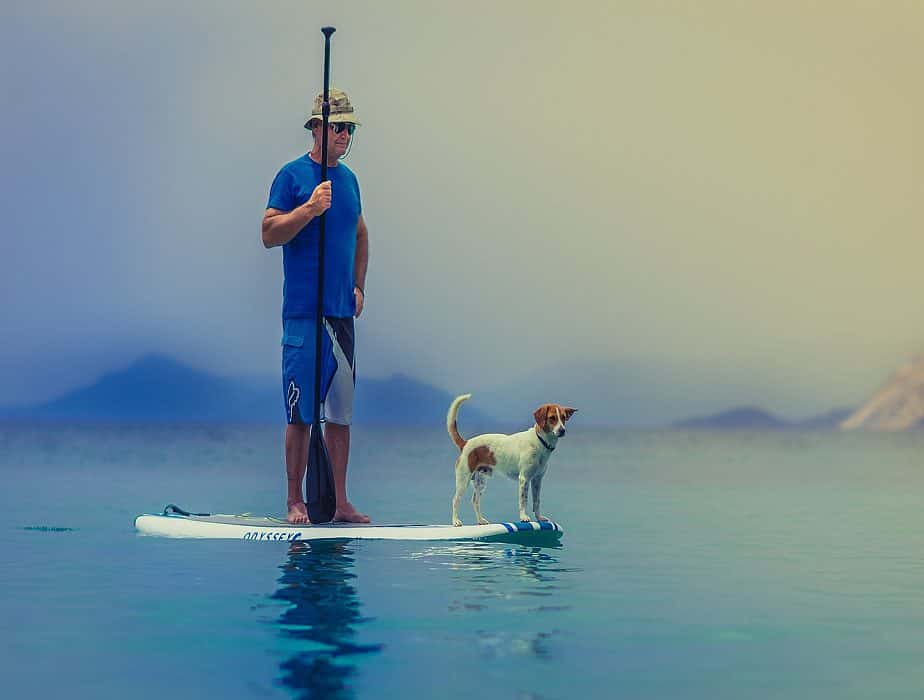 This post may contain affiliate links. Please read our disclosure and privacy policy for more information.
SUP Fishing
Whether you are a novice or a fishing veteran, the SUP fishing experience will be a great experience. These days, fishing paddleboards are available everywhere, whether online or offline. You may get many of these paddle boards equipped with a mount that attaches rod holders, fish finders, downriggers, and whatever else you require. Compared to boat and kayak fishing, SUP fishing provides various advantages.
SUP Surfing
SUP surfing is a thrilling activity you may do on the ocean. When the high waves become too high or rough, you can take the paddleboard and engage in the fascinating act of navigating the surf.
Surfers often say it is one of the best ways to surf, and it improves with practice. There are rigid SUP surfing boards available in the market that you may use for a better surfing experience.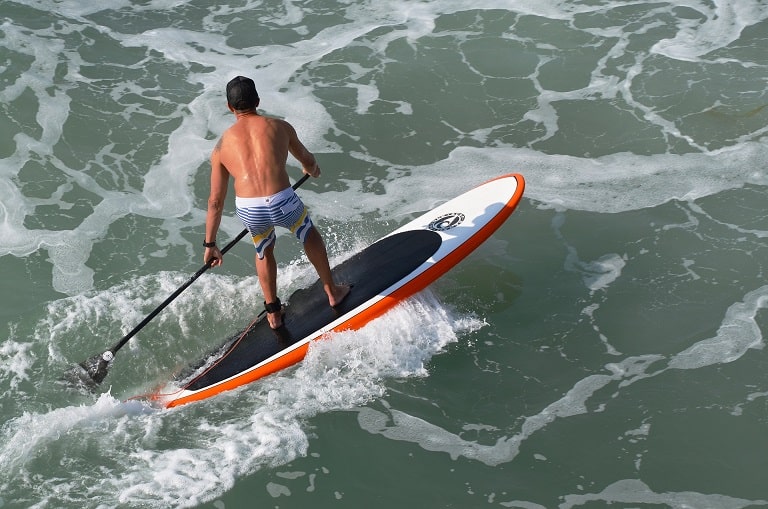 SUP Racing
Did you know that SUP races are held all year globally? If you like races and water alike, SUP racing is just what the sports doctor recommends. Compared to the regular SUP boards, the ones used in racing are longer and skinnier. This helps to maneuver the water better.
SUP Tours
If you are into intense workouts or exploring, SUP touring should entice you. This activity involves paddling long distances at a moderate rate. To make the most out of this activity, you should opt for paddleboards with a more comprehensive template so that t is easier to float. However, most companies will provide the appropriate paddleboard if you are going on a guided tour.
SUP Yoga
SUP yoga is one of the favorite activities for paddleboarding fans these days, and it's a great option if you want to take your yoga session on the water.
The occasional passing of fish, birds, and dolphins will make things more exciting compared to conventional yoga practice. Along with this, nature's soundtrack will provide serene meditation.
You may practice yoga on any paddleboard, but you can use inflatable paddleboards for maximum comfort. Maddle's SUPs options are attractive and durable. Look at their options to see what suits you and view the modern options flooding the market.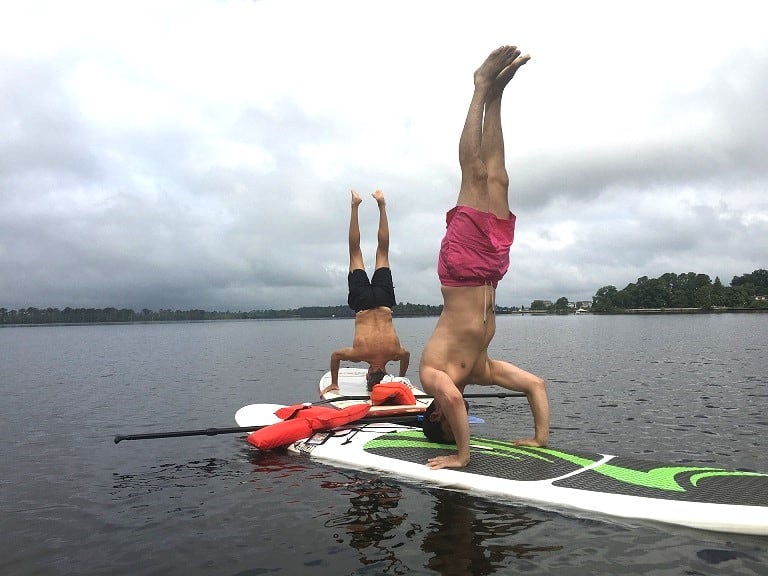 Paddleboarding With Friends And Family
Paddleboarding is a great way of spending quality time with friends and family. Most paddleboards these days come with enough area for another individual to join you when you paddle. Some paddleboards can support five to seven paddlers. These are typically known as multi-person paddleboards.
Exercise
One of the best all-around workouts that anyone can get is paddleboarding. If you don't like the gym and are tired of the regular workout routine, you should try paddleboarding. With so many exciting activities on a paddleboard, you will get a complete workout and a dose of adventure.
Paddleboarding What To Wear?
What to wear depends on the season and where you're paddleboarding. Aside from our common rashguards or bathing suits, you'll need to consider neoprene products if you plan to paddleboard in anything other than hot weather.
What is neoprene?
Neoprene is a synthetic rubber material commonly used in various applications, including wetsuits, laptop sleeves, and orthopedic braces. This product is known for its flexibility, durability, and resistance to water, oils, and chemicals. It is also used in other industrial and consumer goods. It also has good insulation properties, and it also has good resistance to UV radiation and ozone. First developed by DuPont in the 1930s and is now produced by many manufacturers worldwide.
What to wear when Paddle Boarding in the Summer?
While your body's response to falling in is much softer than in the colder months, paddling in hot temperatures requires careful consideration of many other factors, especially during more extended tours.
When paddling through cooler evenings or more extended tours, wear sunscreen and layers to protect yourself from sunburn. Especially at sea, the sunlight reflects up from the water, making you more vulnerable to sunburn. Remember that a cold breeze can easily mask how hot your skin is when you're paddling, so ensure you're well-protected.
Always wear a hat when paddling in hot weather. Sunstroke is never fun, especially if you're in the middle of the ocean, so make sure you keep your head protected when out paddling in the sun. You may want to consider a waterproof hat because there's always chance of falling in.
You should wear comfortable shorts, waterproof clothing, or a short wetsuit to look stylish if you plan to splash around.
What to wear when Paddle Boarding in the Autumn or Spring?
The changing seasons may require you to wear more layers. You'll be more comfortable wearing leggings and a hooded jacket if you're a confident paddler. If you decide to paddle in cooler weather, ensure you don't wear too many layers, as your body will warm up considerably once you start. No matter how experienced a paddler may be, keeping feet dry is essential. To prevent this, we recommend wearing waterproof shoes or wetsuit boots.
This is where neoprene products become your best friend. Many neoprene products are suitable for paddleboarding. However, we do not recommend too thicker products because they limit mobility. If the temperature is cold, we recommend waterproof or neoprene leggings, a waterproof long-sleeved top, and, if necessary, a waterproof jacket or neoprene hoodie.
What to wear when Paddle Boarding in the Winter?
Paddling in the winter temperatures can be tricky, even for hardcore enthusiasts.
Paddling is uncomfortable if you wear anything too thick. Most of the time, your legs are static, so we recommend wearing thick leggings. We also recommend a technical, water-resistant, or neoprene top for the top layer, followed by a neoprene jacket or hoodie.
You will stay warmer in winter if you are active, so don't overdress. Thinner layers are easier to regulate your body temperature when paddling.
Dry suits don't provide much protection, so you need special clothing for winter paddleboarding. If you are in cold temperatures, wearing a neoprene beanie, a pair of waterproof gloves, and thick wetsuit boots will keep your extremities warm.
Always keep a waterproof bag with dry clothes on your board when paddling in cold weather, no matter how much experience you have.
Changing out of wet clothes requires a dry robe or change jacket. In addition to keeping you warm and toasty, these will help you dry faster, significantly reducing the risk of hypothermia.
Things to remember before going paddleboarding:
Wear the appropriate clothing and footwear that will keep you safe and comfortable.
Make sure to wear a life jacket for safety, even if you know how to swim.
Before starting the activity, take all the necessary gear, like oars, fins, wetsuits, etc.
Be aware of the water conditions like currents and tides.
Learn basic paddle-boarding techniques before starting.
Follow local laws, check weather reports, and adhere to warning signs.
Inform someone about your plan and carry a safety beacon if possible.
These are essential tips for you to ensure that you have a safe and enjoyable experience with paddle boarding.
Great Places For Paddle Boarding in the USA
If you are looking for the perfect spots to try out your paddleboarding skills, then here are some of the best places for SUP in the USA. From beginner-friendly lakes and rivers to professional wave-riding spots, there is something for everyone.
California
California boasts some of the most beautiful beaches in the USA. Try out your paddle boarding skills at Venice Beach, San Diego's Mission Bay, or Lake Tahoe.
Florida
Florida is the perfect spot for a leisurely SUP ride. With its warm waters and stunning landscapes, you will have a pleasant experience in the Sunshine State. Take your board out in spots like Tampa Bay and Biscayne Bay.
Florida is my home state, and there are some fantastic places to paddleboard, especially in Florida Springs. Here are some favorites that should be on your list if you plan to paddle in Florida: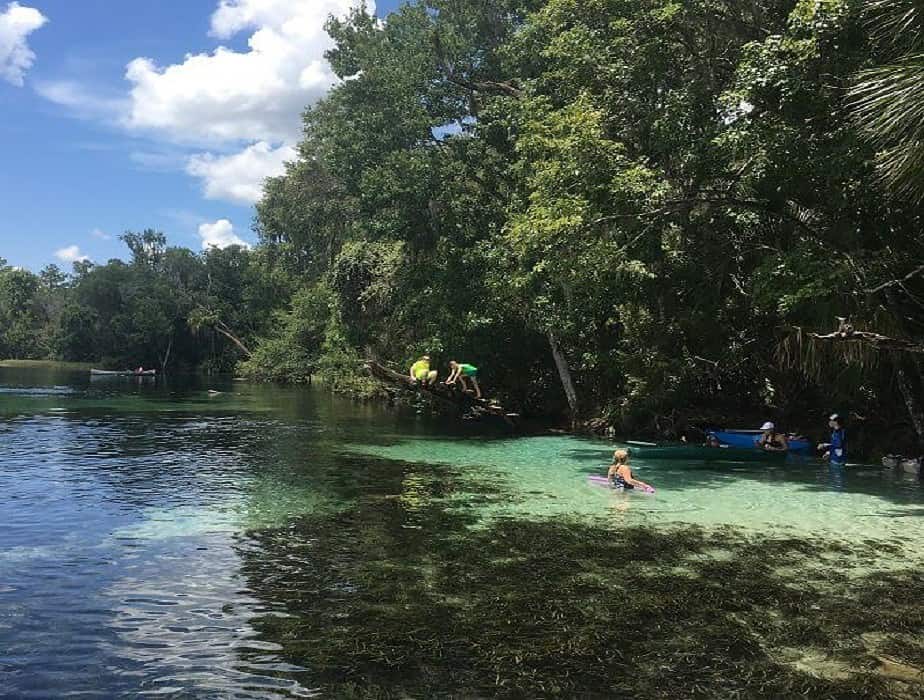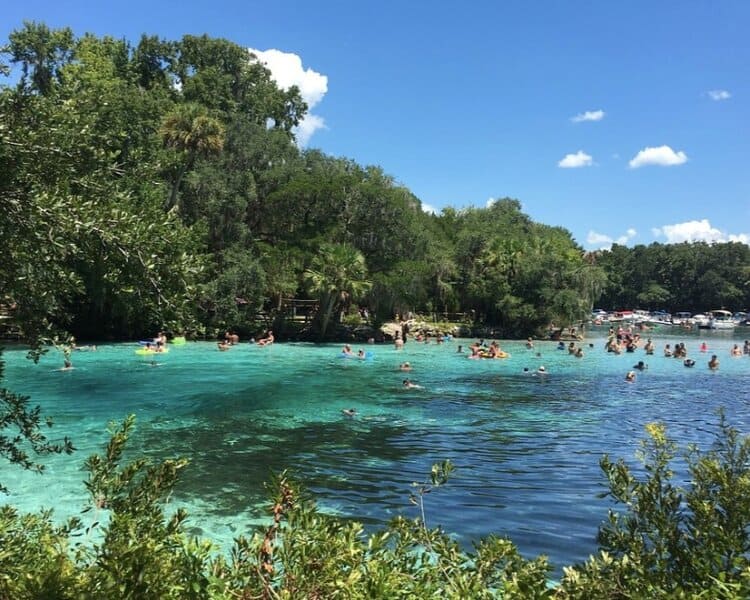 Hawaii
Hawaii is known for its great surf spots and beautiful beaches. Enjoy sun-kissed, crystal-clear waters at the North Shore of Oahu or Waikiki Beach in Honolulu. Oregon If you are looking for a more challenging ride, then Oregon is the place to be. The Columbia River Gorge provides the perfect backdrop for a windy, wave-filled SUP ride. No matter where you go paddleboarding, pick the right board and have all the necessary safety equipment. You will indeed have a great time with the right gear and guidance! So, what are you waiting for? Get out there and give paddleboarding a try!
What are the benefits of paddle boarding?
It is an excellent way to stay fit and active.
It can help reduce stress levels and improve mood.
Paddleboarding helps build strength, flexibility, and balance in the body.
It encourages connection with nature and its surroundings – a perfect activity to enjoy with friends or family!
Paddle boarding is an eco-friendly activity that doesn't require any motorized vehicles.
It is a great way to explore the waters and their wildlife without disturbing them.
Paddleboarding can be enjoyed in any weather, whether calm lake or rough ocean waves.
It is a fun activity that requires minimal equipment and is suitable for all ages and skill levels.
So, what are you waiting for?
Get out there and start paddle boarding! You won't regret it. With all the benefits of paddle boarding mentioned above, you will have fun exploring the waters in style and comfort. Plus, it's an excellent way to stay fit and healthy! So, make it a part of your routine and enjoy the many benefits of paddle boarding.
FAQs
How do I choose the right paddleboard?
Choosing the right paddleboard depends on size, weight, and skill level. When picking a board, it would be best to consider length, width, volume, and construction material. Talk to an expert or browse reviews to find one perfect for you.
Is paddle boarding easy to learn?
Yes, it is relatively easy to learn the basics of paddleboarding, but like any other physical activity, it requires practice and dedication. Before heading out into open water, get familiar with safety tips and proper techniques. It's always a good idea to go with a certified instructor or experienced paddler.
What kind of paddleboard should I get for yoga?
Stability is key in paddleboarding for yoga, so look into an inflatable or all-around board that offers more surface area and floatation. The extra width will help keep you balanced during poses. Make sure you practice yoga on calm water and find a spot with minimal wind and waves.
Are there any age restrictions for paddle boarding?
There is no general age limit for paddleboarding, but it's important to keep in mind that individuals under the age of 18 should always be supervised by an adult when out on the water. Additionally, smaller children can ride tandem with an adult on a larger board.
What type of paddleboard should I get for racing?
Racing boards are long and narrow, offering superior speed and maneuverability. They tend to be made from advanced materials like carbon fiber or epoxy resin, so they are lightweight and easy to handle. Starting with an all-around board is best before investing in a racing model if you're a beginner. No matter what type of paddleboard you choose, make sure it suits your needs and skillset. With the right gear, practice, and safety measures in place, you can enjoy a safe and enjoyable paddleboarding experience. 
Closing Thoughts
Paddleboarding is a great way to explore the outdoors, stay active, and have fun. With so many SUP spots in the USA, you will find one that suits your skill level and interests. Make sure to invest in quality equipment and familiarize yourself with safety measures before heading out on the water. Have fun and be safe. Happy paddleboarding!
Here are some great places to Paddleboard:
We participate in the Amazon Services LLC Associates Program, an affiliate advertising program designed to provide a means for us to earn fees by linking to Amazon.com and affiliated sites.
Subscribe to our newsletter and get the best travel tips and inspirational stories delivered monthly. No spam, no sales pitches – TRAVEL!
Brit On The Move™ Travel Resources
Ready to book your next trip? Use these resources that work:
Need more help planning your trip? Check out our Resources Page, highlighting the great companies we trust when traveling.