Imagine fantasizing about visiting one of the most historic towns in England, Stratford Upon Avon, which is the home and birthplace of none other than William Shakespeare.
Stratford Upon Avon, famous for William Shakespeare, is also legendary for its well-preserved Tudor buildings, a lure for many travelers. So, if you are heading to Stratford-upon-Avon like me, you will want to stay in a hotel or classic bed and breakfast of the style.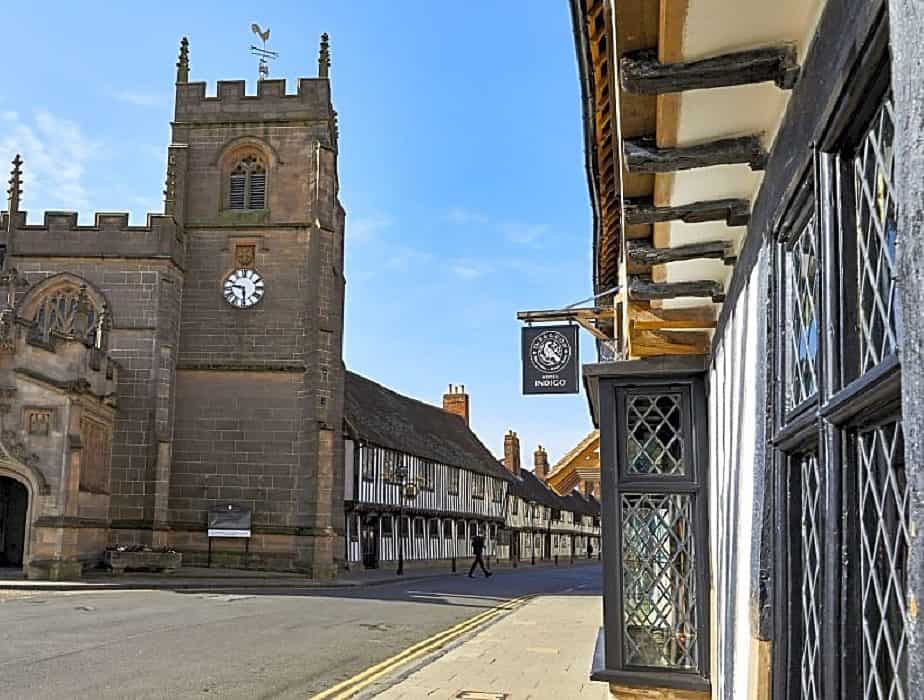 After lots of searching, I chose Hotel Indigo Stratford. Indigo, a part of the IHG chain, is a brand I am familiar with and loyal to. I've stayed in countless of their properties across the world.
I specifically picked Hotel Indigo Stratford-upon-Avon because the pictures show it as a hotel in a Tudor building. My second reason for choosing this hotel is the suites advertised have claw tub bathtubs in the actual bedroom.
I'm also a platinum member of IHG. As such, I am accustomed to upgrading rooms and suites when available. It's one of the main perks of having status with IHG.
This post may contain affiliate links. Please read our disclosure and privacy policy for more information.
So, where do we start with Hotel Indigo Stratford-upon-Avon?
It is a tough choice, given it did not meet my expectations. This was not an award stay for me. I paid to stay and expected a lot more.
Deceptive (but not false) Advertising
How often have you studied a hotel, the pictures, and the location only to get there, and it's not what you expect? I've had this experience a few times. It's something that sets the tone for a stay.
Before I get into the details of what went wrong, let's talk about the rooms and suites and how they are promoted.
Hotel Indigo Stratford-upon-Avon has two sections:
The Tudor side is the original restored Tudor building located above the Woodsman facing Shakespeare's New Place, which is a Tudor building.
The modern side mirrored the Tudor style, but it's not the real deal.
Most of the photographs you will see on IHG's website are the ones of the Tudor Section like this:
Now, the bathtub. Sorry folks, there are only three of these suites in the hotel.
This is what a superior king room in the modern section looks like: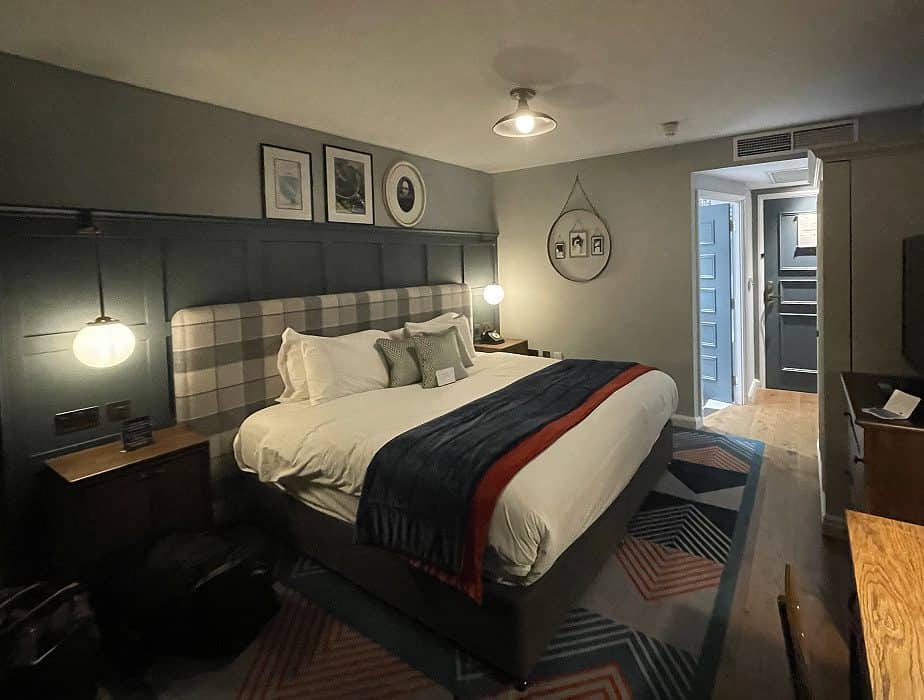 There are 93 rooms. Seventy-six are standard, 12 are superior, and 3 are suites. Yet, there are 47 photographs on IHG's website, most of which focus on the Tudor side of the property. Yes, you get to choose your room, and there are photos.
What's not clear during selection is that even if you select the best of the best, there are only three! I still cannot get to the bottom of how you booked this with a guarantee.
Most importantly, you will not know this until someone tells you, you are reading this or call in advance.
After more research and looking at the options on the website, it appears that the rooms and suites are categorized like this:
Located in the Tudor or Georgian areas
Located in the modern wing of the hotel
Georgian Design Bedroom
Tudor Design Bedroom
And the categorizations don't match across different platforms. For example, IHG's website uses one, and the hotel's page uses another.
A huge disappointment. I would have to say it is probably the most misleading marketing I've seen to date – specifically the photographs.
I understand that no king suites were available, but I would have chosen the Tudor side if given a chance.
Check-In
Before you get to your room and face disappointment, prepare for check-in. You must be Diamond Status to earn a complimentary breakfast – a first for me, even though this is policy.
The welcome amenity for IHG members is "one" drink. Regardless of how many people you travel with. I am still baffled by this, and it's another first. As a result, I traded my "one" drink voucher back for points.
I am not sure that the staff is used to American guests. The overall check was calm, and "it is what it is." I cannot say that I was treated as a platinum IHG member. I also do not think the hotel cares about loyalty programs.
Parking
In addition to being hit with breakfast fees, you will also be greeted with a parking fee of eleven pounds and fifty pence per day.
Notice that if you enter via the main entrance and not via the Woodsman, you can see already that this is not a Tudor building.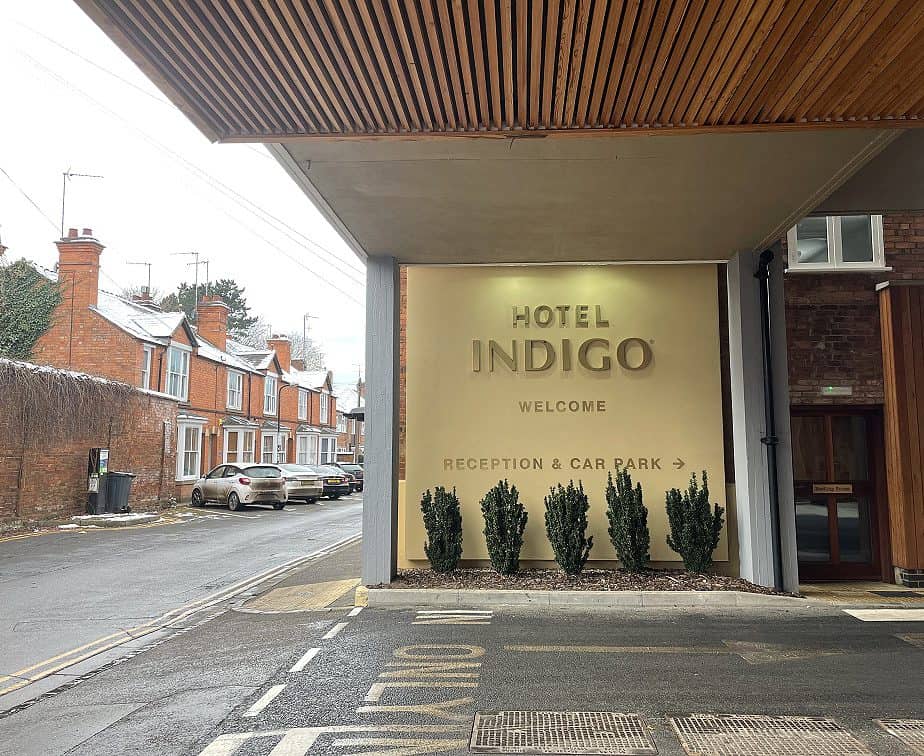 Now, most, if not all, hotels in Stratford-upon-Avon charge for parking. And Hotel Indigo Stratford-upon-Avon does not own the parking lot they use. At least, I was told when I challenged the cost.
Regardless, this should have been complimentary for a loyal client of the hotel,
Breakfast
Recall I said it was not included? Oh, the irony of paying to stay.
Breakfast is twenty pounds per person per day. An excellent breakfast feature is ordering a custom breakfast in your room. But not on the house, and it costs you an additional five pounds per delivery if you choose this.
I cannot lie; the breakfast was decent. I am not sure it is twenty pounds worth. Perhaps given the fresh juices, but it felt excessive.
Is the breakfast worth it?
Yes, because you can order as much as you like off the menu; you can order multiple dishes, juices, and so on.
However, I don't think the overall value is there. Think about it if you stay for three nights and it's twenty pounds a person. If there are two of you, this is forty pounds a day in breakfast alone which is ridiculous.
The Rooms & Suites At Hotel Indigo Stratford-upon-Avon
I booked a standard room, hoping for an upgrade. I checked availability daily before arrival, and I even called to confirm and was assured that I was upgraded to a superior king.
If what I got is the upgrade, I'd hate to see a standard room. What is a superior king? I still do not know, but I can certainly describe it.
It's a standard room with a king bed. Now, to be fair to Indigo, none of their rooms are "standard." Indigo is a boutique chain that specializes in the ordinary.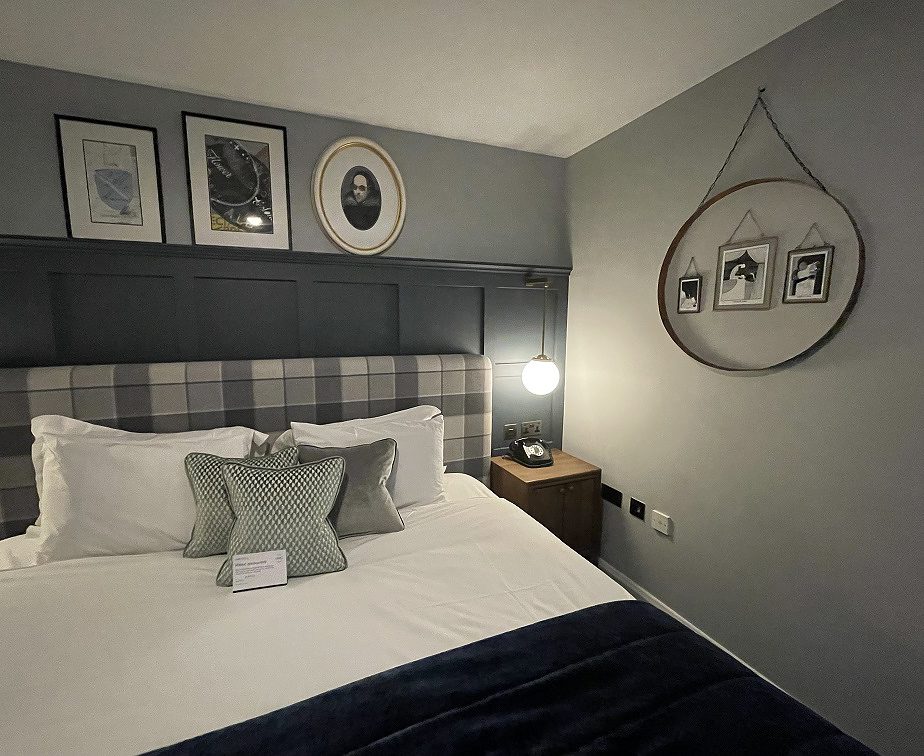 However, the modern side rooms are not even close to what I visualized based on IHG's website. Nor is it the room I would pick for a stay in a historic town.
What I liked about the rooms:
The décor is stylish.
The bedding is heaven, luxurious as is the bed.
My room was a decent size by English standards.
You get bathrobes and slippers.
The toiletries were top-notch. Bramley Products. Yet, full-sized, so a teaser to get you to buy.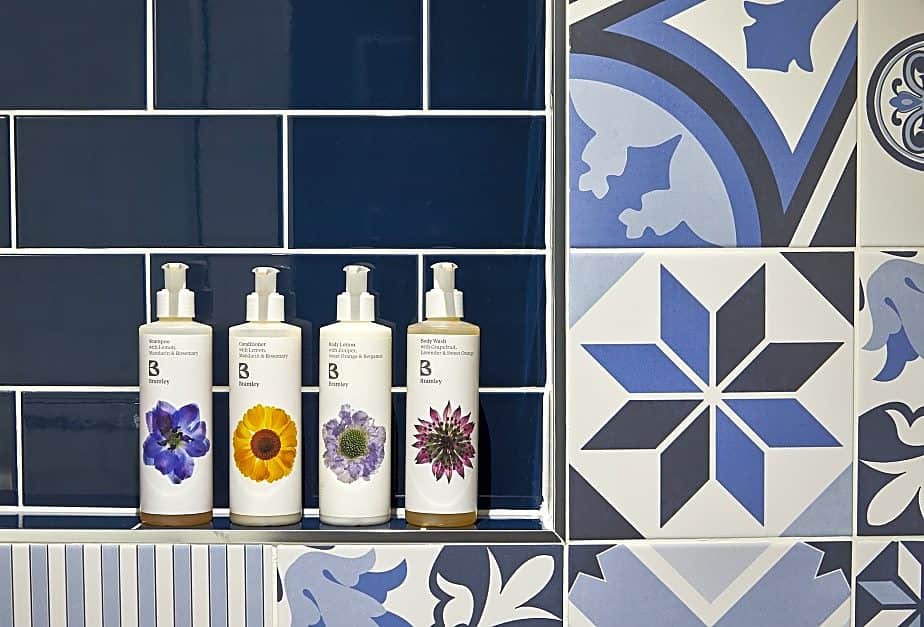 The rooms are stacked with great complimentary items.
For example, the coffee is decadent: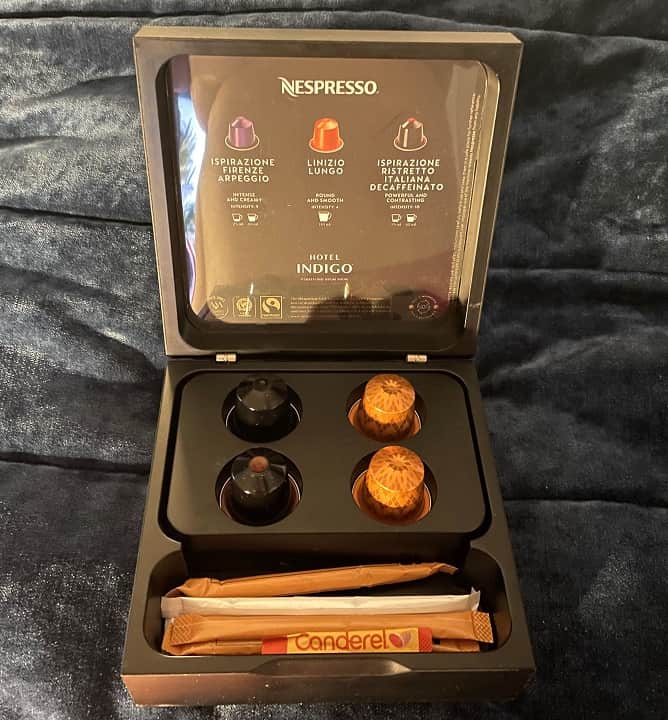 Then there are tons of Sanpellegrino drinks, popcorn, glass bottled water cookies, and much more.
I think the freebies provided here are superior to other hotels.
What I did not like about the rooms:
While the décor is stylish, they are modern. It's a shabby chick take on Tudor Style. Nothing terrible, not what I was looking for.
There is no air-conditioning in the hotel. Considering the renovation, this is odd.
The bathroom is miniature. Sure, it's got lovely towel tile and recreated old-fashioned English fixtures. But it's tiny. So small that only one person can be in there at one time. So small that the bathtub has a stopper on the door to stop the door from smashing against the bathtub. Add the no windows, and we are talking about claustrophobia.
There is no ventilation in the bathroom.
The bathtub has a glass panel that cuts off half of the bathtub. When you open the glass door to the bathtub, the entire bath is closed off between the door and the glass panel.
It would be best if you navigated corridors to get to your room. Doors separate each hall. This is typical in England, but it reminded me of Blackpool's traditional bed and breakfast. If this analogy does not resonate, imagine a large house converted into multiple units with corridors.
The bathroom of the superior king on the modern side:
The Location of Hotel Indigo Stratford-Upon-Avon
One thing this hotel trumps all on is location. For some, this alone is a reason to choose to stay here. It was a part of my reason to stay here.
Address: 4 Chapel Street, Stratford Upon Avon, CV37 6HA United Kingdom
It is directly opposite Shakespeare's New Place, Shakespeare's Schoolroom & Guildhall, and The Guild Chapel. Three iconic landmarks anyone visiting the area will want to see.
Frankly, the location is about as prime as it can get.
Shakespeare's New Place
From 1597 until 1616, Shakespeare lived at Shakespeare's New Place with his family. On the site of New Place, where the house once stood, a registered garden has been designed in honor of Shakespeare's contribution to the area.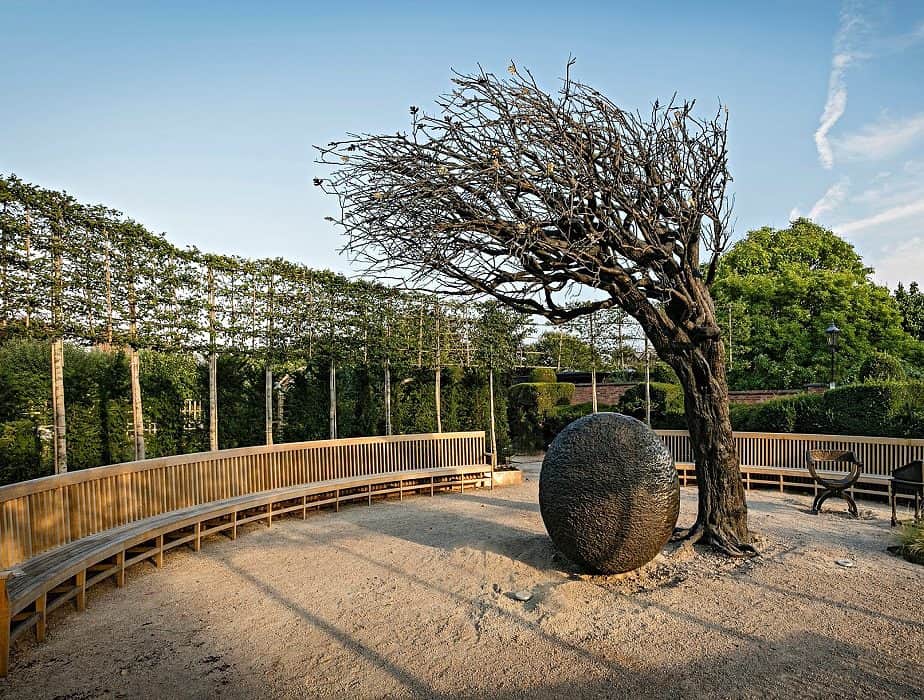 Image Credit: Shakespeare Birthplace Trust
Shakespeare's Schoolroom & Guildhall
Voted "the best places to visit in Stratford-upon-Avon, this is a must if you are in the area.
Visiting Shakespeare's Schoolroom & Guildhall is like going back in time. Follow in William Shakespeare's footsteps by seeing where our greatest playwright was first inspired by literature and theatre.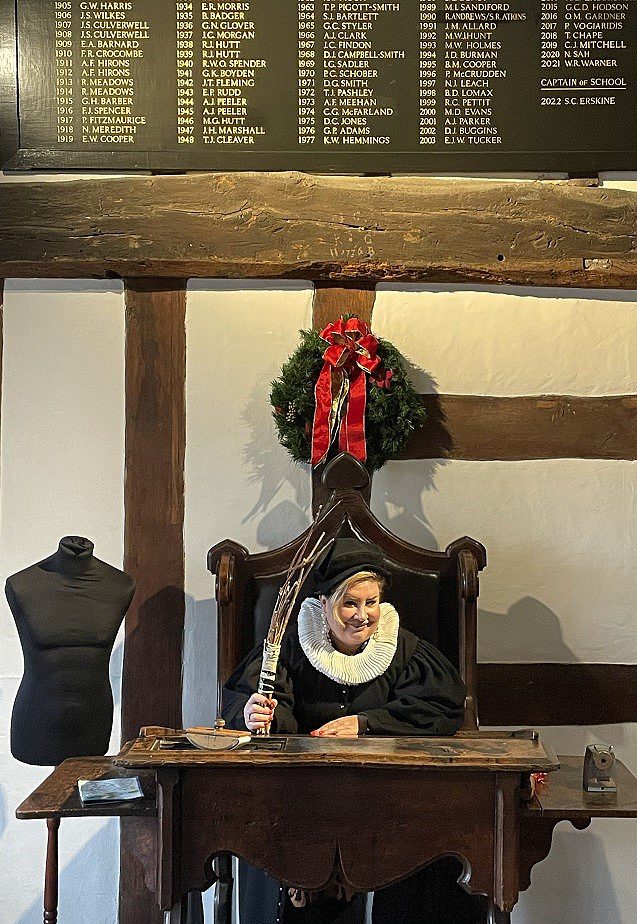 Enjoy an immersive and authentic experience that allows the atmosphere of this medieval building to engage visitors in its unique story.
The Guild Chapel Stratford-upon-Avon
One of Stratford-upon-Avon's most iconic buildings, the Guild Chapel, stands at the corner of Church Street and Chapel Lane.
A prominent social and religious organization, the Guild of the Holy Cross, was built in the 13th Century. Stratford-upon-Avon's medieval life was centered around its Chapel as the Guild flourished.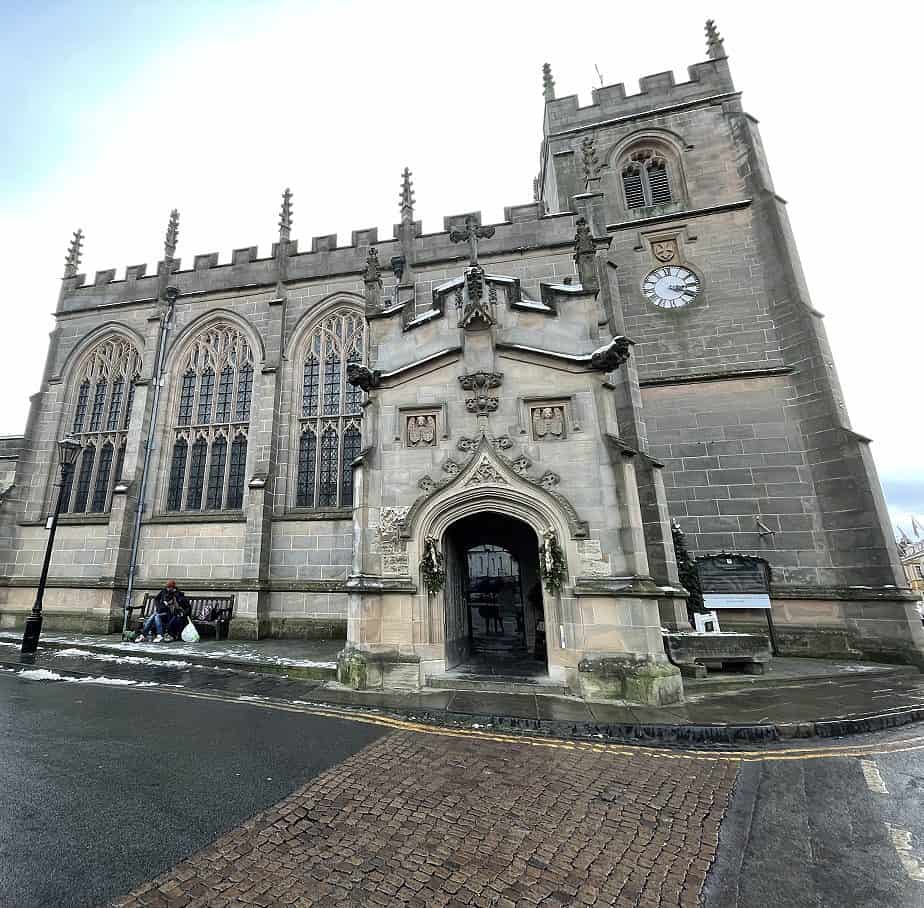 This unique look at that medieval era is possible thanks to the Chapel's rare and impressive wall paintings, almost half a millennia after its construction. Among the most occasional medieval wall paintings in Europe have been uncovered (and continue to be found).
What You Need to Know About Hotel Indigo Stratford-upon-Avon
I stayed three nights and had breakfast once. I was charged for three days! Add insult to injury; upon checkout, the hotel had charged my card before I reviewed the charges. I had to go through each item line by line. Once settled, I had to wait for the excess items refunded.
I had a random thirty-pound charge no one could explain.
The elevator. For many, a lure to stay on the modern side was broken throughout my stay. As with all things English, don't expect a repair anytime soon. It was still broken when I checked out.
I knew more than the staff about the local area. I a real "eye" opener for me and something I am not used to.
Make sure you call and triple-check your room type. Understand the two sections and decide based on what appeals to you.
FAQs
When did Hotel Indigo Stratford open?
Hotel Indigo Stratford-upon-Avon Stratford, formerly The Falcon Hotel. After a multi-million-pound major restoration project, it opened its doors as Hotel Indigo Stratford in 2019. It is a historic 16th-century Grade II listed building that is refurbished.
What did Hotel Indigo use to be called?
Hotel Indigo in Stratford-upon-Avon Stratford was formerly The Falcon Hotel.
Does Holiday Inn own Hotel Indigo?
IHG Hotels & Resorts owns Hotel Indigo, a chain of small boutique hotels. There are 130 Hotel Indigo properties worldwide, with 16,343 rooms as of December 2021.
Holiday Inn is a part of the broader company IHG Hotels & Resorts.
Does Marriott own indigo?
No, IHG Hotels & Resorts owns Hotel Indigo.
Is Hotel Indigo Stratford-upon-Avon Worth the Cost?
It depends on how much it costs you. It cost me over $600 for the three-night room, and I don't think it was worth this.
The location is prime. For some, this alone justifies the price. And the amenities are way above ordinary.
This said, there are plenty of other options in the area.
Closing Thoughts
Hotel Indigo is a great chain. I've had loads of beautiful stays. This one could have been a lot better with a few simple additions—clarity on the two sections of the hotels and some benefits of being platinum.
I met several return guests who loved this hotel. Not in the lobby on the hotel premises but out at the diner. Most love it. And the reviews online certainly support this.
My expectations might have been too high. Maybe it's all in perception?
All said and done, this was a bust for me, and I would not choose to stay at Hotel Indigo Stratford-upon-Avon.
This hotel is by far the best situated for anyone wanting to explore the birth town of William Shakespeare.
Lastly, ask to see your final bill and review it. Recall I said I had several charges that were illegitimate. Do not walk away and await the emailed version.
Looking for some fantastic places to stay? Start Here:
We participate in the Amazon Services LLC Associates Program, an affiliate advertising program designed to provide a means for us to earn fees by linking to Amazon.com and affiliated sites.
Brit On The Move™ Travel Resources
Ready to book your next trip? Use these resources that work:
Need more help planning your trip? Check out our Resources Page, highlighting the great companies we trust when traveling.