Glamping In Florida At Safari Wilderness
Glamping in Florida, camping in Florida, or boutique camping in Florida. Call it what you will, but this one is not your typical glamping experience. A stay on-site at Safari Wilderness is more safari than glamping. It is the only place in Florida where you can stay on-site on a Safari with the animals in a traditional African tent!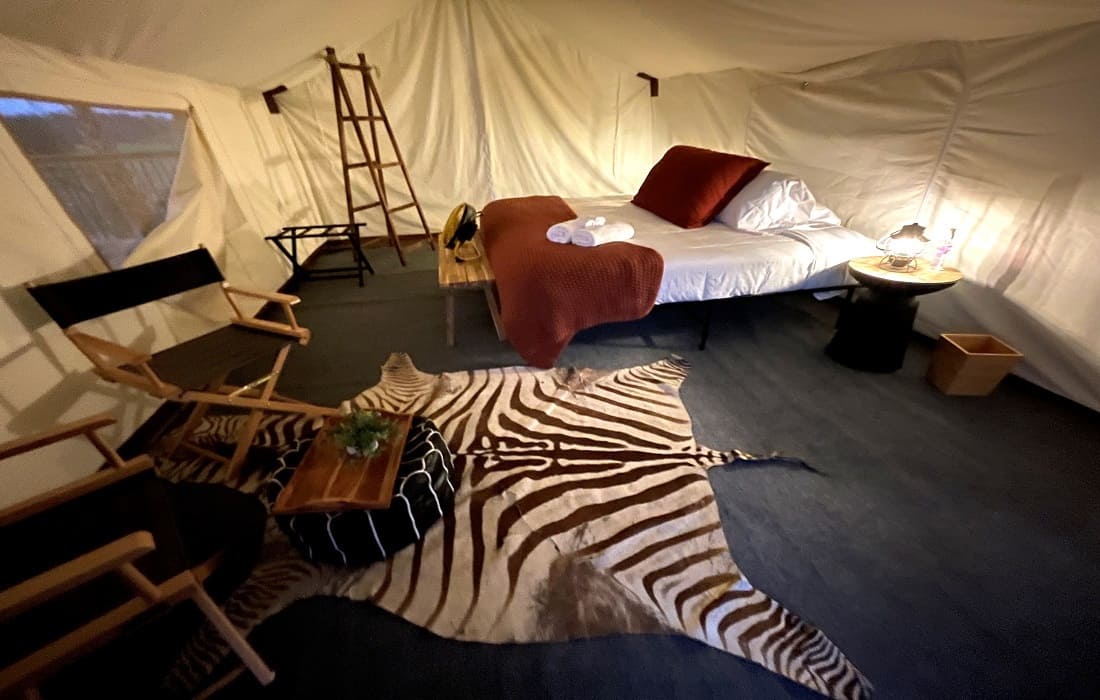 This post may contain affiliate links. Please read our disclosure and privacy policy for more information.
I have been itching to share this one with you all. I was lucky enough to experience this for my birthday, and let me tell you; it's a birthday I will never forget. Before we get into the details, if you are not familiar with Safari Wilderness, read this:
I love this place! Located in the heart of Central Florida is a 260-acre magical oasis where the residents run wild. It is such an unusual experience in Florida. Having been on a safari in Africa, I can attest that this is as close as you will get without traveling to Africa. Yes, the animals live in a facility vs. running wild– but this is Florida. And, for clarity, these animals are roaming in their sections across a 260-acre African-like savanna! This is not a zoo, not even close.
Let's Talk About Glamping In Florida At Safari Wilderness
Over the years, guests have asked Safari Wilderness if they could spend the night. Now they finally can! Safari Wilderness glamping tents opened on December 15, 2021.
When I was fantasying about what it would be like to stay on-site with the animals, I expected Jumanji. You know, where all the animals come to life at night. They do not, only the cheetahs stay up late. Do you know what is better? They all rise at various times in the morning. Almost in some sort of hierarchical pecking order. First up are the lemurs, then the cheetahs. Then, the ostrich's start to chase the fallow deer, which is funny to watch. The last ones up are the warthogs.
Did you know that an Ostrich's' brain is smaller than its eye? It is apparent when you watch how they behave. They are not the "brightest," and the phrase birdbrain truly applies to them.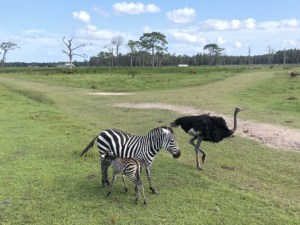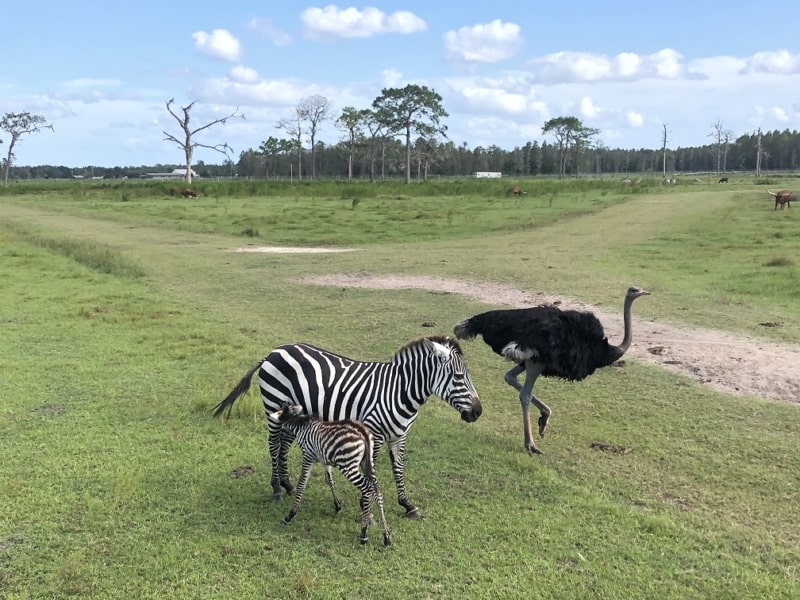 10 Reasons To Go Glamping In Florida At Safari Wilderness
1. There Is Nowhere Else In Florida Where You Can Stay Amidst Wild African Animals
As in literally among them, I slept on top of the cheetah's enclosure. My sleep-over friends were lemurs. Their enclosure is directly next to the premium tent. And this cheeky gang is the first to rise at 5:00 am!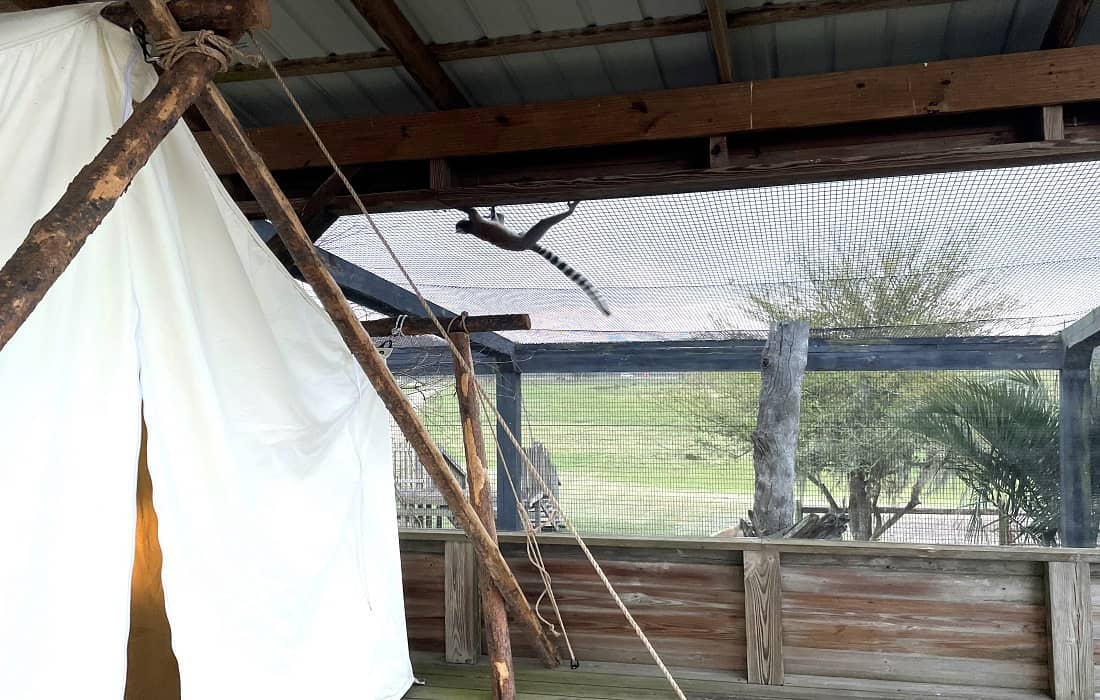 2. Your Safari Tour Is Included When You Stay
You do not just get to stay and view the animals; you also take a safari tour through the property. The safari tours are exceptional. All the tour guides are immensely knowledgeable. Most have worked here for years and know the animals. Safari Wilderness offers various safari options:
Customized Vehicle Safari
Drive Through Safari
Camel Expedition
Kayak Safari
All-Terrain Vehicle Safari
Sunset Safari
You get to pick one of the safari experiences if you stay on-site except for the drive-through and camel expedition. This alone is worth $120 per person!
3. All You Want for Christmas Is A Hippopotamus
No, you do not…. as lovely as they are to look at, they are one of the deadliest animals. Hippos kill an estimated five hundred people per year in Africa! What you want is a water buffalo or a lemur. I know I do! If a water buffalo has never licked you, you have not lived your best life yet. It is a necessity; they are like dogs, only way bigger and hairier. And, the lemurs, such sweet little creatures. When you feed them, they coo and talk to you. Also, the lemur's little hands are so soft.
Not to brag or anything, but the day I arrived, one of the moms had just given birth to a baby. I got to feed her😊Check the baby out here:
4. You Do Not Want to Travel to Africa
Let us face it, lots of people will never make it to Africa yet still want to experience a safari. You want to get up close and personal with the animals. You want to see them run freely. Here is your chance, and you do not have to fly overseas to enjoy this safari experience.
5. This Is an Exclusive Experience
Say you are the type of person who is always searching for new and exciting things to do. Or you are a bucket list collector. If either of these applies, you should add this experience to your list.
6. Listen to Coyote's Howl
Yep, there are coyotes, and boy, do they make a racket. They are not inside the grounds, but they are in the swamp. The staff did tell me about this, and I was fascinated when I heard them.
7. Peeping Lemurs
A group of lemurs is called a conspiracy, and this conspiracy group enjoys peeping. In the shower, there is a peephole. One might think it is just for you. Maybe it is. But the lemurs think it's for them. They peep. They are as curious about you as you are of them. Yes – they will watch you shower. One of the lemurs in this group is blind. I'd love to tell you that the one studying me as I showered was the blind one. It wasn't, whichever one it was had a really good look. Peeping Tom lemurs, the stories they must be able to tell!
8. You Want to Be at One with The Wild
If you choose premium camping, that is exactly what you will get – just you and the animals! You will be driven to the Treehouse in the center of the property and dropped off. Reflecting on this makes me giggle. It is like a scene from survivor where you land in the middle of nowhere. And I loved the fact that it ended up being just me. Not just me solo in my tent. I had the entire place to myself. No other guests were on site. Just me and the four-legged marvels trotting around the perimeter of my abode, with a panoramic view of the animal herds on the veldt.
9. You Love Swamps
Safari Wilderness is located next door to The Green Swamp, the second-largest wilderness area in Florida (after The Everglades). This means you will be surrounded by 850 square mile wilderness full of birds and other critters. So, bring your binoculars!
10. You Want to Kiss a Camel
Come on; you know you have always wanted to kiss a camel. That lovely squishy wet nose, the big funky teeth, and that breath! Oh, and the slobber – let's not forget that.
I cannot guarantee that they will kiss you, but they kissed me!
About The Glamping Tents
There are two options to stay on-site in the bush.
Classic Safari Glamping
Nine tents are near The Safari Lodge. These tents are on a wooden platform. Each tent has a king-size bed, battery-operated lamps, fans, and netted windows. Tents accommodate two people; however, you can add cots to accommodate two more.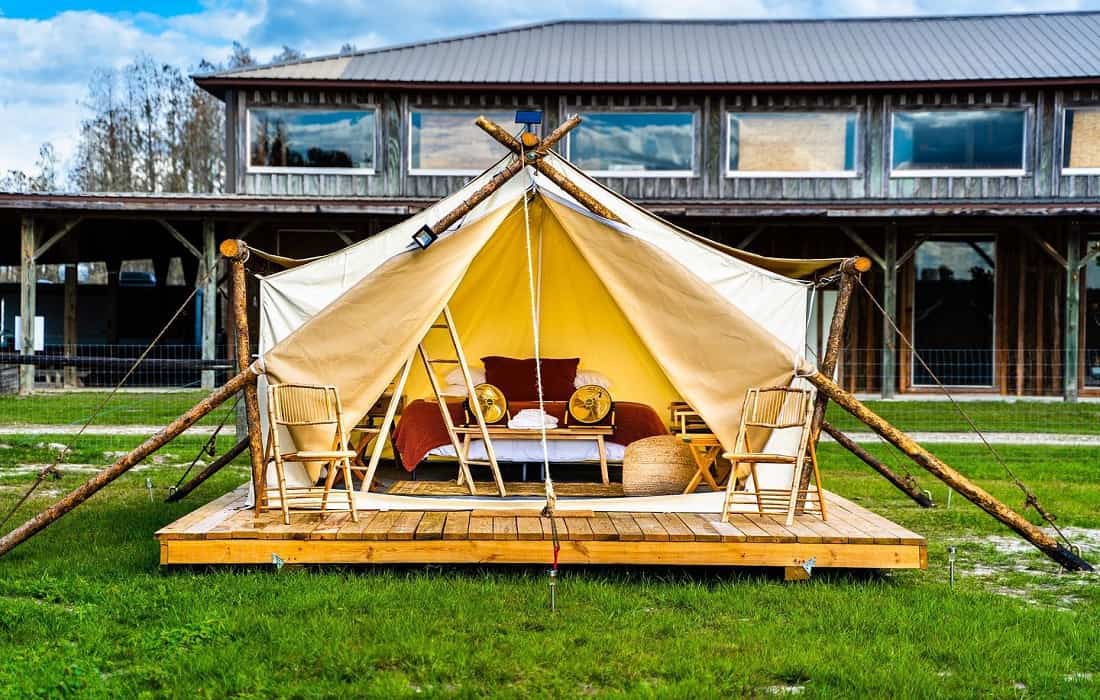 Image Credit: Safari Wilderness
The classic tents do not have private bathrooms.
Classic tents share a firepit.
A continental breakfast is included.
Cost $400
Remember that the safari tour is included. If you are a family of four, this is an easy decision because you are essentially getting the safari for free.
Premium Safari Glamping
This is the Pièces De Resistance of Safari Wilderness. This is where I stayed in the center of all the action. You will have a 360-degree unobstructed view of the entire property from a 36-foot-tall deck.
The premium tent has a king-size bed, battery-operated lamps and fans, netted windows, a coffee maker, and a fridge. There is also a hammock on the deck for you to relax. The premium tent can accommodate two people; however, you can add cots to accommodate two more.
The premium tent has a private bathroom and shower.
The premium tent has a private firepit.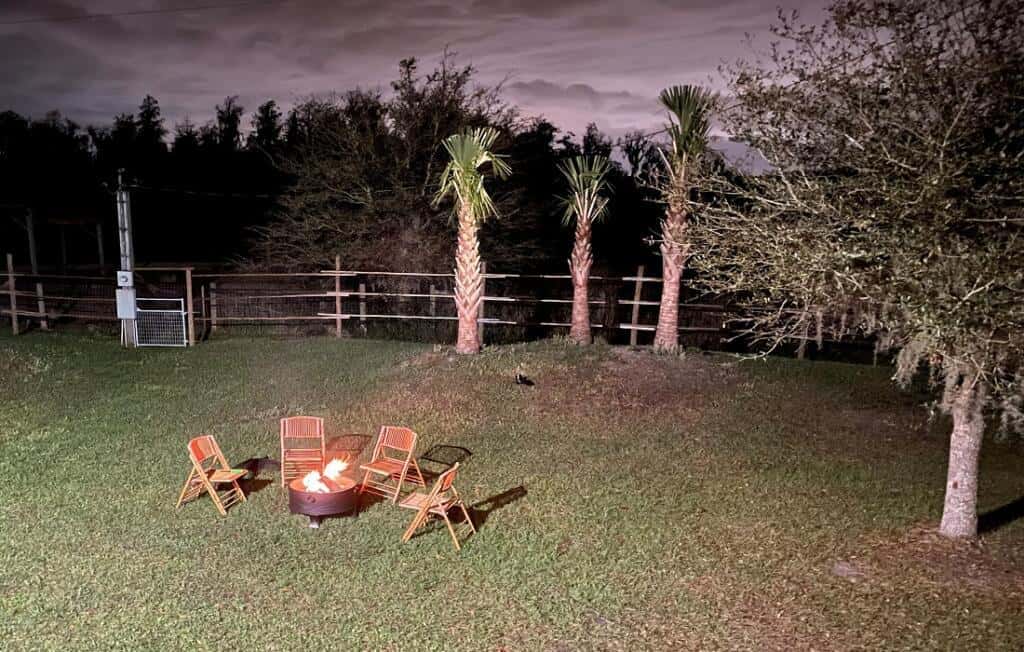 A continental breakfast is included.
Cost $1,500
Before you roll your eyes or sigh, remember that the safari tour is included. For a family of four, this is worth at least $480. Most importantly, this tent is the one you want to be in if you want to be close to the animals. The premium tent is where your neighbors will be the cheetahs and lemurs!
Safari Wilderness Interactions
In addition to the various types of safaris, you can add on interactions with some of the residents.
Premium Cheetah Encounter – If you stay on-site in the premium tent, you will get to see the cheetahs being fed because you sleep over their enclosure!
Lemur Feeding – Do not skip this! By far, one of the highlights of Safari Wilderness is feeding lemurs.
Guinea Pig Feeding – You kids will love this one!
What You Need to Know About Glamping In Florida At Safari Wilderness
Lodging is closed during the hot, wet summer months.
There is a second-story game viewing lounge available for overnight guests to enjoy.
Smoking and music are not allowed anywhere on the property.
You need to bring your dinner as there is no restaurant on-site. Or have dinner before arriving.
Coffee, water, and soda are provided; however, if you want an adult beverage, bring it with you.
Guests must sign a waiver and follow a code of conduct.
A safari concierge is on-site 24 hours.
All sales are final so make sure dates are firm.
Closing Thoughts
This is my second visit to Safari Wilderness, and it will not be my last. My resident Monkey wants to go, so that we will be returning! I've glamped all over the states. I have also stayed in some unusual accommodations. Glamping In Florida at Safari Wilderness stands apart from the rest. Of all the places that I get the chance to explore, Safari Wilderness is one of my favorites.
Next up for me is a water buffalo; I wonder if they would let me have one on Lake Georgia?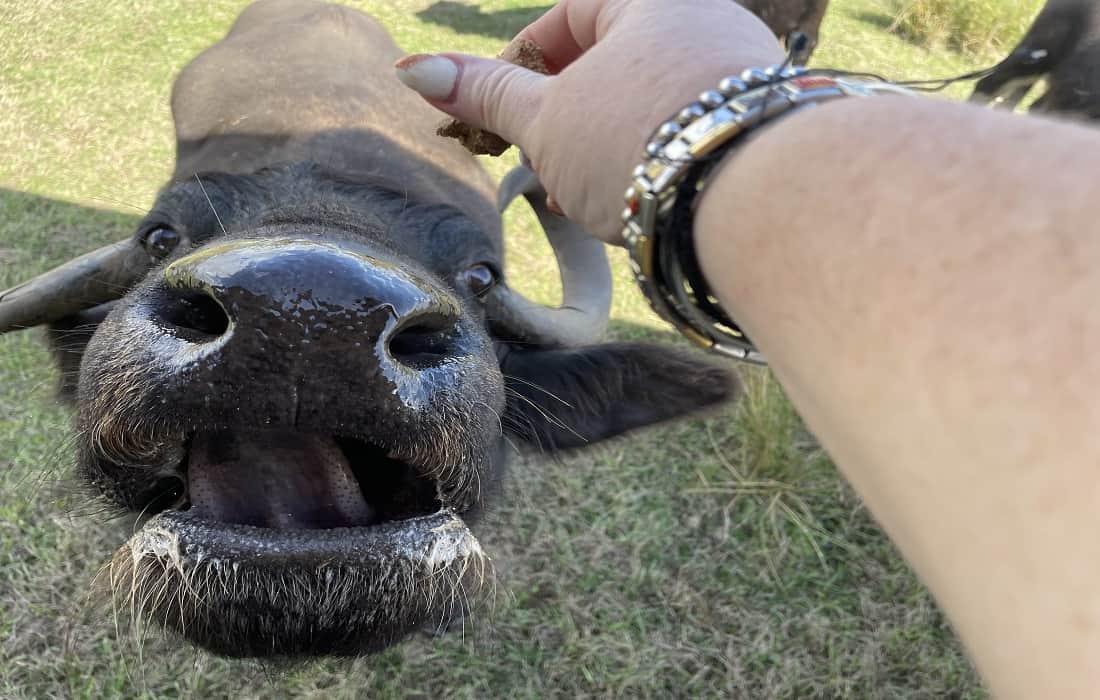 Looking for more posts on Florida? Start here:
We participate in the Amazon Services LLC Associates Program, an affiliate advertising program designed to provide a means for us to earn fees by linking to Amazon.com and affiliated sites.
Subscribe to our newsletter and get the best travel tips and inspirational stories delivered monthly. No spam, no sales pitches – TRAVEL!
Brit On The Move™ Travel Resources
Ready to book your next trip? Use these resources that work:
Need more help planning your trip? Check out our Resources Page, highlighting the great companies we trust when traveling.