There are several Danvilles in America, but there's only one Danville, Florida. And Danville, Florida, is a no ordinary town. Instead, it's one man's creation of nirvana. A city within a town, an escape from reality, and an experience-loaded eclectic resort. We all know unforgettable stays in weird and beautiful accommodations are a trend. However, Danville, Florida, was one of the first to set this trend by renting Dan's Man cave, followed by his air hanger that has been converted into Downtown Danville. Now famous for the Treehouse, Danville is much more than just a place to experience whimsical lodging. It's a destination that offers you a variety of experimental lodging and exceptionally unique experiences. Whether you want to be at one with nature, let out the inner hippy, watch movies in your private theater, or milk goats, it's all a part of the Danville Florida experience.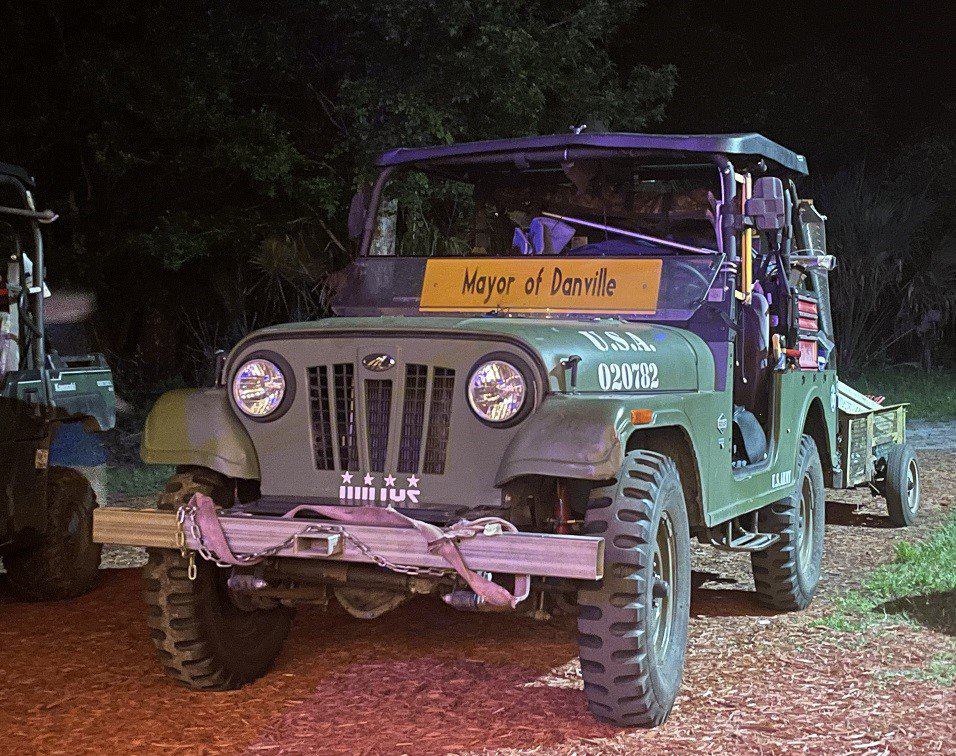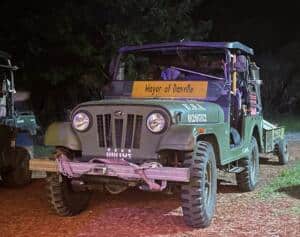 This post may contain affiliate links. Please read our disclosure and privacy policy for more information.
History Of Danville, Florida
In 2008 following semi-retirement Dan Shaw needed a project to keep him occupied. Dan, the genius behind what is arguably one of the most famous Airbnbs in Florida, set out to build a guest house on his airstrip. With the help of some friends, he developed a small Airpark community in Geneva, Florida, and made his home there. Then, he built the most unusual hangers to accommodate his aircraft hobby. One in the form of a man cave, the other what is now Downtown Danville or the Danville Inn. Both are insanely nostalgic, with a collection that captures everyone's attention. So much attention that friends and neighbors wanted to use Danville for events like weddings.
Then, a friend suggested he list his man cave on Airbnb. Dan told me, "I thought who the heck would rent out a man cave." Yet, they came in droves to rent out the Man Cave and the Inn, and Danville was officially born.
Since conception, other properties have been added. All unique, all oozing with character and charm, all with an imagination equal to that of Peter Pan. Danville, Florida is so famous and captivating that it has been featured on travel shows and in books:
HGTV for a film a segment for million-dollar rooms.

Travel Channel's Amazing Vacation Homes Season 1 – Episode 7: Hot Homes, Cool Places & Episode 8: Forest Sanctuaries.
The Danville Florida Man Cave
Photo Credit: Danville BnB
Dan Shaw – Owner of Danville, Florida
Dan Shaw, the self-described "Mayor of Danville," is a retired plumbing contractor, entrepreneur, and pilot. He founded Danville Bed and Breakfast in Geneva, Florida, by accident. As mentioned earlier, it all started as a retirement project. Now, it's a full-blown farm/resort on 25 acres.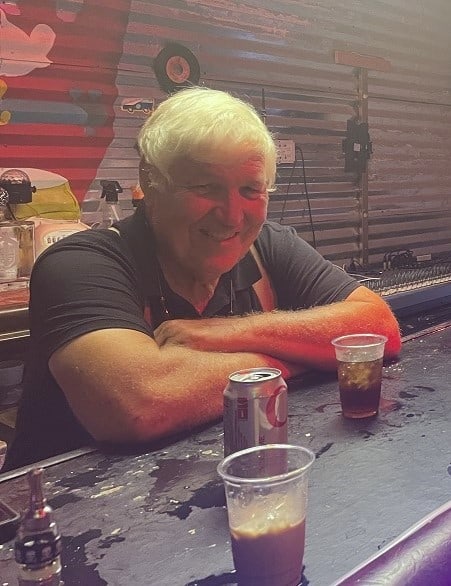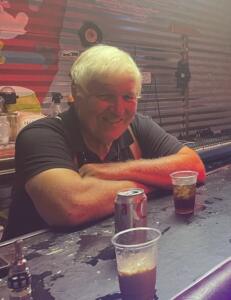 When you stay at Danville, you'll meet Dan. He's a kind and gentle soul with a warm face; he's very handsome and charming yet down to earth. I found him fascinating. He's the type of guy that knows a lot about a lot – an awful lot. He's passionate about Danville, loves animals, and enjoys meeting everyone. You'll have no trouble sparking a conversation with Dan – Dan's is a part of the experience. And if you are a social person, you will probably get invited to Woodstock. If you do, you'll meet all the locals that flock to spend time with Dan.
I got to spend a lot of time with Dan. We drank beer on the first night, we did Woodstock on the second night, and on day three, we fed the baby goats together by the bottle. I'm always captivated by kind men that love animals, but I've never met a man whose face lights up as he holds and feeds a baby goat.
While Danville, Florida, is a commercial venture, there's not a sight or smell of commercialism. Dan's not in this to make money. Dan's in this because he thrives on the opportunity to meet people. It's as if Dan's created a unique place where the world gets delivered to Dan, and he does not have to leave home.
Why Visit Danville, Florida?
Danville, Florida is for you if you have the slightest itch to stay in an unconventional rental! You'll love this place if you appreciate nature, small towns, and a laid-back approach to life. Danville is for you if you want to get off the grid. If the '60s and '70s were your best days, you will fall in love with Danville. If you are an art collector or historian, you'll be mesmerized. Perhaps you just like farms and if you do, you'll be happy. Or, you may have a thing for 50's golf carts and want to ride the vast collection.
Danville, Florida, is a playground for adults and kids alike. If you can't find something to do here that's different and new to you, it's time to visit the doctor – to get your head checked.
The Location Of Danville, Florida
Address: 232 N. Jungle Rd. Geneva, FL, 32732.
Things To Do Onsite at Danville, Florida
There's plenty to see and do at Danville, Florida. Heck, navigating the accommodations alone is enchanting, but here is a rundown of things to do:
Alpacas
Not to brag or anything, but the alpacas were my next-door neighbors because I stayed in the Yurt. They are here as a part of the guest experience. Some people walk them, some pet them, and others like me admire them from a distance. I have nothing against them; they are cute but also spit. Occasionally, they are known to bite. I've had my fair share of being spit on by animals this year, so I gave this a miss.
Donkeys
There are a few donkeys that reside in Danville, Florida. Dan's fond of one of them! They, like the alpacas, are here as a part of the experience and keep coyotes at bay. You can buy carrots from the General Store and feed the donkeys. You can also ride the donkeys, which kids love.
General Store
As with all things in Danville, Florida, the store's unusual; no one attends the store. It's a scan-and-go system based on honor. The store sells microwavable food, snacks, drinks, and a variety of Danville merchandise. You'll rent golf carts or get fish or donkey food at the General Store.
Goats
I mentioned that Dan has an affinity for goats, and you can feed the babies. They are so adorable. They nuzzle you while sitting on your knee. I've never even petted a goat before, much less cuddled one. The experience left me wanting a baby goat! Bottle feeding any baby is a lovely experience. Bottle feeding a baby goat brings out the child in anyone.
At the back of Danville is Geneva Goat Company. You can access it through Danville, and it's here that you can milk a goat! Randi, the owner, is a retired nurse. Goat milking was another first for me. Something I never even thought I would experience. If you want to milk the goats, you'll need to set an appointment with Randi. Dan or his wife Deborah will give you her contact info so you can schedule a time in the morning.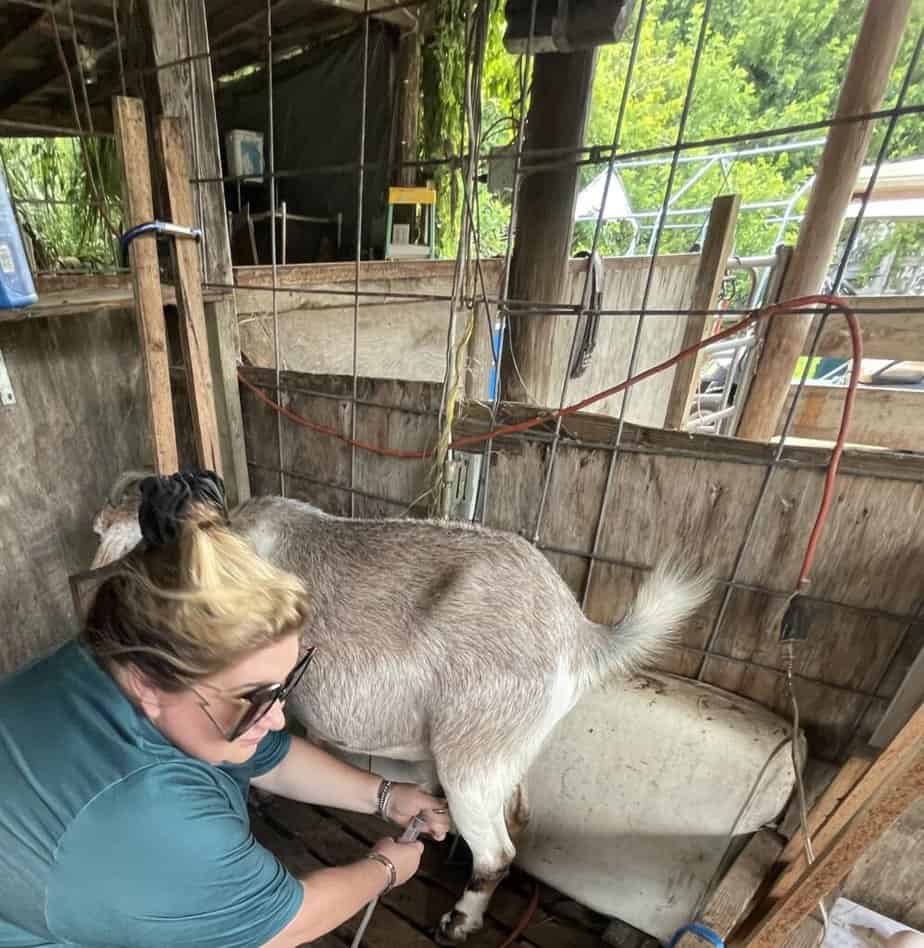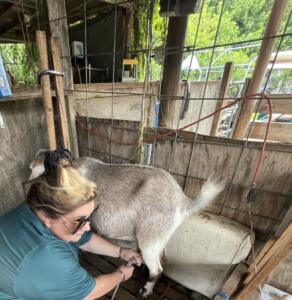 Note: If you go to milk the goats, make sure you leave a donation!
Geneva Goat Company sells farm-fresh eggs, raw goat's milk, goat cheese, fresh-baked bread, and veggies. They also have products for sale in the Danville General Store. I bought some goat soap, and I am still using it. Needless to say, I'll be buying some more when I return.
I know this might sound daft to people, but I left Danville with a new appreciation for goats. I got to see them in a whole new light, and they sure as heck are cute.
If you already have a thing for goats, check out Goats On The Roof in Georgia.
The Trails
There are tons of trails to explore in Danville, Florida. Use your imagination and roam. You can walk the property, but it's way cooler to zip around in a jeep or a golf cart.
The Plane Crash
This might be the crown jewel for some. When I stumbled on this one, I was like, oh, here we go, "something abandoned or in shreds," which is right up my alley.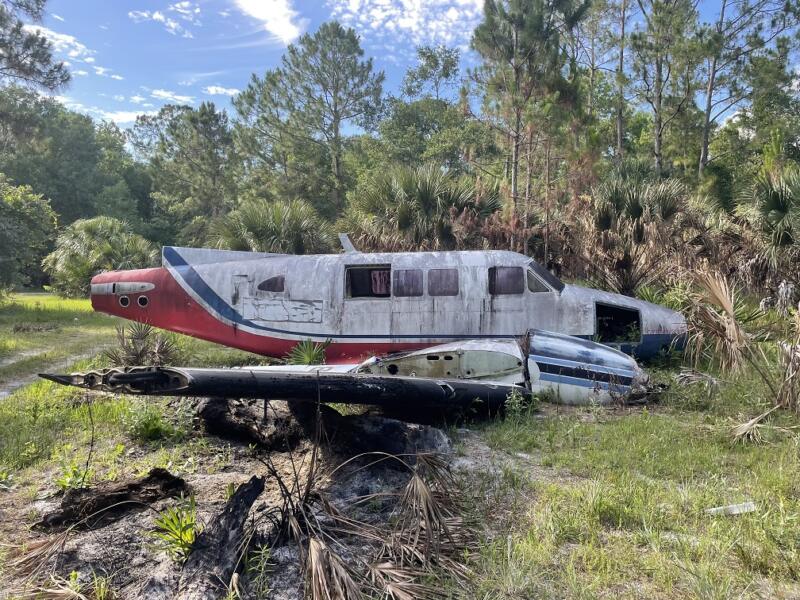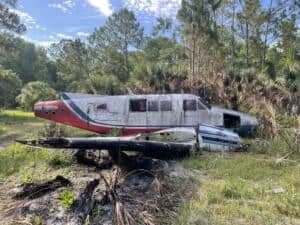 Anyone into photography will get this on the first glimpse. Selfination, Instaheaven or TikTok viral – here's your dream destination. I'm not going to tell you where this is hidden on the property. All I will say is get in your golf cart and explore. If you are savvy, you'll find it.
Photo Booth
You can get the party started with the Danville Photobooth! Whether you are hosting an event or just enjoy dressing up in hats, masks, scarves, and other props, the photo booth is a blast! Besides a souvenir picture strip, you'll also receive a memory book containing a copy of all of the great pictures you took. There is a fee for the photo booth attendant.
The photo booth is located inside Downtown Danville in the Danville Inn. And, as with Danville, this is a classic from days gone by, not the modern ones you see at events today.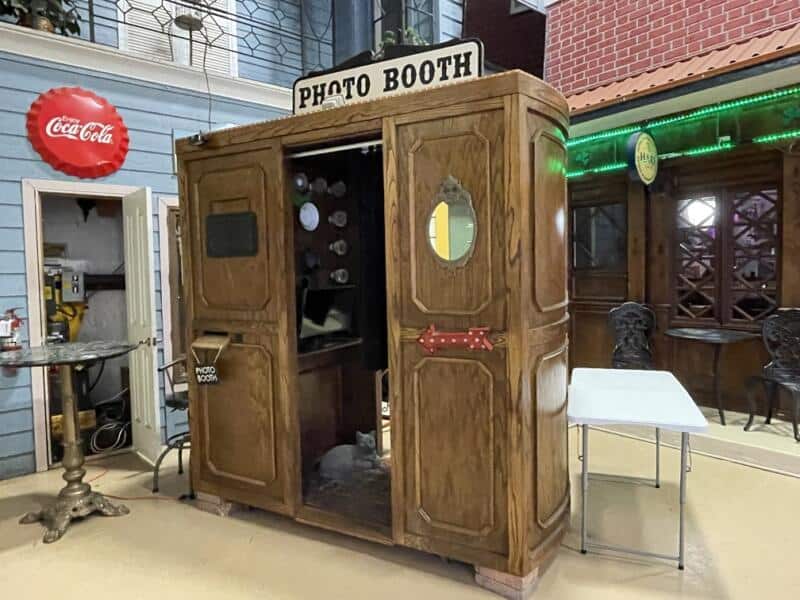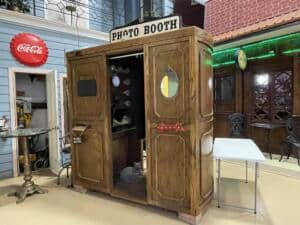 Fish Feeding
Now feeding fish might be some "meh," but there's a surprise waiting for you! The pond that is stocked with fish has a resident gator. When you feed the fish, this sucker will come flying across the pond. Not for you, to catch the fish that will come to eat the fish food.
I found it fascinating! Perhaps because I had the comfort of being on my golf cart as I fed the fish. The gator lies there patiently and then snaps to catch the fish. Now, the gator is not interested in you. However, I spent too much time watching them and must have given it the impression that I was a threat cause it charged me. I almost crapped my pants and took off like the clappers in my golf cart.
Like a child, I launched the fish food right at the gator so the fish would get close. I don't think the gator appreciated this and decided to show me who's boss.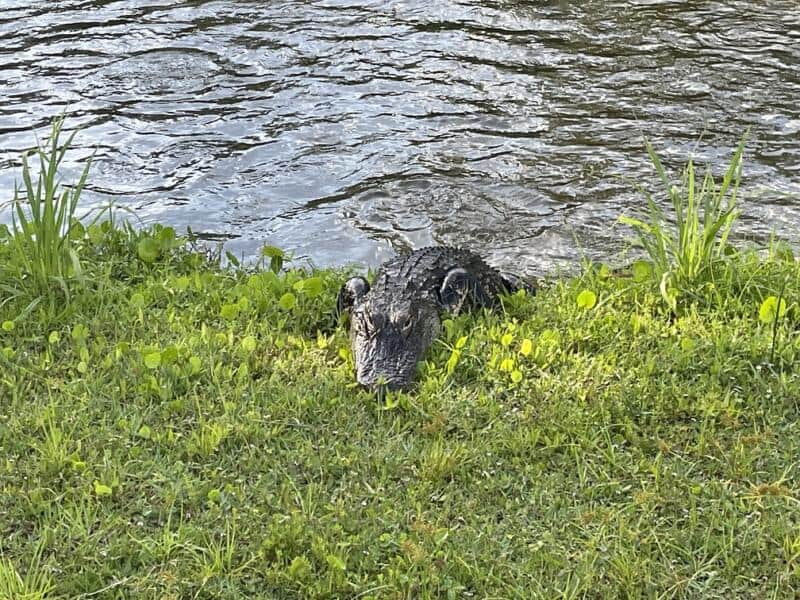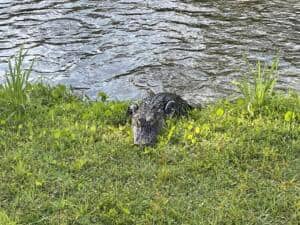 So, lesson learned here to feed and move on! However, I went back for round two feeling super brave on my getaway wheels.
You buy bags of fish food from the General Store for a dollar. I fed the fish twice and went through five bags!
Gator Catching Fish
Golf Carts
Dan owns a vast collection of 50's golf carts. For $20, you can pick anyone and ride around the property. I strongly recommend you do this! There are some hidden spots that you will only find if you are zapping around in a golf cart. You can also drive the navy jeeps or opt for a traditional golf cart if that is more your cup of tea. I choose this beauty to explore: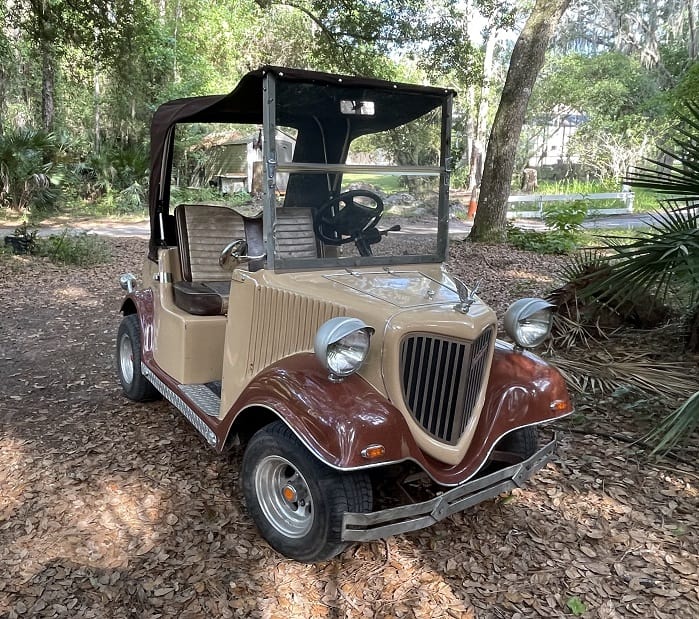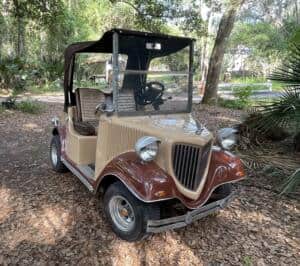 Zen Trailer
Tucked away out of sight on route to Woodstock is the Zen Trailer. I had no clue what to expect and didn't even know it was on site until I arrived. Do not miss the Zen Trailer. Dedicate at least an hour or two to chilling out in here. The massage chairs are fantastic, sheer heaven. Sitting in a dim-lit Airstream that is now a spa and being massaged from head to toe in the middle of the woods is almost indescribable.
There are also a Chau gong, incense, and aromatherapy oils for your use. Lastly, a super cool noise machine allows you to pick the vibe, the Himalayas or the beach. I could have quite easily napped in here for a few hours.
Downtown Danville and The Danville Inn
Walking into Downtown Danville, you'll think you are in a theme park. This large airplane hangar in front of the building rises to reveal downtown Danville.
On Main Street is Lily Marlene's. The sign and façade behind it was once a restaurant located at Church Street Station, a tourist attraction of early Orlando. Further along, Main Street is O'Shaw's Irish Pub, a fully functional pub.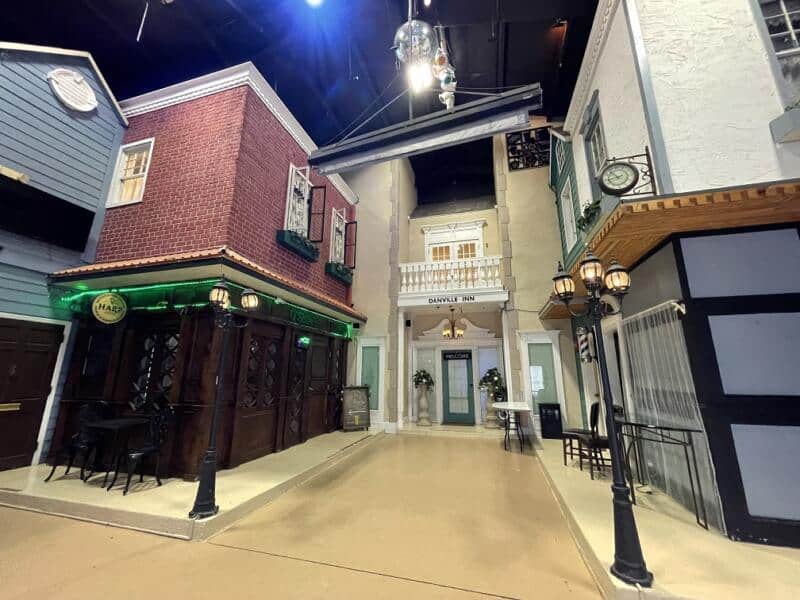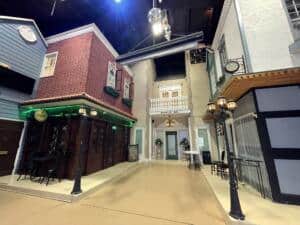 The Danville Inn
At the end of Main Street is the Danville Inn. A balcony overlooking downtown will give you an excellent view of Downtown Danville. So here's what's unique about a stay at the Inn! First of all, this is the swankiest of the accommodations. It's clear how this ends up being the wedding accommodations.
It is a two-bedroom, two full-bath mini-resort complete with a private movie theater. Not a home theater by any stretch, a full-blown cinema that is worthy of a stay alone. Plus, when you rent the Inn, you get the Downtown area to yourself!
Video Tour Of Danville, Florida
Weddings at Danville
Danville BnB is the perfect place to host a romantic garden ceremony. This little town within a town offers an elegant gazebo or a backdrop of old oak trees and vibrant greenery for your wedding ceremony. There is a bridal dressing room, and the venue provides countless photo opportunities. While here, you and your guests can visit Downtown Danville, drink at the cozy, functional Irish pub O'Shaw's, and dance in the town square.
Several packages are available at the Inn for the bride and groom and several options for where you hold the reception. You can select your wedding planner, caterer, florist, chair rental company, and other vendors at Danville Bed and Breakfast without extra fees. And, you can set up a buffet outside in the marquee tent.
Accommodations At Danville, Florida
Danville has become a major tourist destination because of its accommodations and experiences. It's an influencer's dream location, an artist's canvas, a travelers oasis, and an experience that anyone will enjoy.
I'll also add that while all the accommodations are eclectic, they are loaded with modern amenities and are spotless. They are also tastefully designed. No detail has been overlooked. The exterior of all the accommodations is deceptive by design.
Master Suite (The Hanger Inn)
This comfortable Inn was a feature on HGTV's Million-Dollar Rooms. The Hanger Inn accommodates travelers seeking a truly unique stay.
Danville Hanger Inn is located in Downtown Danville, and you will have access to the whole place. You can take advantage of the grounds and patio area. Enjoy a movie in the theater. If you stay at the Inn, you can enjoy the patio, outdoor garden, pub, and downtown Danville. The courtyard and brass cherub fountain can be seen through the window of the Inn.
If I had to give you one way to imagine the Hanger Inn and Downtown Danville, think of renting a section of a Disney park to yourself, and you'll get the gist.
The Yurt
This is where I stayed. I choose the Yurt for a couple of reasons. One, staying in a yurt has been on my bucket list for a while. Secondly, I could not get the Treehouse.
I was floored! If the interior design does not wow you, the amenities will. In this Yurt, you have every possible luxury you need, including a full bathroom, bathrobes, wifi, a mini-kitchen, a fire pit – you name it – it's there. Then, there's the bed which is a Sleep Number. Yes, you read that right! So if you want to try one before buying one, here is your chance.
Then, the star gazing. Ah, such a romantic view from your bed.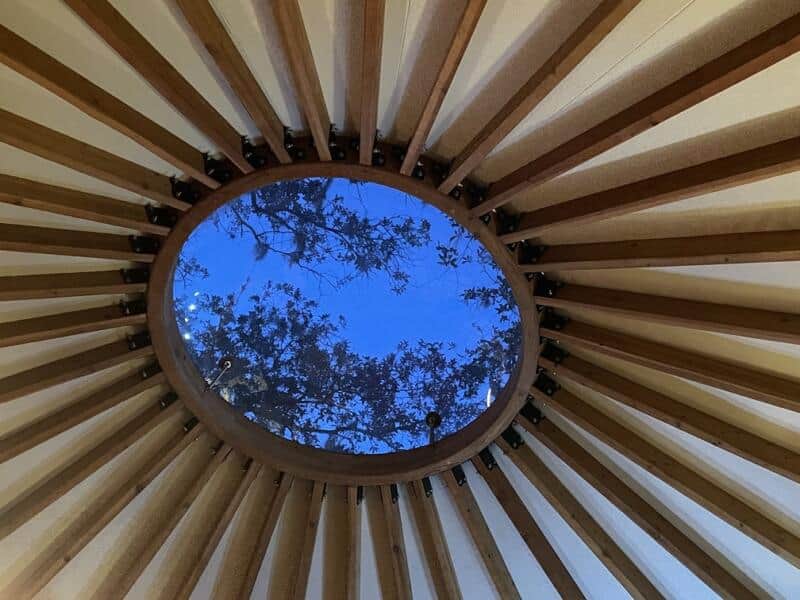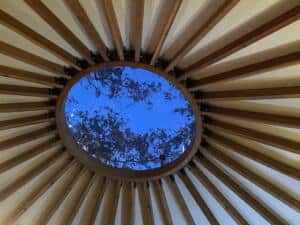 The Horse In The Yurt
A funny story about the Yurt: notice the wooden carved horse? Study him, I did. His genitalia is on display; however, his penis has been cut off. It's apparent it's a deliberate cut because of the angle and lack of shaping. Everything else is intact. I know cause I had a good feel. I asked Dan why his penis was cut off. He laughed, said no one's ever asked that, and told me he had no clue. My educated guess is that the artist that crafted this ornate horse chose to eliminate the penis so's not to offend.
The Man Cave
The Man Cave is one of the most popular places to stay in Danville. This is the one that started it all. The Man Cave is very popular! Artists were in the process of recording a video shoot while I was here, and it's a no-brainer as to why.
The Danville Treehouse
Arguably the most famous, The Treehouse at Danville is a yurt suspended and built around a tree. Featured on Netflix's Most Amazing Vacation Rentals series, this one is consistently booked, so plan.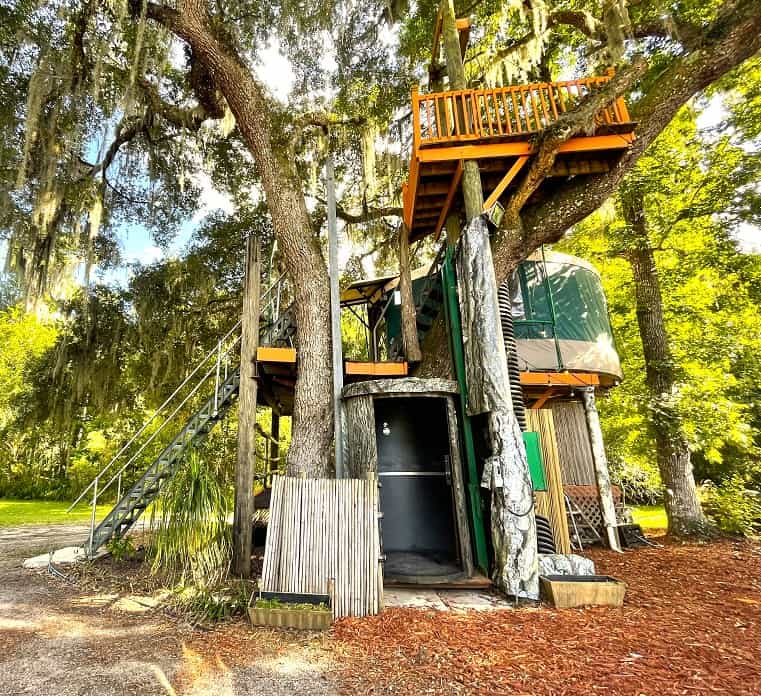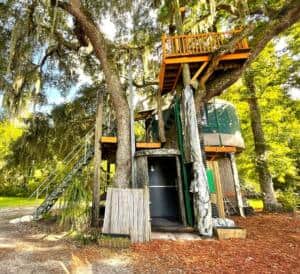 Sat on five acres of land, the Treehouse is fifteen feet tall. It is on a platform in the trees, accessed via an elevator that looks like a tree trunk. The Yurt is eighteen feet long, and Rainier Yurts designed it.
The room has a panoramic window, a skylight, and a 14-foot ceiling. The upper deck has a swing chair and table overlooking the entire property. A gas grill, a fireplace, and space for four people is yours on the yurt deck. In addition to the elevator, there is a classic fire tower staircase from a local fire tower from circa 1926. The mid-deck includes an outdoor shower with hot and cold water for two people and a hot tub created from a DC 10 jet engine cowling. On a wet day, there is seating on the mid-deck. The ground level has a tiki hut and an outdoor wood fire pit.
Note: For safety reasons, children and pets are not welcome. A bonus, this is a sprog-free zone!
Turn of the Century Florida Homestead
This one's located next to the adorable goats and chickens! Head back in time to an old Florida ranch recreation. Unlike the others, this is a ranch-style house with an authentic wood stove from 1900 that has been retrofitted with a gas stove to serve as the kitchen's icebox. Don't fret, and it's loaded with modern-day things you want, like a microwave, coffee maker, and so on.
The homestead was built in 1887, but if you want to know its history, you'll need to stay!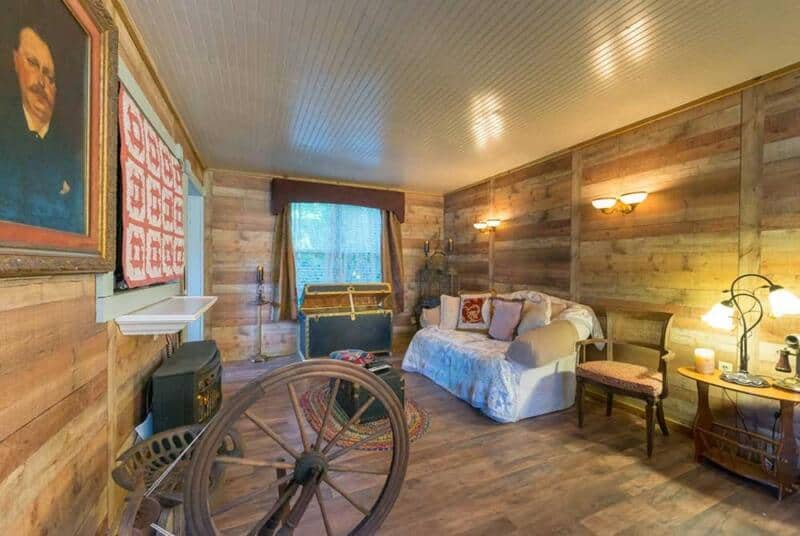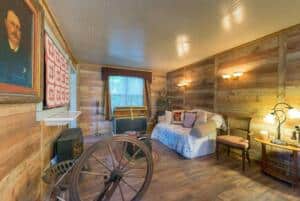 Photo Credit: Danville BnB
Woodstock
Ah, Woodstock! Sadly, you can't rent this space unless you are a returning guest. Why might you ask? Well, it seems that some people just don't know or, more importantly, "get" what Woodstock was and therefore have no clue what to expect. I was stunned that people book Woodstock knowing the accommodation is a Grateful Dead 1964 hippy bus with a waterbed and then be surprised at such.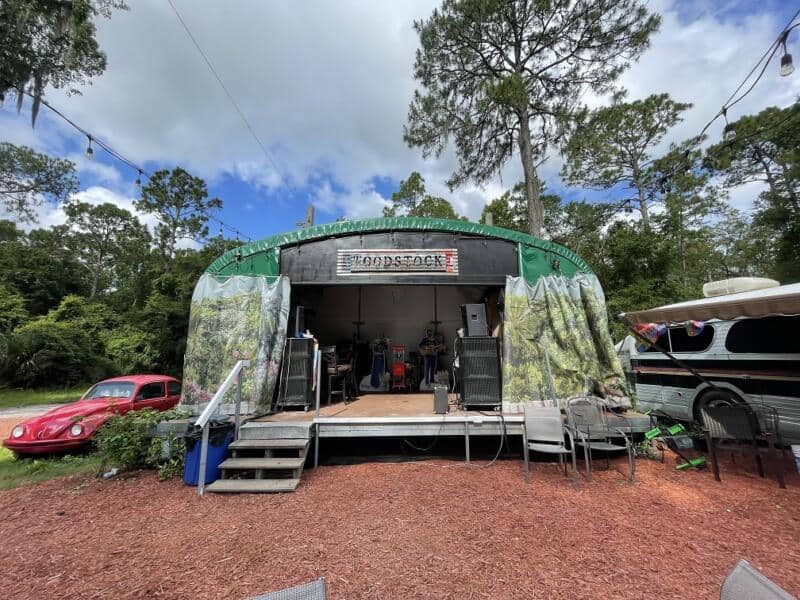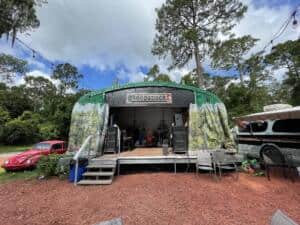 But it's more than just the hippy bus you get to stay in. This area is a venue with a stage, a bar, a fire pit, and two 1964 VW buses. One VW bus sleeps two, and the other is a kitchen. The Grateful Dead bus will sleep four. So, if you are a returning guest who "gets" it, you can rent this space for six people.
Happy Hour At Woodstock
Even if you are a new guest, most, if not all, of the guests will get an invite to happy hour, which takes place at Woodstock. Here, you'll get to roast hotdogs on a spit over a fire and mingle with the locals. Sing, dance, or even give the stripper pole a whirl.
If you are lucky and there is some talent onsite, you may see a live performance.
Other Attractions Near Danville, Florida
Geneva, Florida, is rural. However, there's always something to see and do everywhere. Geneva's no exception.
The Red Barn
A score for me! If I can buy something on the road, I am as happy as a lark. It does not need to be extravagant, just a memory, not a trinket. The Red Barn is part antique mall, part flea market, and somewhat of a general store.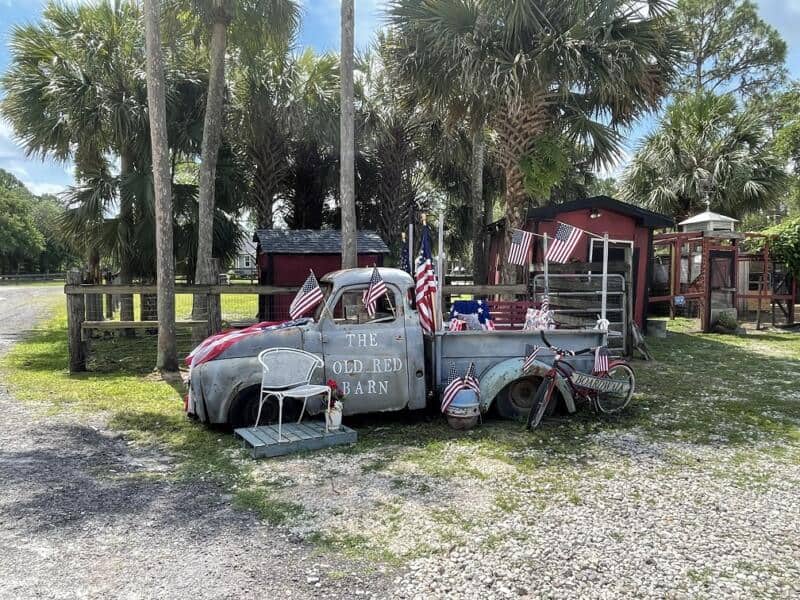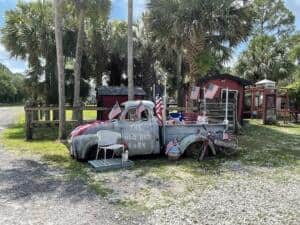 Several vendors have booths here, and you can find exciting items. I got a necklace, two cat mugs, and a martini shaker—an excellent end to my vacation.
What You Need To Know
If you have your heart set on the Danville Treehouse, you must book at least eight months in advance or hope for a cancellation.
Prices are lower throughout the week, and getting a reservation is easier if you avoid the weekends.
You can only make reservations through AirBnB.
Wifi is open, included, and works across the entire property.
FAQs
Where is The Danville Treehouse?
The Danville Treehouse is located inside Danville, Florida, located in Geneva, Florida, just 45 minutes from Orlando.
Who owns Danville, Florida?
Danville is the product of Dan Shaw's vivid imagination and creative ingenuity.
Closing Thoughts
I write travel, and I've been all over. I've experienced countless different resorts, unusual accommodations, and off-the-beaten-track destinations. While I always find something unique or special about a place, Danville, Florida, is amazing to me. There is something mystical about the experience that I cannot describe.
I thoroughly enjoyed my stay here and will be returning. I feel honored to meet Dan and his wife, and their hospitality humbles me. If you are wondering, I was a paying guest; there was no "special treatment" or attempt to put on a show.
There's always a reason why things are famous or take off. Danville, Florida, is the perfect example of this. Almost all the guests I met were repeat clients trying new accommodations, and all were as in awe as I was.
Looking For Other Unusual Stays? Start Here:
We participate in the Amazon Services LLC Associates Program, an affiliate advertising program designed to provide a means for us to earn fees by linking to Amazon.com and affiliated sites.
Brit On The Move™ Travel Resources
Ready to book your next trip? Use these resources that work:
Need more help planning your trip? Check out our Resources Page, highlighting the great companies we trust when traveling.