Once upon a time, I would have never considered the IHG Rewards Club.  IHG, otherwise known as InterContinental Hotels Group, is the parent company of the Holiday Inn. I know, I know! You immediately think of the reputation that the Holiday Inn one had. The 90's low budget border line motel full of a clientele none of us want to be associated with.  I'll confess I was a bit leery at first, but things have changed!
This post may contain affiliate links. Please read our disclosure and privacy policy for more information.

I recently spent a summer in Sioux Falls. The hotel of choice was the Holiday Inn because the Hilton was overpriced and then some. I was impressed! Holiday Inn has come a long way. Modern, spacious rooms, resort amenities. Lush bedding, premium toiletries. What more can you ask for?  Best of all, affordable. Given I was staying there a lot, I signed up for the IHG Rewards Club and racked up a ton of points.
IHG Rewards Club Vs. Hilton Honors
Now comes the cool part! The point redemption of IHG is a lot less than Hilton.  I was able to stretch my redemptions using IHG.
For example, 30,000 points for an oceanfront room at the beach vs. Hiltons now 50,000 to 60,000 for comparable properties.  Add to this, the office that I work from in Chicago moved. The closest hotel is a Kimpton, which is also owned by IHG. You may not have heard of Kimpton, so here are a few photos. It's grand.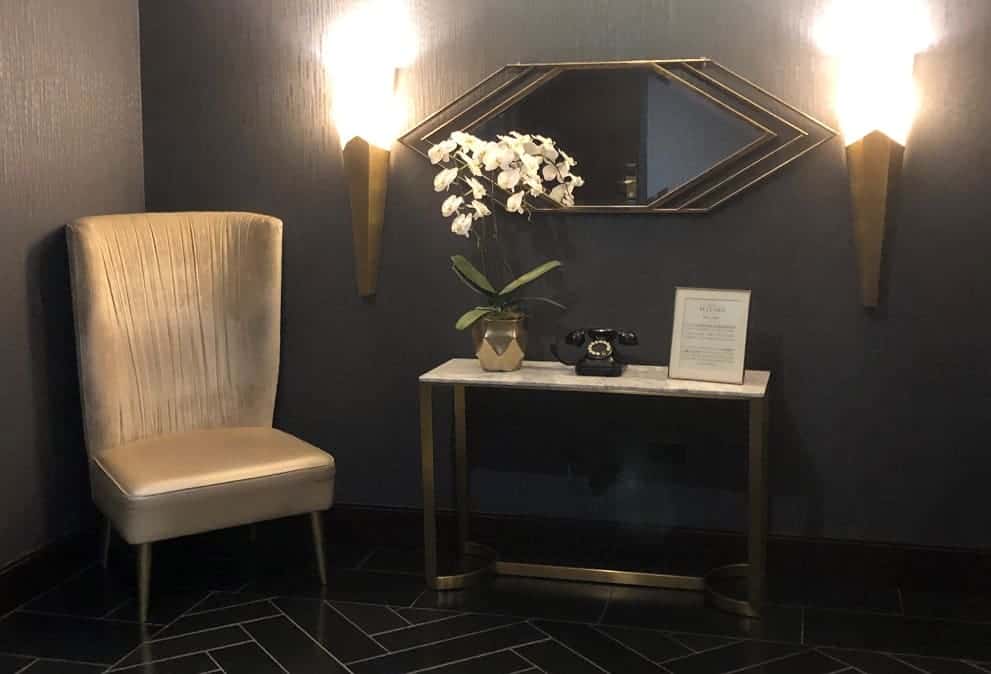 A die-hard Hilton fan, it took me a couple of years to make a full transition, but I did.
I still use Hilton from time to time, but they are no longer my first choice.  My issues with Hilton are:
They always have lower prices listed on 3rd party sights that they will not honor without going through the best price match process, which is a sham.
Point redemption has skyrocketed. Long gone are the days when you could get a room for less than 30,000 points. Long gone are the days of 30,000 at the beach.
I rarely got upgraded, and it's become more and more challenging to acquire Diamond status.
The room prices have increased significantly.
Once I decided to switch, I signed up for the IHG credit card, which became the game changer for me. The IHG credit card is not the one you hear everyone talking about. In my opinion, it gets overlooked because of the reputation that the Holiday Inn once had. And because people don't know which brands are part of the family.
The IHG Brands
Look at all the choices that the IHG brings us! Check some of these out. As with all brands, they range from budget to luxury, so there is something here for everyone.
Regent® Hotels & Resorts
InterContinental® Hotels & Resorts
Kimpton® Hotels & Restaurants
HUALUXE® Hotels and Resorts
Crowne Plaza® Hotels & Resorts
voco™
Hotel Indigo®
EVEN® Hotels
avid™ hotels
Holiday Inn, Express® Resort® and Club Vacations®
Staybridge Suites®
Candlewood Suites®


The IHG Credit Card:
If you are considering a credit card, this should be on your list!  I earn tons of points that equal free stays, but I get Platinum status just for having the card. Here are the highlights:
It has a $49 a year annual fee. In return, you get a free anniversary night. I used my free night to stay at the Holiday Inn at Vero Beach.
In 2018, Chase introduced the new IHG Rewards Club Premier Credit Card. The new card still offers an annual free night certificate but caps the redemption value at 40,000 points. This is now applicable to all reservations on or after January 25, 2019.
This year 2020, I used my free night at InterContinental The Clement Monterey. This hotel sells for an average of $312, which more than takes care of the $49 annual fee. I used this while on spring break. Which is also prime time for travel.
Earn 25 points for the IHG Rewards Club per dollar spent.
Automatically become Platinum Elite within the IHG Rewards Club. This more or less guarantees you upgrades galore! If an upgrade is available, you automatically get it.
Fourth night free when you redeem points for any stay of 4 or more nights.
No Foreign Transaction Fees.
$100 towards Global Entry or TSA PreCheck.
80,000 Bonus points sign up. Enough for an entire week if you play your cards right.
Closing Thoughts:
There is no going back for me!  IHG is officially my brand of choice. I've stayed in IHG properties in New Zealand, Australia, all over Florida and in Chicago. 90% of the time, I get upgraded to a suite, and the suites are luscious in all of the brands. I love the bedding, and I love the amenities. Most importantly, I love being able to earn and favorably redeem points as a member of the IHG Rewards Club.


Looking for more Travel Hacks? Start here:
We are a participant in the Amazon Services LLC Associates Program, an affiliate advertising program designed to provide a means for us to earn fees by linking to Amazon.com and affiliated sites.