Whether going on a road trip or just staying in San Juan, renting a car in Puerto Rico is your best option to save time and explore the island at your own pace.
Before we get into the details, let's clarify some things. First of I have first-hand experience. Secondly, booking through third-party websites like Kayak, Priceline, or Expedia is the worst thing you can do. You should make your reservation directly with a reputable international car rental company. And, even then, you may still run into challenges.
Here is everything you need to know about renting a car in Puerto Rico.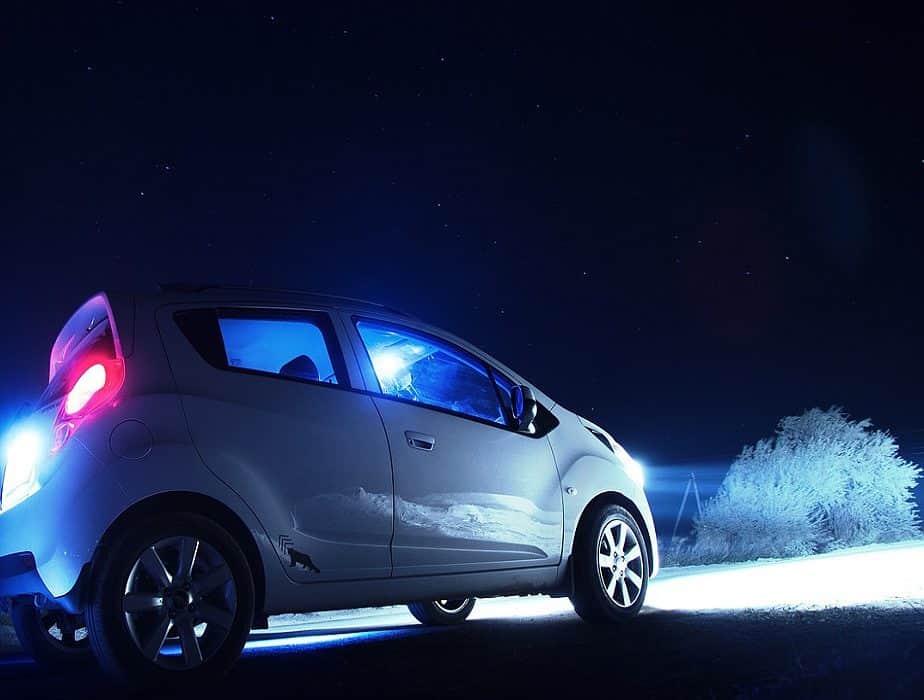 This post may contain affiliate links. Please read our disclosure and privacy policy for more information.
Do You Need A Rental Car in Puerto Rico?
Puerto Rico has public transportation, but routes are limited to popular northern cities, and the language barrier makes communication with drivers almost impossible for English speakers.
Suppose you don't "need one." Technically, you don't. However, a rental car is the best option if you don't want to take group tours or be stuck in your accommodations.
Best Car Rental Sites in Puerto Rico
Never mind the Best Car Rental Sites in Puerto Rico. Let's talk about the best car rental companies that have cars available in Puerto Rico. You should make your reservation directly with a reputable international car rental company that is international. Do not rent locally. This might sound counterintuitive – it's not. If you book locally, you'll be subject to the local rules and regulations or miscellaneous rules that the local car rental company implements.
For example, I was told at a local car rental company, "This is not America." What a load of nonsense. There's no such thing as a Puerto Rican passport, Puerto Rico is a territory of the United States, and residents are U.S. citizens.
Even if you use a 3rd party, make sure the reservation is with an international company; otherwise, you will run into issues.
Here are some of the best rental cars companies in Puerto Rico:
The Best Car Rental Companies in Puerto Rico:
Enterprise – Time and time again, all will tell you Enterprise is the way to go. Even if you have to pay more, they have an excellent reputation in Puerto Rico.
Budget
Avis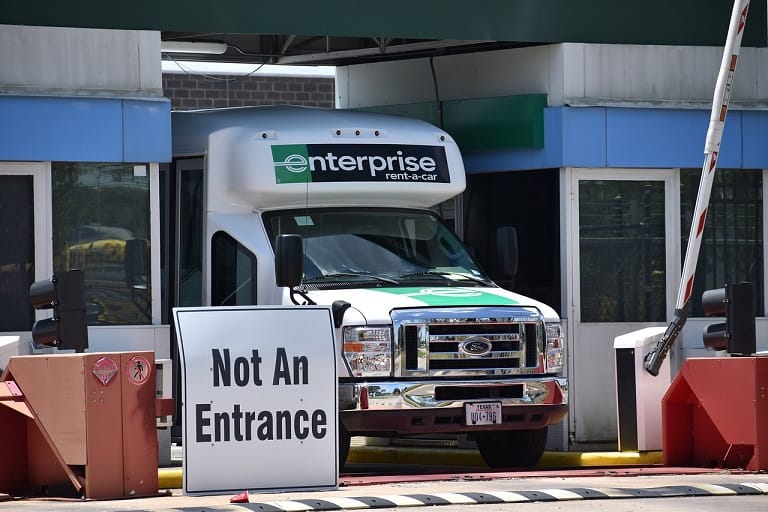 Avoid Local Rental Car Companies:
Do not book locally unless you want to be subject to "local" rules and regulations. Which, I'll add, are ridiculous, like extremely high deposits, mandatory toll transponders, and excess insurance above your needs.
Discover Cars
NextCar
Routes
Allied
Do Not Book Through A Third-Party Provider:
Do You Need a Rental Car in Puerto Rico?
A rental car is the best way to move around for visitors who want to explore Puerto Rico. Renting a car provides flexibility and is more cost effective than paying for taxis for long distances or booking tours every day. Rental cars can also allow travelers to reach destinations that public transportation routes don't cover.
Car Rental Requirements for Puerto Rico
These are the documents you need if renting a car in Puerto Rico.
Driving License– United States residents can rent a car with their standard driving license, provided it is at least one year old.
International Driving License– You'll also need an international driver's license if you're from an international destination.
Credit Card – All car rental companies require a debit card or a credit card for rentals. And some do not take debit cards. The ones that do will hold funds from your account.
Age – Puerto Rico requires you to rent a car at least 25 years old. Renting a car if you are 21 with some rental car companies is possible, but you will have to pay an additional fee.
Collision Damage Insurance (CDW)– It's optional but recommended since it covers theft and vehicle damage.
Compulsory liability Insurance – When you cause damage to another car in an accident, this insurance is mandatory in Puerto Rico.
Pro Tip: To save money, check if your credit card provides rental car insurance before traveling to Puerto Rico. World Nomads, for example, covers travel, medical, and rental car expenses in an emergency, so you can travel without worrying.
How Much Do Rental Cars Cost in Puerto Rico?
Puerto Rico rentals are typically higher in price than the US. A midsize car averages anywhere from $65 to $140 per day. It depends on what time of year it is and how long visitors are renting a car for. Car rental rates are also affected by factors such as the type of car chosen and add-ons like insurance.
Because of high taxes and vehicle demand, Puerto Rico has higher car rental prices than other Islands. It is advisable to compare the prices of different car rental companies before deciding on one.
Tolls For Renting a Car in Puerto Rico
Puerto Rico has several toll roads, each being between $0.75 and $3. Puerto Rico uses an electronic toll pass called AutoExpreso, much like EZPass in the northeastern US.
In Puerto Rico, you can pay MOST tolls with either cash or AutoExpreso. The currency in Puerto Rico is the US dollar. AutoExpreso is essentially the Puerto Rican version of EZ-Pass.
Some tolls in Puerto Rico are now entirely cashless. Others only have one cash lane with an excruciatingly long line and wait. I highly recommend you get the AutoExpreso tag to save time. If you do not have one and end up going through a cashless toll, you will get a hefty toll fine. If you run a toll without Autoexpreso, you can expect to pay approximately $20 per toll!
Autoexpresso is NOT included with a rental car. However, add it. It's only about $6 a day. This will save you a small fortune.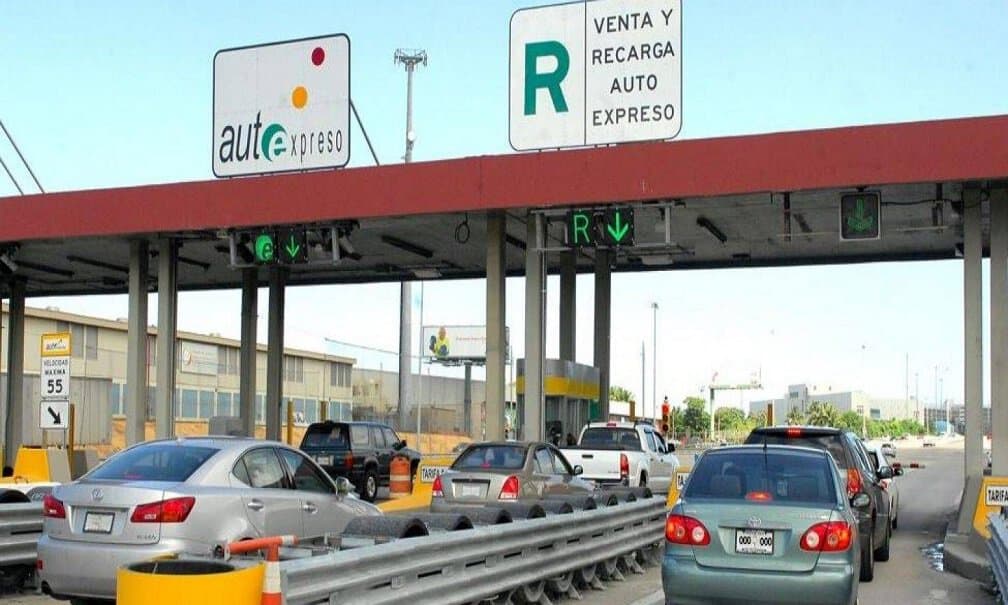 Toll Roads in Puerto Rico
It is possible to install an AutoExpresso tag or to pay with cash. At Puma and Total select stations in Puerto Rico, or designated replenishment lanes (marked with a green "R") at chosen toll plazas, AutoExpresso transponders can be refilled. However, skip this and rent the AutoExpresso from the car rental company.
The following roads have tolls in Puerto Rico:
PR-5 – Connects PR-22 with Baymón and has one toll.
PR-17 – Connects PR-26 with PR-20 and has one toll.
PR-20 – Connects PR-1 to PR-2 (north) and has one toll.
PR-22 – Connects San Juan to Hatillo and has six tolls.
PR-52 – Connects Río Piedras with Ponce and has seven tolls.
PR-53 – Connects Fajardo to Salinas and has five tolls.
PR-66 – Connects Carolina to the Río Grande and has three tolls.
Teodoro Moscoso Bridge – Bridge Scam
Puerto Rico has the Teodoro Moscoso Bridge. This expressway connects PR-17 with PR-26, an extension of the Román Baldorioty de Castro Expressway (PR-26). This bridge connects Rio Piedras and Isla Verde Carolina neighborhoods in San Juan by crossing the San José Lagoon. Currently, the bridge serves as the entrance to the Luis Muñoz Marín International Airport.
The bridge has four lanes, electronic signs, a toll plaza charging $3.65 in each direction, and flagpoles on both sides with American and Puerto Rican flags.
The Teodoro Moscoso Bridge accepts AutoExpresso transponders!
Many local hire companies will tell you that it does not and ask you to pre-pay this toll. This fee is a trick to get money from the rental company because there is an auto express lane.
How To Pay A Missed Toll In Puerto Rico
The Puerto Rico Highways and Transportation Authority manage tolls in Puerto Rico. To pay a missed toll, call customer support at 1-888-688-1010.
Check Your Car Insurance Coverage
Puerto Rico requires insurance for renting a car. The daily insurance fee can significantly increase the cost of your rental. Almost all credit cards offer rental car insurance, so check with your bank if you have car rental coverage and bring proof when you rent.
Here are the typical requirements for car insurance when you rent via a local company. Notice that they will only accept specific companies. This is all a stunt to get you to purchase their insurance. Another reason why you should book with an international car rental company vs. a local one.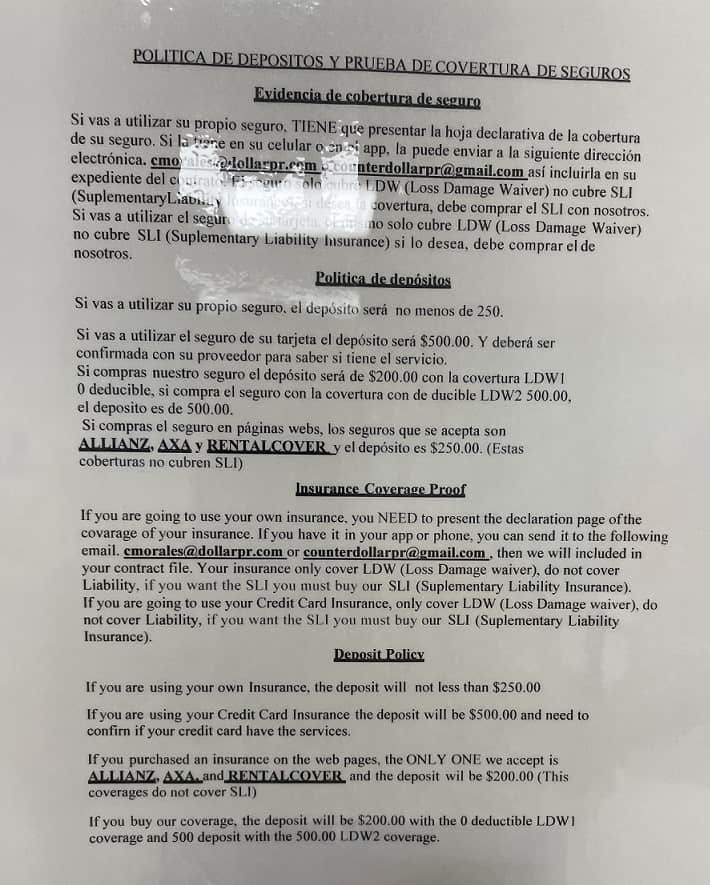 Compare Rates
Deals that seem too good are usually too good for real. Ask the rental company if the advertised price includes the insurance fee when looking for a car rental. If you don't have any, you'll have to purchase insurance, which will increase the daily rate of your rental car.
You'll get the best rates by booking directly with Enterprise, Budget, or Avis. Plus, you can earn loyalty points and eliminate insurance headaches.
Make a Reservation Well in Advance
Puerto Rico's car rental rates can rise significantly as your trip date approaches. Get the best deal on Puerto Rico car rentals by searching and comparing daily fares online.
The further ahead you book, the less expensive the rental will be.
It's Almost Impossible To Rent A Car Upon Arrival
Before you land in Puerto Rico, you need to secure a rental car. If not, you'll likely catch a taxi to your hotel. Cars are just not available on demand, and you need a reservation.
Study the Fine Print Given Before You Sign
Once you've made your reservation, it can still change even if you read the fine print. There are specific rules that the car rental company will tell you. In the end, regardless of how they read, if you sign, you agree.
You must read your car rental contract in detail – all the fine print.
It is not uncommon for tourists to violate the car rental agreement without knowing it and lose their deposit or have to pay extra fees as a result.
For example, if you return the rental car full of sand or damp seats, you may be subject to a fine cited in the small print.
Before leaving the location, read everything and take notes.
Inspect The Car Thoroughly
This one is a must whenever you rent a car. However, it's critical when renting in Puerto Rico.
Most cars are in poor condition, and you will be shocked by that. Many vehicles have dents and scratches, and some even lack fenders! Then there are minor marks or side doors that need to be replaced!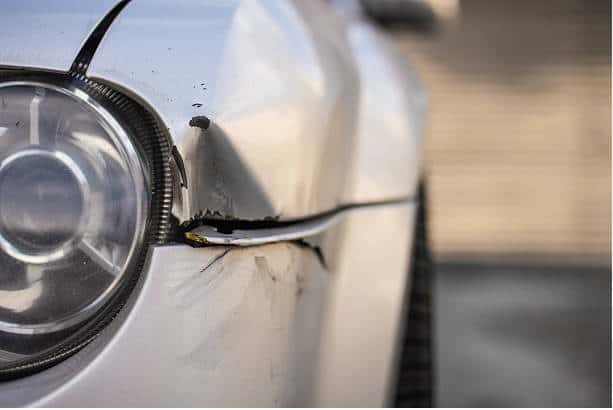 Before driving away, ensure your car is free of scratches, bumps, and other imperfections.
Videotape the inside and outside of the car and make a backup of the video. You can skip photos if you have a video and screen-shot the images as needed from the video if you have one.
You can use your video as evidence in case of any claim or if the rental company tries to hold you liable.
Load Maps On Your Phone Before You Head Out
Getting a good cell signal in certain parts of Puerto Rico is difficult. Signal and service problems aren't uncommon.
However, you can easily avoid this by setting your route BEFORE you leave a location while you have service.
Satellite service will maintain the route no matter how poor the cell service is.
Avoid Rush Hour
There is nothing like the freedom that comes with renting a vehicle. It's your choice when it comes to coming and going! As a result, Caribbean islands are no strangers to rush hour. Even though there are highways, they are not as extensive.
Although you will save time, you will not be able to escape peak hour traffic. If you travel on main highways at 8:00 am or 6:00 pm, it may take more than an hour to get from San Juan to a nearby city.
There will also be a surge in Puerto Rican drivers during that time. You can either leave early or wait for rush hour to end before you depart for your destination.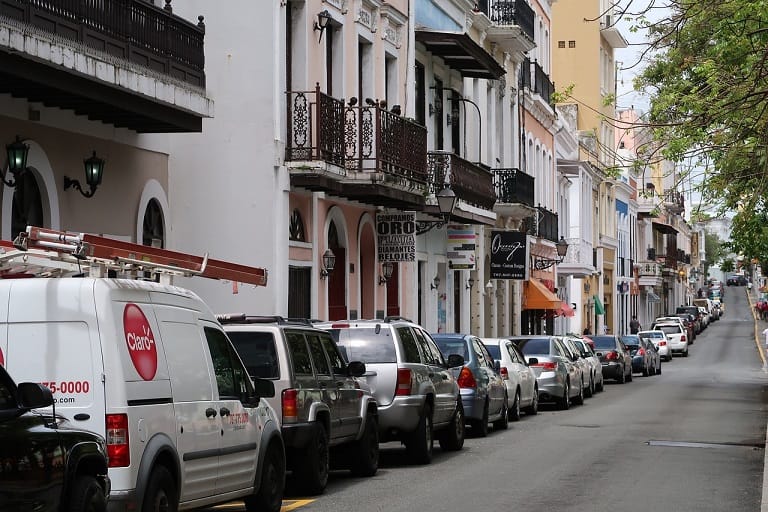 Don't Take The Car Rental Off The Main Island
Currently, the ferries only transport cars from Vieques and Culebra residents. However, most companies do not allow car rentals outside the main island.
Driving Tips For Puerto Rico
Drive on the right side! You should know that Puerto Rico follows the same traffic system as the United States if you come from abroad. Spanish road signs are mostly the same as those used internationally, but they are on the right side of the street.
Speed limits are expressed in miles per hour (MPH), but distances are expressed in kilometers (KM).
The price of gas is determined by the liter. Calculate the (approximate) price per gallon by multiplying the posted price by 3.8 (or by 4, it's easier). Before pumping your gas, you must pay inside.
When visiting Old San Juan, park in a parking deck outside the city perimeter. There are narrow, one-way streets in the center of Old San Juan, which makes driving a nightmare. It's impossible to find on-street parking in Old San Juan. On-street parking there requires a permit in some cases.
Puerto Rico Traffic Sign Translations
It is useful to know some translations of Puerto Rico's universal traffic signs, even though they are usually written in Spanish.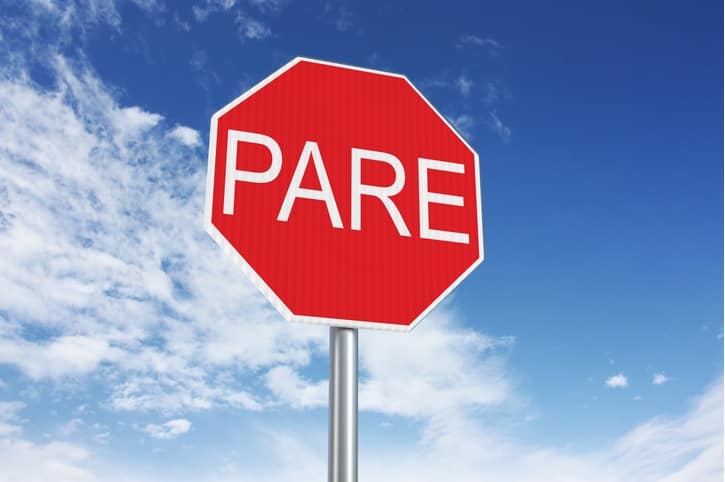 autopista — highway or expressway
calle — street
carratera — road
carril derecho — right lane
carril izquierda — left lane
ceda — yield
cuidado — caution
estacióne — parking
este — east
hacia — toward, as in Hacia 66 would mean Toward Route 66
interseción — junction, often abbreviated INT, so INT 3 would mean junction with Route 3
no estacióne — no parking, also a big E with a slash through it means no parking
norte — north
oeste — west
pare — stop
peaje — toll
salida — exit, both as in a parking lot exit and an exit ramp from a highway
solo — only, as in the word solo with a left-pointing arrow would mean left turn only
sur — south
transito (on a sign with an arrow) — usually means one-way and sometimes indicates bi-directional traffic flow
FAQs About Renting a Car in Puerto Rico
Is it a good idea to rent a car in Puerto Rico?
Yes! Renting a car in Puerto Rico is by far the best way to explore the island.
Is it expensive to rent a car in Puerto Rico?
Expensive is a relative term, and rates vary by season and demand. This said car rentals in Puerto Rico tend to be more expensive than renting on the mainland in the USA.
Can a US citizen rent a car in Puerto Rico?
Because Puerto Rico is a non-incorporated territory of the United States, US citizens can rent a car on the island with their driving license and insurance if they already have it.
What are the requirements to rent a car in Puerto Rico?
To drive in Puerto Rico, visitors must be over 25 years old and have a driver's license, a credit card, or a debit card with a logo. Visitors also need Liability Insurance and Collision Damage Insurance; they can buy them at car rental locations if they don't have any.
Why is it so expensive to rent a car in Puerto Rico?
Renting a car in Puerto Rico is expensive because of the limited supply and shortage of auto production. Other factors like annual inflation, taxes, and the model can also influence the rental car price.
How old do you have to be to rent a car in Puerto Rico?
The minimum age to rent a car in Puerto Rico is 25. Some car rental locations rent vehicles to people over 21, but they have to pay additional fees to get them.
Is There Uber in Puerto Rico?
Puerto Rico's main ridesharing application is Uber. There are many cities in the metropolitan area where Uber is available, such as San Juan, Carolina, Trujillo Alto, Caguas, Cataño, Bayamón, Vega Baja, and Dorado.
Is it scary to drive in Puerto Rico?
Driving in Puerto Rico can be scary for foreigners since Puerto Ricans often surpass speed limits, honk, and change lanes. Going to the mountainous center can also get dangerous because of the narrow and curvy streets.
Closing Thoughts
Your Puerto Rico car rental is now ready! There's only one thing left to figure out: where to drive!
Looking for articles on navigating tropical islands? Start here:
We participate in the Amazon Services LLC Associates Program, an affiliate advertising program designed to provide a means for us to earn fees by linking to Amazon.com and affiliated sites.
Brit On The Move™ Travel Resources
Ready to book your next trip? Use these resources that work:
Need more help planning your trip? Check out our Resources Page, highlighting the great companies we trust when traveling.