Florida is a nature explorer's heaven. While there's a lot of wildlife in the region, the wildlife doesn't come without the natural parks they live in. And many of those parks are home to springs. There are almost 900 springs throughout Florida, and one of the best just so happens to be Kelly Park at Rock Springs!
Even though Kelly Park at Rock Springs is a very famous location, people often get confused about is Kelly Park and Rock Springs different parks or are the same? They are the same. The official name is Kelly Park/Rock Springs, but people refer to either or both when talking about this spring. The simple reason is that the park is Kelly Park, but the main attraction is Rocks Springs, which locals escribe describe as Orlando's natural lazy river.
We'll be going over all the info you'll need to get your whole experience at Kelly Park and Rock Springs.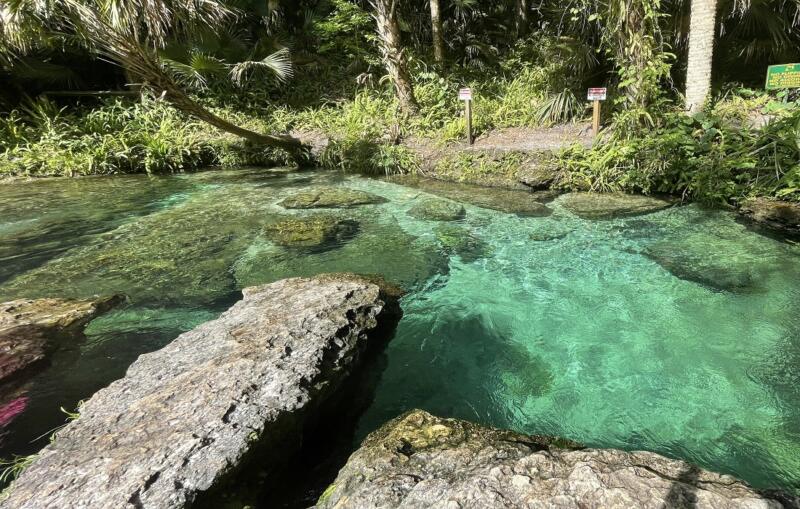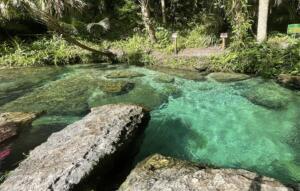 This post may contain affiliate links. Please read our disclosure and privacy policy for more information.
Why Visit Kelly Park At Rock Springs?
Kelly Park is one of the most serene, beautiful natural springs in Apopka in Central Florida. This is a place that almost all locals know about and visit frequently. It offers visitors the chance to splash around in the cool water pool at the end of the rock run. Or, for those wanting a bit more action, this spring has the rock run hence the name. You can float down the rocky spring run on a tube or a floatation device. I've floated down on a pool noddle, and they work fine!
Those who have visited call it a slice of heaven and look at the scenery; you can tell how true it is! This is where you can go eat a picnic, swim, hike the nature trails or ride down the natural lazy river time and time again. It's also great for snorkeling. People love to scour the water looking for sharks' teeth.
It's one of the closest springs to Orlando and the perfect way to experience Florida's natural parks.
About Kelly Park At Rock Springs
The journey from Orlando to the massive 325-acre Kelly Park at Rock Springs is only around 30 miles. That puts the getaway far enough from the city that you'll be immersed in nature but close enough that it won't take you a day of driving to get there!
The water throughout the springs takes many different shapes throughout its travels. It starts at the mainspring vent, where it rises out. The water pumps out 26,000 gallons a minute at that location. From there, the water makes its way to Rock Springs Run, a clear river. That river goes on for another 8 miles and merges into the Wekiva River after that.
Those are just the central water bodies. There are also lots of little streams, a natural lazy river, and ponds across the entire park for you to explore!
One of the best parts about the place is that the water stays constant at 68 degrees! So no matter which spot you're in, you're in for a super pleasant time.
Kelly Park/Rock Springs Address
Address: 400 E Kelly Park Rd Apopka, FL 32712
Opening Hours
Summer 8 a.m. – 8 p.m.
Winter 8 a.m. – 6 p.m.
The waterfront and nature trails close daily, one hour before the park closes.
Entry Cost
$3 per vehicle for 1-2 people
$5 per vehicle for 3-8 people
$1 for additional person/walk-ins/motorcycles/bikes
Note: While Kelly Park does accept credit cards their machine is often out of service so make sure you bring cash! And, if using a credit card ID is required.
Things To Do At Kelly Park At Rock Springs
Kelly Park/Rock Springs has no shortage of pristine crystal clear water that's consistently 68 degrees year-round. Some will tell you the water alone is the attraction. No matter how many springs you visit, there is something addictive about these transparent bodies of water.
So outside of the obvious – the lush water you get to swim in plenty to see and do. For starters, there are the trails to explore. There's tubing, kayaking, snorkeling, canoeing, and camping. However, Kelly Park's main attraction is tubing down Rock Springs!
Tubing Rock Springs
Tubing at Rock Springs is one of the most fun activities in the park! It's one that adults and kids can enjoy together. That's because it's a super relaxing natural lazy river. Tubing Rock Springs involves floating down the run from the top, then repeating as much or as little as you want.
To tube in the lazy river, make sure you've brought your tube with you, or rent one from the rental office outside the park.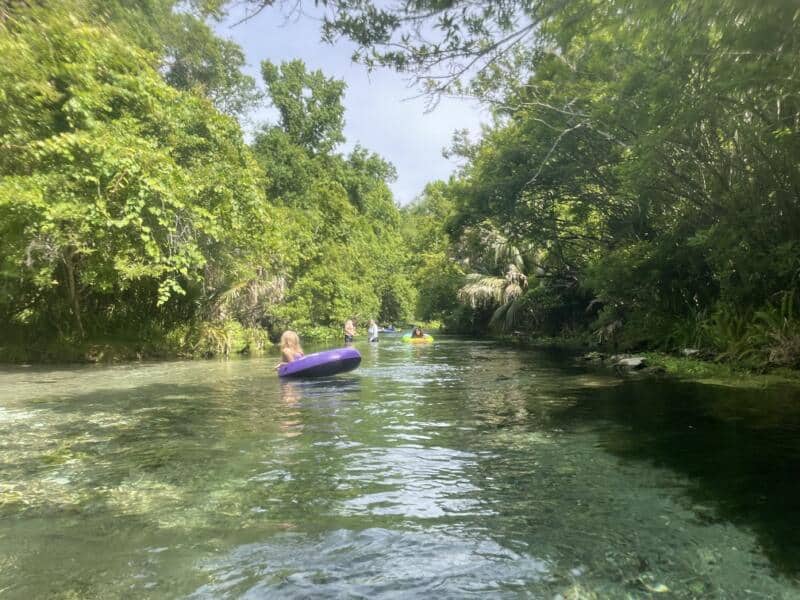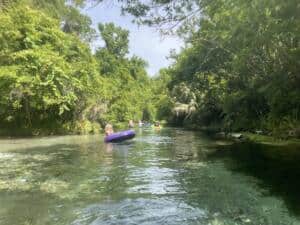 The tube run is only ¾ mile, but because of how relaxed and slow the waters are, it still takes around half an hour to make it through the entire way, which is usually enough time to enjoy the whole thing.
However, if you still haven't had enough, you can get back to the start and go through the whole thing as often as you want!
Tube Rentals
Kelly Park doesn't rent tubes, but you can rent them outside. It will cost you $7 to rent a tube from a vendor outside the park.
You can bring your pool noodles and tubes. Rather than dealing with an outside rental company, I suggest getting your tube or floating device.
Note: If you bring your own tubes, remember that tubes can't be more than 5 feet long or wide! And sadly, you can't bring in floating water mats.
Bring Your Own Tube
In the long run, you'll save a ton of money by bringing your own tube. Here are some favorite river tubes:
Swimming At Rock Springs
Even though swimming areas had been closed for close to a year, they've just opened up again. There are many swimming areas throughout the park where you can take a dip!
If you want to go snorkeling, though, you'll need equipment for it. So make sure you're packing accordingly. There's lots of marine life, including turtles, that you can swim around with!
One thing to be mindful of is that if you swim in shallow sections, be careful because there are lots of rocks at the bottom, and some of them can be sharp.
The Main Swimming Area Of Kelly Park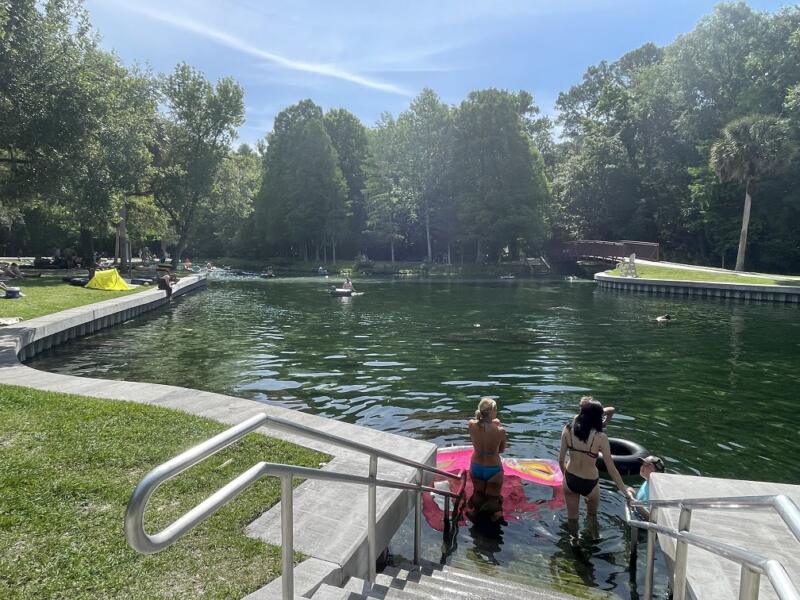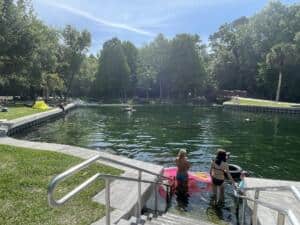 Pavillion Rentals
One way to guarantee you get in is the rent a pavilion. You can make a reservation for a pavilion for an event or a get-together.
To make a pavilion reservation, call the park directly at 407-254-1902 or email [email protected]. You will need to include your name, the date requested for your pavilion reservation, phone number, and the number of people expected to attend your event.
Finding Sharks Teeth
Finding shark teeth is one of the most fun and unique features of Rock Springs. These are remnants of Florida's fascinating geologic past when oceans covered the entire state. The flowing spring water blasts the shark teeth out of ancient limestone layers.
Kayaking, Canoeing, and Paddleboarding
Kayaks and canoes are unavailable for rent inside the park, but campers can launch their own at Camp Joy.
Camp Joy Launch
The launch at Camp Joy is $3 and requires a signed release. You can launch your kayaks, canoes, and paddleboards from Camp Joy. Camp Joy is a couple of hundred yards from the main parking lot.
Kayak/Canoe/Paddle Board Launch at Kelly Park's Camp Joy: $3 for 1-2 people; $5 for 3-8 people; and $1 for an additional person. Launching hours are between 8 am and 12 pm; guests must return no later than 5 pm.
The other option is to access Rock Springs Run below Kelly Park from Kings Landing at the end of Baptist Camp Road. Kings Landing is the only kayak and canoe concession at Rock Springs.
From Kings Landing, head right and paddle upstream towards Kelly Park. After that, you'll drift downstream to finish at King's Landing. Going right will take you through what's called the Emerald Cut, which is a simply stunning area of the spring.
You might even get to paddle the 8.5-mile river itself. Ask the staff at the park before starting for the guidelines for that day before you begin!
Camping At Kelly Park's Camp Joy
Kelly Park is home to Camp Joy, a previous church camp. It is adjacent to Kelly Park/Rock Springs, and this campsite offers the summer camp experience year-round. Camp Joy provides 26 shady campsites tucked under dense pine and hardwood forest canopy, each ranging from 35 to 70 feet deep with comfortable separation between each other.
Enjoy dormitory style or tent camping accommodations with your favorite group. Camp Joy offers a meeting hall, dining hall, kitchen, picnic pavilions, basketball court, and horseshoe pits. The beautiful vistas within this park allow visitors to relax in a natural setting and enjoy a picnic while spending time with their group.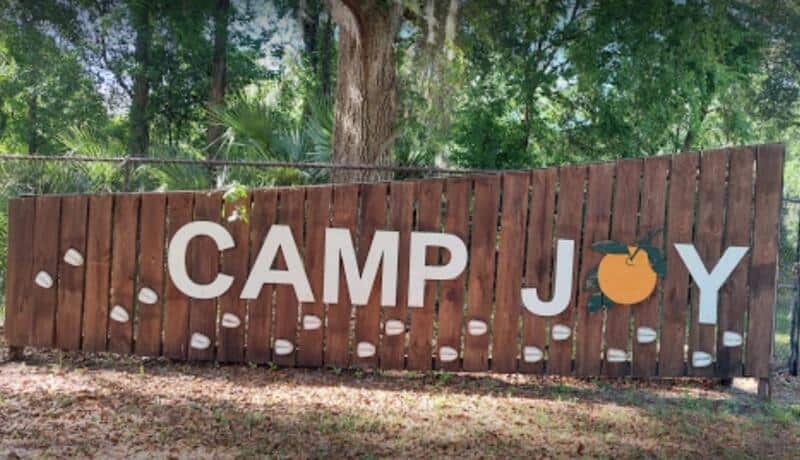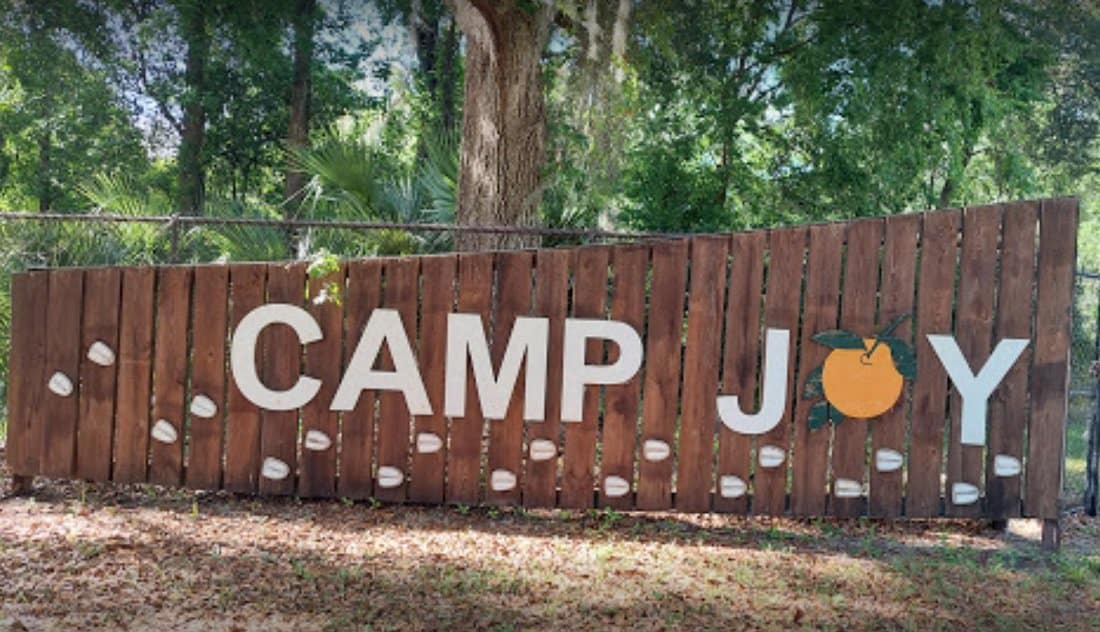 Note: Camp Joy is and Eagle Boy Scout Retreat Campground are two completely different camp sites. Camp Joy is state owned and run. Eagle Boy Scout Retreat Campground is the primitive camp site owned and operated by Kings Landing.
Hiking Trails
The Kelly Loop Trail has two main trails. Both ramble through the scrub, sandhills, and pine flatwood with rolling terrain, dense hardwood hammocks, and numerous sinkholes over almost 2.75 miles. If you follow the Kelly Loop trail, you will get scenic views of Rock Springs Run.
The Oakhill Trail
An inner loop leads you to and around a relict lake, now a prairie with several grassy arms.
Prairie Lake Trail
Prairie Lake Trail is 1.8 miles long.
and is an inner loop that leads you to and around a relict lake, now a prairie with several grassy arms.
Kelly Park Rock Springs Map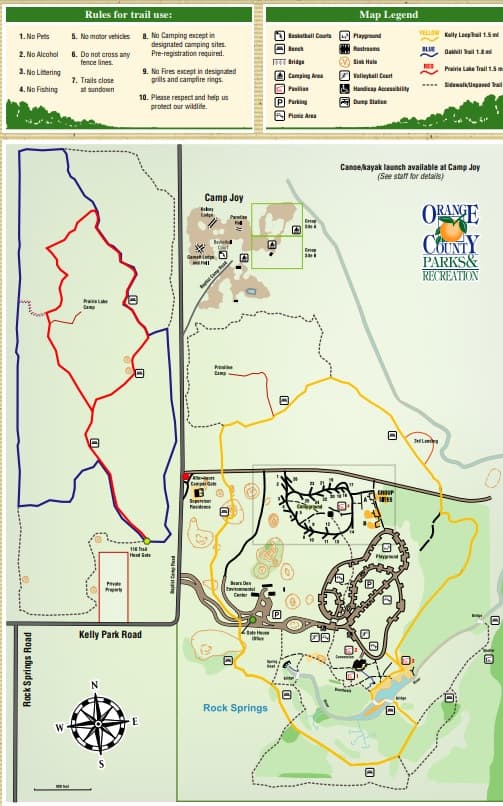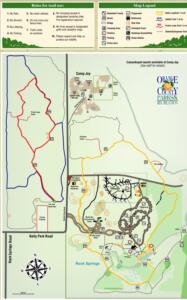 Image Credit: Orange County Parks and Recreation
Wildlife in Kelly Park
Even though Rock Springs is very close to Orlando City, once you're on the park's premises, it's a giant jungle! With that is home to a variety of wildlife! The entire park is protected land, which allows all the natural wildlife to thrive in the area.
There are many wild turkeys, river otters, bears, alligators, and whitetail deer too! These animals all hang out in their protected habitats, and with it, they can live out their lives peacefully while people can enjoy the rest of the park!
If you really love springs, then you need this book! Florida is home to over 1000 natural springs between the sun-soaked beaches of the Gulf of Mexico and the Atlantic Ocean, which have drawn people to the state for thousands of years. Long before theme parks came to town, the freshwater springs were the top tourist attraction in the state. Join us across the state to explore 40 of the best springs in Florida that you can still visit today. Filled with vivid photos from the past and present, this guide will show you a side of the Sunshine State you won't see in commercials. Complete with information on conservation and a key for activities offered, this book is a must-have for locals and tourists alike.
What You Need To Know
Arrive Early
Kelly Park/Rock Springs has strict visitor limits to preserve the environment and prevent overcrowding. Each morning, 280 vehicles will be allowed entry, and an additional 50 vehicles are allowed in after 1 pm with an afternoon parking pass.
If you can, a visit throughout the week is best. However, you must be there at 8 am or earlier if you can only visit during the weekend. I can tell you firsthand that if you arrive at 8 am on the weekend, the line to get in will be backed up to the tube rentals. And, there's a slim chance of getting in.
You can check the state's website before you head out. It will tell you if the park is at capacity.
FAQs:
Are there alligators in Rock Springs Kelly Park?
Yes. Since Kelly Park is a natural park, it is common to find alligators. However, they don't usually hang out in the public swimming areas, and even if they wander in since the park staff always keeps a close eye on the place, they don't make it close to the people anyway.
It's a rare occurrence because too much activity at the park scares the gators away. However, it does sometimes happen. Here's a gator being removed from Rock Springs Kelly Park:
How much does it cost to get to Kelly Park?
Getting into Kelly Park will cost $3 per vehicle for 1-2 people. However, for 3-8 people, the ticket is $5 per vehicle. There's also a $1 additional charge for any extra person/walk-ins/motorcycles/bikes.
How much is it to camp at Kelly Park?
The general camping grounds at Kelly Park are rented out for $36 for residents and $46 for non-residents. However, you may book one of the primitive sites for $15 (seniors pay only $11.25).
How long is the tube run at Kelly Park?
The tube run at Kelly Park is around 3/4 of a mile. It'll take approximately 20-30 minutes to make it through the entire way.
Are there bears in Kelly Park?
Yes. The forest throughout Kelly Park is home to bears. However, they tend to stay away from the noise of the public area and are closely monitored by the staff at the scene.
Can you drink alcohol at Kelly Park?
No alcoholic drinks are allowed at Kelly Park. If you bring drinks, you may be asked to pour them out at the gates.
Closing Thoughts
A trip to Kelly Park, home of Rock Springs, is one of Florida's most popular summer pastimes. It's an affordable day out that both adults and children will enjoy. All that's left for you to do is pack your bags and head over to Kelly Park for a day (or days), full of adventure and fun!
Here are some of the most popular springs in Florida:
We participate in the Amazon Services LLC Associates Program, an affiliate advertising program designed to provide a means for us to earn fees by linking to Amazon.com and affiliated sites.
Brit On The Move™ Travel Resources
Ready to book your next trip? Use these resources that work:
Need more help planning your trip? Check out our Resources Page, highlighting the great companies we trust when traveling.