Visit Romania & Explore The Best Tourist Attractions
Why visit Romania? Romania is an undiscovered destination with many popular tourist attractions and hidden gems. It has a Game of Thrones-like history and beautiful natural landscapes, rich wildlife in the mountains and the Danube Delta, and charming medieval towns in Transylvania, to name a few examples.
Locals are friendly, and you'll find their traditions well-preserved in rural areas. Romanian food is hearty and made with home-grown products, and local wines are getting better and better. Best of all? Holidays in Romania will be 20-30% cheaper than in other European destinations.
So check out a short list of ten of Romania's most exciting tourist attractions.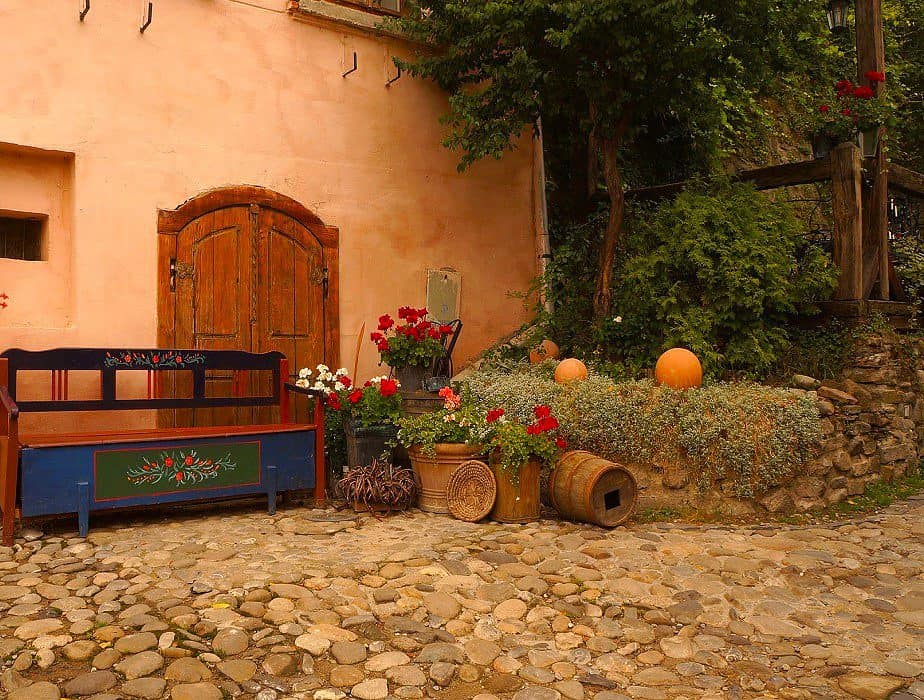 This post may contain affiliate links. Please read our disclosure and privacy policy for more information.
Bran (Dracula) Castle
Bran Castle is undoubtedly the most famous landmark in Romania. This scary-looking medieval fortress is marketed as home to the legend of Dracula and the character in Bram Stoker's novel. Yet, don't expect to step into a horror movie set. There's one room dedicated to Dracula and the commercial hype around it. Still, you can see other exciting things, like the armory and torture room, the secret staircase, and museum-like displays of the royal family tree and Romanian folk legends.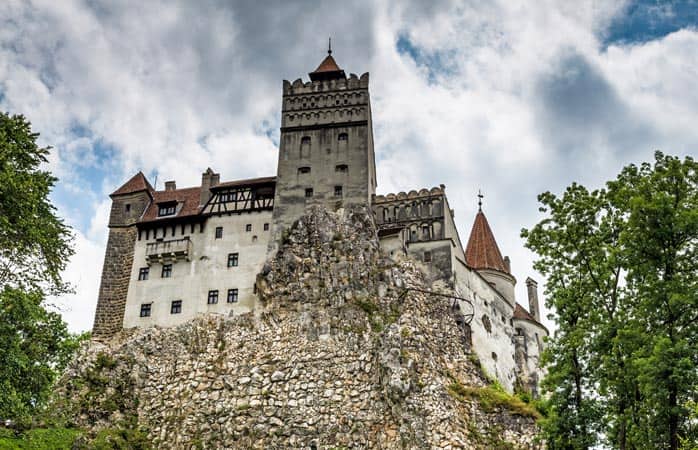 The interior rooms of Bran Castle might seem simple, but that's because they're in their original state from medieval times. You can take great pictures of the castle, its beautiful garden and the picturesque scenery outside. The castle is close to Brasov, so it's easy to visit on a day trip.
Viscri Village
Transylvania is the country's central tourist region in the heart of Romania. Surrounded by the Carpathian Mountains, you'll find many medieval castles and towns, many UNESCO monuments, and traditional villages in beautiful natural scenery.
In the center of Transylvania, you will find Viscri Village, the most famous of the UNESCO Saxon villages with fortified churches thanks to its well-preserved buildings, cultural heritage, and rural lifestyle.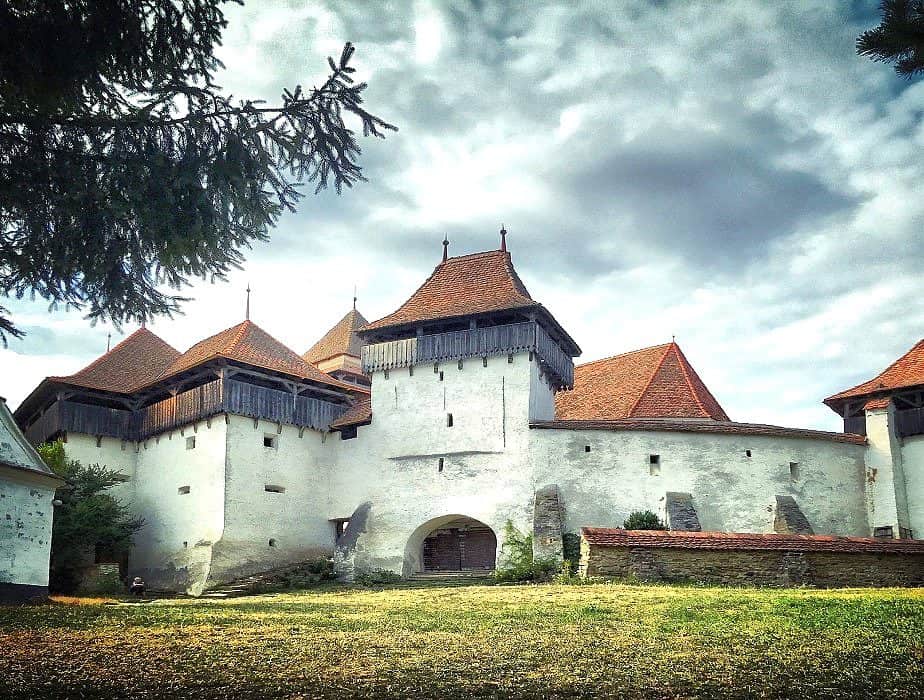 Visiting Viscri Fortified Church and taking a stroll in the village is a must to understand the region's history and culture. The UK'S King Charles loved how the community here preserved its way of life so much that he bought and restored a village house to use for his Summer holidays.
In Viscri, you'll also enjoy authentic Transylvanian recipes with home-grown ingredients like the delicious sarmale (cabbage leaves stuffed with ground pork) and bean soup. And you can buy homemade jam, pickles, and other traditional delicacies from the locals.
UNESCO Sighisoara Citadel
North of Viscri and part of Romania's Saxon heritage is the medieval and colorful Citadel of Sighisoara. The structure the Saxon colonists gave when they built the in the 12th century on this hill remains unchanged. It has a rich history that illustrates Saxon culture in Romania and has been part of UNESCO Heritage since 1999.
With cobbled alleys and many colorful, well-preserved medieval houses, you'll enjoy walking here for a short walk. Or go up to Dealul Bisericii, where the local church was built at the highest point and fortified.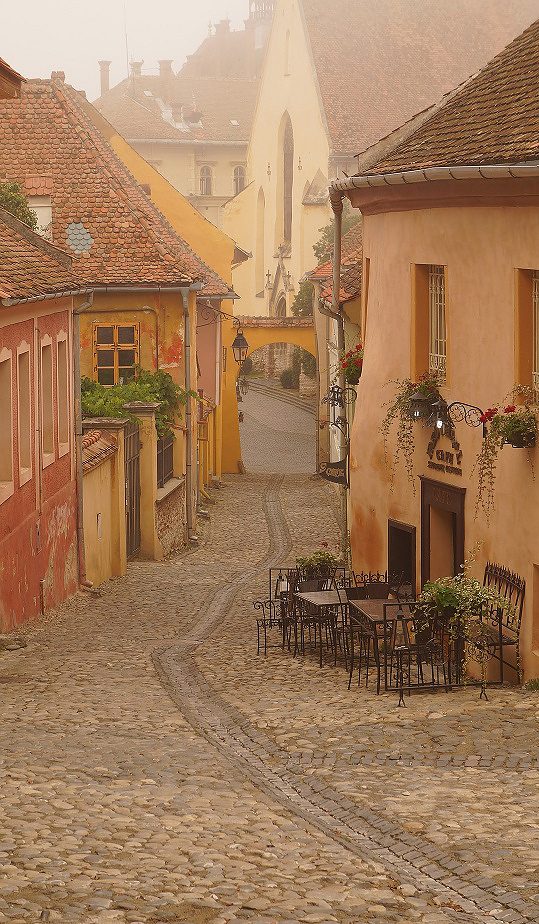 Sighisoara's history is connected to the Draculesti family and is the birthplace of Vlad the Impaler (the future famous Vlad Tepes, the prince who inspired the Dracula novel). You can visit the house where he was born! The citadel also hosts numerous festivals like the Sighisoara Medieval Festival with arts, crafts, and stage plays, the Film Festival with vampires as its theme, and the International Blues Festival.
Obor Farmers' Market in Bucharest
Romania's capital, Bucharest, is a vibrant city with many attractions like the famous Palace of Parliament or Calea Victoriei, also for its thriving nightlife in the Old Town area and the Little Paris feeling of some neighborhoods.
But if you're looking for an off-the-beaten-path attraction, head to Obor farmers' market, Romania's most famous and oldest produce halls that have been around for more than 300 years. It is open seven days a week from 7 am, and you can use multiple means of public transport to get here. The market is made up of several buildings and offers delicious food and a wide range of products:
Halele Obor with cleaning products, clothes, and household goods at low prices;
The produce section with fresh fruits, vegetables, meat, cheese, and unpasteurized cow's milk (Romania is one of few EU states that sells raw milk), plus many wine shops, spice shops, bakeries, health food stores, and natural pharmacies;
The Obor Terrace offers a local experience, where you can have a beer or mulled wine and a plate of the famous steaming hot mici (grilled Romanian meatballs) served with bread rolls and mustard.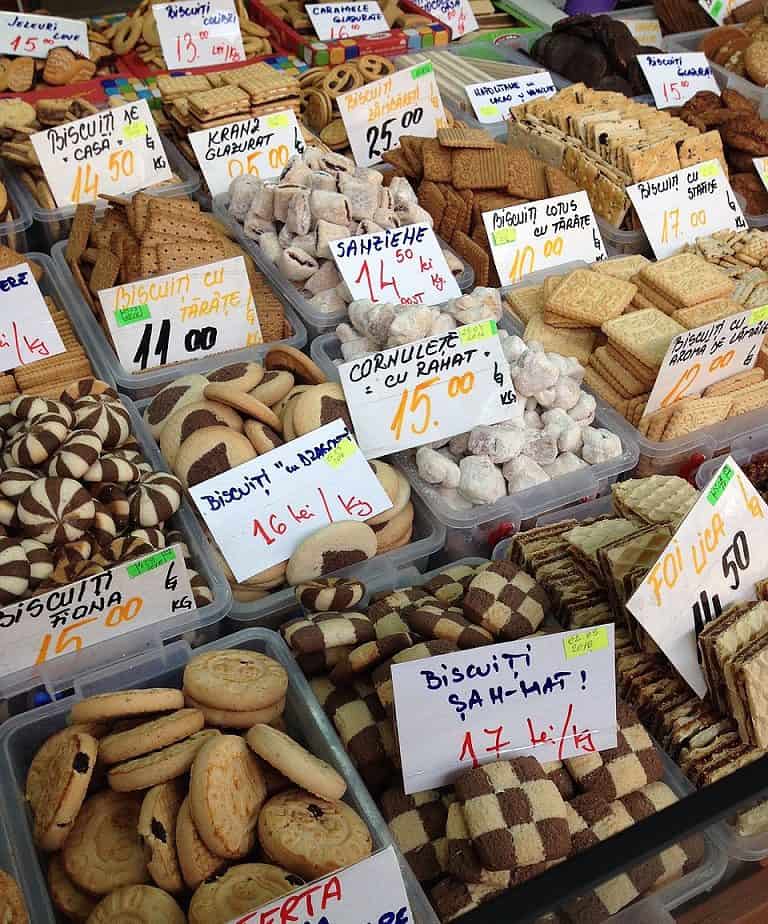 Some tours in Bucharest will take you with a local guide, which seems like a good idea since this experience is very local! Come hungry and ready for a cultural shock.
Piatra Craiului National Park
The National Park in Piatra Craiului is one of the most impressive sights in the Romanian Carpathians and a favorite destination for hiking. It features the longest and highest limestone ridge in Romania and a dense network of trails.
The park has around 30% of the country's total plant species (around 300 fungi species and 1100 species of superior plants, for example), among which some are protected by law or are endemic to this area of the country. It is a national interest protected area that conserves biodiversity, species, and the landscape.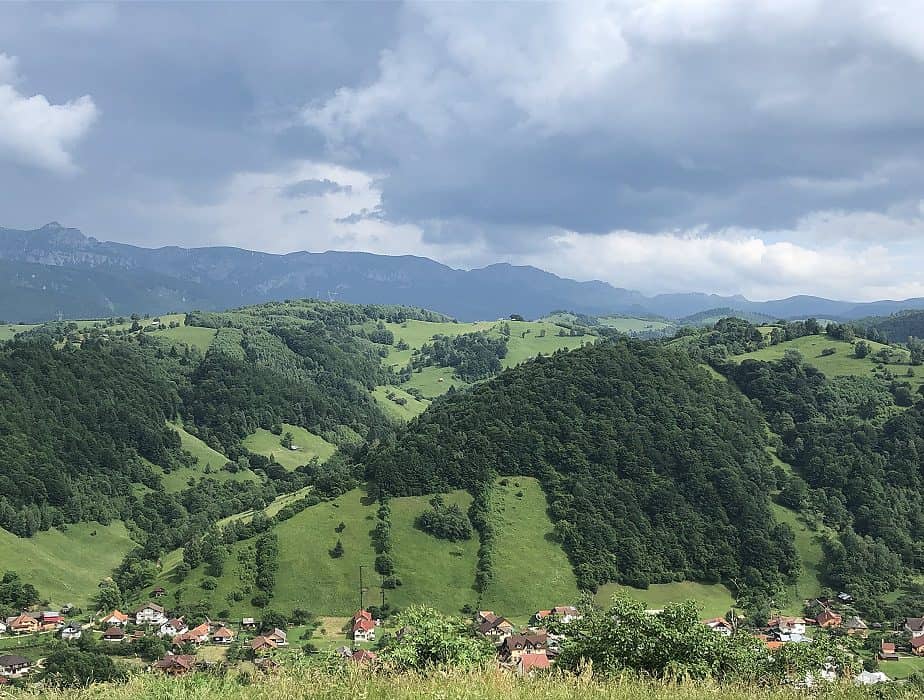 The traditional villages of Magura, Sirnea, Pestera, and Ciocanu are good starting points for the routes on the eastern slope. You can choose from accessible routes to challenging multi-day hikes, and you must have hiking boots and a good backpack. Thanks to the place's meadows, spruce forests, and steep rocky walls, it served as a film location for the movie Cold Mountain.
Transfagarasan Road
The Transfagarasan Highway, or "the road to the clouds" as it's often labeled, is one of the world's most scenic driving routes. It reached its peak popularity when it was proclaimed the best road in the world by the British TV show Top Gear. And it also served as a backdrop for several popular movies and documentaries like Ghost Rider, What About Love, and Wild Carpathia.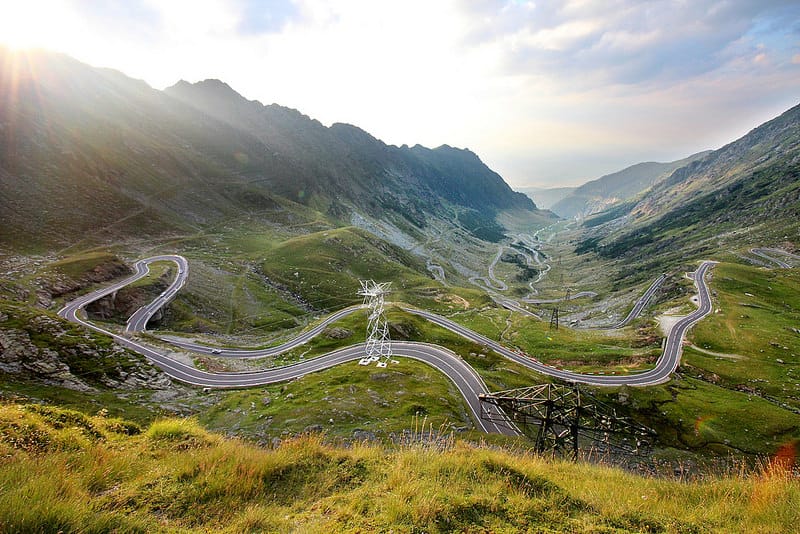 You can visit it from Sibiu or Brasov all year round, and from Bucharest only from 1 July to 30 October when the road is open for driving. Balea Waterfall – the highest step waterfall in Romania, and Balea Lake – which resulted from a glacier's erosion of the mountains, are popular stops on the road. Additionally, you can visit Vidraru Dam and Poenari Citadel.
And the best part besides the thrill-inducing curves? The jaw-dropping scenery from altitudes of 2,200m high!
Danube Delta
The Danube River runs 1,788 miles from Germany to the Black Sea. The Danube Delta is at its end and is one of the rarest, largest, and best-preserved European deltas. It is the wildlife enthusiasts' dream, with 1,200 square miles of rivers, tree-fringed lakes, canals, and reed islands.
Tourists take several days to explore the area. The site provides the perfect breeding ground for around 300 species of birds, some of them from Africa and China, and is also home to 3,450 animal species and 1,700 plant species. It's home to the most significant number of white pelicans and Dalmatian pelicans in Europe and to over 60% of the global pygmy cormorant population.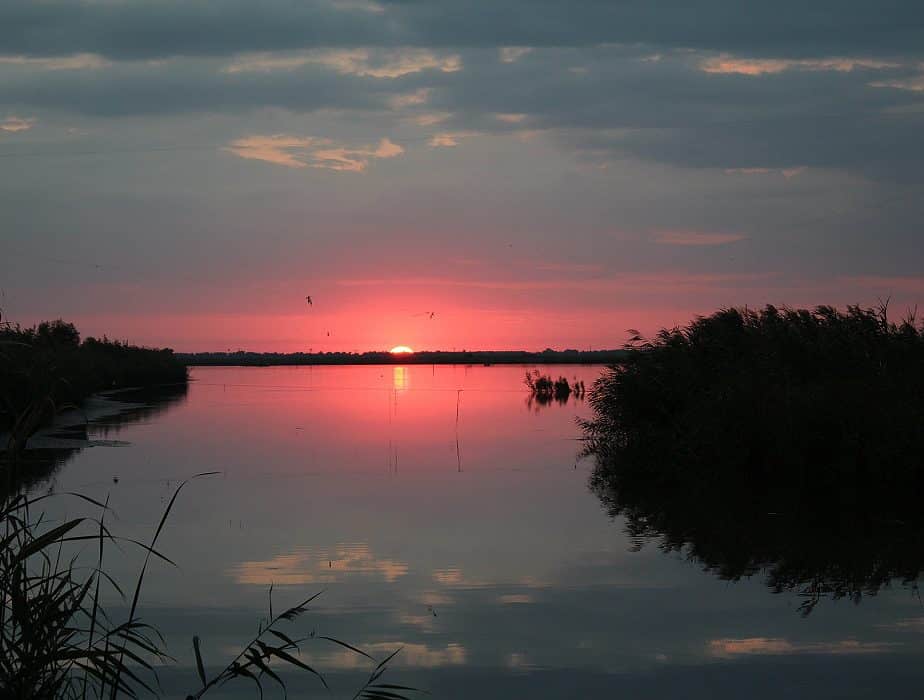 With over 5,500 flora and fauna species, the UNESCO Danube Delta reserve has the third largest biodiversity in the world, being exceeded only by the Galapagos Archipelago in Ecuador and the Great Barrier Reef in Australia. The Delta Biosphere Reserve is almost entirely preserved, even though the site was formed over more than 10,000 years.
You'll need a local guide with a boat to explore the Delta since there's no other public transport option. And be sure to try the delicious fish stews cooked by locals!
See Brown Bears In The Wild
Romania is rich in wildlife and home to some of Europe's last virgin forests. That's why it's called Europe's last wilderness reserve! Here you can see bears, wolves, lynxes, fish, birds, and other mammals in their natural habitat. Transylvania, for example, is home to the most significant number of bears in Europe.
The lower valleys of the Carpathian Mountains are the best places for wildlife-tracking expeditions. A wildlife guide is essential to safely take you in the dense Carpathian forests and increase the chances of seeing bears – but also to keep you safe. The best place to go on a wildlife trip is from Brasov. And bear watching in the wild is one of Romania's most popular tourist activities.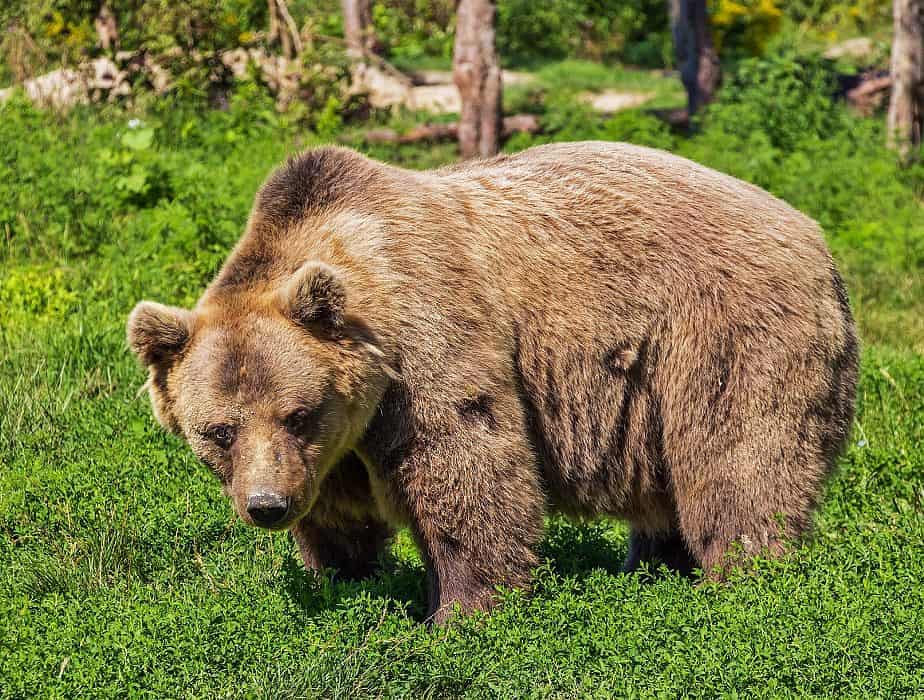 Romania is among the few European places where you can see wild horses, specifically in the Danube Delta, where nearly 4,000 feral horses graze freely. The almost extinct European bison can be seen in Caras-Severin county, Tarcu Mountains, Acri's village reservation, and Fagaras Mountains, where they've been rewilded and set free. And if you go hiking in Piatra Craiului, Bucegi, and Fagaras, you can cross paths with chamois, deer, and many other small animals.
Brasov
Brasov is the gateway into Transylvania and Romania's most popular tourist city. It blends Hungarian, Saxon, and Ottoman influences with distinct medieval architecture. With its narrow cobblestone streets, this 23rd-century medieval and authentic city will take you back in time.
During the day, the Council Square in the Old Town area buzzes with activity and has several modern or classic restaurants, bars, and shops. But this is also a nice place to grab a coffee, a delicious kurtoskalak (local sweet bread topped with nuts, coconut, or cinnamon), grab a seat, and blend in with local life.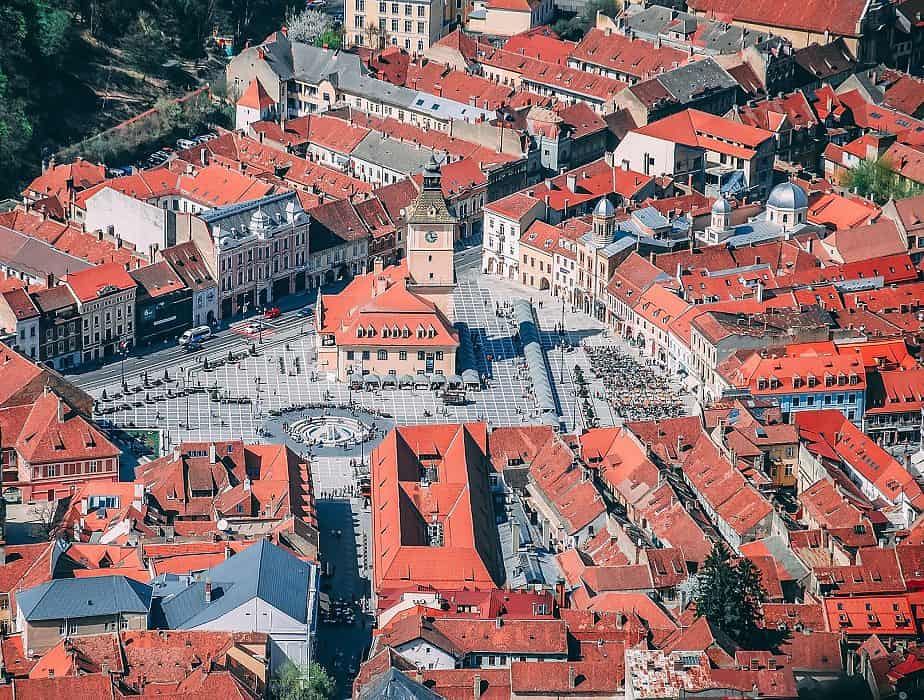 The Black Church, the largest Gothic church in Eastern Europe, sits just off the main square. The interior isn't as impressive as other European Cathedrals, but its architecture reflects the history and geography of this medieval city positioned at a cultural crossroads.
Turda Salt Mine
A unique attraction in South-Eastern Europe, Turda Salt Mine is a spectacular sight in Romania. It's located in Transylvania and is a one h drive from Cluj-Napoca. The mine was exploited as far back as Roman times, 2,000 years ago, but in 2008 its trajectory changed dramatically.
The mine became an amusement park using cleverly placed light installations in its vast caverns and galleries. Breathing salty air is suitable for your lungs and is recommended by doctors as a treatment for asthma – the operators thought – why not make it a fun place to hang out?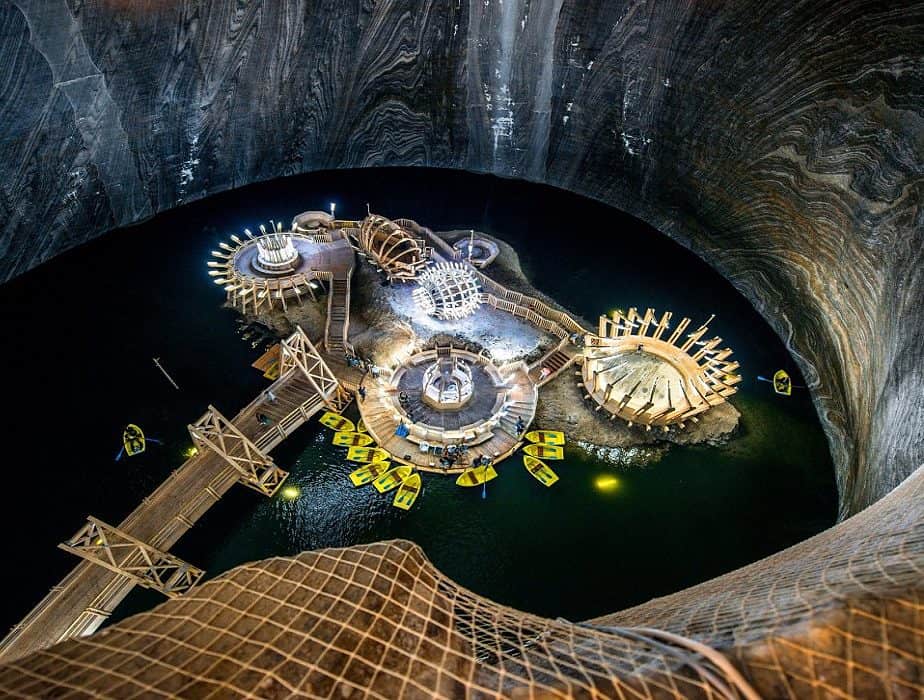 Related:
If you like Salt or Salt Mines, you'll like these: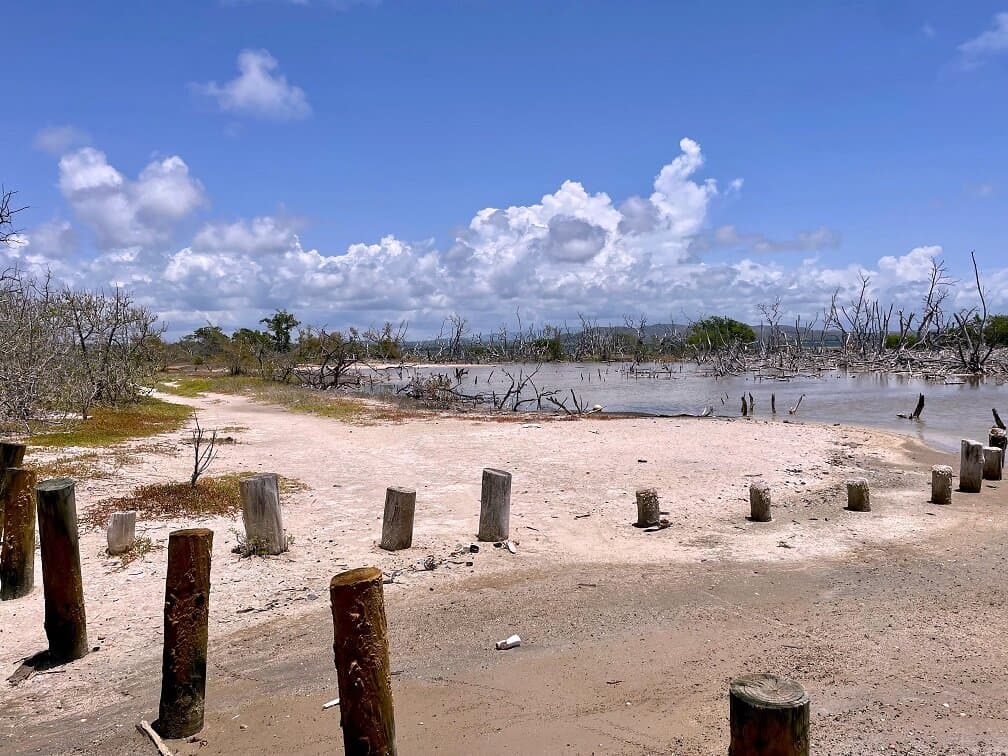 FAQs
Where is Romania located?
Romania is a country located in Southeastern Europe. It is bordered by Ukraine to the north, Moldova to the northeast, Hungary to the west, Serbia to the southwest, and Bulgaria to the south. The country has a coastline on the Black Sea to the east.
Are There Any Romania Travel Restrictions From the US?
Travel restrictions for Americans traveling to Romania ended in September 2021.
Is it safe to travel to Romania?
As one of the most-threat-free countries, Romania is generally a safe and welcoming travel destination.
Closing Thoughts
So besides exploring the beautiful underground, you can play ping pong, pool, and football, sit on a bench or go on a boat ride in the underground lake. Wait, what?
I hope this article will give you a taste of what Romania can offer. But I'm sure you can imagine how much more there is to discover when you visit our country. And with so many airports and low-cost flights into the country, why not plan your next holiday trip?
About The Author
Marius Iliescu is the founder of Romanian Friend: A one-stop-shop website with travel inspiration, tour ideas, and practical info for those planning to visit Romania. His mission is to make sure people experience the best of his country while supporting responsible, inclusive tourism that helps local communities.
Looking For More? Start Here:
We participate in the Amazon Services LLC Associates Program, an affiliate advertising program designed to provide a means for us to earn fees by linking to Amazon.com and affiliated sites.
Subscribe to our newsletter and get the best travel tips and inspirational stories delivered monthly. No spam, no sales pitches – TRAVEL!
Brit On The Move™ Travel Resources
Ready to book your next trip? Use these resources that work:
Need more help planning your trip? Check out our Resources Page, highlighting the great companies we trust when traveling.