Aquatica, Orlando Florida: SeaWorld's Water Park
Waterparks are almost always on the list when it comes to spending a fun summer day with the family. However, it's important to remember that not all water parks are built similarly. Some are better than others, but Aquatica Florida might be the best one yet! This article will discuss everything you need to know about Aquatica, why it's so popular, and why you should consider visiting it on your next family day out!
This post may contain affiliate links. Please read our disclosure and privacy policy for more information.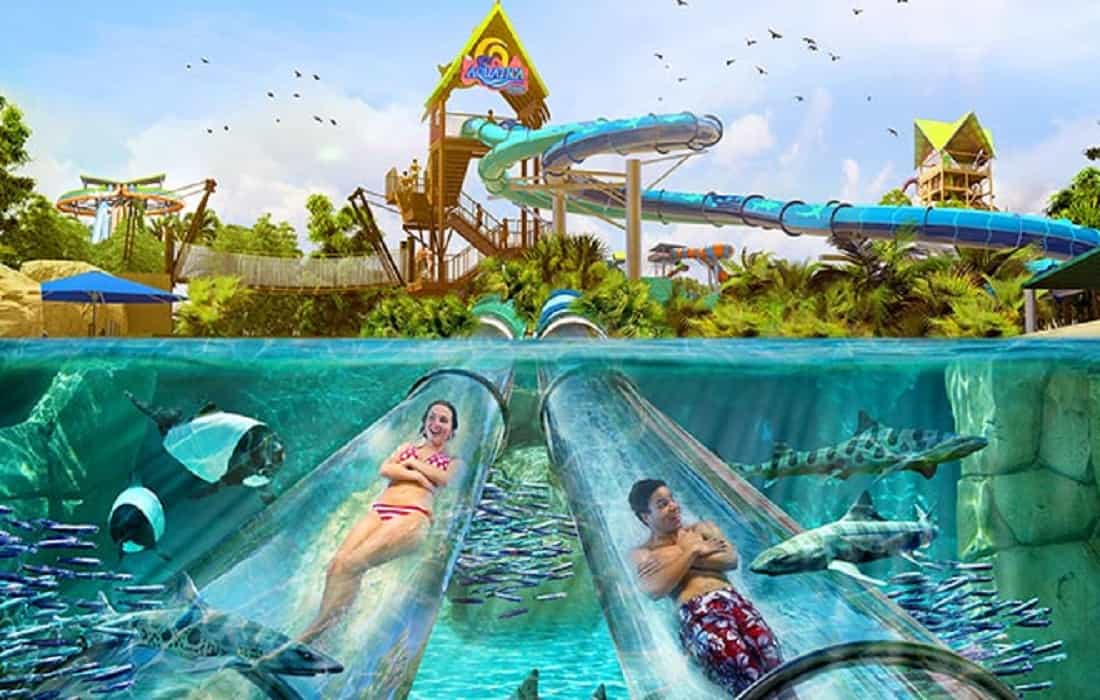 Photo Credit: Photo: SeaWorld Parks and Entertainment
About Aquatica Orlando Florida
Aquatica, Florida, first opened its gates to the public on March 1st, 2008, and it immediately became a sensation! What's unique about this waterpark is that it's not just about the slides and adventure; it's also about what lies beneath the water. It's one of the only waterparks globally that also doubles down as a marine life park. Aquatica is SeaWorld's water park right across the street from SeaWorld Orlando.
So you could essentially be floating around in the wave pool and view incredible dolphins jumping around in their enclosure, doing their own thing while you're having the time of your life!
The unique aspect of interacting with marine life while you go through the best water slides and rides out there makes this waterpark different from the others. People noticed this right away, as the 59-acre park hosted 950,000 guests in the first year of its opening and is the fourth-most visited water park in all of the US!
Things To Do At Aquatica
You've got twelve main rides at the park, a wave pool, a beach, a lazy river, and various aquariums to view. There are also plenty of places to eat and lots of shops. The main distinguishing factor is that this water park's theme is marine life and its teaming with it.
Map Of Aquatica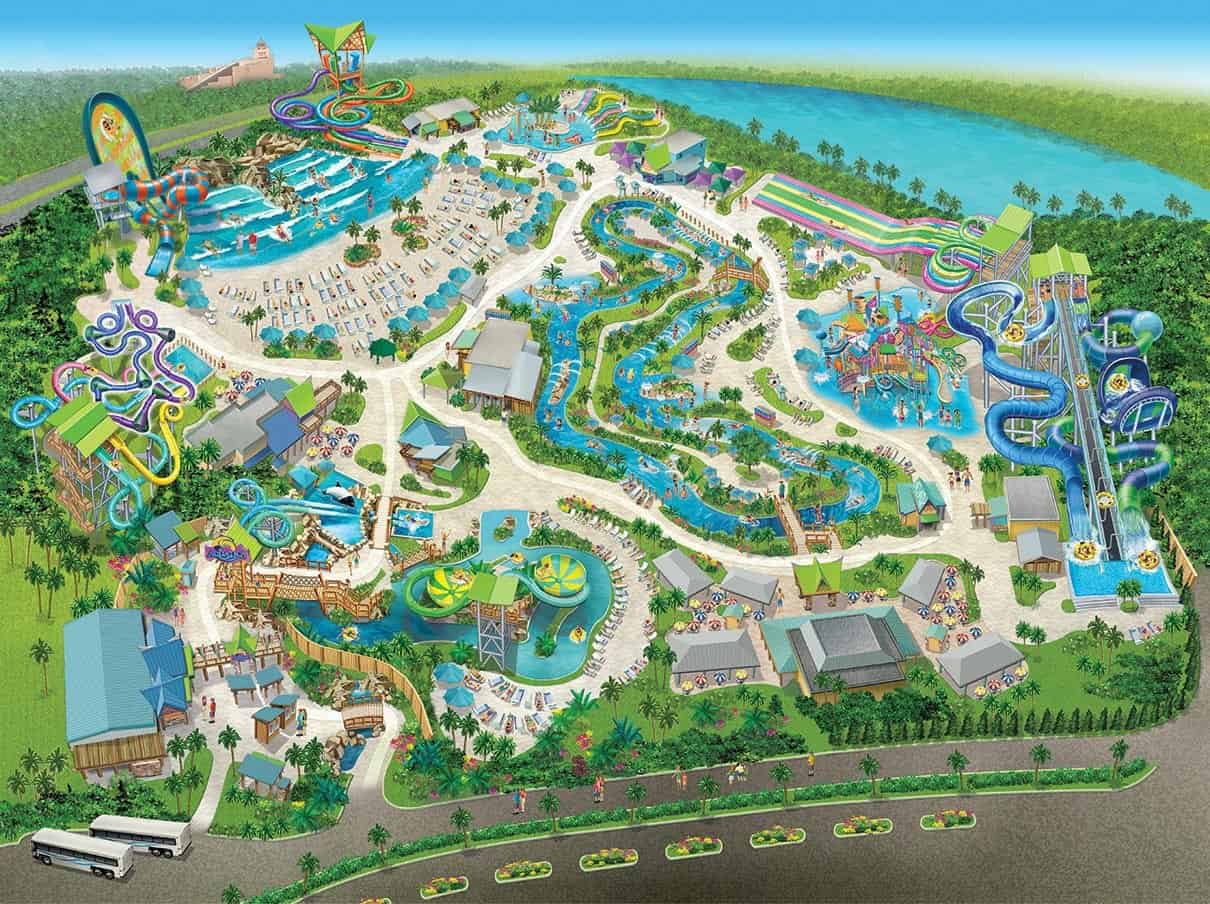 Photo Credit: Photo: SeaWorld Parks and Entertainment
Rides At Aquatica
Ihu's Breakaway Falls
Unlike an average waterpark freefall, this one's a 3-in-1 deal. You and two other rides are loaded up in glass capsules, and suddenly, the floor drops from under your feet and sends you plummeting down 80 feet into a magnificent pool!
Taumata Racer
This is a "racer" because there are eight slides where you can race with your family or friends. You start with pitch darkness and drop into slides and loops that will keep you screaming until you pop out the other side for a long ride to the finish line!
Walhalla Wave
The Walhalla Wave has tubes that can hold up to four people. Riders have to hold on for dear life throughout the tunnels because they'll be popping in and out of darkness and doing twists and turns that will keep them guessing what's coming next the entire time!
Reef Plunge – Previously Called Dolphin Plunge
This one's a massive set of slides that takes the riders on an adventure-filled tour throughout the park. You'd even make it through the animal enclosure for SeaWorld Aquatica's pod of Commerson's dolphins on the way!
Kare-Kare Curl
This one's a fast doozy, to say the least. You'll be on the ride for 20 seconds, but go through a 50-foot slide, up a 35-foot wall, and then down another slide into the pool below!
Roa Rapids
Want a ride that will really have you holding on for dear life? This one's it! It's a "white water" ride where the rapids are so brutal that you might struggle throughout!
Riptide Racer
Take racing seriously? This one's for you! The Riptide Race starts on top of two 68-foot towers, where two rafts with two people start off simultaneously, keeping an eye on each other throughout to see which one makes it to the bottom first!
Ray Rush
Ray Rush is slightly on the tame side, but it's still fun! It's a mix of Riptide Race and Kare-Kare Curl, but slower and easier to handle. So it's great for people of all ages and adventure thresholds.
Tassie's Twisters
Tassie's Twisters is the type of ride that keeps you guessing. You start with a slide into a basin where you're spinning forever until you make it to the final, disorienting drop right in the middle of the Lazy River.
Omaka Rocka
The Omaka Rocka is a solo slide where you plummet through, twist, and turn down a tube-style slide that will rock you around like a ball! It's also on the slower side, and while it's super fun, the speed will allow you to enjoy the ride to its total capacity.
Whanau Way
This is a great one to start with. It's a classic single-rider raft ride that's simple yet exciting enough to get you riled up for the rest of the park!
Loggerhead Lane Lazy River
One of the most unusual rides or attractions is the Loggerhead Lane Lazy River. This Lazy River runs through aquariums where you can view the tropical fish and Commerson's dolphins. This is a simple but fun Lazy River that decompresses between rides, so you're not all adrenaline all the time. It keeps the fun going between rides, so you can take a break and still have fun throughout the day.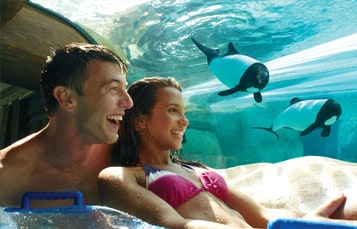 Photo Credit: Photo: SeaWorld Parks and Entertainment
Other Attractions
Cutback Cove & Big Surf Shores
Aquatica is the only water park in America that can boast two giant, side-by-side wave pools!
Kata's Kookaburra Cove
Kata's Kookaburra Cove is the coolest place in the park to be, that is, if you are a child! This is the kid's splash zone.
Aquatica Hours
One of the best things about Aquatica being in Florida is that it's pretty warm. It allows the water park to remain functional throughout the entire year! There are only specific days when the park closes down for maintenance work at the end of the year (in November and December). But for the rest of the months, it's all operational 9:00 am – 6:00 pm.
If you're traveling from outside the city, you should call their helpline first to ensure it'll be open when you're there, to be on the safe side.
Aquatica Ticket Prices
Aquatica is the type of park you visit once and then want to keep visiting repeatedly. The good thing is that several different types of tickets are available at Aquatica.
Children under 3 get to go to the park for free, and everyone over 3 pays the same price.
Daily Tickets:
Tickets start are $45.99 for daily tickets, with no food included. These tickets are specific to the day you want to book. That way the park won't be overcrowded when you visit!
Although it's important to remember that with that ticket, you'll have to pay for your food and snacks throughout the day, which might end up being more expensive overall, so if you're going to be spending the entire day there, the combo ticket that includes food all day as well, the combo price (including food) is $75.99.
Combination Park Tickets:
When you go to buy the tickets, you'll see that there are also options for a combo ticket. It allows you access to SeaWorld Orlando, Aquatica Orlando, Busch Gardens Tampa Bay, and Adventure Island. This mega ticket is $124.99 for just the regular ticket, and the one including all-day dining is $174.99.
Annual Tickets:
It is to note that the parks are huge. So if your family is the type to want to take their time through everything, you might not be able to make it through all the parks in one day. You could start with Aquatica and make your way out from there.
A great way to do that is by getting an annual pass instead. Aquatica Florida yearly passes are $99.99 for just the Aquatica park alone and $199.99 when it includes access to SeaWorld. That way, you can go all year round and explore the parks a little and enjoy the whole place!
Two-Week Tickets:
Those that aren't in Florida all year can also enjoy extended access to the parks by getting the four-park ticket at $219.99. This ticket allows you to keep coming back to the park for 14 days. People vacationing in Florida who want to explore the entire area of each park might find this one to be the best price.
Things To Bring When Visiting Aquatica, Florida
There are lots of seating areas throughout the parks. Though the umbrellas are pretty limited, it's better to go into it all prepared. Bring your umbrellas to shelter yourself from the sun, lots of sunscreens, and water shoes, so you don't have to walk barefoot because the floors get very hot. You might even want to carry a refillable water bottle to stay hydrated throughout the day. You could take some snacks too. However, several snacks aren't allowed in the park, so you might want to ask about that before you pack up to get there.
Also, there are a variety of cabana rentals onsite if you want to ensure you avoid the sun and have a designated seating area.
Where To Stay Near Aquatica
You can stay at one of over 100 hotels within driving distance of the park. Hotels near Aquatica Orlando range from luxurious 5-star suites to more budget 3-4 star lodging options. It's not possible to review each of them in detail, so we will tell you about the most popular ones:
The hotel is across the street from the park. Proximity to the park, Orlando International Airport, and high-speed highway are excellent advantages of the hotel. The Hilton Garden Inn is also suitable for business travelers who choose it because of the nearby Orlando Convention Center.
This 3-star hotel has everything you need for a great holiday. Comfortable rooms, parking, a swimming pool, a gym, and several cafes and restaurants on the territory guarantee a hassle-free overnight stay.
With easy access to the park, SpringHill Suites fits the bill for a high-quality hotel. This is not the most budget option, but you pay for what you get. So, here you will enjoy comfortable rooms, well-developed infrastructure, and friendly service.
Aquatica vs. Volcano Bay
While Aquatica has been in the game for almost two decades, Volcano Bay has been a bit of a "new kid on the block." It's more for people that are looking for hardcore adventure. Volcano Bay's even got the fastest waterslide in the entire city! So if your family is mainly teenagers, you could try out Volcano Bay. But if you're a mixed bunch, Aquatica might be the better bet!
Aquatica vs. Typhoon Lagoon and Blizzard Beach
While Typhoon Lagoon and Blizzard Beach are Disney waterparks, some key differences exist. The main one that's the most apparent is the theme. Typhoon Lagoon is a classic waterpark "that a typhoon has hit." On the other hand, Blizzard Beach is a "Ski resort that's "melting." Apart from that, both offer similar main rides; both have 12 and many mini rides.
Here's a trick if you're trying to figure out which one to go to. If you've got kids, your family might have a better time at Blizzard Beach because there are a few more kid-centric rides there.
FAQs About Aquatica
Closing Thoughts
There you have it! All the information you need to know about Aquatica Orlando, Florida, is in one place! You'll know exactly what you should do to prepare for an epic adventure with the family that is bound to be so much fun that everyone will continue to talk about it for years to come!
Looking for more water parks in Florida? Start here:
We participate in the Amazon Services LLC Associates Program, an affiliate advertising program designed to provide a means for us to earn fees by linking to Amazon.com and affiliated sites.
Subscribe to our newsletter and get the best travel tips and inspirational stories delivered monthly. No spam, no sales pitches – TRAVEL!
Brit On The Move™ Travel Resources
Ready to book your next trip? Use these resources that work:
Need more help planning your trip? Check out our Resources Page, highlighting the great companies we trust when traveling.