Florida is one of the most popular states in the United States. Its sunny climate, beaches, and amusement parks make it an ideal place to vacation. It is also famous for its many beautiful resorts and hotels. Florida's best resorts with water parks allow visitors to enjoy exciting rides, relax on a lazy river, or rest under a sun umbrella. Some of the best resorts and hotels have water parks perfect for families. Guests can take advantage of these hotels and resorts' many activities and attractions. Whether you want to explore theme parks or relax at a resort with a beautiful view, there are great hotels and resorts.
We have compiled a list of the best water park resorts in Florida. These parks are the best places to spend the hot days of Florida with your family and friends, and they are close to all the major attractions!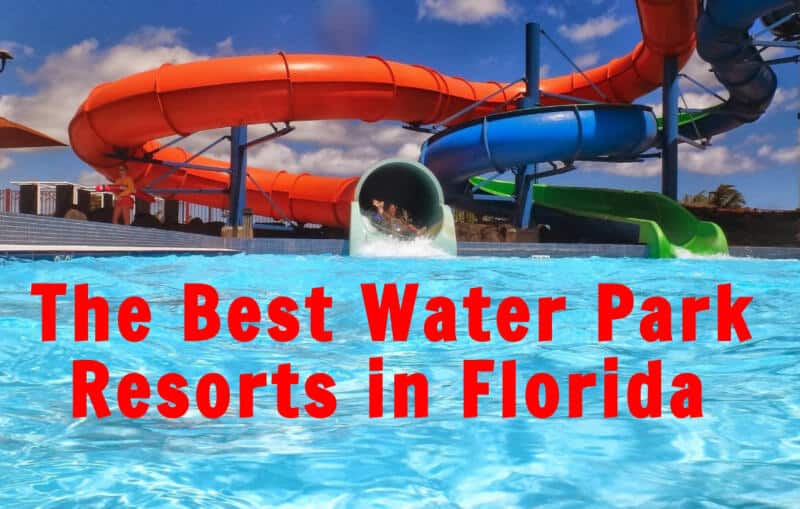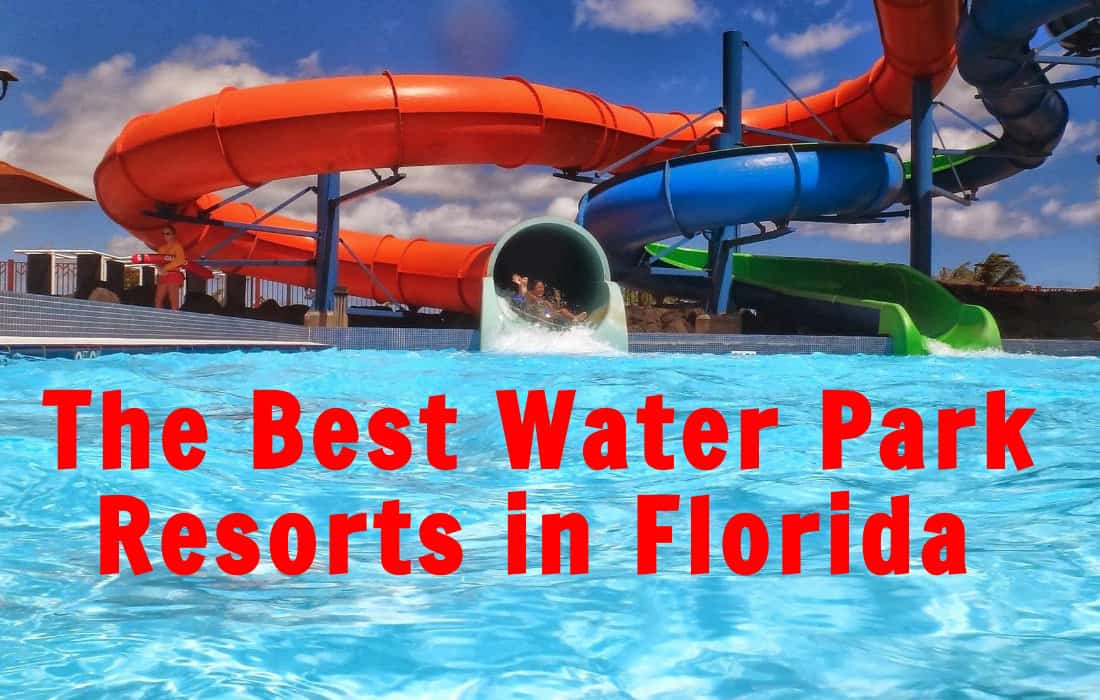 This post may contain affiliate links. Please read our disclosure and privacy policy for more information.
History Of Water Parks In America
Water parks have a long history in America, dating back to the 1940s when the first modern water park was established. Here's a brief overview of the history of water parks in America:
The 1940s-1950s: The first water parks were created, such as Wet n Wild in Orlando, Florida, and Water Country USA in Williamsburg, Virginia.
The 1960s-1970s: More water parks were established, including the first indoor water park, Polynesian Resort in Wisconsin Dells, Wisconsin. The 1970s also saw the introduction of water slides, wave pools, and other water attractions.
The 1980s-1990s: Water parks continued to grow in popularity, with more elaborate rides and attractions being introduced. Some of this era's most popular water parks include Schlitterbahn Waterpark in New Braunfels, Texas, and Blizzard Beach in Orlando, Florida.
2000s-Present: Water parks have continued to evolve and expand, with new technologies and attractions being introduced. Today's most popular water parks include Typhoon Lagoon and Volcano Bay in Orlando, Florida, and Noah's Ark in Wisconsin Dells, Wisconsin.
Throughout the history of water parks in America, safety has been a significant concern, leading to the development of safety standards and regulations. Today, water parks provide fun and entertainment for people of all ages.
The Best Water Park Resorts in Florida
One of the best things to do in Florida is to visit the numerous parks, resorts, and attractions. These include Disney World and Universal Orlando. However, there are many other things to do in the area. One of the best things to do in Florida is to visit the various water parks. There are many different kinds of water parks in Florida, and many have water parks onsite, included in your stay!
CoCo Key Hotel & Water Resort is excellent for families. It has great entertainment for all ages. This fantastic resort will impress you away with its water park, and it's affordable.
It's a public water park that allows guests to take full advantage of its various facilities, including private cabanas and bathing pools. It's an excellent place for swimming, and you'll find different games and features for kids of all ages. Mini Lagoon is for younger kids. It has a zero-entry pool, various water features, and several slides.
Home to Parrot's Perch, an interactive play island where kids can slide, jump, and play in water cannons, but the centerpiece is a 400-gallon dump bucket that empties the water and fills itself back up every 30 minutes. At Coral Reef Cove, teens can enjoy some activities, including the Cyclone slide and an area for 'water volleyball.'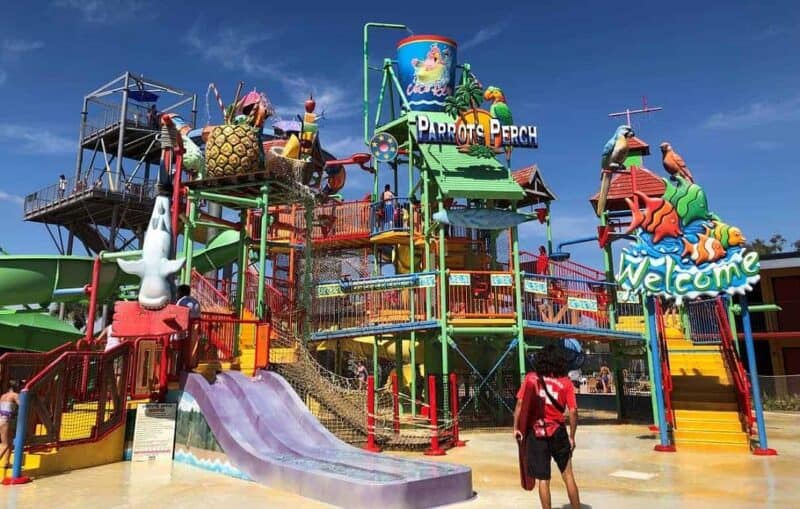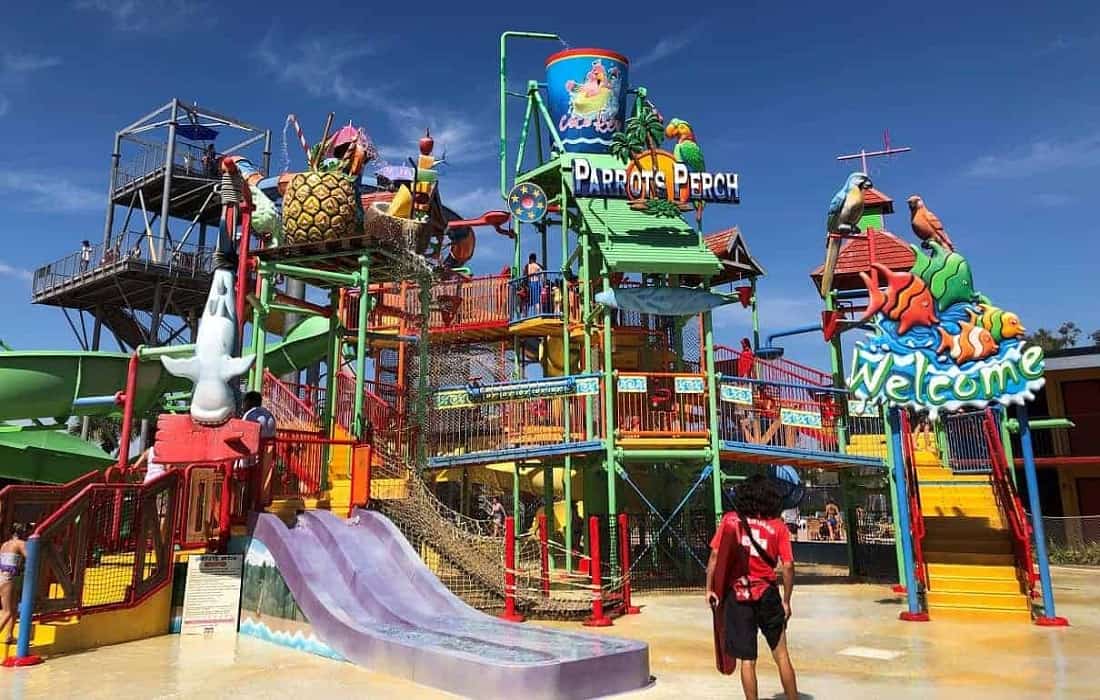 The resort has a vast pool, many fun water activities, an arcade, a convenience store, three onsite restaurants, and even a wedding pavilion! You can access a delicious, all-you-can-eat breakfast buffet in Tradewinds as a resort guest.
This hotel is only a 10-minute drive from Universal Parks and a half-hour drive from Walt Disney World. This resort provides a perfect combination of fun and rest to enjoy your stay fully. But don't forget about rest; this resort has an excellent Orlando CoCo Key Hotel. The resort offers warm rooms with modern amenities guaranteeing a good night's sleep, so you have all the energy you need to enjoy your stay.
Read more about CoCo Key Hotel & Water Resort here.
The Four Seasons Resort Orlando will give you an authentic five-star luxury feeling for your Walt Disney World trip. The resort is located in Lake Buena Vista, near Walt Disney World, inside the Golden Oaks community, designed by Walt Disney Imagineers. If you want to stay at a fabulous resort where you can live like a movie star, you'll love this hotel. Locals and visitors consider it one of Florida's best water park resorts.
The resort has amenities like a Grab n Go Cafe, a massive spa with a Princess and Prince dress-up service for kids, teens, and kids' clubs, babysitting services, and the most epic pool area ever seen.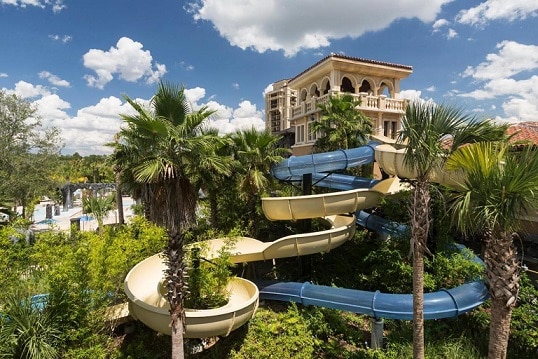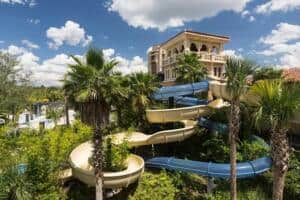 It has its five-acre water park that combines the needs of adults, who might appreciate a little silence in the adult-only pool, and kids, who want to experience all of the water slides and the splash zone. There is an excellent pool for the whole family to enjoy. You'll enjoy floating down the lazy river and taking a break in private daybeds and loungers step away from the beach.
The Grove Resort Orlando is a large and stylish resort on the edge of Lake Austin, near the middle of Disney World. It's an excellent choice for families on vacation. It's very comfortable for kids, and it also has many of the amenities that make it great for families. There are so many attractions nearby that you won't want to leave, and you'll enjoy world-class shopping, dining, and entertainment options.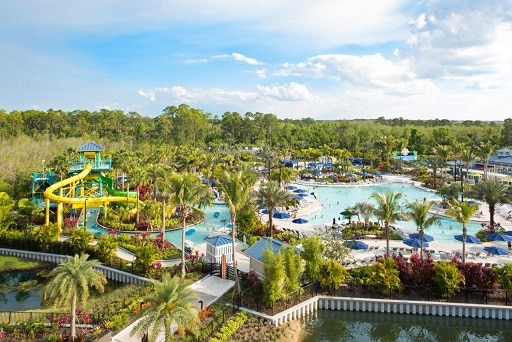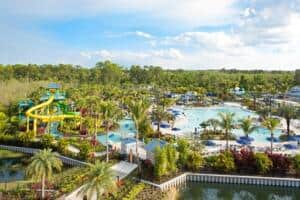 If you love surfing, you'll love the Surfari Water Park at The Grove Resort and Water Park. The water park features dual water slides, a lazy river, a children's splash area, a FlowRider Double surf simulator, and a zero-entry pool.
Clubhouse West's other facilities include a craft and activity room and a huge entertainment center with laser tag, games, mini golf, and more.
The adult pool is a great place to spend an afternoon. If you want to spend time with your children, there are many cabanas and seats where they can enjoy the Florida sun, and the adults-only pools offer lovely couples massages and spa packages.
The Valencia Restaurant is ideal for special occasions, offering elegant cuisine and a Mediterranean and Chinese food menu. With this all-suite hotel, guests get spacious suites equipped with a full kitchen, living room, and dining area.
Formerly known as Nickelodeon Family Suites by Holiday Inn, Nickelodeon, this resort has been fully revamped and re-branded.
The Holiday Inn Resort Orlando Suites Waterpark is ideal for your vacation in Central Florida. This resort offers an incredible waterpark experience for the whole family. This IHG hotel is conveniently located near Walt Disney World. It has free shuttle services, so you're never far from all the excitement.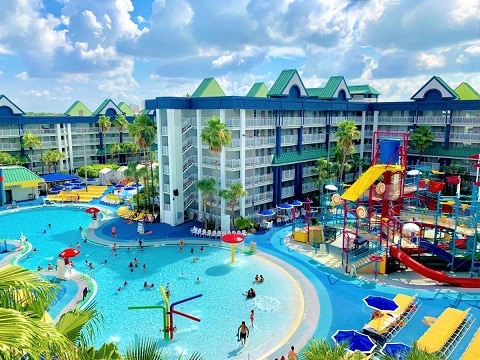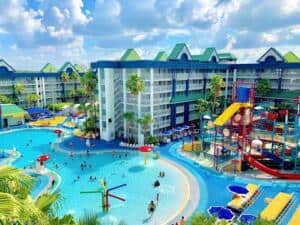 The hotel's impressive facilities include a relaxing water park featuring seven slides, a splash zone, family pools, and poolside entertainment. Lifeguards are on duty at the Lagoon Pool and the Water Park, so you don't have to worry about your kids getting into trouble. All slides are designed to be fun, safe, and educational for kids of all ages.
In addition, this hotel has mini-golf courses, an arcade, several available activities, and a variety of dining options. This resort offers comfortable suite accommodations. All suites include a kitchenette, a seating area, and a private bathroom. It also has bunk beds and cribs for families with children.
It's not the most luxurious of all hotels out there, but it's a fun one! And the price is less high than most, the location is convenient, and the experience is fantastic, so this IHG hotel is on our list of water park resorts in Florida.
If your not family with the IHG Brand, read this: Why IHG Rewards Club Is Better Than Hiltons Honors.
The Flamingo Waterpark Resort is an excellent place to vacation with your family. There are many activities and entertainment options for everyone.
It's wild and wet fun guaranteed at the first-class water park. You can go swimming, floating, and sliding here, along with the rides, slides, other thrilling activities, and the wading pool for the little ones. We are sure there are things around here for everyone to enjoy.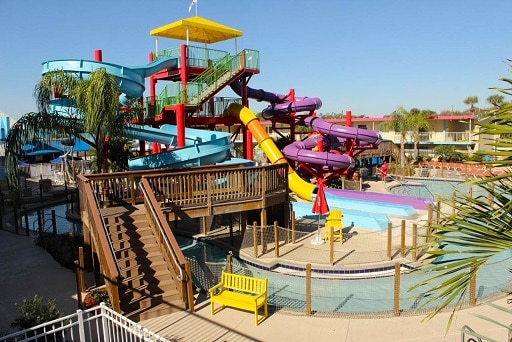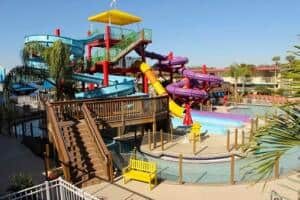 Your room will include a TV, WiFi, iron and board, a bathroom, and a mini fridge. You can enjoy a buffet breakfast, pool, and fitness center. This property is one of the best hotels in Orlando and one of the most affordable ones. You'll love all the hotel amenities, including dining options, spacious rooms with tropical decor, a great location (within a 20-minute drive to the city center), and a fantastic water park.
This place has something for everyone. Its variety of activities means there is no chance of bored. Consider a spa tub suite to unwind and relax when planning your adventure.
Reunion Resort & Golf Club is a luxurious resort in Kissimmee, about a short drive from Walt Disney World. If you're looking for a comfortable vacation spot to have all the comforts of home without leaving your backyard, this is the place for you.
The water park is just behind the clubhouse and offers a vast pool area that's fun for kids of all ages. It's small enough to keep an eye on the younger kids while having a lot to offer older family members.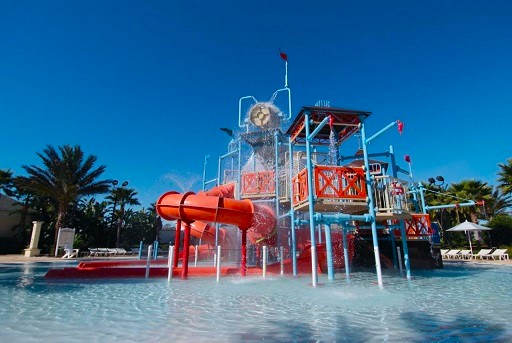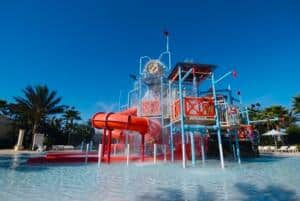 There are many types of rides and other attractions at the water park. A slide, a wave racer, the thrilling Stormchaser, an aquatic playground, and a lazy river. A fantastic kid's camp called Kids Crew lets kids ages 4—12 participate in nature hikes and scavenger hunts.
The main attraction at this resort is the incredible 18-hole golf course, perfect for golf enthusiasts. Still, it also boasts a beautiful spa, tennis courts, community pools, onsite restaurants, and much more.
The best thing about staying at a vacation home or villa is that guests can use all hotel amenities, such as room service and a full daily breakfast.
Encore Resort is a fabulous resort located only a short drive from the Walt Disney World Resort, SeaWorld, and Universal Parks, all with free shuttle transportation services.
This place offers spacious villas that are fit for the entire family. Each home has a private pool, a fully equipped kitchen, and a family-sized living and dining room. If you don't want to cook, there are several grill restaurants and a bar in the very heart of the resort.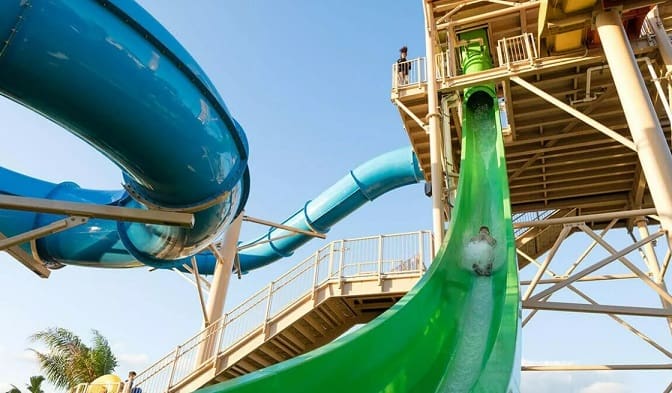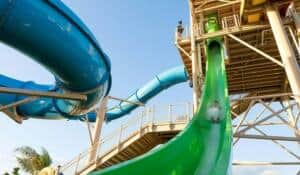 Photo Credit: Encore Resort at Reunion
Resort guests also enjoy access to a 10-acre water park. It features three thrilling slides, the WaveRacer, Stormchaser, and Tsunami, that plunge off a four-story water tower. Surfing Safari Kids' Splash Area is also a place for all the children.
Whether you want to relax with friends at one of the pools or enjoy a snack and a drink at the poolside bar, there's no shortage of space.
Orlando's Omni Resort at ChampionsGate offers a variety of dining options, including poolside dining and bars, a world-class golf course, a full-service spa center, and a water park. This resort also has beautiful accommodations, including rooms, suites, and villas. Enjoy your vacation with exclusive deals and hotel and spa packages. This is the only water park in Central Florida with a wave pool.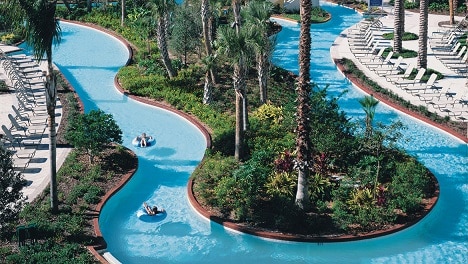 Image Credit: Omni Orlando Resort at Championsgate
Apart from having a beautiful pool, the resort offers many different facilities to the guests. Examples are a zero-entry pool with a corkscrew waterslide, a kids' pool with smaller-sized waterslides for your youngest ones, a long lazy river with water cannons, a waterfall, and fun tunnels.
There are many reasons to visit this water park resort in Florida (it's located near Lake Buena Vista and is close to the world-famous attractions of the Walt Disney World Resort), including its convenient location, the quality of its amenities, and its unbeatable value.
This Orlando hotel and water park are opposite SeaWorld. It offers many activities, events, and attractions for kids, adults, and everyone. This hotel has large, well-appointed guest rooms, from mini-fridges to private balconies. Its rooms also have Smart TVs.
This incredible resort features the R Aqua Zone water park, with water slides, a toddler pool, a fitness center, an onsite sports bar and coffee shop, spa services, and several restaurants offering indoor and poolside dining.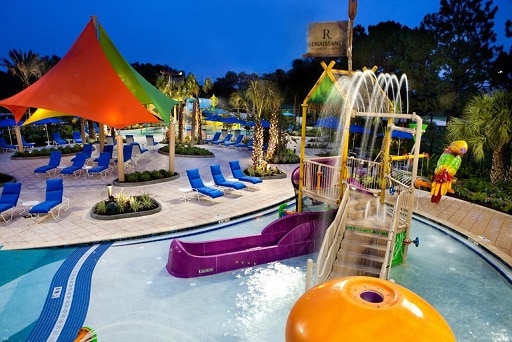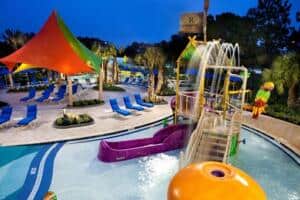 It's a beautiful hotel for a family or romantic getaway. The many amenities and facilities make it one of the best in Orlando. You can also purchase bundle deals that include tickets to SeaWorld and Aquatica.
This world-class resort has six outdoor pools, three thrilling waterslides, and a splash zone kids' pool. There is a lagoon-style zero-entry heated pool with poolside cabanas and a nearby lazy river. There are a variety of daily activities at the resort that can make up for your family vacation – making it a trendy water park resort in Florida.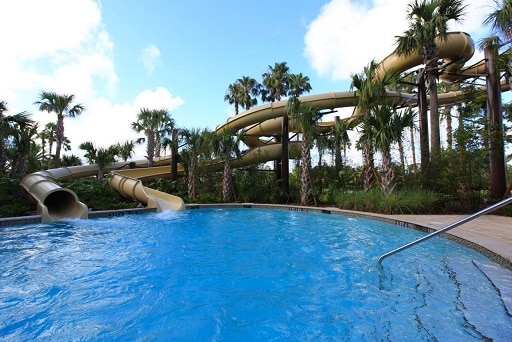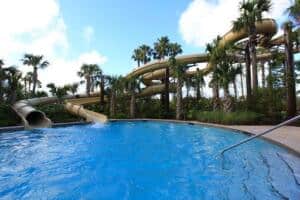 This resort has a range of activities for all ages, including three championship golf courses, a large lazy river, a spa facility, a poolside bar & grill, and a complimentary transportation service to Walt Disney World Theme Parks and Downtown Disney.
The Orlando World Center Marriott has many recently renovated, stylish rooms. Ganglioglioma with massive bleeding at presentation. If you want to make your stay at Grand Velas even more unique, book a pool-viewing room and enjoy a nightly laser light show from your private balcony.
How Do Water Park Resorts in Florida Clean Their Water?
The water park industry has come a long way since its beginnings. Water parks entertain guests. They also provide a safe and clean environment for children and adults. Water parks use chemicals such as chlorine to disinfect the water so visitors will not get sick from swimming and playing. Water parks use chlorine in three main ways:
Chlorination
Chlorination plus UV radiation
Chlorine plus ozone
Chlorine is a chemical that kills germs and bacteria. When chlorine is added to the water in a swimming pool, it forms a relatively weak, hypochlorous acid. Hypochlorous acid is one of the main reasons why water slides are clean. Hypochlorous acid effectively kills E. Coli Bacteria, commonly found in water. The combination of UV radiation and chlorine also produces a bactericidal effect. A UV system is used to kill germs and bacteria in the water.
What Things to Keep in Mind When Visiting Water Park Resorts in Florida
One of the most popular places in the world is Florida. It has dining, entertainment, and lodging options for all styles, budgets, and tastes. Visitors to "The Sunshine State" may find planning the trip overwhelming. To make it easier, we've identified some things you need to know before visiting Florida.
The Weather in Florida is Unpredictable
If you visit Florida in the summer, you'll get an afternoon shower most days, whether it's raining or not. No matter where you stay, the average annual temperature is 72 degrees Fahrenheit. But, even the typically mild, dry winters of Florida can quickly give way to wet, chilly weather spells. To prepare for your first visit to Florida, take all precautions regarding the weather and check it constantly—especially extreme weather alerts for wind, rain, and lightning.
One of the great things about all water parks and resorts with water parks is the second they spot lightning, they will ask guests to exit the water.
Many Transportation Options
A rental car is the easiest way to see everything you want in Florida, but other options exist. Many hotels and resorts have complimentary shuttles to major attractions; however, some require a reservation.
Buy Tickets in Advance
Buying tickets for concerts, plays, museums, and theme parks is more affordable if you buy them in advance.
Make Dinner Reservations in Advance
Making reservations when eating at popular restaurants like Boma Flavors of Africa at Disney's Animal Kingdom Lodge is essential. This is especially true regarding those restaurants in and around the parks. You have to call and make a reservation way in advance.
During the peak season, restaurants tend to fill up fast. You can get stuck waiting in long lines for a table. Some of the best eateries have waiting lists that take reservations months in advance. Be sure to research and call to make a reservation as soon as possible.
Visit Amusement Parks on These Days to Skip the Lines
One of the biggest rookie mistakes when visiting Florida for the first time is choosing the wrong days to see the various amusement parks.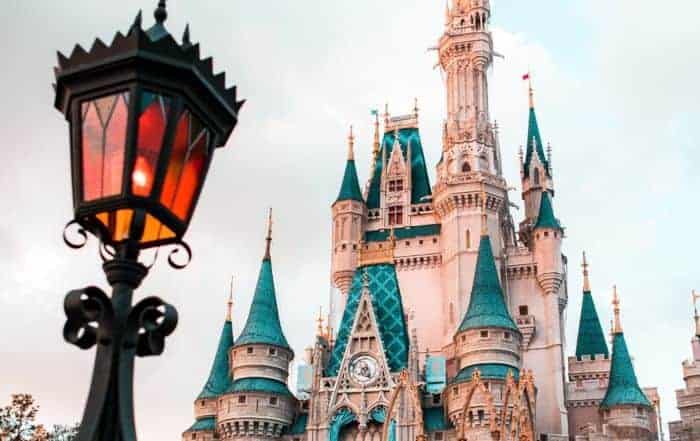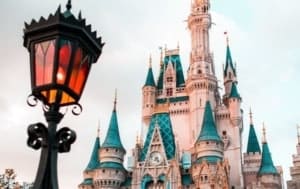 Disney World is very busy right after Christmas and before New Year. You will have to wait over two hours to hop on one ride. To beat the crowds, you might want to consider these alternative days.
Mother's Day and Father's Day
Weekdays after school starts (Mid-September and Mid-January)
March-May after significant holidays such as Easter
Unlike other holidays like Christmas and Halloween, Mother's Day and Father's Day are unpopular days to visit theme parks. Cool Spring weather can be enjoyed in April and May to escape the heat.
FAQs About Water Park Resorts in Florida
What is the best month to visit Florida?
The best to visit Florida is during the warmer months of March to May. It's a great time to visit Walt Disney World. The weather is warm, but not too hot, and you can get a good deal on hotel rooms. It rains more from June to September than in the other three seasons, so you don't want to spend much time outdoors.
Is it expensive to visit Disney World in Florida?
A vacation to Disney is not cheap; it's costly. Most vacation homes in the area cost between $200 and $560 a night, while most hotels cost anywhere from $70 and $330.
Closing Thoughts
The Florida sunshine is what makes Florida so unique. This is why many families come to Florida to spend their vacation. The weather is warm during the day, and you can enjoy the water parks day and night.
Looking for more water parks in Florida? Start here:
We participate in the Amazon Services LLC Associates Program, an affiliate advertising program designed to provide a means for us to earn fees by linking to Amazon.com and affiliated sites.
Brit On The Move™ Travel Resources
Ready to book your next trip? Use these resources that work:
Need more help planning your trip? Check out our Resources Page, highlighting the great companies we trust when traveling.