If you are looking to explore some of Florida's most stunning scenery, then Kings Landing, Florida, should be high on your list of places to visit. Numerous theme parks and attractions attract tourists from all over the world to Orlando. Nevertheless, Central Florida offers plenty of other things to do that are just as exciting as theme parks and give you an authentic taste of Florida. A short drive from Orlando and you can be relaxing at one of the many natural springs scattered throughout the state.
Kings Landing, located in Apopka, is arguably the most picturesque spring you can visit. For a good reason, it's home to what's known as "The Emerald Cut," and it's consistently rated as the number one paddle run in Central Florida.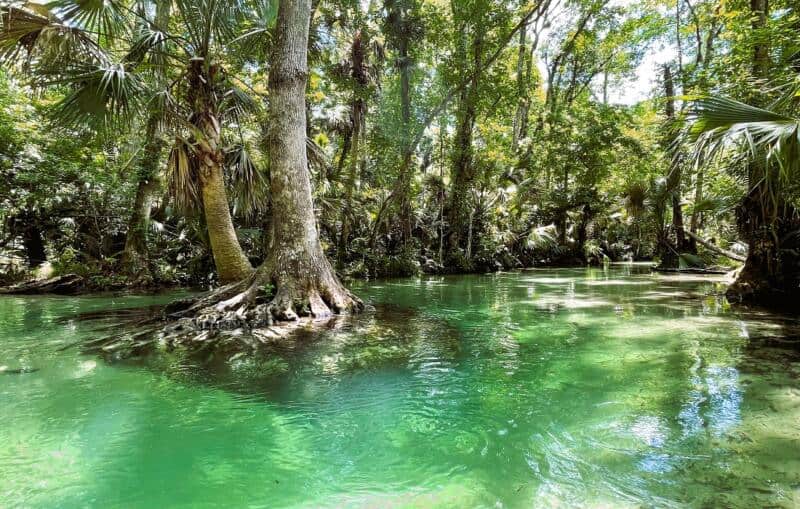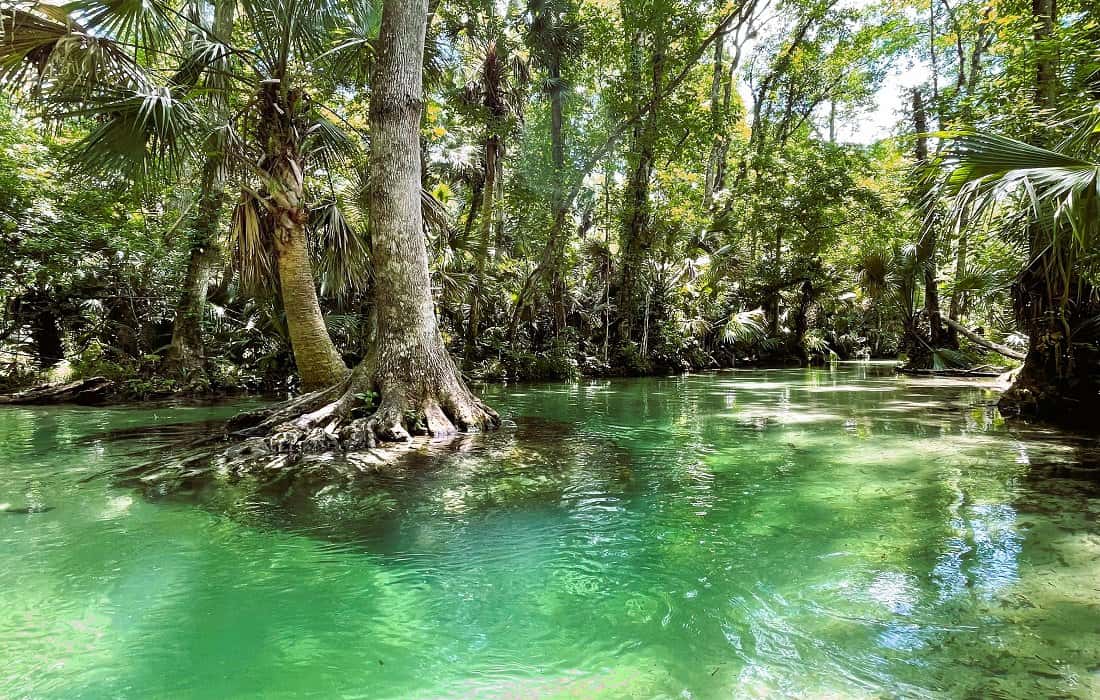 This post may contain affiliate links. Please read our disclosure and privacy policy for more information.
About Kings Landing
Apopka is home to ​the Wekiva River, Kings Landing, the Wekiva Marina, and Kelly Park (Rock Springs Park). King's Landing is a section on the Rock Springs Run; a famous paddling route privately owned by Bob and Steven Loomis. The Loomis's acquired it following substantial damages from the 2004 and 2005 hurricane seasons. The Loomis's cleaned up the devastated area and reopened Kings Landing.
Kings Landing, Rock Springs Run, Kelly Park, Rock Springs, Wekiva Island, Wekiva Marina – What's The Difference?
Even locals get confused about which location is called what because they are all on the waterway called "Rock Springs Run." A river that runs from Kelly Park (Rock Springs) to Wekiva River, then Wekiva Springs.
Rock Springs Run is one of two designated Wild and Scenic Rivers in the state of Florida, part of the complex ecological system of the Wekiva River Basin. It's been featured in National Geographic on many documentaries, from the Florida Spring Shed to the study of the Florida Black Bear, as the largest colony of Florida Black Bear located in one area. Along any journey, it's possible to see many different wildlife species, including alligators, turtles, river otters, white-tailed deer, fish, black bears, and an array of birds such as great egrets herons, and bald eagles.
There is no launch at the Kelly Park – Rock Springs springhead but you access the springhead here. Swimming and tubing are popular here, but no boats are allowed. To access Rock Springs Run, launch from King's Landing. The current can be swift, and during low water, it may be necessary to pull your kayak or canoe over an occasional sandbar. The run has many twists and turns and can be challenging. Occasionally, there are trees down after storms that can present obstacles. The outfitter at Kings Landing has done an excellent job removing these obstacles in recent years.
Kings Landing
Kings Landing is a privately owned launch spot that gives you two kayaking options:
Downstream to Wekiva Island & Wekiva Marina, an 8.5-mile paddle of 3 1/2 to 4 hours.
Upstream onto the Emerald Cut and further up Rock Springs Run.
Rock Springs Run
This is the river that all of these spots are on. Sometimes people will refer to the state parks as Rock Springs Run. However, the state park is called Kelly Park or Rock Springs.
Kelly Park – Rock Springs
One in the same, but the park has two names often used independently or combined. Kelly Park is Rock Springs. This is a state-owned park with a small river running into a collecting pool at the bottom from the spring head.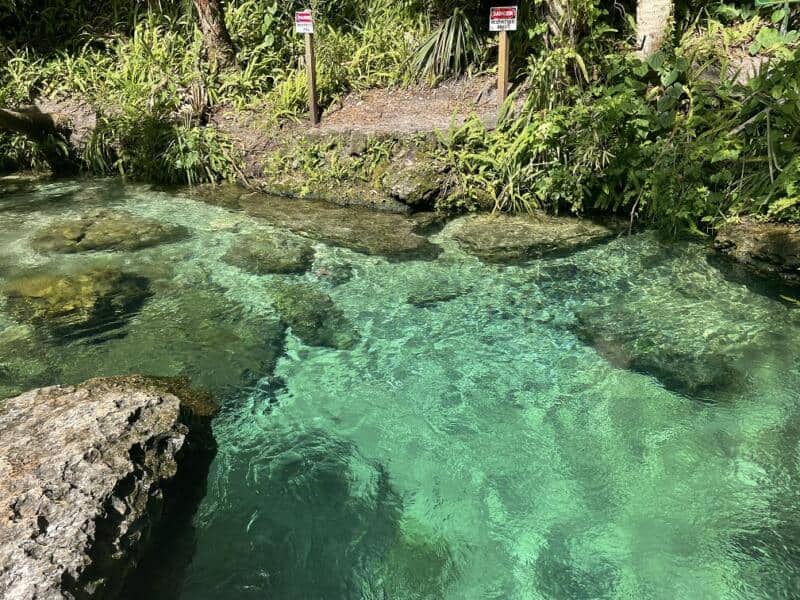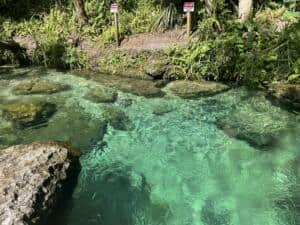 Wekiva Island & Wekiva Marina
Down south from both Kelly Park – Rock Springs and Kings Landing is Wekiva Island, home to the Wekiva Marina. Many people choose to make the kayak paddle here. However, Wekiva Island is a popular spot that people drive to and spend the day.
Kings Landing Location
5722 Baptist Camp Road, Apopka, FL 32712
Kayaking From Kings Landing
Once you arrive at King's Landing, you can park in their driveway and unload your vessel or other gear. Upon unpacking, you should park along the road outside the gates. The gate to enter King's Landing from the main road. Drive in to unload any gear and then park along the road just outside the gate.
Kings Landing Kayak Routes
You access all routes via a narrow canal. You have two choices once you exit the canal – left or right.
Left Turn – Head South To Wekiva Island
Turning left will take you down the Rock Springs Run towards Wekiva Island. It is an 8.5-mile route with the current. It is a beautiful part of the run, but it's traditional, rustic, and wild. The best way to describe this is while clear; it's brown water due to tannins, not the turquoise blue of the northern section. If you take the southern paddle, you can see various native wildlife, for example, alligators, deer, and birds of prey. The journey to Wekiva Island will take approximately 4.5 hours, and a majority of it is not shaded, so plan accordingly. As you paddle downstream with the current, you will reach two buoys that read, Turn-Around. You will then turn around and paddle back upstream to the launch area.
Heading South: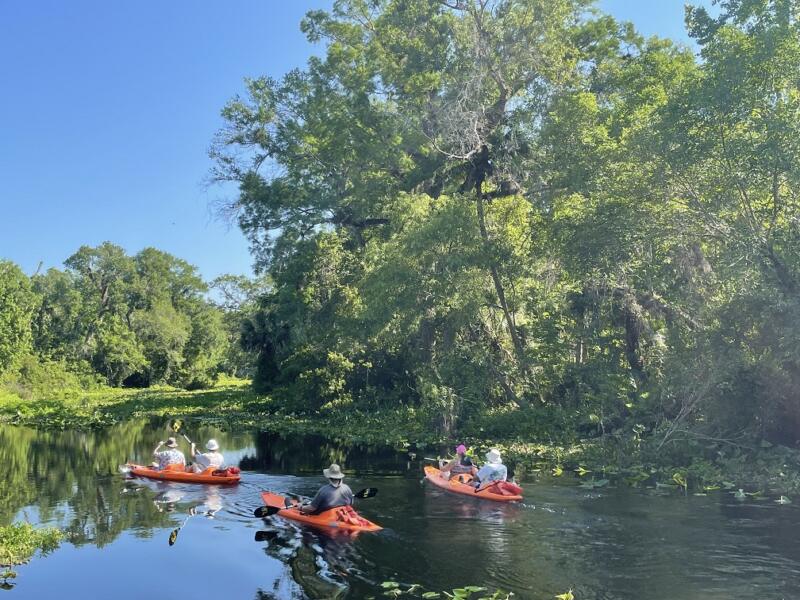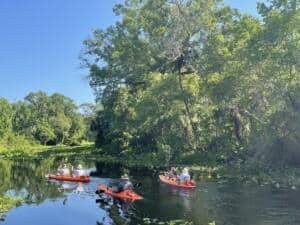 Turn Right – Head To The Emerald Cut
My advice is simple. Head right! Unless you've already done the Emerland Cut and want to kayak to Wekiva Island.
You will be paddling against the current if you turn to the right, but it's a leisurely paddle. The bridge that ends this is about 2 miles away and takes about an hour to reach. However, few, if anyone, ever paddles up and down. Most people take their time stopping along the way.
The Emerald Cut
This section of Rock Springs Run is called the Emerald Cut, and it is mindblowing. It's about ¾ of a mile north from the launch at Kings Landing. Taking on Rock Springs Run, the Emerland Cut should be your priority. This section of the run is by far the best. Some parts are shallow, some deep. Some spots have a fast current, some virtually none. The middle section, where two trees stand in the middle, is where you have likely seen photos. This is a popular spot, but you can get it to yourself. Just hang around long enough, and you'll have it to yourself. There are sand bars and tons of places to stop on the Emerald Cut. Pack a lunch, drinks of choice, and sunscreen. That's all you need for the perfect day.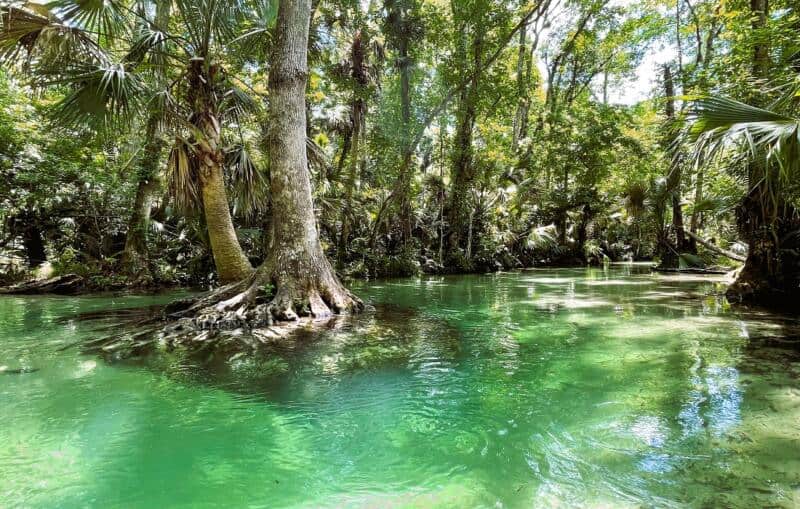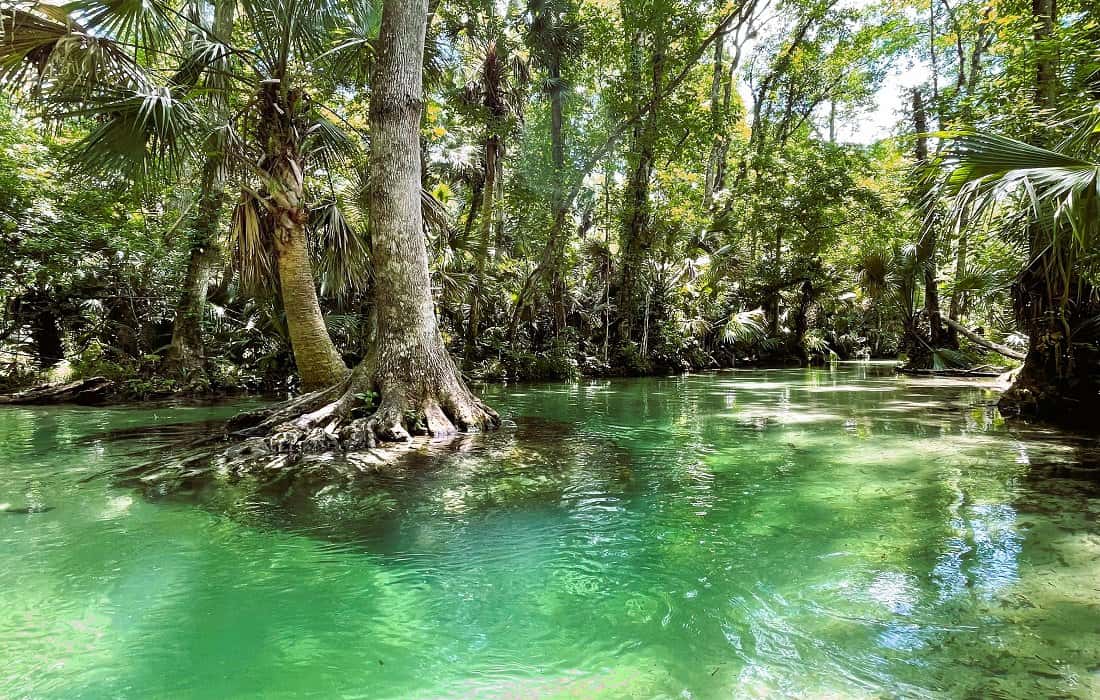 Along the journey, it's possible to see many different wildlife species, including alligators, turtles, river otters, white-tailed deer, fish, black bears, and an array of birds such as great egrets herons, and bald eagles. Jump from the roots of a giant 100-year-old cypress tree or sit back in your kayak, taking every second of this natural escape on Rock Springs Run.
Suppose you want to splash around in clear water and catch a tan hook a slight left once you leave the canal. There's a swimming/paddle area here that's as stunning.
Video Of Kayaking The Emerland Cut
Kings Landing Kaying Options
You have lots of different options to explore Rock Springs Run. For example, you can rent from Kings Landing or bring your vessel. Or, you can also take a guided tour if you prefer. Kings Landing also has a shuttle service if you are heading south to Wekiva Island. A remarkable feature because paddling back 8.5 miles upstream would take hours!
Kings Landing Rentals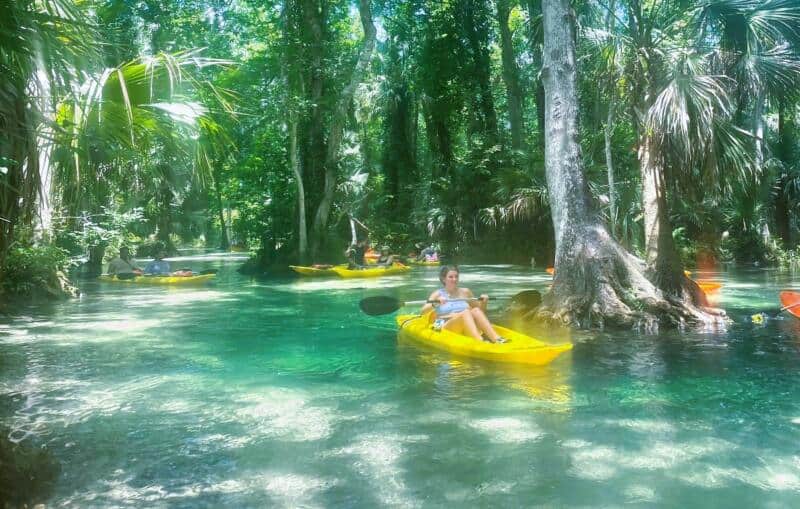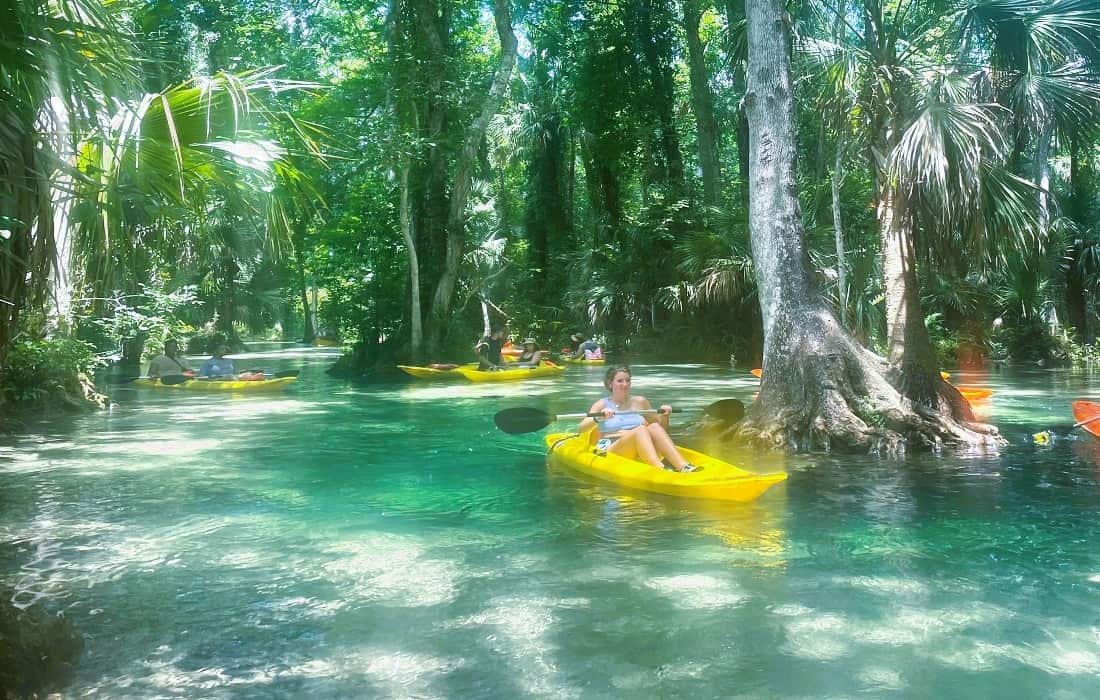 Day Paddle
Self-guided paddle – 4 Hour Rentals (return shuttle is not included)
Double Kayak $79
Each double kayak can seat two people, max weight of 450 lbs.
Single Kayak $59
Every single kayak can seat one person, max weight 300 lbs. Rental rates are per vessel. All equipment & safety gear included.
Kayak Rental Policy
All guests must:
Rentals include all the equipment and safety gear needed.
Have a valid driver's license, you will need to show a driving license for each vessel rented.
Check-in on time, if late which is after 10:30 am you will not be able to launch for the remainder of the day.
Arrive in time for the shuttle. If late for the shuttle, a $100 late fee per vessel, per hour will be accessed at check-out.
Have a shuttle-run wristband to board the shuttle
Bring Your Vessel Rates
If you choose to bring your own vessel, you must provide all equipment, including PFD (personal flotation device) and whistle. If you do not have a PFD and whistle, you may rent one at check-in for $5 each.
Adult $30 – 13 years of age or older
Child $25 – 12 years of age & under
Rental rates are per vessel. Inflatable vessels are no longer allowed on the shuttle, so you'll need to rent if you are planning to do Weikvia Island: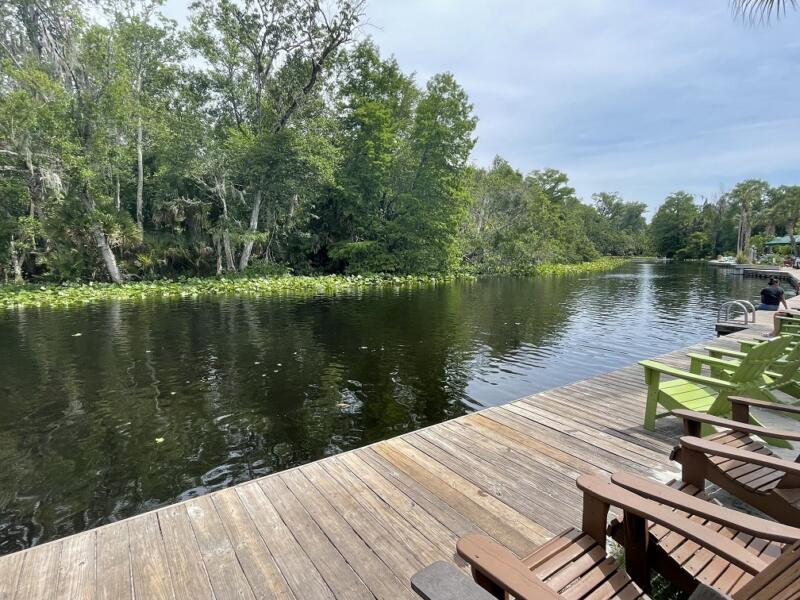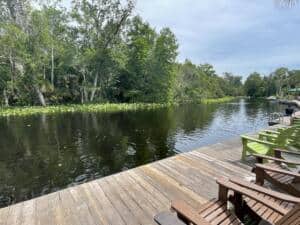 Bring Your Own Vessel Policy
All guests must:
Bring all their own equipment and safety gear required by law.
Check-in on time, if late which is after 10:30 am you will not be able to launch for the remainder of the day.
Arrive in time for the shuttle. If late for the shuttle, a $100 late fee per vessel, per hour will be accessed at check-out.
Have a shuttle-run wristband to board the shuttle.
The Shuttle Run
The Shuttle Run is a self-guided paddle downstream 8.5 miles from King's Landing to Kings Landings dock located at Wekiva Island. Return transportation is provided back to King's Landing. This paddle adventure takes, on average, 5 hours, and paddle experience is required. Bring your own vessel or rent a kayak to explore this untouched wild Florida oasis.
The Kings Landing Shuttle Run Service From Wekiva Island
If you plan to head south to Wekiva Island but are not using Kings Landing Shuttle Run, you need to park on Wekiva Island, and it costs $25 per day.
Shuttle Departure
King's Landing currently offers one shuttle a day.
It arrives at Wekiva Island by 3:30 pm. So it would be best if you made it there on time. If not, a $100 late fee per vessel per hour will be accessed at check out.
Terms For All Reservations
Must be 18 years of age to make a reservation.
A parent or legal guardian must accompany anyone under the age of 18.
Minors under the age of 2 years old will not be permitted.
Unfortunately, pets are not allowed at King's Landing or on vessels.
Cancellation Or Reschedule Policy
To receive a refund, cancellations must be made 48-hours before the reservation.
Cancellations are made within 48-hours of reservation; an eGift Certificate will be issued. All eGift Certificates will be valid for one year.
Cancellations received on or after the reservation, no refund or eGift Certificate will be provided.
Like all outdoor attractions, King's Landing is open, rain or shine. If King's Landing closes due to severe weather conditions or any safety reason, a full refund will be provided.
Kings Landing Rules
King's Landing is an independent, privately-owned property and reserves the right to enforce the rules and regulations stated below. Failure to do so, at the discretion of King's Landing personnel, will result in dismissal without refund. Those who re-enter the property after discharge or who refuse to leave when asked will be considered trespassers, and law enforcement will be called.
The following items are prohibited:
Alcoholic beverages or illegal narcotics Coolers, bags, and dry compartments are inspected before launching.
Glass and styrofoam.
Harassing, touching, or having any physical contact with any wildlife.
Using foul or abusive language, fighting, or any other behavior that may be offensive or a nuisance to another paddler.
Entering on or stopping in front of any private property, docks, and yards.
The use of any motorized vessels.
Dogs or any pets.
You should also note that there are no lifeguards on duty, you swim at your own risk. Excessive noise of any kind is frowned upon. You can bring a speaker but it must be a small handheld one. Lastly, if you do bring a speaker do not create excessive noise or nuisance to other paddlers or wildlife around you.
Leave no trace. Take all trash and any other trash you may find along the way back with you and dispose of it properly. Please help keep Rock Springs Run clean and beautiful for others to enjoy.
Essentials You Need To Enjoy Kings Landing
Remember the rules? You can't take styrofoam and you are going to be on the water all day. As such, you are going to need some specific items! For example, you will need an insulated cup to drink from. You need a cooler to pack your drinks and food for the day. You need a water bag to protect your phone and other valuables. And, you need water shoes, that is unless you are comfortable going barefoot!
Kings Landing Tours
Taking a tour vs. venturing out on your own could be the perfect solution for you. Especially if you are not a Florida native or visiting with a local. Most of the tours are on clear kayaks making it even more thrilling.
You can book tours of Kings Landing here: Kings Landing Tours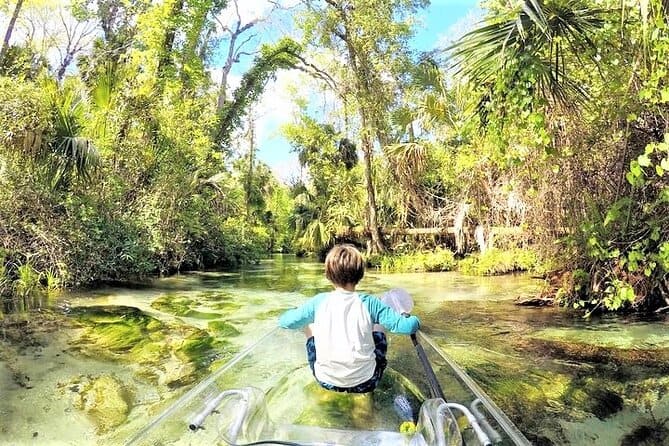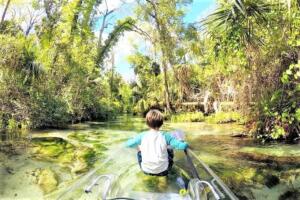 Emerald-Cut Kayak Adventure
This is a two-hour tour with a guide of the famous Emerald Cut. You'll spend the first hour paddling upstream until you reach the bridge at Kelly Park. During the second half of the tour, you'll float back down to the launch point. Cost $49 – $59 PP
VIP Wild Florida Kayak Adventure
This two-and-a-half-hour guided tour begins by taking a leisurely golf cart ride through King's Landing. This gives you the option to view other park areas before you arrive at a private launch. You'll travel downstream and experience secret passageways where the Timucuan Indians used to roam. Cost $89 PP
Eco River Adventure Shuttle Run
This is a five-half-hour tour downstream deep into the natural world of Rock Springs Run. This is the 8.5 miles run left to Wekiva Island. The shuttle will take you back to King's Landing. Cost $99 PP
Hike + Kayak Jungle Adventure
This is a two-and-a-half-hour tour that takes place on land and water. Walk through the natural Florida jungle searching for wildlife such as whitetail dear, gopher tortoises, and wild turkeys. Then load in your kayaks and float gently down the Wild and Scenic Emerald Cut. Cost $79
Summer Nites Kayak Adventure
This is a two-hour tour that takes place at night as the sunsets. Perhaps the quietest time on the river, the coolest time of day to enjoy the river. This tour lets you explore the Emerald Cut after the park has closed. This tour also includes neon accessories. Cost $99
Times: Friday – Sunday 5:30 PM – 7:30 PM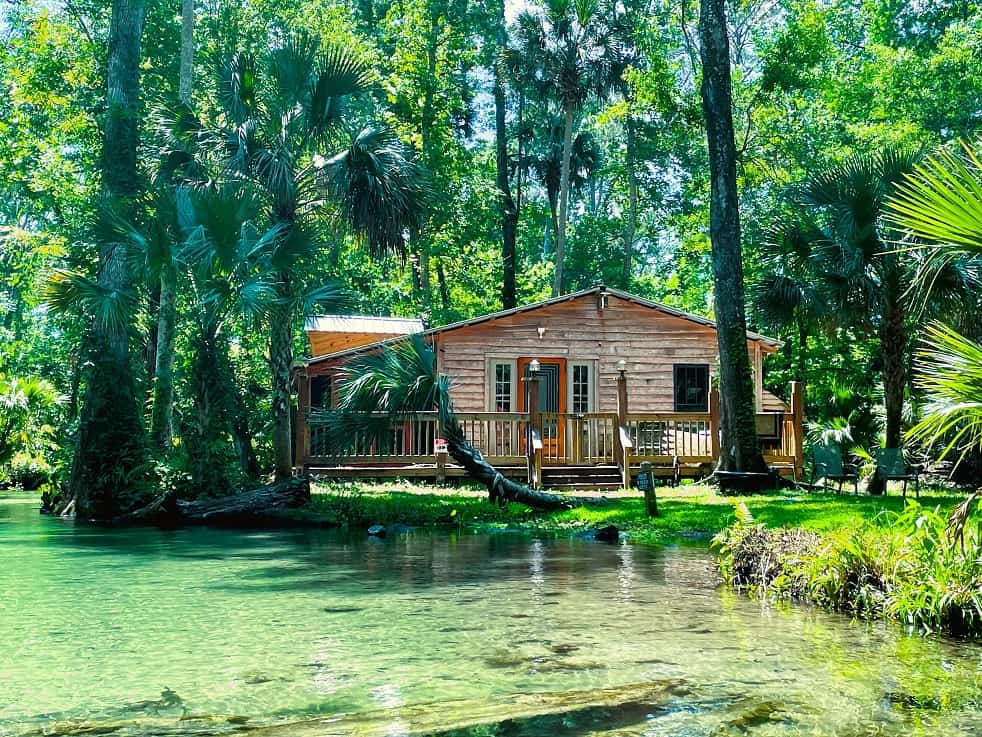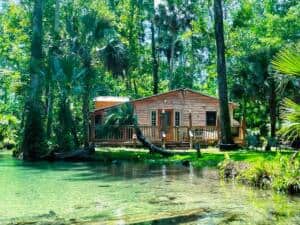 Staying Inside King's Landing
The best-kept secret of all is you stay on the grounds of Kings Landing! And, by inside, I mean behind the gates.
King Landing has two options to stay on site.
Cabins – behind the gates.
Tent Camping – outside the gates across the street
To read about staying onsite see here: 10 Reasons To Stay At Kings Landing
If you really love springs, then you need this book! Florida is home to over 1000 natural springs between the sun-soaked beaches of the Gulf of Mexico and the Atlantic Ocean, which have drawn people to the state for thousands of years. Long before theme parks came to town, the freshwater springs were the top tourist attraction in the state. Join us across the state to explore 40 of the best springs in Florida that you can still visit today. Filled with vivid photos from the past and present, this guide will show you a side of the Sunshine State you won't see in commercials. Complete with information on conservation and a key for activities offered, this book is a must-have for locals and tourists alike.
Frequently Asked Questions
Closing Thoughts
I've been to a lot of springs in Florida. Rainbow River Springs will always be my favorite but Kings Landing is a close second. The sheer beauty of the water, the different hues of turquoise, and the sand bars are about as much entertainment as anyone could need. Having stayed inside the park I can tell you this is the way to go. It's a more economical solution in the long run and you get the luxury of hopping on and off the river which is priceless.
Here are some of the most popular springs in Florida:
We participate in the Amazon Services LLC Associates Program, an affiliate advertising program designed to provide a means for us to earn fees by linking to Amazon.com and affiliated sites.
Brit On The Move™ Travel Resources
Ready to book your next trip? Use these resources that work:
Need more help planning your trip? Check out our Resources Page, highlighting the great companies we trust when traveling.