ICE at Gaylord Palms is an annual event that gives Floridians and visitors a unique way to experience the winter holidays. It may seem like Florida is all about sultry days and chilly nights, but that's not always the case. Gaylord Palms Resort and Convention Center kicks off the holiday season with Christmas festivities, including one of the finest displays of ice sculptures.
Add a cold twist to the traditional Florida Christmas heat with ICE at Gaylord Palms. This two million-pound ice exhibit transforms Gaylord Palms into the North Pole, an experience you will never forget. You will find an Arctic forest, snow slides, a Christmas carnival with a life-size carousel, and Santa's ornament room full of ornaments and even his reindeer! Gaylord Palms creates different themes each year for ICE, and no two years are the same. Let's find out more about the ICE at Gaylord Palms.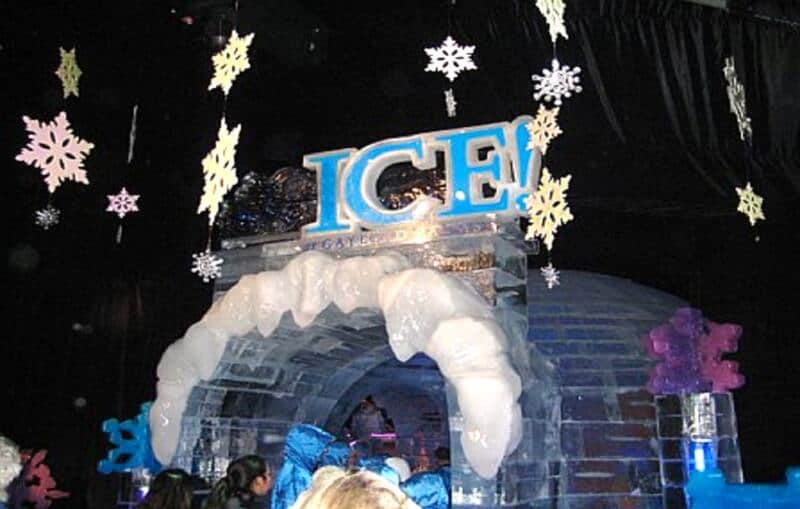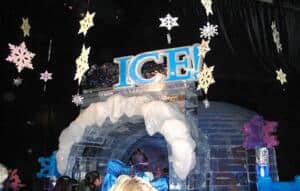 This post may contain affiliate links. Please read our disclosure and privacy policy for more information.
About ICE at Gaylord Palms
Orlando's Gaylord Palms hotel is the most festive in Florida during winter, hosting the annual ICE! Event! The yearly ICE event offers interactive displays made of nothing but ice, ice slides, and ice sculptures for family-friendly fun! ICE brings holiday cheer to a whole new level. The temperature is 9 degrees Fahrenheit which is 12 degrees Celsius. It's so cold that they give you a bright blue puffy parka with a down insert. Even with the coat, you will feel the chill once you enter ICE.
This chilly attraction allows you to enjoy snow tubing, intricate hand-carved ice sculptures, an ice slide, and much more! The actual ICE! experience takes between 30 minutes and 2 hours. Frostbite Factory offers live ice carving demonstrations by Chinese artisans. There is a separate area dedicated to the majestic Nativity in crystal-clear ice. In addition, there are five two-story ice slides, colorful, life-sized ice sculptures, and more. Next holiday season, get in the mood and escape the heat by visiting ICE!
About Gaylord Palms Resort
Gaylord Palms Resort & Convention Center is a hotel resort and convention center. While most refer to it as Orlando, it is in Kissimmee, Florida. With 1,720 rooms and luxury amenities, it is also the de facto convention center for Osceola County, Florida.
When it first opened, Gaylord Palms was known as Opryland Hotel Florida. It is owned by Ryman Hospitality Properties (formerly Gaylord Entertainment Company) and operated by Marriott International. The Florida hotel was renamed Gaylord Palms when Gaylord Entertainment rebranded Opryland Hotels to Gaylord Hoteresort'sr 26, 2001.
The resort's water park includes a lazy river, waterslides, and a health club. There are three outdoor swimming pools and two spa tubs on site. Besides the children's pool, there is also a sauna and a fitness center. There is even a FlowRider which is a surfing experience.
In addition to the excellent amenities, the hotel has great casual and formal restaurants. I've personally eaten at the Old Hickory Steakhouse several times. It's pricey, but their lobster bisque is worth it. And I've eaten at Villa de Flora. Villa de Flora is a Mediterranean-style casual restaurant with Italian, Spanish, and French-inspired cuisine. At Christmas, there are holiday-themed dinners at many of the restaurants.
The resort holds conventions and events all year. However, there are several large-scale Christmas events at Gaylord Palms; ICE is the most famous locally.
Gaylord Palms At Christmas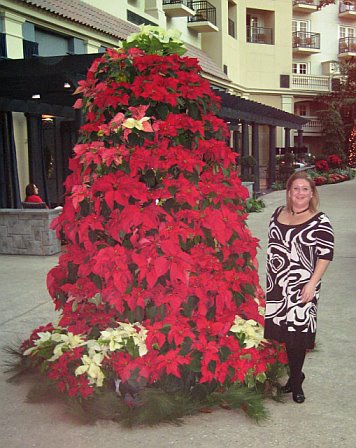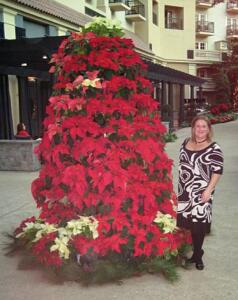 Christmas at Gaylord Palms is a favorite for me. All major hotels in Orlando go all out for Christmas, but Gaylord Palms is unique. The variety of Christmas trees alone makes a visit here worthwhile. Some of which are made from stacks of Poinsettias and some traditional art. Gaylord Palms is an excellent holiday choice if you plan a Christmas dinner or a night out. And, entry to Gaylord Palms will not cost you a penny! So even if you decide not to go to ICE, Gaylord Palms gives Disney a run for the money with their decorations.
Cirque Dreams Unwrapped Stage Show
Be dazzled by an array of seasonal characters brought to life in a dreamscape of imaginative costumes and creativity in Florida. Accessible from November through January. Free seats are first-come, first-served. We've been to Gaylord Palms many times. Don't buy a seat to watch the shows. Hang out. Even if you are standing, you will see the show. Grab a drink and enjoy a magical night.
Pro Tip: If you plan to stay at Gaylord Palms, upgrade to an Emerald Bay Atrium View room. From these rooms, you can view Cirque: Spirit of Christmas and the Greatest Story from your balcony, which is worth the extra cost.
Things to do During Christmas at Gaylord Palms
The Christmas events at Gaylord Palms vary. Here's a list of specific things to do. This list is subject to change once the 2022 schedule is released. All these events and activities vary in cost; some are free, and some are not.
ICE! featuring THE POLAR EXPRESS
Cirque Dreams Stage Show
Secret Santa Scavenger Hunt
Mrs. Claus' Christmas Traditions
Gingerbread Decorating
Snow Tubing
Gingerbread Decorating Corner
Santa's Snow Throw
Sugary Sweet Storytime
Elf Training Academy
Build-A-Bear Workshop
Photos with Santa
Acres of Festive Decorations
Christmas Tree Trail
Adventure Kids: Wonders of Winter
Wildlife Rescue – An Augmented Reality Experience
Journey of Los Tres Reyes Magos
Chill Pass
Hot Chocolate and more
Looking for FREE things to in Orlando at Christmas? See this: 50 Plus Free Things To Do In Orlando at Christmas
Why Visit ICE at Gaylord Palms?
There are so many things to experience at Gaylord's Palms's ICE! Christmas cultural icons worldwide appear in intricately carved ice sculptures. The sculptures are the ultimate reason to visit Gaylord Palms at Christmas. It will make you pause in wonder as you look upon a gleaming nativity scene carved from clear ice. Something is appealing about this scene's clean simplicity in a world full of color.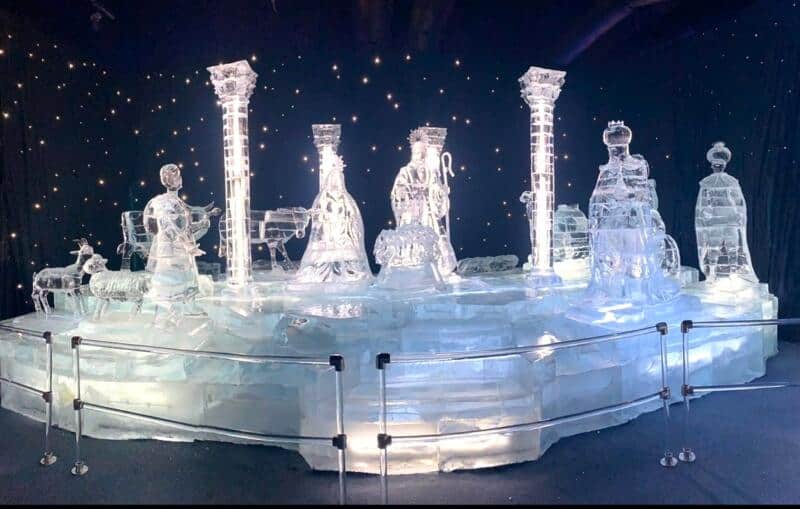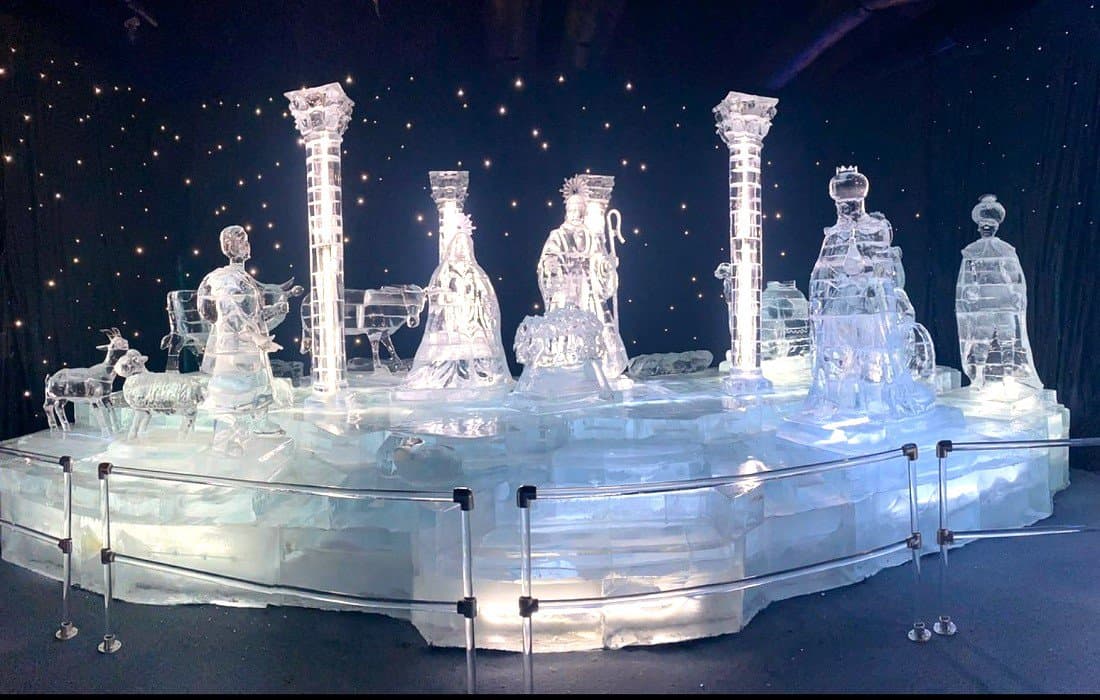 Discover the true spirit of Christmas with the magical adventure to the North Pole. A combination of colored ice, lighting, and incredible carvery is used to accomplish this. You can take photos, watch an ice carving demonstration, and view fantastic artistry, all themed accordingly. In 2020, a handcrafted ice sculpture told the story of The Polar Express. This sculpture weighed more than two million pounds. Although The Polar Express did not return the following year, this shows you what to expect. Each year Gaylord Palms comes up with an all-new theme. You will experience something different each season.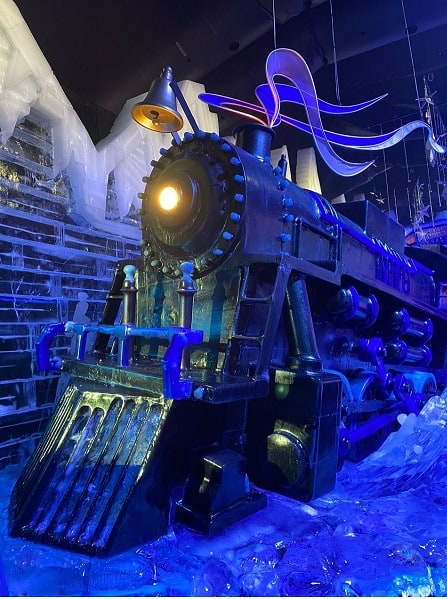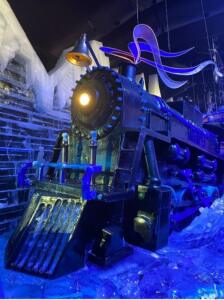 The Making of ICE!
The fascinating ice and snow attraction is created by a team of renowned artisans who travel halfway around the world to Gaylord Palms. Over three weeks, 36 truckloads of ice arrive from an ice factory. There are two trucks daily for 15 days, the maximum amount of ice the factory can produce. A refrigerated tractor-trailer delivers large blocks of ice on pallets, which are then moved into place by forklifts. The technicians work day and night to make these incredible structures and exhibitions. The colorfulness and beautiful design will impress you. People worldwide visit the place during the holiday season to enjoy the grandness.
What Is There To Do At ICE at Gaylord Palms?
There is an endless array of events and onsite amenities to participate in. There are interactive areas for the children, including ice slides and a chance to meet Santa Claus. ICE's ice slides are one of the most popular attractions. Going down them successfully requires a trick. Instead of sliding down the ice slides, you have to hurry on your rear and lean back. Or, as some kids do, throw yourself down the ice slide.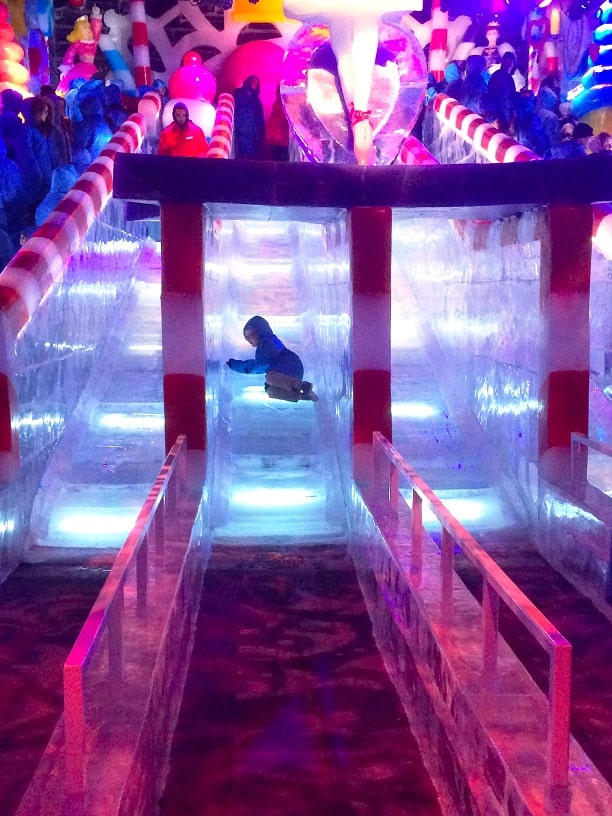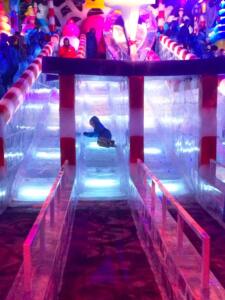 The Frost Factory will show you how magic is made. People cheer while artesian creates the display. The intricacy of their work shows that carving ice is a serious business for these talented artists!
When visiting the ICE at Gaylord's Palms, you must wear closed-toed shoes. You will also be given a parka, which is required to wear during your tour of ICE. Bring a hat and gloves if you are easily affected by cold temperatures. I will tell you from experience you need the gloves. The parka has a hood to cover your head while in the display, but you need gloves. If you have kids with you, this is especially important! As mentioned, it is 9 degrees, and it will feel like it!
Don't forget your camera, as this magical and icy winter world offers the perfect photo opportunity for your annual Christmas card. Make sure your camera or phone is fully charged. The cold, extreme cold drains your battery incredibly quickly while inside ICE.
What's Included With A Ticket To ICE?
There are a lot of different options for purchasing tickets for ICE! Or, you can choose from silver, gold, and platinum packages. Take advantage of 20% off when you add snow tubing and the Santa Scavenger Hunt.
Gaylord Palms ICE tickets start at $14.99 child/$28.99 adult when purchased in advance and online. (plus taxes and fees there. Three and under are free.
You can save money if you consider attending ICE early in the season. You can also follow Gaylord Palms on Facebook for Ice discount codes and check Groupon for discounted admission. In addition, you will also save if you bundle your ICE ticket with other attractions.
Platinum combo tickets for adults cost $112+ if you want to experience everything offered. Please reserve your tickets online in advance before they are sold out. Which, many dates DO sell out.
What Is NOT Included With A Ticket To ICE?
There are several free things to do at Gaylord Palms during the holidays when ICE is on display. However, many of the attractions require a ticket. Take part in a 25-minute, action-packed experience featuring soaring acrobatics, theatricality, and imagination. With Cirque Dreams Unwrapped, Broadway director and renowned Cirque Dreams founder Neil Goldberg create a magical and timeless Christmas wonderland every year.
There is a Christmas Tree Trail, a display of nine magnificent Balsam Hill trees along the meandering paths inside the Everglades atrium of the resort. Sparkle the Elf, Santa's chief Christmas tree decorator, has personally prepared these trees at Gaylord Palms. Sparkle's Christmas trees feature snowmen and candy canes, reindeer, and nutcrackers, with one tree even honoring the Florida resort!
Gaylord Palms also offers an all-new, dazzling light show with a dazzling array of dancing and choreographed lights surrounding the resort's six-story Christmas tree during nightly performances. You can discover 4.5 acres of indoor gardens at the Gaylord Palms Resort, perfect for children and adults alike. During the holiday season, there is an endless amount of fun photo opportunities that you will find worth a Christmas card.
Frequently Asked Questions About ICE at Gaylord Palms
Is Gaylord Palms Doing ICE! in 2022?
The ICE exhibition has been postponed for the last two years due to COVID. Gaylord Palms is planning to host ICE this year in 2022. We hope COVID-19 travel restrictions for international artisans will not present the same challenges as last year for ICE. If you want the latest ICE news, check Gaylord Palms' website and Facebook page.
How Long Is Gaylord Palms ICE Experience?
You can take a self-guided walking tour of the exhibit that lasts between 15-30 minutes. You will spend between 30 and 2 hours visiting everything in the ICE area. There are different types of tickets that you can purchase according to your planned activities at the exhibition. Every year, they change the style and add new features to their collection.
Can I Go To Gaylord Palms Without Staying There?
Yes, you can enjoy Gaylord Palms without staying there. Guests can enjoy all the holiday attractions during the day and at night. Guests often stay overnight to enjoy all the holiday events and attractions.
During the holiday season, the town's population and international tourists visit Gaylord Palms. In addition to the Ice at Gaylord Palms is one of the most attractive Christmas exhibitions, there is another fantastic color display full of light and a considerable exhibition that attracts many visitors to the resort.
Can I Buy Tickets On-Site?
There is no longer an onsite box office, so tickets must be purchased online. There are a variety of savings by purchasing bundled packages.
How Much Does It Cost To Go To ICE at Gaylord Palms?
There are a lot of different options for purchasing tickets for ICE! Basic entry costs $14.99 per person. With more activities added to your visit, you can choose from silver, gold, and platinum packages.
During peak times, an adult ticket to ICE at the Gaylord Hotel costs approximately $32.99, and a child ticket costs $14 (plus taxes and fees).
How Cold Is Ice At Gaylord Palms?
The temperature is 9 degrees Fahrenheit which is 12 degrees Celsius – freezing!
Does Gaylord Palms Validate Parking?
Sadly, there is no free parking, and you must pay to park. Self-parking is $24 per day or $35 for valet. Self-parking and valet are validated if you spend at least $75 at MOOR or Old Hickory Steakhouse during your visit.
How big is the Gaylord Palms?
Four hundred thousand square feet of meeting space makes the Gaylord Palms Florida's second largest meeting hotel. There are also 1,720 guest rooms at the hotel.
Closing Thoughts
ICE at Gaylord Palms is symbolic of Christmas to locals and visitors alike. It is a winter wonderland that comes to life. Whether you visit to see the sculptures or ride the slides, there's something for everyone!
Looking for more seasonal things to do in Florida? Start here:
We participate in the Amazon Services LLC Associates Program, an affiliate advertising program designed to provide a means for us to earn fees by linking to Amazon.com and affiliated sites.
Brit On The Move™ Travel Resources
Ready to book your next trip? Use these resources that work:
Need more help planning your trip? Check out our Resources Page, highlighting the great companies we trust when traveling.