Families are always looking for ways to entertain their kids, and nothing is better than a day out. If a theme park or adventurous rides are on the horizon, nothing is better than LEGOLAND® Florida. This Florida theme park is all about LEGO®, lively colors, fun, and education in an interactive environment. Designed for families with young kids, LEGOLAND® Florida could be your ultimate multi-day fun destination.
With over fifty rides to choose from spread through fourteen distinct "lands" that span 150-acres, there are numerous themed experiences. And, there is the attached LEGOLAND® Florida Water Park which is perfect for cooling off in and escape the heat.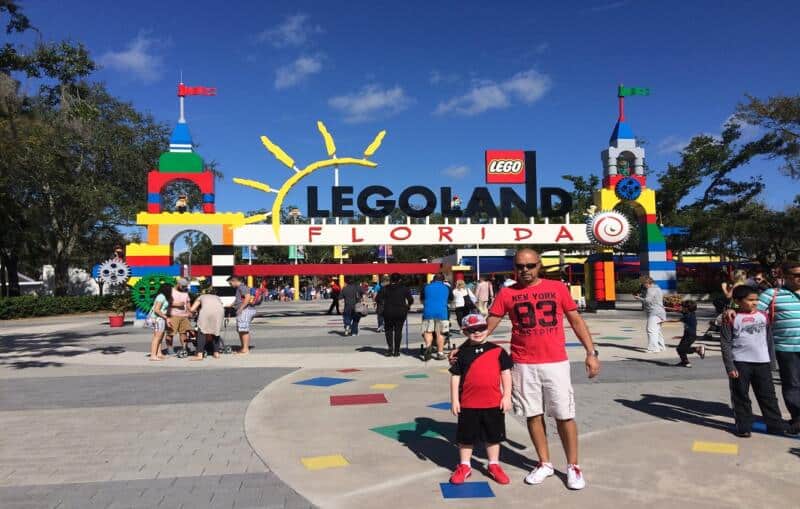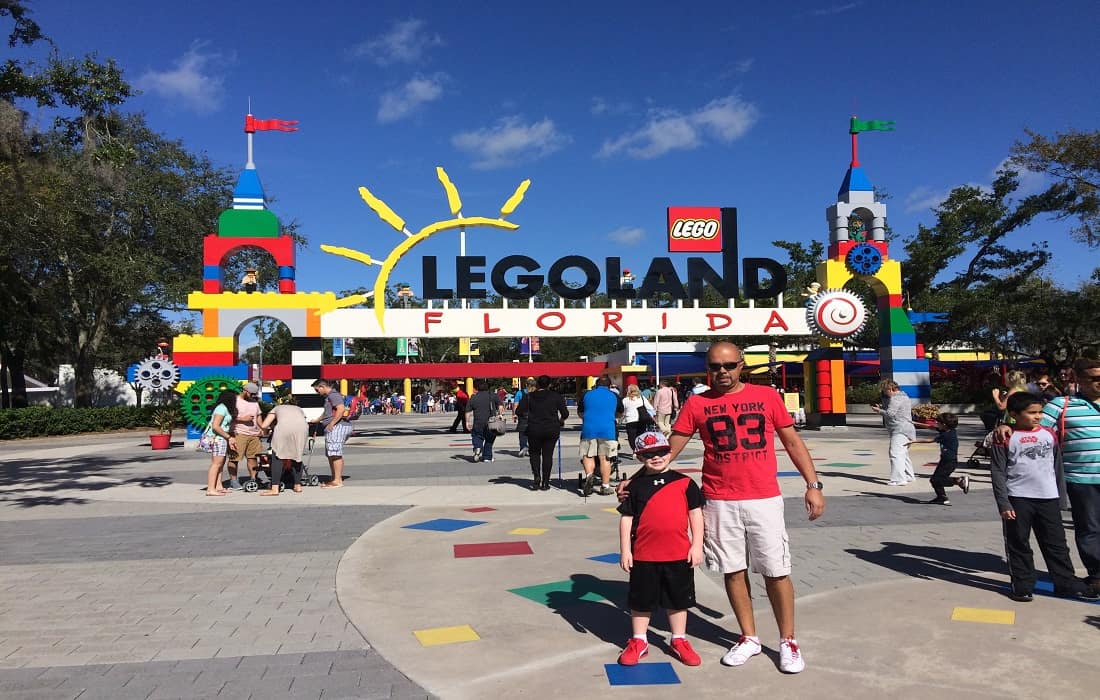 LEGOLAND® Florida has a wide variety of adventures for the tiny tots and pre-teens alike. It's also one of the most affordable theme parks in Central Florida. This alone is a great reason to consider it. Most importantly, while not a budget buster, this park is as entertaining as any high-priced park. With so many rides to hop on, you will enjoy it. Let me share with you what to expect at LEGOLAND® Florida. I'll also share insider tips to make your experience even more enjoyable!
This post may contain affiliate links. Please read our disclosure and privacy policy for more information.
LEGOLAND Florida's History
Ten years ago, on October 15th, 2011, LEGOLAND Florida was born. LEGOLAND Florida is built on the site of the former Cypress Gardens theme park.
Cypress Gardens first opened in 1936 and was billed as Florida's first commercial tourist theme park. It's remembered for the botanical gardens, ski shows, and Southern Belles. It later became known as the "Water Ski Capital of the World" due to breaking numerous world records. LEGOLAND preserved the botanical gardens and re-themed the water park and select attractions and venues to reflect various LEGO® brands.
It was later rebranded as LEGOLAND Florida Resort with the opening of Legoland Hotel in May 2015. It is the second-largest Legoland park after Legoland Windsor in the UK.
Who Is LEGOLAND Designed For?
LEGOLAND Florida promotes itself to families with children as young as two and up to 12 years of age. Visiting LEGOLAND Florida without a kid could be a waste of time. This is unless you are a true lego fan. And, if you are a Lego fan, there's plenty on display for you to enjoy. It just won't be the rides. Instead, you'll have a fantastic collection of life-size sculptures to view, all made from Lego. Then there are the entire areas that are like cities built entirely of Lego.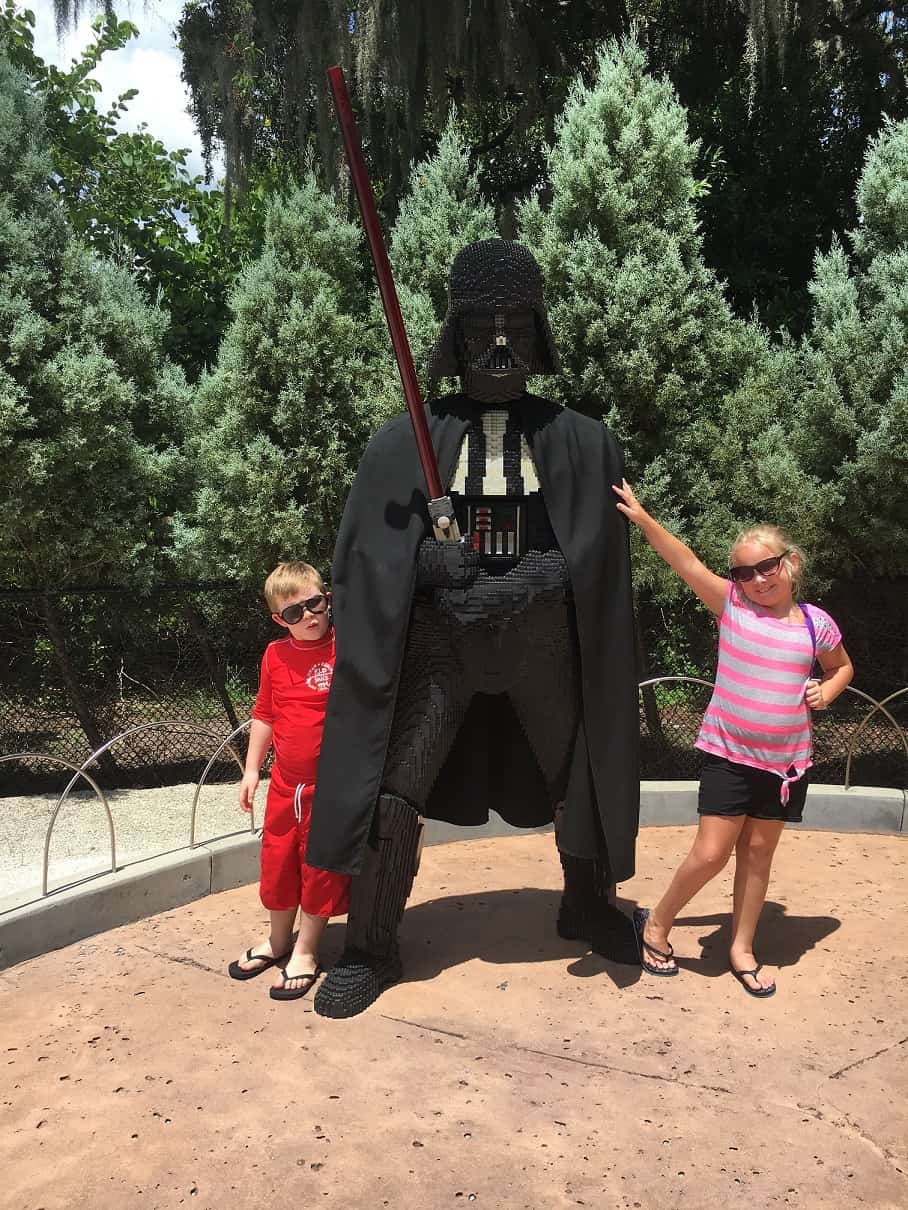 Most all the rides and other activities are designed for younger kids. LEGOLAND is a theme park specifically for the pre-teen crowd.
After visiting the park, I'd' have to say that it might be a tad too young for kids over ten. I say this because it's around this time they acquire a taste of white knuckle roller coasters at the other theme parks. And, I can tell you convulsively that the water park is for younger kids, perhaps designed for those under ten.
LEGOLAND Florida Celebrates 10th Anniversary
Ten years into entertaining millions of guests from all over the world, LEGOLAND Florida Resort is commemorating ten years! To celebrate, LEGOLAND is reopening some attractions and has some birthday events lined up!
LEGOLAND Story Reopens
LEGOLAND Florida Location
The Florida LEGOLAND theme park resort is located in the theme park capital of the world of Central Florida. Just 50 minutes away from Walt Disney World, Universal Orlando, and Sea World Orlando. It's an accessible location to get to, and it's in a much less crowded area than the rest of the theme parks in Florida.
Address: One LEGOLAND Way, Winter Haven, 33884
When Is The Best Time to Visit LEGOLAND Florida?
Realistically, there's no "best time" this is a year-round theme park. And, like all theme parks, it celebrates all holidays. This said, I would point out that the heat in Florida can be unbearable in the summer months. Add to this that summer is when all the kids are out of school, so the park does get packed. If you can go through the week, this is always the best time – weekends are packed with tourists and locals alike.
I won't touch a theme park in the summer. I have when entertaining the Monkey, but fortunately, he's now at an age where we don't have to spend every weekend combing the parks. Fortunately, he and his friends have almost outgrown Disney!
Where to Stay at LEGOLAND Florida
There are several options around the area, including three themed resorts onsite. Let's start with the onsite themed resorts. I will warn you before we get to the onsite resorts that they are expensive! Ranging from $200 and up! The themed rooms are in high demand. These are not last-minute rooms – you need to book way in advance to secure these rooms.
LEGOLAND® Pirate Island Hotel
Each overnight stay includes a king-size bed, a children's sleeping area, a treasure chest in each room, a complimentary family-style breakfast, and access to the resort pool and Master Model Builder experiences.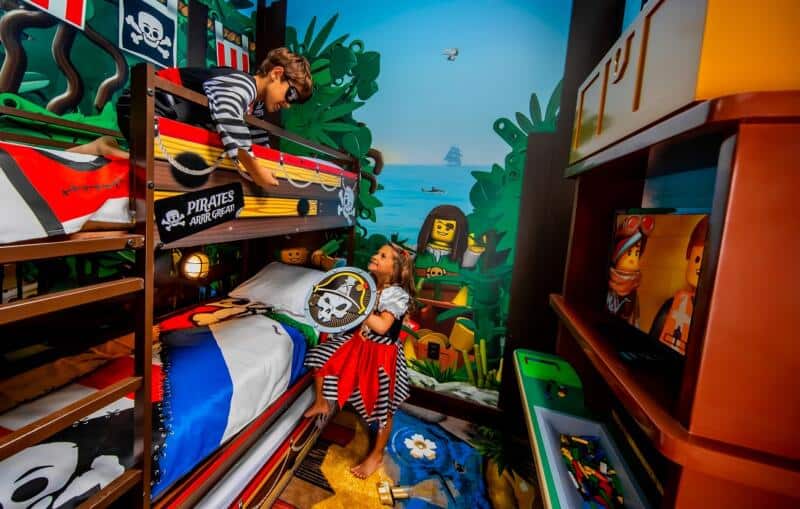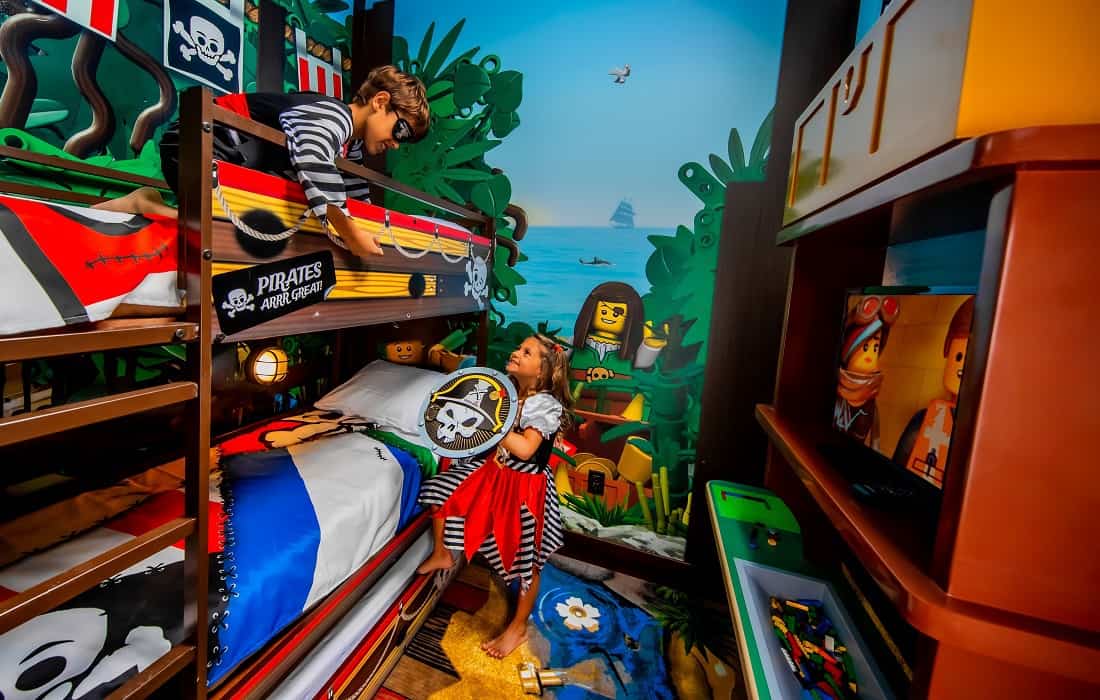 Photo Credit: LEGOLAND® Florida
Top Reasons To Stay at LEGOLAND® Pirate Island Hotel
Free breakfast daily
Complimentary self-parking for ye pirate crew
Located 130 pirate-steps away from LEGOLAND Park
In-room treasure hunt with daily LEGO® treasures
Separate sleeping space (with bunk beds!) for young bucs
Nightly kid's pirate entertainment
Free LEGO Master Model Builder Workshops
Heated resort-style pool
All ye-can-feast family-style dining
LEGOLAND® Hotel
LEGOLAND Hotel is a 5-gazillion star hotel located just steps from the theme park entrance. The hotel features 152 rooms and suites, each with its own immersive LEGO theme designed just for kids. Amenities include a FREE breakfast buffet, resort pool, nightly entertainment, character meet-and-greets, and in-room treasure hunts, plus much, much more!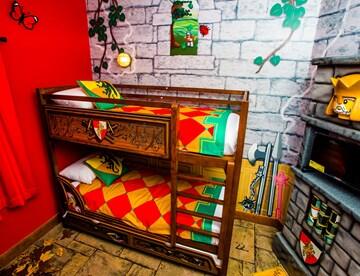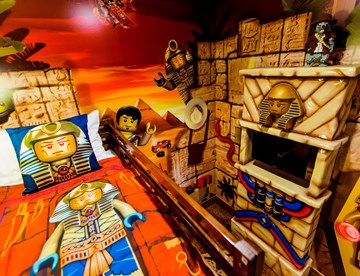 Photo Credit: LEGOLAND® Florida
Top Reasons To Stay at LEGOLAND® Hotel
Daily complimentary breakfast buffet daily
No charge for self-parking
It is located 130 kid-steps away from LEGOLAND Theme Park.
Separate kid's a sleeping area in EVERY room. Choose from one of our themes – Kingdom, Adventure, Pirate, LEGO Friends, or The LEGO® MOVIE™.
In-Room Scavenger Hunt with LEGO® prizes EVERY DAY
Nightly kid's entertainment
Free LEGO Master Model Builder Workshops
Heated resort-style pool
Dinner options at Shipwreck Restaurant or Skyline Lounge
All rooms include:
King bed in the adult sleeping area
Kids' sleeping area with bunk bed, pull out trundle bed, and entertainment unit
Welcome Treasure Hunt with LEGO® prize
LEGO bricks to build with during your stay
Two high-definition flat panel TV's with complimentary On-Demand content
Air conditioning
Mini-fridge and Keurig® Brewing System
Wi-Fi access
Hairdryer
Complimentary toiletries
In-room safe
LEGOLAND® Times Newspaper
LEGOLAND® Beach Retreat
LEGOLAND Beach Retreat features a village-style layout with 83 beach-themed bungalows offering 166 separate rooms, each with whimsical LEGO® décor inside and out. The brightly colored bungalows are grouped into 13 sections, each named after a popular LEGO Minifigure, including Shark Suit Guy, Ocean King, and Sea Captain. Each center around an outdoor play area with fun and challenging elements, all within view of the bungalows' shaded patios, where parents can put their feet up, kick back and relax while kids play.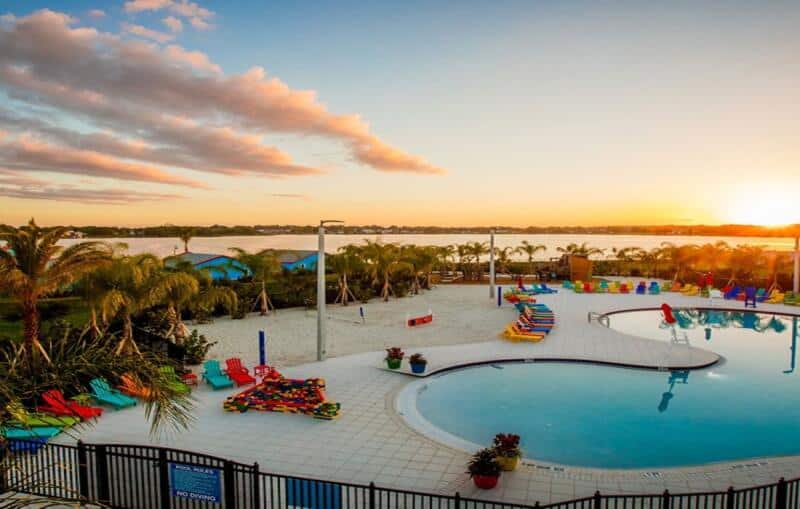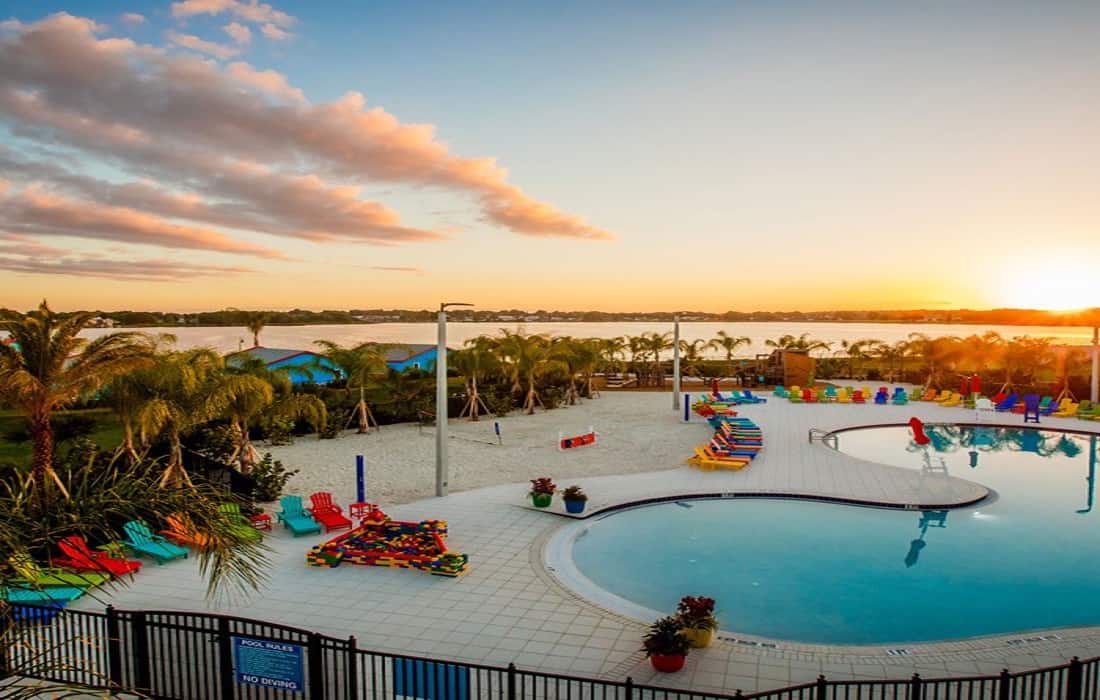 Photo Credit: LEGOLAND® Florida
Top Reasons To Relax at Beach Retreat
Free breakfast daily
Complimentary self-parking & transportation to LEGOLAND Theme Park + Water Park
Separate kid's a sleeping area in EVERY room
Resort-style pool with lake views
Kid's outdoor play area in every cove
Lunch and dinner are served daily
Full-size bar
Parking At LEGOLAND Florida
First of all, if you stay at any of the onsite resorts, Parking is free. If you stay at a partner hotel, a complimentary shuttle service is included! If you are visiting for the day, then LEGOLAND has a substantial onsite parking area where visitors can park their vehicles.
Parking Prices:
Standard Parking: $23
Preferred Parking: $33
Camper/RVs: $24
Motorcycles: $10
Buses and bicycles are free. In addition, there are parking spaces are available near the park entrance for strollers and wheelchairs. Re-entry is available during the same-day visit if you have a valid parking stub.
Attractions & Fun Rides
LEGOLAND rides are built for kids. Along with fifty fun rides, the park offers interactive shows and brick-tastic attractions inspired by the LEGO® brand and a LEGOLAND water park. The activities are divided into three sections based on age:
Duplo Valley for the kids under 5
Thrill rides that younger kids can't tackle
Rides for everyone
Let's Take You On A Virtual Tour
Acquazone Wave Racers: Kids love playing with water, and thus the aquaplane wave racers are fun for them. Your little one can race against the waves at Acquazone.
Coastersaurus: Let your kid experience the wild ride through the jungles and dip into an animated pre-historic wilderness while witnessing life-sized LEGO®-brick dinosaurs.
Build Your Art Gallery: LEGOLAND offers interactive and educational fun. Build Your Art Gallery gives your kid the chance to experience creativity through LEGO® tiles to create masterpieces.
Flying School: The suspended coaster will take you for a ride up in the sky, soar through the clouds then bring you back to land!
LEGO® Ninjago World: The Ninjago World gives your kids a golden opportunity to be a superhero for one day. They can blast the villains with fireballs and lightning to defeat a powerful foe finally.
Ford Driving School: Get your kid a personalized LEGOLAND driving license. Let them hit the road by pretending to be a policeman, firewomen, and more.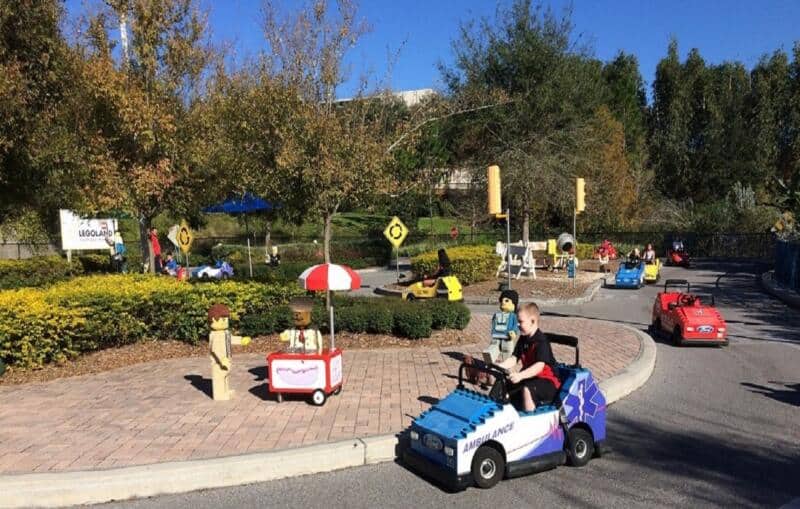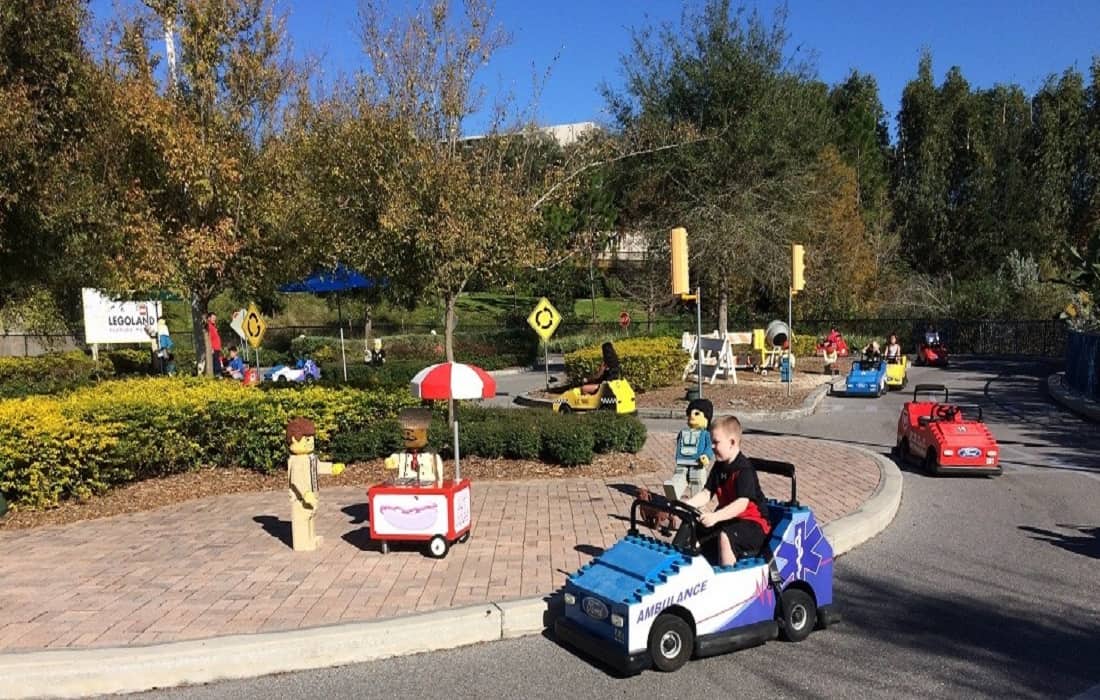 LEGOLAND Florida Water Park
The LEGOLAND Florida water park is located inside LEGOLAND. Admission is not automatically included with a ticket to the park. You need to purchase a combo ticket to access the water park.
Legoland water park closes in October due to winter and reopens in March again – so plan you're itinerary accordingly.
Legoland's' waterpark is only available to guests of Legoland Florida Resort. Stated, you can not visit the waterpark and not the theme park.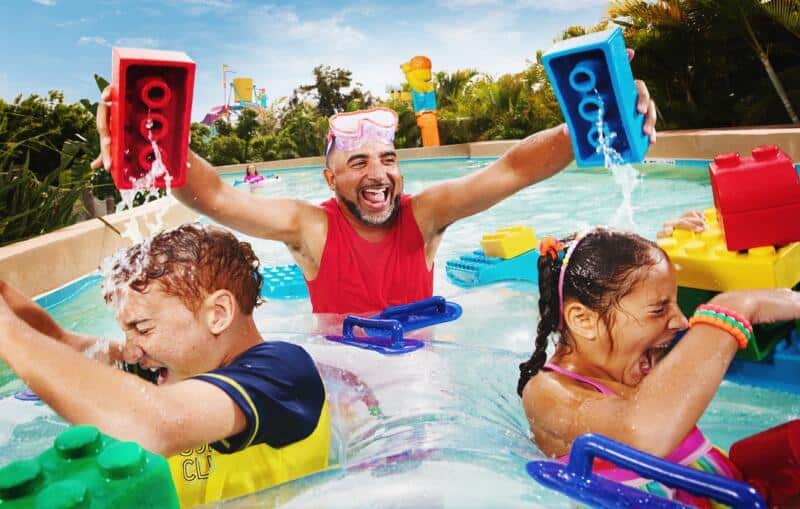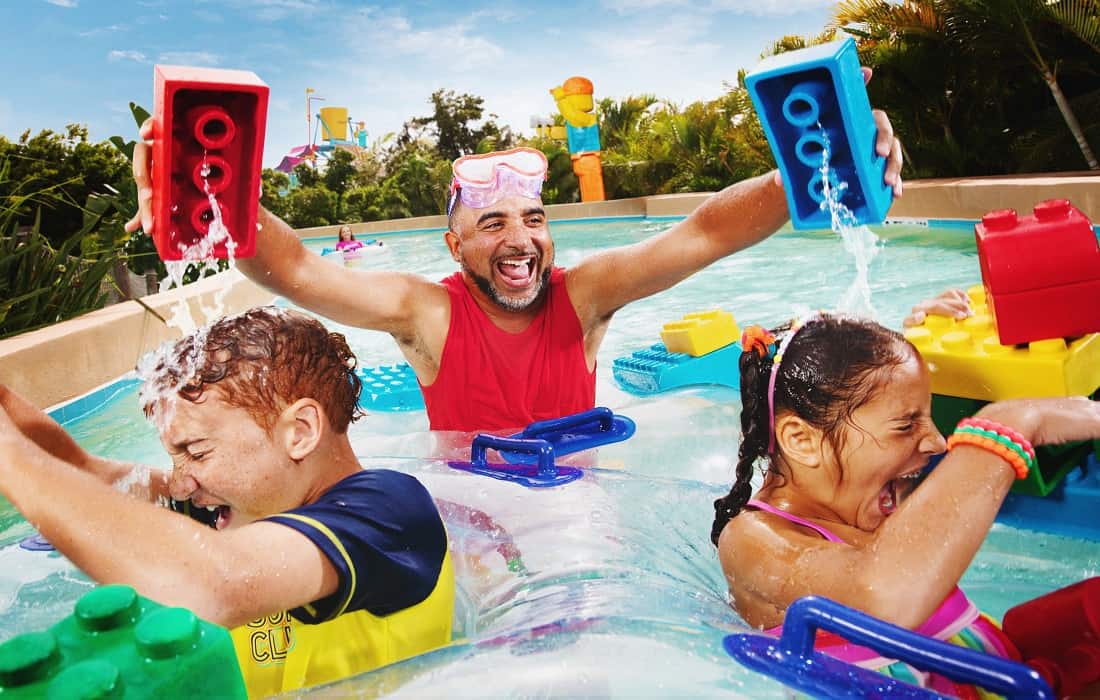 Photo Credit: LEGOLAND® Florida
There are seven rides and attractions in the Water Park. Depending on how you'd' like your day to flow, you could stay all day or just for a few hours to cool off. Plan to bring clothes to re-enter the park as swimsuits are not allowed in the central park. Lockers and cabanas are available for rental. Be sure to check the dates as the Water Park is open seasonally.
Pro Tip: The water park frequently hits capacity in the summer. If you have your heart set on the water park go there first to avoid any waiting in line to get in.
Water Park Attractions:
Build a boat
Build a raft river
DUPLO Splash Safari
Joaker Soaker
LEGO Wave Pool
Splash Out
Twin Chasers
LEGOLAND Florida Vacation Packages
If you plan a multi-day trip, it would be better to buy a LEGOLAND Florida vacation package. There are three packages to choose from. And all have different prices and include various perks.
Standard Family Vacation Package
All-Inclusive Package
Book Early & Save Package
Dining at LEGOLAND Florida
There are over fourteen restaurants to choose from in LEGOLAND. You will find something for any appetite. LEGOLAND has everything from apple fries, cheeseburgers, pizza, muffins and cakes, ice cream parlors, to hand-breaded chicken tenders. If you have any special dietary needs, let them know in advance. Consequently. LEGOLAND will be more than happy to accommodate your unique needs!
Annual Passes
LEGOLAND offers different types of annual passes. You can pre-book tickets ahead of time online or annual passes from their website. And, they also offer promotions for Floridians. Occasionally, they have a special for $99 per person per year, which just can't be beaten. You only have to attend twice to make it a no-brainer.
Christmas At LEGOLAND Florida
As with any theme park in Florida, the holidays are special. For example, during the Christmas season and see trees and reindeer created from LEGO!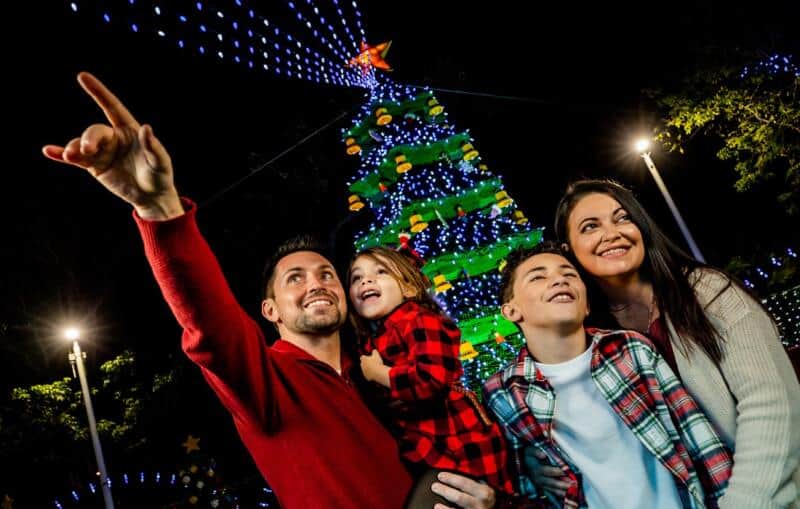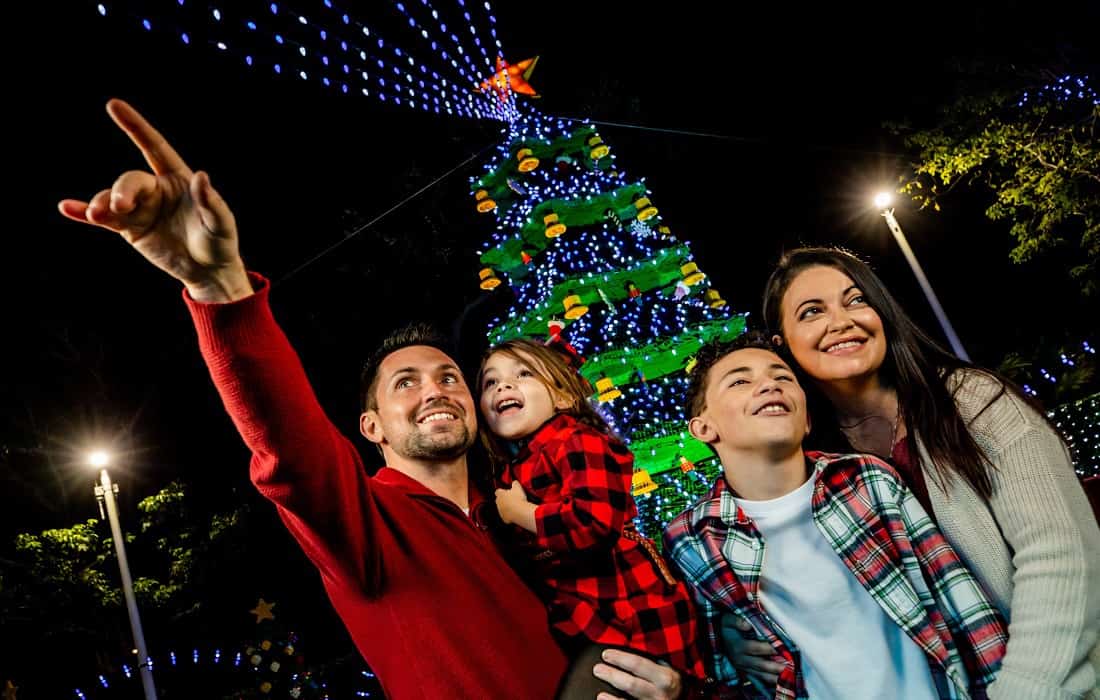 Photo Credit: LEGOLAND® Florida
Halloween At LEGOLAND Florida
Like any theme park in Florida, LEGOLAND celebrates in October. Their signature event is called "Brick or Treat" and happens every Saturday and Sunday in October. Don't miss the spookiest, kookiest trick-or-treating party of the year, Saturdays and Sundays, this October! Brick or Treat at LEGOLAND® Florida Resort returns with BOO-tastic fireworks and extended hours every event night. This kid-friendly event is the only time of year guests can meet only classic LEGO® monster characters, enjoy Halloween shows, and trick-or-treating to collect loads of candy during the ultimate kids Halloween celebration.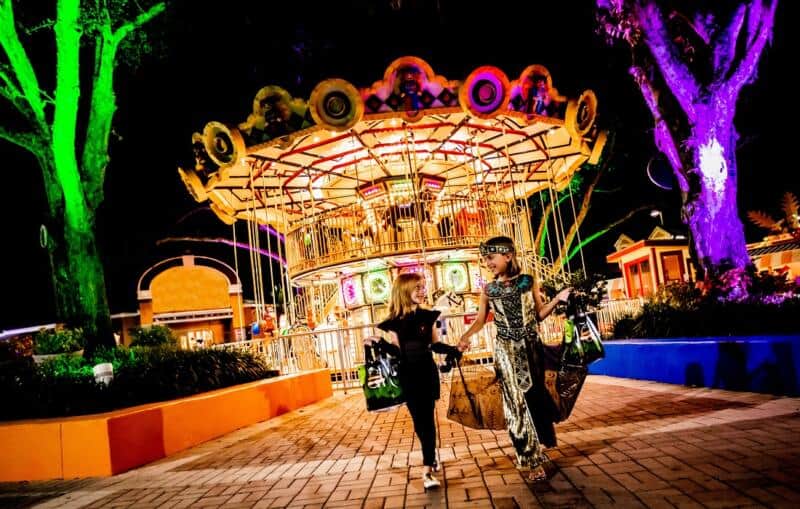 Photo Credit: LEGOLAND® Florida
Frequently Asked Questions
Is LEGOLAND worth the money? It can't be beaten for value! It's a fraction of the cost of Universal or Disney, and it's well worth the money.
Pepa Pig Theme Park
I bet you did not know that in 2022 the World's First Peppa Pig Theme Park will be opened just steps away from LEGOLAND® Florida Resort!
Step into the playful world of Peppa Pig for the ultimate day of adventure! Snort, giggle & play in a theme park, exclusively designed for "little piggies" with multiple interactive rides & attractions, themed play areas complete with "muddy puddles," water play, and fun live shows! Meet Peppa and her family on your child's best day ever as you make your first theme park memories together!
Closing Thoughts
Although many theme parks are available in Orlando, this Child-dedicated theme park is a fantastic adventure for families with young kids, similar to Municipal Rose Garden in San Jose. If you have a kid, who is not big enough to ride on a giant roller-coaster, Legoland Theme Park, Florida, is the best place to enjoy.
Looking for more things to do in Florida? Start here:
We are a participant in the Amazon Services LLC Associates Program, an affiliate advertising program designed to provide a means for us to earn fees by linking to Amazon.com and affiliated sites.
ravel Planning Resources
Looking to book your next trip? Use these resources that work:
Book your Hotel: Find the best prices on hotels; use Booking.com for the best deals.
Book your Flights: Find the best deals and prices on flights; Expedia.com for the best deals.
Find Apartment Rentals: You will find the lowest prices on apartment rentals with Booking.com's Apartment Finder.
Travel Insurance: DoDon't'eave home without it. Review our Travel Insurance Guide on how to pick and decide which travel insurance is right for you.
Are you interested in Volunteer Vacation and Working Holidays? Check out the complete guide to how here!
Need more help planning your trip? Check out our Resources Page, where we highlight all the great companies that we trust when we travel.