Durney Key: A Hidden Gem Of Pasco County, Florida
Durney Key is every water enthusiast's dream of playing Robison Crusoe for a day. Despite its accessibility, Durney Key seems to be a secret island paradise no one claims. And few people know this slice of heaven exists.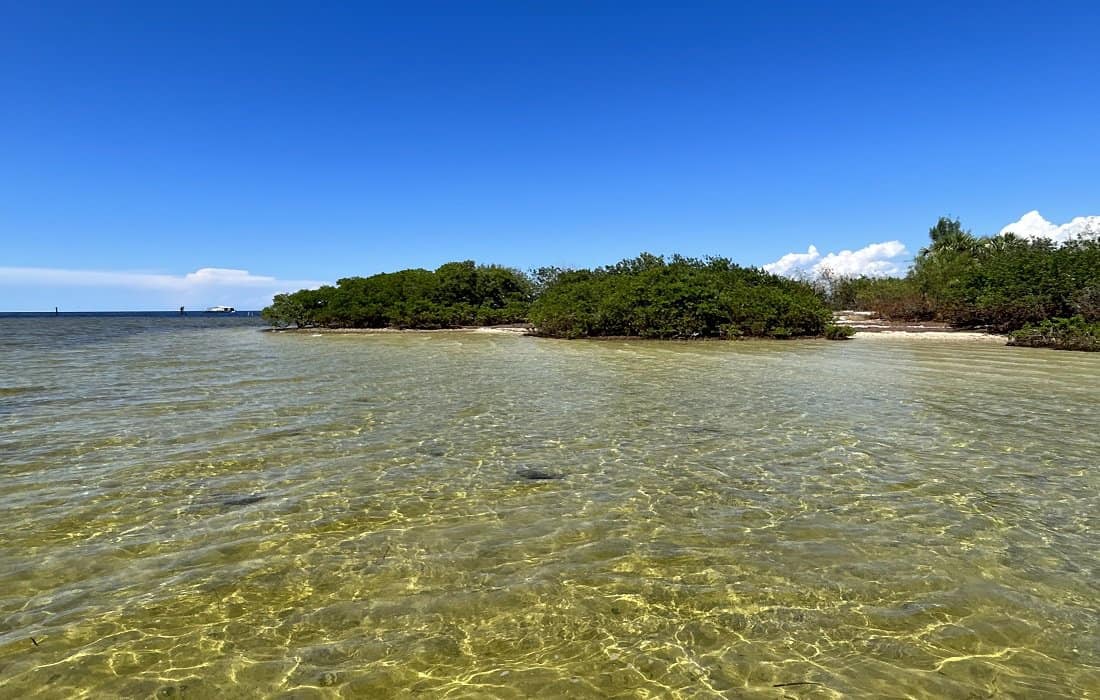 This post may contain affiliate links. Please read our disclosure and privacy policy for more information.
This small island has a sign that says the State of Florida owns it, but it isn't a park.
For those who know, it's a hot spot for those seeking a secluded getaway and a taste of island living. The island is accessible only by boat or kayak, adding to its exclusivity and charm.
The island's white sandy beaches, crystal clear waters, and lush vegetation make it a paradise for nature lovers. Visitors can enjoy swimming, snorkeling, fishing, and kayaking.
And you can also get up close and personal with The Stilt Houses of Port Richey, another of Pasco County's treasures.
History of Durney Key
Between 1967 and 1975, John Durney served as mayor of New Port Richey and Port Richey. Between 1978 and 1980, he served as mayor of New Port Richey and Port Richey.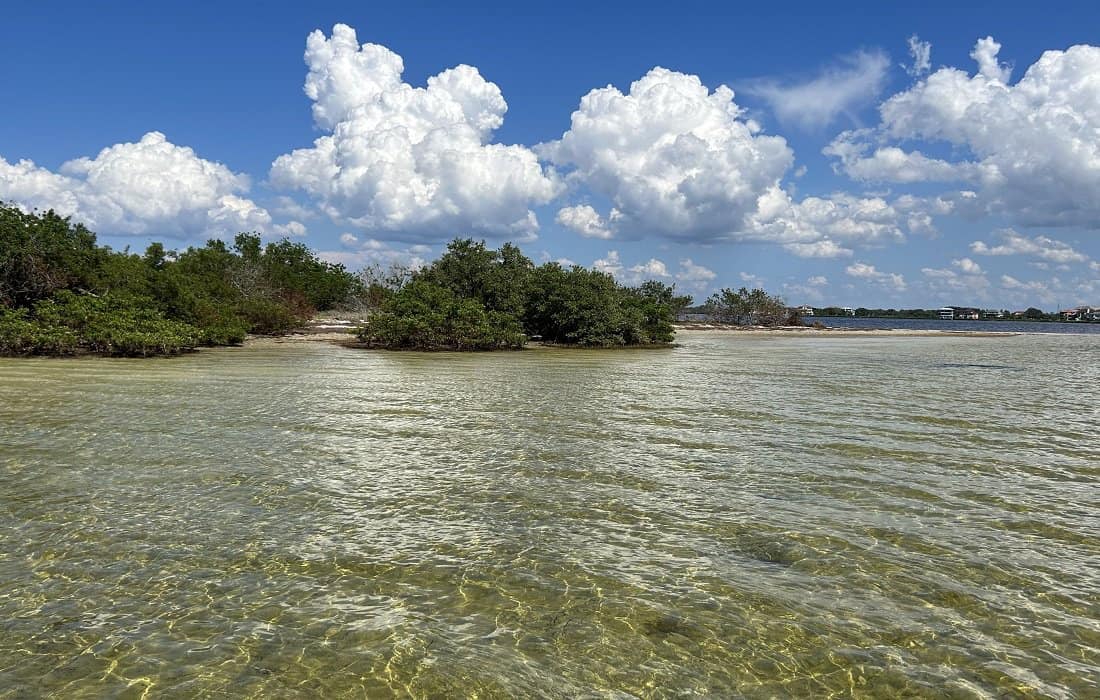 Durney Key is named after him. During his term as mayor, Pithlachascotee River was dredged to create a boat channel to the Gulf of Mexico. After completing the work, the spoil area was named Durney Key in honor of Mayor Durney.
Things To Do At Durney Key
Durney Key is not a park or preserve, so recreational activities are limited.
Shallow waters surround the island, making it ideal for swimming, snorkeling, and scuba diving.
A lovely white sand beach can be found on the Gulf side. Clear water and a firm bottom are the main characteristics of this area.
The surrounding waters are home to diverse marine life. You will see stingrays and, if you are lucky, turtles.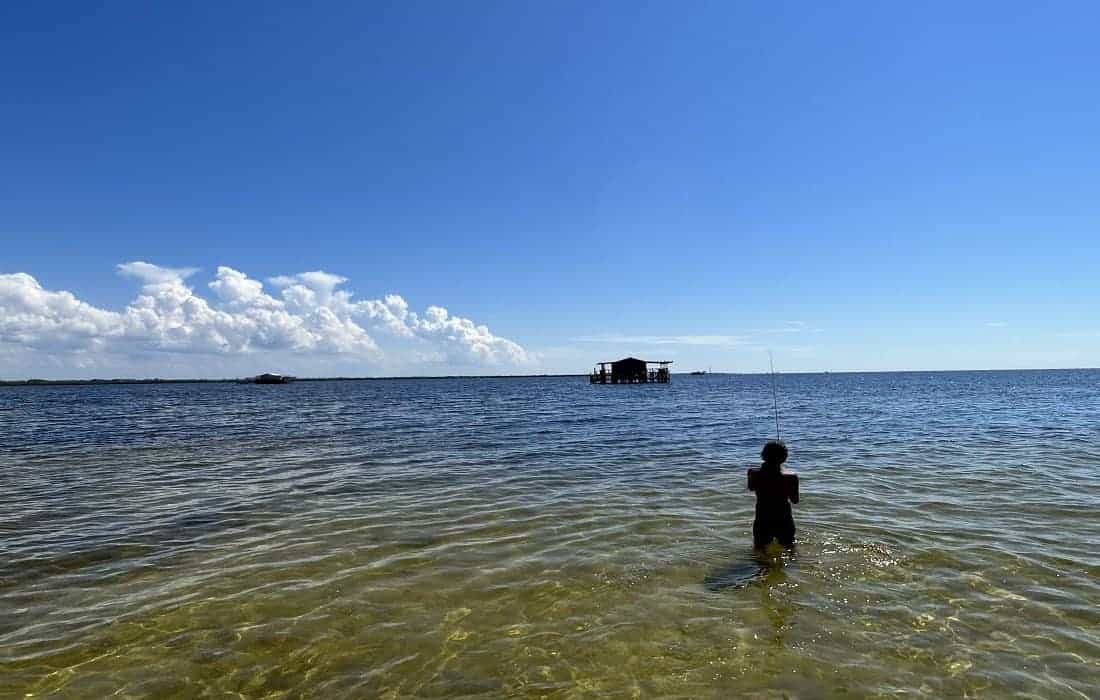 Visitors can also explore the island's mangrove forests and tidal flats, which provide habitat for various bird species and other wildlife.
The main lure of Durney Key is basking in the sun on the ocean on an island.
The Stilt Houses of Pasco County
The Stilt Houses of Pasco County overlook the Gulf of Mexico in both directions of Durney Key. Today, nine of the original buildings from the early 1900s still exist.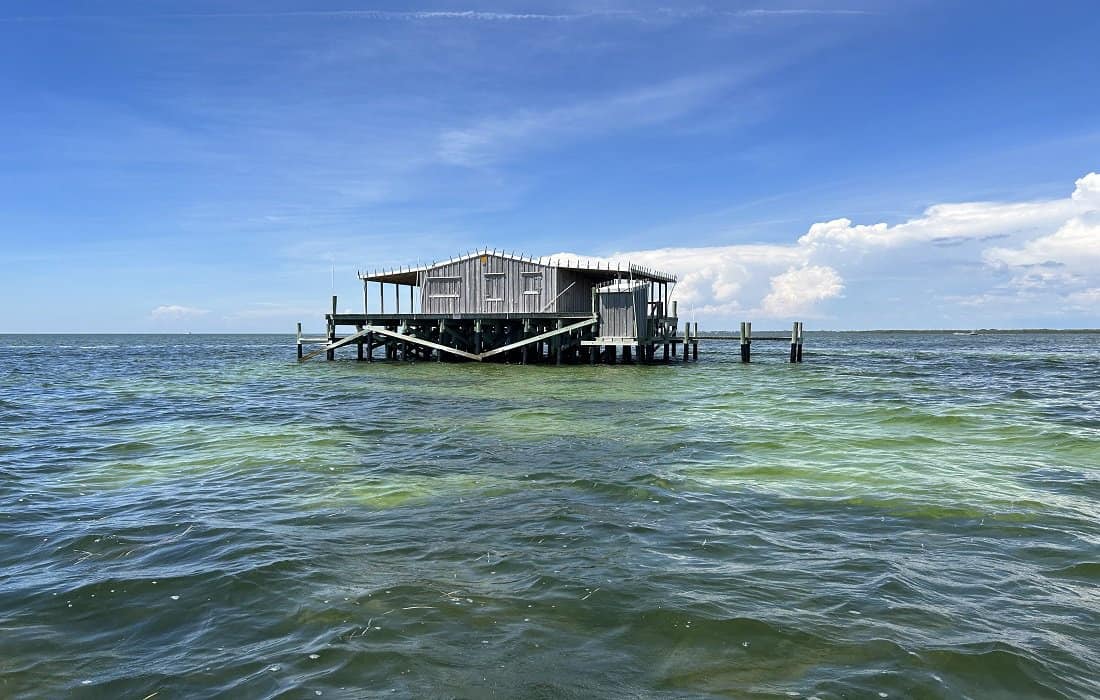 All of the houses are privately owned. You can explore the nearby places if you have a paddle or snorkel. Note: It is not permitted to climb onto the homes.
How To Access Durney Key
The island is situated at the mouth of the Pithlachascotee River, which empties into the Gulf of Mexico.
You need a watercraft to reach the Durney Key. Brasher Park, located at the west end of Koons Road in Port Richey, is the closest place to launch a canoe or kayak.
Off US19, Werner-Boyce Salt Springs State Park is also an excellent place to launch a kayak.
There are several places, from Hudson Beach to Port Richey, where motorboats can be launched.
I take my boat down to Burney Key from Hernando Beach. It takes about 45 minutes to get there and is a straightforward drive.
Durney Key Tide Chart
You must check the tide charts before heading out because you can only access Durney Key by watercraft.
You can check the tides here: Durney Key Tide Chart
Wildlife At Durney Key
Durney Key is part of the more extensive Cotee River Estuary system, home to various plant and animal species. The estuary is an essential habitat for many fish, birds, and other wildlife species. The island provides nesting habitat for several species of birds, including pelicans and herons.
The surrounding waters are also home to marine life, including sea turtles, dolphins, and manatees. Visitors must respect the natural environment and avoid disturbing any wildlife they encounter.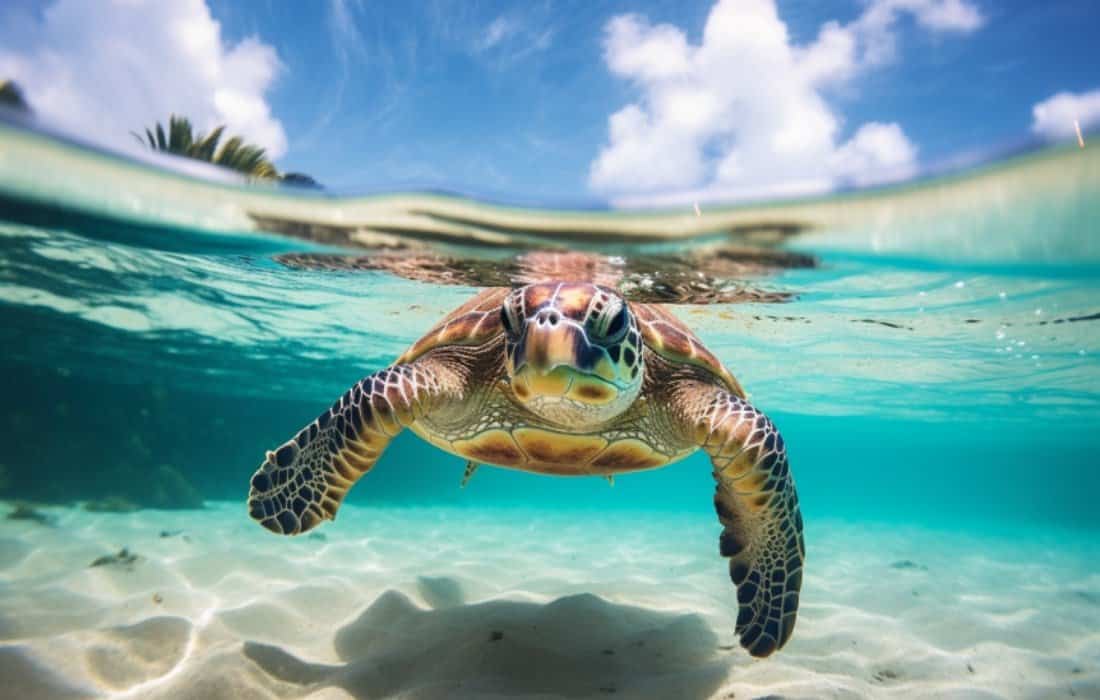 One of the most notable environmental aspects of Durney Key is its mangrove. Mangroves are vital to the island's ecosystem, providing habitat for many marine life, including fish, crabs, and shrimp. The mangroves also help to stabilize the island's shoreline, reducing the impact of storms and erosion.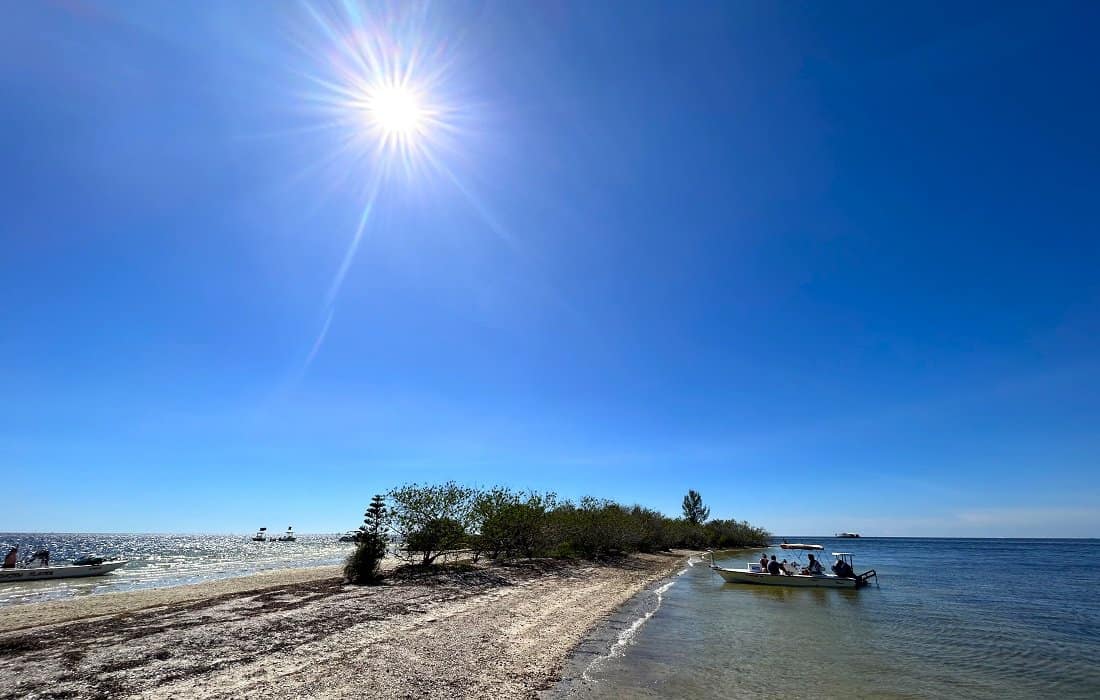 Another important environmental aspect of Durney Key is its seagrass beds. Seagrass is an essential food source for marine animals, including manatees and sea turtles. The seagrass beds also help to maintain water quality by filtering pollutants and sediment from the water.
Camping On Durney Key
You can camp on Durney Key. Camping on the island does not require a permit or permission. It's also completely free. If you plan to camp on a weekend, come early for a shaded tent site.
Can You Consume Alcohol At Durney Key?
You can legally consume alcohol, have dogs, and do anything else.
How Big Is Durney Key?
It is approximately five acres in size and is mainly covered in mangroves.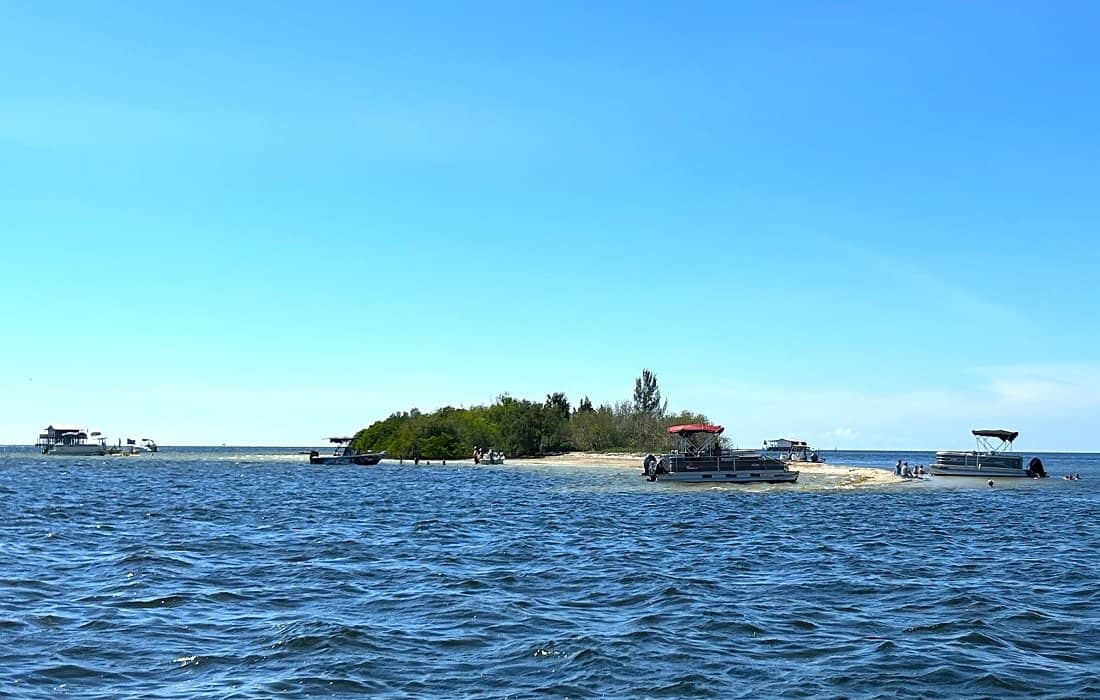 Where is Durney Key?
Port Richey, just a mile west of the Pithlachascotee River (Cotee).
How Far is Durney Key From The Mainland?
A kayak or boat is the only way to reach this island – about a mile off the coast.
Closing Thoughts
If you are visiting Florida's west coast, Durney Key is a hidden gem that offers a unique and unforgettable vacation experience.
All ages will appreciate the beauty of this island. And, if you go through the week, you'll have it to yourself!
Looking For More Local Things? Start Here:
We participate in the Amazon Services LLC Associates Program, an affiliate advertising program designed to provide a means for us to earn fees by linking to Amazon.com and affiliated sites.
Subscribe to our newsletter and get the best travel tips and inspirational stories delivered monthly. No spam, no sales pitches – TRAVEL!
Brit On The Move™ Travel Resources
Ready to book your next trip? Use these resources that work:
Need more help planning your trip? Check out our Resources Page, highlighting the great companies we trust when traveling.