The white sand of Clearwater Beach, Florida, is known worldwide. Visitors flock here for its soft, warm sand and crystal-clear waters. People enjoy walking the beachfront, catching a suntan, and basking in the tropical waters.
Clearwater Beach, Florida, is the northernmost barrier island in the United States and a popular vacation spot. Trip Advisor named it the nation's number-one beach in 2018, and it has been consistently ranked as one of the best beaches in the country.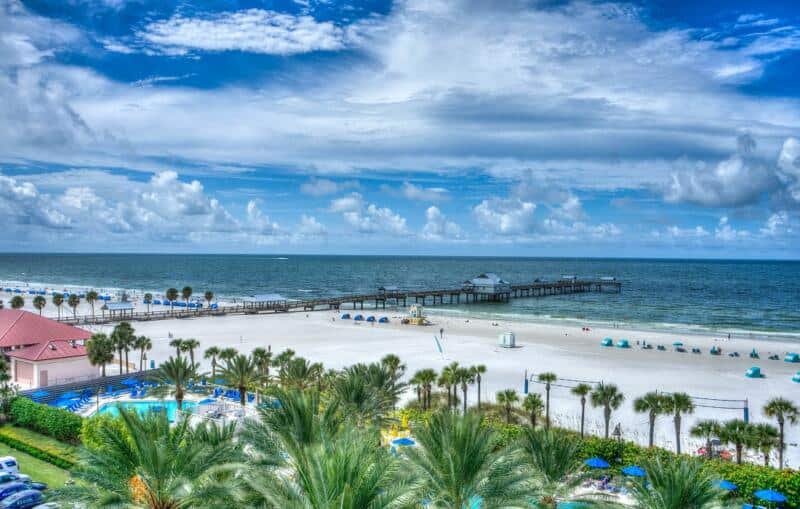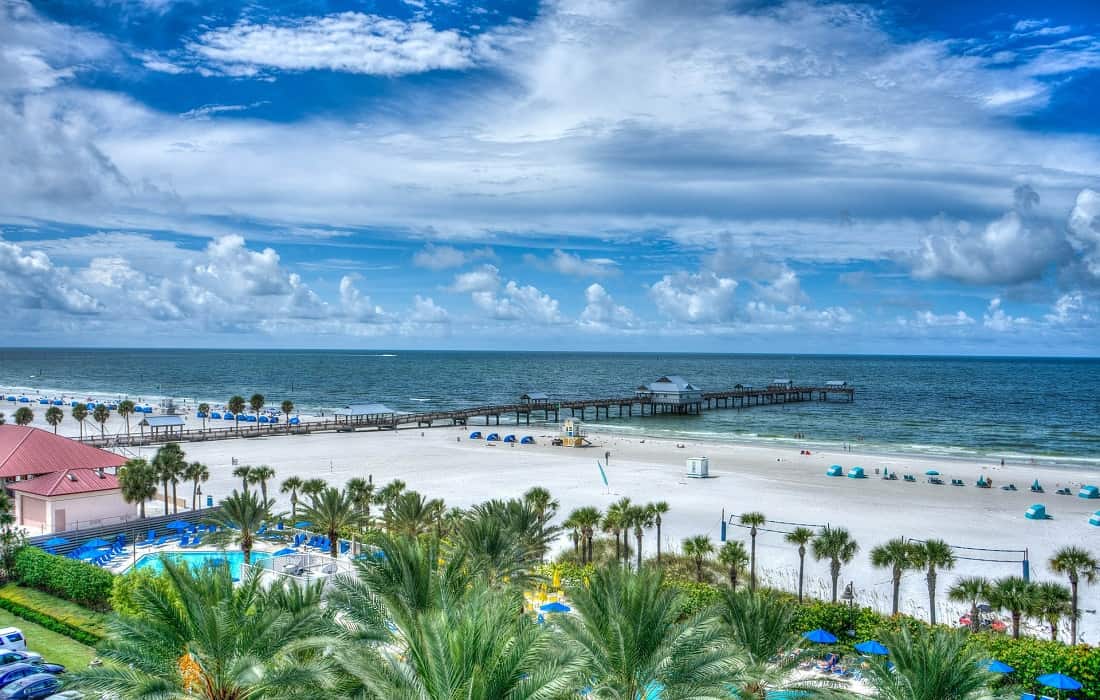 This post may contain affiliate links. Please read our disclosure and privacy policy for more information.
A Beach Day
The star attraction of Clearwater Beach, Florida, is the beach! It's what most people are here for. If you ask a local about the best beach in Florida, many will tell you it's Clearwater Beach, and for a good reason. Considered by many to be the "clearest" of all the beaches on the west coast, this beach is very tropical. Completely different from the east coast beaches, there is little to no surf, and the waters are typically calm.
Spending a day on the beach is as simple as packing a beach bag full of supplies and grabbing a spot. Or, you can rent beach chairs and umbrellas from local vendors.
Calypso Queen Tropical Party Buffet Cruise
The Calypso Queen offers daytime and evening Caribbean party buffet cruises from Clearwater Beach, Florida. You can buy a cruise-only ticket or a cruise and buffet ticket that includes complimentary beer, wine, rum punch, and soft drinks.
The Calypso Queen Tropical Party Buffet cruise is a tropical party on the water. This all-you-can-eat cruise is docked in Clearwater Harbor and features a live DJ and a fun, island-themed buffet. Whether you're looking to celebrate a special occasion or want to make entertain guests, the Calypso Queen is a tour that will delight any crowd.
Calypso Queen also offers a Gasparilla Pirate Parade And Festival tour. However this sells out way in advance of the January festival so be sure to book in advance.
The Calypso Queen is an air-conditioned, 65-foot vessel fully equipped with amenities. The ship has two climate-controlled dining levels. The cruise is comfortable, and the boat itself is immaculate. The food and drinks served are Caribbean-inspired and delicious. Guests will leave happy and full of energy.
Parking is available in the Marina. Be sure to arrive early to get a good spot.
Pier 60
Coming in at 1,080-foot-long, Pier 60 is world-famous. Many people fish from the pier, and some take in the ambiance. If you visit Pier 60, you are guaranteed to see pelicans and seagulls. You may even get lucky and see dolphins. Pier 60 is one of the most popular things to do in Clearwater.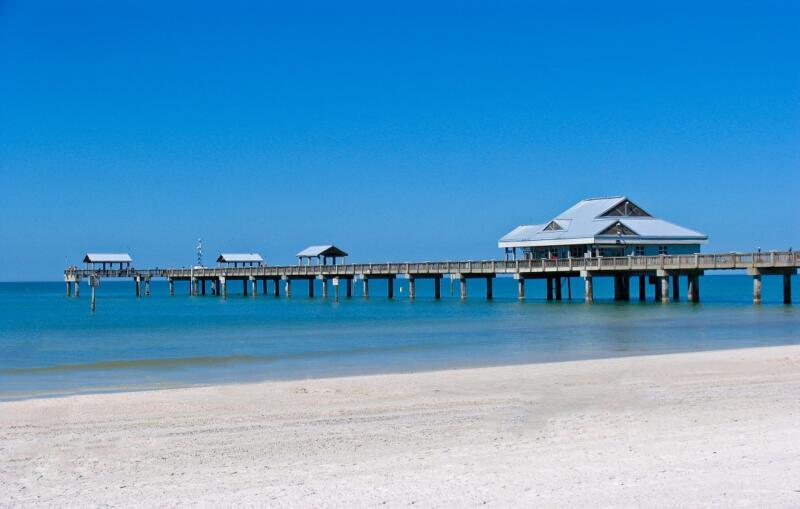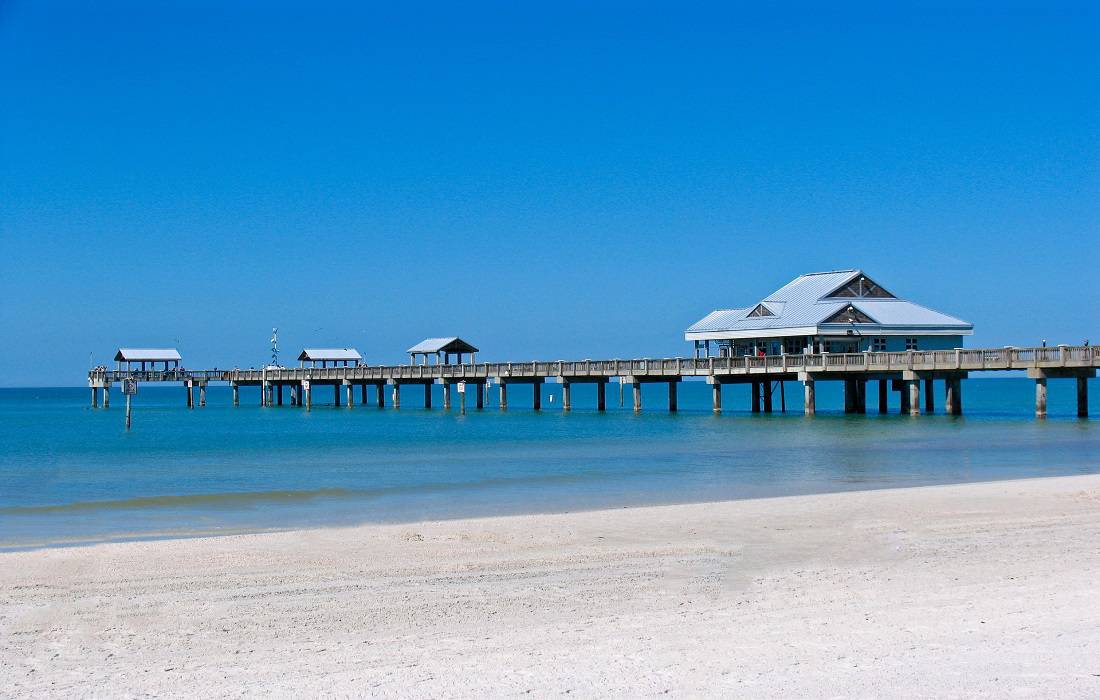 There are always street performers, and there is no shortage of nearby restaurants for you to choose from.
Busch Gardens
Busch Gardens is technically in Tampa but close to Clearwater Beach, Florida – about 40 minutes away. It is owned by SeaWorld and is a traditional theme park and zoo.
Loaded with white-knuckle roller coasters, there is plenty for every age group. Each section of the park is themed around African animals, and there are also shows to watch. One of my favorite things is riding the cable cars across the park and wildlife watching.
If you want a day off the beach and enjoy theme parks, this is a great day out.
Dolphin Watching
You will probably see dolphins while you are in Clearwater Beach, Florida. Even if you don't take a tour, they are everywhere. In the ocean and the intercoastal, there is no shortage.
If you want more than just a sighting, take a tour on the water with a local captain and let them find the dolphins.
Kayaking, Kitesurfing, or Paddling
Given how calm Clearwater Beach is, water sports are popular. You can rent a kayak, paddleboard, or kitesurfing gear or bring your own. If you are new to water-based activities, you can choose a professionally led experience and learn from the pros.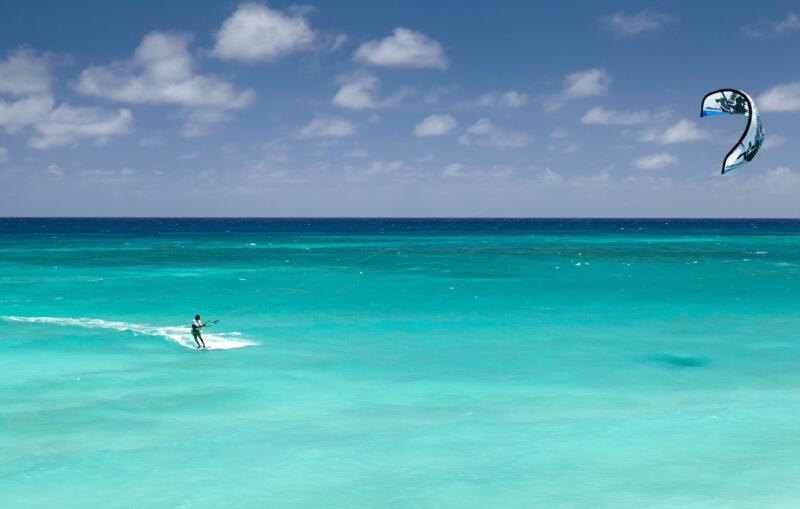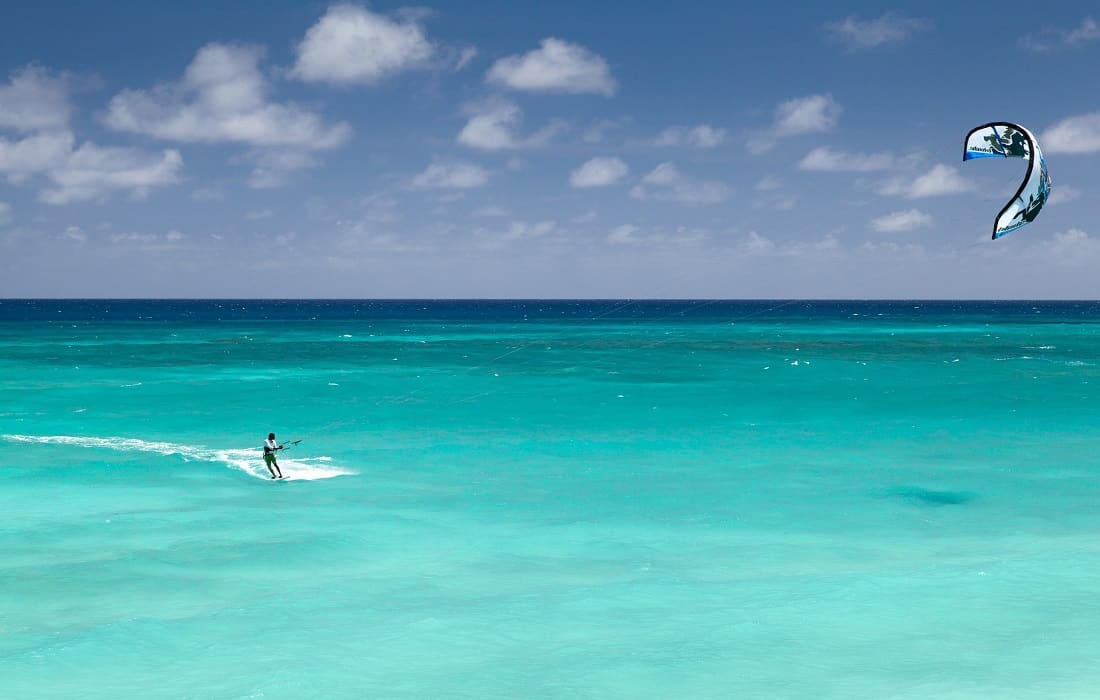 Adventure Island Water Park
This is the largest water park close to Clearwater Beach, Florida. Busch Gardens owns it, and you can buy combination or annual passes for both parks. The park has a 37,000-foot wave pool, a lazy river, and many waterslides.
Fishing
Florida is known as a fishing hub. People from all over the world travel to Florida to fish alone. Clearwater is home to various species, such as red snapper, king mackerel, and trophy fish like marlin. You can cast your line from a pier, on the beach, or take a fishing tour. You can also launch your boat if you have one!
Clearwater Marine Aquarium
Suppose you don't get your fill of aquatic wildlife while hanging out on the beach. Visit Clearwater Marine Aquarium and spend a day getting to know the resident dolphins, pelicans, eels, otters, and sea turtles.
This aquarium focuses on educating visitors about animal rehabilitation and rescue. And several kid-friendly touch tanks allow the little ones to interact with the wildlife.
Tampa Bay CityPASS
The Tampa Bay CityPASS allows you to save money on Tampa Bay attractions by giving you unlimited access to five of the best.
This pass includes admission to:
Clearwater Marine Aquarium

Museum of Science & Industry or

The Tropics Boat Tours Dolphin or Sunset Cruise
Tampa Bay CityPASS is flexible and lets you choose the attraction you want to visit first. Make the most of your Clearwater Beach, Florida, vacation by taking advantage of the city's many attractions and activities.
Cruisin' Tikis Clearwater – The Tiki Boat Cruise
This tiki boat cruise is a one-of-a-kind experience! This is, as stated, a tiki boat that floats slowly across the waters. Cruisin' Tikis Clearwater offers various cruises, from sandbars to sunset cruises, dolphin tours, and private charters! This experience is a "bring your booze" BYO gig, so prepare for that.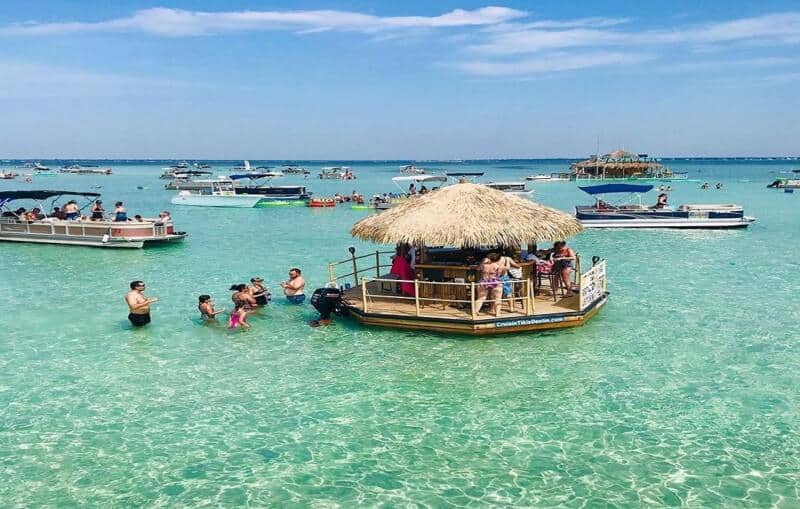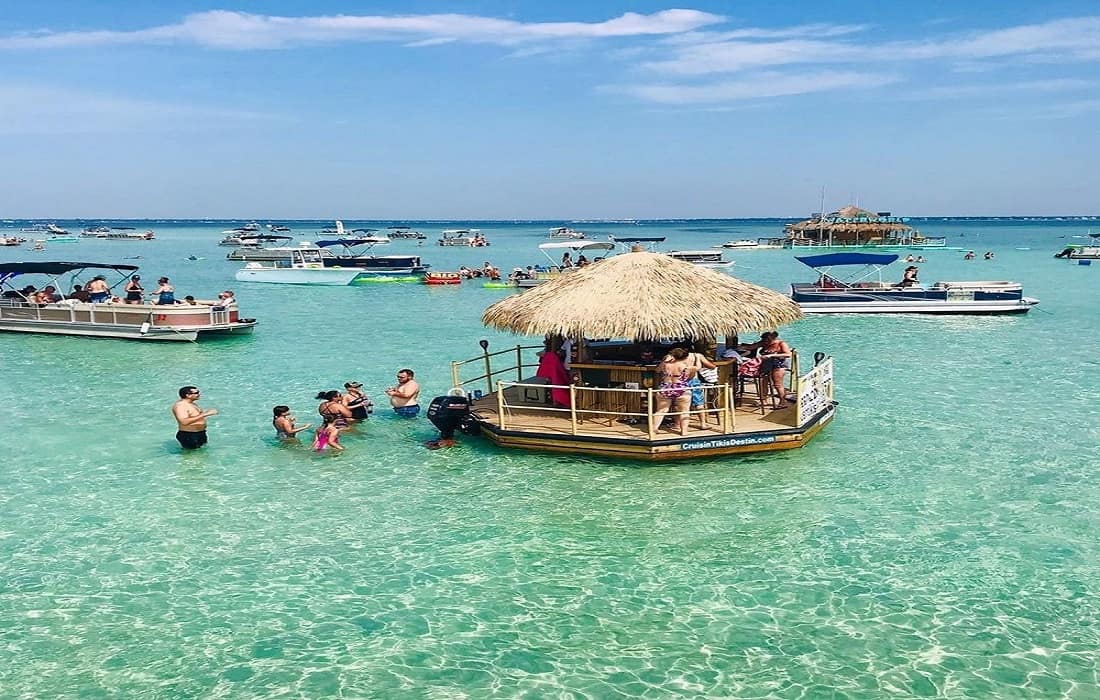 Image Credit: Cruisin' Tikis Clearwater
Skydive Indoors at iFLY
iFLY is a newer concept that mirrors skydiving. This is for the thrill seeker – think of jumping from a plane!
A giant fan propels the air tunnel in the skydiving room that throws massive vertical air at your body. This creates the same feeling as floating in the sky.
Rent A Private Boat
Who does not enjoy boating or being on the water? Like many other coastal towns, Clearwater has tons of boat rental options.
You can either rent a boat and be your captain or charter a boat with a captain.
Captain Memo's Pirate Cruise
The Tampa Bay area has a "thing" for pirates, and Clearwater is no exception. Captain Memo's Pirate Cruise is as close to the real thing as it gets. A pirate boat with crew-run activities like face painting, a treasure hunt, and water gun games.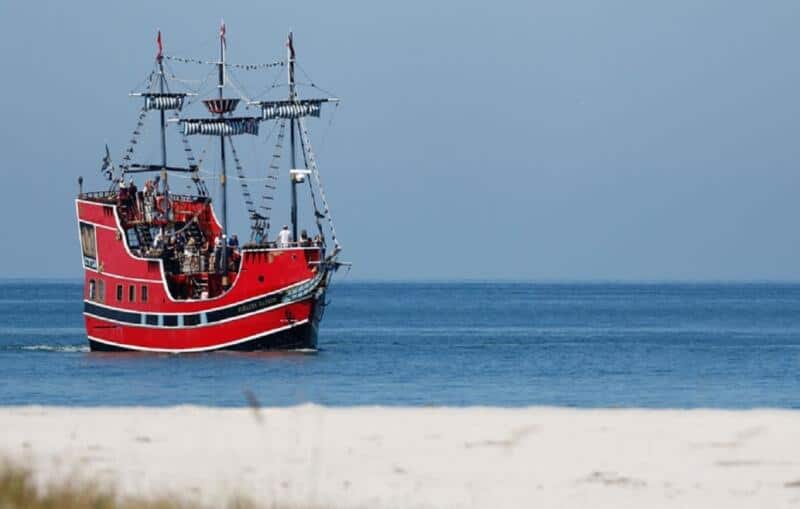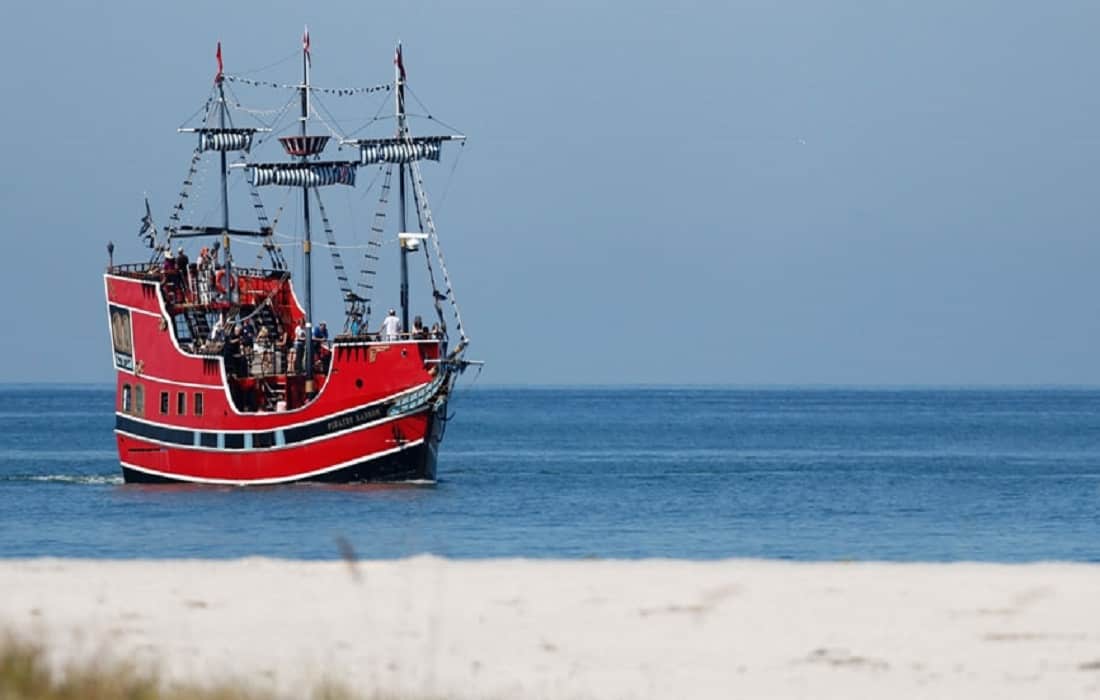 Image Credit: Captain Memo's Pirate Cruise
Clearwater Ferry
One of the best ways to see Clearwater from the ocean is to take the Clearwater Ferry. This boat tour stops at Dunedin, North Beach, Downtown Clearwater, and the Clearwater Marina.
Segway Tour
One of the unique ways to explore any place is by Segway. The Clearwater Segway Tour is an 8-mile loop around the Boardwalk area and Clearwater Beach.
Read more about what it's like to ride a segway here: Segway Tours – Daytona Beach Florida
Sand Key Park
The sweeping expanse of white sand at Sand Key Park gives visitors plenty of space for outdoor activities. Families can swim and play volleyball in this beautiful setting. A wide variety of water sports are popular in the area. There is also a playground for children. Sand Key is an excellent option if you're looking for a family-friendly vacation spot. You'll find lots of activities for the whole family to enjoy at the park.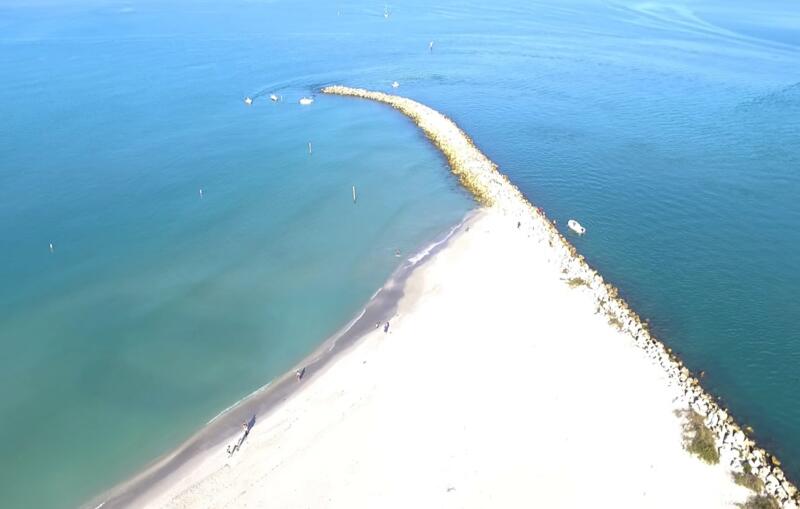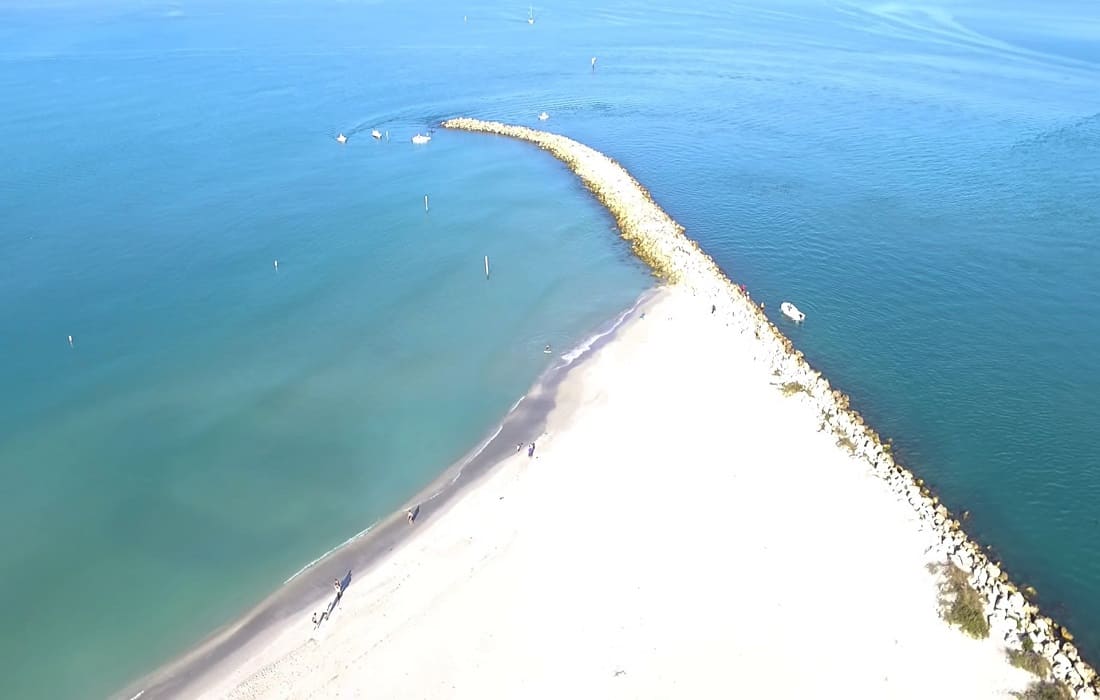 This beachfront park is also home to several concession stands and a nature trail. Parking at Sand Key is a snap, thanks to its flat daily fee of $5. It's also accessible to cars in nearby Clearwater. The sandy beach is a refreshing break from the densely populated central part of the beach.
The park is a great place to spend a day. There are trails and benches for viewing the marsh. It's also home to several birds and the endangered green sea turtles. The park is also a base for a program that helps create artificial reefs for recreational divers and anglers. The artificial reefs are only a few hundred feet offshore, making them accessible to many visitors. There's no shortage of activities and attractions in Sand Key Park.
Hotels in Clearwater Clearwater Beach, Florida
There is a plethora of hotels and resorts in the area. Clearwater Harbor Marina has unparalleled access to the Gulf of Mexico and Coachman Park. Most popular hotels are located on the beach and offer a wide range of restaurants and nightlife.
From beachfront luxury to family-friendly accommodations, there's a hotel for every budget and taste.
The Edge Hotel has been voted Clearwater Beaches' #1 Hotel by The Clearwater Beach Chamber of Commerce.
Voted 2018's Best Beach in the United States and #7 globally by TripAdvisor, Clearwater Beach is your premier destination for fun in the sun.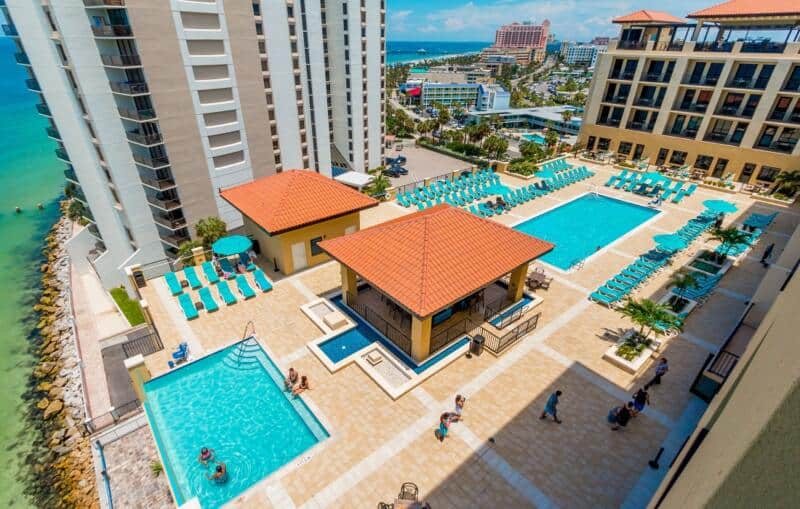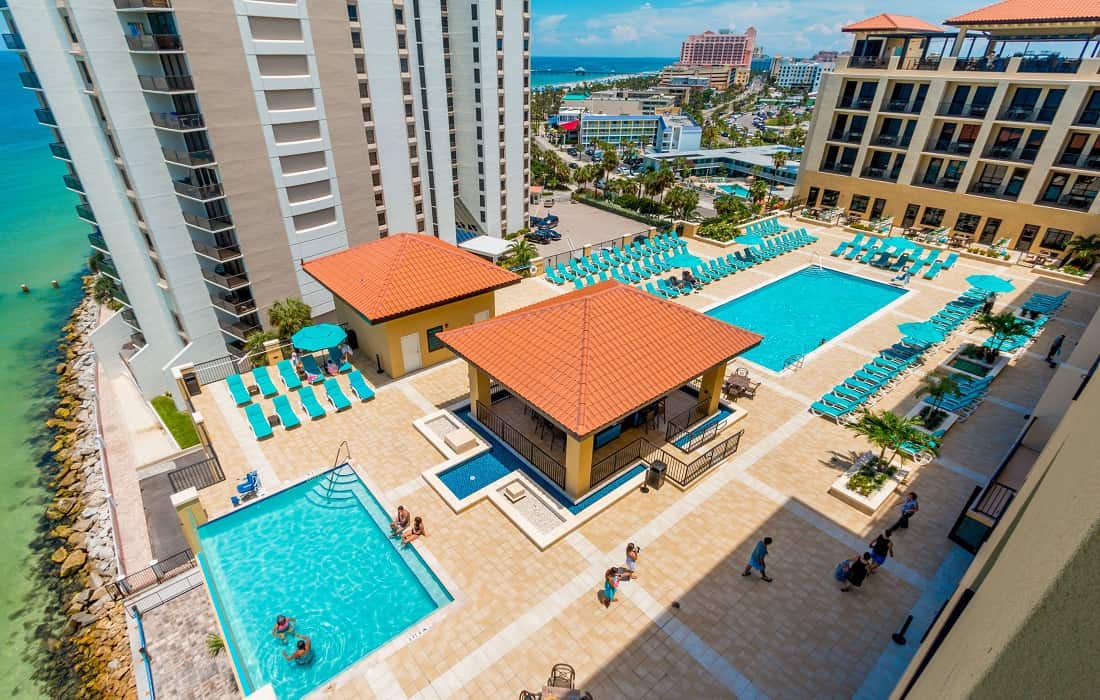 Image Credit: The Edge Hotel
Escape to a luxurious getaway of white sand beaches and modern luxury at the Edge Hotel, Clearwater Beach. Boasting well-appointed resort amenities, including a restaurant, two bars, and two pools, there's twice the fun at Edge Hotel Clearwater Beach. Whether you're joining the rooftop bar for drinks set against the backdrop of a coastal sunset, letting your troubles float over the Edge of the hotel's signature glass panel pool, or lounging in Key West-style on our sixth-floor gathering space overlooking the sundeck and sparkling blue pools, the Edge is the place to be.
Hyatt Regency Clearwater is a residential-like escape steps away from the Gulf and the famous Pier 60. Its deluxe suites offer a fully equipped kitchen, cable TV, and private balconies. Located right on the beach, this hotel is perfect for families. An easy drive to the main attractions in Clearwater. It has an on-site restaurant and a kids' club. It also has a large outdoor pool and free WiFi. You can even request to have breakfast on the beach!
The Hyatt Regency is an elegant and upscale hotel in Clearwater. The staff is friendly and helpful, and the rooms are comfortable and nicely furnished. This hotel is 25 miles west of Tampa and is ideal for families.
Voted 2018's Best Beach in the United States and #7 globally by TripAdvisor.
This hotel in Clearwater Beach is where the Mediterranean charm meets the warm waters of the Gulf of Mexico. A premier waterfront location puts you steps from Clearwater Beach. Enjoy miles of sugar sand beaches in a secluded resort-like environment with world-class amenities, rooms, and hotel suites.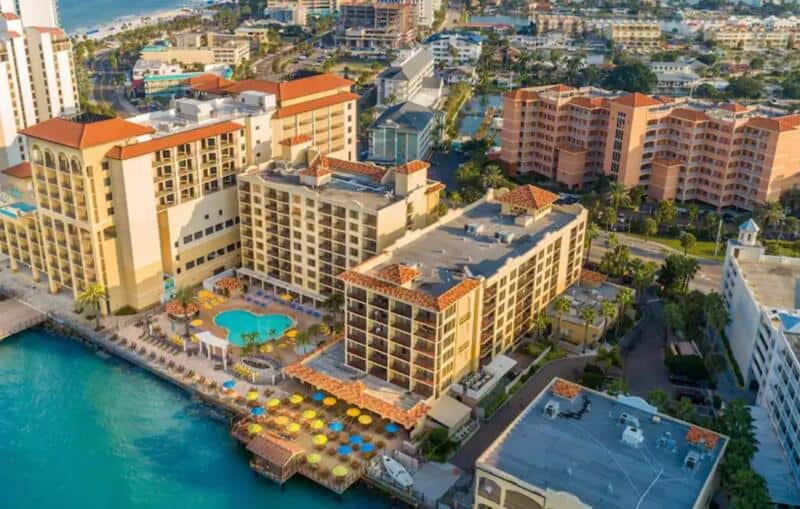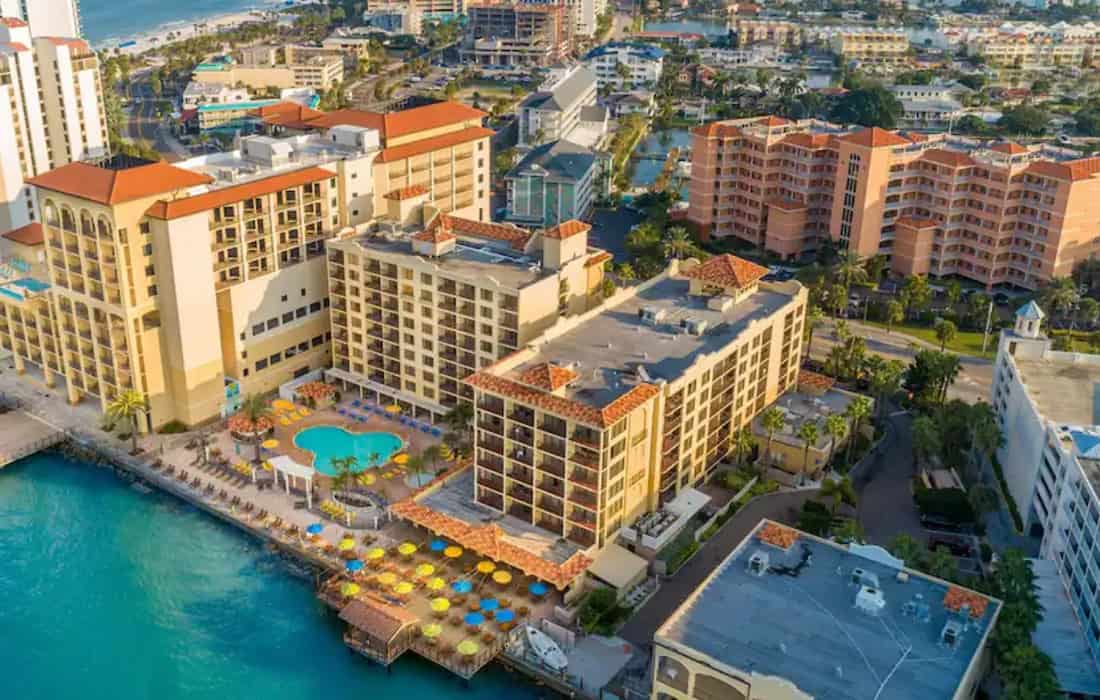 In the heart of Clearwater on 10 acres of beach property. Pier 60 is footsteps away and a mile from the Clearwater Marine Aquarium. The hotel features four beachside-covered decks, private cabanas, and a tiki bar on the sand.
Voted Condé Nast Traveler 2020 Readers' Choice Awards – Sandpearl Resort Voted in Top 30 Resorts in Florida
This award-winning Clearwater Beach resort reflects the casual elegance of Florida's Gulf Coast. There is a zero-entry pool to the beachfront fire pits that light up the night.
Wyndham Grand Clearwater Beach is the newest AAA 4 Diamond hotel lining the scenic Gulf shore.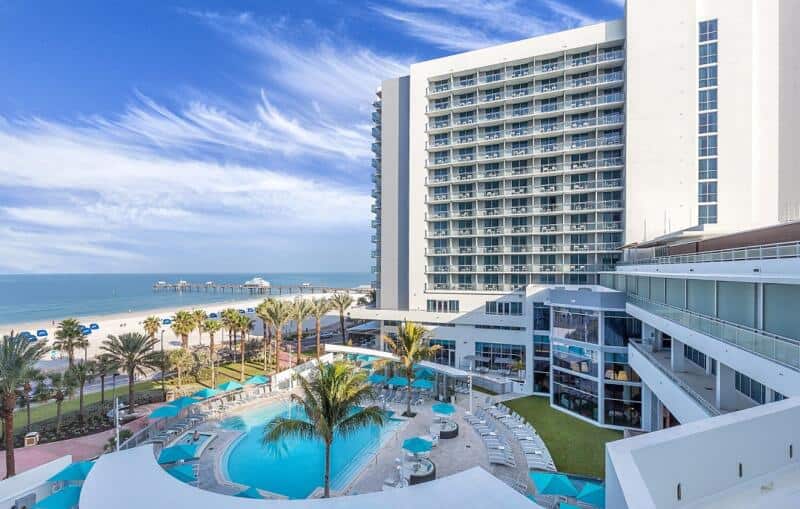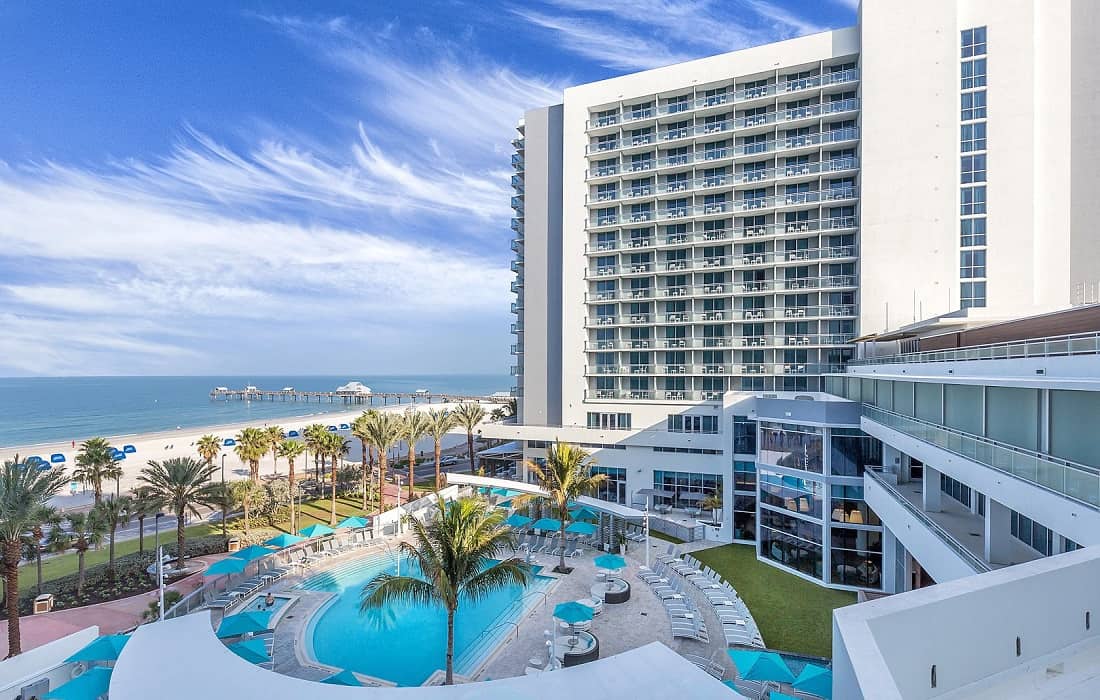 Image Credit: Wyndham Grand Clearwater Beach
FAQs About Clearwater Beach
What is unique about Clearwater Beach?
Its white sands and clear blue waters make Clearwater Beach one of the most popular beaches on the Gulf Coast. A visit to Clearwater Beach is not complete without seeing the sunset at the pier and the beaches. Swimming, boating, fishing, kayaking, and other beach activities are available on this barrier island.
Is Clearwater a lovely beach?
According to TripAdvisor, Clearwater Beach on Florida's west coast is one of the best family beaches in the country. There are many low-key restaurants, activities, a vast playground, and nightly shows here that will make your family enjoy their vacation to the fullest.
What is the best month to go to Clearwater, Florida?
October and December are the best months to visit Clearwater Beach. There are many holiday events to enjoy during these autumn months due to low humidity, fewer tourists, and fewer tourists.
Is Clearwater Beach swimmable?
Yes, but always keep the "Safe Bathing Limit" in mind. Buoys or pilings mark the area 300 feet west of the high water line. No boating or jet skiing is allowed inside the "Safe Bathing Limit" zone. Beaches that are open to the public do not allow animals.
Closing Thoughts
No matter how you spend your vacation, you'll find that Clearwater has something to offer everyone. During spring break, Clearwater Beach, Florida, can get very crowded.
The best thing about this beach is its atmosphere. It's kid-friendly. The atmosphere is energetic and laid-back, so you can enjoy a relaxing vacation while the kids play. The restaurants here are casual and fun.
Do not forget to bring accessories like a mobile, camera, and charger in your backpack to take beautiful pictures.
Looking for more posts on Florida? Start here:
We participate in the Amazon Services LLC Associates Program, an affiliate advertising program designed to provide a means for us to earn fees by linking to Amazon.com and affiliated sites.
Brit On The Move™ Travel Resources
Ready to book your next trip? Use these resources that work:
Need more help planning your trip? Check out our Resources Page, highlighting the great companies we trust when traveling.