Located on the waterfront of SunWest Mines, a former limestone quarry in Pasco County, SunWest Park is one of the county's favorites for families. SunWest Park features a beautiful artificial white sand beach and a 70-acre spring-fed lake. Southwest Pasco County is home to this water park, located just west of Old Dixie Highway, off Highway 19.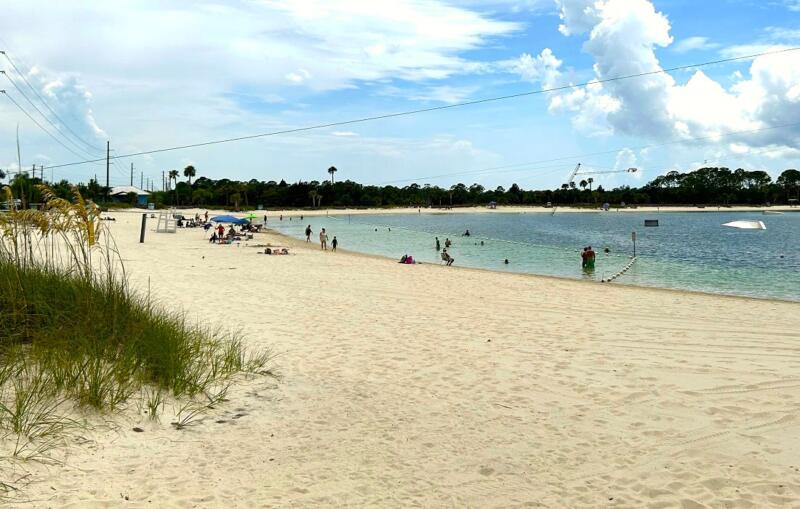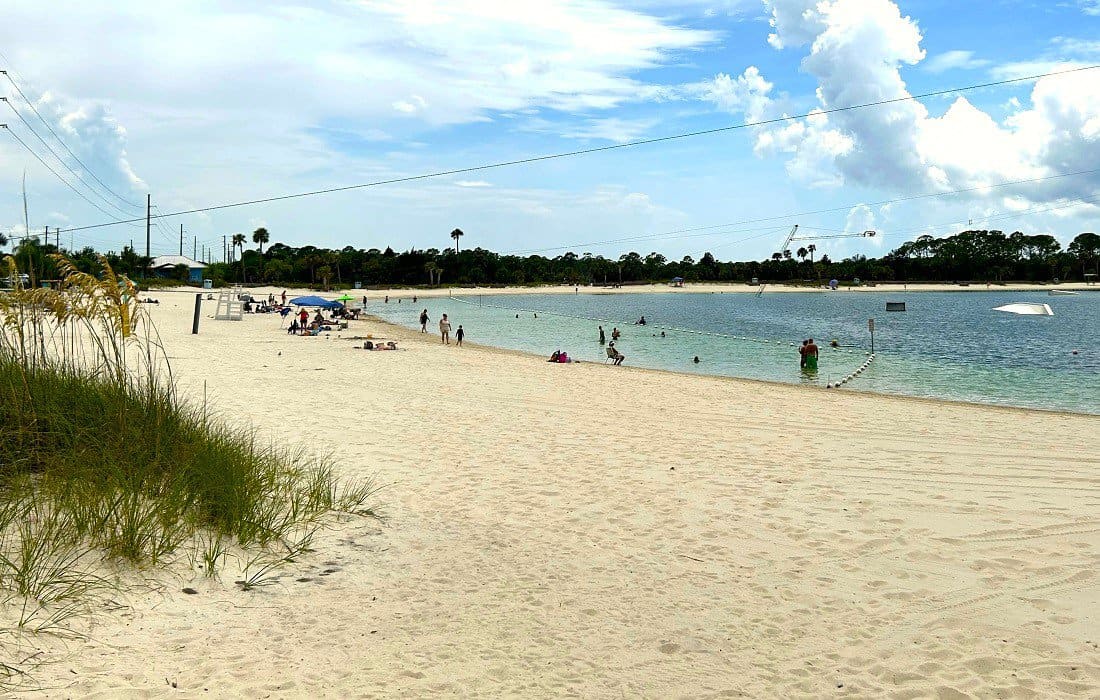 One of the main attractions of SunWest Park is its beach. The park features an artificial beach with white sand and crystal-clear water. Visitors can swim, sunbathe, and relax on the beach while enjoying the beautiful scenery. The beach area also includes a playground for children and a volleyball court for those looking to get active.
History of SunWest Park
SunWest Park is a recreational area in Hudson, Pasco County, Florida. The park opened in 2015 and has become a popular destination for locals and tourists. The park is on a former limestone mine closed in the 1980s.
In 2007, the Pasco County government purchased the land to create a park providing recreational opportunities for the community. The park was designed to offer a variety of activities, including swimming, kayaking, paddleboarding, and fishing.
Construction of the park began in 2012 and was completed in 2015. The park features a 70-acre spring-fed lake, the park's centerpiece. The lake is surrounded by a white sand beach, allowing visitors to relax and soak up the sun.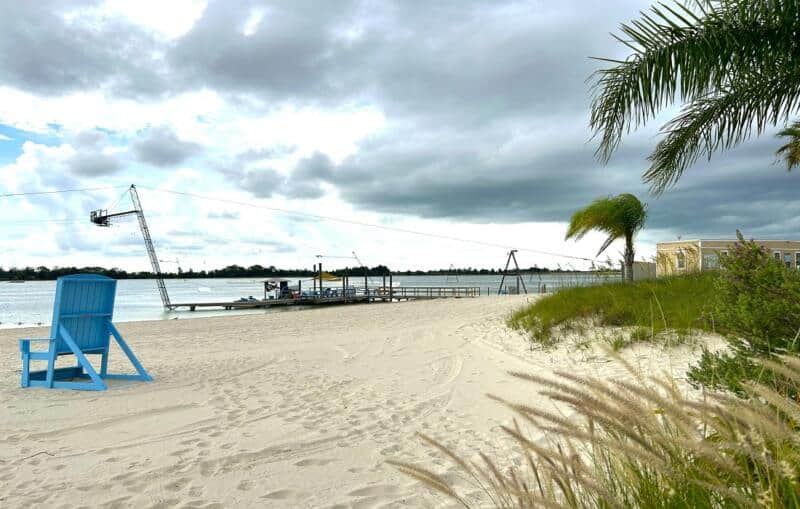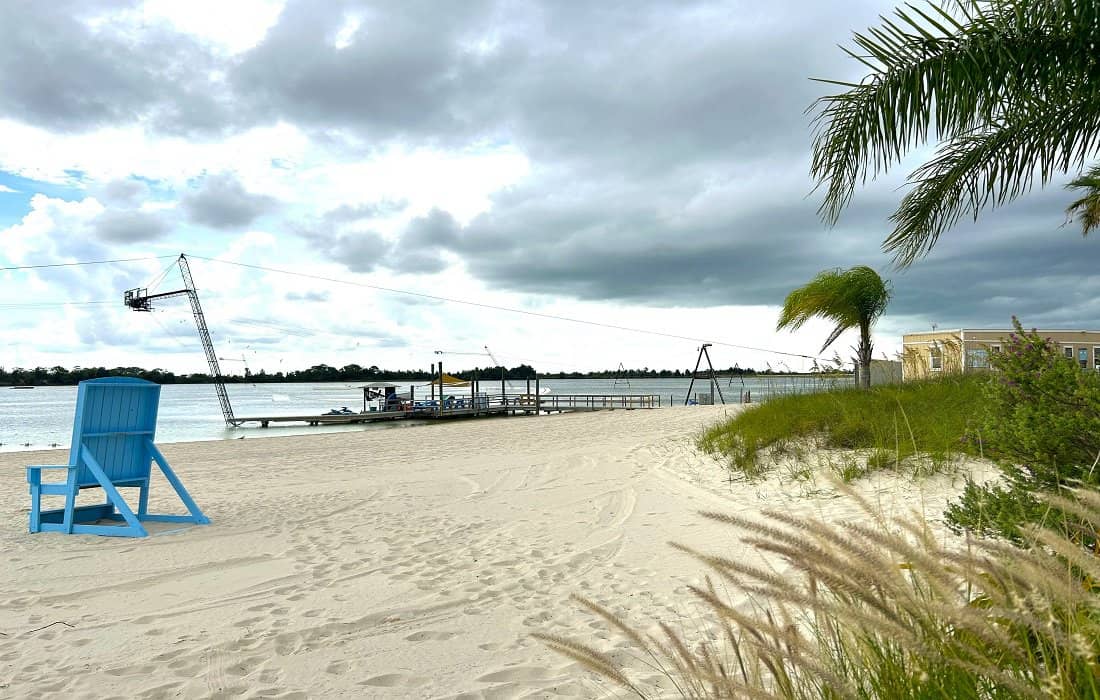 In addition to the beach, the park offers several other amenities, including a cable wakeboarding park, a water park, and a beach volleyball court. The park also has a concession stand, restrooms, and showers, making it a convenient and comfortable place to spend the day.
Park Amenities
SunWest Park in Pasco County offers a wide range of amenities that cater to visitors of all ages. The park has several amenities, providing visitors a fun and exciting experience. Below are some of the amenities that visitors can enjoy at SunWest Park.
Water Sports
SunWest Park is known for its water sports activities. The park has an extensive cable wakeboarding system perfect for beginners and experienced riders. Visitors can also enjoy kayaking, paddle boarding, and swimming in the park's crystal-clear water. The park has a designated swimming area safe for visitors of all ages.
Aqua Park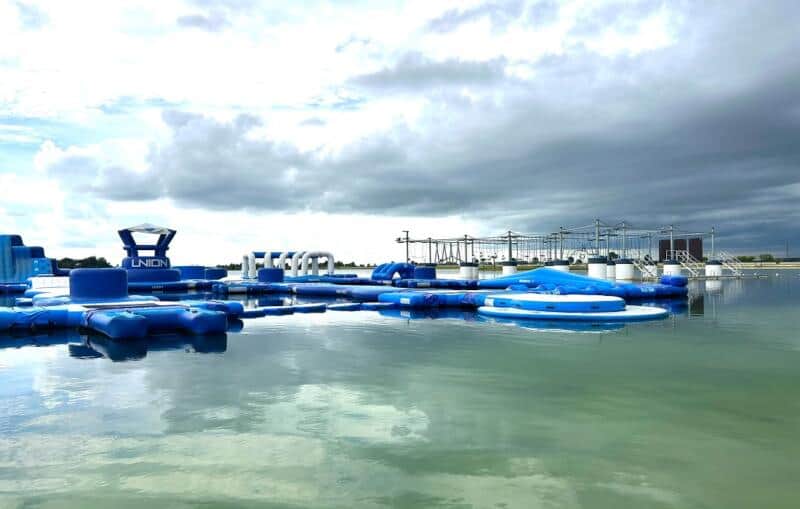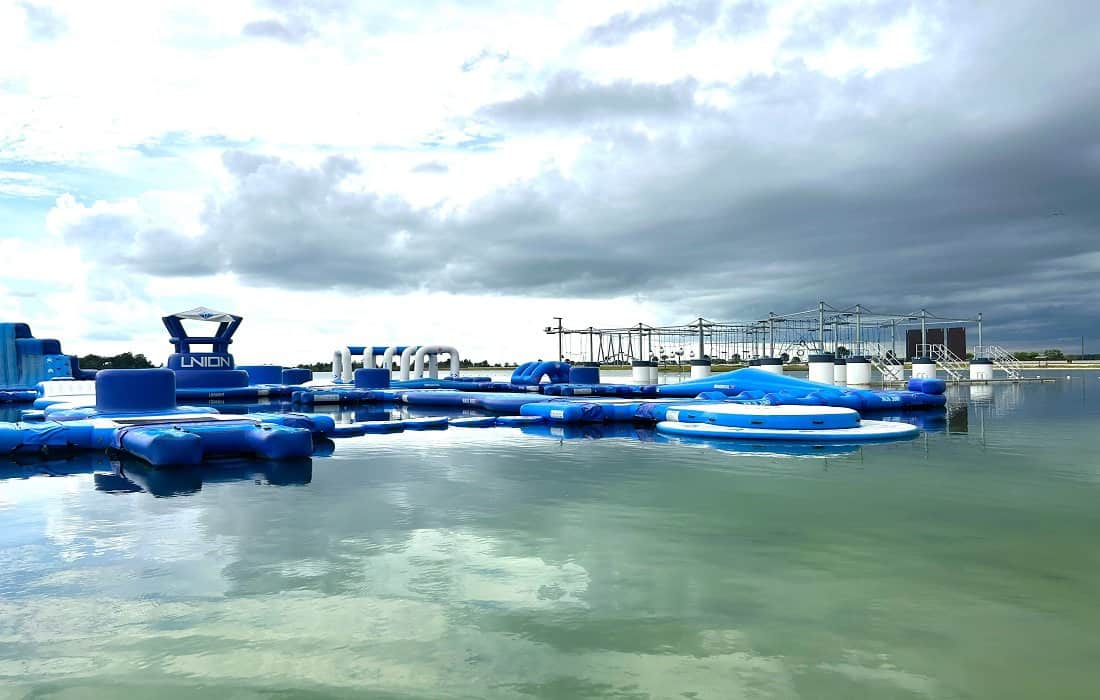 The Aqua Park is an inflatable playground on the water. It is perfect for birthday parties and events for ages seven and up. The goal is to get to the other side by running, jumping, slipping, and sliding!
It costs $15 for an hour for SunWest's Aqua Park. You can buy tickets in advance online, or you can purchase them onsite.
Note: You must complete and sign a waiver, which you can also complete online or onsite.
Aqua Chimp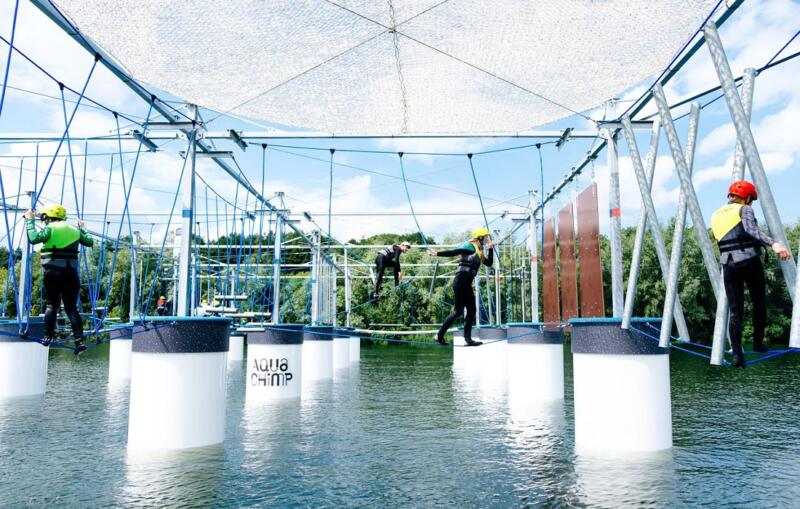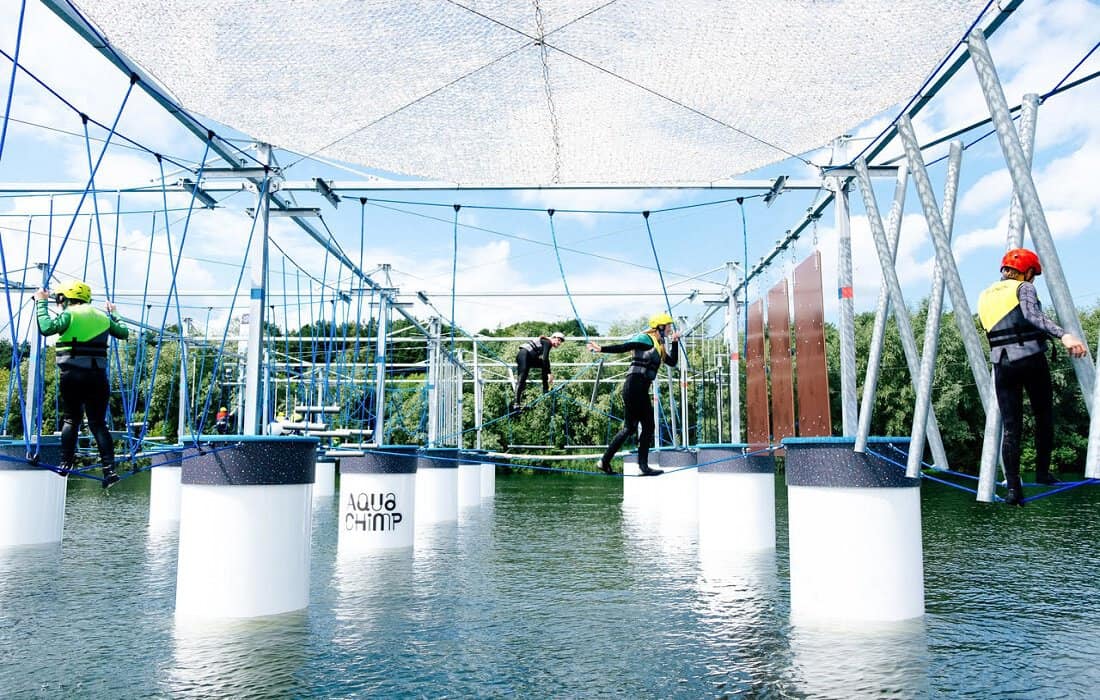 Image Credit: SunWest Park
The Aqua Chimp is a floating jungle ropes course. Aqua Chimp, The newest addition, is suspended over water. This jungle ropes course consists of floating platforms and ropes hanging between them. Experience the thrill of traversing a cargo net, balancing over a horizontal ladder dangling above the water, and climbing a vertical climbing wall, all free from restraint. There are no limits to the adventures you can have with this element!
It costs $25 for an hour for SunWest's Aqua Chimp. However, it is often on sale for only $10. You can buy tickets in advance online, or you can purchase them onsite.
Note: You must complete and sign a waiver, which you can also complete online or onsite.
The Lift
With The Lift, you can enjoy outdoor recreation on the water like no other. Interested in wakeboarding but have never tried it before? Experience the thrill of riding behind the cable systems on the water this summer.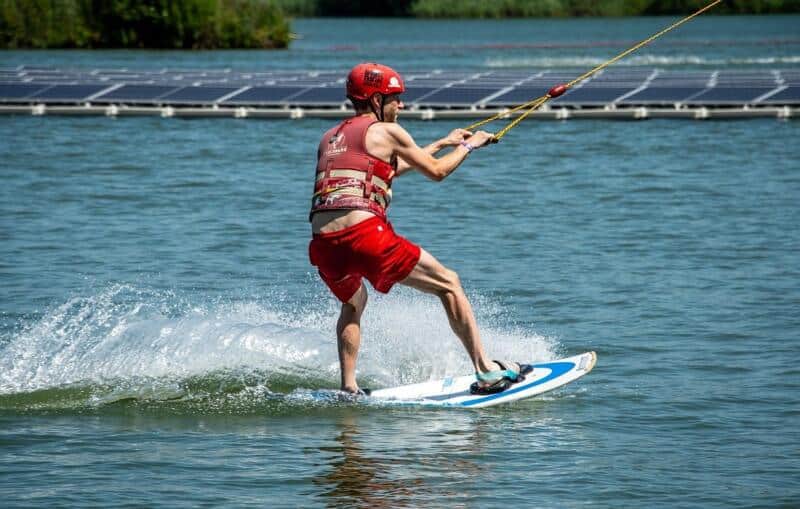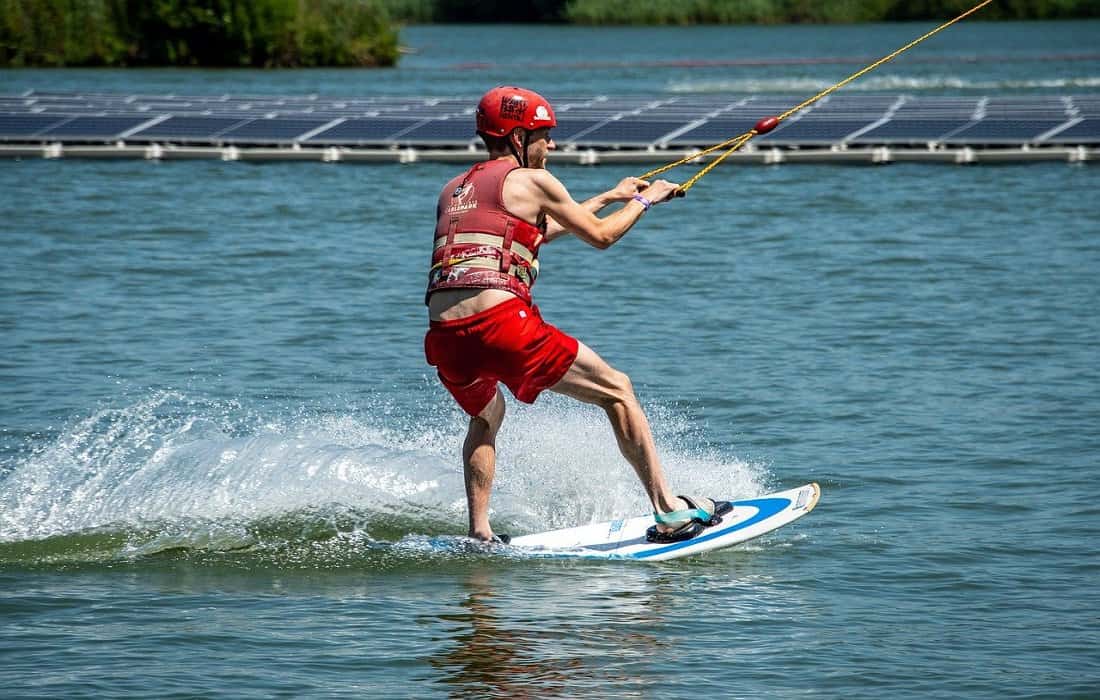 A two-hour pass costs between $24 – $32.
All-day passes cost between $39 – $52.
In addition, you have to rent or have a helmet, lifejacket, wakeboard, or kneeboard. The park offers a bundle where you can rent everything you need to try The Lift.
Kayak or Paddleboard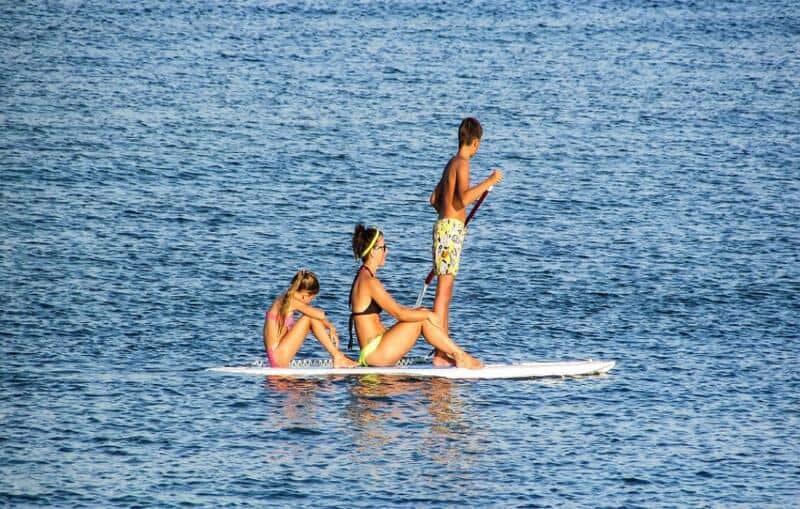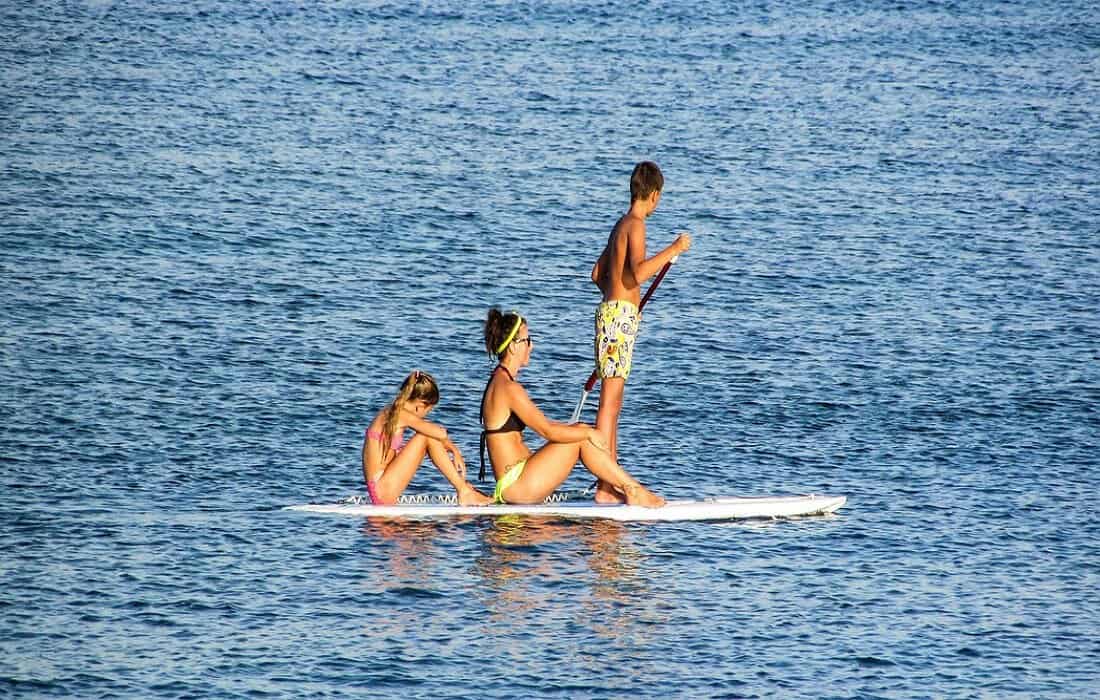 Try your hand at paddleboarding or kayaking on the beautiful spring-fed lake! It's incredible how much of your body's muscles are used in paddleboarding and how much it improves your balance. You can learn how to stand-up paddleboard at The Lift if you have never tried it!
It costs $10 for a paddleboard or kayaking pass.
Picnic Areas
The park has several picnic areas perfect for families and large groups. Visitors can enjoy a picnic under the shade of the park's trees while enjoying the beautiful view of the lake. The picnic areas are equipped with BBQ grills, tables, and trash cans for visitors' convenience.
Playgrounds
SunWest Park has several playgrounds that are perfect for children of all ages. The gardens have swings, slides, climbing walls, and other fun equipment that entertain children for hours. The gardens are located in shaded areas, making them ideal for hot summer days.
Volleyball Courts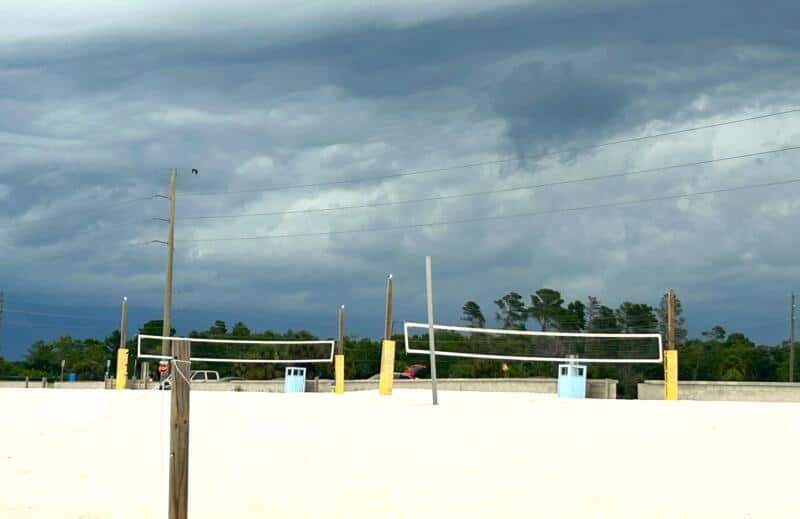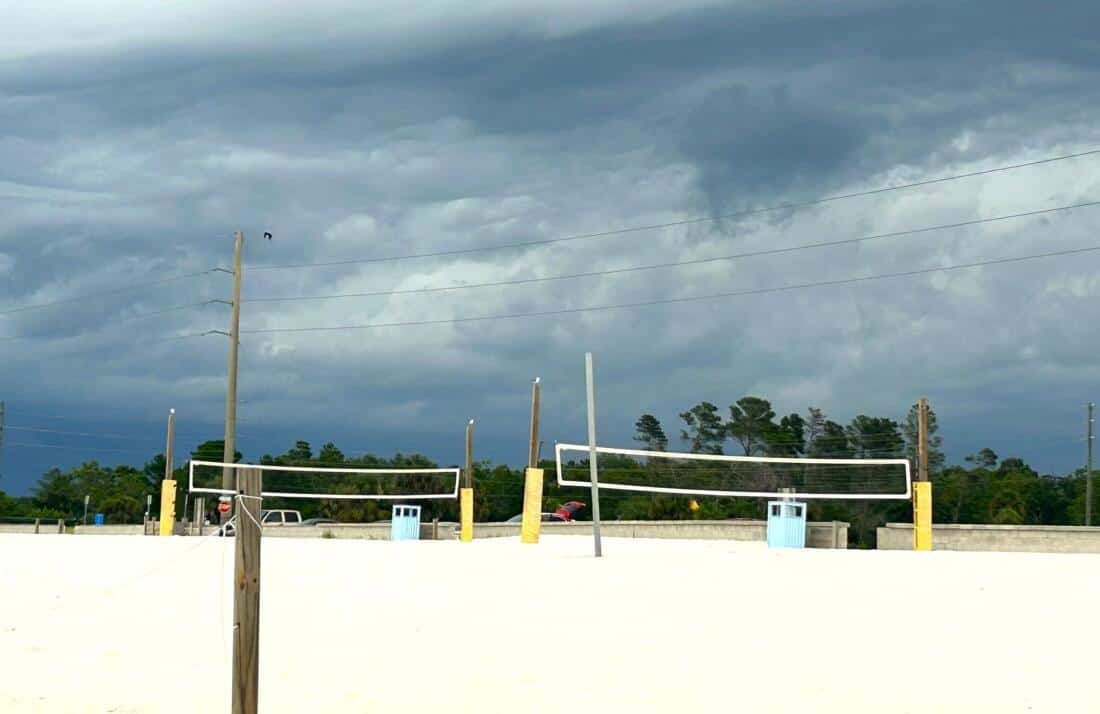 Additionally, SunWest Park offers a public swimming beach, volleyball courts, concession stands, and more.
Location of SunWest Park
SunWest Park is located in Pasco County, Florida, United States. It is situated in Hudson, about 45 miles north of Tampa. The park is conveniently located near major highways, making it easily accessible to visitors from all over.
Address: 17362 Old Dixie Highway, Hudson, FL 34667.
Events at SunWest Park
SunWest Park is a popular destination for outdoor events in Pasco County. The park hosts various annual festivals and special occasions throughout the year, offering fun and entertainment for visitors of all ages.
Special Occasions
SunWest Park is also famous for weddings, corporate events, and other special occasions. The park offers a variety of indoor and outdoor spaces, including a pavilion, beachfront gazebo, and grassy areas for picnics and games.
Wildlife at SunWest Park
SunWest Park is home to various wildlife species, making it an ideal destination for nature enthusiasts. Visitors can expect to encounter diverse animals while visiting the park.
Safety Measures at SunWest Park
Firstly, the park has a team of trained lifeguards stationed at the swimming area to ensure the safety of swimmers. They are equipped with rescue tubes, first aid kits, and other necessary equipment to respond to emergencies promptly.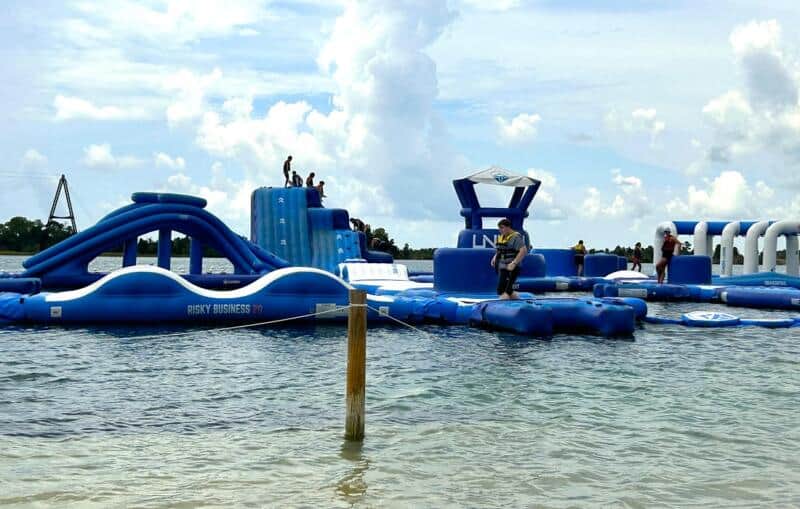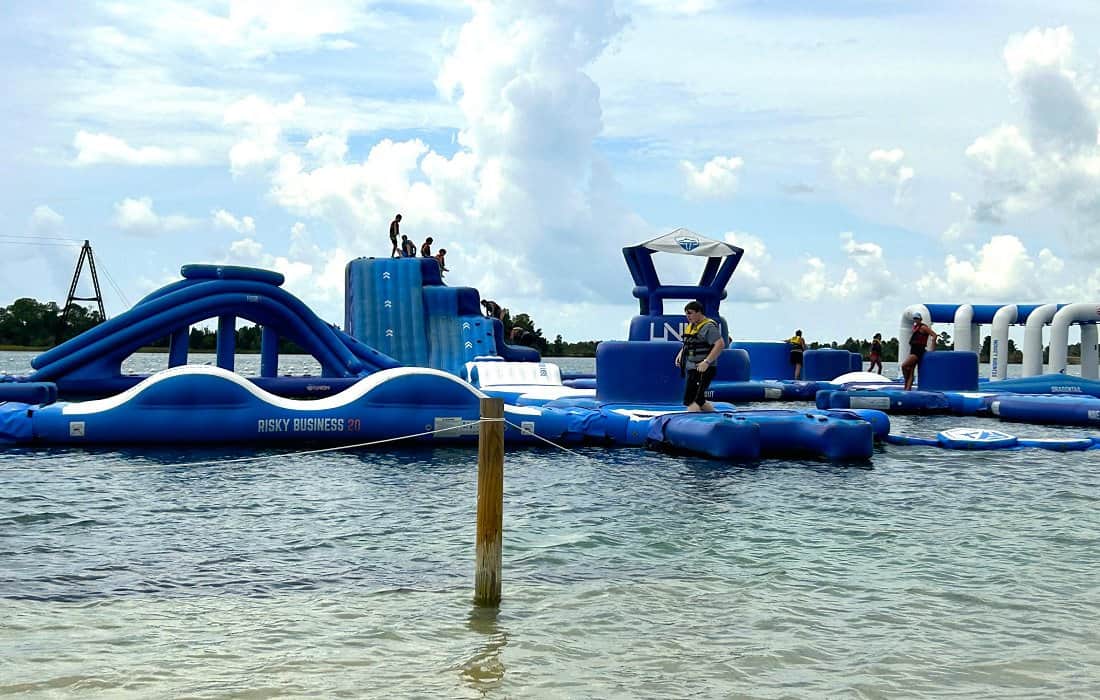 In addition to the lifeguards, the park has installed safety buoys and ropes to mark the swimming area and to prevent swimmers from venturing into deeper waters. The buoys and ropes also serve as a visual aid for lifeguards to monitor the swimmers' activities.
The park also provides personal flotation devices (PFDs) for visitors who are not confident swimmers. PFDs are mandatory for visitors under 18 years old, and they must wear them all while in the water.
What Was SunWest Park Before?
Before SunWest Park became a park, it was a limestone quarry known locally as "Sun West Mines."
Can You Bring Your Kayak To SunWest Park?
Yes, you can bring your kayak or rent one from the park.
What Are SunWest Parks Operating Hours?
Swimming is allowed from sunrise to sunset at the large beach area. Lifeguards are on duty between 10 AM and 6 PM during summer.
How Much Does It Cost To Go To SunWest Park?
It's free unless you want to try the Aqua Park, Aqua Chimp, The Lift, Paddleboard or Kayak.
However, there is a daily parking fee of $5.00. The park has ample parking space, so visitors don't have to worry about finding a parking spot.
Closing Thoughts
Overall, SunWest Park is an excellent place for anyone looking to enjoy a day of outdoor recreation in Pasco County. With its beautiful lake, white sand beach, and various activities, the park has something for everyone.
Looking For More Local Things? Start Here:
We participate in the Amazon Services LLC Associates Program, an affiliate advertising program designed to provide a means for us to earn fees by linking to Amazon.com and affiliated sites.
Subscribe to our newsletter and get the best travel tips and inspirational stories delivered monthly. No spam, no sales pitches – TRAVEL!
Brit On The Move™ Travel Resources
Ready to book your next trip? Use these resources that work:
Need more help planning your trip? Check out our Resources Page, highlighting the great companies we trust when traveling.