Visit Downtown Sanford Florida
A few minutes north of Orlando, Florida, is Historic Downtown Sanford. This popular and well-known destination features many award-winning bars and restaurants, craft breweries, and gastropubs. And it hosts world-class concerts and major events. Additionally, it is home to many antique shops, historic buildings, and residences.
Downtown Sanford is one of Central Florida's most active and lively communities. It takes pride in its beautiful and spectacular marina used for fishing, leisure boating, and romantic river cruises. It is also known for its mesmerizing brick-lined streets. Here people roam and stroll, boutique storefronts, ogle the live century-old oaks, and numerous historic commercial and residential architectural designs. Some of these buildings are haunted, making visiting even more enjoyable. The historic and beautiful Downtown will take you back in time with its old structures, buildings, and revitalized brick streets. The equally vintage-looking lamp posts add more charm to this fantastic place.
Downtown Sanford is a place where you are welcome, and it makes you feel like you belong. Here, you will enjoy the spirit of genuine southern hospitality in a modern setting.
To learn more about this beautiful place, here are some things you can do and experience in Downtown Sanford. Visiting Sanford is a breeze; the Orlando Sanford International Airport is here. It caters to international as well as domestic carriers.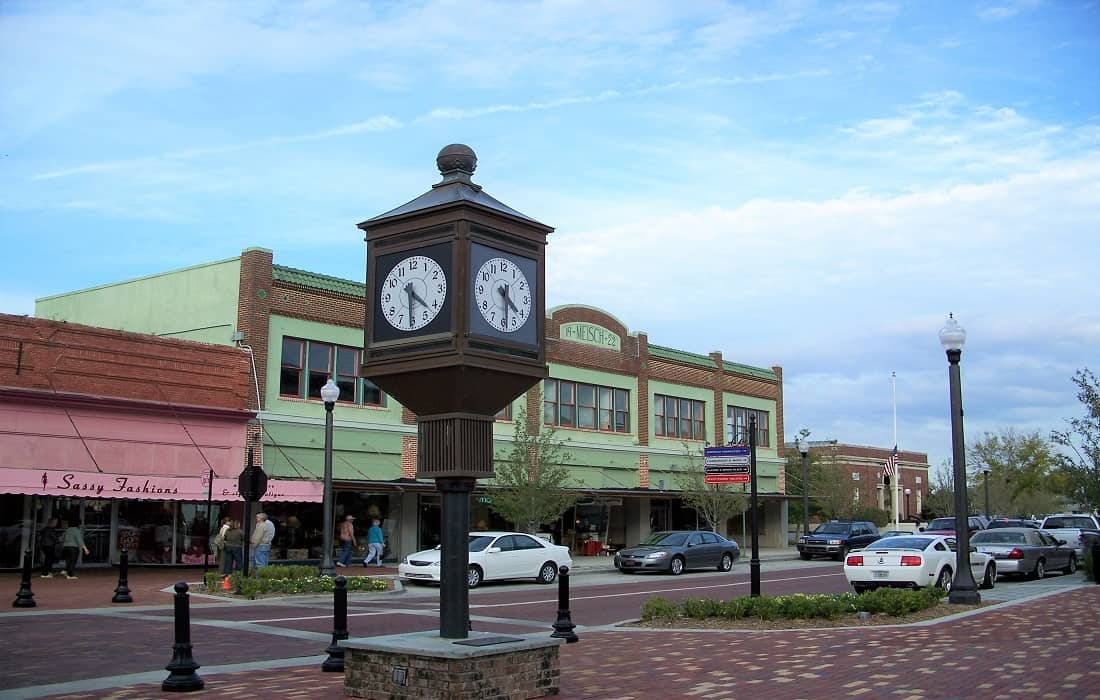 Image Credit: Ebyabe on Wikimedia Commons
This post may contain affiliate links. Please read our disclosure and privacy policy for more information.
A Brief History of Downtown Sanford, Florida
Not to be mistaken for Sanford, Missouri – Sanford, Florida is unique in its own historical right. Sanford is known as the Historic Waterfront Gateway City, and this is because of its strategic location on the southern shore of Lake Monroe.
Native Americans were said to have settled in this place thousands of years before the Swedes. They had inhabited the area around Lake Monroe before the early settlers arrived and turned it into what it is today.
In 1871, the Swedes arrived by steamboats and established a new town. They cleared the sub-tropical wilderness. With just about 100 people, Sanford was incorporated back in 1877. Henry Shelton Sanford founded it. It is one of the oldest incorporated cities in Central Florida Guests in this city will be awed by the numerous historic buildings and structures that are well kept and preserved. Some of the structures date back to 1883.
In 1887 the city experienced one of the darkest moments with a devastating fire followed by the yellow fever epidemic.
Today, Downtown Sanford continued to keep its charm, history, and good looks. Thousands of tourists flock to this beautiful place to experience genuine Southern hospitality every year.
Downtown Sanford Tours & Experiences
There is so much to see and do in Downtown Sanford. It would be best if you had more than a day to take it all in.
Veterans Memorial Park
Veterans Memorial is located on the shores of Lake Monroe. This park is dedicated to those who have served our country. Informational kiosks are placed throughout the park, and memorial bricks are available for purchase and placement in the park.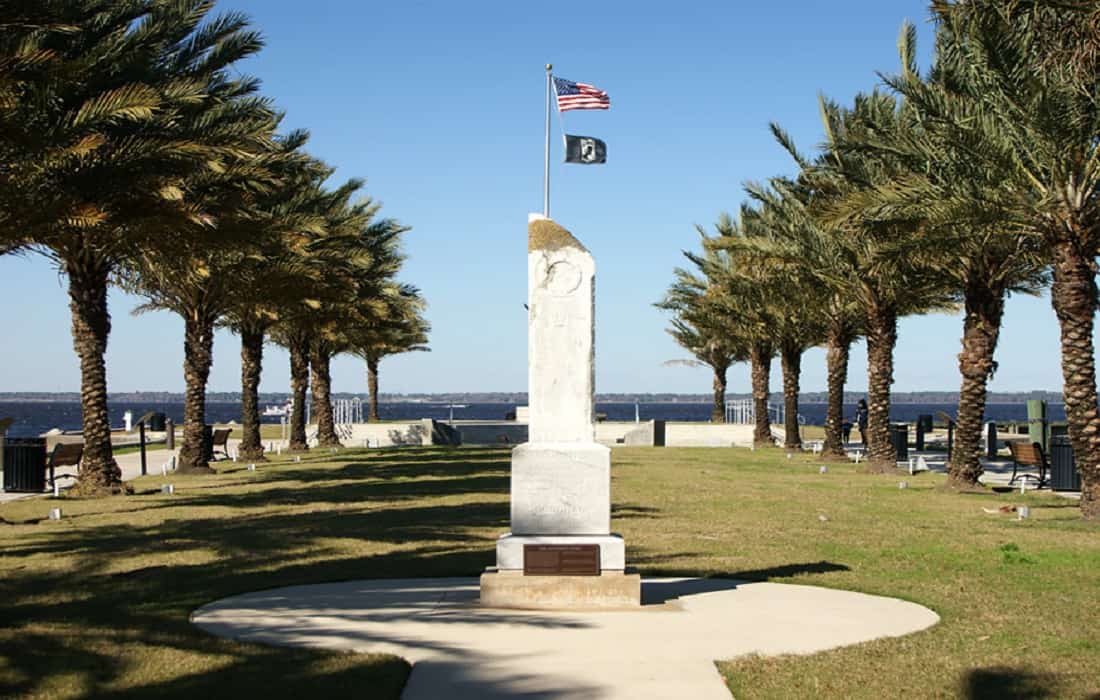 Sanford Ghost Tour
The Guided Sanford Ghost Tours allows visitors to be amazed by the old tales and ghost stories about Downtown Sanford. Historical sites and buildings are haunted, giving you more reasons to visit – a different thrill. Not only will you hear about haunted houses, buildings, and ghosts, but you will also learn something from Sanford's history and how people lived here before. And since Downtown Sanford is a historical site, you can almost feel the past residents lurking and watching from afar. This experience is suited for the adventurous and thrill-seekers.
During the 90-minute ghost tour, you will be spooked with tales old and new of ghostly experiences in the downtown area of Sanford. The highlight with a walk to an actual haunted building!
An expert guide leads the tour. This helps you learn historical stories gathered from the people who lived in Sanford themselves.
Historical Tour
Join a group on a historical tour where you get to see lots of beautiful architectural structures from 1883. You can take a stroll through Sanford's Riverwalk. Here you can relax on one of its gazebos or swinging benches. It has several miles of pedestrian and walking paths and bike trails where you can leisurely take a ride. It has a ten-foot-wide walkway perfect for walkers, hikers, and bikers. The city has added a 3,000 feet trail to the RiverWalk.
Free Trolly Service
The City of Sanford's Community Redevelopment Agency (CRA) provides a free downtown trolley service. The Sanford trolley offers transportation between the Sanford SunRail station and Downtown Sanford. The CRA also provides a free shuttle from the Amtrak Auto Train to the Sanford Information Center Monday through Saturday.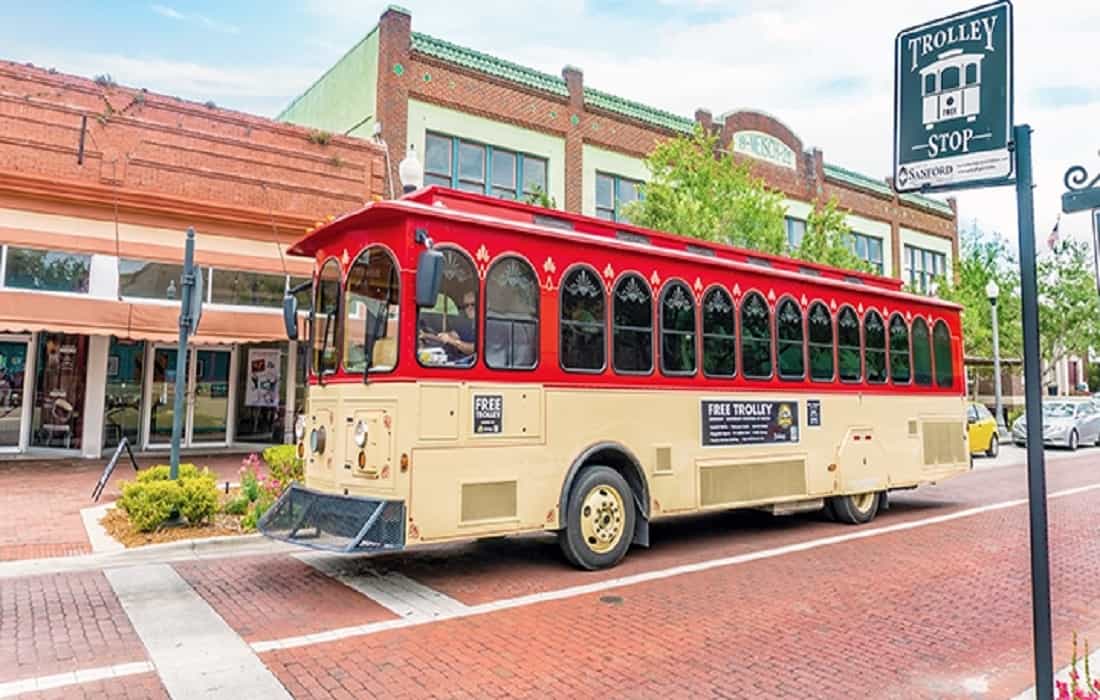 Image Credit: City of Sanford, Florida
Marina Island
Marina Island is a small park on the marina island on Lake Monroe in Sanford. The park offers picnic pavilions and a free public boat ramp.
Fort Mellon Park
Fort Mellon is located on beautiful Lake Monroe. Take a stroll along the RiverWalk lined with different options for seating and take in the incredible view. The park also has a splash pad for anyone to come and cool off. If you are looking for a fun place to hold a party on a special occasion, eight shaded pavilions are available for rent.
Sanford Museum
The Henry Shelton Sanford Memorial Library and Museum opened in 1957. European and American paintings, furniture, personal objects, and books from 1820-1890.
Sanford Marina – Monroe Harbour
Monroe Harbour Marina on Lake Monroe is part of the St. Johns River. Sanford's' RiverWalk flows along the lakeshore on both sides of the marina. If you have a yacht or a boat, this is the perfect place to dock.
Park on Park
The perfect spot to take the kids! This park has offered playgrounds for 2-5-year-olds. There is a restroom on site. It's lighted, has a water fountain and benches.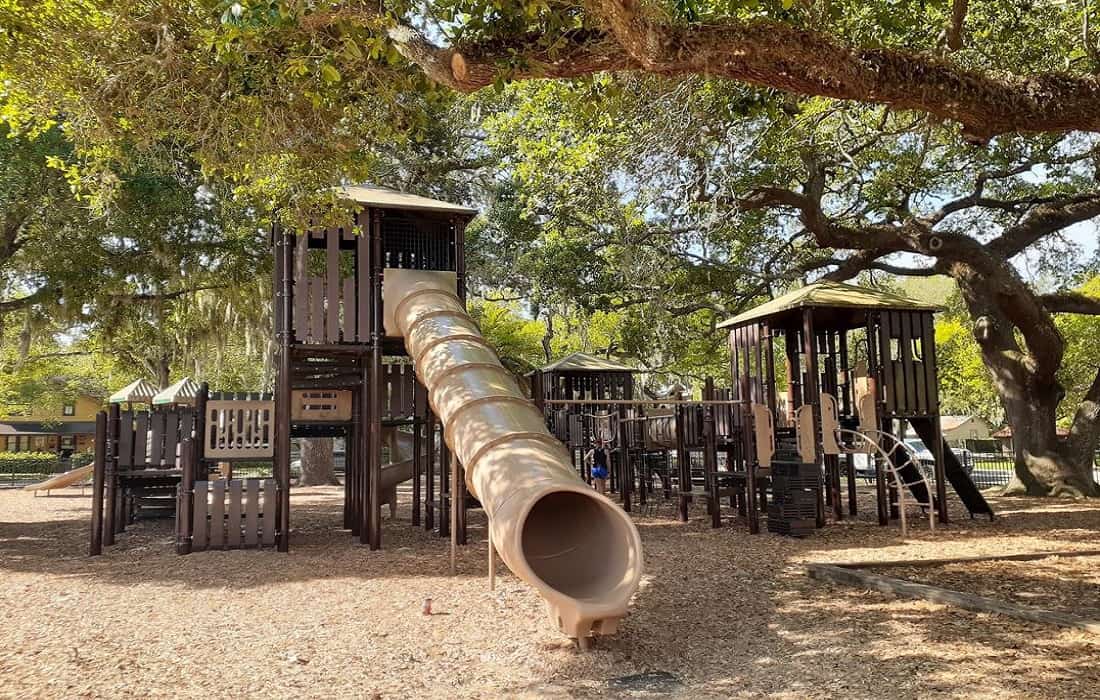 RiverWalk
Indeed, what better way to explore Downtown Sanford than to walk the RiverWalk.
The multi-purpose pedestrian trail expands up to several miles alongside Lake Monroe and is perfect for a leisure bike ride or walk. Stroll pass through the many historic structures on the historic district with 25 buildings dating back to 1877 and head out to the neighboring residential community with more than 430 residential buildings.
Rent A Bike
You can rent bikes in Downtown Sanford or bring your own. Hop on these affordable road bikes and ride through these historical places. And while on your bike, you can take in all of the sights while getting your daily exercise in.
Aside from cruising the beautiful brick-lined streets and historical structures, you can also enjoy more of Downtown Sanford by going to their world-famous restaurants, gastropubs, and well-known watering holes. Listen to live music from renowned bands and local artists while eating and drinking.
Paw Park Sanford
This dog park is ADA accessible and has a double-gate entry. It is fully fenced and offers separate areas for large and small dogs. There are dog showers, self-watering bowls, bag dispensers for waste disposal, and benches for pet parents.
Theater West End
This creative community celebrates inclusive storytelling and cultivates artistic growth in a unique and historic environment. Think Broadway meets Sanford! This is a place where you can take in a live production show.
The Ritz Theater/Wayne Densch Performing Arts Center
A historic theatre was added to the U.S. National Register of Historic Places. After getting donations from Wayne Densch, it has now been named the Wayne Densch Performing Arts Center.
Central Florida Soapbox Derby
The Soap Box Derby is a youth racing program that has run nationally since 1934. The World Championship finals at Derby Downs in Akron, Ohio.
The idea of the Soap Box Derby grew out of a photographic assignment of Dayton, Ohio, newsman Myron Scott. He covered a race of boy-built cars in his home community and was so impressed with this event that he acquired a copyright for the idea and began the development of a similar program on a national scale.
Park + 2nd
This vintage shop offers an ecliptic collection of antiques. In addition to offering up the weird and wonderful one, off's that we all desire. They buy, sell and appraise assets. And, they will help you liquidate an estate if you need help.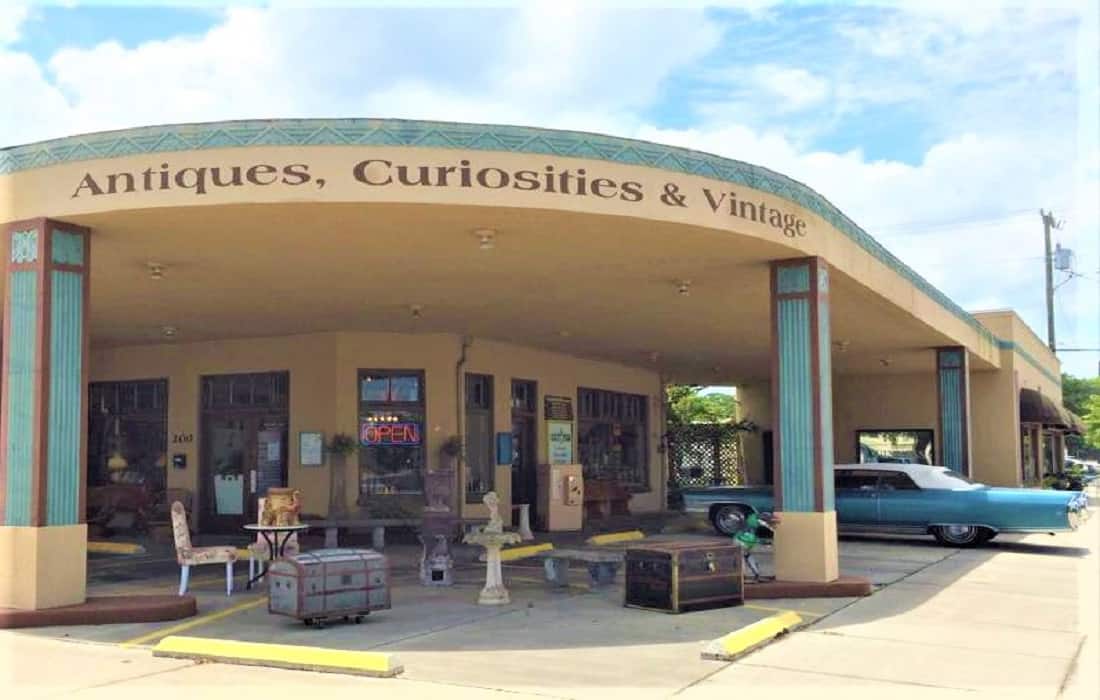 Photo Credit: Park + 2nd
Gallery on First
Gallery on First is a unique gallery and working space for professional and emerging artists that invites the public inside the artistic process through shows, events, education, and conversations with working artists.
Central Florida Zoo & Botanical Gardens – Sanford Zoo
The Central Florida Zoo and Botanical Gardens is a 116-acre zoo and botanical garden. The Zoo is home to over 350 animals, representing over 100 species.
In addition to the vast exhibitions, the Zoo has a splash park, offers giraffe feedings, rhino encounters, and boasts a unique zip-lining adventure.
The Zoo hosts several annual events. ZOO Boo Bash, Hippity Hop Adventure, and Brews Around the Zoo.
Escape Artists Escape Room
Teams of 2 to 6 players are locked in a room and have to work together to solve puzzles, decode ciphers, and find secret passages to escape. They offer several different rooms for you to try!
Magpies Modern General
A general merchandise store loaded with apothecary products, gifts, and clothes. They have lots of exciting items to offer to curious customers.
Maya's Books
Are you looking for a hard-to-find book? Maya's has many books and music records to offer to regular customers and first-time visitors. Here you can explore the shop, and maybe you can score a rare book.
No doubt there will be places we forgot to mention. Visiting the Downtown Sanford area connects people who love the outdoors and admire American history. Indeed, this historic place is worthy of visiting and has to be preserved for future generations to come. Those ancient buildings and residences, as well as the brick-lined str ts and the marina, are remnants of the grandeur and magnificence of the old Sanford, and this is something that we have to keep and remember.
The influx of modern or urban living has had a tremendous impact on history. The pollution affects the facade of the buildings and structures, not t mention the vandalism that scar the otherwise well-preserved infrastructures and edifices. To help against pollution, visiting the place on bikes can help ease air pollution.
Map of Historic Downtown Sanford

Map Image Credit: Historic Downtown Sanford, Florida Visitors Guide
Popular Food and Drink Spots In Downtown Sanford
There are tons of unusual bars and restaurants in Sanford. Here are some that are "must experiences" for first-time visitors.
Tuffy's' Bottle Shop
Perfect for people who love local craft beer. This place is popular among locals because they brew their own unique cider. While cider is their specialty, they also have other cocktails and beers.
The local cider is a must-try when going to this remarkable place. You can also check out their reconstructed pontoon boat, a great photo backdrop for your IG or Facebook.
Tuffy's' Music Shop
With the recent opening of Tuffy's Music Box, fans of live music in Central Florida have something to celebrate. With an eclectic mix of genres, local favorites, regional and nationally touring acts, Tuffy's Music Box offers something for everyone.
Live music happens every Thursday, Friday, and Saturday night, with special events on weekdays.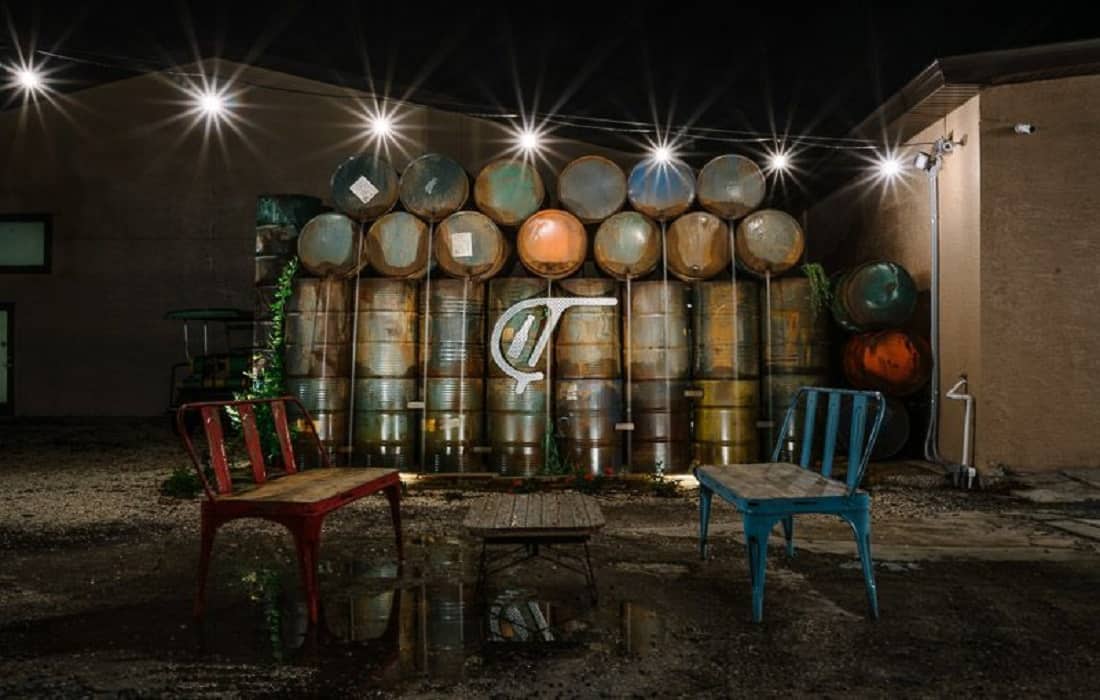 Photo Credit: Tuffy's Music Shop
The Sullivan
If you need to shun away from the harsh Florida sun for a while, this Irish Pub is a must-go-to in Sanford. They offer whiskey and lots of beers a well. The ambiance is genuinely Irish, with lots of spirits to choose from.
Celery City Craft
Sanford is also known as Celery City, and here is why. Celery City Craft is home to 50 beer taps and two taps of wine. These features local state brews. It has a patio which can seat lots of clients and visitors. This place is known for hosting lots of local events. If you are not into beers or wine, they have a range of cocktail menus to choose from.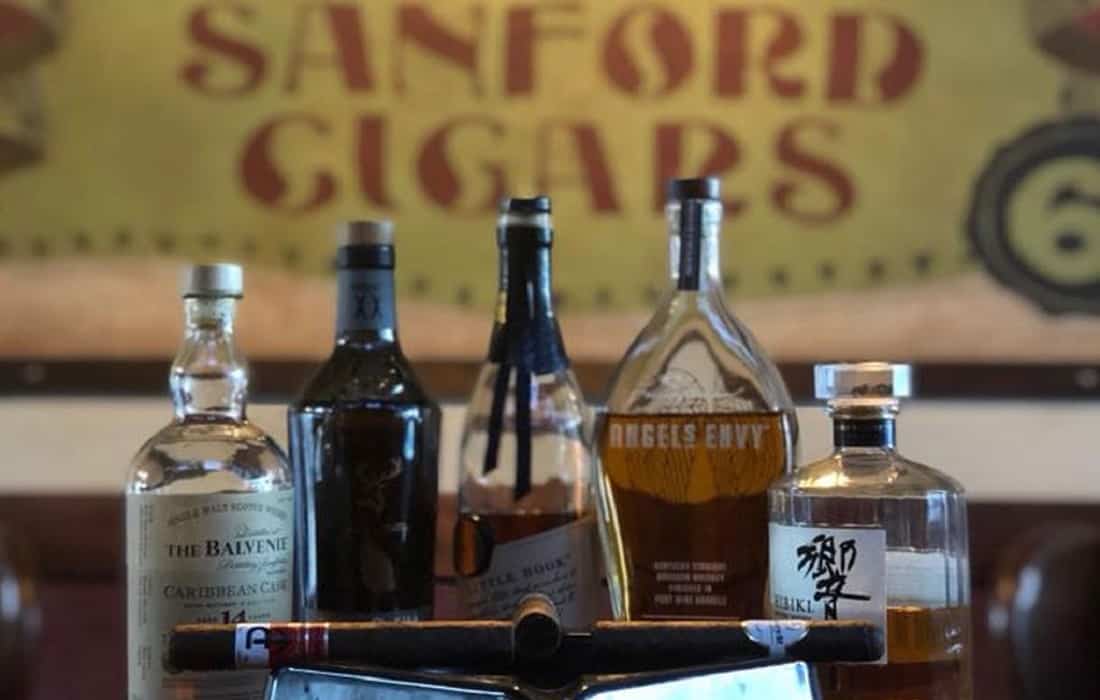 Photo Credit: Celery City Craft
If you want to listen to some live music or musical acts, Celery City Craft is the place to be in Downtown Sanford. According to history, the city has a vast plantation of celery, thus earning the monicker Celer City. And, they also have a cigar bar for that like to indulge.
Loggerhead Distillery
Want to try local spirit in Sanford? Visit Loggerhead Distillery and try their Apple Pie Moonshine and vodkas. Currently, aging is single malt whiskey, rum, and bourbon.
Other Bars and Breweries in Downtown Sanford
The Imperial at Washburn
Brix + Mortar Urban Winery
Inner Compass Brewing
Sanford Brewing Company
Bitters + Brass
Wops Hops Brewing
Deviant Wolfe Brewing
Downtown Sanford's Famous Restaurants
Hollerbach's Willow Tree Cafe
This German restaurant is famous for its bar made from two-three-centuries-old trees. It was shipped to Sanford in a piece and was assembled here. This restaurant is a hit with locals and tourists alike. This is where many of my friends congregate for special events like birthdays or anniversaries. It is especially popular during Oktoberfest! And, 99% of the time, you need a reservation to eat here, so plan ahead.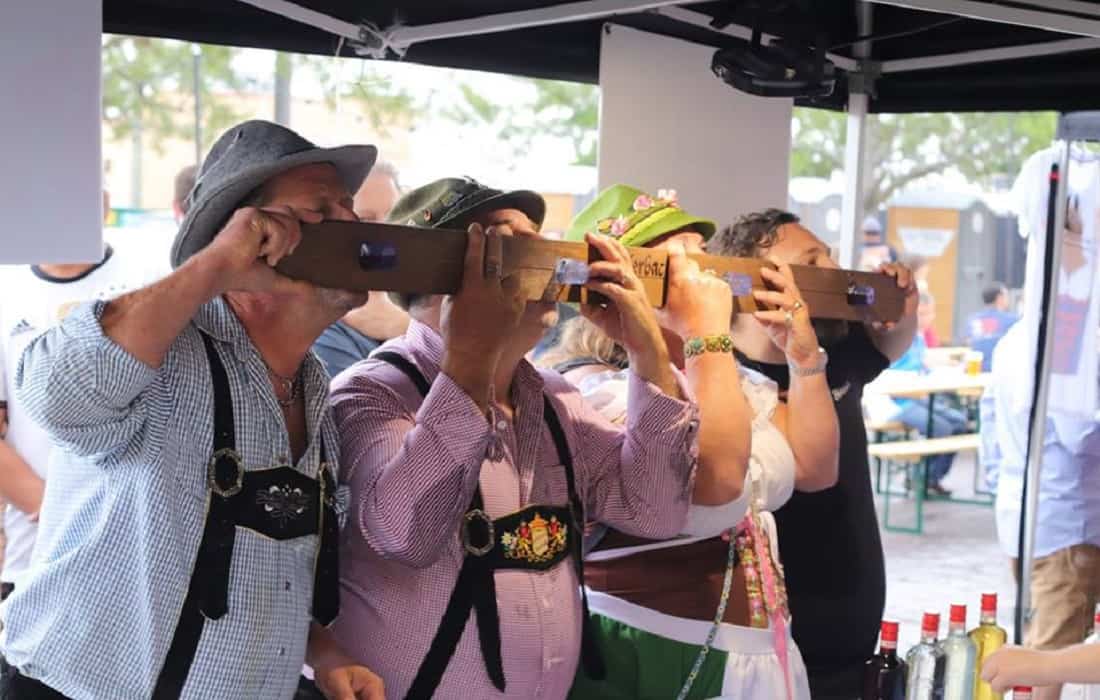 Photo Credit: Hollerbach's' Willow Tree Cafe
While you are at the restaurant, check out Hollerbach's' Outfitters ext door. Here you can buy traditional German Folkwear such as Dirnals, Lederhosen amd Schmuck. Real ones, not the costume versions you find online!
Fuel BBQ
Perfect for people who love barbecue. Sample as much food as you like, but definitely, you should try out their barbecue. Live Blues music is playing next door at the Alley where you can relax and unwind.
Buster's' Bistro
Want to try some Belgian food and drinks? Head out to Buster's Bistro for a sumptuous lunch or dinner. They offer authentic Belgian foods and beverages, perfect for those who want to try European cuisine.
Coffee
Aside from the bars and restaurants, you can also visit local coffee and tea shops serving local craft coffee or tea. They offer quality food and drinks and the perfect ambiance for you to enjoy and experience the historic Downtown Sanford. The Rosie Lee Co., Palate Coffee Brewing, and Wondermade are just some of the coffee and tea shops to visit in Sanford. These shops have been in the city for years and have made the place truly remarkable.
Closing Thoughts
Contact a local tour guide for a more intimate visit to Downtown Stanford. A local guide will be able to show you everything and more. The fascinating and "haunting" stories about haunted houses and buildings, those beautiful lamp posts, and tiled streets will dazzle you together with the explanation of the sites.
If you choose to explore independently, download the map and use our guide to navigate through the most popular spots.
Looking for more posts on things to do in Florida? Start here:
We participate in the Amazon Services LLC Associates Program, an affiliate advertising program designed to provide a means for us to earn fees by linking to Amazon.com and affiliated sites.
Subscribe to our newsletter and get the best travel tips and inspirational stories delivered monthly. No spam, no sales pitches – TRAVEL!
Brit On The Move™ Travel Resources
Ready to book your next trip? Use these resources that work:
Need more help planning your trip? Check out our Resources Page, highlighting the great companies we trust when traveling.