Key West Golf Cart Rentals: Where To Rent Them?
In Key West, golf cart rentals are one of the most popular options for zipping around the island. They are affordable and make getting the most out of your vacation even more accessible. From tourists to retirement communities and more, everyone loves the freedom and mobility golf carts offer. Whether sightseeing around the island or planning a day at the beach, golf carts are a fun, affordable, and easy option to get where you're going.
With room for all your chairs, coolers, and more, a golf cart is a must-have in Key West. Enjoy the sunshine and feel the breeze running through your hair while you quickly transport up to eight people around Florida's famous island. So if you're planning a future trip to Florida, here are some of the best places to rent golf carts to cruise Key West.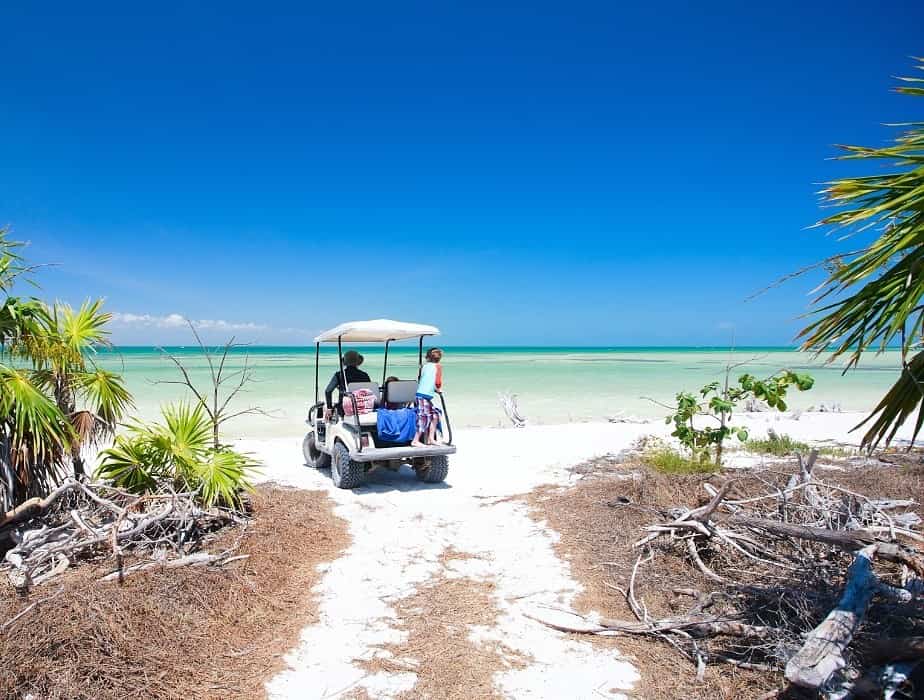 This post may contain affiliate links. Please read our disclosure and privacy policy for more information.
Best Golf Carts Key West Has To Offer
Key West golf cart rental companies are everywhere, and while they all share some similarities, a few companies truly stand out. We've gathered seven of the island's most famous golf cart rental options to save you from sifting through hours of research and reviews. You can find it all in Key West, from week-long rentals to hourly rates, gas carts, and electric buggies.
Southernmost Golf Carts
Southernmost Golf Carts offers a selection of four and six-seat golf cart rentals, all equipped with cup holders, USB charging ports, Bluetooth compatibility, and locked storage. With over 100 5-star reviews on Google, this family-owned and operated business has everything you need for the perfect beach day on the Key West coast. In addition to the golf carts, you can also rent beach chairs and Yeti coolers here for your convenience. Speaking of comfort, the company will deliver and pick up the golf carts for you, so you don't have to worry about getting back to the rental facility on time.
JV Rent' All
JV Rent' All provides these types of cart rentals so that you have a worry-free option for sightseeing around this beautiful island.
They offer two models of golf carts for rent — a four-person standard cart and a six-person luxurious cart. In addition, they recently added eight-person carts for those big groups. The golf carts are available for rent for 4 hours, 8 hours, or 24 hours with additional days available at a reduced price.
Mile 0 Rentals
With 448 5-star reviews and counting Mile 0 Rentals is a trusted Key West cart rental provider. The company offers a range of standard and deluxe carts in 4 and 6-seat options. The typical golf cart rental here is lifted 6 inches and includes built-in storage and cooler space. Both standard and deluxe golf carts feature LED Bluetooth soundbars, Multi-color LED underlighting, and more. The company can deliver your rental straight to the airport so you can start exploring immediately.
Additionally, Mile 0 offers free cart pick from your location. Golf carts are available to rent in blocks of four, eight, and 24 hours. You can add additional days for a fee. Depending on your needs, rental prices range from $120 to $250.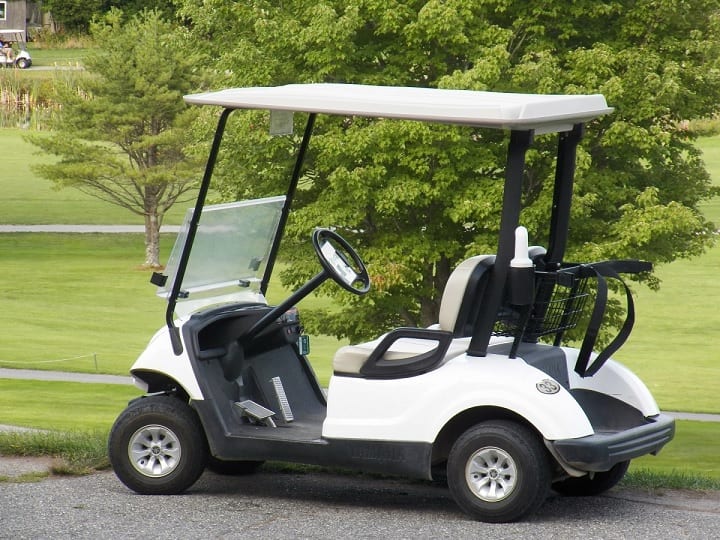 HydroThunder
If you're traveling with a large group, HydroThunder might be just what you need. In addition to the standard four and six-seaters, the company offers eight-passenger golf carts–ideal for taking the whole family along for the ride. Rental prices for these gas-powered golf carts range from $90 to $300, depending on the model and length of rental you choose. According to the HydroThunder website, the carts can run on only four gallons of gas an entire week. The popular local company boasts 4.3 stars from over 300 reviews on Google.
Fun In The Sun
Fun In The Sun boasts an impressive 4.7-star rating on Google with over 150 reviews and counting. The company is home to a wide selection of 2020 or newer golf cart models from Yamaha, an industry-leading brand. Golf cart rentals are available in four, six, and eight-seat options with weekly rental rates starting at $699. You'll need to be 25 years or older and have a valid driver's license to rent one of these gas-powered carts and take it through the streets of Key West. Golf cart delivery is also available but must be arranged a minimum of three days in advance.
Sunset Watersports Key West
With 4.6 stars and nearly 4,000 reviews, it's no surprise that Sunset Watersports is a favorite choice among tourists and locals alike. Praised for being one of the most affordable rental options on the island, the company offers a range of four and six-seat, gas-powered golf carts from their multiple Key West locations. Having several places on the island makes it easy to pick up a golf cart wherever you are. So whether you want to ride through the old town or spend a day in the sun, Sunset Watersports has you covered. Sunset Watersports offers both weekly and hourly rental rates starting at $90. With over 38 years of industry experience in Key West golf cart rentals, you can feel confident that you're getting a good deal and a reliable cart here.
Sunshine Scooters
If you're looking for an electric golf cart rental in Key West, look no further than Sunshine Scooters. The company offers two-seat electric golf carts for a day rate of $99. These electric carts can last up to 20 miles of travel and are to be returned when the battery dies or midnight hits, whichever comes first. If you're planning to travel more than 20 miles at a time- like reaching the southernmost point marker, don't worry–Sunshine Scooters also offers a selection of gas-powered carts available in four, six, and eight-seat options. Rates for gas carts range from $79 to $189, depending on your needs. Discounts are available for all military, law enforcement, firefighters, and first responders.
Benefits of Renting A Golf Cart in Key West
The benefits of renting a golf cart in Key West are seemingly endless. Not only are golf carts cheaper than car rentals and taxi trips, but they also offer a slew of other advantages, including:
Staying cool: These open-air vehicles keep things breezy when you're touring the beach on a hot day.
Easy storage: A golf cart with cargo space means no more lugging around bulky chairs and heavy coolers.
Environmentally friendly options: These days, many golf carts are electric, allowing you to reduce your carbon footprint while you travel significantly.
Easy to park: Golf carts, like your car, can park in any regular parking spot. The advantage is that golf carts are smaller, making dealing with tight downtown parking a breeze.
Get around quickly: An obvious benefit to using golf carts when exploring Key West is the speed. You can pack in more events and sightseeing when you're not traveling by foot everywhere you go. Are you interested in seeing the historic sites Key West has to offer? No problem! Want to make a family event out of cruising the South Shore? Just as easy!
Support local economy: Golf cart rentals are a massive aspect of tourism revenue, and renting them helps support the local economy of Key West.
Fun: Last but not least, driving golf carts is just plain fun. At any age, riding around town in your cart will surely be one of your vacation's most memorable parts.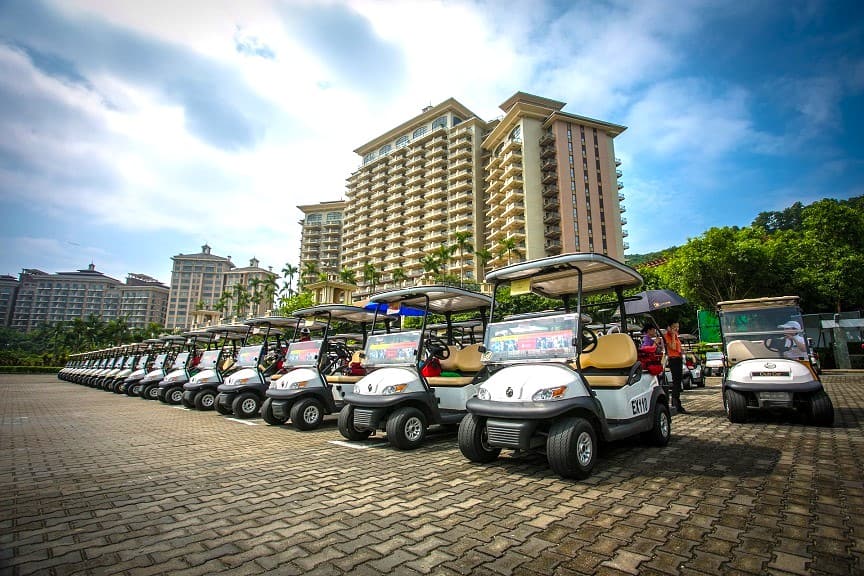 Taking Care Of Your Golf Cart Rental
Most golf cart rental companies in Key West will charge a small security deposit to cover potential damages. If all goes well, this security deposit will be refunded when you return the cart. However, if your cart becomes damaged, you might have to pay above and beyond the original security deposit. With golf cart prices ranging from $8,000 to $15,000 or more, you will want to do everything possible to take care of your cart. To avoid potential damage, follow these care guidelines:
Follow your golf cart rental company's rules regarding age requirements, drinking, etc.
Be familiar with and follow the road rules in your driving area. For example, in Key West, golf carts can only be driven on island roads with a speed limit of 35 mph or lower.
If renting an electric cart, it's up to you to ensure there is a charging port that's accessible for you to use.
Golf cart keys should always be kept on your person to lower the risk of losing them.
Only adults registered to use the golf cart should be driving.
Some companies require you to fill the gas tank or fully charge the cart before returning. Always double-check the company policies before renting.
Take additional safety precautions, such as using seatbelts and never driving a golf cart after consuming alcohol.
What You Need to Rent A Golf Cart in Key West
Before you get your heart set on renting a golf cart, it's essential to understand the rules and requirements. Golf cart suppliers may have their own set of rules, but in general, you will need the following for Key West cart rentals:
A valid driver's license.
Proof of insurance.
At most locations, you must be 22 years of age. Always double-check with the rental company, as some places require you to be 25 years old.
A valid credit card.
A sober driver–you are not permitted to drive any golf cart during or after consuming alcohol.
Additionally, your cart is only allowed on Key West & Stock Island roads with a speed limit of 35 MPH or less. Remember to always check with your supplier to verify any additional rental requirements.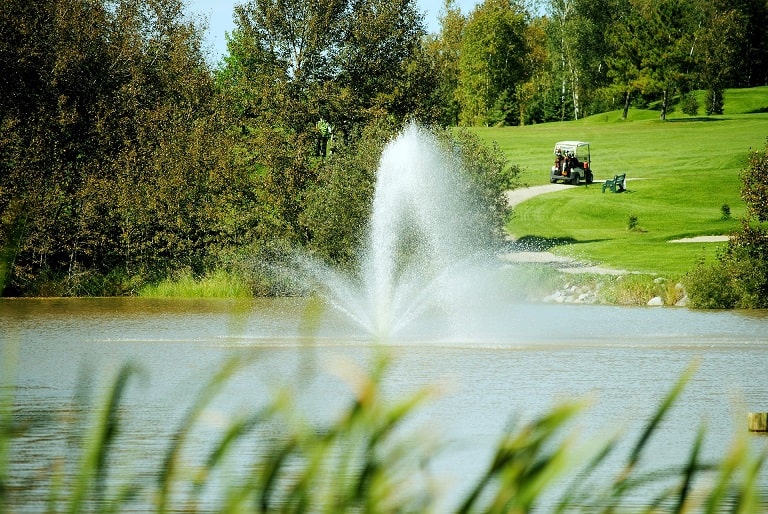 Pro Tips For Key West Golf Cart Rental
If this is your first time renting a golf cart, there are a few tips and tricks you might not think of. To set yourself up for success, keep these pro tips in mind:
If you're visiting Key West in peak season, it's wise to pre-book your golf cart, as walk-ins can't always be accommodated during this time.
If you're traveling with a group, consider asking your golf cart supplier for a second set of keys.
For first-time golf cart drivers, ask your supplier for some helpful driving tips.
Golf carts are trendy in Key West. Consider tying a ribbon or flag to your cart to easily pick it up from a crowd.
Be mindful of company cancellation policies.
Gas vs. Electric Golf Carts: Which Is Better For Vacation?
As you can see above, plenty of high-quality options for Key West golf cart rentals exist. However, you may be wondering what type of cart you should have. There are pros and cons for both gas and electric golf carts. And determining which one is better for you and your vacation is primarily a matter of preference.
For electric golf carts, the benefits are apparent–these carts are safer for the environment and, in most cases, come with a lower rental fee due to their limited capabilities. Electric carts are also quieter in most cases. As the technology for electric carts continues to grow, they become faster and more powerful. However, in many cases, gas golf carts can still outperform their electric competition regarding gaining and maintaining speed. Also, gas carts are ideal for traveling long distances without stopping and recharging a battery. So if your vacation will be filled with lots of traveling and sightseeing, gas is probably the option for you. If you want to experience riding a golf cart, you can get by with an electric option.
Golf carts are a part of the culture in Key West. From the golf course to the beach and every 35 mph road in between, you'll find Key West golf cart rentals on nearly every corner. Now that you have the information and research you need, it's time to start planning your next Key West vacation!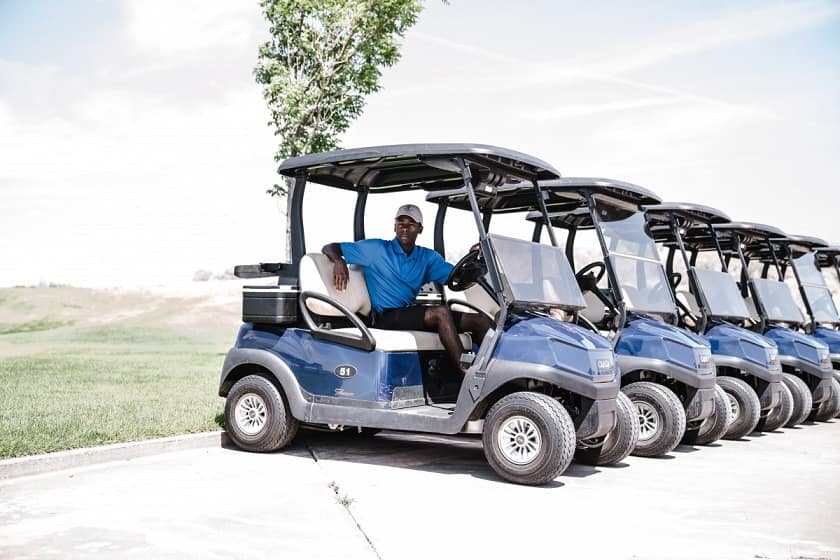 Frequently Asked Questions about Renting a Golf Cart in Key West
What is the average daily cost to rent a golf cart on the island?
On average, renting a golf cart for a few hours in Key West will cost you anywhere from $90-$210, with daily rates between $180 and $250. In most instances, the longer you rent a golf cart, the better rate you will receive.
Please note: these prices are averages, which fluctuate depending on cart seating and whether the rental is busy or off-season.
Are golf carts in Key West street-legal?
Most golf cart rental locations in Key West provide golf carts you can drive on public roadways. By Florida law, golf carts have certain parts and accessories, such as headlights, brake lights, reflectors, windshields, and more, and can reach and maintain certain speeds.
Which Key West golf cart rentals are near Cruise Port?
Key West's cruise port is located at 241 Front St, Key West, FL 33040. JV Rent' All is the closest Key West golf cart rental company to the cruise port.
What if my vacation home already has a golf cart?
Many vacation rental homes in Key West have a golf cart (or two) included in the house rental that the guests can use. Although you may easily save a few dollars, you must ensure the golf cart is street-legal before taking it out on public roadways. In addition, give the golf cart a good lookover and test run. Golf cart rental businesses regularly check their golf carts and perform regularly scheduled maintenance, whereas golf cart owners are not under the same obligations. Ensure that the golf cart's tires are free from wear and damage and that the motor/engine is in good working condition.
Closing Thoughts
Looking for more posts on Florida? Start here:
We participate in the Amazon Services LLC Associates Program, an affiliate advertising program designed to provide a means for us to earn fees by linking to Amazon.com and affiliated sites.
Subscribe to our newsletter and get the best travel tips and inspirational stories delivered monthly. No spam, no sales pitches – TRAVEL!
Brit On The Move™ Travel Resources
Ready to book your next trip? Use these resources that work:
Need more help planning your trip? Check out our Resources Page, highlighting the great companies we trust when traveling.