UTO Vacations – What To Expect – An Honest Review
If you travel and subscribe to any travel newsletter, you've likely heard of or seen UTO Vacations. They are the tour company behind the famous $299 China vacation package. UTO is often featured under Travelzoo's UTO Vacations. But what's it like to travel with UTO Vacations? Let's find out!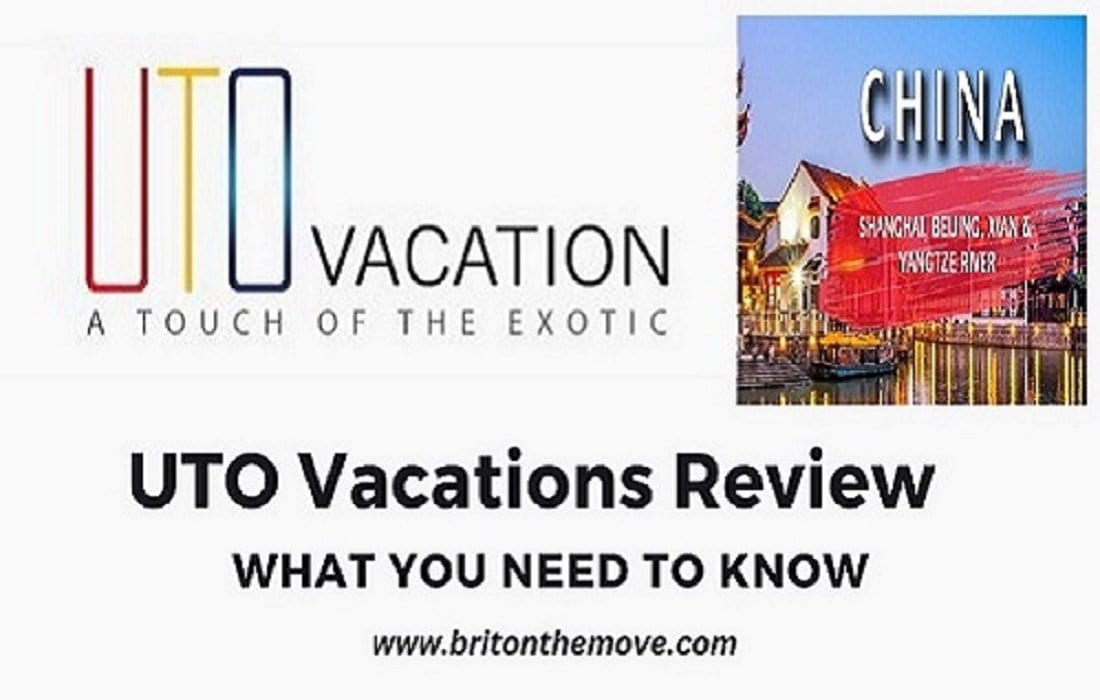 This post may contain affiliate links. Please read our disclosure and privacy policy for more information.
About Tour Companies
This is the first time in my life that I've not been my own travel agent or tour guide. It's the first time I have entrusted a company to plan all the logistics. Or should I say the first time I have put the control in someone else's hands.
While this was not a terrible experience, it was anything but perfect, and there's room for improvement.
About UTO Vacations
UTO Vacations is a travel company that provides guided tours and vacation packages to various destinations worldwide.
UTO Vacations operates out of Toronto, Ontario, Canada, and is a newer player. They have been in business for over ten years.
Travel companies like UTO Vacations usually design and organize comprehensive travel itineraries for individuals, families, and groups. They aim to make the travel experience convenient, enjoyable, and hassle-free for their customers. These companies often have a team of travel experts who research destinations, plan itineraries, and coordinate accommodation, transportation, meals, and sightseeing activities.
Travel companies typically provide customers detailed information about the destinations, including the highlights, local customs, and essential travel tips. They may also offer additional services such as visa assistance, travel insurance, and airport transfers.
UTO Vacations China Package
Like most of us, this tour operator will first catch your attention when you see the advertisements for ten days in China for $299. This package is how I wound up in Peru with UTO Vacations. However, my original intent was to travel to China, and that all went south when COVID-19 hit in 2020.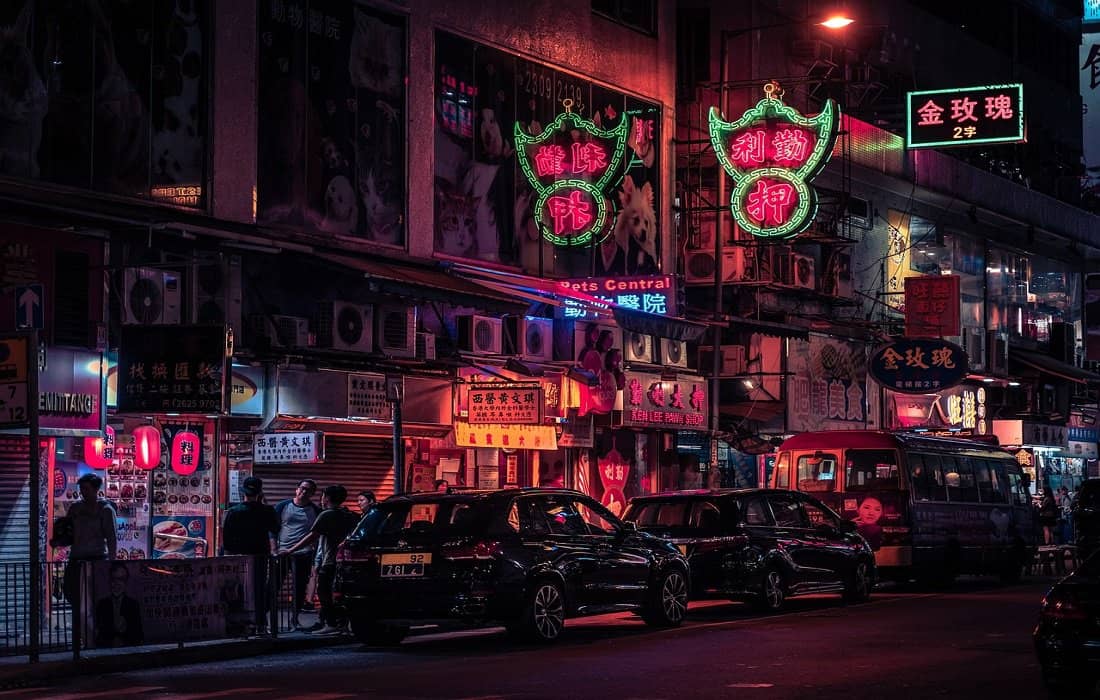 The Background
We were scheduled to travel to China in May of 2020. COVID-19 hit in March 2020, and we made a grave mistake. We rebooked our dates for October of 2020. Naturally, none of us knew then that COVID would be a prolonged issue. Given that we re-scheduled a date, we waived our opportunity to get a full refund.
Fast forward to the end of 2022. We still had $2,000 per couple sitting in the UTO Vacations account and needed to burn the credit before May 2023. There was little available that I had not already done, so we chose Peru to the tune of an additional $2,000 per couple. You'll wonder how we went from $299 per person to $1,000, but I will cover that below in the base fares.
Realistically, the trip we took to Peru was worth $2,000 max! Ironically, I've seen packages for Peru for the same for less than $1,000 per person.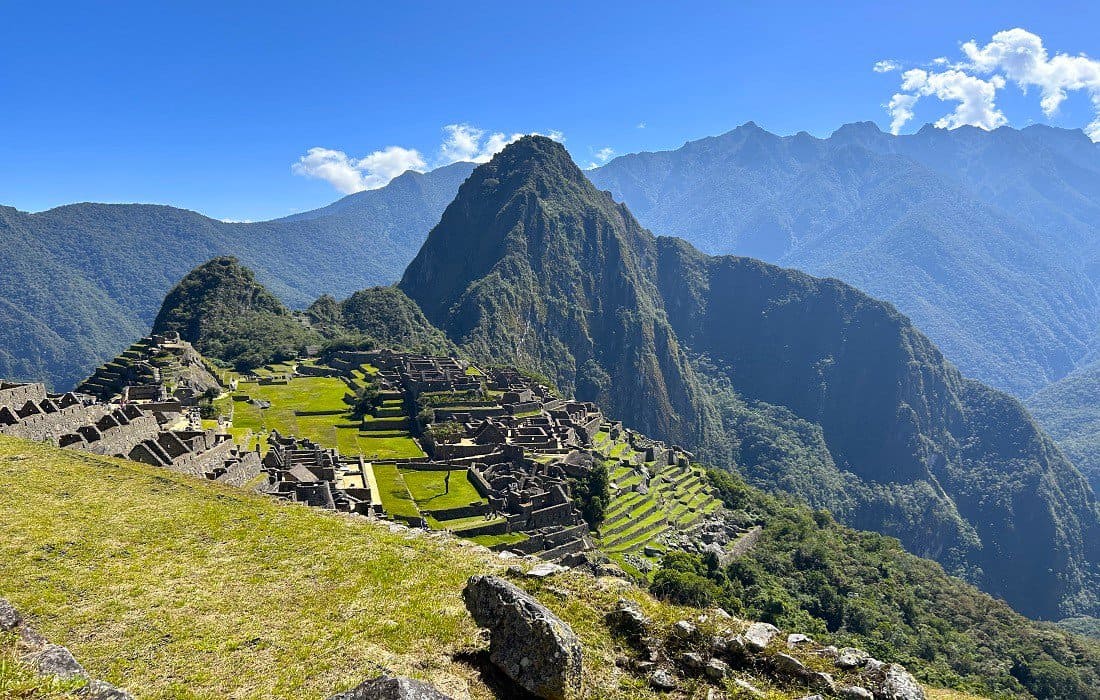 The bottom line here, folks, is there's no way in the world that I would spend $4,000 for two to go to Peru. It's ridiculous. This was a case of paying the additional money or losing it all.
Learn from me here! If your travel plans are ever canceled, get a refund and move on.
UTO Vacations Base Fare & Add Ons
While the base fares lure most in, you will incur additional costs. These fees quickly hike a $299 per person vacation into a $1,000 plus trip.
Visa – For China, the visa is $400 per person, so even if you get the $299 China package, you will be in it for $799 per person.
Mandatory Service Charge and tipping for driver and guide – They start at $180 per person for all trips.
Airport connections if not flying out of the advertised location.
I checked Bags – a new one for me on long-haul international flights. You also must pay for suspended flights on domestic routes as you fly to different locations in the country you are visiting. This is disclosed in the fine print. However, UTO Vacations book you on the cheapest possible ticket – basic. In other words, be prepared to pay for bags on ALL flights.
Tips while local. While UTO Vacations will hike you for $180 per person upfront, we learned quickly that these tips are not passed on to the local tour guides. I don't know if this is a fact or a ploy. Regardless, you feel complete with tipping and will end up tipping at least another $180 throughout your trip.
Taxes, but this is standard for any travel.
The UTO Vacation to Peru
I will not cover the sites of Peru in this article; those will follow. This article is specifically about the experience with UTO Vacations.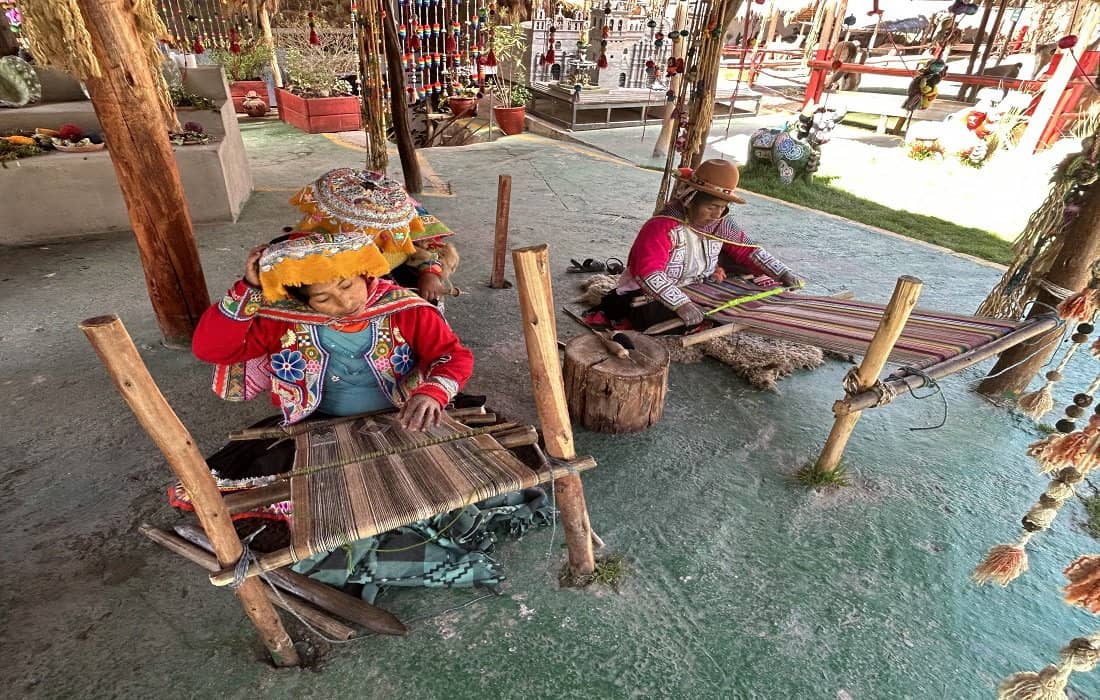 Logistics
Logistically, things were great, and we had very few issues. Our flights were on Delta; the flight routes were as planned.
Upon arrival in Peru, a representative awaited us, and we were promptly taken to our first hotel in Lima.
The same goes for the trip to Machu Pichu. Everything from the bus ride to the train to the guided tour inside ran flawlessly.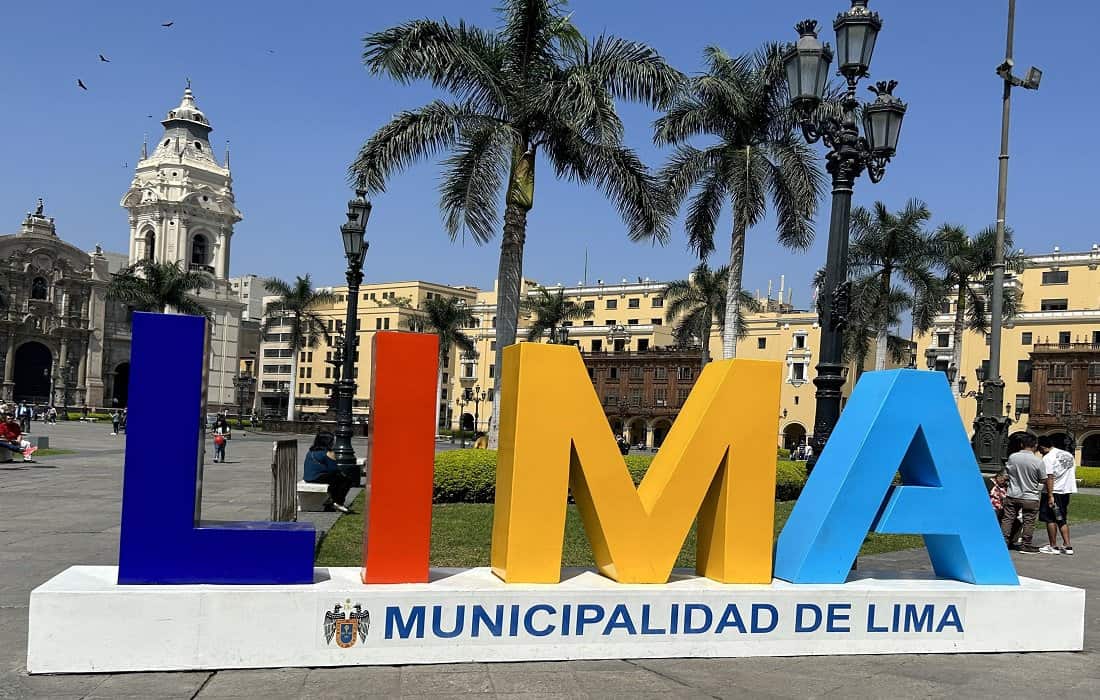 Lima To Cusco
We had to fly from Lima to Cusco to the Sacred Valley and Machu Picchu. Our tickets were not given to us in advance, and we didn't know which flight we were on.
We get dropped off outside the airport and expect to see a UTO Vacations representative. Fortunately, we recognized the representative who picked us up on day one. She helped the entire group because no one was there to assist us. I found this odd.
This would not have been an issue if we had boarding passes or directions on which flight.
The Hotels
We stayed in Lima, The Sacred Valley, and Cusco. Of the three hotels, only one was evenly remotely acceptable. And good means a notch up above a hostel or a motel.
Lima – Arawi Express Hotel
This place is bare bones. It's clean and has air conditioning, but that's all I can say that is good. There are no facilities, not even a pool or a bar. And skip the breakfast. It is undercooked scrambled eggs daily.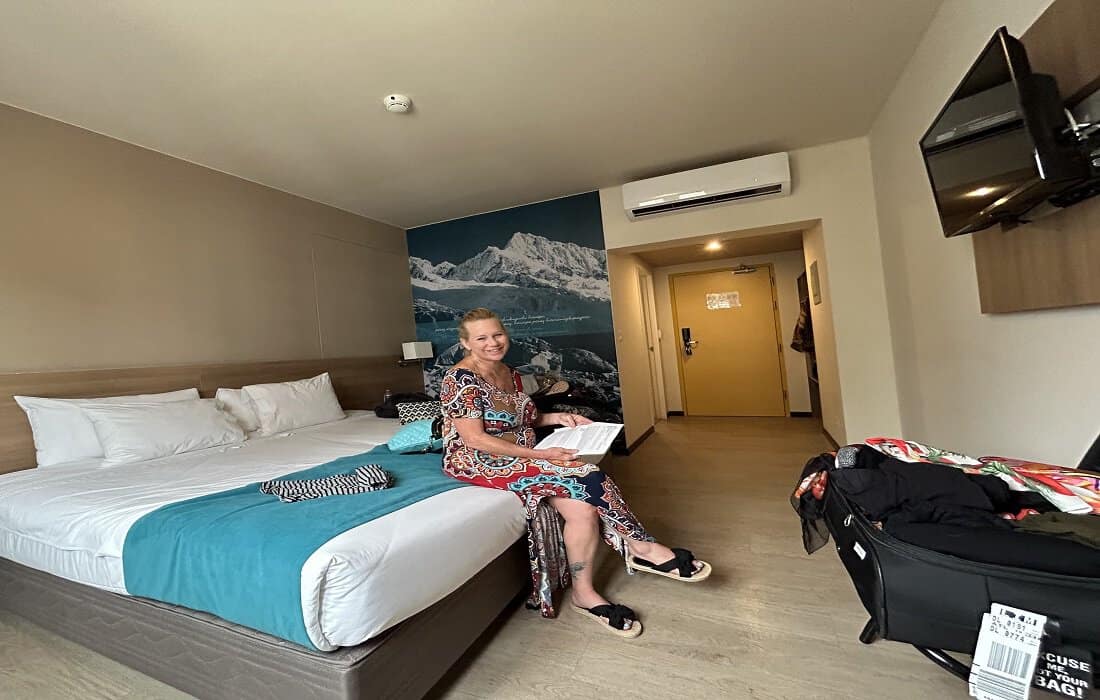 We arrived at our first hotel and were told that we could check in at the hotel. I guess what they meant by check-in was for us to give them our information and sit around and wait until 3 p.m. That's ridiculous! UTO Vacations changed our flights for us to attend an optional tour, and they knew that we would be there early.
After arguing about the ability to check in, this was deferred due to a UTO Vacation problem; I finally asked if rooms were available. Of course, they were, but we needed to pay an early check-in fee. I didn't pay for this. I carried on and got the front desk to contact the manager.
Regardless of "who's" fault, you cannot expect a customer who had booked an all-in package to arrive at 9 a.m. and sit around and wait till 3 p.m. to check-in.
The fault issue is a "theme" that continued throughout the trip.
Average Cost to Stay at Arawi Express Hotel in 2023 = $41 a night.

Approximate Value Three Nights = $123 – $150.
Sacred Valley – Amak Valle Hotel
This hotel is more of a resort and sits on the bank of an adorable river. Extremely rustic, almost safari-like, with giant soaking tubs and great food.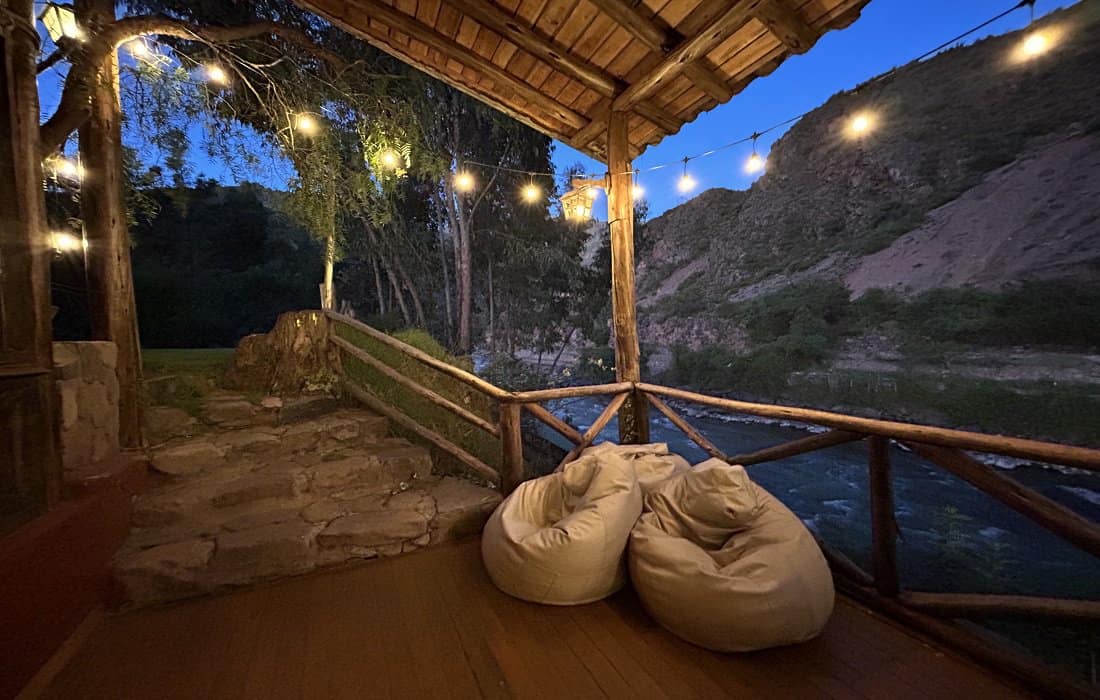 This is what I expected most of our hotels to be like. Sadly, we only had two nights here.
Average Cost to Stay at Amak Valle Hotel in 2023 = $65 a night.

Approximate Value Two Nights = $130 – $150.
Cusco – Muru Homely Hotel
Another bare-bones hotel with limited facilities.
This hotel is located at the top of a hill outside the tourist district—a good mile to walk each up and down.
Not necessarily a hotel issue. However, Cusco sits nearly 8,000 feet higher than Machu Picchu. In layman's terms, walking up and down at 11,200 feet altitude.
You don't have extra days to adjust to this new altitude. So placing us in a hotel outside the central area on a hill was silly and unthoughtful. You must take taxis to go from one location to another.
Hiking it around will damn near kill you – even if you have the altitude medicine.
And almost everyone in our group experienced nose bleeds in Cusco, which is expected.
Average Cost to Stay at Muru Homely Hotel in 2023 – $80 a night.

Approximate Value Two Nights = $160 – $200.
Who Travels With UTO Vacations?
I looked at many of the photos from the China packages, which looked like a very diverse group. Once we switched to Peru, I thought this would be a much older crowd. I experience this: The more exclusive, expensive, or elaborate a destination is, the more senior the group is. This was not the case for Peru.
We had a broad age range from 26 to 73. And those 73-year-olds were badasses capable of outclimbing any forty-year-old.

There were ten of us in our group. What a lovely, funny, lighthearted group of people. Early into our time together, we all bonded over some Viagra humor. One guest asked where you could get it (which you can all over in Peru without a script), and the jokes flew from there.
We had several group lunches. Everyone shared sunscreen, local foods, and experiences. Everyone helped each other climb the top of Machu Pichu. We all shared medications like altitude meds with those who did not have them. It was like being with lifelong friends or family.
Our group all shared a traditional Peruvian dish called "cuy" (guinea pig):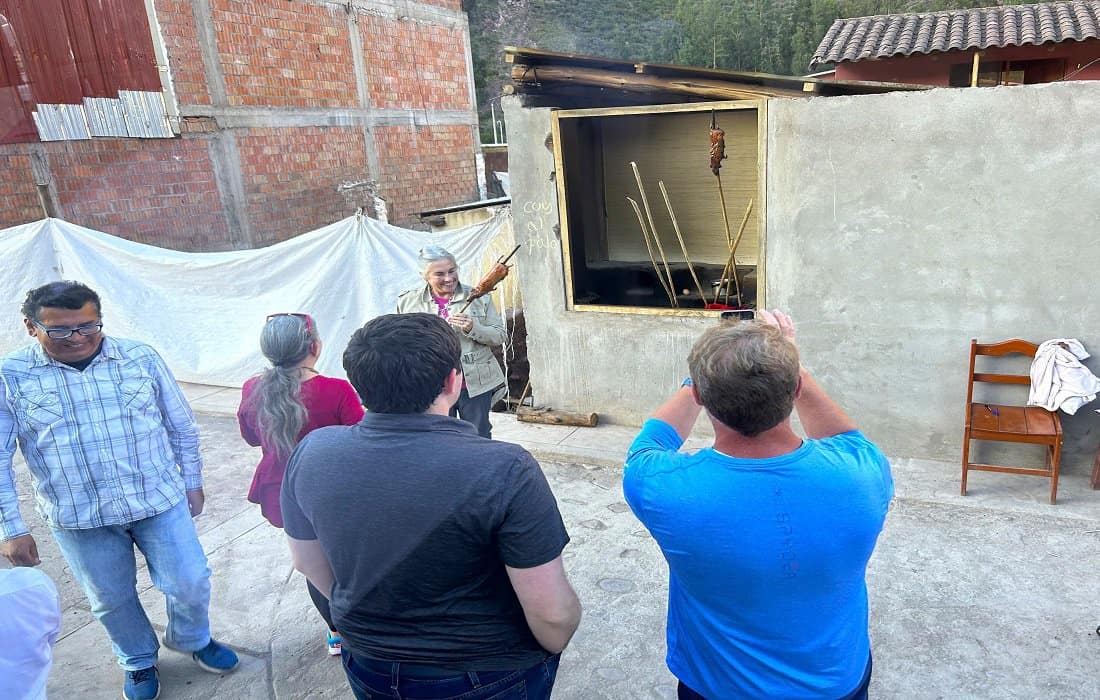 We didn't have one complainer or stick in the mud. And everyone had a glass-half-full attitude.
One of the highlights of this trip is the people we met and had the privilege of traveling with. We've all kept in touch. I can't tell you how grateful I am for this. One of my main concerns was the vibe of the people I would travel with.
The vibe on our trip was light and extraordinarily comical, and everyone was kind. This alone has changed my mind about using a tour company again.
Optional Tours Booked Via UTO Vacations
Some tours are included when you book with a tour company, but you can add plenty of sightseeing tours. We booked the following, and this was our experience.
Water Circuit by Night Light Show – Lima – UTO Cost $89 Per Person
You can see from the description that this tour includes the water show and dinner.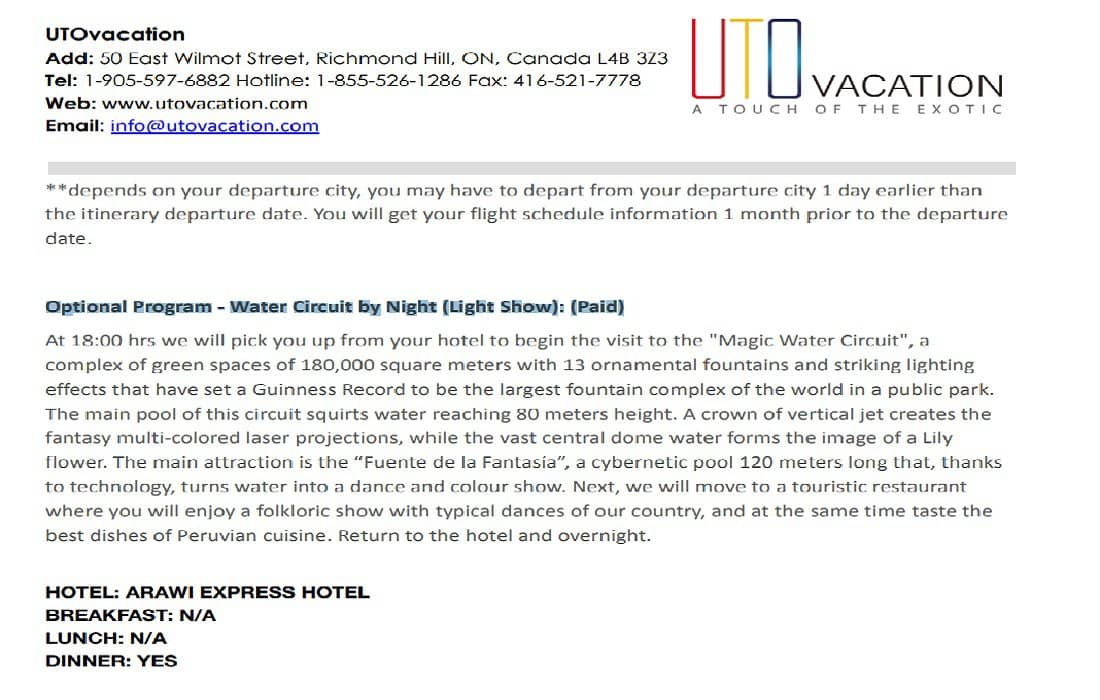 We get to the water show; you can attend for $1 and are advised there is no dinner.
I complained and went slightly psycho because we did not have a plan B – this was the plan for the night! Our guide explains that it's not the guide or local company but UTO Vacations. UTO Vacations claims dinner is not included. Bollocks! Not only does our documentation say it, but this is how the tour is advertised.
We were able to get this resolved and were taken to the dinner show the following evening.
The Water Show – Magic Water Circuit in Lima
Upon arrival, we discover that the entry fee is a dollar a person. Essentially, we could've taken an Uber ride there and done it ourselves for a dollar a person.
We did have a tour guide which helped. The park was interesting to a degree. However, even if it was free, this is not memorable.
Street vendors were selling local dishes and drinks, which was enjoyable. But when all is said and done, it's a park with fountains that light up at best.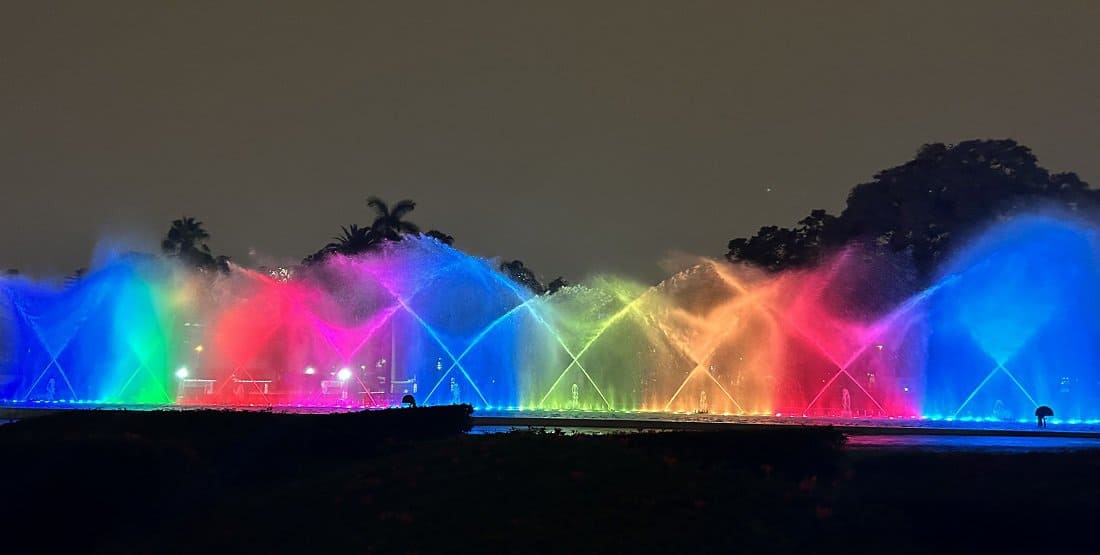 Dpaso Hacienda – Dinner Show in Lima
Recall our dinner was rescheduled due to the original mistake. I still don't know if the Dpaso Hacienda – Dinner Show was a part of our original itinerary. Regardless, this was fantastic! The show alone is worth attending.
This is a whole night out with an indoor cultural dancing show and an outdoor horse show. Both were fascinating!
[envira-gallery id="44093″]
The show includes the shows and dinner but not drinks.
Locally booked, this dinner show costs about $20. If you book via Viator, it costs $89.
Cocktails Tour – Cusco – Cost $89 – Per Person
As you can see from the description, this is a cocktail tour, and dinner is included.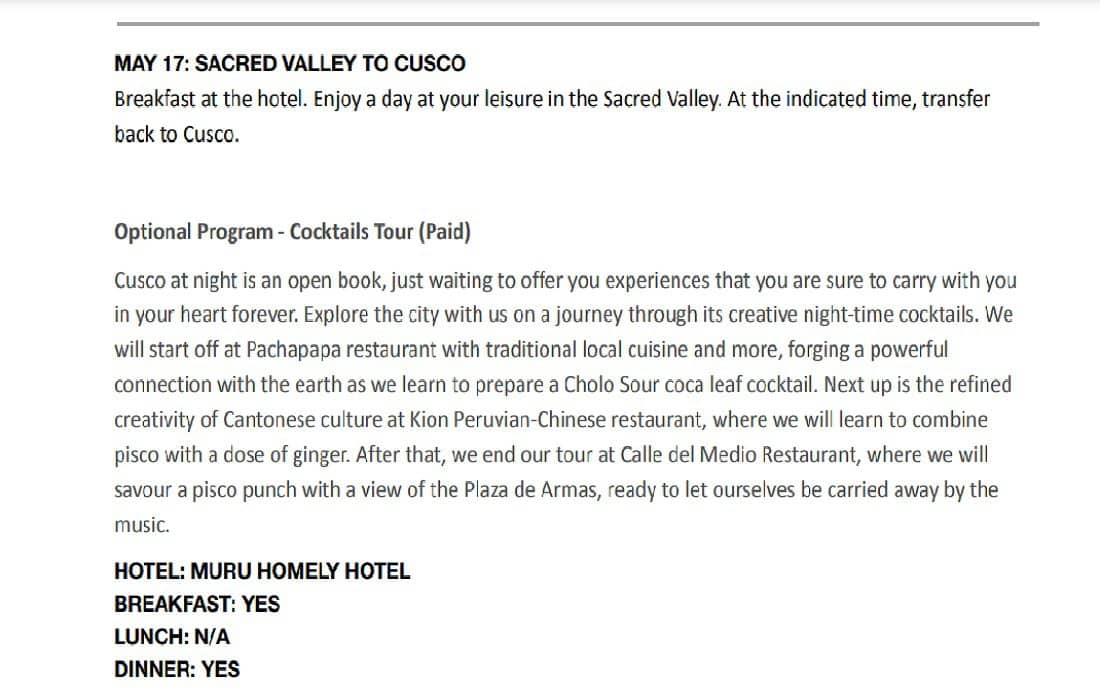 Our guide arrives, and the first issue is they want us to walk the mile down the hill and back up. It is not happening.
Then we are told dinner is not included. I didn't even debate this. I said we are not going. Call UTO Vacations and refund us.
Our tour guide called UTO, and they advised that it was a printing error. I told the rep that it was irrelevant. Let's move forward with the refund.
Our fantastic guide suggests that rather than waste the whole night; we eat at a great restaurant downtown – off we go by cab.
We got downtown no sooner than UTO Vacations, called him, and advised that they were paying for dinner (you know because it's included), and we headed to the restaurant.
The Restaurant – Calle Del Medio Cocina Peruana
The bartender met us at Calle Del Medio Cocina Peruana. We had the entire bar area to ourselves. Not only did we learn and make local drinks – varieties of Pisco Sour, but we also enjoyed fabulous food.
[envira-gallery id="44101″]
We ended up having a fantastic night here. This was well worth the money and was one of our favorite nights.
UTO Vacations Customer Service
Sadly, I had many interactions with UTO's Customer Service over the two years they had our money.
New Dates
Remember I told you we rebooked our China tour and waived our right to cancellation and refund?
When we went to rebook for October 2020, the cost for the dates we picked was less than our original package. It took a good ten phone calls to get the difference credited.
I had to play "catch" you with the manager. She knew my phone number and would let it go to voice mail. I called from a different number, got through directly, and advised her that I was acutely aware she was directing me to voice mail.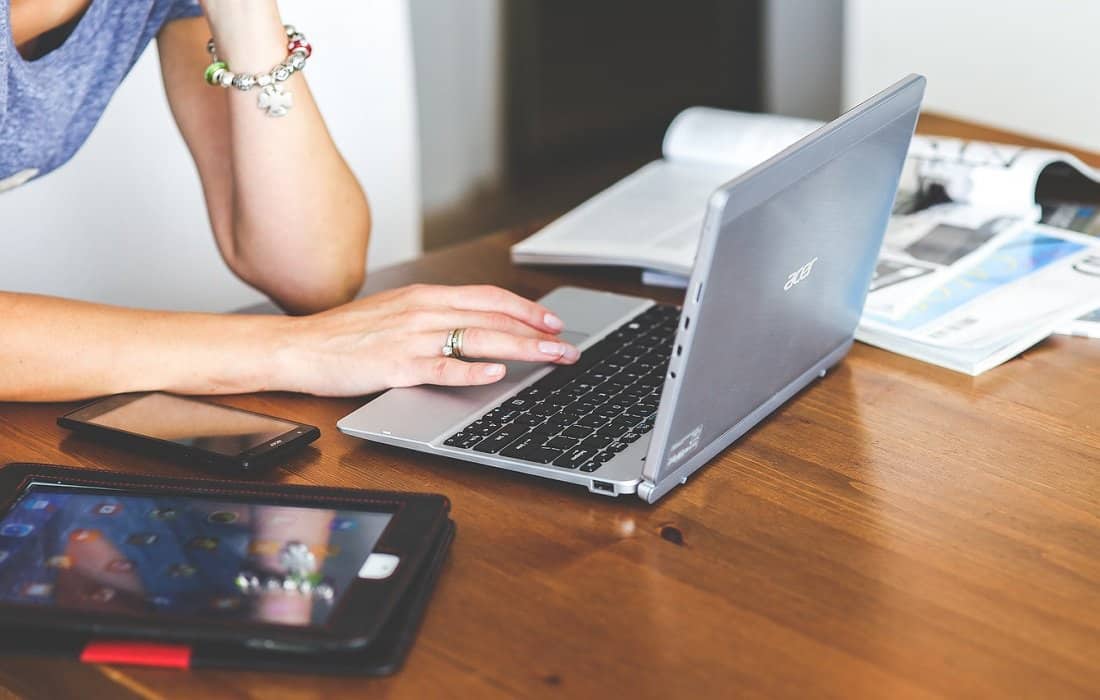 She did take all my calls following this "got you," but it's not very professional.
I also got the credits for the price difference for both me and all the others in our group.
Lastly, as you read above, we had issues with the Optional Tours. There were lots of back and forth here. UTO Vacations did step up to the plate and make things right, but only after my insistence that they do.
Pro Tip for Customer Service: Suppose you've booked with UTO Vacations and are experiencing a challenge. Message me, and I'll give you the direct numbers for the managers.
This will save you hours being bumped around the phone system and getting nowhere.
Who Does UTO Vacations Use For Flights?
This will shock a lot of you, but they will use whoever gets you there the cheapest. For us, it was Delta; for everyone else on the tour, it was Spirit. This alone should tell you the quality of providers.
What I Liked About UTO Vacations
I liked having someone else do the logistics. I will admit I was skeptical and a little uneasy at first, but I did like it. It made it foolproof to get from point A to point B. It also saved me a lot of time researching routes. Show up on time, and the rest is taken care of.
The plan of what to visit and in what order was on point.
Some general city tours were included as a part of the package.
The people we traveled with were fantastic. I expected a group of stuffy senior citizens. That is not the case! Our age range was diverse, but everyone on our trip was an avid traveler with a wonderful sense of humor.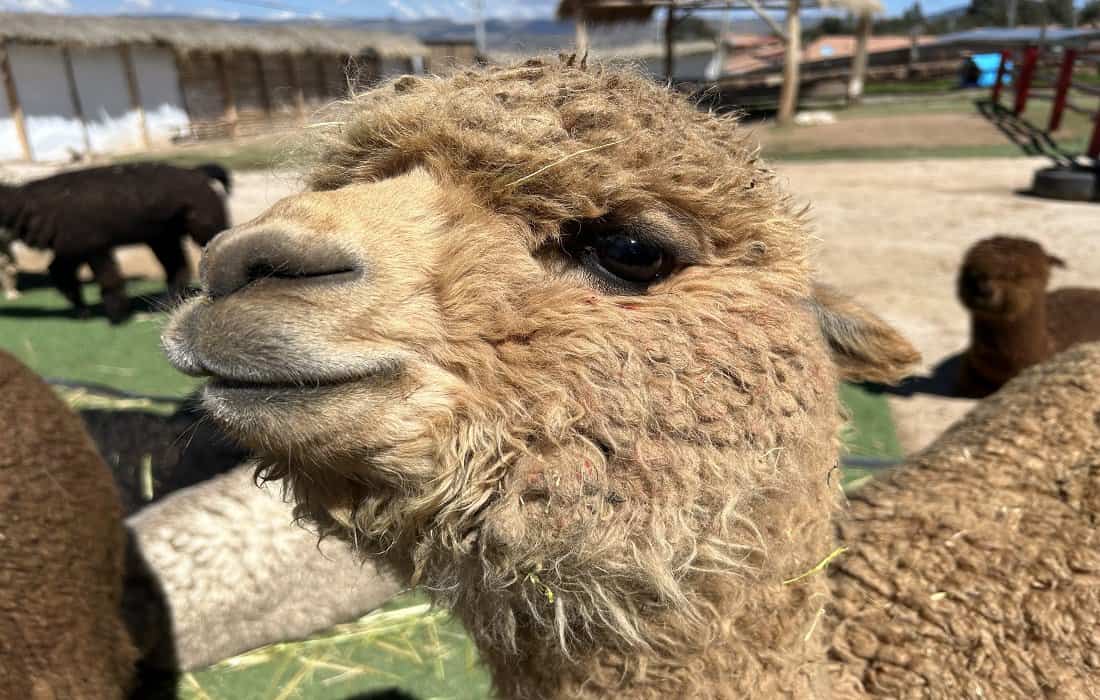 What I Did Not Like About UTO Vacations
The hotels were garbage except for the Amak Valle Hotel in the Sacred Valley. This, folks, is where UTO is stacking up some cash. The total cost of our hotels would have been $500, and I suspect UTO got these hotels for even less than the listing price.
I do not appreciate bait and switch. Don't tell me something is included, like dinner, then turn around and say it's not. Especially don't do this when it's in black and white.
Booking basic fares and expecting the customer to pay for luggage is tacky.
Collecting tips in advance – I'll never know who, if what, got anything from the $180 per person. But I know this. We tipped more than this on the ground.
Customer service is not excellent. You must be a stickler to get UTO Vacations to budge or honor commitments.
Closing Thoughts
UTO Vacations claims this:
"our state-of-the-art technology allows us to remove many of the overhead expenses our competitors would typically pass on to you, the consumer."
I'm afraid I have to disagree. The technology I use – "the Internet" would have eliminated tons of excess charges passed on to the customer.
Further, their website will tell you that they have helped 500,000 people explore the world. Then, brag that they have over "900 positive online reviews". I'm not a mathematician, but this is less than 1% of all clients.
If you choose UTO Vacations because you think you are getting a deal, move on.
The only value I see is the $299 China trip. Purely and simply because you cannot and will not find a round-trip flight to China anywhere for $299. In short, they have access to bulk-buy cheap flights to China.
Would I Use UTO Vacations Again?
I might consider taking advantage of the $299 China deal; it is unbeatable. However, if I do, I will upgrade all hotels.
Looking for more posts in South America? Start here:
We participate in the Amazon Services LLC Associates Program, an affiliate advertising program designed to provide a means for us to earn fees by linking to Amazon.com and affiliated sites.
Subscribe to our newsletter and get the best travel tips and inspirational stories delivered monthly. No spam, no sales pitches – TRAVEL!
Brit On The Move™ Travel Resources
Ready to book your next trip? Use these resources that work:
Need more help planning your trip? Check out our Resources Page, highlighting the great companies we trust when traveling.