Everybody knows I'm a huge fan of unusual places to stay. Lately, I've been on a mission to try out as many different types of accommodations as I can. Naturally, staying in a shepherd's hut in a field in the middle of nowhere was high on my list of things to try.
Going into this, I felt I knew what to expect. Having stayed in a traditional covered wagon, I assumed it would be similar. However, it was very different, and the experience exceeded all my expectations.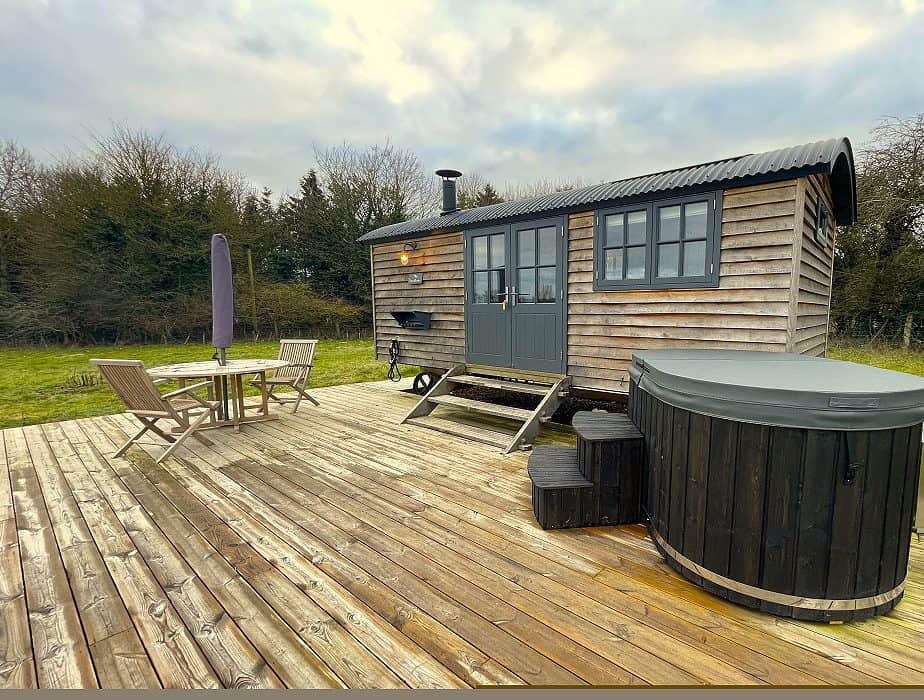 This post may contain affiliate links. Please read our disclosure and privacy policy for more information.
What is a Shepherd's Hut
A shepherd's hut is a small, traditional dwelling typically used by shepherds for shelter and storage while tending to their flocks in the countryside. They are often made of wood and metal and feature a small living area, sleeping area, and cooking area. Some modern versions are used as vacation rentals or even as permanent homes.
The Location – Exhall, Warwickshire England
The location most people flock to in Warwickshire is Stratford-Upon-Avon to explore all things Shakespeare. I recently stayed in Stratford-Upon-Avon for the same reason. I chose Hotel Indigo Stratford-Upon-Avon for my first visit, but I wish I had discovered Exhall Retreats first. Had I found Exhall Retreats, I could have combined my quest to discover Shakespeare with my urge to stay in a shepherd's hut.
This little shepherd's hut I stayed in is less than 15 minutes away from Stratford-Upon-Avon, and it was a much better experience than the Hotel Indigo Stratford-Upon-Avon. It is also better value for money.
Exhall is a village and civil parish in Stratford-Upon-Avon, Warwickshire, England, approximately one mile south-south-east of Alcester. This parish includes Little Britain, a hamlet in neighboring Temple Grafton, and Ardens Grafton, most of which is in its neighboring parish. As of 2011, Exhall parish had 203 residents.
Exhall lies on Hay Brook, a tributary of the Arrow River. Besides ecclesiastical parishes, the civil parish shares a cricket club with Alcester and Wixford.
While Exhall is a tiny village, it's packed with Tudor houses and farms, which will capture your attention. You'll also see plenty of people riding their horses.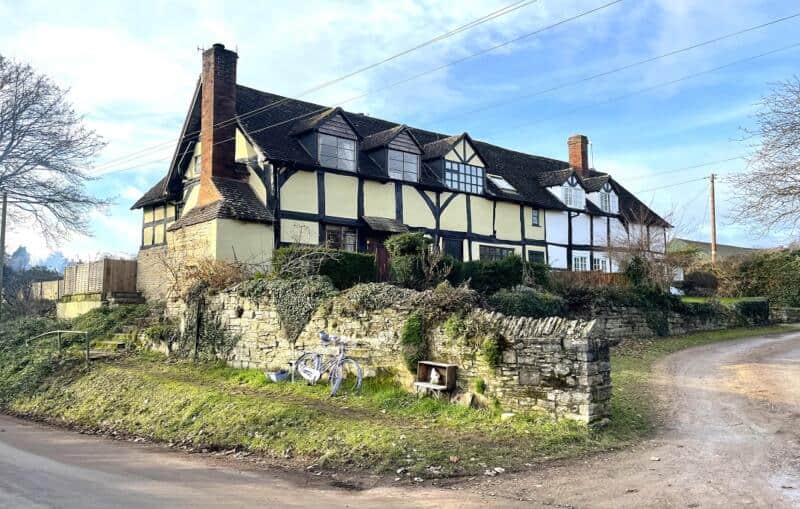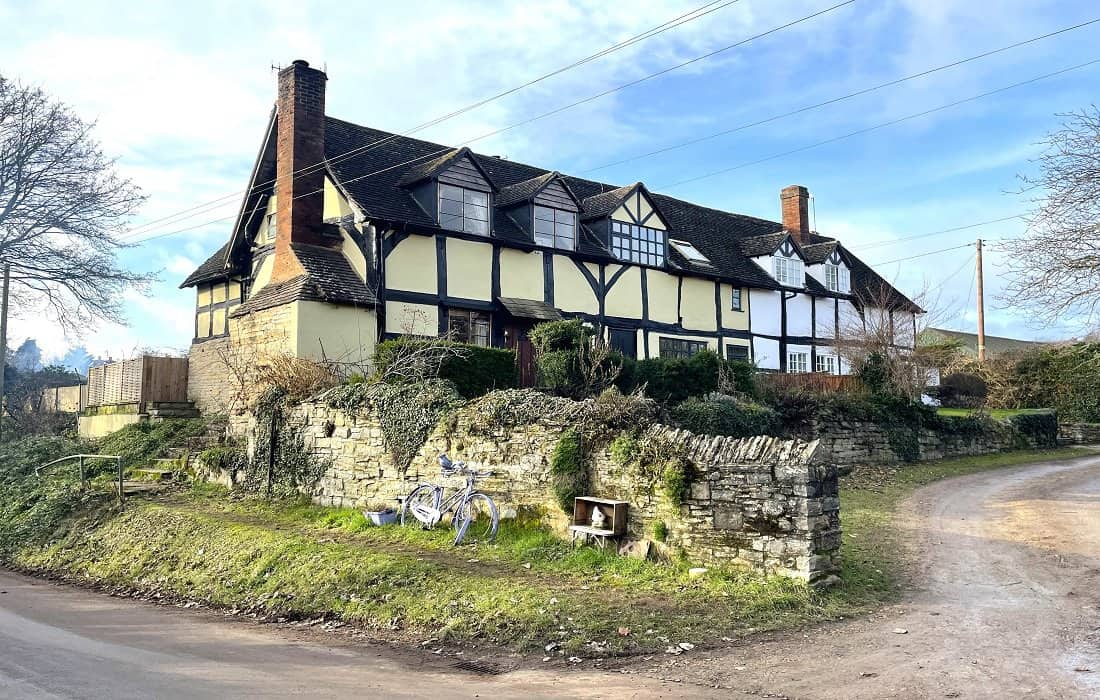 Arrival and Check In
The hosts were kind enough to meet me on-site to check me in. I typically don't get to meet the hosts, but I was happy to. It allowed me to ask loads of questions about the shepherd huts.
You park by the farm and then get your first glimpse of the huts set back in the field overlooking Valley Farm.
There are three charming shepherd huts in the field. It's pretty remote but in the village and close to amenities. You will see the sheep and horses in the pasture as you approach.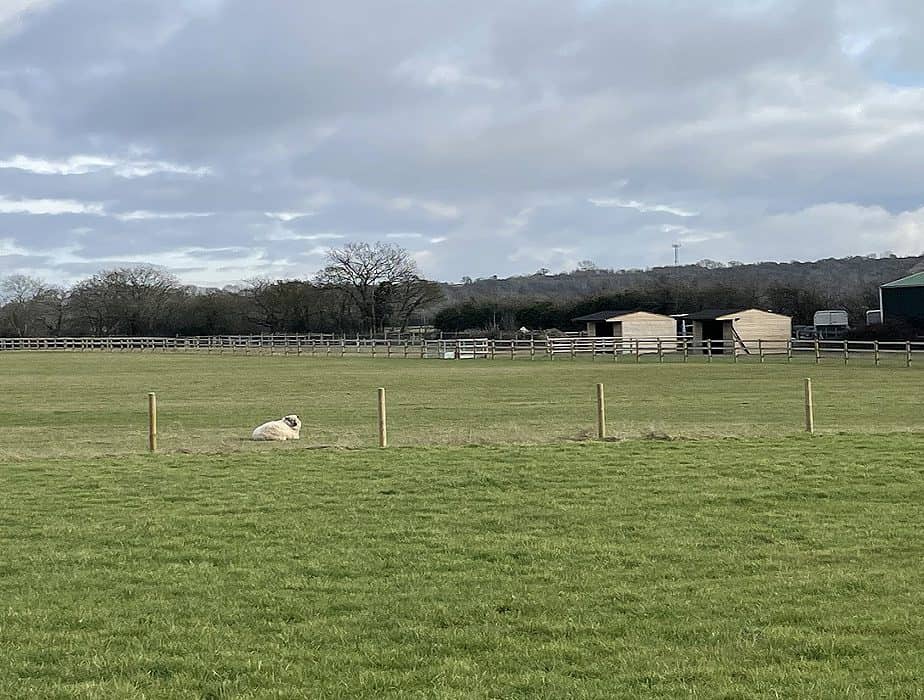 Inside The Shepherd's Hut
I can honestly say I was blown away when the doors opened up. The pictures of this place do not do it justice online. Yes, I knew it would be comfortable, but this is beyond comfortable.
This is high-end glamping, top-notch, top-of-the-line, and beyond well-thought-out.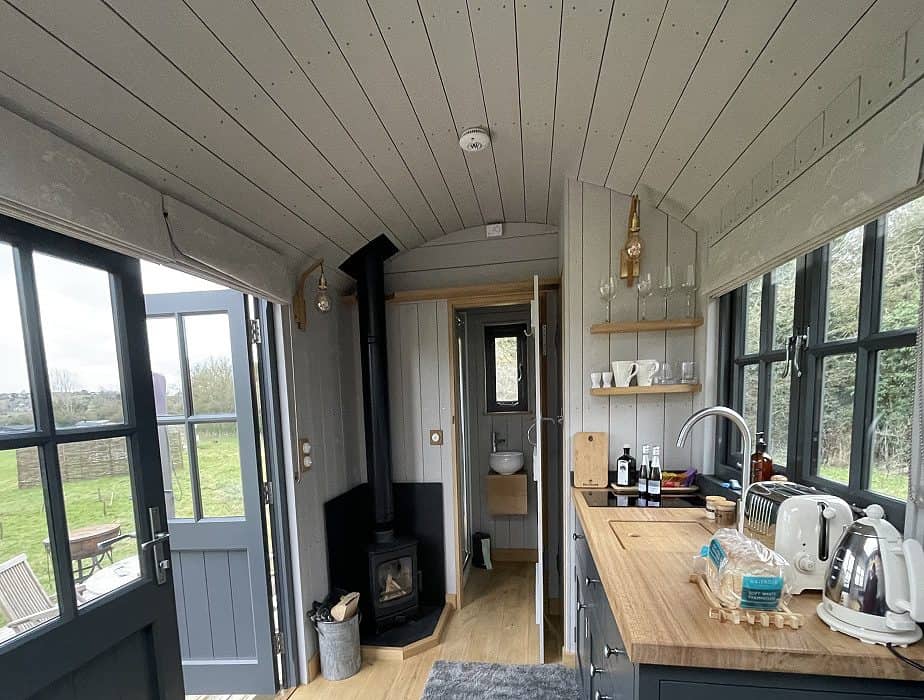 The modern decoration and gray hues immediately strike you. The entire ceiling curves with panels all painted in matching grays. Following the theme are gray faux sheepskin rugs and plush throw pillows.
The way the shepherd's hut is laid out is clever. There's a bathroom on the left-hand side with a full-size shower, a tiny, adorable sink, and a fully functioning toilet. To the right is the main living area, which doubles as the bedroom.
The Living Room & Bedroom
There is a traditional wood-burning stove in the middle of the living area. My eyes popped out of my head when I saw this.
I actually couldn't believe that this was going to happen. A real log-burning fireplace in this wooden hut! I'm still baffled that this is allowed. I have an Airbnb of my own, and I don't allow guests to use the fireplace inside for liability reasons. Still, mine is in America, not England, and the insurance laws are drastically different.
The hosts provide tons of dry wood for the fireplace, the wood-burning hot tub, and fire starters.
There's even a mini electric heater in the unlikely event that the woodburning stove is not enough to keep you hot.
The living room before it's converted to a bedroom: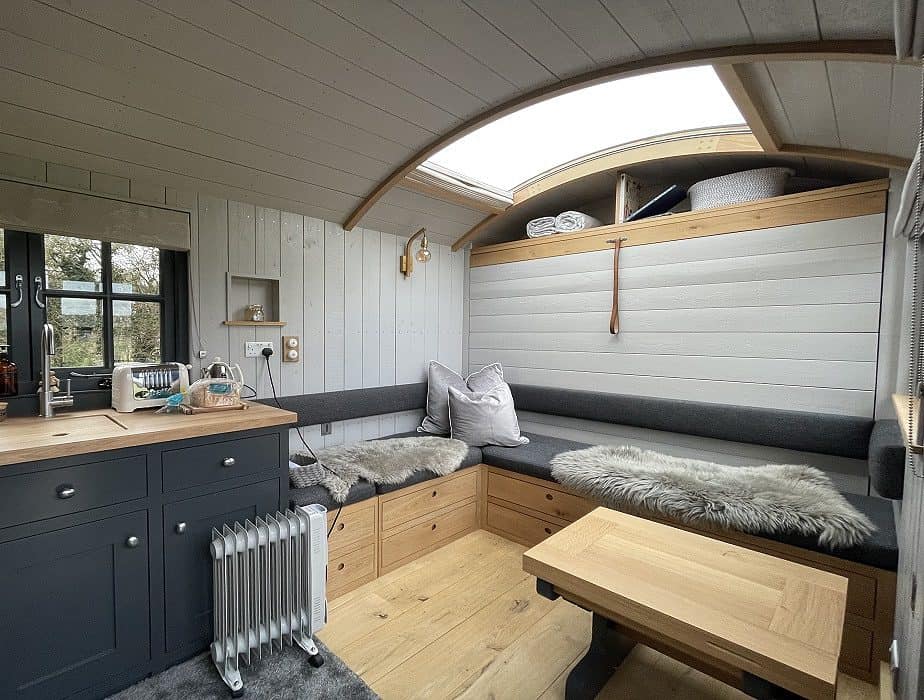 The bedroom:
Such a clever design. You pull the wall down, and boom, you have a bed!
As with everything in this glamorous shepherd's hut, this is not a cheap bed setup. The bedding is all luxury cotton from Next – another high-end British chain. The pillows and comforter are all down. It's impossible not to get a good night's sleep in this bed.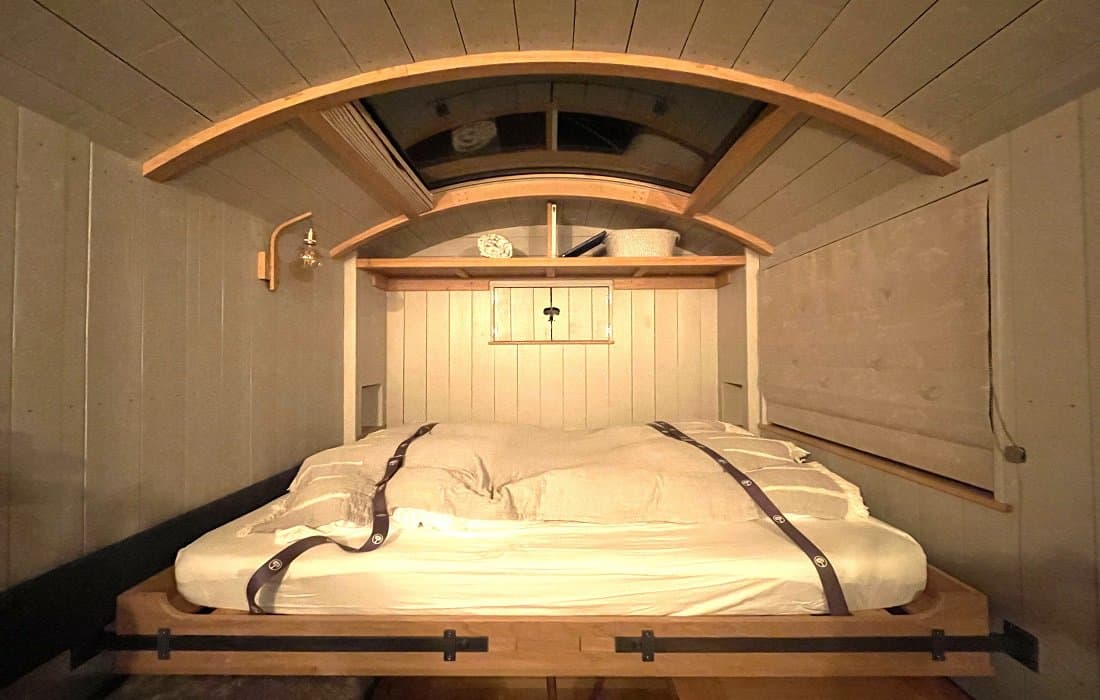 The skylight:
Who does not want to watch stars from their living room or bed? This clever cutout is excellent for views, gives you wonderful light through the day, and opens up the space.
The skylight has a custom blind; you can leave it open to star gaze or close it for darkness.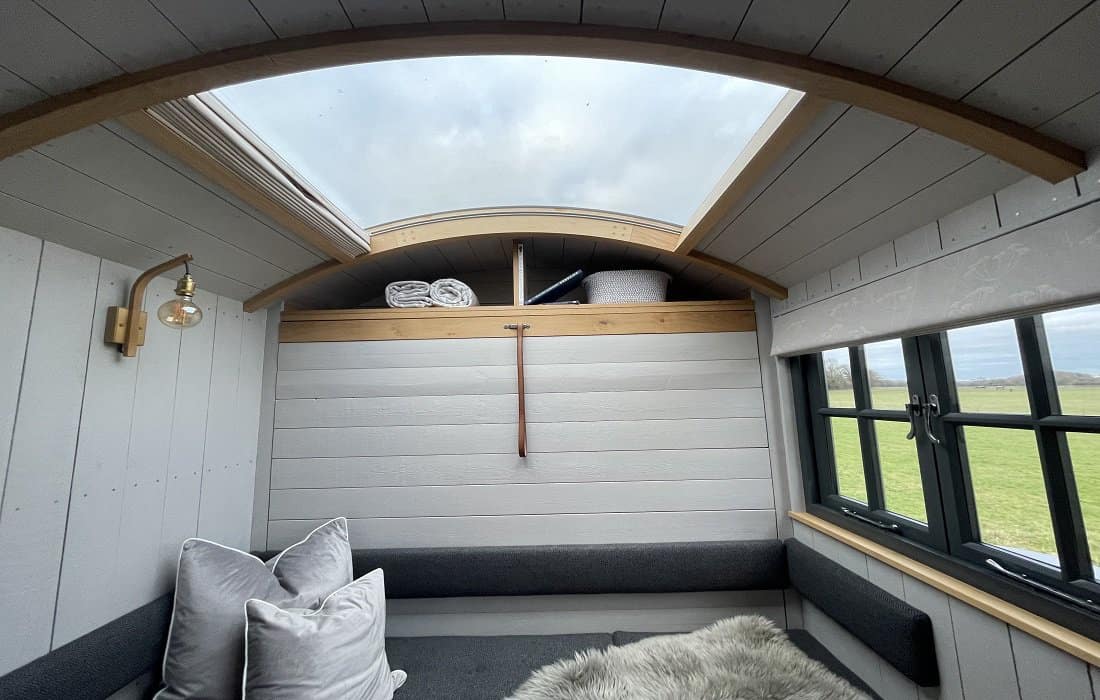 The Kitchen
The kitchen area is small and entirely functional, with a full sink, a hob, and everything you need to cook a meal except a microwave. From my perspective, I don't need a microwave. The idea here is that you are camping. Well, "somewhat" camping, so giving up some standard amenities like a microwave is a part of the experience.
There's a full-sized barbecue outside, so you are all set for old-school cooking, enhancing the experience.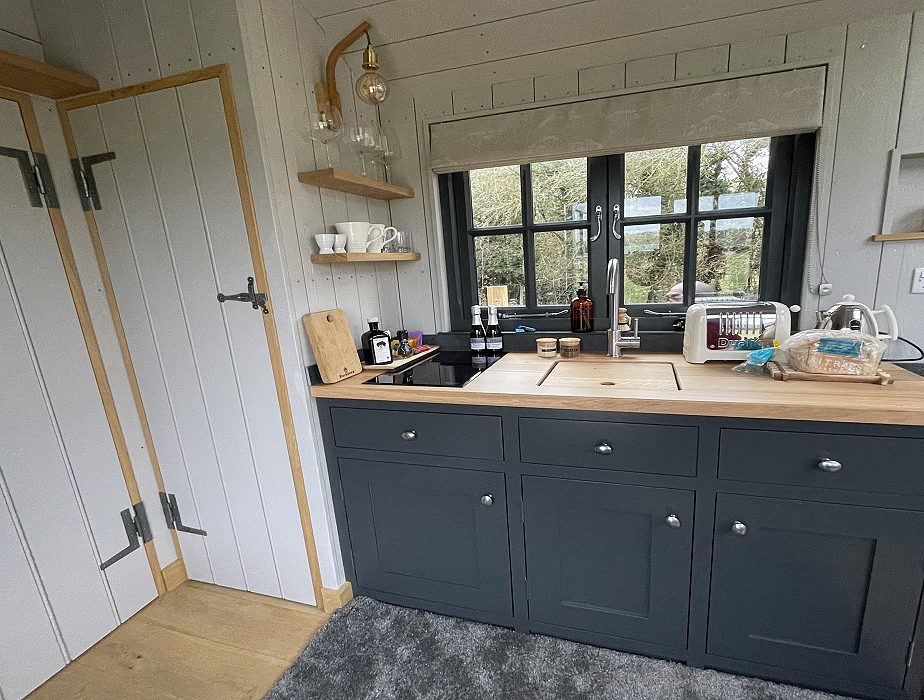 The Bathroom
You might think small bathrooms are not functional or tight on space. They are a tad tight on space but fully functional. The shepherd's huts have a full bathroom with a full-size eco-shower that pumps hot water like a traditional shower with great pressure.
All the towels are thick and fluffy; once again, no expense is spared.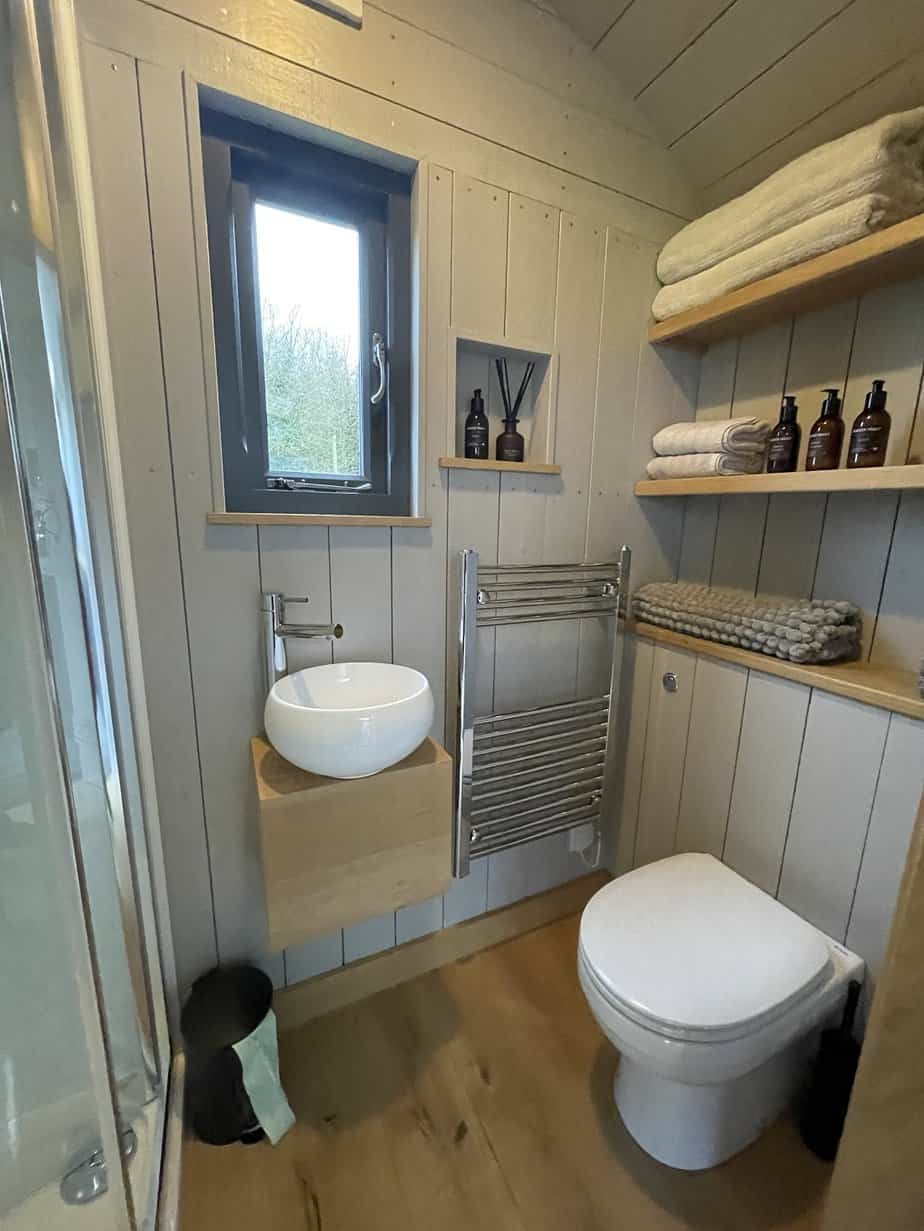 The Amenities
This is no ordinary glamping setup. The hosts have thought of everything – even USB outlets in every socket.
Let's start with the hot tub basket with a thermometer, un-breakable wine glasses, and towels – everything you need to enjoy the hot tub. There's even an umbrella in the closet if you experience England's rain!
Notice there is also a full-length mirror. A must in any space for ladies.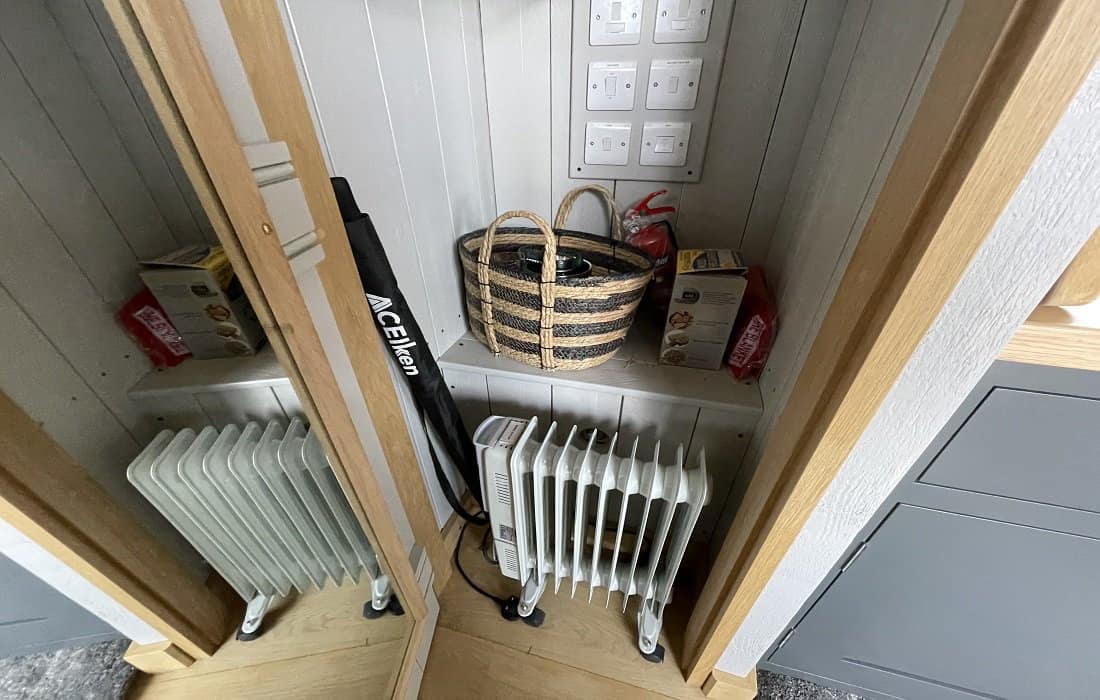 Then there are the luxurious bathroom products by Rebecca Tracey. A brand whose Perfumed Workshop is in the historic town of William Shakespeare.
I appreciated that these are local products; they're excellent ways to promote local businesses. Perhaps more impressive is that the hosts are willing to share these with their guests.
These are not cheap products; they are high quality and moderately priced, something you do not find in many Airbnb's.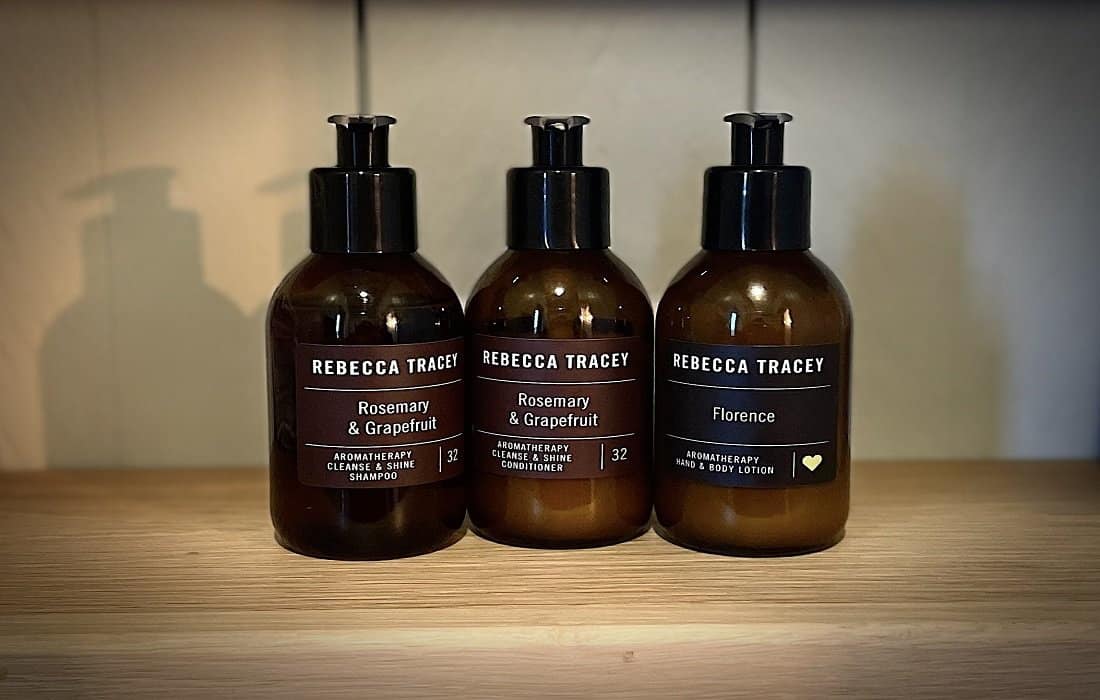 There's also a diffuser that smells so heavenly that I went and bought it the next day. It's the Balance Line by Marks and Spencers, another great British brand.
Welcome Gifts
Small touches are never lost on me, and receiving two bottles of organic prosecco was a lovely surprise – but not the only one. The hosts left fresh bead and butter with jam for breakfast:: tea, coffee, and a pint of milk. And there was chocolate and cookies!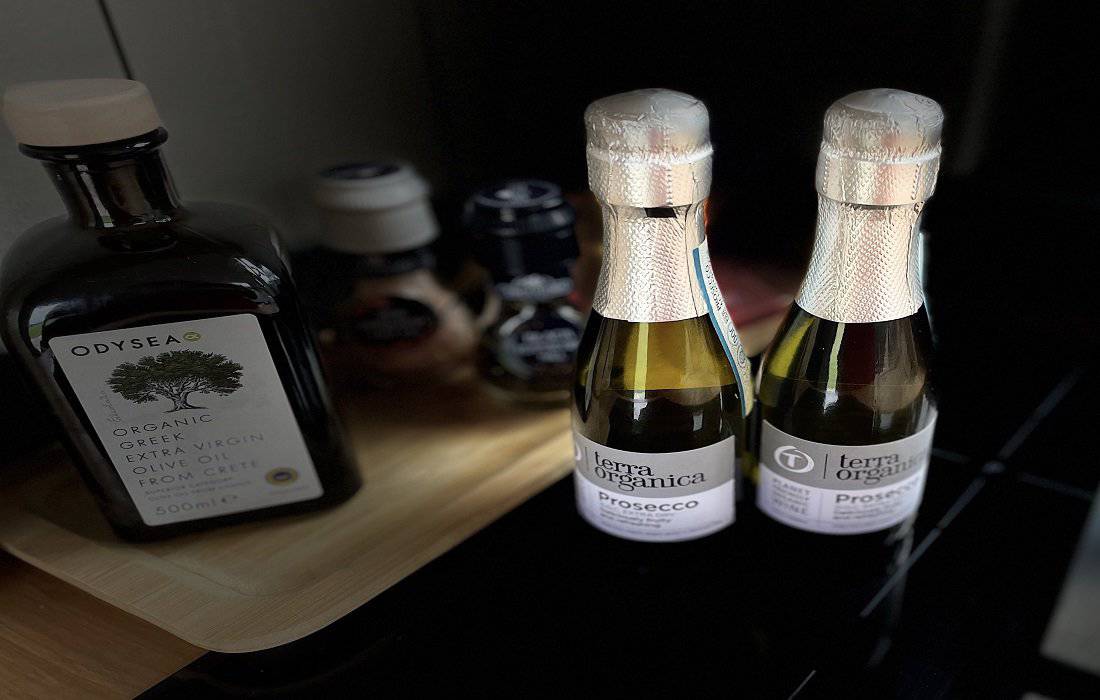 The Wood Burning Fire
I thought the woodburning fireplace would be the star attraction. It's a star, but the woodburning hot tub wins first prize!
You will enjoy this little beauty's glow as the flames dance and be nice and toasty as it throws out tons of heat.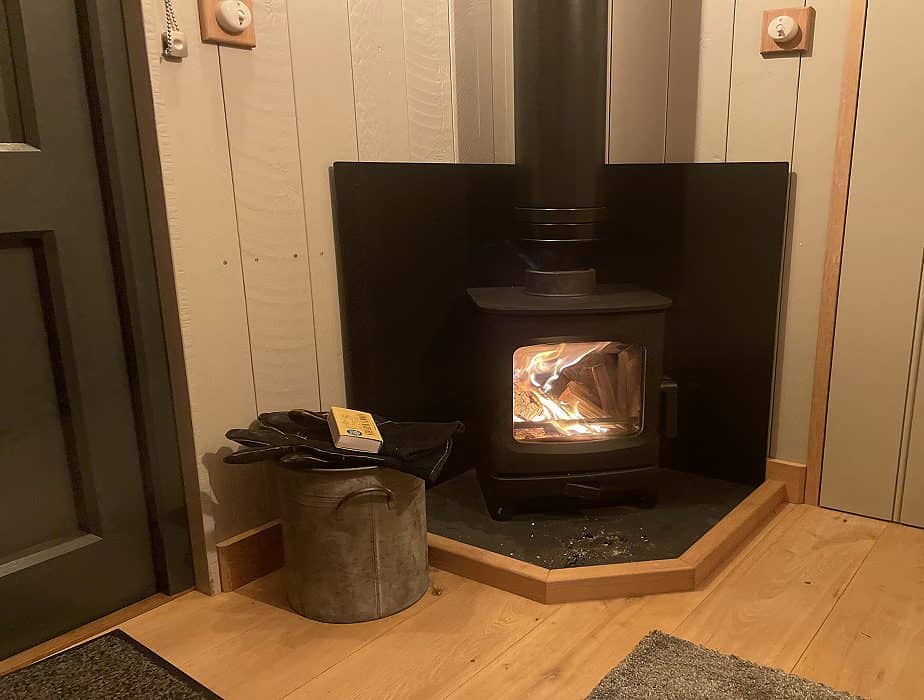 The Wood Burning Hot Tub
Then there is what I would say is by far the superstar of this stay – the wood-burning hot tub.
If you enjoy baths like I do or enjoy hot tubs and saunas, steam rooms, or anything along those lines, you haven't lived until you've experienced a wood-burning hot tub.
Let's start with the obvious this is such a quirky, old-fashioned world-turned-new "thing" that should grab anyone's attention.
Once you've gotten over the fact that you can experience bathing outside in your wood-burning hot tub, it's time to turn her on!
It takes a couple of hours to heat up. However, once it gets going – oh my gosh – talk about the heat. So much heat that I had to get out a couple of times to cool down and then get back in.
I can't tell you how relaxing it is to sit in steaming, hot water with steam coming from every angle while sitting outside in the cold in the middle of a field.
People that are into hot tubs will appreciate this. This hot tub also has lights. Not one light, many that you can change or rotate the color of. In other words, you get some chromotherapy going simultaneously.
This woodburning was a first for me. It was fantastic and made an already great experience divine. I am forever spoiled! Electric hot tubs pail in comparison.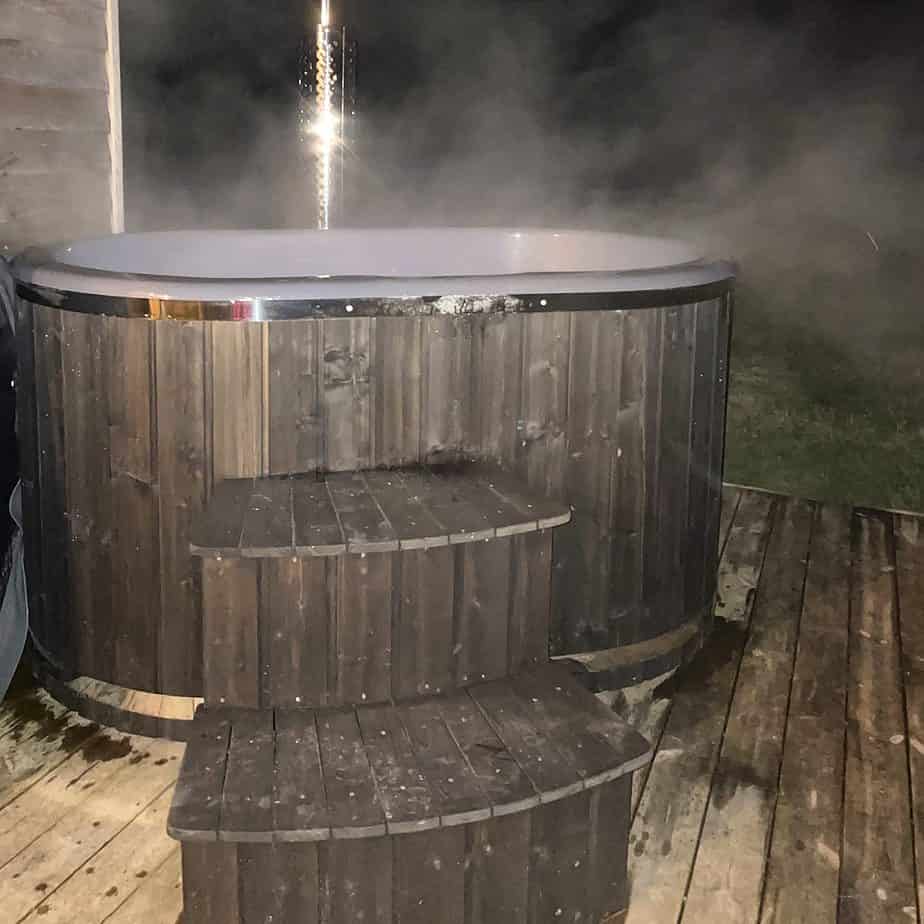 Things To Do In Warwickshire, England
Assuming you can persuade yourself to leave the shepherd's hut and explore, there's much to see in the area:
Check out Ragley Hall, Park & Gardens
Visit Coughton Court
Spend the day exploring Alcester
Visit Warwick Castle
Try paintball at UKPaintball Redditch
Explore the Shakespeare Birthplace Trust properties
Visit the Royal Shakespeare Company Theater
Stroll through the gardens of Kenilworth Castle
Walk along the River Avon
Take a tour of the PSA Peugeot Citroen factory
Visit the Coventry Transport Museum
Explore the Mary Arden's Farm and the Falstaff Experience
Visit the Compton Verney Art Gallery
Enjoy a round of golf at the Leamington & County Golf Club.
FAQs
What is the other name for a shepherd's hut?
The other name for shepherd's huts is shealing.
Is there a toilet in a shepherd's hut?
To accommodate extra features like double beds, small kitchens, and bathrooms, shepherd's huts have, by necessity, grown broader and longer over the years. Here's what you need to know about pipework, plumbing, and pumps if you're planning to build a bathroom in your shepherd's hut.
Closing Thoughts
There are thousands of shepherd's huts for rent around the world. Hundreds in England. Fortunately for me, I chose well! I'm no stranger to glamping or camping, and the experiences vary from rustic to eccentric and glamorous.
Alison and Ruth may be at the beginning of their hosting journey, but they will be Super Hosts in no time!
I'm still reflecting on this stay. Following Exhall, I stayed in two properties in Wales. One is a famous underground hobbit hole, and the other is a roundhouse that mimics a Hansel and Gretel setup. Neither one compared, not even close, and for different reasons that you'll read about later.
All said and done; this is my favorite stay of the last two months. That's saying a lot considering I'm on stay 18!
So, forget the brands and the in-city accommodations and try staying here – you will not regret it.
Looking For Other Unusual Stays? Start Here:
We participate in the Amazon Services LLC Associates Program, an affiliate advertising program designed to provide a means for us to earn fees by linking to Amazon.com and affiliated sites.
Brit On The Move™ Travel Resources
Ready to book your next trip? Use these resources that work:
Need more help planning your trip? Check out our Resources Page, highlighting the great companies we trust when traveling.