I've wanted to stay at the LEGOLAND Hotel in Florida since its debut on May 15, 2015. After many visits to the park, I finally stayed at the resort seven years later. Fascinated with themed resorts and luxury hotels, I was curious if the LEGOLAND Hotels in Florida would stack up to others in the area. For reference, we stayed at the Pirates Island Hotel, which is adjoined to the main LEGOLAND Hotel and shares a lobby. Here's everything you need to know about staying and if it's worth the cost!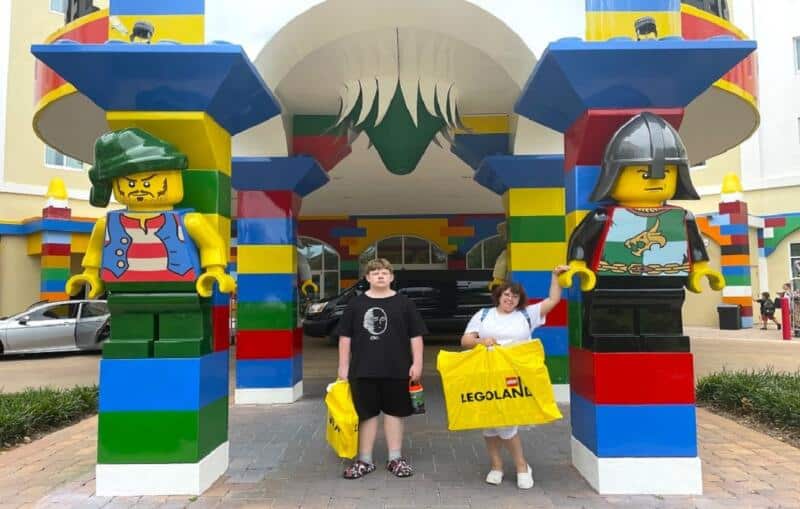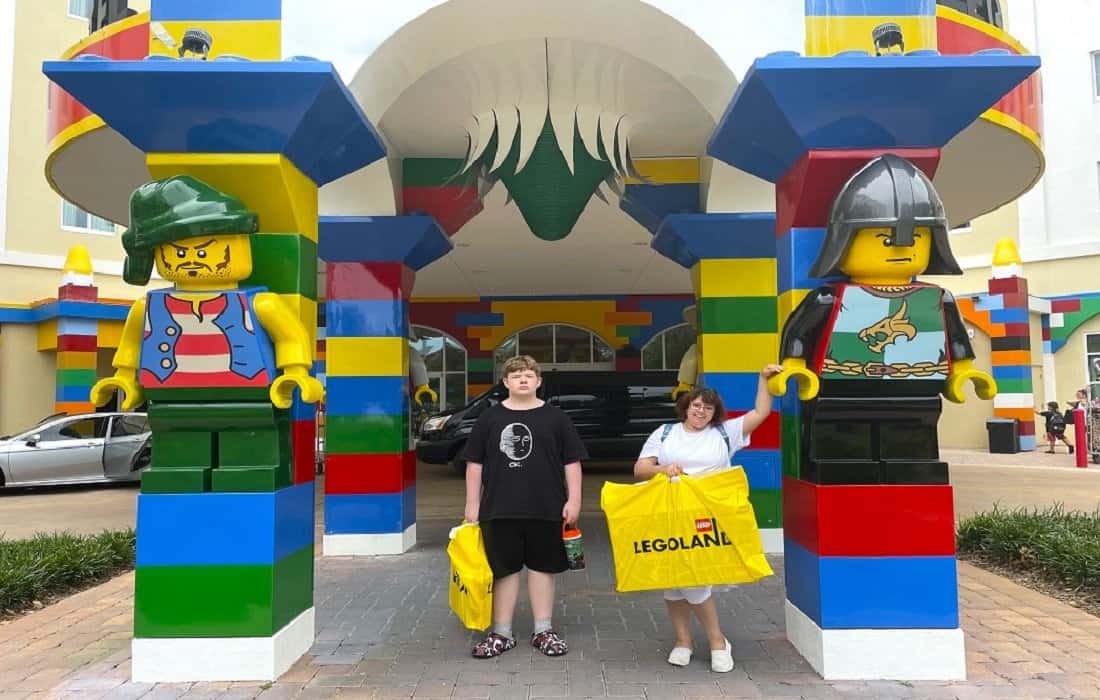 This post may contain affiliate links. Please read our disclosure and privacy policy for more information.
This is not a sponsored post. We paid to stay at LEGOLAND Resort, and all the opinions are those of Brit on the Move™. And, you know the deal – sponsored or not. I will tell you the good, the bad, and the ugly.
About LEGOLAND
Before we get to the nuts and bolts of the hotel and resort, let me share some things you probably do not know.
Did you know that in America alone, 1 in 44 children have autism? Autistic people have social skills, repetitive behaviors, speech, and nonverbal communication challenges. People with autism might have sensitivities to:
Sights
Sounds
Smells
Tastes
Touch
Balance – Vestibular
Awareness of body position and movement – Proprioception
Understanding of internal body cues and sensations – Interoception
Source: Autism Speaks
Both Peppa Pig and LEGOLAND have sensory guides for ALL rides and attractions.
The sensory guides provide information on how the five senses may affect a child with sensory processing issues. The guides use a scale is 1 – 5, with one being the lowest in terms of impact to a sense.
Jessica, my third cousin, is autistic and lives in England. She visted us and I took her to experience theme parks that understand and cater to her needs. Something the rest of theme parks have not quite adopted yet. Legoland Hotel in Florida delivers and a lot more than expected!
Jessica is living her best life at LEGOLAND: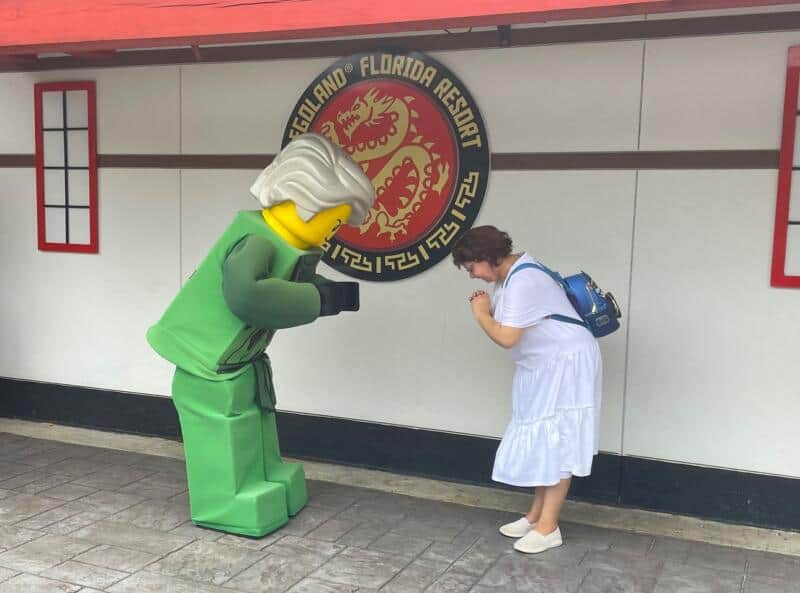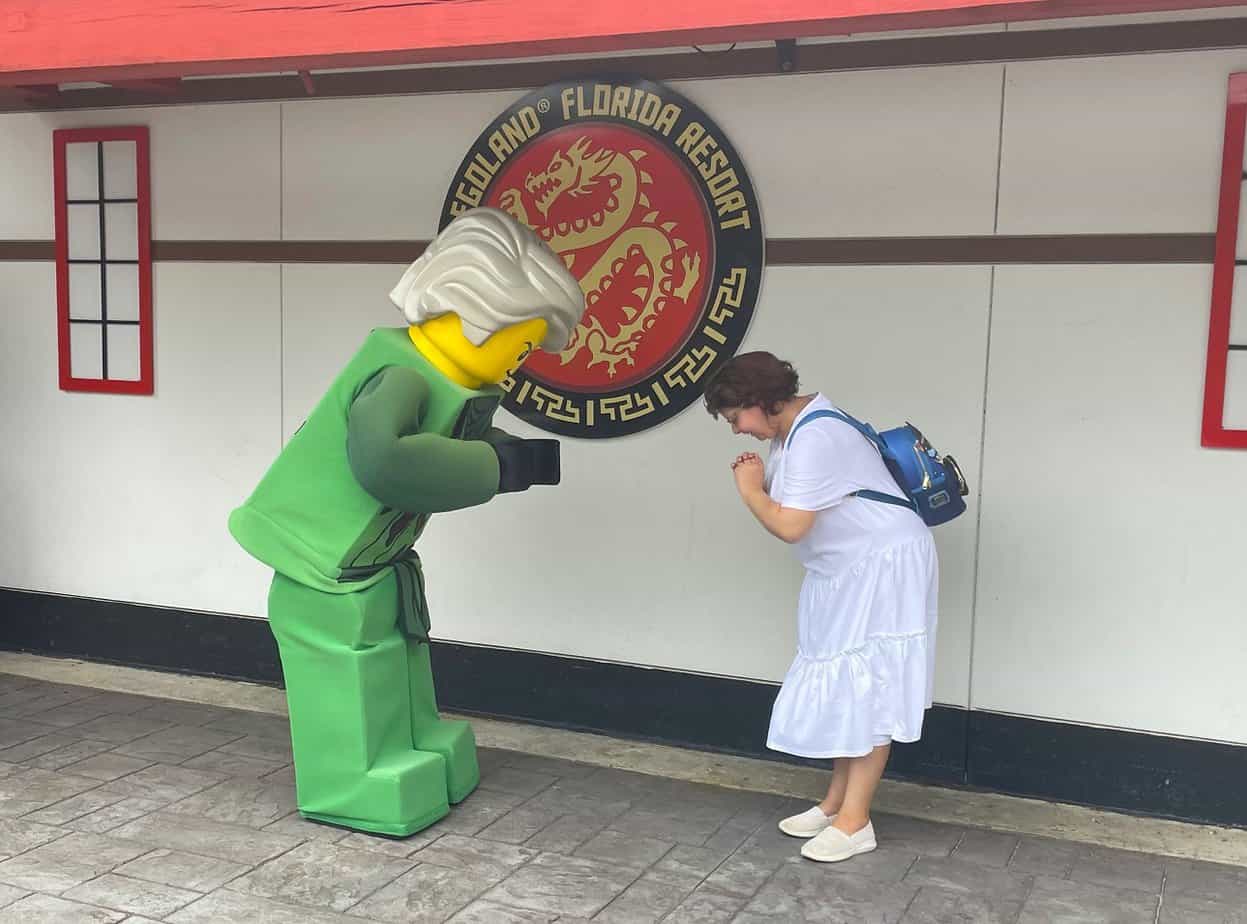 LEGOLAND Gives Back!
As if we didn't already love the company, this just seals the deal!
LEGOLAND® Florida Resort has extended its intended contribution to the American Red Cross to $130,000 to help people affected by Hurricane Ian. The Resort has extended this donation to $130,000 to surpass the $126,000 the Resort gave to the American Red Cross in 2019, following Hurricane Dorian, in the hopes that all communities will continue to build and rebuild together.
Check-In
You can pull your car up and unload, then park. I did the opposite; I left the crew in the car and checked in. They then all took our gear up to the room.
Check-in is at 4:00 pm. However, we arrived at 11:00 am. The hotel will do everything possible to get you in quickly. We were lucky enough to be able to check in immediately.
There are concierges to take your luggage up if you need it, or they will store your luggage if you can't check in immediately. Golf cart rides can also take you to the parking area or park entrance.
The Lobby
This is where all of the action takes place! It is LEGO overload. Shows take place in the castle, and kids run free as they should, but it is loud. It's been years since I've seen this many sprogs in their element running wild.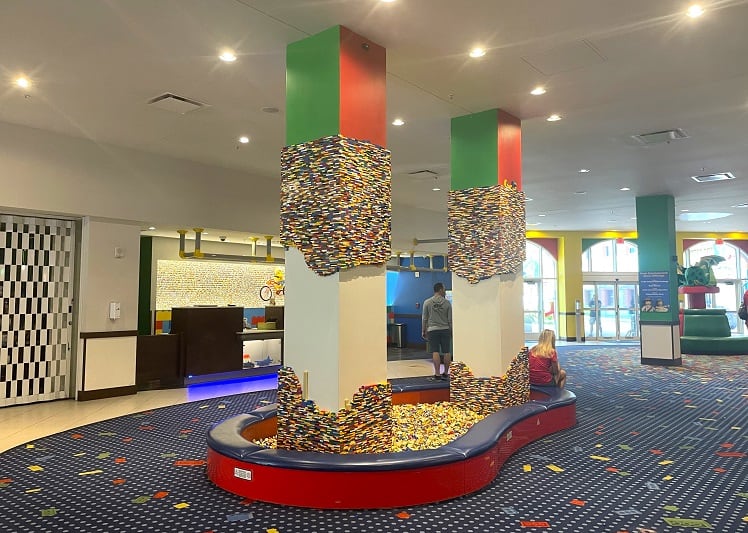 The Room At Legoland Hotel in Florida
I've stayed at many resorts and hotels and am no stranger to themed rooms. We booked a standard room which in most hotels or resorts would be considered a suite.
I was blown away by the detail. All of the accents are built with LEGO. There is several Alexa's in the LEGO theme. Even the carpet is a LEGO theme. The room's overall design is clever, and the features are mind-blowing.
As you walk to the left, there's a separate kid's room. It has a bunk bed with a trundle, a TV, and loads of LEGO!
Now, when I say kids – I also mean adults that are autistic in this context. If you don't understand this analogy or don't get it, do some research. Autistic people have social impairments and repetitive behaviors that persist into adulthood. It does not mean they do not thrive as adults – they do! However, they are interested in the things we all loved as kids.
And, let's be honest – who does not want a good reason to be staying here or watching LEGO movies? I know I do!
Lastly, if you are not up on what autism is and feel the need to judge, come with the comments – just be prepared for the not-so-nice side of me and a life lesson you will not like.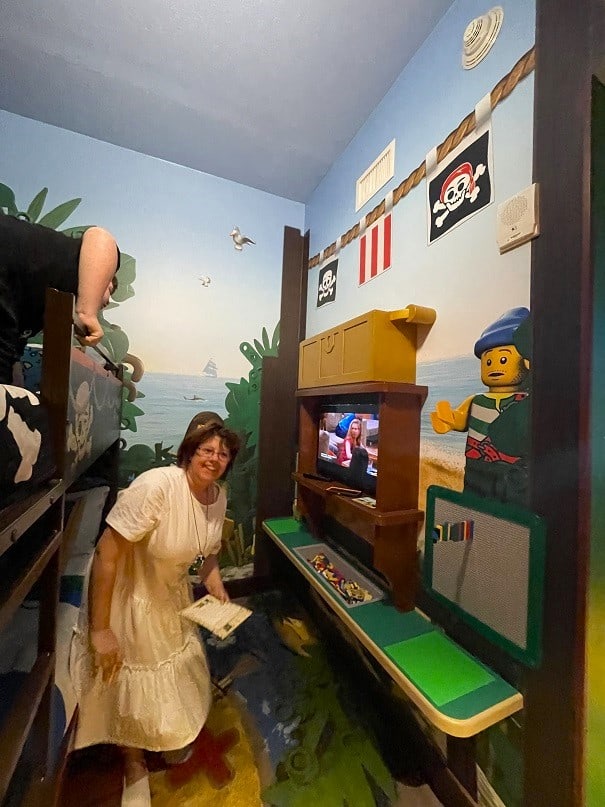 Then there's a bathroom and storage closet between the kids' room and the queen bed in the main room. Each room sleeps five comfortably, which is impressive. The TV has standard channels, but our favorite feature is LEGO movies.
The Beds
Another wow factor here. The mattress had to be at least 20 inches thick and not cheap. The pillows are luxurious, and the sheets are equal to any Hilton. I did not expect this at all. Unfortunately, the bunk beds are not as comfy.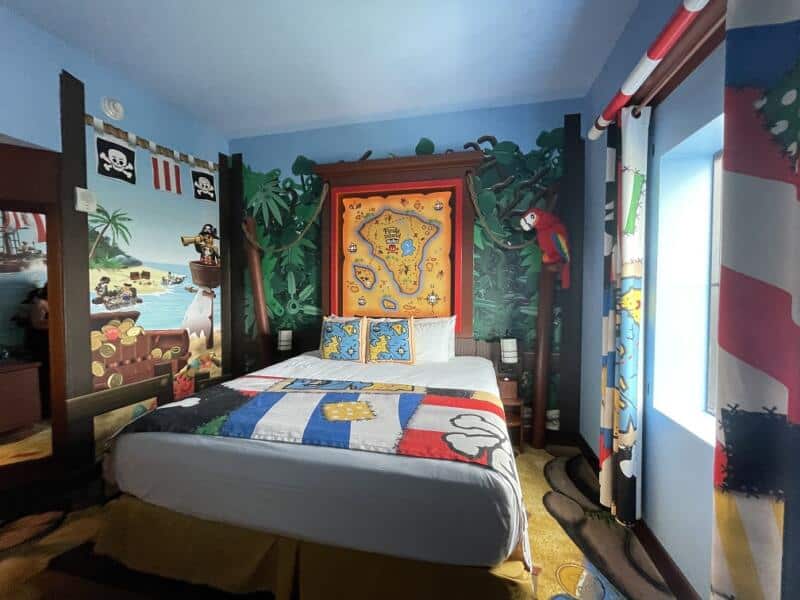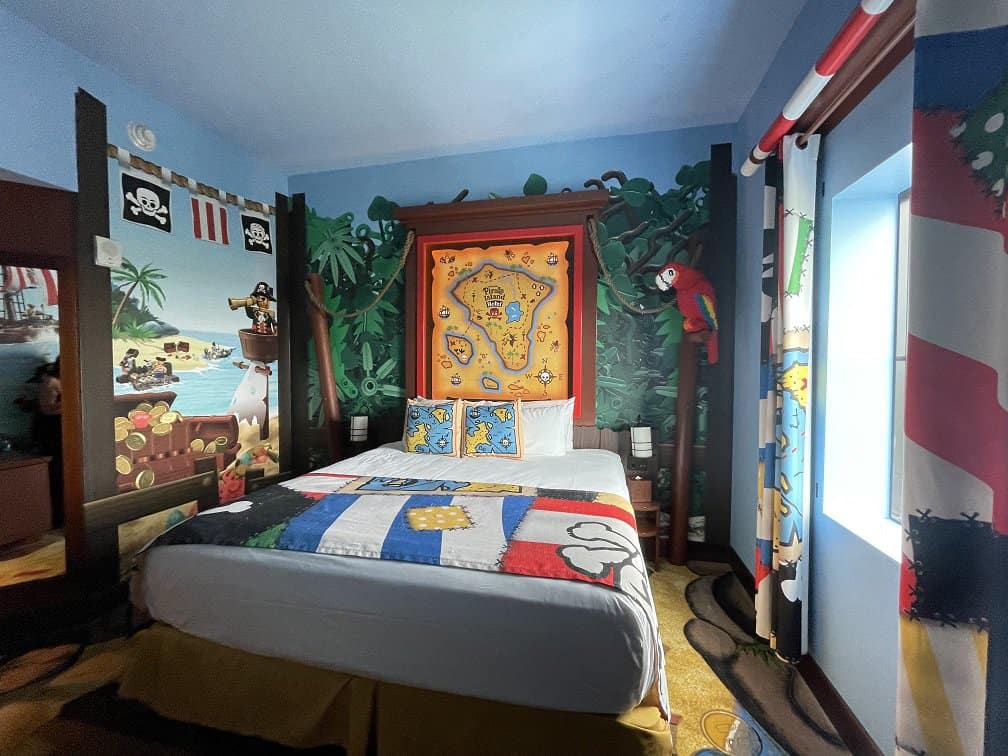 The Bathroom
Details matter. They do. This is probably one of the cleanest bathrooms I've ever seen. The LEGO-themed tiles sparkle, and the grout is beaming white. You may think, who cares about grout? I do! Grout is a dead giveaway in hotels. Many places cheap out and treat it or attempt a bad touch-up. Not here. It was obvious that it's been replaced as needed over the years.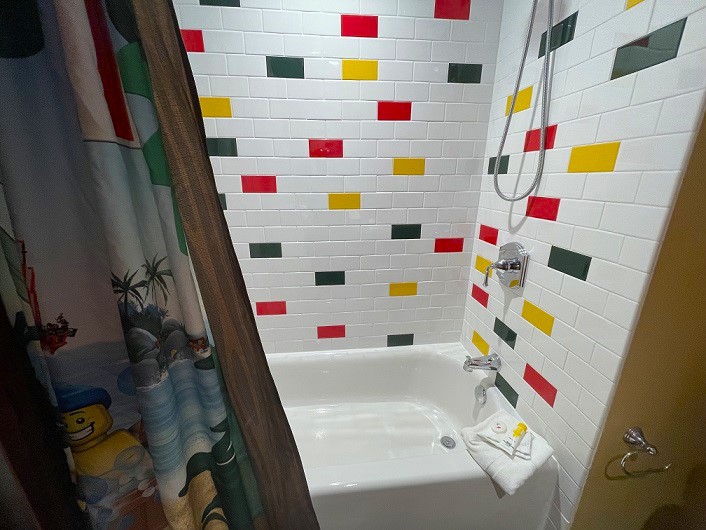 Then there's the toilet seat. It has two seats, one for adults and an attached smaller one for kids – genius!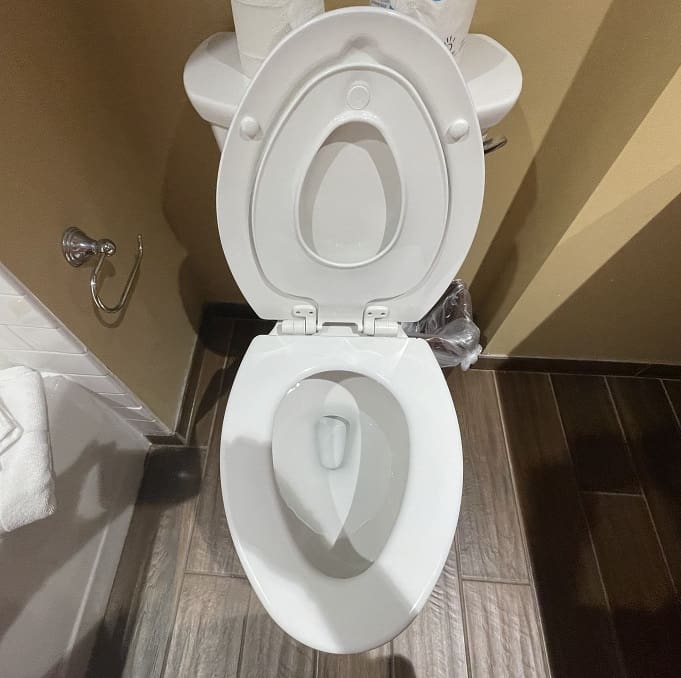 There is also a step stool under the sink for kids. The toiletries are also LEGO themed, and the large size ones.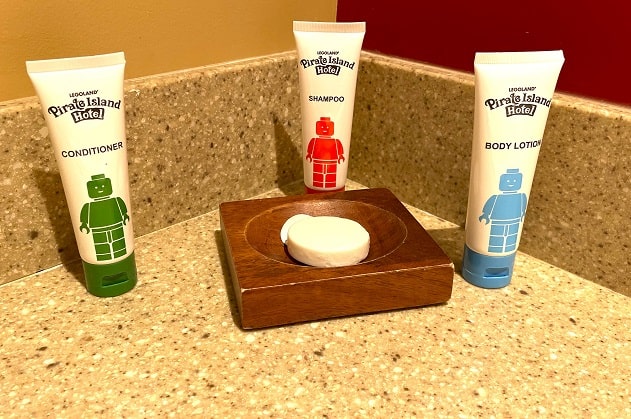 The bathroom's not huge, but it's impressive, and they have thought of everything to make it perfect. Seriously, there is not one single detail missing.
The Room Scavenger Hunt
When you enter, you immediately see the safe with instructions for the scavenger hunt. The kids must find a secret code to open the safe, which contains a prize box.
If you stay for more than one night, a new prize is added daily! The prize is a small book, juice, and LEGO.
Jessica and The Monkey solving the secret code:
Word To the Wise: Unless you are ready to stay in your room hide the scavenger hunt until you get back. I had to drag my two out of the room because they were too busy cracking the code. And assembling the LEGO prize.
What's Included
Tickets are not included with a stay at LEGOLAND Hotel in Florida. This is no different than any other resort. You can buy package deals; however, I had complimentary tickets.
Once on site, aside from food, drinks, and the Master Builder Academy, everything is included. Breakfast is also included, worth at least $25 per person.
Entertainment
Legoland Hotel in Florida has an on-site is putt-putt course, nature walks on the boardwalk, a fire pit to roast smores, and many shows and interactive classes.
The Restaurants
There are four restaurants on-site, and given that both hotels adjoin, you can dine in any of them.
LEGOLAND Hotel
Skyline Lounge
Directly across from the castle, the food here was exceptional. We order a charcuterie board, steak, chicken tenders, a salad, curry, and drinks. I am still shocked at how good it was. Perhaps because I don't (or did not) associate LEGO with fine dining.
The drinks were also on point! Served in the right glasses and to order. Lastly, we've all stayed at resorts – you cringe when the bill arrives. Another pleasant surprise. It was moderate, to say the least.
If you are curious, it was $240 total with a tip for four of us, and we had four adult drinks and a kid's smore drink that was something silly, like $9.
Bricks Family Restaurant
We ate our breakfast here. Another success! It's buffet style, but it's brought to you. Look at the picture; there's no way anyone could complain about this! You can re-order as much as you like – perfection.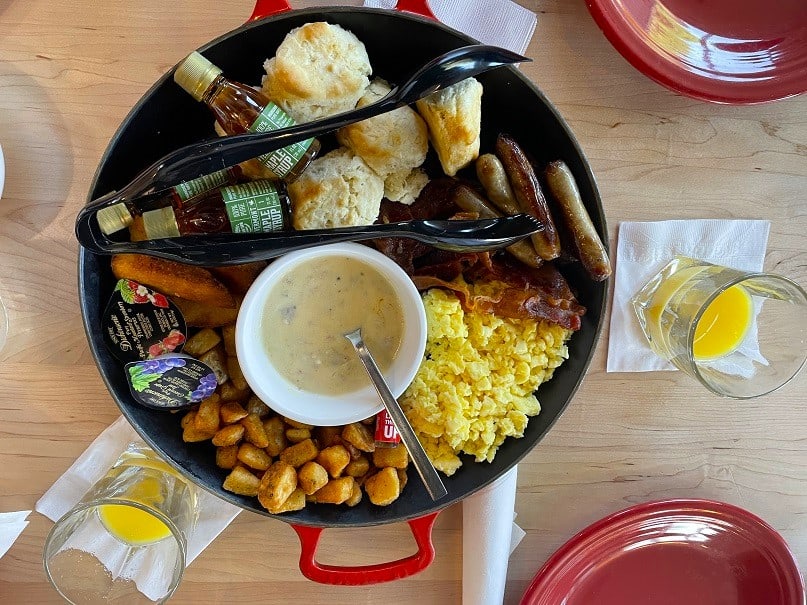 Pirate Island Hotel
Shipwreck Restaurant
We did not experience the Shipwreck Restaurant, so I can't tell you if it's good or bad. What I will say is based on my experience at the other two restaurants, I bet it's fantastic.
Smugglers
We did not eat here, but we had a couple of drinks.
No complaints!
Breakfast is included with all stays at Shipwreck Restaurant and Bricks Family Restaurant.
The Pools
The pool is a significant part of any Florida holiday, weekend getaway, or staycation. Another massive success. I've seen pictures before, and I had no clue there were slides!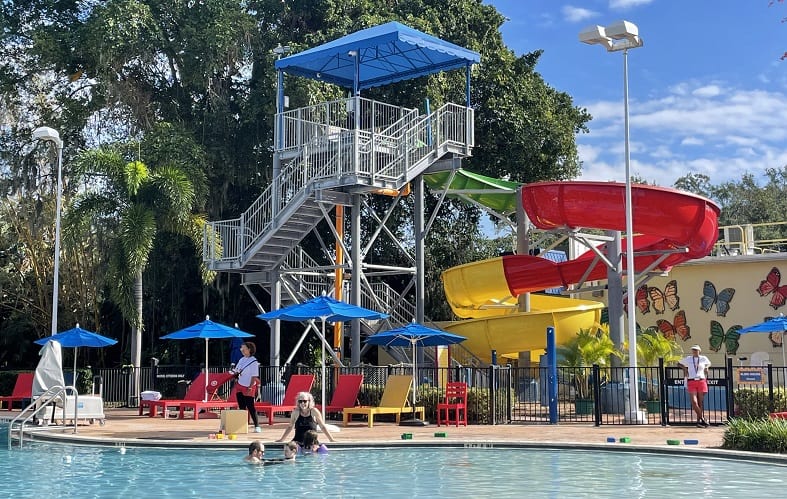 Slides to me mean goodbye sprogs, hello hotel room! Ah, this pool gave my aunt and me a heavenly two-hour adult-only time!
There are two pools on-site, the main one off the lobby, with slides and LEGO water bricks. Then, the smaller pool on the side of the Pirate Island Hotel.
The smaller pool was closed during our stay, but it did not matter – all the actions were where the slides were.
The Difference Between LEGOLAND Hotel and Pirate Island Hotel
LEGOLAND Hotel is aimed at the little ones. It comes with Duplo LEGOS, and the bunk beds are sturdier.
Top Reasons to Stay at LEGOLAND Hotel
Free breakfast buffet daily
Free self-parking
It is located 130 kid steps away from LEGOLAND Theme Park.
Separate kids' sleeping areas in EVERY room. Choose from one of our themes – Kingdom, Adventure, Pirate, LEGO Friends, or the LEGO MOVIE.
In-Room Scavenger Hunt with LEGO prizes EVERY DAY
Nightly kid's entertainment
Free Creative Workshops
Heated resort-style pool
Dinner options at Shipwreck Restaurant or Skyline Loung
Master Model Builder Sessions
Master Model Builder workshops are an exclusive amenity for LEGOLAND Hotel guests.
You can show off your building skills in the Master Model Builder Sessions, which are included in your stay. For this one-of-a-kind experience, children can sign up at the kiosk in reception. There is a maximum of 12 guests per session, and all ages are welcome.
*Note: Sort this out the second you arrive – it's booked out way in advance, and the operators are separate from LEGOLAND Hotels.
Is It Worth the Cost?
Yes, let me break it down for you! I booked using booking.com because it was cheaper than booking directly for $50.
Here's the link: Save on Your Stay At LEGOLAND Hotels
You can thank me later!
The stay cost $414.40 for four of us (it could have been 5). This includes taxes and the $30 resort fee.
Parking is free, which costs $25.
Breakfast is complimentary, and that's worth $100.
So, the actual cost is around $289 per night when all is said and done. Beyond reasonable for what's included.
What's Not Great About LEGOLAND Hotels?
I don't write these sections to complain. These are for comparison purposes. And to ensure that the information I am giving you is accurate.
Almost all hotels and resorts have something they could improve.
A few things were not perfect.
The LEGOLAND App is terrible. I could not connect my hotel stay, make any reservations or look at menus on it. Frustrated with this, I tried to use the website. Equally as useless. And most FAQs are vaguely answered.
No one answers the phone. Be it from your room or from outside. I found this annoying when I could not sort my things on the App.
The bunk beds, while a thrill for the kids, were not up to par in terms of comfort. Both said that they were not comfortable.
You can't find any information on the cost of the Master Builder Academy. Even though the staff will point you to the QCode to Scan, it just takes you to a reservation site. Good luck finding this information anywhere ☹
FAQs About LEGOLAND Hotels in Florida
How much is the LEGOLAND Hotel hotel per night?
It varies by season. You can score a room as low as $180 in the off-season (or so they say). This said I've yet to find this deal anywhere. My experience is it averages about $300 – $400 a night but is well worth it.
Is it worth staying in LEGOLAND Hotel?
Beyond – everything is included for the most part. The resort and both hotels are adjoined and right next to both LEGOLAND and Peppa Pig Theme Park. Aside from this, the resort is immaculate and worthy of anyone's attention!
How far is Walt Disney World from LEGOLAND Hotel?
Disney World and LEGOLAND are only 30 miles apart.
Closing Thoughts
So, what do I think LEGOLAND Hotel in Florida Is it worth it? Hell yes! While the resort is designed for younger spogs (2-12) and those with autism, I think it gives Disney and Universal a run for their money.
There are some particular reasons why:
It's twenty steps away from the actual park. Forget having to take a shuttle bus!
The rooms are off the chain. In terms of detail and comfort one of my favorites to date.
Once in the resort, every show, activity, and experience is included except the Master Builder Academy.
Characters are everywhere, and there's no line to meet and greet.
Would I stay again – in a heartbeat! If you told me I would be raving about a LEGOLAND Hotel in Florida, I would have said you were bonkers. Now that I have first-hand experience I get it.
Looking for more things to do in Florida? Start here:
We participate in the Amazon Services LLC Associates Program, an affiliate advertising program designed to provide a means for us to earn fees by linking to Amazon.com and affiliated sites.
Brit On The Move™ Travel Resources
Ready to book your next trip? Use these resources that work:
Need more help planning your trip? Check out our Resources Page, highlighting the great companies we trust when traveling.