Hilton Santa Fe Buffalo Thunder – Over Priced!
The Hilton Santa Fe Buffalo Thunder is worthy of this review, even though I'm not a big fan of writing hotel reviews. I've only written a few, and one was for a spectacular place in Argentina. I tend to spare hotel reviews for the amazing or terrible. This hotel is neither excellent nor awful. It's just way overpriced. This review has nothing to do with New Mexico, which was beautiful.
This post may contain affiliate links. Please read our disclosure and privacy policy for more information.
One of our deciding factors for choosing this hotel is traveling with a sprog, which requires entertainment, so a resort is ideal. We opted for Hilton Santa Fe Buffalo Thunder, a massive plus for Brian, the self-proclaimed luxury resort with award-winning golf courses. Was it worth the money? No, not even close. It was an expensive mistake.
Here is what you need to know about The Hilton Santa Fe Buffalo Thunder!
It is located about 12 miles outside of downtown Santa Fe. That's not an issue if it lives up to expectations, but it did not. Upon arrival, I knew it was not as dreamy as the photos indicated. This place is directly off of the main highway. Sure, once on-site or at the rear, you will get great views, but it's not romantic, imaginary, or even slightly remote. The photos are so deceptive they reminded me of the Pyramids. If you've been, you know what I mean. The Pyramids are always photographed to give you the illusion that they are in the middle of the desert vs. in the city center.
Hilton Santa Fe Buffalo Thunder Hotel View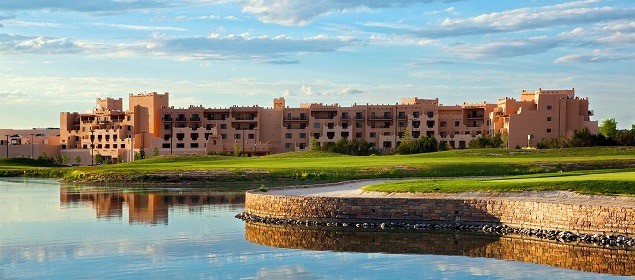 Image ©2018 Hilton
Actual View
Hilton Santa Fe Buffalo Thunder Room
The lobby is grand, and on first blush, it appears lush. Till you get to your room. Sure, the room was large and nicely decorated but a tad worn. Then come the logistical issues that piss you off. The safe does not work, nor does the bath stopper. No baths for me, and the sprog are an absolute no-no. They send security, then an engineer.
No one can fix it. At midnight I ask all to leave; we will sort it out later. Fast forward to the next day. We advise the front desk that these items are still not resolved. Long story short, we get back from a great day out. Please stop at the front desk and speak to the same person we talked to in the morning, and we were told all is well. Not the case. We had to have the manager get involved in resolving. Outside of the issues not being addressed, I found the dishonesty of the front desk disturbing. The safe in our room needed replacing. Why not just say that?
Add to this, no internet! Now, it turns out there is internet service, but you can't access it via the regular member route – you need a coupon code. Not a big deal except that no one told us and a trip to the front desk once again.
I will say that the beds are fantastic! One element of Hilton properties is not yet compromised. Expect high-quality, comfortable mattresses coupled with luxurious white feather downs with feather pillows. We slept great here, and that is one pro.
Hilton Santa Fe Buffalo Thunder Pool
The photos will lure you into thinking this is a resort. This was important as this is where we expected our sprog to bond with other sprogs. I think the way Hilton has chosen to advertise this resort is beyond misleading. The pool is tiny. I've swum in bigger private pools. The hot tub was closed, corned off with what looked like crime scene tape. It was still closed on our 7th night here.
There are not even close to enough chairs, loungers, or cabanas for a place of this size. Speaking of cabanas, there is a total of five. Yep, you read that right – five. The pool bar closes at six. You know, the perfect time to shut when you've returned from your day out – not! This place is massive, and it was sold out over the weekend. How are there not enough loungers or chairs? There sure is the room, given the majority of the pool area is a real cluster.
Are you expecting some entertainment like most resorts? Some activities or music, perhaps? You've got the wrong place. Nothing is going on here but the rent. Having talked to many staff about this, I learned it's the evils of supply and demand. This place does not have the clientele to support amenities, so it's bare bones. Technically, this is a glorified convention center at best. If you love golf and don't expect any amenities, this is alright if the price is right. Not for $200 plus a night. Anything above $125 is out of whack with what you will receive.
Hilton Santa Fe Buffalo Thunder Casino
Let's talk about the Casino – another "could be" highlight for my hubby. It turns out you can play, but you can't drink. Have any of you ever been to an alcohol-free casino? That aside, the clientele in the Casino were elderly – many with strollers. Not necessarily an issue but not what we expected at all. The more time spent exploring, the more apparent there are two types of clientele: Elderly gamblers (bless their souls) and convention-goers.
Hilton Santa Fe Buffalo Thunder Food
The hotel claims to have six restaurants on-site — a bit of an exaggeration, to say the least. Two of the six include Starbucks and a Delhi. Another being a diner like a dive inside of the Casino. The dinner's food was decent but not exactly what I would call a resultant, and the service sucked. Expect to wait about 30 minutes to talk to the server. Expect another 30 minutes for salty overcooked food to arrive.
If you stay here, be sure to check out the opening and closing times of all eateries. It seems that here all things end at 10 pm and most much earlier – think 6 pm!
We are all huge fans of room service food. It's a royal treat that we splurge on once in a while, typically on first or last nights, depending on flight times. The food was not bad, nothing spectacular, but it was spoiled by merely forgetting the condiments. How hard would it be to get that right? Yes, we ate in-room, but it reminded me of McDonald's, where you know that your order will be wrong 40% of the time.
Hilton Santa Fe Buffalo Thunder Golf
I don't play, but Brian does. This is the highlight of the resort – the only one other than the beds. And, you don't need to be staying here to take advantage of this slice of heaven. There are three nine-hole courses here, all with breathtaking terrain. It's relatively inexpensive, around about $70 a game. Brian got a discount because we were staying at the resort, so there's something! If you do play in New Mexico, be prepared for the high elevation. It makes it difficult to breathe, and even the fittest of people will feel tired for no apparent reason until you acclimate.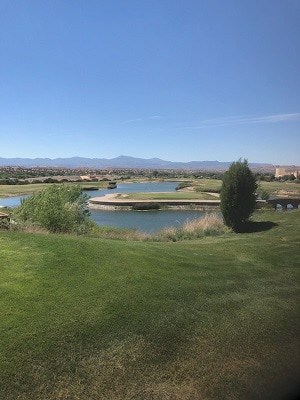 The Kicker
The Homewood Suites by Hilton Santa Fe-North is located on the same grounds as Hilton Santa Fe Buffalo Thunder. These two places (both Hilton properties) share a parking lot, and both are on the golf course. If you are not familiar with the two brands, here are some points to consider. It would have cost us about two-thirds of the cost to stay at Homewood, and we would have had access to the same amenities. Homewood includes a happy hour nightly along with light appetizers. Most of the rooms at Homewood are suites, another advantage. If we were to do this again, we would have chosen Homewood. Ironically, we excluded it, opting for a resort but not understanding it was on site.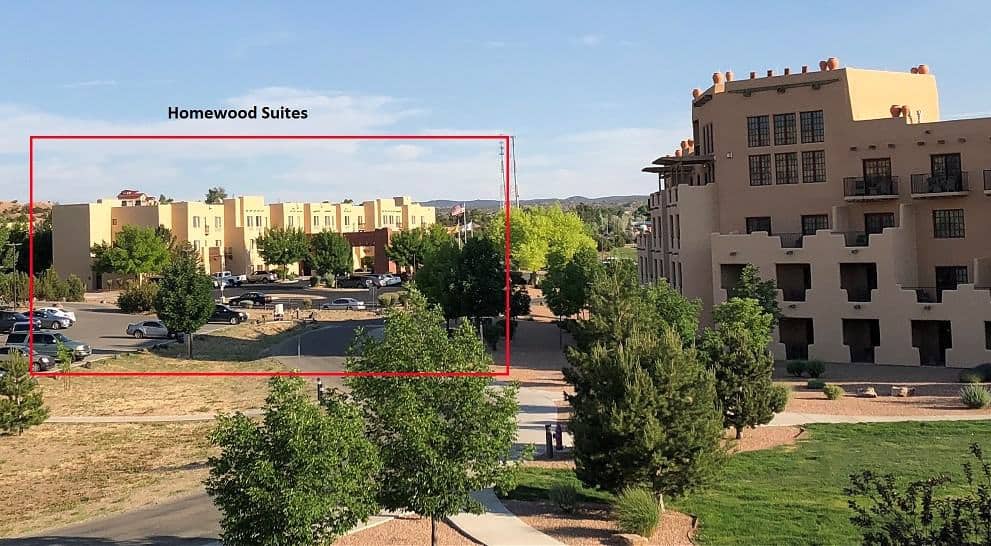 Closing Thoughts
All in all, Hilton Santa Fe Buffalo Thunder does not live up to its advertised promises. It's not a luxury resort by anyone's definition. Nor does it have the typical resort amenities or entertainment you would expect. I would be embarrassed to tell you what we spent on this stay. And I used points to offset some of the costs. Even with the points, a costly visit. Would we stay again? Nope. I've been there, done that, and learned that the Hilton Brand is becoming more and more inconsistent once again.
Update 6/4/2018
Upon checking out, I advised the hotel of my concerns. The staff was incredibly empathetic, and I sensed this was not the first time they had heard this feedback. The team said they did not want us to leave feeling this way to Hilton's credit and acknowledged we were there for a week. They comped the valet parking, several room service charges, and all our upgrade fees. I ended up getting a credit of almost $300. I was still not impressed with the hotel, but this did restore some of my faith in the Hilton brand. And, it restored my faith in the staff at Hilton Santa Fe Buffalo Thunder.
If you are visiting New Mexico, Breaking Bad was filmed here! See Breaking Bad The Self Guided Tour
Looking for more posts on America? Start here:
We are a participant in the Amazon Services LLC Associates Program, an affiliate advertising program designed to provide a means for us to earn fees by linking to Amazon.com and affiliated sites.
Subscribe to our newsletter and get the best travel tips and inspirational stories delivered monthly. No spam, no sales pitches – TRAVEL!
Brit On The Move™ Travel Resources
Ready to book your next trip? Use these resources that work:
Need more help planning your trip? Check out our Resources Page, highlighting the great companies we trust when traveling.