It never ceases to amaze me how many Americans have not visited Yellowstone National Park. It's a national jewel akin to Ireland's countryside. We have stayed twice and will return. Hands down, this is my favorite place in the United States, other than Florida, where we live. Yellowstone places Montana on my list of favorite places in the USA.
This place is also one of my favorite places in the world. Long before I got to experience Yellowstone and Yellowstone National Park, I imagined the richness that must fill this national park. I am obsessed with waterfalls (and whales), and Yellowstone National Park is full of waterfalls, among other treasures.
I'd always thought it to be safari-like, in that animals roam wild. Who would have expected it to be as breathtaking as it was? Yellowstone National Park spreads through Montana, Wyoming, and Idaho.
Lastly, Yellowstone National Park is the first national park in the entire world, established as a national park in 1872.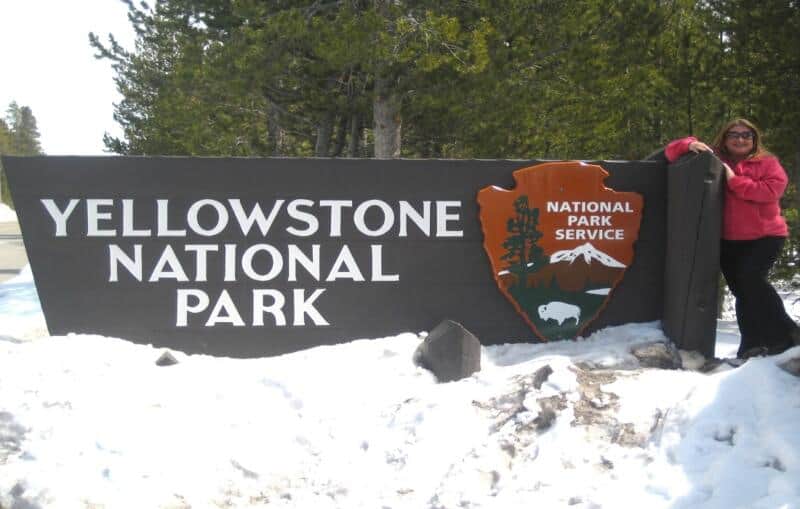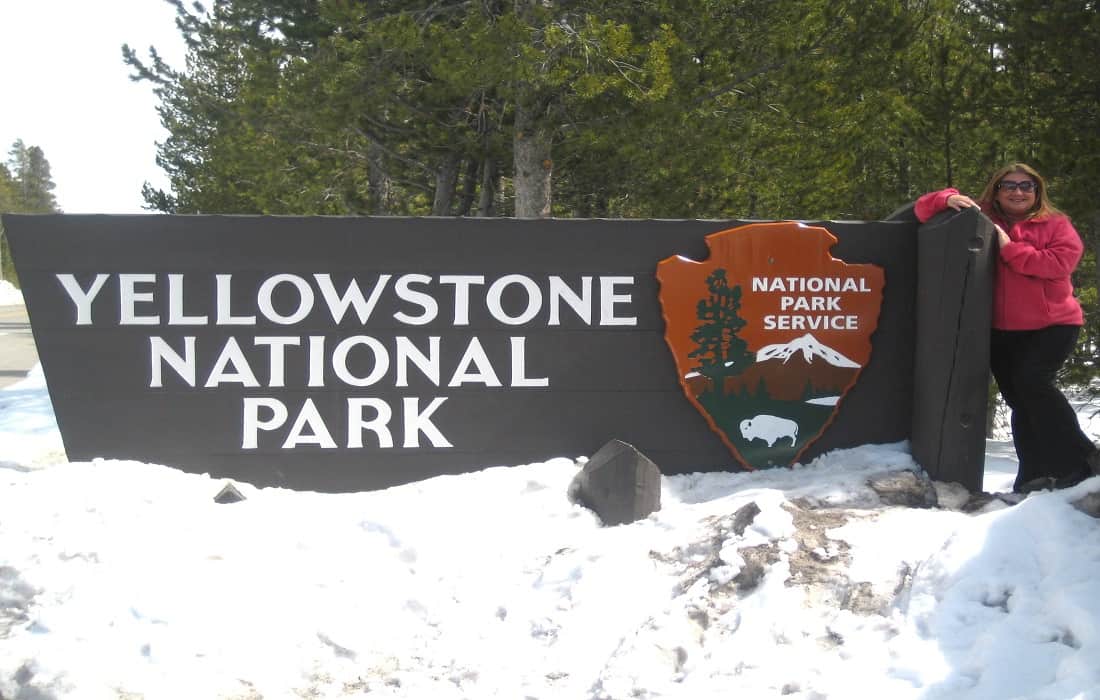 This post may contain affiliate links. Please read our disclosure and privacy policy for more information.
Yellowstone National Park is located in Idaho, Montana, and Wyoming in the western United States. One percent of the Yellowstone is located in Idaho, three percent is in Montana, and ninety-six percent is in the state of Wyoming.
Map of Yellowstone
When Is The Best Time To Visit Yellowstone?
Yellowstone National Park has four seasons: Summer, Fall, Winter, and Spring. Summer is a time to eat food, Fall is a time to mate, and Winter is a time to survive.
Spring – March 1st – May 31st
Summer – June 1st – August 31st
Fall – September 1st – November 30th
Winter – December 1st – February – 28th
What you want to see and do should determine the best time to visit. For example, if you have your heart set on a bear encounter, you'll need to stay in spring or summer if you want to see frozen waterfalls in the winter.
Here's What To Expect By Season in Yellowstone
As mentioned, there are four seasons, and each season offers different experiences.
Yellowstone Weather In the Spring
Yellowstone's mountains, forests, and valleys are still covered with snow in spring. It is not uncommon for Yellowstone Lake to be frozen over until July. However, spring is an excellent time to visit Yellowstone because there are fewer crowds and wild animal babies everywhere.
You may not be able to find the same number of hotels, restaurants, or road access in the spring as you would in summer because a lot of the park closes in the spring. This is why you should always check the status of hotels, roads, and restaurants before going. Additionally, spring weather in Yellowstone is similar to winter weather elsewhere. Sleet, snow, and freezing temperatures are all possible. Yellowstone is not covered in wildflowers in spring, so don't plan a spring visit if you know you want to see it. Pack your down jacket, winter hat, warm socks, shorts, and t-shirts. In Yellowstone, wildflowers begin blooming in June and July.
Visitors can witness baby bison wobbling around on their weak legs during April and May and elk calves trying to keep up with their mothers during this time. Wolf pups and bear cubs can also be seen from a distance in the spring.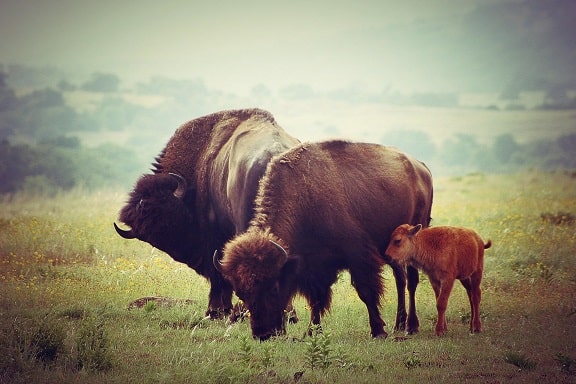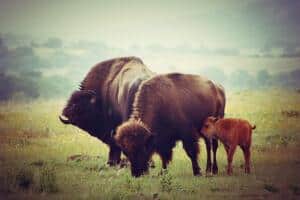 Grizzly bears and wolves can be seen in Lamar Valley in the spring. A hungry grizzly, still hungry from an extended winter, wanders around looking for easy prey – elk calves or bison calves. Grizzlies, black bears, wolves, and coyotes can find plenty of game in Lamar Valley, a large expanse of land.
During spring, hiking in some areas is limited due to snow cover in the backcountry.
Average Yellowstone Weather in Spring
| | | | |
| --- | --- | --- | --- |
| MONTH | HIGH | LOW | SNOWFALL |
| March | 37 F | 10 F | 13.1 in |
| April | 46 F | 20 F | 5.9 in |
| May | 58 F | 29 F | 1.5 in |
Yellowstone Weather In Summer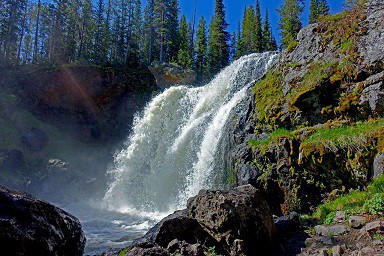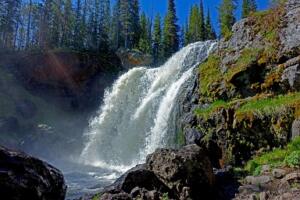 Despite the larger crowds in summer, Yellowstone still offers incredible views of animals, geysers, and mountains. The park's weather is most predictable during summer, but it can snow lightly at higher elevations in June. Even in summer, you should be prepared for all four seasons. During the summer months, all park roads and facilities are open; however, rafting and guided hiking trips typically begin mid-to-late June.
Average Yellowstone Summer Weather
| | | | |
| --- | --- | --- | --- |
| MONTH | HIGH | LOW | SNOWFALL |
| June | 68 F | 36 F | 0.1 in |
| July | 78 F | 41 F | 0.0 in |
| August | 76 F | 39 F | 0.0 in |
Yellowstone Weather In Fall
Yellowstone's fall season offers visitors everything they would enjoy in summer, but the temperature begins to drop, and the days grow shorter. During the fall, Yellowstone's hoofed animals are in the "rut," characterized by bugling, grunting, and other exciting behaviors that only occur in the fall. The summer crowds are gone. The snow begins to fall at the end of October and throughout November, causing roads and facilities to close. It is Yellowstone's only year-round entrance because it is located at the lowest elevation and has the warmest weather.
Average Yellowstone Weather in Fall
| | | | |
| --- | --- | --- | --- |
| MONTH | HIGH | LOW | SNOWFALL |
| September | 64 F | 30 F | 0.5 in |
| October | 51 F | 22 F | 3.7 in |
| November | 34 F | 12 F | 9.0 in |
Yellowstone Weather In Winter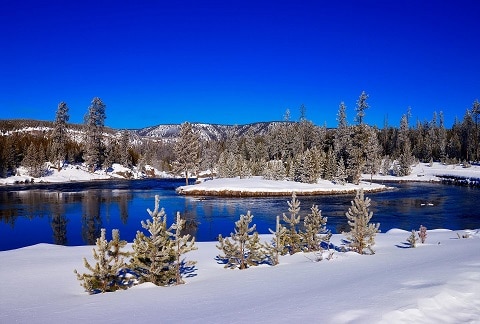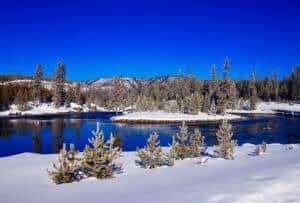 During winter, the park struggles to keep the roads clear because of the 72 inches of snow that fall on average in December. Private vehicles are allowed only on the road between Gardiner, Mont., and Cooke City, Mont. Therefore, Yellowstone is a popular winter vacation destination for snowmobilers, snow coaches, skiers, and snowshoers. Take advantage of this quiet season for uncrowded views of geysers and frozen waterfalls.
Average Yellowstone Winter Weather
| | | | |
| --- | --- | --- | --- |
| MONTH | HIGH | LOW | SNOWFALL |
| December | 24 F | 2 F | 72.1 in |
| January | 24 F | 1 F | 14.5 in |
| February | 30 F | 3 F | 10.4 in |
The off-season for Yellowstone is in May, so it is an excellent time to visit. Despite being cold in the mornings, April is a beautiful month to visit Yellowstone because there are fewer crowds, and it is still sunny. During the day, you will also see more wildlife activity. There are newborn bison, elk calves, and blooming wildflowers in Yellowstone, and the park is bustling with activity. Yellowstone is one of the best places to visit because of its abundance of wildlife. Mammoth Hot Springs is calving elk and bison, and Lamar Valley is calving bison. Wildflowers fill the meadows at this time of year, bringing new life to the fields. Visiting here also has the advantage of open roads. As all the streets are accessible now, you can explore the park independently. The park's roads are open during this time, giving you access to all its attractions. Various hiking options are available at lower elevations by the middle to end of the month when lower-elevation hiking paths are free of snow.
Yellowstone Park Entrance Fees 2022
Seven Day Passes
Yellowstone Entrance Pass – Single Vehicle (Private): $35
Unlimited entry for one vehicle and all passengers for seven consecutive days, beginning on the day of purchase. Vehicles must be private, non-commercial, and with a seating capacity of 15 or less.
Yellowstone Entrance Pass – Buses/Vans (Private): $20 per person
Non-commercial groups (e.g., church groups, scouts) traveling in a vehicle with a capacity of 16 or more people. Unlimited entry for one car and all passengers for seven consecutive days, beginning on the day of purchase.
Yellowstone Entrance Pass – Single Motorcycle/Snowmobile: $30
Entry for one motorcycle or snowmobile and one passenger for seven consecutive days, beginning on the day of purchase.
Yellowstone Entrance Pass – Individual Person: $20
Entry for visitors on foot, bicycle, ski, etc., when 16 years of age or older. Children 15 years and younger are admitted for free.
Note: Visitors entering Yellowstone National Park's South Entrance will first travel through Grand Teton National Park. Separate entrance fees are charged for each park.
Annual Passes
Yellowstone Annual Pass: $70
Provides unlimited entry for one year (valid through the month of purchase) to the pass holder and passengers in the exact vehicle, not to exceed four total adults—buy online or at any entrance station.
America the Beautiful – Annual Pass: $80
Covers entrance fees at all national parks and wildlife refuges, as well as standard amenity fees (day use fees) at national forests, grasslands, and lands managed by the Bureau of Land Management, Bureau of Reclamation, and U.S. Army Corps of Engineers. A pass covers entrance, standard amenity fees, and day use fees for a driver and all passengers in a personal vehicle. Children age 15 or under are free to purchase online or at any of our entrance stations.
America the Beautiful – Annual Senior Pass: $20
Available for all U.S. citizens or permanent residents age 62 or over. An America the Beautiful – Lifetime Senior Pass is also available. Covers entrance fees at all national parks and national wildlife refuges, as well as standard amenity fees (day use fees) at national forests and grasslands and lands managed by the Bureau of Land Management, Bureau of Reclamation, and U.S. Army Corps of Engineers. The Senior Pass may provide a 50 percent discount on some amenity fees for facilities and services, such as camping. Purchase online or at any of our entrance stations.
America, the Beautiful Pass is available for FREE for current U.S. military members and their dependents in the Army, Navy, Air Force, Marines, Coast Guard, and Space Force, as well as Reserve and National Guard members. Covers entrance fees at over 2,000 federal recreation sites. Must be obtained in person at one of the entrance stations by showing a Common Access Card (CAC) or Military ID.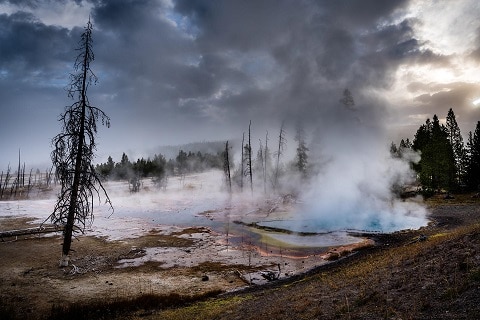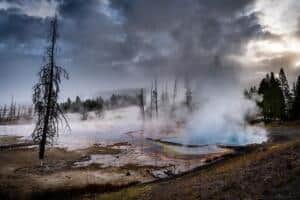 Free Entrance Days to Yellowstone
You can experience any national park for free on an accessible entrance day! On five days in 2022, all National Park Service sites that charge an entrance fee will offer free admission. Here are the 2022 dates:
January 17: Birthday of Martin Luther King, Jr.
April 16: First day of National Park Week
August 4: Anniversary of the Great American Outdoors Act
September 24: National Public Lands Day
November 11: Veterans Day
First Reaction To Yellowstone National Park
When we first drove through the West entrance of Yellowstone, the first mile was like any other forest. A river, trees, and more trees. There was snow on the ground and an eerie fog hovering. Then, from out of nowhere, a herd of bison emerges mysteriously and silently from behind the blanket of fog. Image being in the middle of nowhere, exposed to the elements, and the only thing separating you from the bison, is your car. It was beyond fascinating. They seemed to know we were there but plodded on by giving us an occasional glance. Many times we had to stop to let them pass.
Bison might not be exciting to all, but for me, it was mesmerizing! The sheer size and their number make for an electrifying experience. Both times we visited, we went in April, and snow was still on the ground. It's the beginning of the self-entry season when we could drive ourselves through the park. Yellowstone is not accessible via car in the winter. Tours run during the winter using specialized equipment such as snowmobiles.
Yellowstone is a volcano. As a result, Yellowstone is the home to waterfalls, geysers, and hot springs that will take your breath away.
Trust me when I tell you that nothing in the States even comes close to Yellowstone's beauty. I've heard people rave about the geothermal area of the North Island of New Zealand – Rotorua. I can tell you from experience that you will be disappointed with Rotorua if you have been to Yellowstone. It cannot compete in any way. Iceland is the only other place to give Yellowstone a run for its money.
Where To Stay Near The Park
We used our timeshare for both of our trips. Seven nights cost us $199 total on both trips.
We stayed at Island Park Resort in Idaho on our first trip, about 15 miles away from West Yellowstone. We stayed at Jackson Hole Towncenter, Jackson Hole, Wyoming, during our second visit.
Both were equally charming accommodations—nothing overly fancy, fireplaces, cabin-style decoration, clean and roomy. I preferred Island Park. It was not necessarily the better of the two locations. I simply liked the proximity to the park's West Entrance, where we had some random experiences that can't be recreated. For example, I saw my first moose in the wild because the staff at Island Park called me to tell me there was a moose in a river nearby.
Stay At The Real Yellowstone Ranch From The TV Show!
Suppose you are a fan of the " Yellowstone " TV show and want to stay on the Dutton Ranch. Guess what, you can!
Hotels and Resorts In The Park
We did not stay inside the park. However, the park has many accommodations for all budgets, including camping. All accommodation in the park book up quickly, so prepare if you plan to stay inside. If you thrive on luxury, be prepared to pay top dollar. While we did not stay at the resorts in the park, we stopped and checked some out. We had lunch at the Old Faithful Inn and Mammoth Hot Springs Hotel, both excellent.
Mammoth Hot Springs Hotel & Cabins – The Mammoth Hot Springs Hotel and Cabins. Named after nearby springs, they offer summer and winter visitors a warm welcome.
Canyon Lodge & Cabins – Canyon Lodge and Cabins is a sprawling facility featuring the most accommodations in Yellowstone, with more than 500 rooms and cabins.
Old Faithful Snow Lodge & Cabins – Completed in 1999, the Snow Lodge is the newest of the park's full-service hotels and has been recognized with the Cody Award for Western Design and Travel and Leisure's Inn of the Month.
Old Faithful Inn – One of the oldest, built around 1903-1904 with local logs and stone, the Inn is considered the largest log structure globally.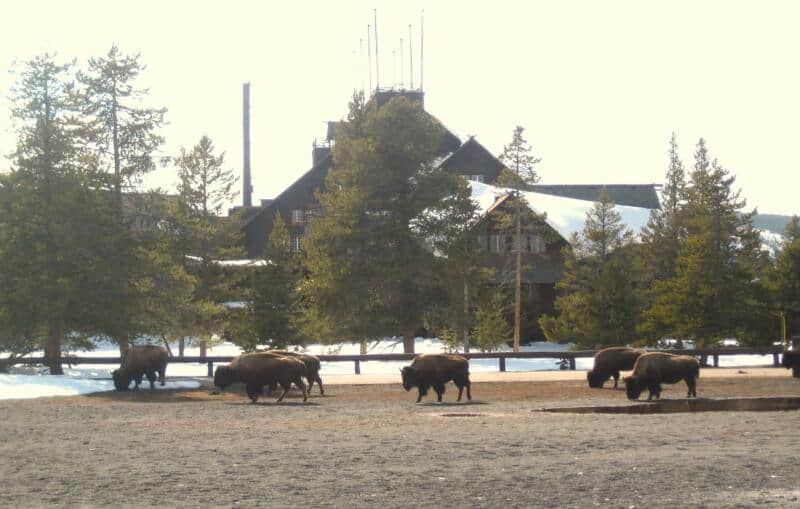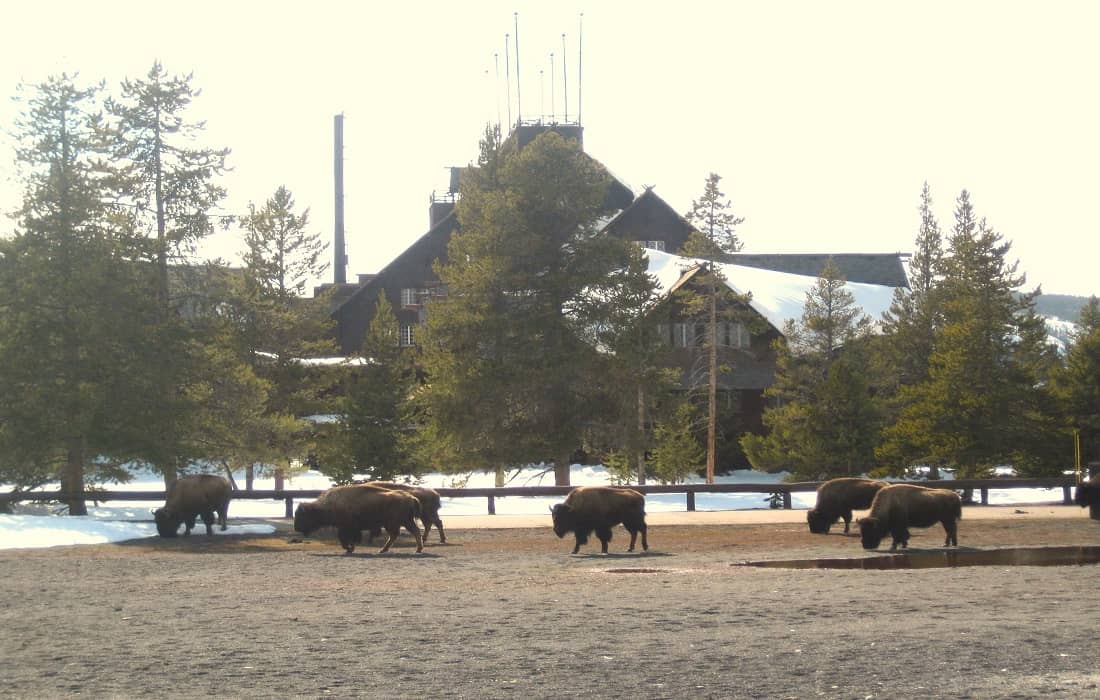 Old Faithful Lodge Cabins – This historic cabin facility is near Old Faithful Inn and includes a one-story main lodge built in the 1920′s featuring massive logs and stone pillars.
Lake Yellowstone Hotel & Cabins – Upon arrival, the hotel's massive white columns welcome you to a time of classic yet casual elegance. A flock of geese flies past a brilliant orange sunrise.
Bridge Bay Campground – The area is quite scenic, with wooded areas, open meadows, and limited lake views.
Canyon Campground – The Canyon Campground is a favorite due to its wooded setting and a relatively central location within Yellowstone Park. Families enjoy the sunsets near Black Pool in West Thumb Geyser Basin.
Grant Village Campground – The campground offers a relaxing setting with easy access to many services and amenities.
Madison Campground – The area is known for its excellent fishing and closeness to Old Faithful and the Upper, Midway, and Lower Geyser Basins.
Roosevelt Lodge & Cabins –Roosevelt Lodge Cabins, built-in 1920 near Yellowstone's Tower Falls area, is located near a campsite once used by President Theodore Roosevelt.
Grant Village –Constructed in 1984 and named after Ulysses S. Grant, Yellowstone became the world's first national park in 1872.
Fishing Bridge RV Park – The newly remodeled Fishing Bridge RV Park is located near the mouth of the Yellowstone River as it leaves.
Thing To See & Do In Yellowstone National Park
Before we even know what to do, you need to know that it's impossible to see all Yellowstone offers in a week. I'd go as far as saying you would be lucky to cover it all in two weeks. And each season brings different treasures. Fortunately, this makes it a year-round destination worth visiting more than once.
Albright Visitor Center
You should visit the visitor center when planning your trip. If you are planning a hike or driving out to the Lamar Valley, you should check in with a park ranger at the front desk about road or trail conditions and wildlife activity.
A park map or self-guided trail book is also available for the Mammoth Terraces and Fort Yellowstone. Visitor center facilities include the Yellowstone Forever Park Store, backcountry office, and backcountry office.
In the backcountry office, you can get fishing or backcountry camping permits, learn about Yellowstone's wildlife and history, buy souvenirs, and get directions to different parts of the park (including road conditions and campground and lodge availability), or use the restrooms. This visitor center also offers free Wi-Fi.
Bison at Yellowstone National Park
For me, the bison is one of the star attractions! This herd is one of the largest in the United States, with at least 4,800 bison. The Yellowstone Park bison herd is from the Plains bison subspecies.
Blacktail Plateau Drive
There is a one-way unpaved Blacktail Plateau Drive between Mammoth and Tower Roosevelt. It is the perfect place to escape the crowds along the Grand Loop Road along this less-traveled stretch.
Off the beaten path, the rolling hills provide stunning scenery and an excellent opportunity to see wildlife. Bears, bison, and elk are all to be seen!
Unpaved roads require high-clearance vehicles, such as SUVs. While 4WD or AWD isn't mandatory, it makes driving on rough roads more comfortable and gives you added peace of mind.
Dog Sledding
We did this during our first trip. We used a company called Klondike Dreams. Since our trip, they seem to have stopped operating. This was one of the most unusual experiences ever!
Brian got to "mush" the dogs, preparing them for the ride. Brian brought all the dogs out and harnessed them on the sled. Not only did we ride in a sled together, being pulled by dogs, but Brian got to ride solo behind the dogs! Brian fell off twice and broke a rib! If you are in this region and there is snow on the ground – you MUST dog sled. It's half the cost of dog sledding in Alaska.
Here are other options for dog sledding in the area: Jackson Hole Dog Sledding Adventure
Check before you go and schedule this in advance. All operators have limited space. It's not an activity you can show up for the day of.
Fairy Falls Trail
Grand Prismatic Spring is close to Fairy Falls, but getting there requires some effort. Fairy Falls Trailhead and Grand Prismatic Spring Overlook are located at the trailhead.
Stop at the Fairy Falls overlook on your way to the falls. To reach Fairy Falls, the trail continues for several miles after the lookout. Throughout the trek, the trail passes through forested areas before reaching its end. On this hike, you should carry bear spray.
Since it's a popular path, you'll see other people, but the distance keeps it from crowded. Continuing on the trail past the waterfall, you will see the Imperial and Spray Geysers.
Fly Fishing
We did this in April, and I must tell you, it was freezing. The tour company we used included fly rods, flies, and waders. You must buy your license, and your tour guide will accompany you to a store that sells them. We had no luck, but we had fun wading in the water. Oh well, we tried!
Fly fishing is popular in this region, and the operators are numerous. Depending on where you are staying or where you are willing to drive to should guide your decision on who to use. We did it in Big Sky, Montana. Suppose you are planning to fly fish and prepare for sticker shock. It's ~$200 per person per day. And, if you think about it, that is a lot because what's essentially provided is instruction. For this amount of money in Florida, you would be on a private charter fishing the high sea! This being said, we would do it again. As they say, when in Rome!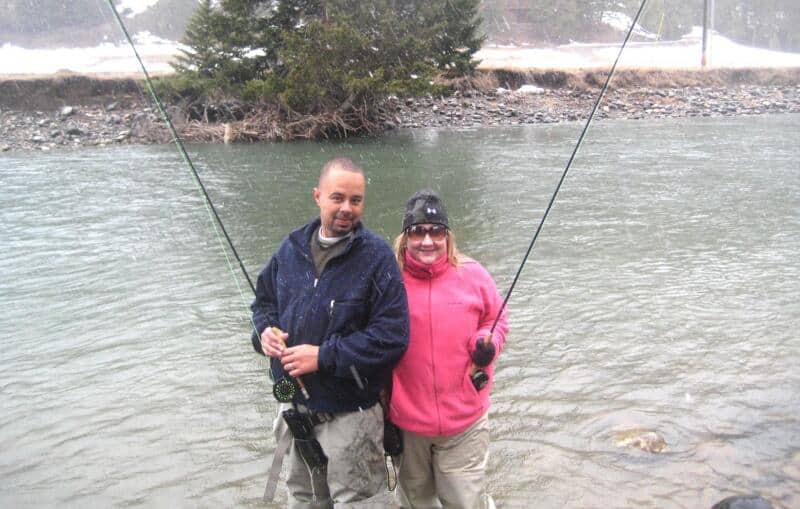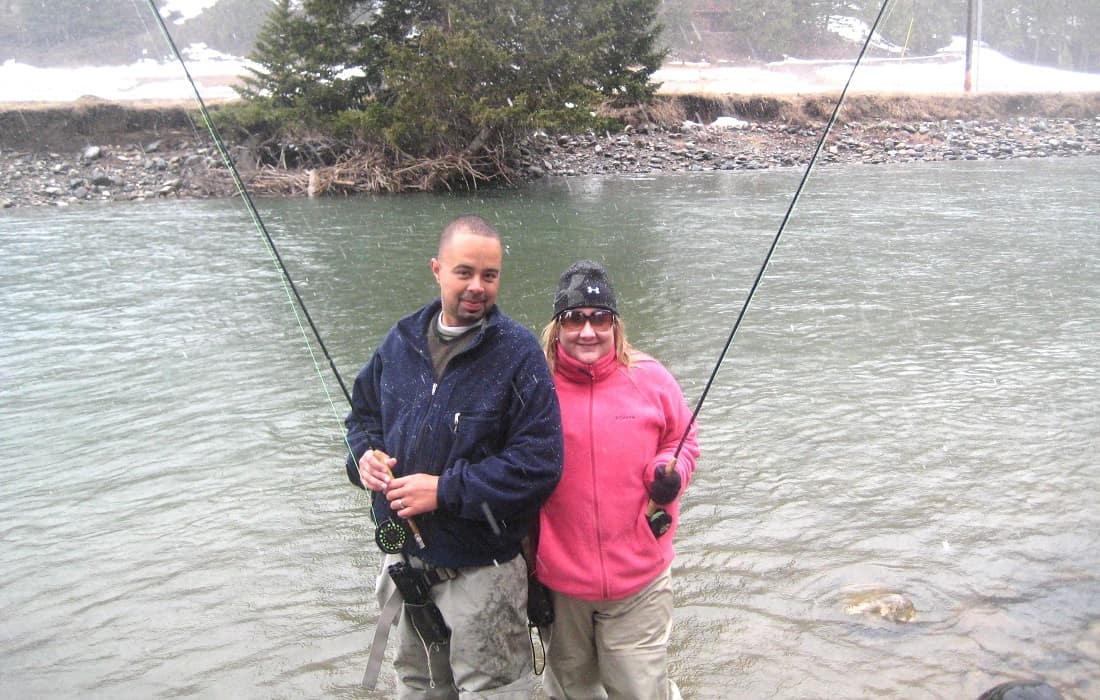 Grizzly and Wolf Discovery Center
Located in West Yellowstone, this is your chance to get personal with grizzly bears and wolves. All the animals here are rescues and cannot be released because they would not survive. Or another way to think about it is this is not a zoo. Your visit provides money to care for the animals that have been saved. Visiting the center is educational. You will learn all about the wildlife of the region. There is also a fabulous gift shop here. I bought the most unusual shaper that hands-on my wall people often ask about. Vising to the center only takes a couple of hours. It's not a full day of activity.
Geysers In Yellowstone National Park
Yellowstone National Park has more than 500 geysers and 10,000 hydrothermal features.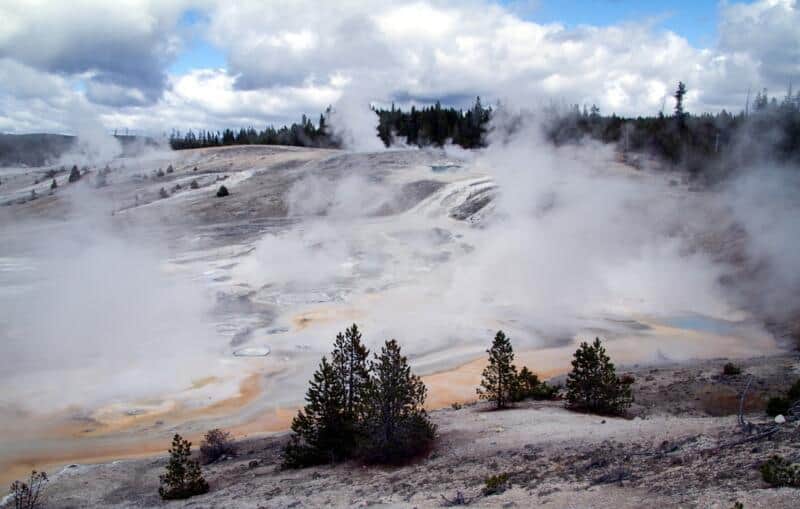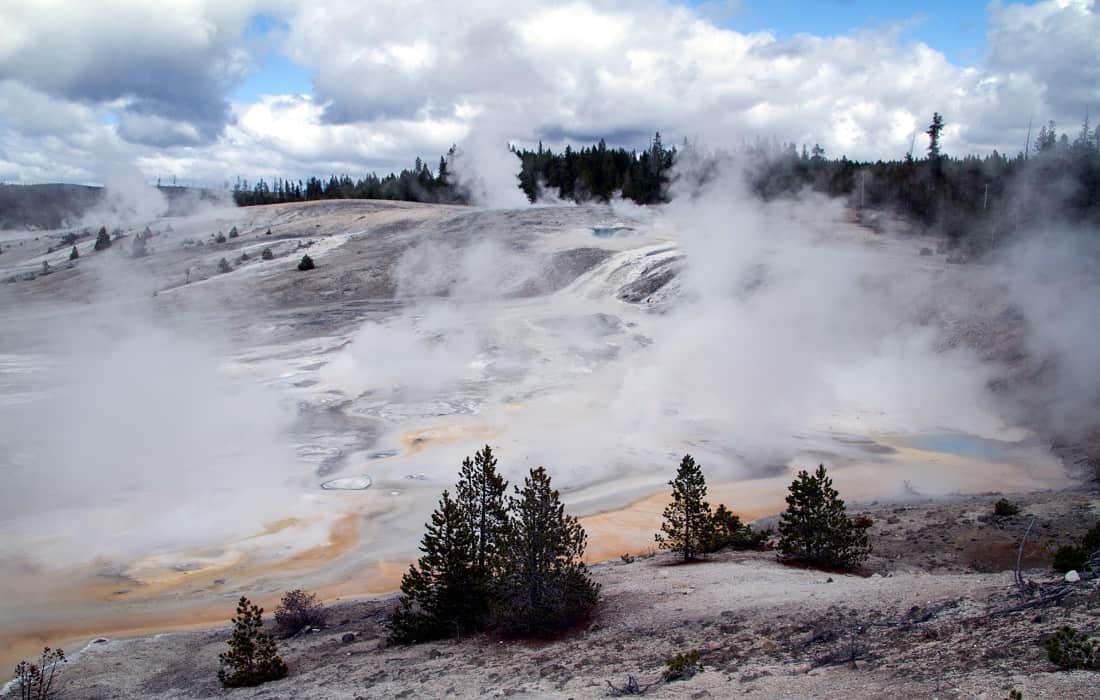 Yellowstone Geyser List
Anemone Geyser
Beehive Geyser
Castle Geyser
Clepsydra Geyser
Cliff Geyser
Daisy Geyser
Echinus Geyser
Fountain Geyser
Great Fountain Geyser
Grand Geyser
Jet Geyser
Lion Geyser
Riverside Geyser
Sawmill Geyser
White Dome Geyser
If you want to see most of the geysers, consider a tour.
This tour uses the Biscuit Basin Trailhead to start the six-mile loop hike through Upper Geyser Basin and return to Biscuit Basin. This is the only hiking tour of its kind regularly offered in Yellowstone. You will encounter the bustling Old Faithful area at the mid-point of our hike. Sections of this hike are on the boardwalk. There are also sections on the dirt trail where there are few other hikers. Depending on the season, you may encounter wildlife from time to time, including bison and bear!
They are all beautiful in their own right, but if you can only visit a few, here are my favorites:
Old Faithful
Old Faithful might be the most well-known geysers of them all. It erupts every thirty minutes or so and does not disappoint. Contrary to popular belief, the geyser is not the largest nor the most frequently flashing in the park.
There is no doubt that Old Faithful is extremely popular because of its frequent, predictable eruption schedule and easy accessibility. The geyser erupts just a few hundred yards from the parking lot! As much as 8,000 gallons of boiling water are spewed 100 feet into the air during an Old Faithful eruption, which usually lasts 1.5 to 5 minutes.
In a place where everything is constantly changing, it is fascinating that it explodes on such a predictable schedule. You should at least see Old Faithful once in your life. To share this experience with people from around the world is an unforgettable experience!
Steamboat Geyser
The world's tallest active geyser. This geyser has been in the news lately for unexplained eruptions.
There are many more to see, and these are just two favorites.
Hayden Valley
Viewing wildlife is a popular activity in Hayden Valley, a region of Yellowstone. On the park's eastern side, the valley stretches from Canyon Village to Mud Volcano. Bison and elk are most likely to be seen in Hayden Valley. Besides bald eagles, you may also see bears. Even though Hayden Valley is just 7 miles long, we recommend spending about 2 hours here to maximize your chances of seeing wildlife.
Wildlife viewing is best during the 'Golden Hour' after sunrise or before sunset. Hayden Valley makes a great starting or ending point for your Yellowstone trip if you're staying in Canyon Village.
In Hayden Valley, you can best see wildlife if you pull over and wait. Pack a stakeout and a camping chair since you will not always encounter wildlife immediately. You won't be able to see much wildlife. You can look closely at a bird using binoculars or a spotting scope.
Lamar Valley
One of Yellowstone's most popular wildlife viewing areas in Lamar Valley, located in the northeastern portion of the park. Lamar Valley is home to bison, bears, coyotes, and wolves. Seeing wildlife is best after sunrise and before sunset. It is possible to hear distant howls of wolves after sunset, however.
Moreover, Canyon Village and Mammoth Hot Springs are about an hour away. It's worth the effort and time to trek to Lamar Valley, but you'll need to get up early or stay up late.
Nevertheless, if you're looking to see a lot of animals, this is the best place to visit. It is possible to encounter buffalo, bighorn sheep, pronghorn, elk, grizzly bears, and wolves while driving and hiking.
Mud Volcano
Getting out of your car will give you a distinct Yellowstone scent! The sulfur in the water makes Mud Volcano one of the park's most smelly spots, and it's hard to forget.
A sulfuric odor, mud pools, and boiling fumaroles define this geothermal area. It is also common to see bison grazing in a field across the river from geothermal features.
Like a boiling mud pot, the Mud Volcano is carved into the rock. A quick visit to this geothermal area is worth the trip, even though it isn't as impressive as the other geothermal areas. You can explore this area sputters, roars, bubbles, and hisses on several short boardwalks. Yellowstone's thermal area is one of the most active and spectacular in the world.
Popular Tours At Yellowstone
Roosevelt Arch
This arch is dedicated to former President Theodore Roosevelt. His support of national parks and his role in creating the National Park Service made him a well-known figure. Gardiner, Montana, on the northern edge of Yellowstone National Park, was the primary entry point. The Mammoth's entrance is commemorated by the stone Roosevelt Arch. Yellowstone, the nation's first national park, has several other references to Roosevelt, such as the tower-Roosevelt section. Seeing the Roosevelt Arch takes only a few minutes. Walking or driving through the arch at Yellowstone's North Entrance is possible.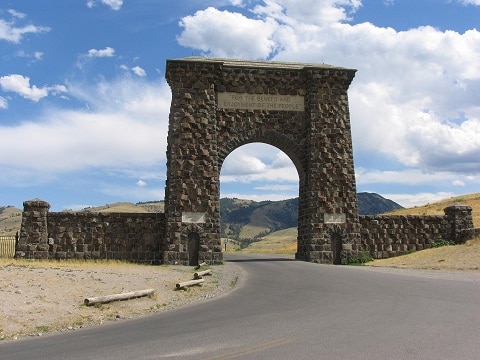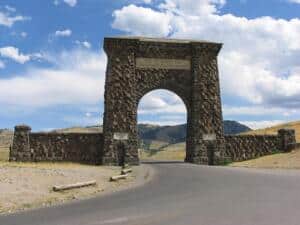 Self-Driving Audio Guided Tour
With this tour, audio guide, and map, you'll learn everything you need to know about Yellowstone. Explore the towering geysers, colorful hot springs, and extraordinary wildlife that have captured the imaginations of Americans at your own pace.
Take advantage of your audio guide to navigate the Grand Loop. Visit this fascinating destination and learn about its history, stories, and supplementary information along the way, along with videos to help bring each stop to life.
Discover this fantastic location's wildlife and natural delights with your expert audio guide.
Snowmobiling
A favorite for the winter season that we were lucky enough to experience in April was snowmobiling! There are endless places that rent snowmobiles, or you can join a tour. We rented, or should I say, "borrowed" two from Island Park Resort and hit the trails. Therefore, if you go during the day and stay on the tracks, you can do this solo without being on tour. I can't speak to the scenery everywhere. We were riding in Idaho, and it was spectacular. We rode up to Big Springs, the headwaters of the Snake River, and home to Johnny Sack's cabin. This spot is well known for feeding the trout, but you can only provide – no catch!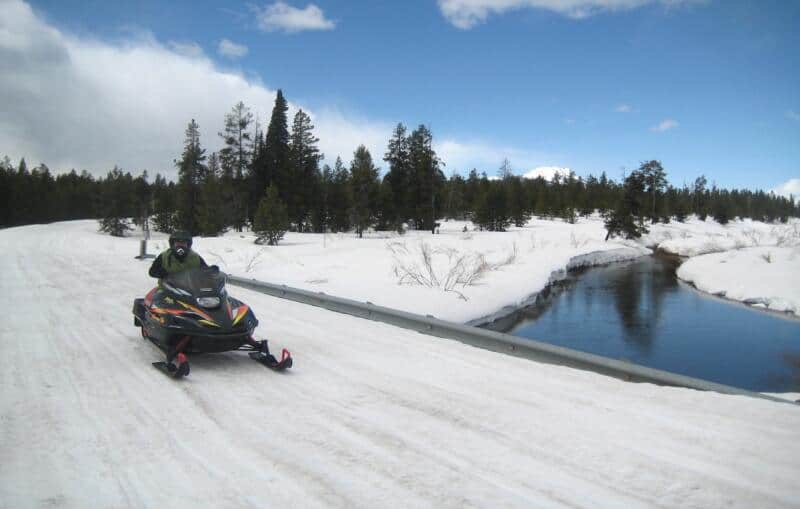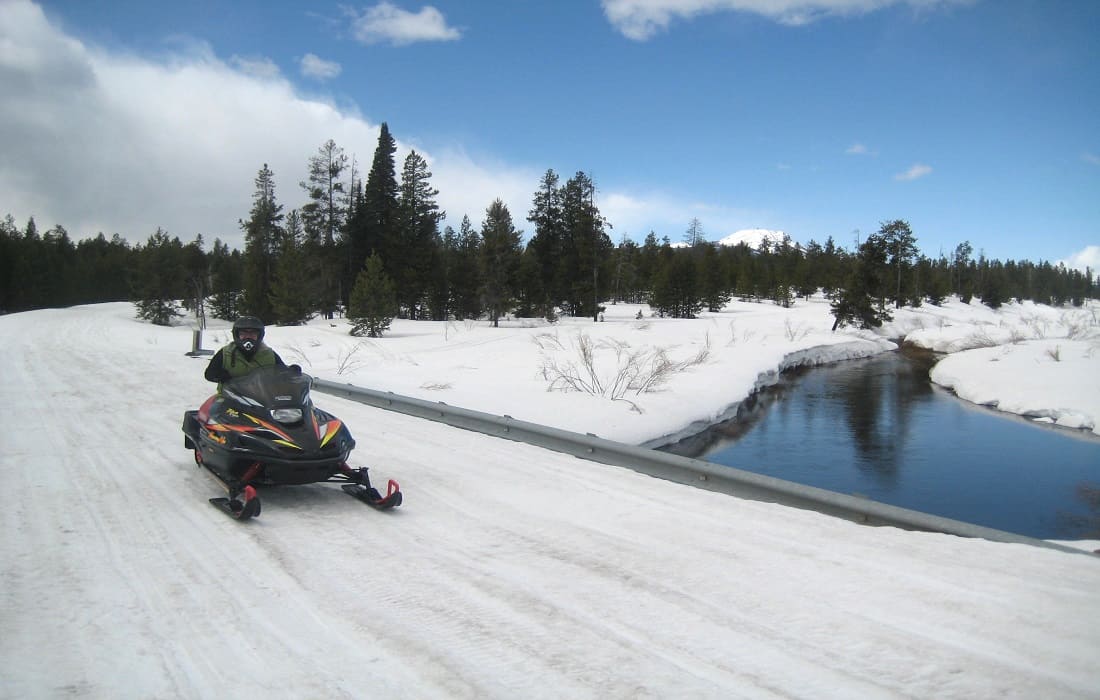 Springs Of Yellowstone National Park
With more than 10,0000 hydrothermal features in the park, these nine Yellowstone hot springs are just some of the most beautiful that should be added to your Yellowstone itinerary.
Abyss Pool
Beryl Spring
Canary Hot Springs
Egeria Spring
Grand Prismatic Spring
Mammoth Hot Springs Terraces
Morning Glory
Porcelain Basin Hot Springs
Thumb Geyser Abyss Pool
Grand Prismatic Spring
This is the most photographed spring in the park. You will recognize this one from the pictures. It's a rainbow-colored spring that's ten stories deep. Unfortunately for us, we have never experienced it on a clear day. Whist beautiful among midst, you can't see the full effect of the spring unless it's a clear day. If you plan to visit Grand Prismatic Spring, shoot for a clear day. Excelsior Geyser is in the exact location as the Grand Prismatic Spring. A turquoise and opal pool that you can walk around and take in the view.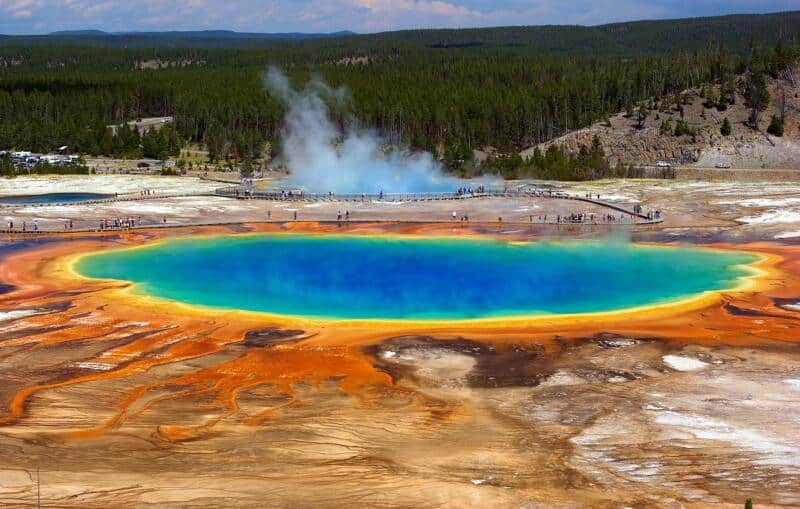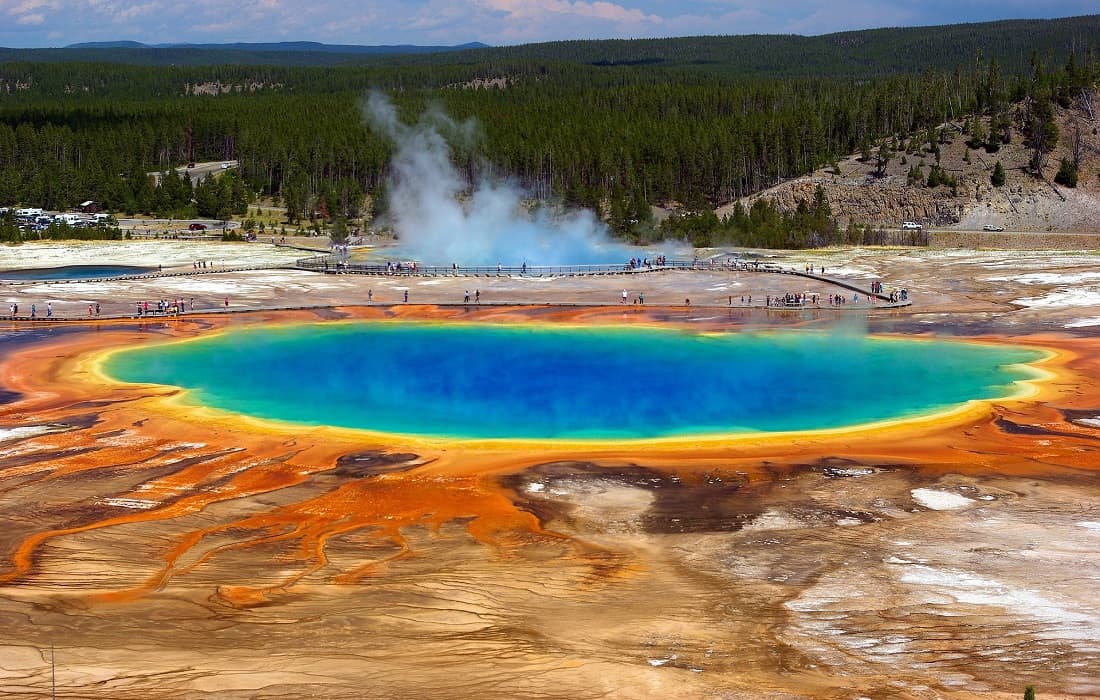 Hot Mammoth Springs
Yellowstone's historic Mammoth Hot Springs is full of things to see and do. There are several unique hot springs within the park, including Mammoth Hot Springs. Yellowstone's Grand Canyon is a must-see attraction if you only have a couple of days to explore. It is located near Gardiner, Montana, in the park's northwestern corner. Travertine terraces distinguish Mammoth Hot Springs from other hot springs. These peculiar formations result from geothermal activity beneath the surface dissolving calcium carbonate. The decks are formed when the water cools.
Experience Mammoth Hot Springs by walking across the Lower Terraces. There is not much to see on the Upper and Main Terraces, which can be reached via a lovely drive.
Parking lots can be found just before Mammoth. Over a mile long, the Lower Terraces loop is connected by boardwalks or paved paths.
This is towards the North entrance, and I highly recommend the drive. You will see tons of wildlife, and you can exit the North Entrance to Gardiner, Montana. Gardiner is home to the Roosevelt Arch, built-in 1903. There is a scenic bridge that crosses the Yellowstone River. All followed by a quaint, old town.
It's also worth mentioning that the Northern Entrance is the only one open year-round.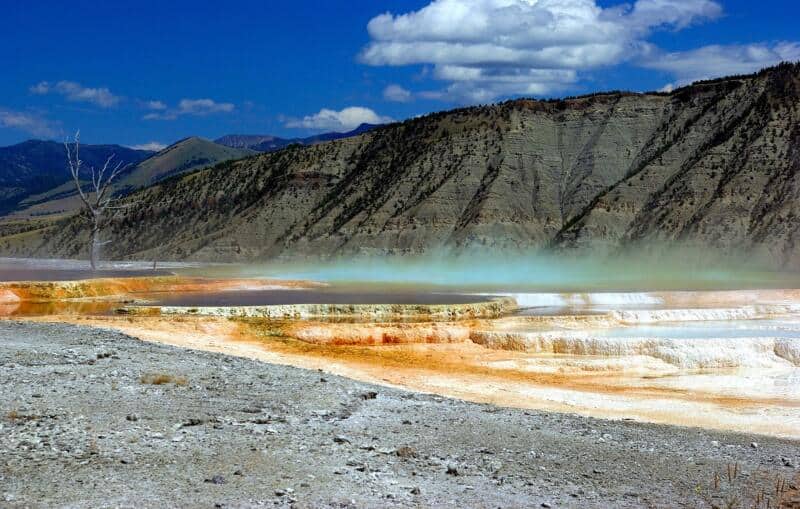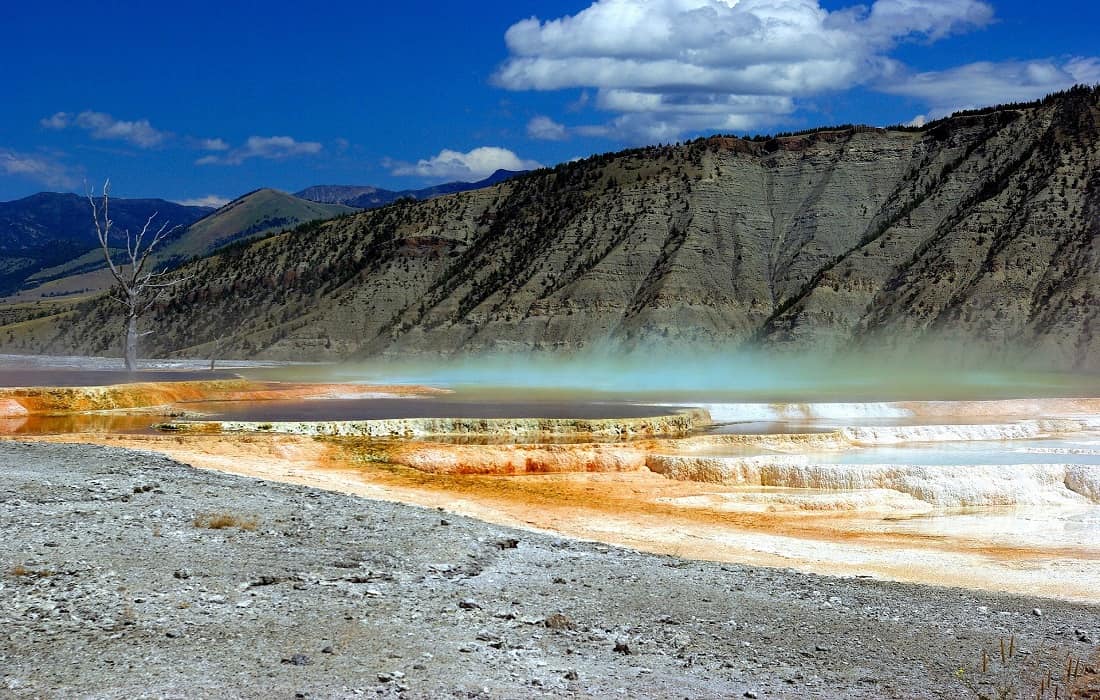 Boiling River Hot Spring
An enormous hot spring enters the Gardener River, creating the Boiling River. Consequently, the hot water mixed with the cool water, making the temperature ideal for bathing. In the Mammoth area, north of the town. The site is about half a mile from a parking lot on the side of the road. Many parts of Yellowstone are closed in winter, but this area remains open. You'll need warm clothing for the half-mile hike to the swimming area.
Swimming is allowed in this hot spring, unlike others in Yellowstone. A bathtub-like temperature is achieved due to the calm Gardiner River's water cooling the hot spring water. Yellowstone's Boiling River is a great summer activity! Wear water shoes because the river is rocky, and keep an eye on your children since there are no lifeguards.
You can reach Gardiner by driving about two miles north of Mammoth. From the parking lot, you can easily walk to the river.
Note: Swimming is not allowed in any of the hot springs mentioned in this post, with the exception of the Boiling River.
Uncle Tom's Trail
Yellowstone's Uncle Tom's Trail connects the Grand Canyon to Lower Falls, a 308-foot-tall waterfall at the base of Yellowstone's Grand Canyon. It is almost always possible to see a rainbow cutting through the solid splashes and mists of the falls. You won't have a problem conquering the 328 steps on the way down–just keep in mind that you'll have to climb back up. Numerous benches and steel platforms are available for resting during the nearly 500-foot climb.
Following Artist Point Road, park in the Artist Point parking lot once you reach the Canyon section of Yellowstone. There is a sign indicating Uncle Tom's Trail. Before going the steel grate steps, a couple of paved switchbacks must be descended.
West Thumb Geyser Basin
Yellowstone Lake's shoreline is directly adjacent to the West Thumb Geyser Basin. You can view various beautiful pools along the boardwalk that encircles the area. When you go down to the lakeshore, look for the geyser cones that stick out of the water! On the western shore of Yellowstone Lake, a 0.5-mile boardwalk walkway runs among the features. Among the best parts of the West, Thumb Geyser Basin is its Abyss Pool, a teal-blue pool more than 50 feet deep.
In addition to Abyss Pool, you should visit the Fishing Cone, the Black Pool, the Thumb Geyser, and Seismograph Pool.
Waterfalls Of Yellowstone National Park
With Yellowstone having at least 45 named waterfalls and many more unnamed, you will run into random waterfalls as you navigate the park. Depending on where you will determine which ones you will see. Be sure to research them before you go to avoid missing your favorites. Upper, Lower, and Crystal Falls are the most popular. While there is snow or ice, added beauty awaits you if you are there.
Tower Fall
Yellowstone National Park's Tower Fall is the tallest waterfall in the park, only exceeded by the Lower Falls in the Grand Canyon of the Yellowstone and Fairy Falls. One hundred thirty-two feet of water fall from a narrow spire-filled canyon into a lake. Despite trail erosion, Tower Fall Overlook offers stunning views of the cascade despite not being able to hike to its base. A breathtaking view of the waterfall can be seen from this vantage point. Tower Fall is relatively accessible from the parking area on Grand Loop Road.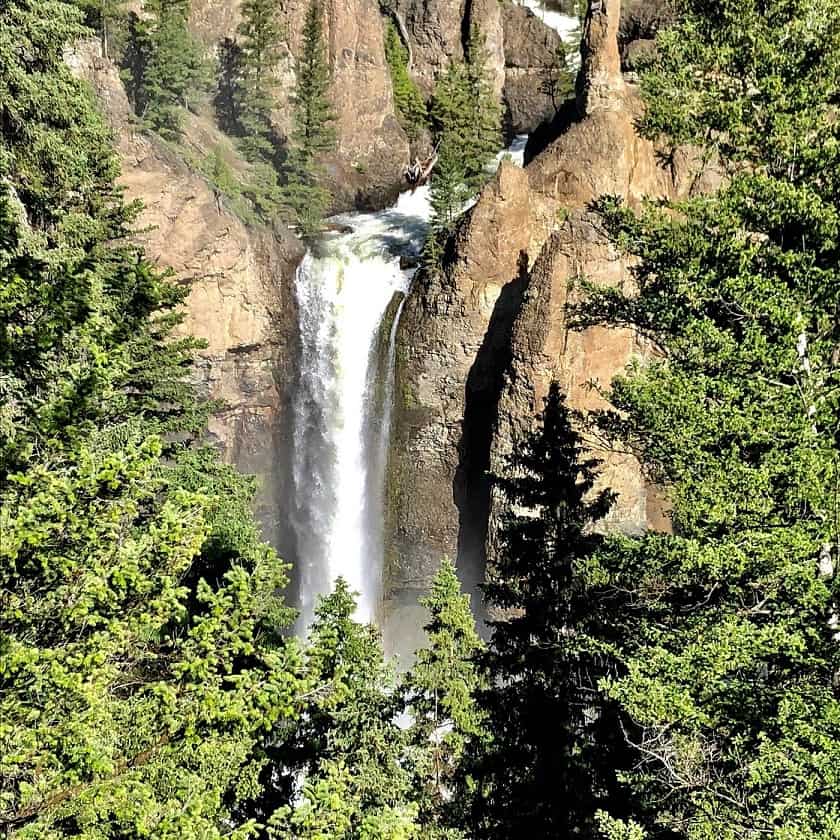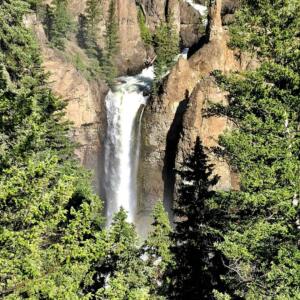 Lower Falls
Undoubtedly, Lower Falls is the most famous waterfall in Yellowstone. Old Faithful Geyser is the most photographed spot in Yellowstone, followed by the 308-foot waterfall. There are numerous views of the Falls from the east (Inspiration Point, Grandview Point, and Lookout Point) and west (Artists Point) sides of the Grand Canyon, most of which require only a short walk or virtually no walk to see. The trail to the top of the Falls (3/4 of a mile roundtrip, but steep with many switchbacks) is a must, as the experience of standing atop the Falls is one of the most breath-taking experiences in the entire Park.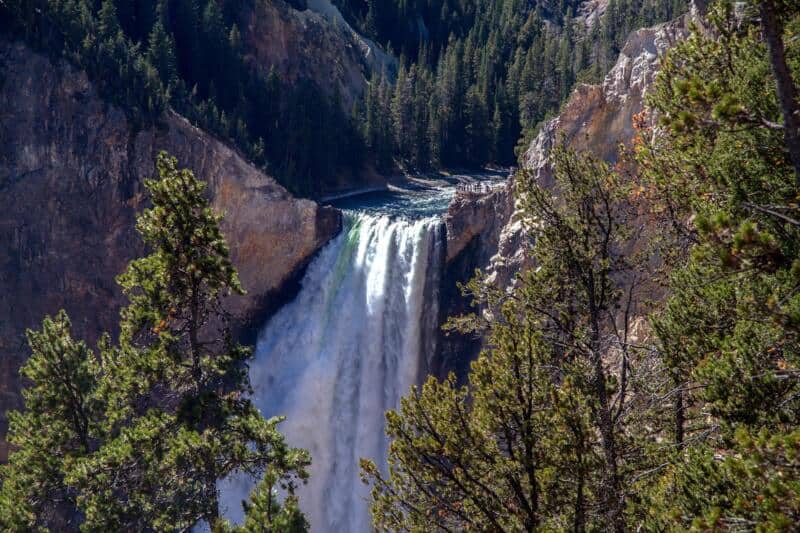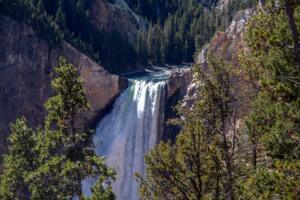 Northeast Waterfalls
Birdseye Falls, 100 feet
Citadel of Asgard Falls, 150 feet
Crystal Falls, 129 feet
Enchantress Falls, 90 feet
Faires' Fall, Amethyst Creek
Knowles Falls, 15 feet
Silver Cord Cascade, 1,200 feet
Tower Fall, 132 feet
Yellowstone Falls – upper Falls, 109 feet – lower Falls, 308 feet
Northwest Waterfalls
Firehole Falls, 40 feet
Gibbon Falls, 84 feet
Hidden Falls, 20 feet
Little Gibbon Falls, 25 feet
Osprey Falls, 150 feet
Undine Falls upper 60 feet, lower 38 feet
Rustic Falls
Silver Cascades, 80 feet
Virginia Cascades, 60 feet
Wraith Falls, 100 feet
Southeast Waterfalls
Crecelius Cascade, 75 feet
Southwest Waterfalls
Albright Falls, 260 feet
Cave Falls, 20 feet
Bechler Falls, 15 feet
The Cascades of the Firehole, 40 feet
Chasm Falls, Ouzel Creek
Childhood's Dream Falls, 30 feet
Colonnade Falls, Bechler River – upper 35 feet – lower 67 feet
Sunanda Falls, 150 feet
Emerald Pool Falls, Ouzel Creek
Fairy Falls, 197 feet
Fern Cascades, 50 feet
Gwinna Falls, 15 feet
Hourglass Falls
Iris Falls, 45 feet
Kepler Cascades, 150 feet
Lewis Canyon Falls, upper falls, 80 feet, lower falls, 50 feet
Lewis Falls, 30 feet
Lily Falls, 15 feet
Moose Falls, 30 feet
Morning Falls, Ash Mountain Creek
Mystic Falls, 70 feet
Ouzel Falls, 230 feet
Quiver Cascade, 98 feet
Ragged Falls, 45 feet
Rainbow Falls, 55 feet
Silver Scarf Falls, 250 feet
Tempe Cascade, 30 feet
Terraced Falls, 130 feet
Tendoy Falls, 33 feet
Treasure Falls – Lilliputian Creek
Twister Falls, 55 feet
Union Falls, 250 feet
Wahhabi Falls, Bechler River – upper 28 feet, lower 18 feet
Wildlife At Yellowstone National Park
When driving through the park, be on the lookout for wildlife. We have spotted wolves, bison, elk, bighorn sheep, moose, and antelopes! We have seen almost every mammal except the bears, and that's because they hibernate during April.
Yellowstone National Park is home to 67 different mammals. Approximately 690 grizzly bears and 99 gray wolves, black bears, wolverines, and lynx. Elk, mule deer, bison, moose, bighorn sheep, pronghorn, nonnative mountain goats, and white-tailed deer also call Yellowstone home. Then there are the birds, fish, amphibians, and reptiles. If you enjoy wildlife, Yellowstone National Park will not let you down.
Yellowstone Lake
You will hit the lake if you drive from one side to the other (East/West or North/South). The lake has a mysterious appeal. It's vast, barren, and charming. You can see your reflection in the lake if it's clear. The lake hosts typical attractions like kayaking and boating, but the backdrop makes this place. North America's largest high elevation lake, with more than 110 miles of shoreline, has more than 110 miles of shoreline.
Depending on your interests, you will decide how long you want to spend here. Passing through, stop at Lake Butte Overlook and the old Lake Hotel. Nearby picnic spots offer leisurely meals. Yellowstone Lake is an excellent boating destination despite its chilly waters.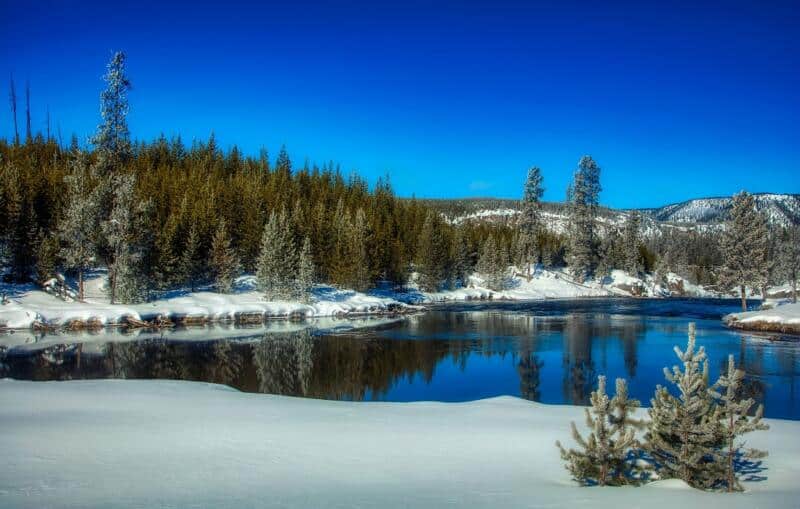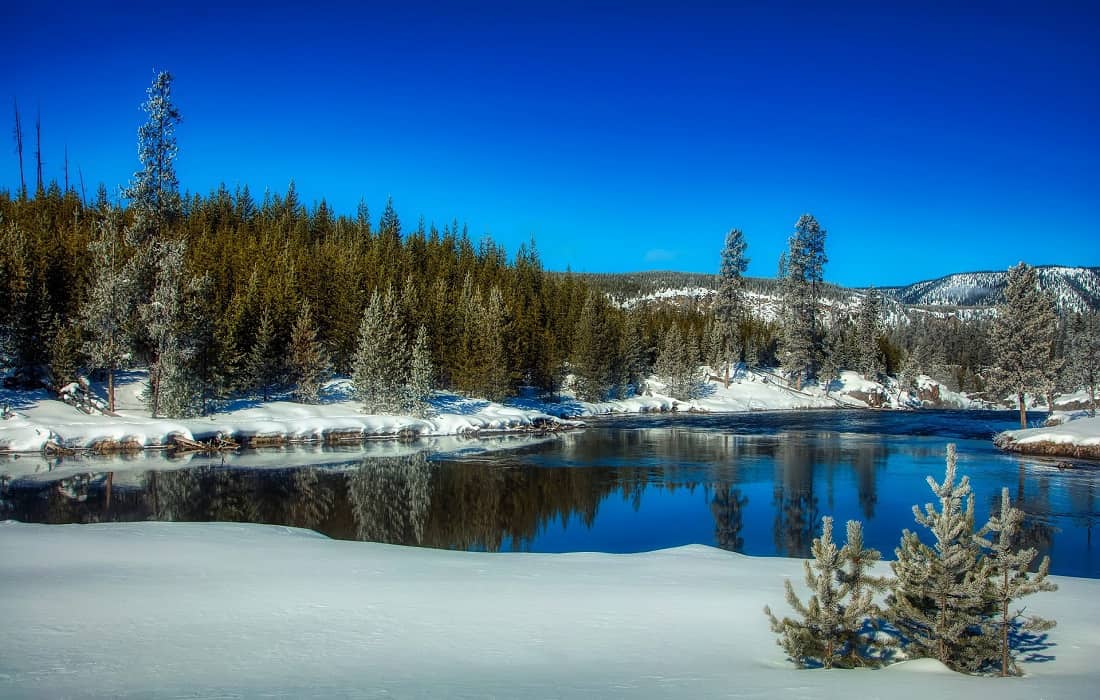 Here Are Popular Tours At Yellowstone Lake
Closing Thoughts
I've been fortunate enough to visit all fifty states. Florida will always be my favorite and my base. However, Montana is a close second. Indeed, West Montana holds a special place in my heart.
You will never breathe air as pure as the air in Montana. Likewise, you will never experience a place with four unique seasons of marvel to discover like this. Yellowstone National Park is by far America's best of the parks. There's no comparison to the others. A blend of mind-blowing scenery, diverse wildlife, and insane experiences, this is a place that anyone will enjoy.
If you've not been – book it! If you have visited Yellowstone National Park, tell us about your experience below!
Looking for more posts to inspire you? Start here:
We participate in the Amazon Services LLC Associates Program, an affiliate advertising program designed to provide a means for us to earn fees by linking to Amazon.com and affiliated sites.
Brit On The Move™ Travel Resources
Ready to book your next trip? Use these resources that work:
Need more help planning your trip? Check out our Resources Page, highlighting the great companies we trust when traveling.