Santa Fe New Mexico – The Ultimate Guide On Things To Do
At the end of 2018, I completed visiting all 50 States. New Mexico was one of the remaining four to explore in 2018. I chose to spend a week here. You might ask why? Well, this was an easy decision. The west, mainly the Rocky Mountains, has always been good to me. I chose Santa Fe, New Mexico, because white water rafting was on the list, and the Rio Grande runs through this region. Having researched New Mexico, Santa Fe offers plenty of things to do. Here is why I think you should visit:
The beauty of the desert wowed me. It's hard to describe this place because it's radically different from other states. Sure, the desert looks as expected. Dramatic mountain backdrops bask with rock formations that change color as the day progresses — sandstorms blowing over the landscape covered in two-needle pinyon trees.
What is different are the buildings, culture, and heritage. Spanish colonial architecture dominates the region, and adobe buildings are everywhere. Chile Ristras adorn the adobe buildings employing every hue of terracotta known to man. The beauty of the buildings is what makes this place stand out.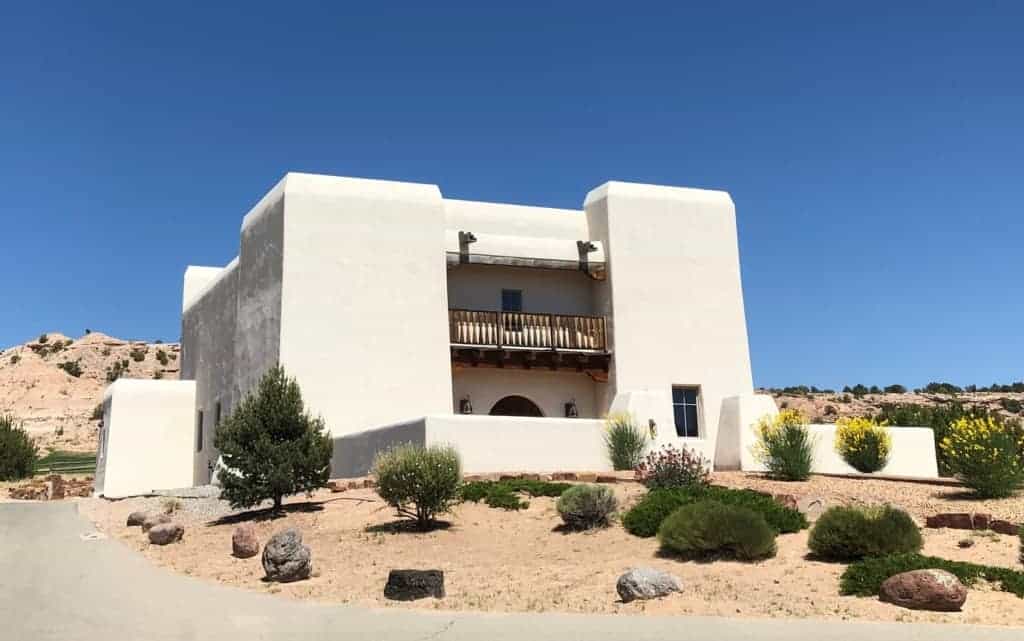 This post may contain affiliate links. Please read our disclosure and privacy policy for more information.
The Beauty of New Mexico
I can't quite pinpoint what is so visually stimulating. Perhaps it's the natural colors or the curbed angels? Maybe it's the brightness and depth of the colors? Regardless, the adobe buildings are stunning. Adobe is a mixture of mud and straw pressed into a mold to form adobe bricks used to make the walls. The walls are then finished with mud plaster.
Interestingly, the newer construction in this style has the same look but does not have the straw. Once you have looked at a few, you can distinguish old from new. Both are beautiful yet created differently. From what I have read, more modern construction uses gypsum vs. straw.
If you did not know better, you would think you had left the United States and traveled to Mexico or Spain's remote location. If you are interested in architecture or history, this place should be on your list.
In addition to the visual splendor, something else that was amazing was the food and tequila! Every single meal we ate here outside of the hotel was terrific. I would go as far as to say the food and drinks rank high for me. I will discuss this in detail below.
While stunning and enjoyable, this place is not necessarily a return spot for me. Nor will it make it onto my top 5 list. Not to say I would not return; I might. I think I covered all the highlights I wanted to and thoroughly enjoyed them. This being said, I would recommend anyone visit.
Things To Do In Santa Fe, New Mexico
The state capital of New Mexico, Santa Fe, is one of the oldest cities in the country. The city's ancient streets are dotted with Native American adobe buildings, charming Spanish colonial churches, and magnificent Mexican missions.
Its extraordinary arts scene is in addition to its cultural diversity and interesting historical tourist attractions. Its streets are littered with galleries, but Santa Fe is also an important center for the performing arts, hosting many cultural events. You can also visit marvelous museums in Santa Fe and explore its scenic setting in the Sangre de Cristo Mountains.
Bandelier National Monument
This place contains more American history than the new word relates to. These are ancient ruins of the ancestors of present-day Pueblo Indians dating back to 1150. Just a short drive from Los Alamos, you must not miss this. Here you can see the cave dwellings carved into the soft rock cliffs. Some houses still have black smoke stains from fire, and some contain petroglyphs (carved images). You can climb into many of the dwellings and experience cave life! Not a full day out; the entire hike is 1.2 miles round-trip, so this is half a day at best.
Canyon Road
Over a hundred art galleries, studios, and workshops on Canyon Road make it a popular place to explore and visit. This artistic area, just southeast of Santa Fe's center, is an art lover's paradise, with everything from contemporary crafts and quirky clothes to glittering jewels, sparkling silverware, and striking sculptures.
Its galleries, many of which are located in attractive buildings, exhibit stunning and evocative Native American arts, crafts, and artifacts. In addition to some internationally renowned artists, there are several fantastic folk artists in the region whose work reflects the history and heritage of the area. In addition to its appealing arts, architecture, and ambiance, Canyon Road is home to several great restaurants and cafes.
Cathedral Basilica of St. Francis of Assisi
St. Francis of Assisi Cathedral Basilica, right in the heart of the city, is one of the city's most beautiful and impressive historical sights. An excellent rose window adorns the façade of this Romanesque Revival building, which was built between 1869 and 1886.
While its interior may seem austere, its nave is lined by colossal Corinthian columns and complemented by charming little chapels. Its most notable attraction is a statue of the Virgin Mary known as La Conquistadora, the oldest of its kind in the country.
El Rancho de las Golondrinas
This rancho dates back to the early 1700s and served as a paraje (stopping point) on the "Royal Road" between Mexico City and Santa Fe.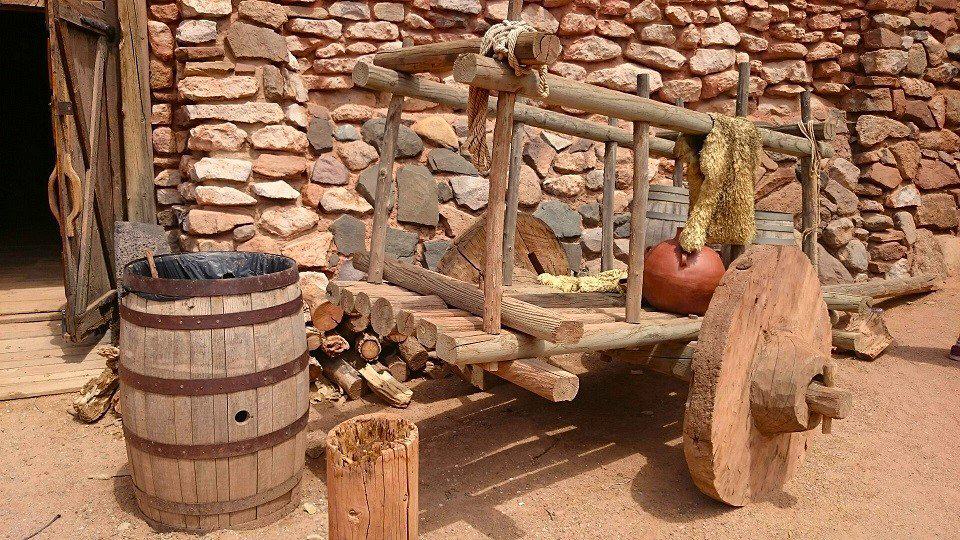 On 200 acres in a rural farming valley, the Rancho de las Golondrinas is a living history museum. Dedicated to the heritage and culture of Spanish Colonial New Mexico, the museum opened in 1972. Some adobe buildings date back to the early 18th century and are built on original colonial foundations. At Las Golondrinas, historic buildings from other parts of northern New Mexico have also been reconstructed. Early New Mexico villagers are clothed in the styles of the time to demonstrate how life was lived. When Spain and Mexico ruled this part of the United States, visitors can participate in special celebrations, music, dance, and many other aspects of life.
Georgia O'Keeffe Museum
A world-renowned artist's life and legacy are celebrated at the Georgia O'Keeffe Museum in the city center. Several hundred of her fabulous paintings, drawings, and sculptures can be found in its gorgeous galleries, along with countless other works by contemporaries.
View a film about O'Keeffe's life and artistic achievements, as well as some of her items and memorabilia, while perusing the world's most extensive O'Keeffe collection. The museum was once an adobe Baptist church and boasts fantastic watercolors and pastels depicting New Mexico life and landscapes.
Hotels In Santa Fe, New Mexico
Our hotel (supposed Hilton resort) was not exactly what we imagined. If I could do this over, we would have skipped the resort idea and gone for something in downtown Santa Fe. The hotel experience did not impact my impression of New Mexico at all. It only affected my declining opinion of the Hilton Brand in general. There are tons of places to choose from downtown. Pick something rustic and enjoy!
Here are my favorite three!
A blend of detail-oriented customer service and luxury accommodations makes the Inn of the Anasazi popular among guests. With handcrafted beds, gas-lit fireplaces, and modern amenities like Keurig coffee makers and wireless internet access, guest rooms boast the natural beauty of New Mexico and the artistic designs of local Native American tribes.
Recent guests have awarded this Four Seasons resort five stars. The Four Seasons Resort Rancho Encantado Santa Fe is tucked away in the foothills of the Sangre de Cristo Mountains overlooking the Rio Grande River Valley. Neutral tones and warm orange accents decorate the hotel's 65 casita-style guest rooms. There is a private terrace and fireplace in each room, as well as complimentary Wi-Fi, iPod docks, and 24-hour room service.
Due to its Native American ownership, you'll be able to engage in cultural activities like storytelling and teepee dining. The entertainment, however, isn't the only thing that attracts guests. Travelers have also praised the friendly staff at Amaya restaurant and the tasty traditional cuisine. Upon returning to your accommodations, you'll find triple-sheeted beds, down comforters, minibars, and spacious work areas.
Loretto Chapel
There are many fine features to enjoy at Loretto Chapel and its 'miraculous' spiral staircase. The building, constructed in 1878, exhibits a variety of attractive architecture, including beautiful buttresses, splendid spires, and stunning stained glass windows.
However, the striking spiral staircase inside the Gothic Revival church has become the subject of many myths and legends. Against the white walls of the charming chapel, the staircase appears unsupported and unusual. Loretto Chapel is now a museum and wedding venue in the historic heart of Santa Fe.
Meow Wolf
I don't know where to begin with this one. This place is for kids and adults alike, maybe a tad more on the adult side. The summary version of this is a house with a mystery to solve. You are to find out what happened to the family that lived there. It's unlikely you will solve this. Few do, and if you intend to be prepared, spend hours here. Solving the mystery is not the draw. It's the art and exhibitions — interactive art at its finest.
Once you enter the main house, you will enter various hidden spaces through odd places. For example, open the fridge in the kitchen and travel into a remote area. Climb through the fireplace and enter into a prehistorical world. Open up the washing machine and slide it down into a bubble tube. Open up almost any door, and you will be off on a journey of psychedelic out-of-mind experiences. This place is beyond entertaining and unique.
As the Monkey and I explored, I thought it was whoever created it, which was high when they did so. Ironically, the gift shop has signed to buy that read, "Yes, we are high." To sum it up, I would guess the creators dabbled in a batch or two of acid. If you visit this place, you will know what I mean, even if you have never dabbled in a trip.
Museum of Indian Arts & Culture
Established in 1909, this magnificent museum protects, preserves, and promotes various people and pueblos' history, culture, and heritage. On Museum Hill, just south of the center, this captivating museum showcases an incredible array of artworks, artifacts, and archaeological finds.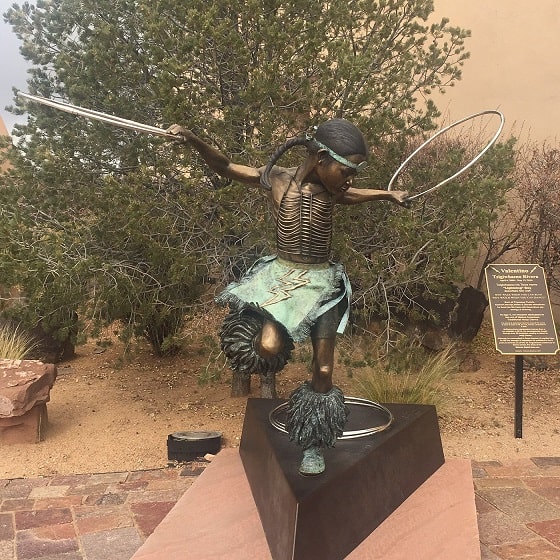 Visitors can participate in several delightful dances, music, and storytelling events in addition to perusing the extraordinary pottery, photographs, and permanent exhibitions. The Museum of Indian Arts & Culture offers a fascinating look into the origins, history, and traditions of Native Americans who live in the Southwest.
Museum of International Folk Art
This fascinating museum showcases some 135,000 items from more than 100 countries, making it an incredible place to visit. A short drive from the city center lies the world's largest and best folk art museum, displaying exhilarating artifacts and exhibitions.
Having opened in 1953, its colossal collection has grown, including wonderful toys, textiles, carvings, ceramics, and costumes from around the world. Several lovely displays and scenes depict everyday life in the museum, along with lots of splendid local Hispanic art.
Nambe Falls
Obsessed with falls, I am always on the lookout at each destination. Having hiked hundreds literally, I know the ins and outs of what accessible to complicated means. I am no stranger to what a 100-foot climb entails.
Having read up on Nambe Falls, we were under the impression that both hikes are a ¼ mile. Their website states it's a ¼ mile, which is inaccurate. You have two elevations to choose from – lower and upper. We started with the lower, what a mess! All you need to know about this is you will be climbing over steep rocks only to be met by gushing water you'll have to cross. We did not bring our water shoes because nothing indicated a hike through the water. Bare feet we went but only so far. We sent Brian in to check it out, and unfortunately, the lower route takes you to the lower of the three falls and is not worth the damage to your feet.
We turned back and headed to the upper trail. About a half a mile into this one (verified by Fitbit), we met with several people returning who advised us we were less than a quarter of the way in and that the elevation would continue to climb. Knackered by this point, we all gazed up at the mountain and said Nah. We joined the other group heading down.
New Mexico History Museum
The New Mexico History Museum is home to a fantastic array of exhibits and artifacts just behind the Palace of the Governors in the city's center. This fascinating museum is worth a visit if you have the chance, as it offers a glimpse into people, cultures, and communities from the state and the Southwest.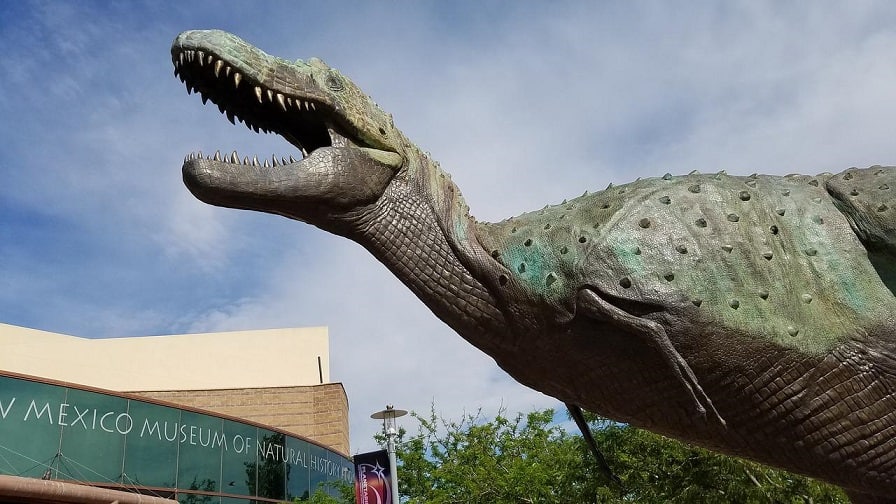 Three floors are dedicated to photos, prints, and archaeological findings in this museum that opened only in 2009. The exhibits cover everything from indigenous life in the state to Spanish colonization and important events of the 20th century. The facility's daily Native American art market also offers some great souvenirs.
New Mexico State Capitol
New Mexico's State Capitol is just a short stroll from Santa Fe Plaza. The building's striking architecture resembles the circular emblem of the Zia Pueblo, which is also the state's emblem and is informally called the Roundhouse.
The Rotunda and stained-glass ceiling are undoubtedly the highlights of this 1966 building which exhibits a delightful combination of Territorial Revival and Neoclassical architectural styles. From above, visitors can see the House and Senate chambers and all the fantastic art depicting New Mexico's history and culture.
Ojo Caliente Mineral Springs Resort & Spa
We spent an afternoon here. You could make it an entire day out, but it is open until 10 pm, so realistically plan for half a day. For me, this place was heaven. The Monkey and I basked in mud and soaked in the various hot pools. The layout and decor of this place are reminiscent of a high-end resort in Africa. I loved it.
On the other hand, Brian had a different reaction that is only fair to share. This place is cheap; it's $24 pp for all-day access. As we all know, cheap can bring those less fortunate or less refined. Or, to make this more visual for you – think Walmart.
I don't think you should have to have a ton of money to enjoy some luxury. Brian, on the other hand, disagreed but with valid concerns. His thought process is that pricing dictates the clientele. Yes, there were several 300 lb. plus people running around. Not a problem – we are who we are. But it's a bit much when you are in a bikini thong that does not fit. I am not body shaming here. I am not even remotely thin or in shape. For me, it was not about the weight; it was more about the overall appropriateness of the attire given the weight. For example, I would have reacted or noticed if "socially deemed perfect figures" ran around in thongs and nipple pasties.
Brian also experienced two different (stress different) floating false nails in the main pool. I didn't see this, and he did not tell me until we left. Thank goodness because the thought alone grossed me out.
I still enjoyed it, and seriously it's worth the $24 for the mud bath alone. I would go back in a heartbeat, nails and all!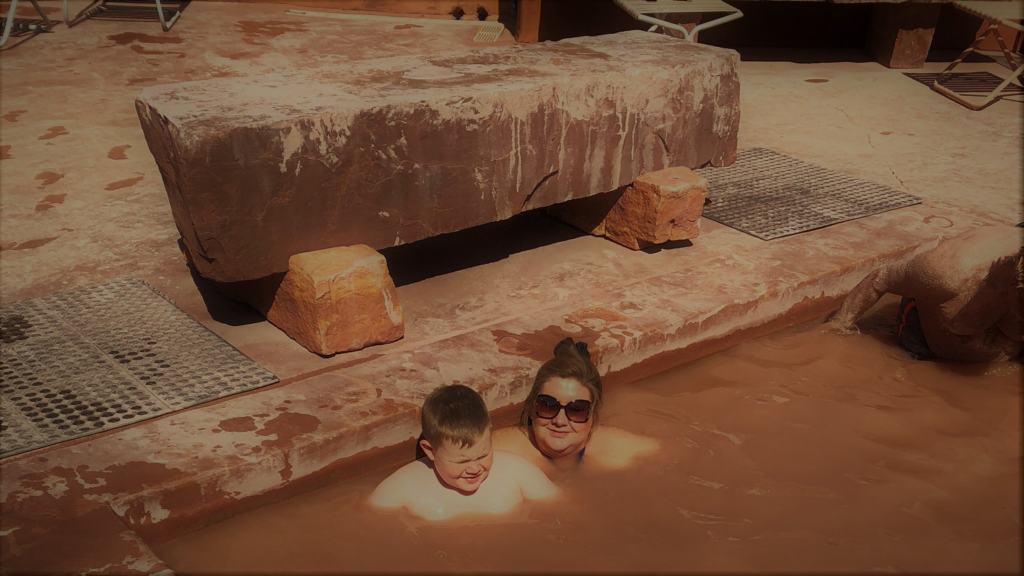 Palace of the Governors
A beloved icon, complex symbol, and anchor for the New Mexico History Museum, the Palace of the Governors is located on the north side of the historic Santa Fe Plaza.
The Palace was constructed by European settlers in 1610, making it the oldest continuously operating public building in the continental United States. Over the centuries, the structure has been extensively modified to meet changing needs and stylistic interests. The Spanish constructed it for colonial administration. As well as Spanish colonial life, the Palace is associated with the Pueblo Revolt (1680–1692), Mexican rule (1821–1848), and statehood for New Mexico (1912–present).
The Museum of New Mexico moved into the building in 1909. Using local building traditions as inspiration, the building was renovated to strengthen its connections with earlier cultures. As a result, Santa Fe and the rest of New Mexico developed a Spanish-Pueblo Revival style. This is the Palace of the Governors we see today with a few minor changes.
Popular Tours
Map Of Things To Do In Santa Fe, New Mexico
San Francisco De Asis Mission Church; Ranchos De Taos
The most photographed church in the United States. It was located very close to Taos Pueblo. We made the mistake of not seeing this while in Taos and had to make the return drive on a different day. If you are in the region, you should combine Taos Pueblo and San Francisco De Asis Mission Church. It was built somewhere between the 1700s and early 1800s. It is worth seeing for yourself, but it will only take you 30 minutes to an hour at most to view. In spring, the locals "enjarre," or re-mud. It was essentially adding another layer of mud to keep the building intact. While there, we saw the piles of red adobe awaiting this tradition.
Santa Fe Farmers Market
Over 150 local growers and vendors now participate in the Santa Fe Farmers Market since it was founded in 1968 by a small group of farmers. Located in the Santa Fe Railyard, just a stone's throw from the city center, it is a lively yet laidback place to visit.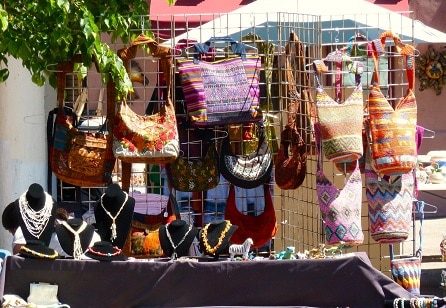 Visitors to this market can also shop for souvenirs, sample some local foods, and stop off for a coffee or snack, in addition to perusing endless stands and stalls piled high with fresh produce and colorful foods. There are smaller markets to stop by on Tuesdays and Sundays and a Saturday market with live music.
Santa Fe Indian Market
Santa Fe Indian Market is held annually in August, bringing in thousands of artists, vendors, tourists, and collectors. The colorful and chaotic cultural celebration showcases more than 1,200 Native American artists from more than 220 tribes and pueblos.
The city's central plaza and surrounding streets are a multitude of stands and stalls selling everything from gorgeous beadwork and basketry to glistening jewelry, textiles, and sculptures. The most exquisite artworks will also receive prizes in juried competitions when you visit open studios and galleries.
Santa Fe Opera House – The Crosby Theater
The first opera house was built on 199 acres of newly acquired land by John Crosby, the founding director of the Opera Association of New Mexico. Every summer festival since July 1957, the company has presented operas of the standard operatic repertoire and new operas. This is a stunning outdoor venue! Guests can dine here as well as watch opera. And, it's not uncommon for people to tailgate outside the venue. If you like the theater or opera, this is one of the most unusual venues you'll want to experience.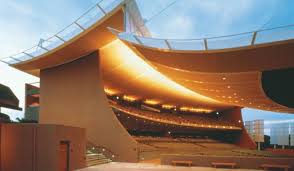 Santa Fe New Mexico Restaurants
Where to start! The food in New Mexico is spectacular. Everything is fresh, handmade, and nothing processed. If you stick to local fare, you will not be disappointed, even if Mexican food is not your thing. It's not mine, and anyone who knows me will tell you I am picky. Getting a food endorsement from me is the equivalent of a Nikki Oscar. Then there is liquor, specifically tequila. Brian and I have tasted quite a bit on our travels, but many places out here have 300/400 tequila's for you to try. If you like a tipple, New Mexico is for you for the food and drinks alone. The tequila choices out here compete with what you would expect from Mexico.
Here are two places we ate at that are worth calling out:
Maria's – Hands down the best food we ate. This place is so rustic and authentic. All the bread is made fresh on-site, and you can watch it being made. This place was recommended to us by a local, and it was terrific. This place has an extensive tequila selection that is overwhelming!
Sopaipilla Factory Restaurant – The food here was excellent, and you should try it. Just know it's not fancy or rustic. Decoration-wise, it's a bit like a diner, but don't let that fool you. There was a line out of the door for this place!
Speaking of drinks. If you order shots – like you do when tequila is the norm, be prepared, most places will fill a large shot glass to the brim. At Sopaipilla Factory Restaurant, we had a good chuckle at the shots' size; they were more like a 10th a bottle per shot. But hey, when in Rome.
Santa Fe Plaza
With more than four hundred years of history, Santa Fe Plaza is the city's heart. A scenic square surrounded by historic houses and ancient adobe buildings in the center of the town, it is dotted with monuments and museums.
As well as excellent art galleries and boutiques, many Native American vendors sell Native American art and crafts at the Plaza, as locals simply call it. This city is always something to do or see since it regularly hosts markets, music events, parades, and festivals. Santa Fe's plaza is impossible to visit without passing through at least once or twice, thanks to its many souvenir shops, restaurants, and museums.
San Miguel Chapel
Despite its simple appearance, the San Miguel Chapel is believed to be the oldest surviving church in the United States. Despite the current chapel's date of 1710, it was preceded by another chapel that was burned and destroyed during a revolt almost a century ago.
A charming chapel built by Franciscan friars and Tlaxcalan Indians now boasts attractive adobe architecture and a simple bell tower. Despite its earth-colored exterior, the inside is painted white with unique artwork and an impressive altar. The San Miguel Chapel is worth visiting in Santa Fe's historical center for its religious and historical significance.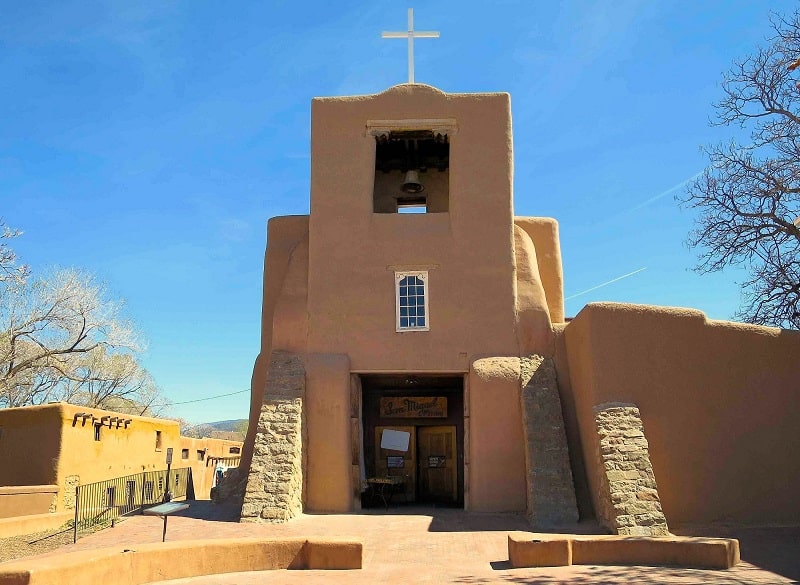 Ski Santa Fe
Assuming you visit during winter and skiing is your thing, Santa Fe has you covered! One of the area's most accessible and attractive resorts is Ski Santa Fe, which boasts sensational, snow-covered slopes just northeast of the city. There are 88 fantastic trails and a tantalizing terrain park for you to try out with some eye-catching views from up high.
Seven ski lifts serve its snowy slopes, suitable for beginners, intermediates, and experts alike. Along with skiing and snowboarding, guests will also find great shopping, dining, hiking trails, and mountain bike paths on the mountain.
Taos Pueblo
Sometimes referred to as Pueblo de Taos (settlement of Taos). The only living Native American community designated as a World Heritage Site by UNESCO and a National Historic Landmark. One of the many reasons to visit New Mexico. This is not a day out; it's about a couple of hours at the most, so combine this with another outing. Once you arrive, choose from a self-guided or guided tour. The guided tour is included with admission. The buildings will capture your imagination; how do people live here? The sense of community will make you think about our complex gadget-plagued lives. What's fascinating about this place is its heritage. It is hard to comprehend that this is a lived-in community honoring decades of tradition in 2018. While you are here, buy some bread cooked in a Horno. A traditional mud adobe-built outdoor oven.
White Water Rafting on the Rio Grande
We have rafted before in Seattle and Tennessee. Hands down, Tennessee was the best. I won't go into Tennessee's details here because I will eventually write about Tennessee as one of my favorite five places in the USA. We wanted to raft in Santa Fe because we had the Monkey with us, who had not rafted before. Most everyone has heard about rafting the Rio Grande. We made a 1/2-day trip on the Rio Grande with Santa Fe Rafting. I don't think the company you use means much other than price. Your experience will be in the hands of your guide. We had a great guide (but I can't recall his name).
The water was low, and the rapids were slow. It required a lot more paddling labor than anticipated. Overall, I enjoyed our rafting, but it was expensive compared to other states and, as I mentioned, not the best.
One thing that put me off rafting this river is the photo setup. Typically, you pay a fee to download all images or get a CD. In this case, raftphoto (aka southernexposurephoto) would like you to pay $15 per digital downloaded picture. Remember that numerous companies go out daily and use the same company. It's not like the only opportunity to make money was our tour. Add to this; there were seven photos of us to choose from. Lame, to say the least. Seriously, out here on a river in New Mexico? This isn't any Disney, folks, and guess what? We didn't buy them on principle alone. For this reason, I would not recommend rafting out here. There are better rivers, better deals, and in most cases, a reasonable photography package.
Kasha-Katuwe National Monument
The "Tent Rocks," as people call them, are a must-do for hikers! We did not go to this park; we were not even slightly prepared to take this one. It's a 4-mile round trip hike. To see the views, you have to climb and descend 650 feet. To put this into context, that's 65 stories up and down at 95 degrees. We may have attempted this one if it was a more relaxed day and we had brought lunch and supplies. If you do, go prepare to spend at least half a day. Note that you will need food, water, sunscreen, etc.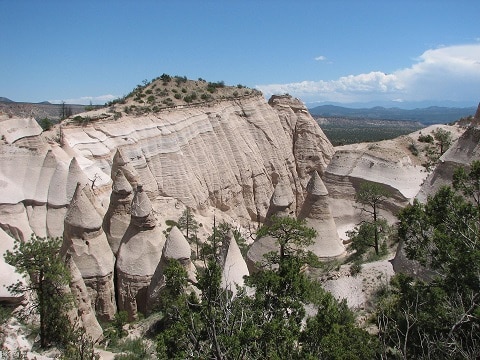 Lastly, there is one hidden gem that you can only find in New Mexico! If you are a Breaking Bad fan like me. Well, it was filmed in New Mexico. Not in Santa Fe but in Albuquerque, which is only an hour or so south. We flew into Albuquerque, so we did this tour on our last day. See my post on a DIY Breaking Bad tour.
FAQs About Santa Fe, New Mexico
Closing Thoughts
Santa Fe, New Mexico, is one of the fifty's least cosmopolitan and stereotypical states. Aside from the dramatic landscape, the history and culture influencing the area make a visit here unforgettable. A week is nowhere near enough time to see and do it all – not even close. Santa Fe caters to all interests, and it's impossible not to find something you'll love. Lastly, if you enjoy great fresh food, history, architecture, and tequila, this place is for you!
Looking for more articles to inspire you? Check these out:
We are a participant in the Amazon Services LLC Associates Program, an affiliate advertising program designed to provide a means for us to earn fees by linking to Amazon.com and affiliated sites.
Subscribe to our newsletter and get the best travel tips and inspirational stories delivered monthly. No spam, no sales pitches – TRAVEL!
Brit On The Move™ Travel Resources
Ready to book your next trip? Use these resources that work:
Need more help planning your trip? Check out our Resources Page, highlighting the great companies we trust when traveling.