Many lakes comprise the St. Johns River, including Lake Jesup, the largest in Seminole County, Florida.
This Lake is a mesmerizing natural wonder that beckons visitors. It features serene beauty and an abundance of captivating wildlife. The Lake stands as a testament to ecological diversity. It reflects the scenic allure of Central Florida.
As one of the largest lakes in the region, it serves as a habitat for many wildlife. The wildlife includes the iconic American alligator, which thrives in its shimmering depths. But Lake Jesup is not just a picturesque landscape but an ecosystem of vital importance.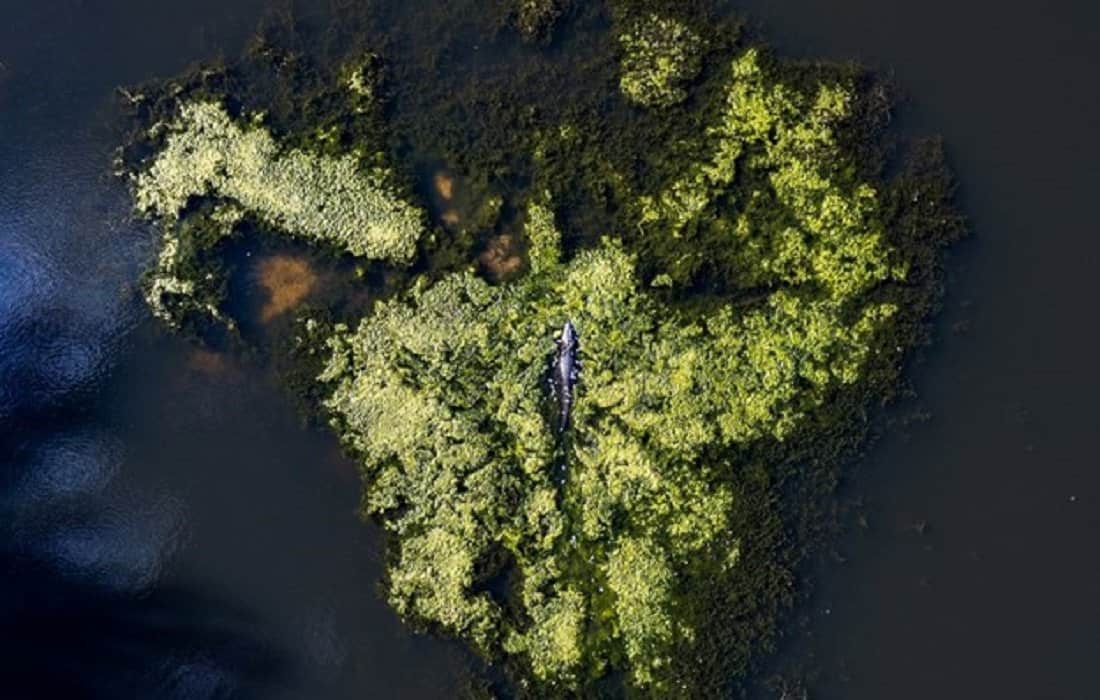 Photo by Sky Gallian on Unsplash
This post may contain affiliate links. Please read our disclosure and privacy policy for more information.
According to water quality monitoring programs, the Lake boasts favorable conditions. It ensures a thriving environment for various fish species. The Lake's location is strategic, within the St. Johns River Basin. This adds to its significance and contributes to the extensive water system's general health and functioning.
Lake Jesup's History
Lake Jesup was formed thousands of years ago when a glacier melted, creating a depression in the land. The Lake was originally much larger than it is today. However, it has been gradually shrinking over time because of sediment buildup and drainage.
The first Europeans to see Lake Jesup were Spanish explorers in the 16th century. On May 22, 1887, Lt. Richard Peyton named Lake Jesup after General Thomas S. Jesup, who played a vital role in the Seminole Wars. Lake Jesup's waves and the adjoining settlement of Clifton Springs were as far south as steamboats could go by water.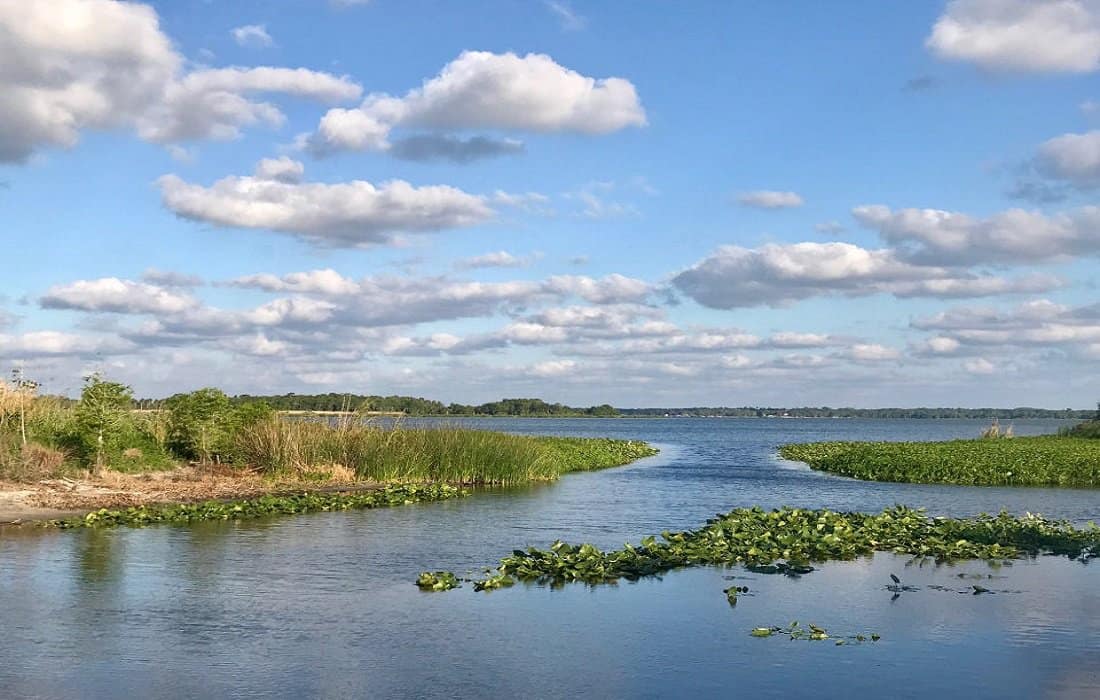 In the early 1900s, the Lake was a popular destination for fishing and hunting. However, the Lake's popularity declined in the mid-20th century. This was because of pollution and development. In recent years, the Lake has been restored. It is once again a popular destination for recreation.
Beyond its environmental significance, Lake Jesup holds historical importance as well. During the Second Seminole War, it was a refuge for the Seminole Native Americans. They sought solace and sustenance within its marshes.
The Significance Of Lake Jesup
This Lake bears historical significance, particularly during the Second Seminole War (1835–1842). This was a turbulent period in Florida's history. Native American artifacts were discovered in the surrounding area. They show that Lake Jesup played a vital role in the daily lives of indigenous tribes long before European settlement.
Its surrounding marshes were a strategic stronghold during the Second Seminole War. It helped the Seminole Native Americans resist forced removal by the U.S. government. The Lake provided them with sustenance and refuge.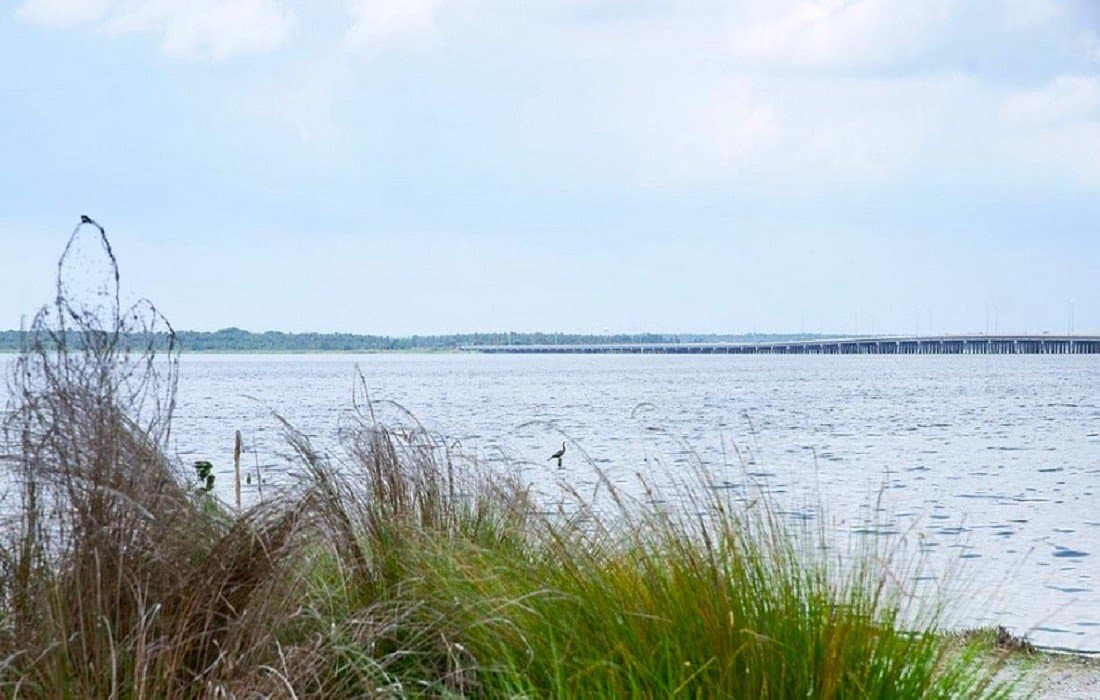 It served as a vantage point for defense against the encroaching forces. Exploring the Lake's surroundings offers a beautiful opportunity. It can help you reflect on this significant chapter in Florida's past. You can gain insight into the struggles and resilience of the Seminole people.
Climate
Lake Jesup has a humid subtropical climate with hot summers and mild winters.
The average high temperature during the afternoon in June is 33 °C or roughly 91°F. The typical low temperature at night is about 22°C, or 71°F. In recent years, June temperatures have ranged from 38°C, or 101°F, to 17°C, or 63°F, with the highest recorded temperature in June being 38°C.
Geography and Location
Lake Jesup is situated in Florida's Seminole County. The United States Board on Geographic Names lists the location as Lake whose height above sea level is 0 feet (0 meters). It has a surface area of 16,000 acres (65 km2). It is located at latitude 28° 43 38 north and longitude 81° 13 13 west in satellite space. The closest location in the vicinity is Midway (Seminole County), Florida, and there are 415 places (cities, towns, hamlets, etc.) within 100 km (62 miles) of Lake Jesup (FL).
Wildlife and Biodiversity
Lake Jesup is home to diverse wildlife above and below its surface. The American alligator, a prehistoric reptile, thrives in the Lake with an estimated population of 13,000.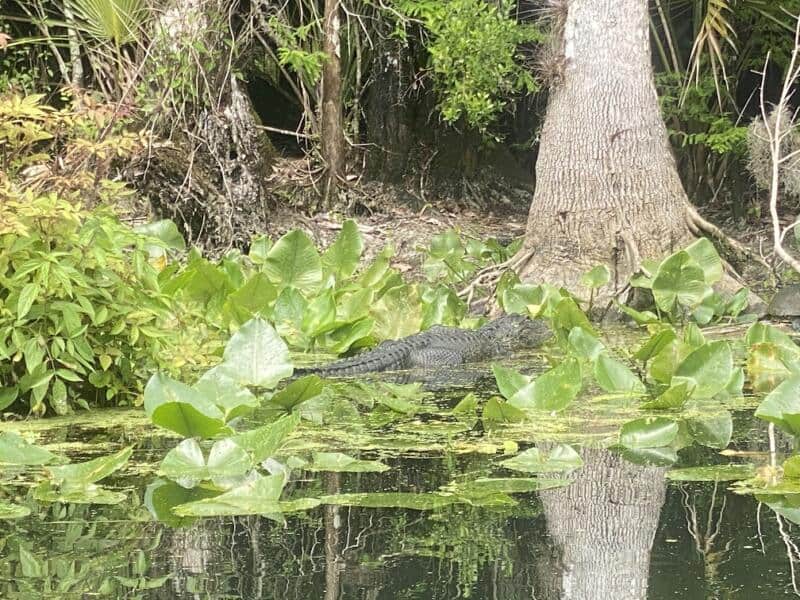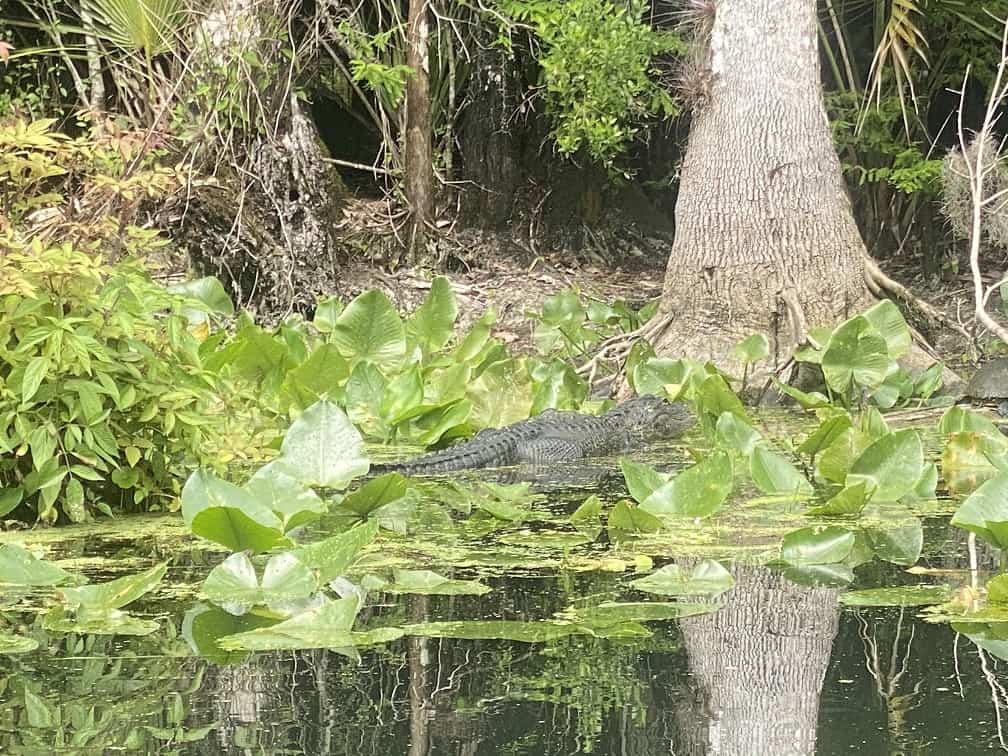 They often bask in the sun or glide through the water. The avian population is equally captivating. Wading birds like great blue herons, snowy egrets, and tricolored herons exist. You can see them gracefully foraging along the Lake's edges. Ospreys, bald eagles, and red-shouldered hawks also display their aerial prowess in the Lake. The melodic calls of various bird species enhance the serene ambiance of Lake Jesup.
Snowy Egret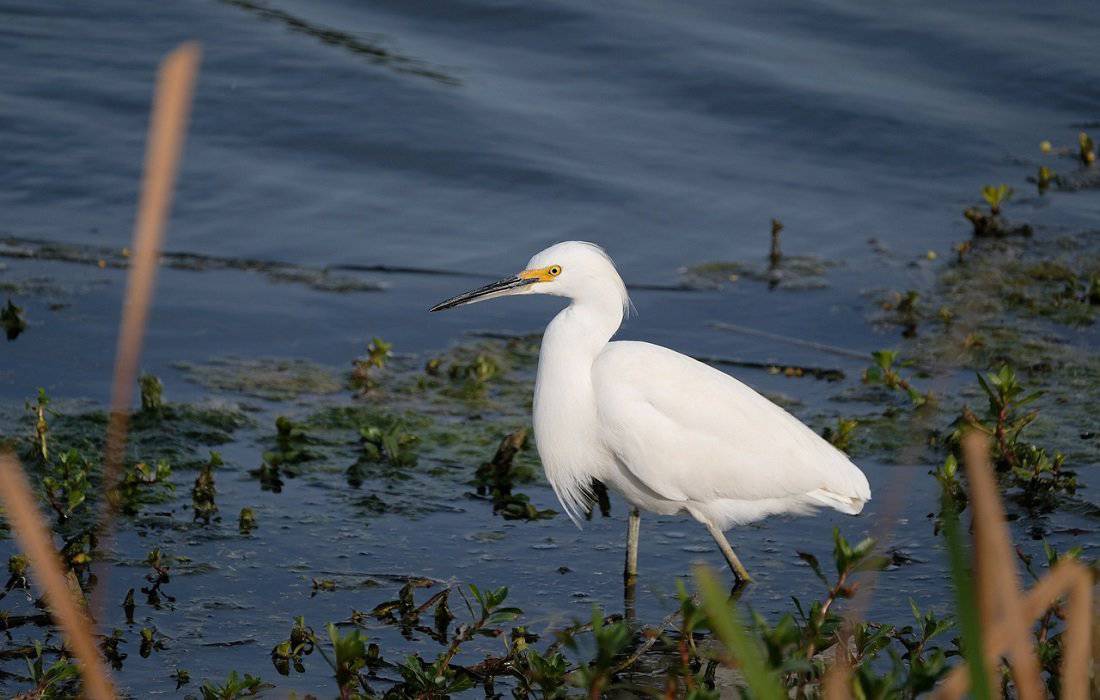 The underwater world is equally remarkable, with largemouth bass and the Anglers' highly sought-after crappies, catfish, and sunfish. Turtles are expected, including the Florida Red Belly Cooter and Peninsula Cooter. They can be seen sunning themselves on logs or gliding through the water. Frogs and other amphibians add to the Lake's auditory tapestry with their distinctive calls.
Florida Red Belly Cooter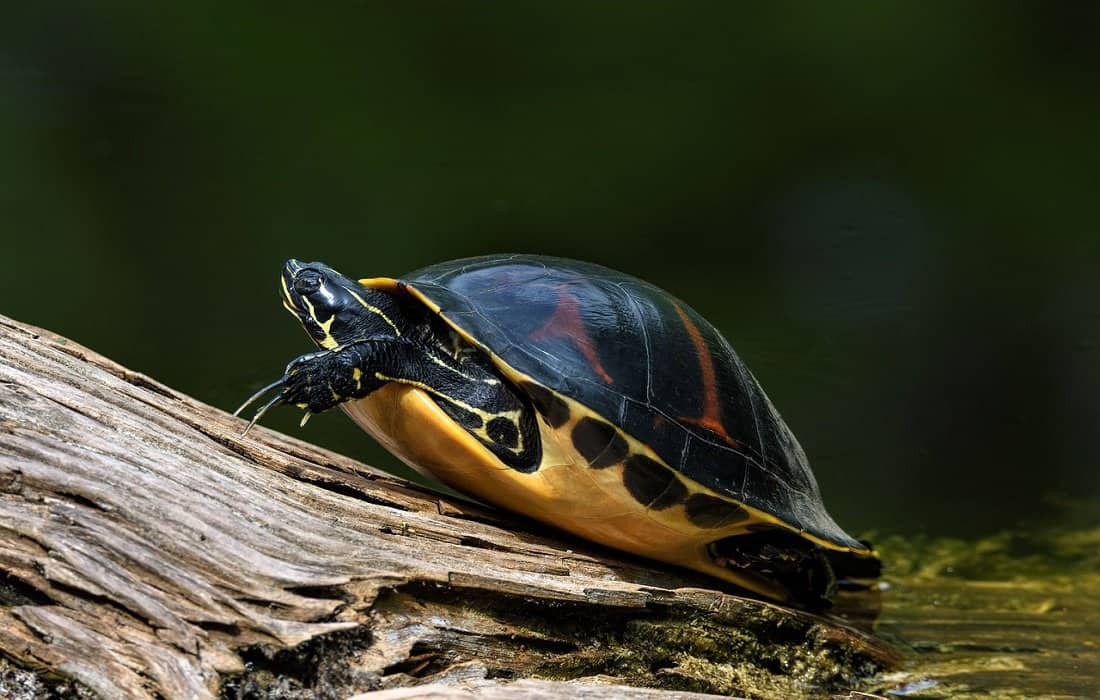 Environmental Significance and Conservation Effort
Lake Jesup's environmental significance goes beyond its natural beauty and recreational opportunities. Lake Jesup is an essential ecological resource for the state of Florida. It provides a habitat for a variety of wildlife. Including alligators, turtles, fish, and birds. The Lake also helps to regulate the local climate and water quality.
In recent years, Lake Jesup has faced many environmental challenges. These include pollution, development, and invasive species. These challenges have led to a decline in the Lake's water quality. It even affects wildlife populations.
Some conservation efforts have been undertaken to protect Lake Jesup in response to these challenges. These efforts include:
Reducing pollution: Several wastewater treatment plants have been constructed. Some are upgraded to reduce the amount of pollution entering the Lake.
Protecting wetlands: Wetlands are essential for filtering pollutants and providing habitat for wildlife. Several wetlands have been saved around Lake Jesup.
Controlling invasive species: Invasive species can out-compete with native species. They can also disrupt the Lake's ecosystem. Several invasive species have been prevented or eradicated from Lake Jesup.
Educating the public: To raise awareness of the importance of Lake Jesup and the need for conservation. Several educational programs are being developed. The aim is to teach the public about the Lake's ecology and conservation efforts.
These conservation efforts have helped improve the health of Lake Jesup. But, more work is needed to ensure the Lake's long-term health. Continued monitoring and conservation efforts are essential to protecting this vital environmental resource.
Map of Lake Jesup Conservation Area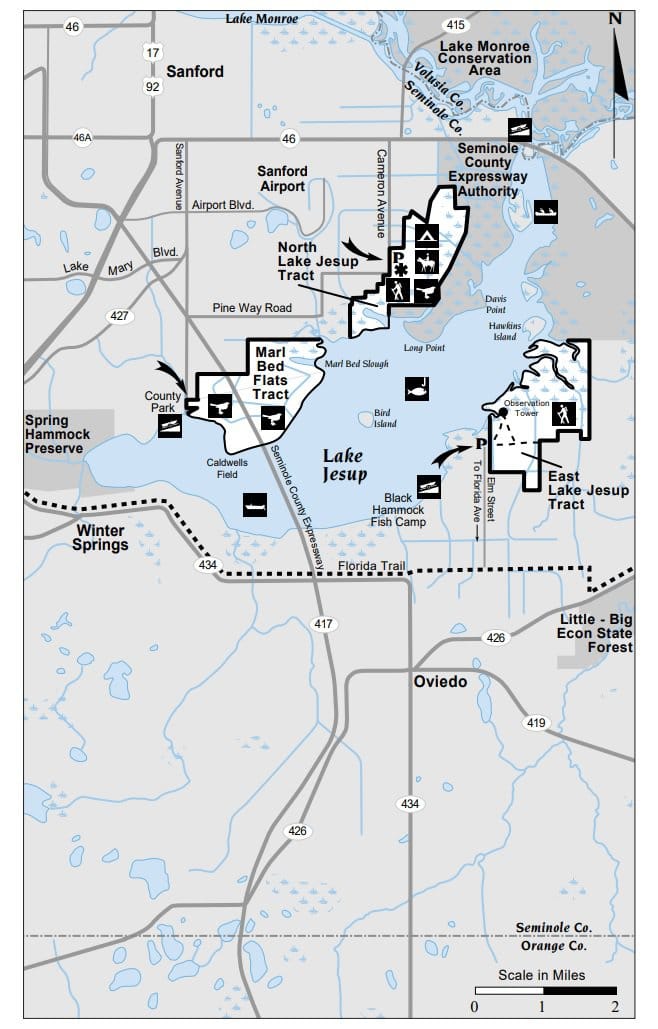 Organizations that are working to conserve Lake Jesup:
Friends of Lake Jesup: This organization's mission is to protect and restore Lake Jesup. They offer educational programs and conduct research. They also advocate for policies that protect the Lake.
St. Johns River Water Management District: This agency manages water resources in the St. Johns River basin. They have many programs in place to protect Lake Jesup. The programs include water quality monitoring, wetland restoration, and invasive species control.
Florida Fish and Wildlife Conservation Commission: This agency manages fish and wildlife in Florida. They have some programs in place to protect Lake Jesup. These include alligator management, fish stocking, and turtle nesting habitat protection.
Things To Do At Lake Jesup
Lake Jesup offers a wealth of recreational activities. These activities cater to various interests and preferences. Whether you're seeking an adrenaline-pumping boat adventure or a tranquil nature retreat. The Lake has something for everyone.
Here are some more activities to explore:
Boating and Water Sports
Beyond airboat rides, Lake Jesup provides ample opportunities for boating enthusiasts. You can enjoy powerboats, sailboats, and personal watercraft on the Lake's expansive waters. Waterskiing, wakeboarding, and tubing are popular activities for those seeking an exhilarating experience.
Public Boat Ramps At Lake Jesup
Lake Jesup Park Boat Ramp/Lake Jesup Wilderness Area: 5951 South Sanford Ave, Sanford, FL 32773. Open: 24 Hours
Cameron Wight Park: 5502 Old Geneva Rd, Sanford, FL 32771. Open: 24 Hours
Lemon Bluff Boat Ramp: 907 Lemon Bluff Rd, Osteen, FL 32764. Open 8 am – 5 pm.
Fishing
A wide variety of freshwater fish species can be caught at Lake Jesup, one of the top fishing spots in Central Florida. Both novices and experienced anglers will enjoy fishing in the Lake's shallow waters, abundant vegetation, and various fish habitats.
Largemouth bass, black crappie, bluegill, and catfish are among the most popular fish species found in Lake Jesup. In addition to trolling, casting, and fly fishing, these fish can be caught using various techniques.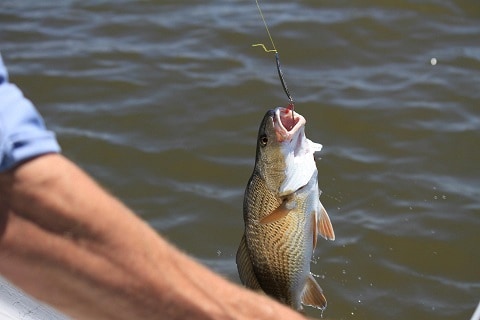 Several fishing piers and platforms provide easy access to the Lake for anglers fishing from the shore or by boat. Many of the Lake's islands and coves provide excellent fishing spots, offering fish species shelter and food.
Note: You need a Florida Fishing License to fish on Lake Jesup.
Visit Central Winds Park
The Winter Springs community uses this award-winning park for exercise, games, and events.
The amenities at Central Winds are sure to please everyone! This park has picnic pavilions, a playground, a nature trail, a Dog Park, baseball and softball fields, soccer fields, basketball courts, and volleyball courts.
Explore Bird Island
Bird Island is in the middle of Lake Jesup, which you can see from their shoreline or crossing the 417 bridge.
Fort Mellon was the starting point for Lieutenant Peyton's exploration of the upper reaches of the St. Johns River on May 22, 1837. On Lake Jesup, they camped on Bird Island, now called Bird Island. Two biologists from St. Johns River Water Management District and four members of Seminole Audubon Society surveyed birds on the island one hundred and sixty-four years later on the same day, finding a fantastic 512 wading birds.
<iframe src="https://www.google.com/maps/embed?pb=!1m18!1m12!1m3!1d49710.4105675261!2d-81.26012832432224!3d28.729110113429403!2m3!1f0!2f0!3f0!3m2!1i1024!2i768!4f13.1!3m3!1m2!1s0x88e76b0ffcd27465%3A0x6da1ce8553d6e4bd!2sBird%20Island!5e1!3m2!1sen!2sus!4v1690313868481!5m2!1sen!2sus" width="600" height="450" style="border:0;" allowfullscreen="" loading="lazy" referrerpolicy="no-referrer-when-downgrade"></iframe>
There are several birds, including the White Pelican, Purple Gallinule, Bald Eagle, Limpkin, Great Egret, Snowy Egret, Little Blue Heron, Glossy Ibis, Wood Stork, White Ibis, Cattle Egret, Common Moorhen, American Coot, Boat-tailed Grackle, Black Vulture, Double-crested Cormorant, Anhinga, Black-necked Stilt, Pileated Woodpecker, Green Heron, Black-Bellied Whistling Duck, Wild Turkey…and several other unidentified plovers, hummingbirds, wrens and sparrows.
Lake Jesup Conservation Area
In Seminole County, the shoreline of Lake Jesup covers 25 square miles and stretches 13 miles. Between Sanford and Geneva, SR 46 crosses a narrow strait that connects it to the river's main flow in its northeast corner.
There are few homes on its shores, even though Sanford, Winter Springs, and Oviedo are nearby. This is mainly because of its floodplain and conservation area.
Nature preserve offering wildlife viewing, primitive campsites, trails, and boating on 6,220 acres.
Lake Jesup Wilderness Area – Lake Jesup Park
Located on the north shore of Lake Jesup, west of State Road 417, the Lake Jesup Wilderness Area comprises approximately 490 acres. As part of the restoration of Lake Jesup, the property was purchased to preserve significant habitat.
There are three public access points: Lake Jesup Park (on South Sanford Ave), Overlook Park (off Spring Ave, but no boat launch), and Black Hammock Fish Camp and Marina.
You can walk, ride your horse, or mountain bike around the 3 miles of trails to see the countless species of wildlife that live here and the extensive flood plain of this Lake. Paths cross floodplain marshes and hydric hammocks, where species such as anhingas, bald eagles, Florida box turtles, and alligators are common. There may be seasonal flooding on the trails on this property.
The Trails
Of the four trails, the three on the north shore – Lake Jesup Wilderness, Marl Bed Flats, and Cameron Tract – are the prime destinations for seeing massive blooms of swamp sunflowers in early fall. They are all in Sanford.
On the south shore in Black Hammock, the Lake Jesup East Tract has the only observation tower looking over the Lake.
There are three separate parking areas and entrances. Water access can be via Cameron Wright or Lake Jesup parks, owned by Seminole County.
Located on Lake Jesup in Oviedo, The Black Hammock offers airboat rides. A few reasons make this one attractive! There are over 10,000 alligators living in Lake Jesup, making it one of the most densely populated lakes in the state. A legend holds that Lake Jesup's gator population is so high because wildlife officers captured nuisance gators and released them in Jesup years ago – a belief that is disputed by many since gators thrive here no matter what.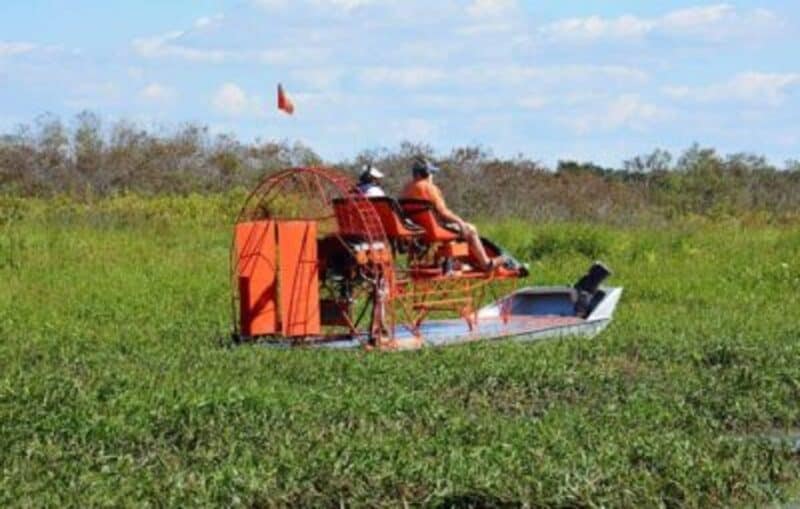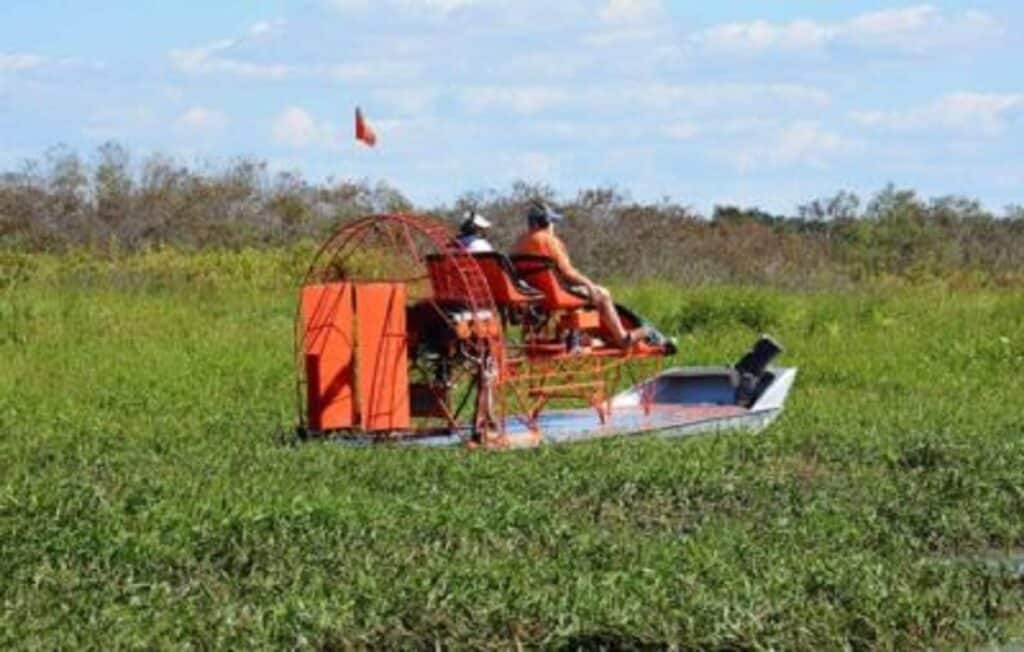 Eat Alligator At The Black Hammock
The Black Hammock offers airboat rides and has a restaurant and bar on site! The Lazy Gator Bar and The Black Hammock Restaurant.
One of their specialties is the locally harvested gator that you can choose blackened, buffalo, cajun, or Florida style. It's one of the few places that has this many options.
Photograph Nature
With its picturesque landscapes and diverse wildlife. Lake Jesup serves as a haven for nature photographers. Capture stunning shots of alligators sunning themselves and birds in flight. The ever-changing light and moods of the Lake offer endless possibilities for artistic expression.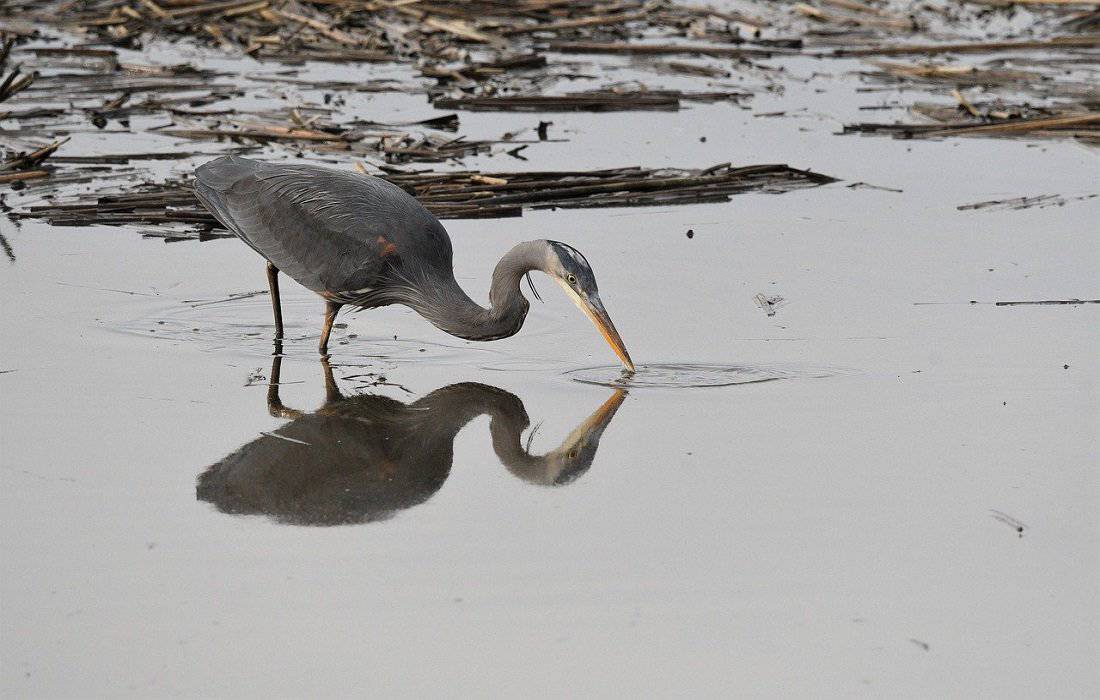 Take A Sunset Boat Ride
Witness the captivating beauty of the Lake as the sun dips below the horizon. Sunset cruises provide a serene and romantic experience. These allow you to soak in the vibrant colors of the sky while embracing the peaceful ambiance of the Lake.
Note: There are no boat rental companies, so you must have your boat to take a sunset boat ride at Lake Jesup.
Watch Seaplanes Take Off From Ferguson Seaplane Base
Ferguson Seaplane Base is a privately owned base. The 5000-foot runway at Ferguson Seaplane Base is used for private jet charter and seaplanes.
For those interested in aviation, it's a great spot to capture planes coming and going.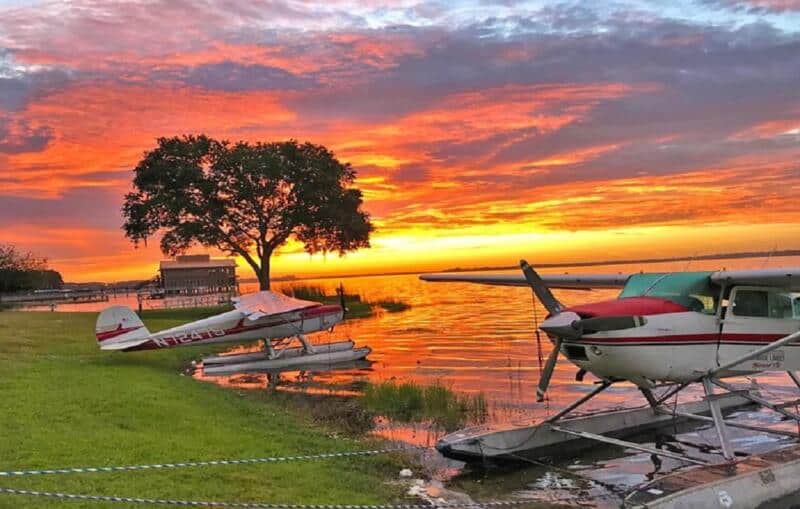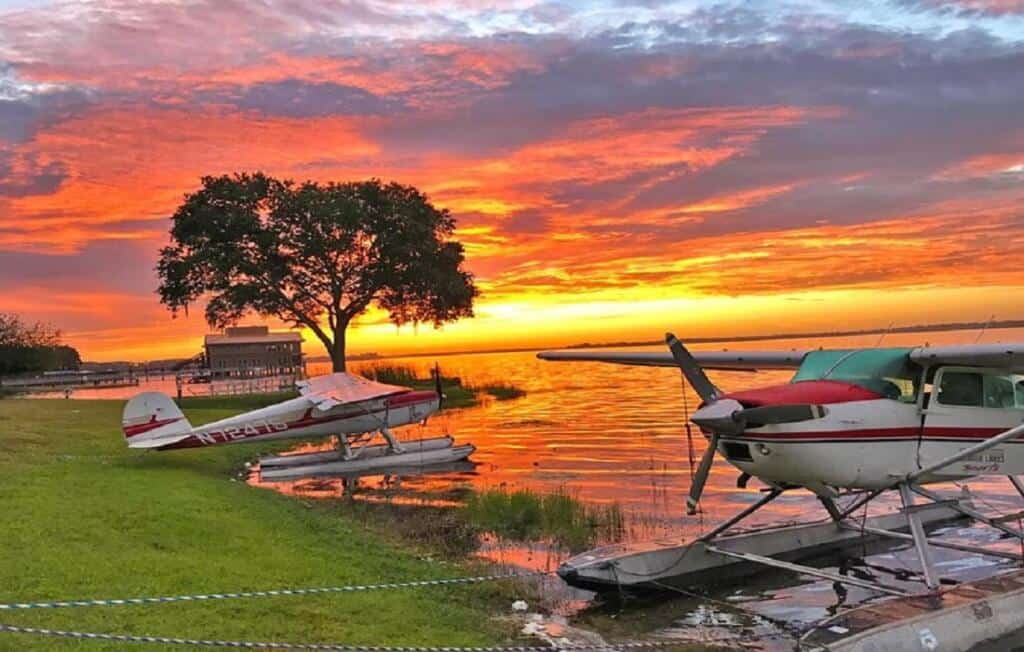 Camping
For a more immersive experience, camping facilities are available near Lake Jesup. Spend the night under the stars, surrounded by the sounds of nature. Camping enthusiasts can enjoy the tranquility of the Lake during the evening. They can wake up to the gentle lapping of water in the morning.
On district lands, primitive tent camping is only available at designated locations.
Reservations must be made at least 24 hours in advance (before 1 p.m. on the day before the arrival date) through the online reservation system. There are free campsites available for individuals and groups.
Those wishing to reserve a campsite require a vehicle permit from the district's Bureau of Land Resources. There is no parking allowed on grounds for vehicles other than personal vehicles. The District requires vehicle information (make, model, and license plate number) for all cars that access gated areas.
FAQs
How deep is Lake Jesup?
Lake Jesup is one of the shallowest lakes in Florida. Its average depth is only six feet, and it's most profound is ten feet. The Lake would be deeper if not for a thick layer of sediment on the Lake's bottom.
Can you swim in Lake Jesup?
Lake Jesup has more than 400 alligators per square mile of shoreline. While you can swim if you choose to, it is not a good idea. It's one of the most alligator-infested lakes in Florida.
How big is Lake Jesup?
Lake Jesup covers approximately 16,000 acres.
What is Lake Jesup known for?
Besides alligators, Lake Jesup is also home to largemouth bass, black crappie, bluegill, and catfish. Plenty of fish are in the Lake, so anglers from all over the state come here to fish.
How many gators are in Lake Jesup?
Lake Jesup has an estimated number of 13,000 alligators.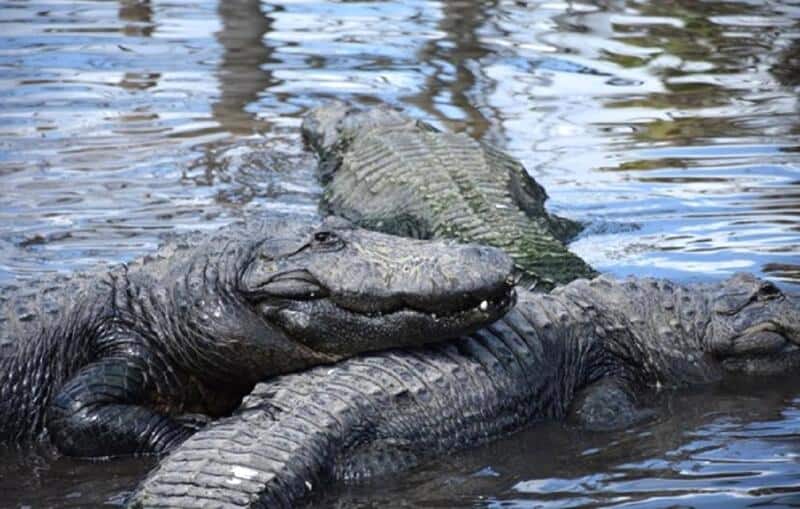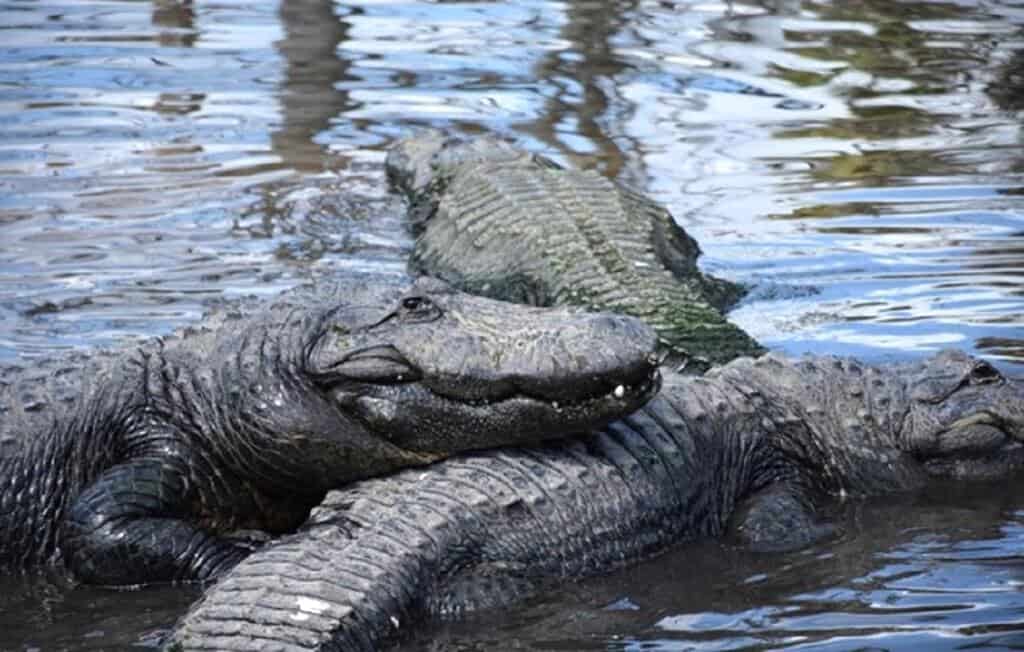 Why does Lake Jesup have so many alligators?
In the early days of central Florida's development boom, alligators found by developers were put into Lake Jesup. With its shallow back-water swamps, Lake Jesup was the perfect place to keep unwanted gators. Alligators were added to Lake Jesup with every new sprawling suburb, pond, and Cypress swamp drained and conquered.
The shores of Lake Jesup are home to the eggs laid by female alligators every year. Commercial alligator farmers then collect several eggs, half of Florida's state government. They raise these eggs in alligator farms, which breed alligators for their meat, skins, and skulls.
How deep is the deepest part of Lake Jesup?
The deepest part of Lake Jesup is ten feet.
Closing Thoughts
Lake Jesup offers a diverse and multifaceted destination for every visitor. Nature lovers and outdoor enthusiasts have a lot to explore. Visitors can enjoy various activities like boating, fishing, and nature photography. They can also observe alligators and bird species. The Lake's environmental and historical significance adds to its allure by appreciating and preserving this natural gem. It can inspire and captivate generations to come. Explore the wonders of Lake Jesup. Let its serene beauty leave an indelible mark on your memories.
Looking For More? Start Here:
We participate in the Amazon Services LLC Associates Program, an affiliate advertising program designed to provide a means for us to earn fees by linking to Amazon.com and affiliated sites.
Subscribe to our newsletter and get the best travel tips and inspirational stories delivered monthly. No spam, no sales pitches – TRAVEL!
Brit On The Move™ Travel Resources
Ready to book your next trip? Use these resources that work:
Need more help planning your trip? Check out our Resources Page, highlighting the great companies we trust when traveling.