10 Rivers of Florida Worth Exploring
When you think of Florida, you may immediately be reminded of orange groves, Disney World, and beaches. However, the rivers of Florida are not to be missed. Suppose you're an avid traveler who wants to step away from some of the more touristy attractions in the sunshine state. The rivers of Florida should be top of mind.
Florida is home to many beautiful rivers boasting fun water activities and plenty of exciting things to do as you travel to and from each one. You won't be disappointed in any of these selections if you're a nature enthusiast. However, you might be pleasantly surprised to find out there are countless activities surrounding nearly every river, making most of them excellent options for family vacations.
Nearly 1,700 rivers and streams stretch across the state of Florida. Let's cover some of the best rivers in Florida, what you can do at each one, and how you can stay safe while spending a relaxing day on the river.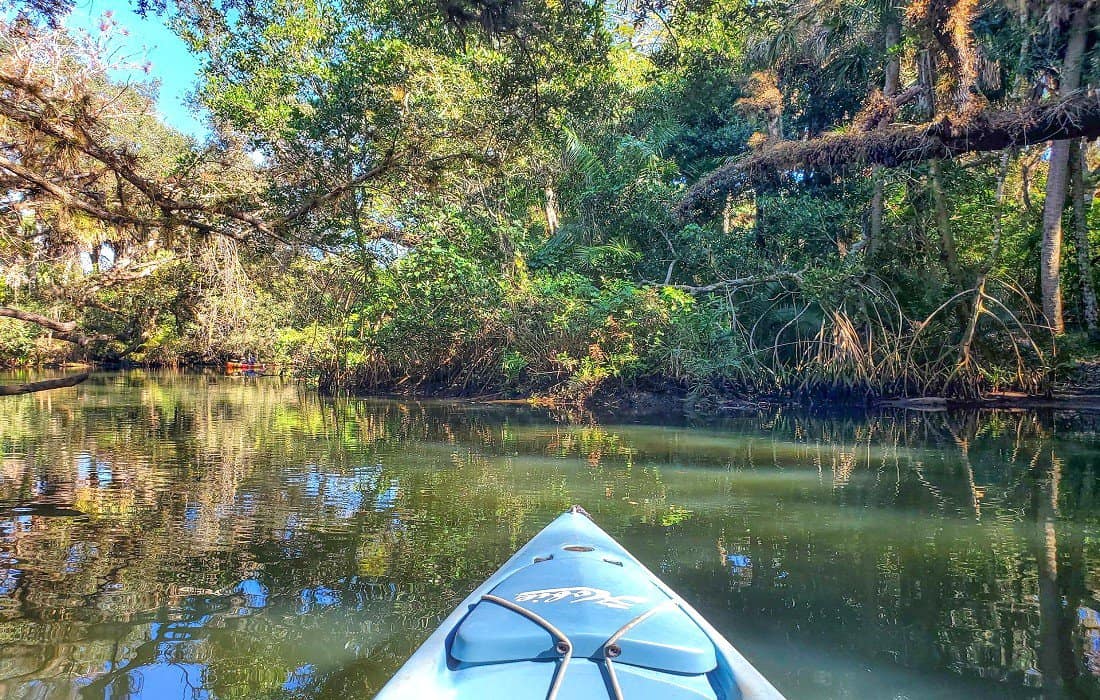 This post may contain affiliate links. Please read our disclosure and privacy policy for more information.
Little Manatee River
The Little Manatee River starts in swampland and eventually empties into Tampa Bay. It's nestled inside a state park, making it an ideal relaxation and vacation spot for friends and families alike.
If you're a nature lover, you won't be disappointed. Not only are there rare ecosystems near the river to explore, but there are countless activities to enjoy, including:
Horseback riding
Hiking
Canoeing
The state park isn't as crowded as many others in the area, so it almost feels like a special secret when hiking the trails or lazily canoeing down the river. Take part in everything from star gazing to snorkeling, and surround yourself with a genuine, authentic, natural Florida experience.
Hillsborough River
If you want to experience natural Floridian wildlife, head to Hillsborough River. You can enjoy fishing and canoeing in this relaxing, laid-back environment and camp at Hillsborough River State Park. It's a perfect place to picnic and enjoy a family vacation without falling into expensive tourist traps.
However, because this river is a natural habitat, alligators will be in the waters. It's best to keep pets and small children away from the water and closer to the campground.
Suwannee River
The Suwannee River is one of the most well-known rivers in Florida, and for a good reason. It flows from Georgia to the Gulf of Mexico and is one of the only remaining rivers left in the U.S. to be completely unspoiled.
The 250-mile stretch of water also features the state's only whitewater rapids, making it an ideal spot for kayakers and rafters looking for a bit of adventure.
Suwannee River "Bridge To No Where" (The Grafitti Bridge)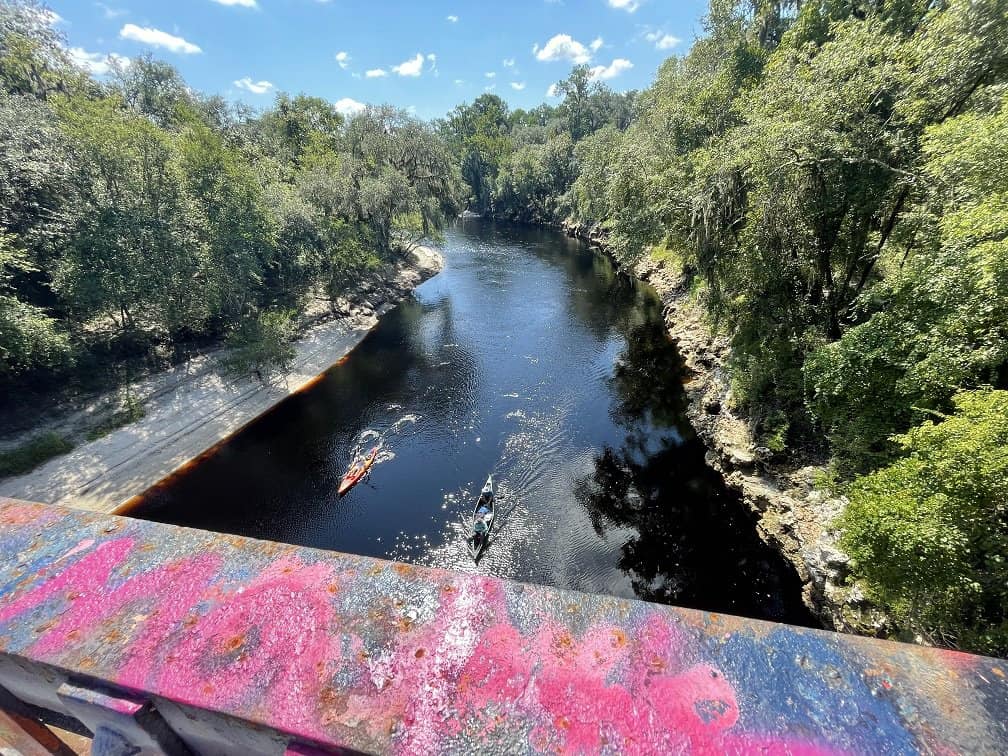 The Timucuan Indian word, Suwanee, means "Echo River." However, many people believe that Suwannee means "deep water" or "crooked black water," thanks to the darkness of the river. It's not mud or dirt that causes the black hue but tannic acid from rotting palmetto roots.
The Suwannee River has a rich history and while you can enjoy plenty of time on the water, make sure you spend at least part of your trip enjoying the surrounding area. You can experience things like:
The Stephen Foster Museum
Carillon Tower
Craft Square
You can also enjoy some beautiful events and festivals surrounding the river each year, including Rural Folklife Days and the Florida Folk Festival.
Springs On The Suwannee River
Lastly, there are more than 300 documented springs on the Suwannee River, so it's a fantastic river to explore Florida's springs.
Some of the most famous springs on the Suwannee River are:
Blue Hole at Ichetucknee Springs State Park
Fanning Springs
Madison Blue Spring
Manatee Springs
Troy Spring
Rainbow River
When you're traveling in Florida, you probably expect to see a lot of tourists and big attractions wherever you go. However, a few spots will let you escape it all while still experiencing the beautiful weather and incredible natural elements the state has to offer.
Rainbow River is one of those spots. And the Rainbow River is one of the most stunning in the state.
First, let's dissect the name because the beauty of this river lives up to it. You'll be hard-pressed to find another body of water in Florida that is so diverse and colorful. The way the sun reflects off the water causes shades of deep blue, turquoise, and green.
The river is clear, not cloudy, and you'll feel like you've discovered a true hidden gem with how secluded it is. However, that doesn't mean there's nothing to do there. There's often a waiting list to rent a cabin near the river. Some of the best ways to enjoy your time at Rainbow River include:
Tubing downstream
Boating
Sandbars
Rope swings
Snorkeling
There are also a few restaurants you can enjoy if you've been enjoying the water all day and need to refuel. Even though Rainbow River is secluded, it's natural, and all food is clean; there's no harmful food desert. Places like The Blue Gator serve raw oysters, and you can enjoy live music on the weekends.
Whether you rent a cabin or choose a nearby campsite, Rainbow River is one of the best-kept "secrets" in the Florida rivers.
Crystal River
Florida is well known for its manatee population, and if you love those gentle giants, you should head to Crystal River. It's known as the "Manatee Capital of the World," boasting frequent encounters with the sea cows, especially during winter.
Of course, the river itself is something to experience. You can rent kayaks and paddle boards or take time out of the water to enjoy the boardwalk that cuts through the river. You'll find guided tours that will help you feel more at home — and even a trolley service that will take you through the laid-back tourist town.
Whether you want to swim with manatees at the Crystal River or catch a stunning sunset, this beautiful river provides the perfect balance of tranquility and tourism.
Peace River
Peace River in Florida is one of the state's most tranquil bodies of water, living up to its name in every way. It is a great place to bring the family if you want a place to relax and unwind. It's known for its brilliant streams and inlets and is fantastic for floating.
Plus, if you have any budding archeologists in the family, it's the only place in the country where you can find megalodon teeth. A shark species that hasn't been around in over three million years still shows us how mighty it is in these waters. One tooth is an incredible treasure; if you find one, it'll make for an unforgettable trip.
Econlockhatchee River
Due to the multitude of Indian mounds found along this waterway, the river is known as the River of Many Mounds among the Muscogee. Known as the second-largest tributary of St. Johns River, this delightful blackwater stream is shaded by cypress trees, moss-covered live oaks, and Sabal palm trees.
Flowing past unmarred forests, including the Little Big Econ State Forest, you can see a diverse array of wildlife, including sandhill cranes, bald eagles, osprey, hawks, wading birds, wood storks, roseate spoonbills, waterfowl, shorebirds, deer, turkeys, large alligators, and sometimes black bears.
It is an 8-mile paddle through the mysterious, moss-covered cypress forest of the Little Big Econ State Forest. White sand beaches form on the inside of most river bends. Swimming, leg stretching, and picnics are a few things you can do on these beaches.
St. Johns River
As the longest river in Florida and its most important recreational and commercial resource, the St. Johns River is important on both sides. The river flows north for 310 miles and winds through or borders twelve counties.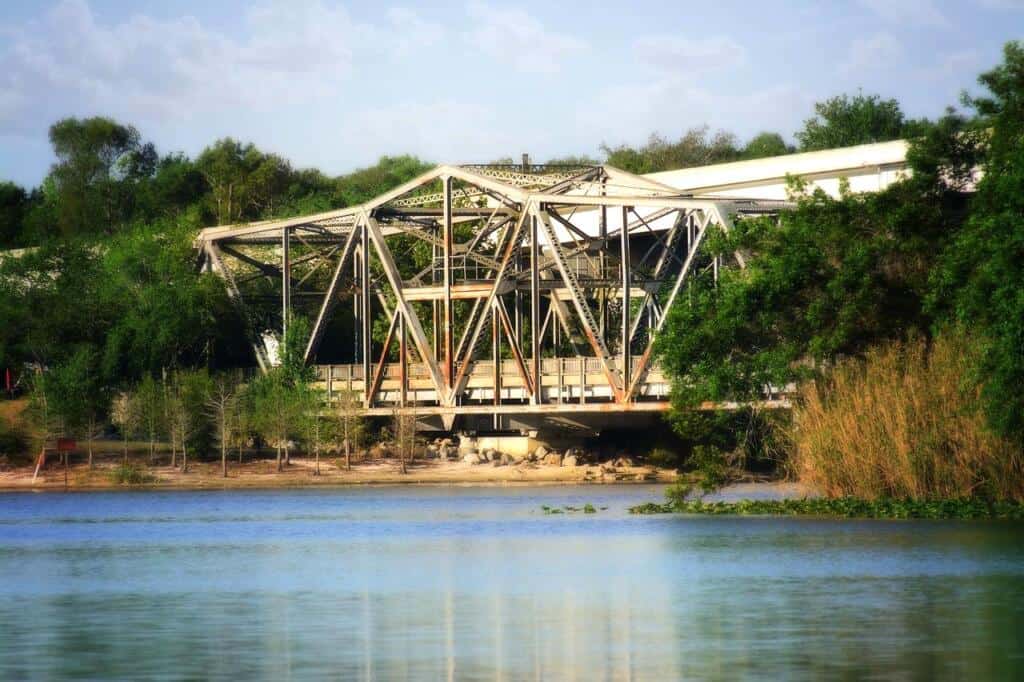 The St. Johns River flows 310 miles northward from its headwaters at Blue Cypress Lake to its mouth east of Jacksonville, which empties into the Atlantic Ocean. Although it might seem unusual at first glance, our river flows north.
All over the world, rivers and tributaries flow east, west, north, and south in the path of least resistance. Throughout its 310-mile length, St. Johns falls approximately one inch per mile because its headwaters are only 27 feet higher in elevation than its ending point.
One of the world's "laziest" rivers due to its slow descent in elevation. More than five million people live in the St. Johns River watershed, which covers nearly 9,000 square miles and 16% of the state.
Are sharks in the St. Johns River?
Large bull sharks have been seen and caught in the river. Only a few species of sharks can survive in freshwater, including bull sharks. Blacktip sharks, sharp nose, and sandbar sharks are also reported in the estuary.
Weeki Wachee River
Weeki Wachee River and Weeki Wachee Springs State Park are pretty famous. They have a name that's hard to forget, and they've been a hub for entertainment for over 70 years.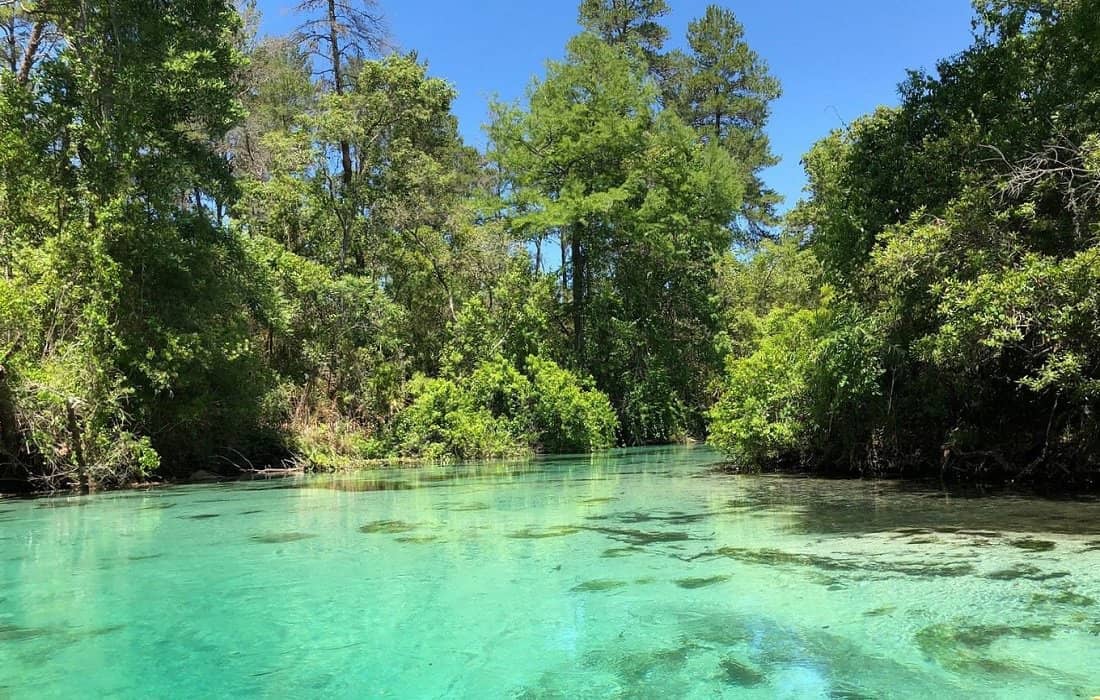 You can do plenty of traditional water activities on the river, including kayaking and paddleboarding. Even swimming in the river is an experience thanks to its blue-green hues and plenty of fish known to be highly active.
However, this area's "claim to fame" is the 400-seat theater within the state park. There are mermaid performances that locals and tourists love, continuing the entertainment tradition that has been around since the 1940s.
Related: Mermaids Of Weeki Wachee Springs
Weeki Wachee River is one of the best in the state for families with a wide age range. Kids and adults will find something fun to do, experience, and enjoy.
Ichetucknee River
We'll end our list with a river short in distance but big in views. The Ichetucknee River is only six miles long and about five feet deep. It's a spring-fed river with crystal clear waters that you can see down to the riverbed.
It only takes about two hours to float down the Ichetucknee River, making it ideal for an afternoon in the sun. As you're tubing, take note of the thick acreage surrounding you. This area is a wildlife haven filled with beavers, otters, softshell turtles, and even manatees.
As you end your time on the river, you can still stay active within the state park by heading to one of the nearby hiking trails:
Blue Hole
Trestle Point
Pine Ridge
There's also camping within the state park so you can enjoy a night beneath the stars and wake up to crystal clear waters the next day.
Planning a Vacation at the River
Whether you plan on visiting a Florida river for a day or taking a vacation, it's essential to plan and pack accordingly.
If you're unsure where to start, consider the climate you'll be entering. If you've never been to Florida, getting used to the heat, humidity, and sun can take a while. Above everything else, make sure you pack plenty of sunscreens or make a plan to purchase some when you arrive. Even one bad sunburn can cause skin cancer, so applying sunscreen liberally — especially on young children. You can also protect yourself by packing the right gear, including:
Lightweight clothing
Snacks
Bottled water
A hat to protect you from the sun
If you plan to camp at these rivers or state parks, ensure you're fully prepared with the right camping equipment and plenty of insect repellent!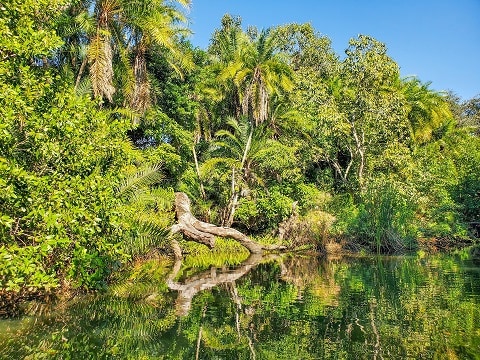 Keeping Yourself Safe On Florida's Rivers
In addition to packing the right things to keep everyone safe and comfortable, there are a few rules to follow no matter which river you're visiting.
Florida waters can be peaceful, beautiful, and relaxing, but certain areas can also be dangerous. Pay attention to any signs put up near bodies of water that indicate alligators nearby. Stay as far away from the river's edge as possible if you see an alligator. It's also essential to steer clear of any areas that aren't supposed to be accessed by the public. Posted signs are your best friend when you're out in nature. They are there for a reason — to keep you safe.
Being vigilant is essential when visiting the rivers of Florida, but so is preparing for long days on the water. As you read from our list, plenty of physical activities keep you busy at nearly every river. Protect yourself and give your body what it needs by staying hydrated throughout the day. Pack plenty of water with you, or invest in a hydration pack that will let you take a sip of water without slowing down or stopping.
FAQs
Is This Post Helpful to You?
If so, I would love to keep in touch with you and see your photos and comments about your experiences in Florida! You can follow me on Instagram or Facebook.
If you share your photos, I will share them with all of the other followers of Brit On The Move! Just tag BOTM at @britotmove or hashtag #britotmove
Keep Moving – You only get one life!
Closing Thoughts
Whether you're a Florida resident looking to explore new spots within the state or planning an unforgettable family trip, the rivers of Florida won't let you down. There are many additional rivers and surrounding parks to consider, but these are some of the best.
Get your list started and decide where you want to go. With a bit of planning, you'll be able to visit multiple rivers, parks, and campsites in no time.
Looking For More Posts in Florida? Start Here?
We participate in the Amazon Services LLC Associates Program, an affiliate advertising program designed to provide a means for us to earn fees by linking to Amazon.com and affiliated sites.
Subscribe to our newsletter and get the best travel tips and inspirational stories delivered monthly. No spam, no sales pitches – TRAVEL!
Brit On The Move™ Travel Resources
Ready to book your next trip? Use these resources that work:
Need more help planning your trip? Check out our Resources Page, highlighting the great companies we trust when traveling.