Most people do not know that there are Pyramids in Florida! While they are not ancient tombs like those in Egypt, a whole resort is themed around pyramids. And you can stay in one!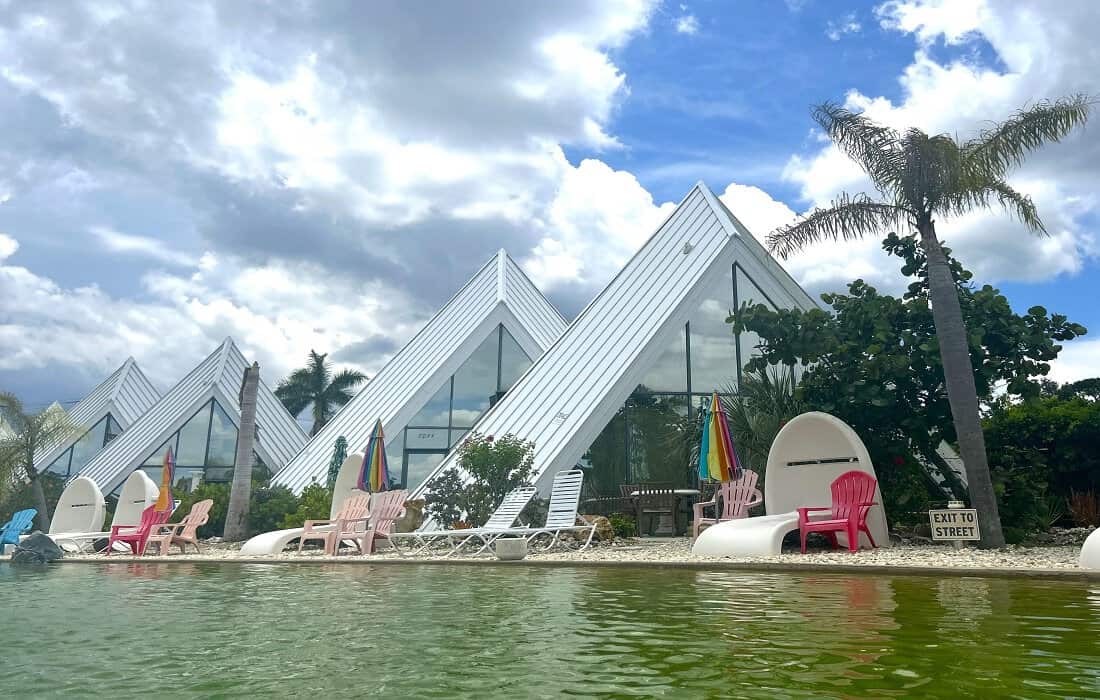 This post may contain affiliate links. Please read our disclosure and privacy policy for more information.
About The Pyramids in Florida Resort
Gerti Höntzsch and her partner own and operate the resort. It is sometimes referred to as "Pyramid Village Vacation Resort." A tad more confusing, the Pyramids in Florida have two websites with entirely different names.
Gerti is an energy guide, nutritionist, and healing practitioner with a thriving practice in Salzburg, Austria.
When Gerti achieved astounding results with frequency treatments in a pyramid-shaped room in her Salzburg practice, she envisioned large-scale models where people could live and sleep in a comfortable pyramid for extended periods to recharge their internal batteries.
Gerti's late partner, engineer Walter Freller, brought the vision to life by successfully constructing a large pyramid dwelling in the mid-1990s. Freller's patented design is hurricane- and earthquake-proof compared to regular homes of a similar size.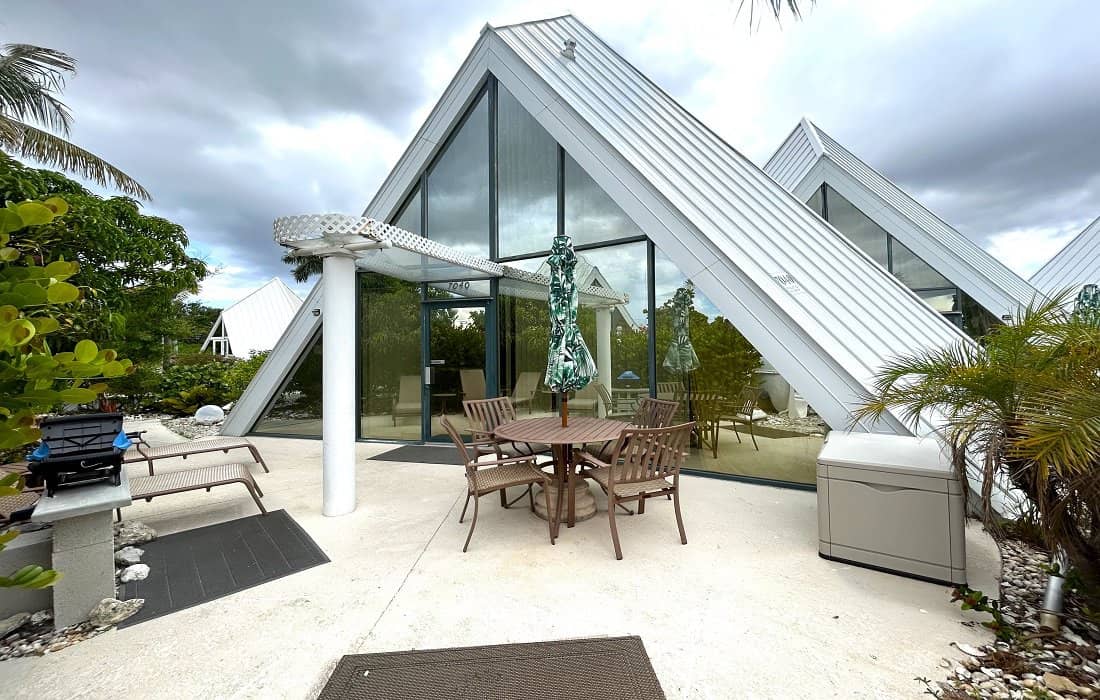 The Concept Behind The Pyramids in Florida
Aside from the option to stay in a pyramid in Florida, the resort is based on two concepts:
The healing frequencies are found only within the sacred geometric design of the pyramids.
The healing lake is said to relieve muscles and connective tissues.
A fan of all things unique and a bathing water addict, these two concepts appealed to me. In particular, the healing lake.
About the Pyramids in Florida Resort Resort
It's a tiny, self-contained resort. All the pyramids are self-catering. There's no restaurant on site but a tiki bar next to the lake.
The resort sits between two residential communities; one side can see over the fence into the resort.
I like this place. It might be small and quirky, a throwback to the old 60s, but it's relaxing.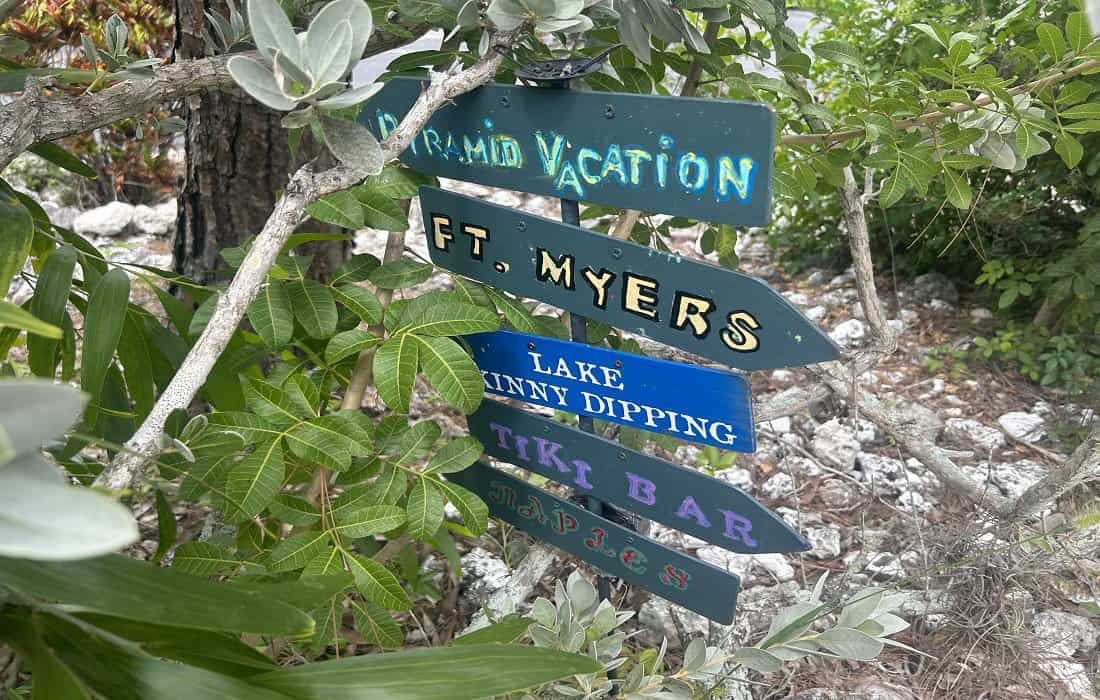 Address of Pyramids in Florida Resort
7020 Constitution Loop, Fort Myers, FL 33967
Getting There
I did a typical Nikki: I gauged the distance by my perceived distance on the map. I live in Hernando County. Viewing the map, my perception was this was about two hours away. Enter Google Maps! Now on the day of check-in, it's a four 1/2-hour drive. If you travel with me, you know the deal!
Due to my poor planning, I arrived in the dark. Visually challenged on a good day, never mind the night, I missed the entrance.
Then, it took me forever to find "my" pyramid.
So, if you are anything like me, figure out the logistics before check-in day so you can arrive in daylight. Or take a flashlight.
Why would arriving late matter?
You will most likely miss the entrance when you pull to The Pyramids in Florida. Many little communities are nearby, and the actual entryway, as is the signage, is small.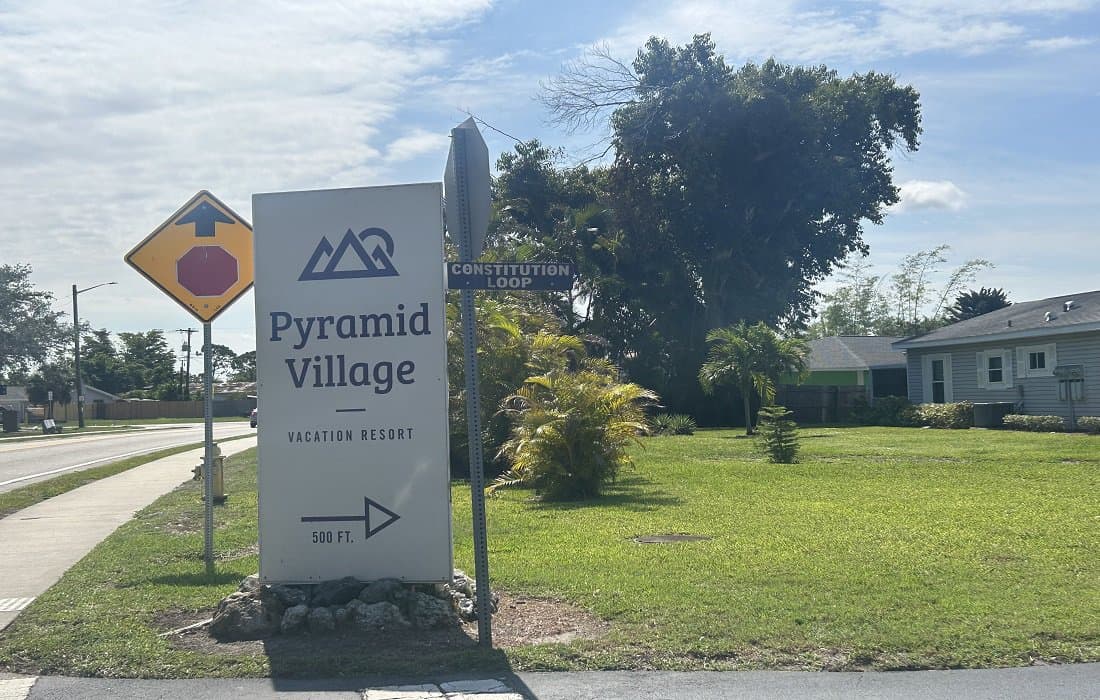 How Do You Reserve The Pyramids in Florida
There are 26 pyramids in the resort. Some are owned and rented by The Pyramids in Florida. Others are independently owned and operated by individuals renting their pyramids on Airbnb.
I rented mine through Airbnb because I had super host credits to burn.
What Does It Cost to Stay in a Pyramid in Florida?
It's not cheap if you go solo like I did. Whether you book directly with the resort or through Airbnb, it costs approximately $225 per night.
This said a pyramid will easily accommodate six. If more than one person travels, the pyramids are great value for money.
First Impressions
Once you drive through the entrance, you'll be greeted by a head sculpture and the pyramids.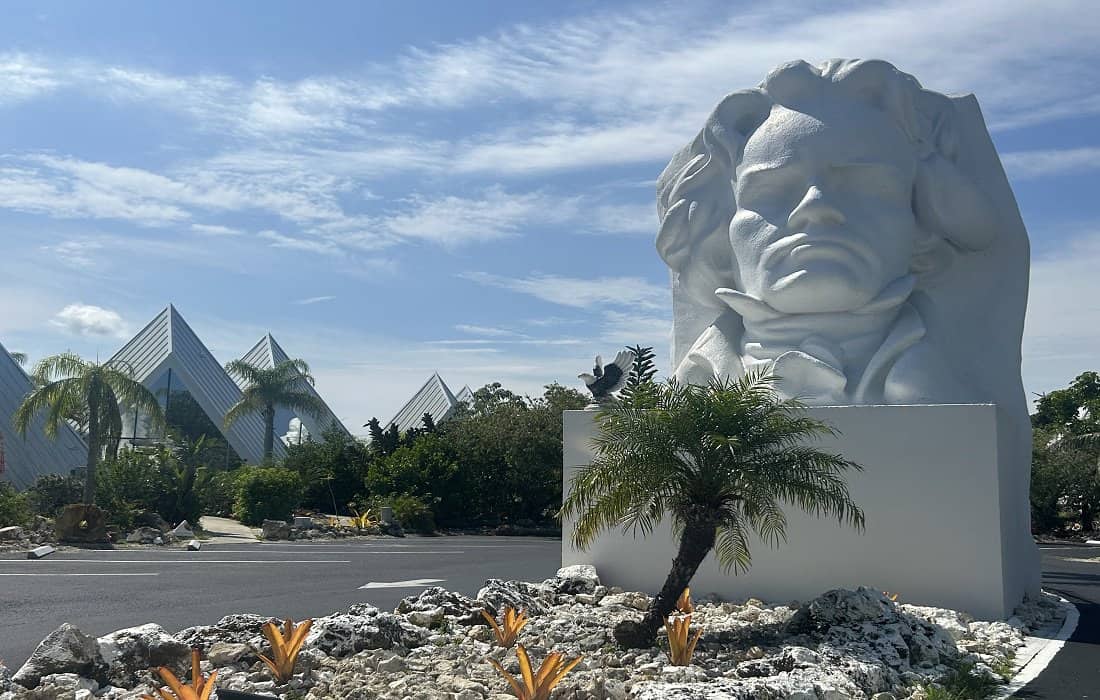 Quirky as it might sound, an Egyptian feel hits you. And the pyramids are cute as a button. The Florida heat creates the heat you'd expect in Egypt, but no sand or Cairo is in the background.
Inside The Pyramids In Florida
The space is enormous. It's laid out cleverly and functionally. The upstairs loft is gigantic. Minus a bathroom, the upstairs is like a unit of its own. There's a king bed, but you could have easily slept four people in the loft.
The loft also has a working area with a printer.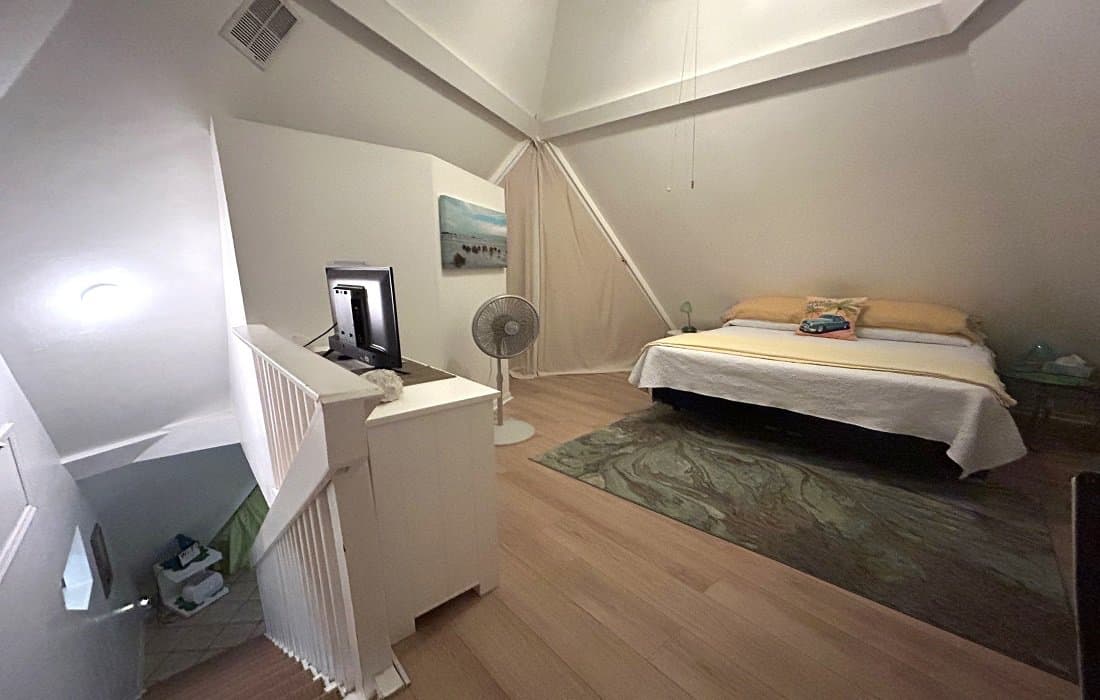 Amenities Inside the Pyramids
I've been running Airbnb for a long time and am a super host. It's not often that I stay somewhere, and I'm impressed.
My host offered amenities that even I hadn't thought of.
Welcome Sign Inside The Pyramid
Upon arrival, a chalkboard in the entrance says, "Hello Nikola"—a small but very personal touch.
The Gift Basket
It's not often you receive a welcome basket. Whenever I do, I am as excited as I was the first time. There's something magical about gift baskets.
Mine's bright pink. I immediately start thinking, do they know I am a traveling writer? Is this for me, or does every guest receive this treatment?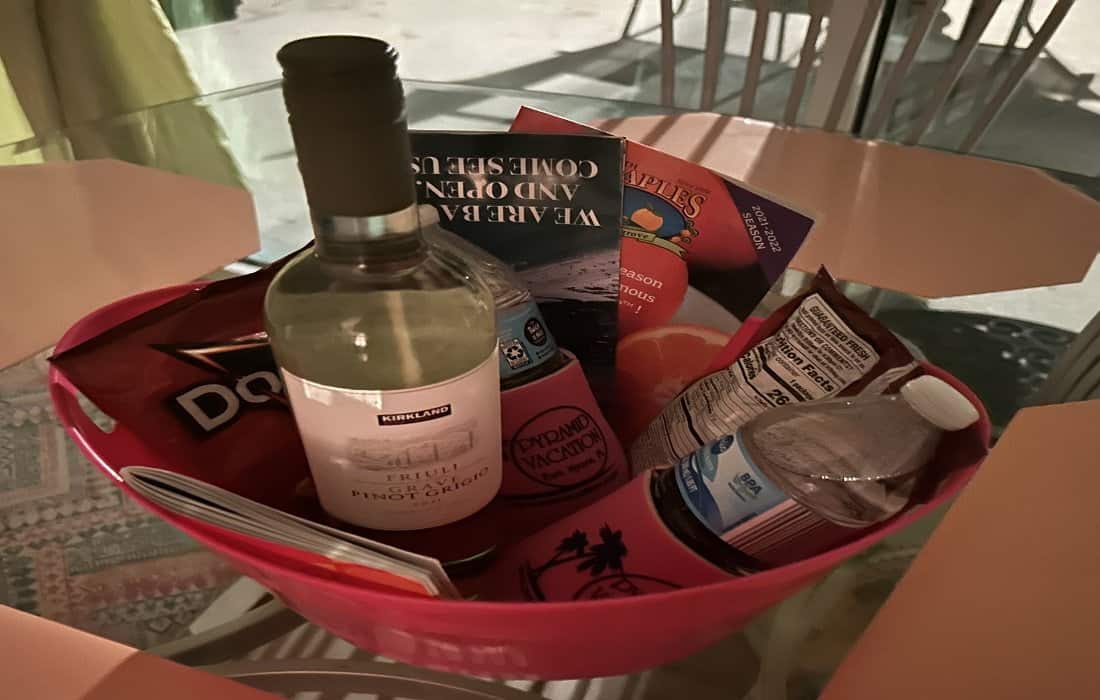 Regardless, it's a very well-thought-out basket. A bottle of Pinot Grigio, pink cozies, snacks, bottled water, and tons of information on the local area. They had me in pink, but this is impressive.
Bathroom Amenities
There's a basket with sunscreen, after-sun and sun hair protectant, and conditioners. There are also individual toiletries. I could have just shown up with a toothbrush and been all set.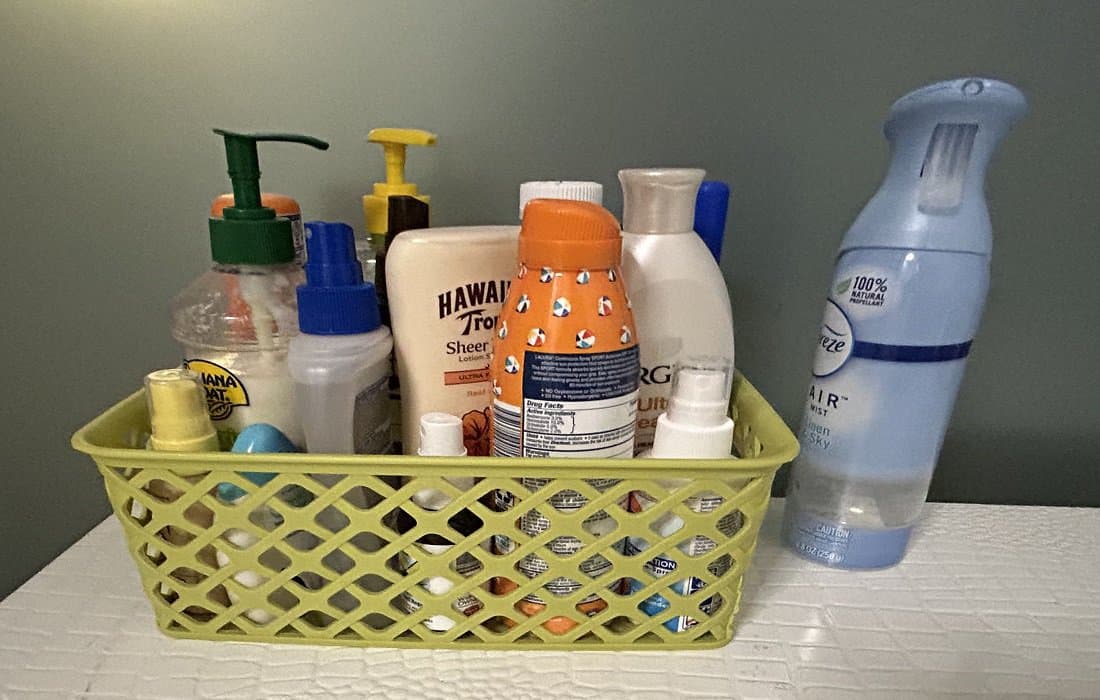 Kitchen Amenities
Just like the bathroom, the kitchen has everything and anything you could need. Coffee and creamers are provided, and there are tons of cooking gadgets and a washer and dryer.
Outdoor Amenities
The hosts have provided tons of beach towels, floats for the healing lake, beach umbrellas, a pull-along more relaxed – you name it- and it's here waiting for you.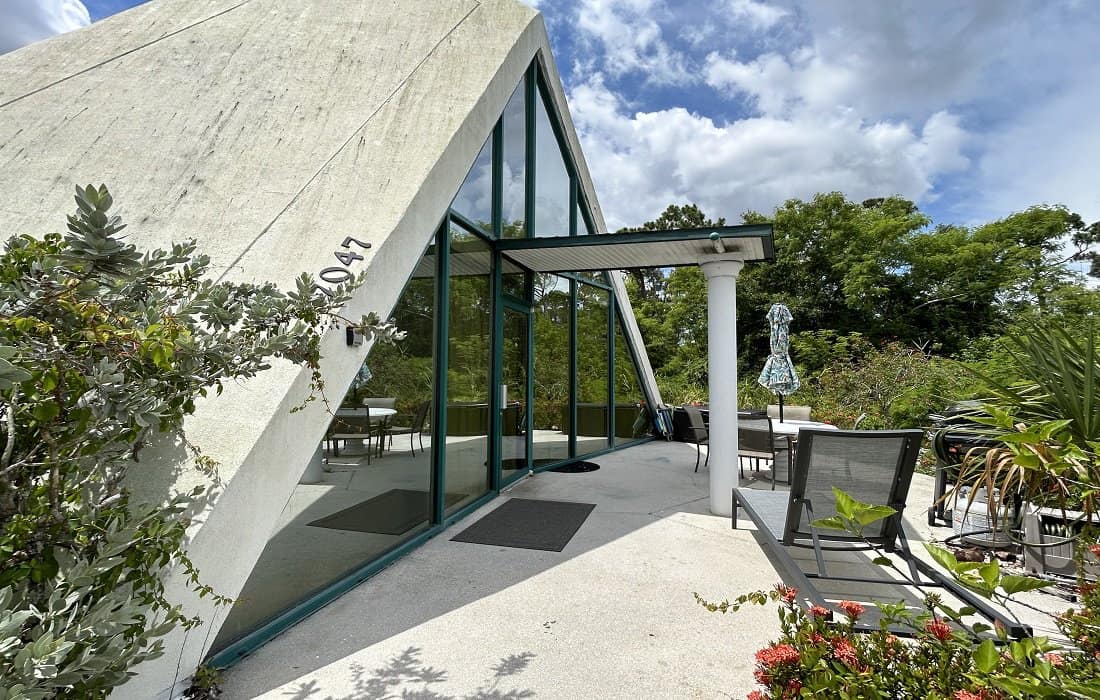 The Wi-Fi
I have a sign for Wi-Fi in my place. I also have it in my welcome book and send it to guests upon check-in. It's still the first question I get when a guest walks through my door.
The host of my pyramid, Jeanie, has experienced this and devised a clever solution. There are laminated cards on every wall and every table with the Wi-Fi information.
Short of being blind, it would be tough not to get on the internet here.
And it's lightning fast.
The Healing Lake At The Pyramids In Florida
Part of the reason I wanted to experience the pyramids was because of the healing lake.
The story behind the healing lake is this:
During the construction of the pyramid village 20-plus years ago, a warm water vein was accidentally tapped. The sulfur smell was immediately noticeable when the geyser erupted and flooded the building site. An analysis confirmed the water has medicinal-quality thermal water. A natural filtering process uses quartz stones and copper to maintain sanitation in the 188,000-gallon lake.
Its chemical components include sulfur, magnesium, potassium, calcium, sodium, and selenium.
How the healing lake works:
The oval pool is spring-fed and averages 80 degrees. Water emerges from a depth of 30 meters through a filtering fountain that supplies oxygen to the system.
Quartz stones, copper, and magnesium iodine are also used to clean the water. Water quality is certified monthly by local water authorities. Its chemical components include sulfur, magnesium, potassium, calcium, sodium, and selenium. Muscles and connective tissues are relieved by this water.
Small yet beautiful, this is precisely what I need. The lake and beach area has an incredible 60's vibe.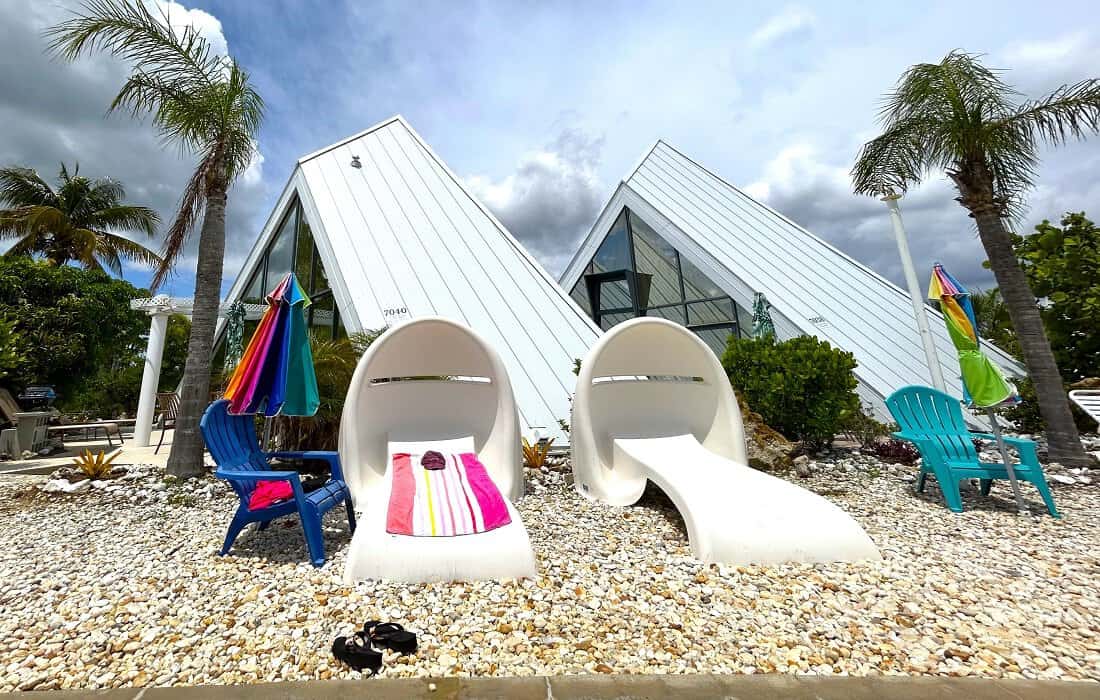 This place reminds me of Elvis. I can imagine him staying somewhere like this. If you've never been to Graceland, you might not get this. It's quirky, it's different, and it's got ambiance.
There's not one person on site, and I have the place myself. I keep thinking, do they know who I am? Even if they did, you can't control how many people stay. I got lucky, fortunate.
All By Myself At The Pyramids In Florida
It's summer; I am working on my all-over tan. I am here alone by design, taking some much-needed downtime.
No one was here, so I lost the top and modified my bottoms into a thong.
Twenty minutes later, we have a pool guy, or gentleman, who was clearly in his 70s.
The sweet soul says, "Don't worry, you are safe." I smile and reply, "Don't worry, I am harmless." He laughs, then spends an hour tainting to the healing lake.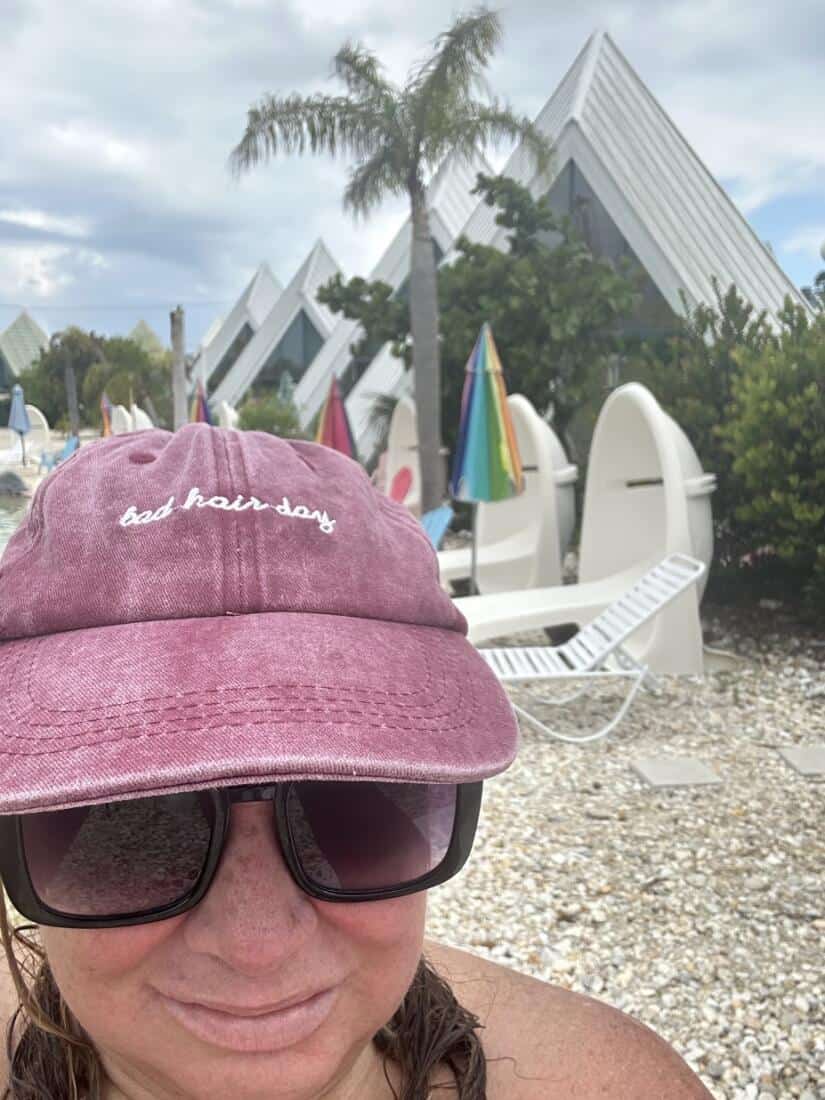 Chlorine In the Healing Lake
The pool guy is pouring gallons of chlorine into the healing lake. I'm baffled by this. Is this just a swimming pool created to mimic a lake?
I didn't ask. I did not want to encourage a dialog because I was more or less naked. It left me wondering if the healing lake is a lake or a swimming pool?
The addition of chlorine did burst my bubble a little. I would have preferred not to see this and question the water. This said, I still enjoyed it.
Note: The website does say that "chlorine is only added occasionally to disinfect it". It also states that local officicals test the water quality. However, one page says bi-weekly, another pages says monthly. The mere fact that it gets chlorinated leaves me questioning the water's actual healing quality.
Opportunities for Improvement
If you've ever read my articles on places to stay, you'll know that I tell it all: the good, the bad, and the ugly.
There's nothing ugly to report back here. But a couple of things would make an already wonderful stay even better.
The Décor
If you read any feedback on staying at the Pyramids, you'll see some snippets about the pyramids being slightly dated. They are, but it's part of the vibe.
In my opinion, there are a couple of things that I would do differently, specific to the décor. But nothing is missing here.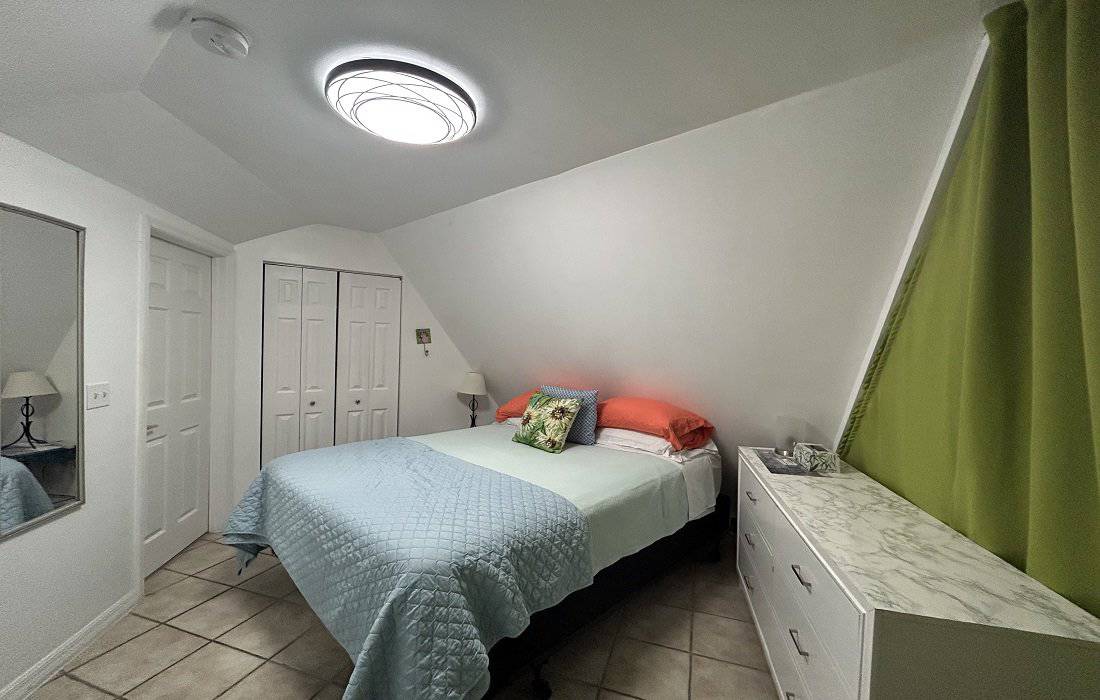 Bathrooms
There's only one bathroom and a two-bedroom unit. Some people are funny about sharing bathrooms, so bear this in mind. It's not something that can be amended due to the design. Instead, it's something to know going in.
The Grounds
Most likely outside my hosts' control, the grounds surrounding the pyramids need some TLC. It's nothing major, just an outdoor spring clean. Some bushes need a good trim, some weeds need to disappear, and a little bit of paint here and there.
Closing Thoughts
I enjoyed my stay here. It was so peaceful and Zen. The bed gave me three fabulous nights of sleep, and the lake gave me a relaxing break.
I spent my time here on site at the lake. I did not need to venture out.
While I came here to clear my head and be alone, this is a place where you could bring friends or family and rock the healing lake.
Would I visit again? 100% Yes!
Looking For More Unusual Stays in Florida, Start Here.
We participate in the Amazon Services LLC Associates Program, an affiliate advertising program designed to provide a means for us to earn fees by linking to Amazon.com and affiliated sites.
Subscribe to our newsletter and get the best travel tips and inspirational stories delivered monthly. No spam, no sales pitches – TRAVEL!
Brit On The Move™ Travel Resources
Ready to book your next trip? Use these resources that work:
Need more help planning your trip? Check out our Resources Page, highlighting the great companies we trust when traveling.