Within the Harris Chain of Lakes, Lake Dora is considered one of the most prestigious lakes. In addition to its fantastic lakefront views, Mount Dora, known as the 'New England Town of the South,' sits on its eastern shore – making this historic lakeside town stand out even more. And among the other ones, Lake Dora doesn't just seem to stand out because of its complementarity with the surrounding areas, although this is undoubtedly a significant factor! The Tavares side is also known as America's Seaplane City.
In this article, we share with you everything about Lake Dora. Incredibly, some of the things you might not know about this beautiful and glistening body of water. And why Lake Dora Tavares, Florida, is a perfect weekend getaway!
This post may contain affiliate links. Please read our disclosure and privacy policy for more information.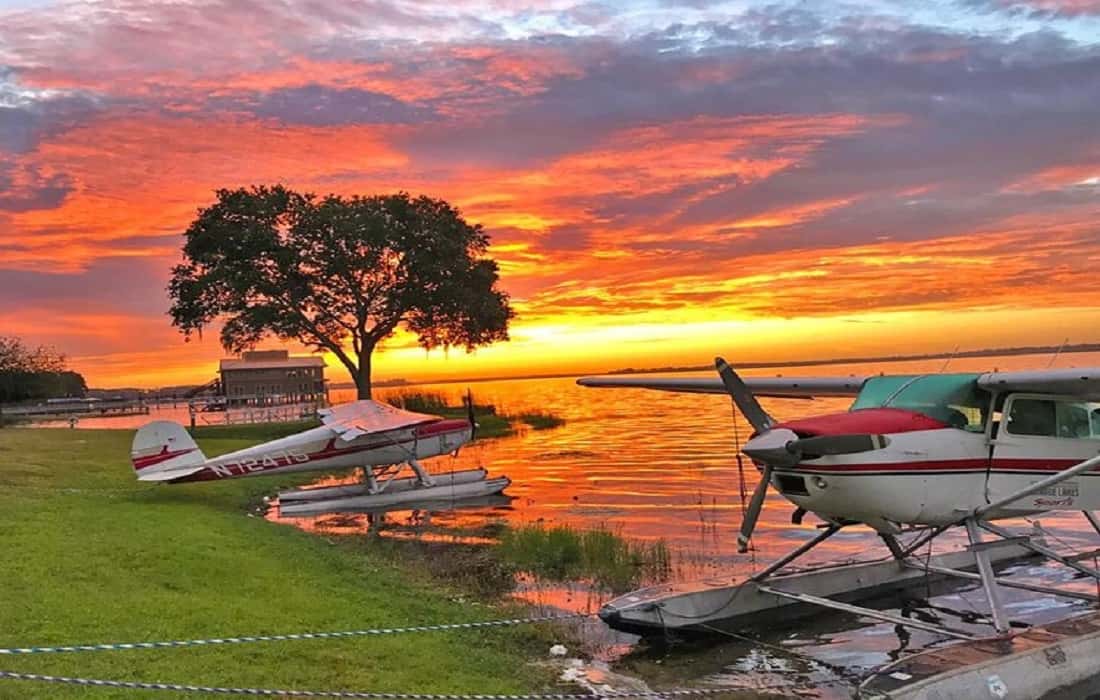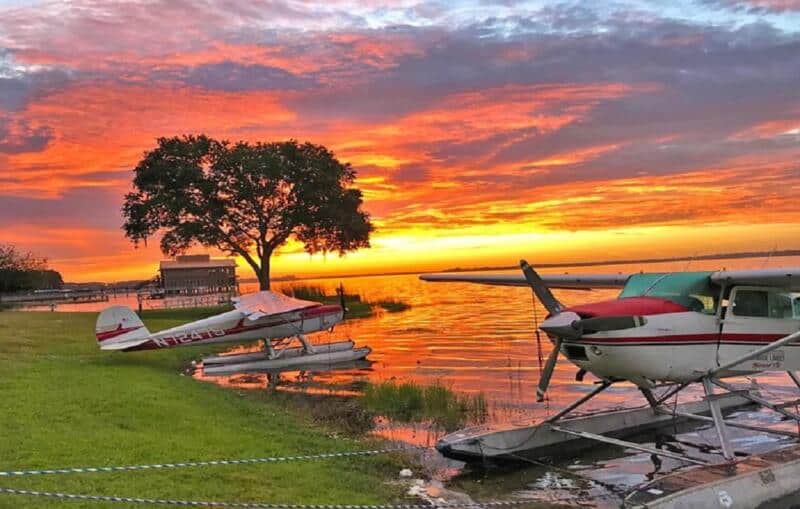 Image Credit: Jones Brothers Air and Seaplane Tours
About Lake Dora
The Harris Chain of Lakes consists of seven lakes, including Lake Dora. This chain of lakes covers 4,475 acres in Lake County in central Florida and is a popular fishing and boating destination. Located in the center of Lake County, Lake Dora and Lake Eustis are connected by the Dora Canal to the north, and Lake Dora to Lake Apopka to the south by Lake Beauclair and the Apopka-Beauclair Canal.
Mount Dora, which sits along the eastern and northern shorelines of Lake Dora, offers a lovely, picturesque setting nestled against the hills rising to the east. Tavares lies on the north shore. Direct boat access to Lake Dora is available from two public boat ramps: one at Tavares on the northern coast and the other at Mount Dora on the eastern shore. The ramps are lovely, with plenty of parking for cars and trailers. A wetland surrounds the southwestern part of Lake Dora, while a narrow piece of land separates Lake Dora from Lake Beauclair on the southeastern side.
Tavares and Mount Dora hold festivals that celebrate antique wooden boats and antique furniture each year. Thousands of visitors attend the celebrations from all over Florida and the Southeast. Fish, waterfowl, reptiles, and mammals inhabit Lake Dora, including a wide variety of fish. Several guided tour boats ply the waters of the Dora Canal as the area is famous for bird watching.
Things To Do in Lake Dora
Enjoy The View
Lake Dora in Florida is the biggest lake in the Harris Chain Lakes, with a length of six miles and a width of a third of a mile. Lake Dora provides an excellent view when you visit. Besides, Mount Dora is best seen from the water. The town's crown jewel is Lake Dora. Take a stroll along the Palm Island Park Boardwalk on a date night, and watch the sunset. Tour one of Florida's few working freshwater lighthouses! The lighthouse stands 35 feet high!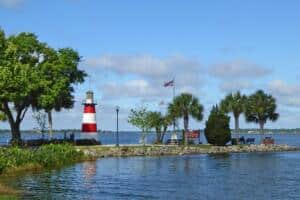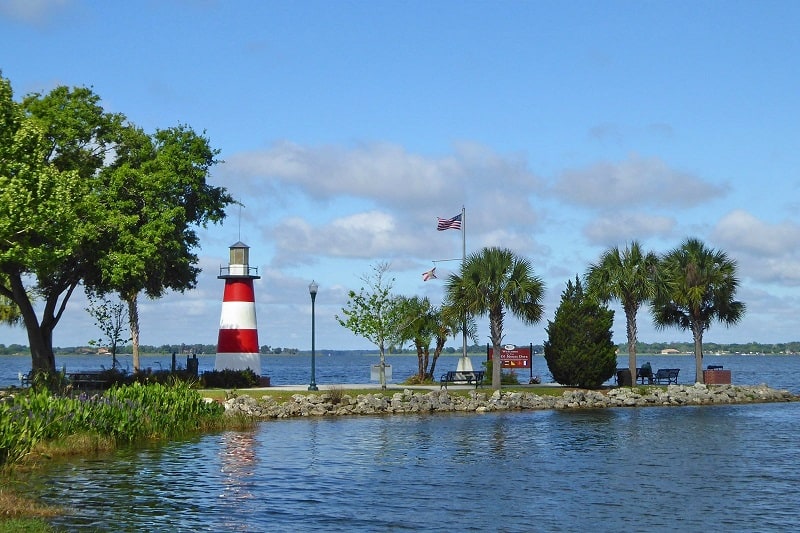 Taking Advantage of Tours and Activities
A variety of tours are available, from boating and seaplane rides to kayaking to canoeing. You can see wildlife like bald eagles, turtles, alligators, fish, and birds in the picturesque town under the cypress trees! It is possible to take a boat tour from the lake to the canal of Dora, which stretches for a mile and was dug by hand.
There are a lot of water sports activities that are very popular, including skiing, tubing, wakeboarding, and wake surfing. It is possible to throw an anchor and swim in a few spots on Lake Dora and Harris. World-class tournaments for bass and crappie are the most popular activity in the area.
Don't hit the water without a floating water mat or inflatable water pad! Find out which is best here:

Dora Queen
This 80-foot New Orleans style paddlewheel boat, located in Tavares, Florida, offers 2-hour cruises Wednesday through Sunday and a unique venue for private events. Take in the majestic views of beautiful Lake Dora from the comfort of our lounge-style seating while enjoying music and cocktails from the upper and lower deck bars.
Dora Queen offers two cruises:
Saturday Cruises: Sit back, relax, listen to some music and enjoy the beautiful scenery. Enjoy the breeze on the top deck or sit comfortably in the lower-level temperature-controlled salon. Both levels showcase spectacular views of Lake Dora. Food is only available for preorder, and drinks are available for purchase. 2 Hour Cruise Duration. Adult (13+) Tickets $42 + tax. Children (2-12 yrs) Tickets $29 + tax
Sunday Funday Cruises: Enjoy a cocktail while listening to music and cruising on beautiful Lake Dora. Food is only available for preorder, and drinks are available for purchase.2 Hour Cruise Duration. Adult (13+) Tickets $39 + tax. Children (2-12 yrs) Tickets $29 + tax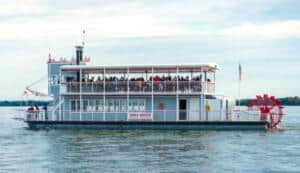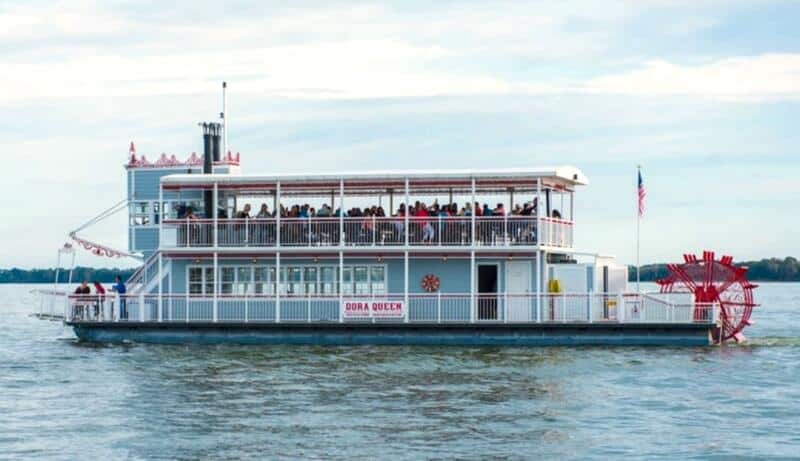 Lake Dora Boat Tours
Lake Dora, Florida, is the perfect place for boat enthusiasts. It opens up opportunities for travelers to enjoy the view and get boat tours. The Sunnyland Antique Boat Festival takes place every year at Wooton Park in Tavares, Florida. You will see a lot of antique boat lovers cruising the lakes in their beautiful wooden boats, and it's not uncommon for us to see some cruising the lakes in their beautiful old ships. Along with the vast cypress trees that line the canal, aquatic birds and animals can also be seen regularly. On a couple of occasions, friends and family have enjoyed the view.
You should also consider driving this scenic and beautiful road that connects Mount Dora and Tavares. The Lake Dora area is a great place to see Florida in its natural state, as before humans made Florida a tourist hotspot.
Unforgettable Boating and Fishing Experiences
If you want to fish in Lake Dora, it is the right place! It is the first lake to open up in the spring, and many tournaments have been won by anglers who know the area well. The lake is also a great place to fish for bass. Many people refer to it as the Bass Capital! It is a popular fishing spot for local tournament anglers. It is not uncommon to catch giant bass near the spring, making the long run worthwhile. The weight of a tournament bag of five can easily exceed 30 pounds when this strategy is effective. If you love fishing or boating, it is a great place to enjoy your hobby.
Wooton Park
Wooton Park is a lakeside park with a play structure, a free seaplane-themed water splash pad, and a picnic area. If you want to bring your lunch here or if you want to get the family to enjoy the scenery, this is the perfect place. It is a great place to take your children to a water park-like splash pad. The fact that it's free makes it worth the visit alone. There are few free places for kids to enjoy a water park-like experience in Florida.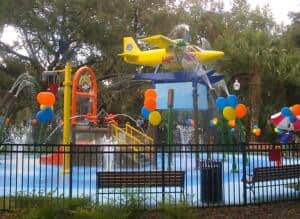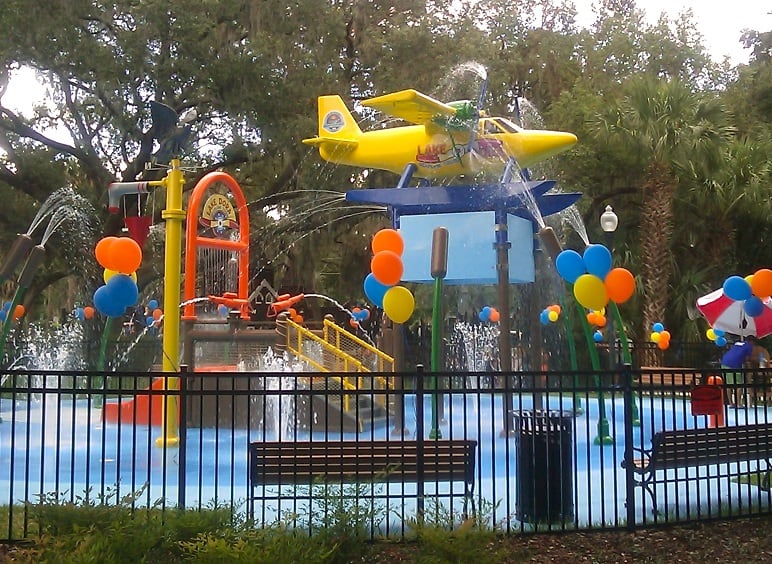 You can find many options for cold drinks, craft beer, wine bars, and food nearby. There are a lot of restaurants and pubs close by or across the street from the park. It is a shady park with a breeze blowing most of the time. You can land your boat here and launch it from there while boating on Lake Dora. Many events are held on the lake quite often as well as festivals. It is most likely that you will be able to observe birds, wildlife, and maybe even a few alligators during this trip. This is the best public park in Lake County.
Sea Plane Tours At Lake Dora
You will be able to take a trip to the skies aboard a seaplane which will offer unparalleled views of Long Island, Lake Dora, and many other places along with this scenic flight! Guests can also watch seaplanes land and take off right from various spots in Tavares as well as on the rooftops, hotel balconies, and parks. There is one tour operator in the area that provide flights:
Jones Brothers Air and Seaplane Tours
This company offers a variety of seaplane tours:
Lake Dora Splash & Dash: A trip around several area lakes, including a Splash and Dash (touch & go on the water). View Long Island and the towns of Mount Dora and Tavares. Approximately 15 minutes. $89.99/per person
Harris Chain & River Run: See Lake Eustis and fly to the wilderness of Lake Griffin and the Ocklawaha River. Splash-and-Dash on the river while looking for alligators. Then head back to Lake Dora at a low level over Lake Harris. Approximately 35 minutes. $159.99/per person.
Gator Tour & Attractions: This tour takes you south across Lake Apopka in search of massive gators as we fly low and slow along the shoreline. The tour continues onto the Orlando attractions: Universal Studios, Seaworld, Disney, etc. This is our most popular tour! Approximately 45 minutes. $189.99/per person.
St Johns River & Springs: The ultimate eco-tour! This is a spectacular tour allowing time to experience the beauty and solitude of the St. John's River, America's only North-flowing river. Land on this pristine waterway and see what Ponce De Leon did 500 years ago. Approximately 60 minutes. $249.99/per person.
Harris Chain of Lakes Sunset Celebration: Enjoy the breathtaking Sunset views across the vast areas of Lakes Harris and Griffin on the way to the wilderness of the Ocklawaha River and Ocala National Forest. Then, turn back across Lakes Yale and Eustis just in time for a flight straight into the sunset across Lake Dora. Your private sunset flight will be an experience of a lifetime! Approximately 30 minutes. $169.99/per person.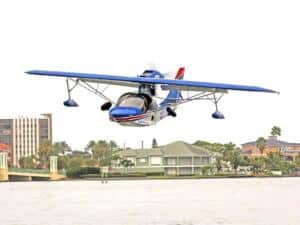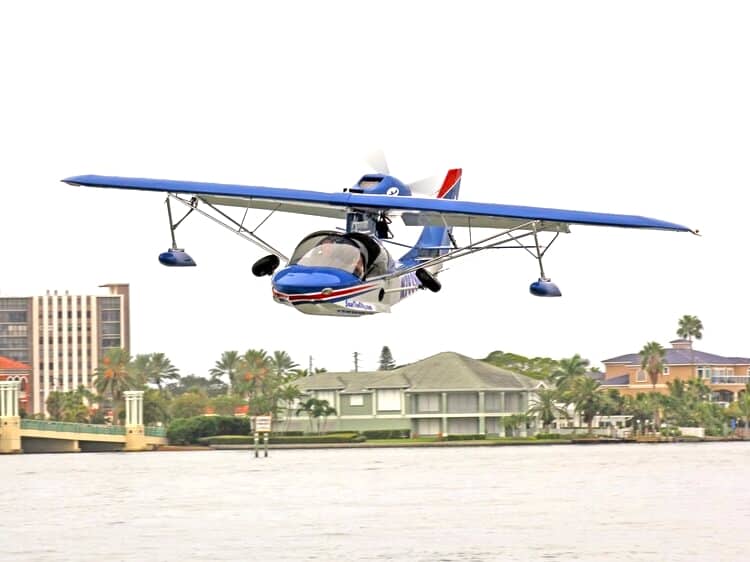 Image Credit: Jones Brothers Air and Seaplane Tours
Fun Facts About the City of Tavares's Sea Plane History:
Four years after the first seaplane was invented in France, a seaplane took off from Lake Eustis in the City of Tavares.
Famous pilots and passengers of Tavares seaplanes include the Wright Brothers, Clara Adams, and Amelia Earhart.
Nearby Lakes To Lake Dora
Lakes such as Beauclair, Carlton, Eustis, Apopka, Harris, Little Harris, Griffin, and Yale are close to Lake Dora. Except for Lake Yale, all are connected by navigable waterways. It covers more than 50,000 acres of freshwater in Lake County, Florida, the largest lake chain in Florida. Among the many reasons for its popularity is its abundant freshwater.
Lake Dora, Florida, and Lake Beauclair are the two that have been most affected by its recent years. The water quality has improved somewhat, and the solid growth of eelgrass has taken hold. The lake is connected to Lake Eustis on the north by the Dora Canal and Lake Dora to Lake Apopka on the south by the Apopka-Beauclair Canal and Lake Beauclair.
Lake Dora Boat Ramp
Gilbert Park is located near downtown Mount Dora and provides direct access to Lake Dora in Florida. In addition to the concrete ramp, there is plenty of docking space at Gilbert Park. Located next to the ramp, the Mount Dora Boating Center and Marina offer fuel to all its customers. Almost every year, the lake hosts the annual Antique Boat Show, at which you can look at restored wooden runabouts, sailboats, and the like.
The ramp here is a concrete ramp with three lanes across it. There are plenty of posts along the docks that can be used for tying off boats. Towing vehicles and trailers can be parked across the street near a marina. It's a free ramp!
Where To Stay In Lake Dora?
We initially looked to stay in Mount Dora and stumbled across an affordable resort! To our surprise, this place was not only affordable but way above what we expected. Coming in at approximately $130 for the night, this was a steal.
Key West Resort is situated on Lake Dora in the Entertainment District, just two blocks from the Lake County Courthouse. The spacious rooms and suites have hardwood or tile floors, wet bars with a microwave, refrigerator, sink, and fully equipped kitchens. Seaplane Basin and recreational waterfront are visible from most rooms and suites. We were shocked at how nice it was. And, the views! Well, you can watch the seaplanes from your balcony.
If you are planning to visit and enjoy the beauty of Lake Dora, then you should consider staying at Key West Resort. It is a great place that entertains, and tons of restaurants in the area.
You can rent jet skis and boats at getting Wet Watersports, just a few miles away from the hotel. Paddleboard and Kayak tours are also available with Adventure Outdoor Paddle. On weekends, you'll find live entertainment at Puddle Jumpers (restaurant and bar) and Kalua Hale Beach Bar.
Other Places To Stay On Lake Dora